Ever wish you could win a brand-new 2021 Shelby GT500 Mustang? We'll, we've got a great way for you to make that happen, and help out the Shelby American Collection museum at the same time. You can increase your chances of winning with our added bonus entries just by using our special Fast News code when entering the Shelby American Collection's contest to win a rare, 760 horsepower 2021 Shelby GT500.
This particular GT500 is offered in stunning Rapid Red, and is loaded with all the GT500 performance features including the Carbon Fiber Track Package with exposed carbon-fiber wheels, GT4 track wing and Michelin Pilot Cup Sport 2 tires. Other options include the Technology Package and painted "Over-the-Top" white stripes. With 760 horses and 625 foot-pounds of torque, it's equipped to outrun the competition at the track without sacrificing the luxury and comfort you want for your next road trip. The winner also receives the GT500 Track Attack experience at Ford's Performance Racing School.
You can find all the info online at www.ShelbyGT500Contest.org, but for our Fast News readers, simply use this link -- https://shelbyamericancollection.tapkat.org/wina2021ShelbyGT500?promo=FASTNEWS25 -- and use the promo code "FastNews25" for 25 percent more entries! But don't delay, as the drawing date of September 4th is fast approaching. Buying your tickets also helps out The Shelby American Collection, which is dedicated to preserving the racing history of Ford and Shelby American.

Located in Boulder, Colorado, the museum celebrates the rich heritage of the Cobra, Shelby Mustang and Ford GT40 cars that changed the face of auto racing in the 1960s. Thanks to the generosity of owners and collectors, it has some of the most important American racing cars ever made on display. It also features an extensive collection of race records, photographs and memorabilia from the pioneer drivers and visionaries of the era, including Carroll Shelby, Ken Miles, Dan Gurney, Bob Bondurant, Phil Hill, Allen Grant, Mario Andretti, Phil Remington and other Shelby American Team members. The museum, staffed and run by volunteers, is dedicated to serve as a resource for all Ford and Shelby enthusiasts, and to preserve one of the most important eras in American automotive history for all generations. You can learn more and see some of the remarkable automobiles in the collection by visiting the museum's website: https://shelbyamericancollection.org.

Join a Ford Car Corral to Best Experience All the Action during the Rolex Monterey Motorsports Reunion August 12-15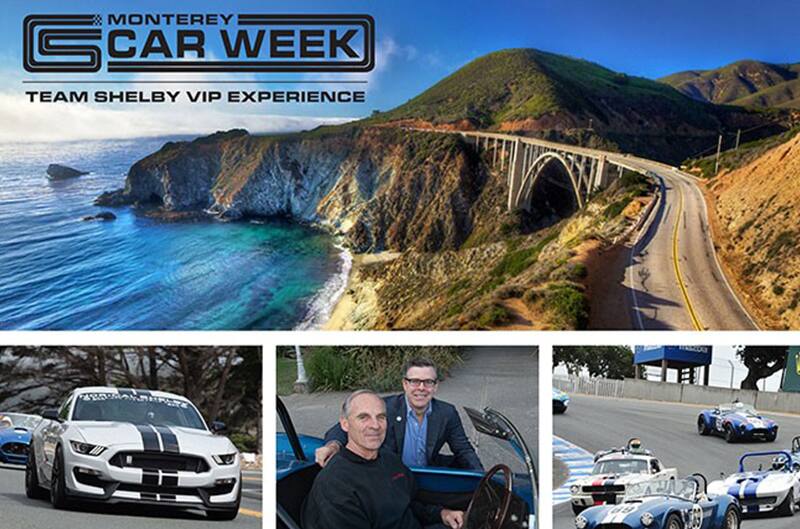 You don't have to be a Ford fan to want to attend the Rolex Monterey Motorsports Reunion, as the annual Monterey Car Week features a wide variety of events that can stir the soul of any enthusiast. But this year will be extra special for FoMoCo followers, as the Featured Marque is "Ford in Trans-Am, celebrating the 55th Anniversary of the Pony Car Wars."

Described as a car museum springing to life, the Rolex Monterey Motorsports Reunion is the largest event held during the famed Monterey Classic Car Week, and is the only event where cars are doing what they were originally intended to do . . . race. Approximately 550 race cars are invited to compete in the world's premier motoring event, and are accepted based on the car's authenticity, race provenance and period correctness. It all happens at Weathertech Raceway Laguna Seca August 12 to Aug 15, 2021, in Salinas, California.

Blue Oval fans have been given a special opportunity to participate this year via three different Car Corral packages being offered to owners of Mustangs, Shelbys and Ford GT's. All of them include four-day General Admission, premium reserved parking, an on-track parade lap, an event merchandise kit, plus more memories than you can count. Check out the flyers shown here, get more info on the event website at https://www.weathertechraceway.com or click on this link to purchase tickets. Whether you're interested in the Monterey Car Week Kick-Off on August 6, the Automobilia Pop-Up Show August 10, the McCall's Motorworks Revival on August 11, the Pebble Beach Tour D'Elegance Presented by Rolex and the Pebble Beach Classic Car Forum on August 12, or all the racing action Aug 12-15 to experience as part of the Ford Car Corrals, it's time to make plans now!
Prefer to be a Ford "insider." Then don't miss the "Team Shelby VIP Experience" at Monterey 2021. You can join Team Shelby, Ford Motor Company and charity partner JDRF to celebrate Monterey Collector Car Week! Enjoy surprises and unbelievable access, including a special new vehicle introduction, trackside luncheon at Laguna Seca, a scenic coastal cruise and a private dinner with Ford execs and racing/Shelby legends. For just $395 per person, it's the best value for the most fun on Monterey Peninsula. Each package includes a donation to JDRF, the world's largest nonprofit funder of Type 1 Diabetes research. But hurry - space is limited: Click on this link to make it happen!
SVT F-150's Set to Converge on Charlotte, NC, August 19-21 for 'LightningMeet 2021'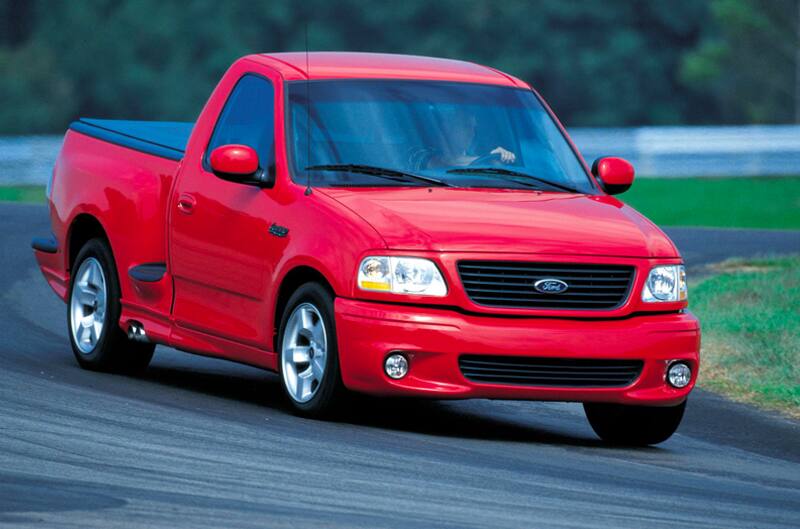 With the groundbreaking Ford F-150 Lightning All-Electric pickup making headlines of late, owners of the original Ford SVT F-150 performance pickups want the world to know that the enthusiast following for the gas-powered SVT Lightning is alive and well and will be on full display August 19th through the 21st. That's when the Southeastern SVT Lightning and Harley Club will be hosting "LightningMeet 2021 at the Charlotte Motor Speedway in Concord, North Carolina. After a Thursday night Meet & Greet party, attendees head to the Charlotte Motor Speedway for a show & shine and parade laps on Friday, then for an evening cruise and dinner. Saturday includes a tour of the Famed Holman & Moody shop, plus a Saturday night meet up. We've attended the LightningMeet before, and can vouch that if you're an SVT Lightning fan, you'll want to be there! The club's Facebook page has a video and all the info.
Time to Register your Club or Ford Fan Facebook Group with Ford Performance Club Connect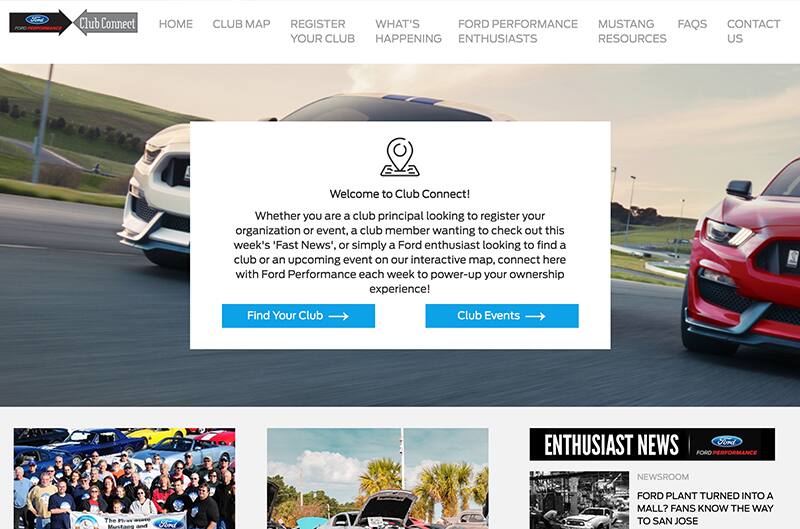 By now you should have heard about a cool Ford Performance initiative called "Club Connect" that can help all Ford and Mustang enthusiasts get connected with both Ford Motor Company and each other. Only those clubs who register with the program are eligible for no-cost promotion and support from Ford Performance, so you owe it to members of your Mustang or Ford vehicle club or online forum to register and appear on our Ford enthusiast club map. All it takes is a visit to www.FordPerformanceClubConnect.com and a single click on the "Register Your Club" link. Once you fill out the form and hit "Submit," you'll be notified within just a few days of your acceptance in Ford Performance Club Connect -- it's that simple, and it's FREE!

The primary goal of our Ford Performance Club Connect program is to get everyone to register their club – at no cost – and get themselves on our Ford enthusiast group map so that we can all connect with each other. Once there, you'll be able to see all of the other clubs and groups who have registered in your region – not just Mustang clubs, but ALL Ford vehicle organizations. And now we'd like to invite all of you who are part of any Ford vehicle Facebook Group to register with Club Connect, too. Why? Because connecting your Facebook Group with more owners and fans makes your group more worthwhile – and registering with Club Connect will link your online group with participants who may never have known that your group exists.

The value in all of this is that whenever you plan a club or group activity, you can see what other clubs and groups are in your area that you may wish to contact and ask to join you at a show or event. It also allows Ford Performance to see all the clubs and groups in a certain area, so that when we are coming to town or planning a special Ford event in your city or state, you and your club members can be contacted to participate.

It takes only a few minutes for a club principal or board member to register your club and establish a direct link for your members to Ford Performance. And now, you can also register your group and logo with Ford Brand Licensing all in the same process. Have a product or parts question that you want answered? Wish you could get some free club event promotion in our weekly "Fast News" e-blast that goes out to more than a quarter-million Ford fans each Thursday? Looking for event coverage for your show in the Enthusiasts section of FordPerformance.com? Hoping you could find a cool Ford goodie-bag or door-prize item, or a banquet guest speaker? How about requesting on-site show support with an appearance by our Ford Performance Meet & Greet tent, along with FREE Mustang poster giveaways for all show attendees? Individual requests are reviewed on a case-by-case basis, but they can ONLY be awarded to clubs who are registered.

So go to www.FordPerformanceClubConnect.com and click on the "Find Your Club" link to see if you are on the map. If not, then act now to register your Ford-based club or Facebook Group so that you can join this special program -- all backed and supported by a real enthusiast staff managed by Ford Performance. If you have questions or want more info, you and your members can always email us at ClubHub@Ford.com, or can simply call our Ford Performance Info Center, toll-free during regular business hours, at 1-800-FORD-788 (800-367-3788).

So what are you waiting for? Get online and make sure you're connected. Then plan to enjoy your performance Ford later this year so that you can discover the fun and all of the friendly people involved in the world of Ford Performance. We're sure that being connected with each other and with Ford will make your ownership experience even more enjoyable!
Here's How Easy It Is to Get You and Your Car(s) Featured in Our Weekly 'Ford Fan Spotlight'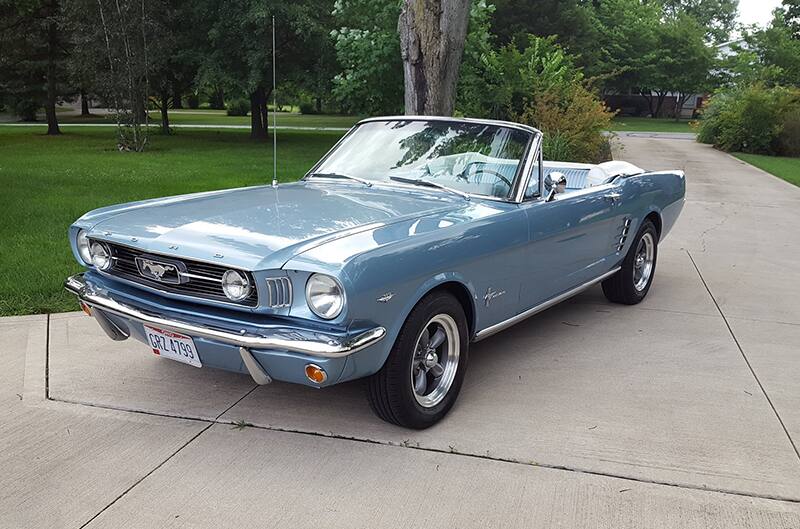 For the past decade, one of the most popular features on FordPerformance.com and in our Fast News e-newsletter continues to be "Ford Fan Spotlight," where readers can send in their own reasons why they're fans of Ford Motor Company. You know who they are: Ford "superfans;" grassroots Ford racers; unique Ford vehicle owners; loyal Ford enthusiasts; notable Ford club people; special Ford families; and/or any avid supporter of Ford, Ford vehicles, Ford motorsports or Ford Performance who deserves a little bit of special recognition.

All you need to do to get you, your car or candidate considered is to send in a brief description (200-500 words or less) and a few photos (in .jpeg format, preferably 1 mb) of a person (full name and hometown, please) and vehicle that you think Ford Performance should feature (and why) in the "Ford Fan Spotlight" for an upcoming installment of Fast News and posting on FordPerformance.com. Then email it to: ClubHub@Ford.com. (Your submission grants us your permission for us to use your copy and photos on our website and other Ford media outlets, edited as necessary.) We'll choose one submission to be featured each week. We hope to see YOU and your collectible Ford in our Fan Spotlight soon!
Now Read Our Enthusiasts News Each Week on Ford Performance Club Connect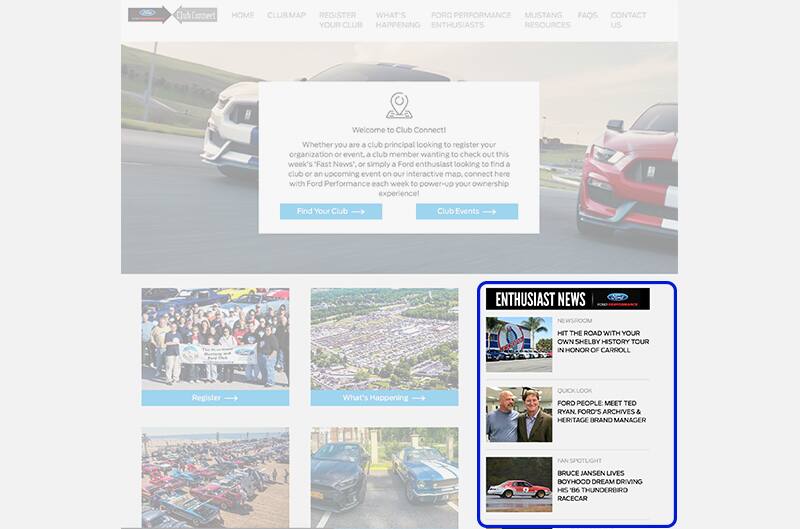 One race – one win – was all it took for Henry Ford to generate enough buzz and belief in his engineering among investors to secure funding and launch the Ford Motor Company. At Ford Performance, we have never forgotten where it all began. So we've been honoring our heritage, our products and our relentless competitive spirit by shining a light on motorsports and the Ford enthusiast world each week with our Fast News e-newsletter.
From news on our hottest cars and trucks or performance parts to the latest scoop on all the must-see Ford enthusiast events and shows, our weekly Fast News email has been your ticket to stay connected to the company that put the world on wheels. But trying to keep up with emails has left some of you in the dust. So that's why Ford Performance is now posting our weekly Enthusiast News directly on www.FordPerformanceClubConnect.com -- so you can check it out the next time you're online without sorting through your email inbox. So put our FordPerformanceClubConnect.com website on your Favorites list, and then hop-in, buckle-up and hang-on each and every week for our Enthusiast News, because like you and all of us in the Ford enthusiast world, we'll be driving Ford passion!