Blue Oval fans love to visit the Detroit Metropolitan Area to explore the home and birthplace of the Ford Motor Company, and not just to walk "Mustang Alley" during the world-renowned Woodward Dream Cruise each August or attend the Mustang Owner's Club of SouthEastern Michigan's mega "Mustang Memories All-Ford Show" behind the Ford World Headquarters the following day. Sure, any enthusiast who loves the auto industry knows about The Henry Ford Museum of American Innovation and Greenfield Village on the Ford campus in Dearborn, or perhaps the adjacent Automotive Hall of Fame. But true Ford insiders crave the secret gems of Ford's historical footprint in The Motor City, and often think they need to turn to locals to find out how to visit them.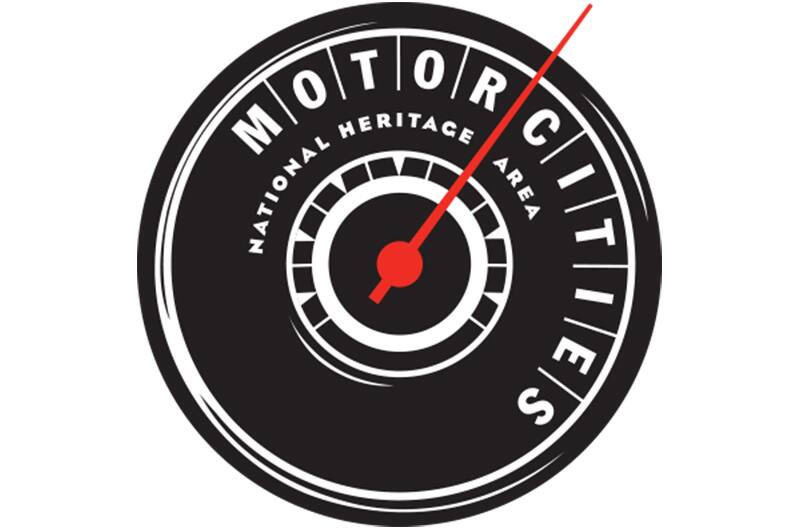 But that's simply not the case, thanks to the nonprofit MotorCities National Heritage Area (MCNHA), which is part of the National Parks Service. The MCNHA helps tell the story of how southeast and central Michigan "Put the World on Wheels." MotorCities links the world's largest collection of cultural and labor organizations, museums, archives, factories, auto collections and events to preserve the story of how tinkerers became titans and how auto and labor helped build the middle class while transforming manufacturing worldwide. So the next time you're planning a road trip for an event in Detroit and have some time to see off-the-beaten path Ford attractions, get on the MotorCities website and browse all the destinations, activities and interests in Michigan's Lower Peninsula. With arts and entertainment, parks, gardens, cemeteries, libraries, archives, museums, historic homes, motor sports and roadside auto culture via unique guided tours, there is truly something for everyone.
Word is out about one of our favorites, the Ford Piquette Avenue Plant, birthplace of the Model T. But there's also the Edsel & Eleanor Ford House, plus lots of Ford heritage at the Detroit Historical Museum, the Ypsilanti Automotive Heritage Museum and the ever-expanding Gilmore Car Museum. And if you think you've seen it all, what about places such as the Roush Automotive Collection or any of the remaining sites from Henry Ford's "Village Industries" of the 1920's and '30's, like Nankin Mills (www.nankinmills.org) or the Old Mill Museum? Our suggestion is to sign up for the MotorCities National Heritage Area Michigan Passport Book and Stamp Program to log your journey retracing the Ford contribution to automotive history. Better still, buy a tax-deductible membership or sponsorship and enjoy admission or store discounts at 15 different attraction partners exclusively for MotorCities members. It's all Blue Oval gold, so go for it!
FordPerformanceClubConnect.com Expands Functions to Become a One-stop Shop for Ford Vehicle Clubs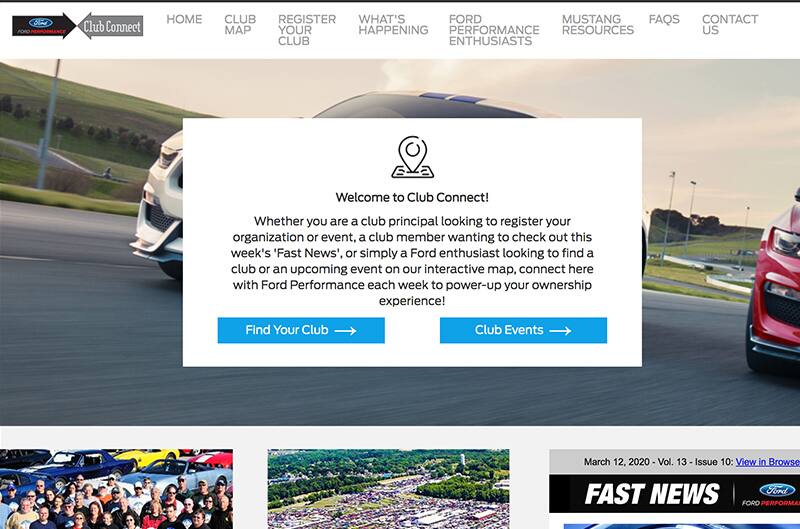 We recently told you that in order to help clubs and enthusiasts stay connected to the Ford loyalist community, Ford Performance had begun posting our weekly Enthusiast News directly on www.FordPerformanceClubConnect.com -- so you can check it out the next time you're online without sorting through your email inbox. But improvements to our Club Connect website now go a bit further by adding even more functionality to registering your club with Club Connect.
If you're a Ford enthusiast in the know and take part in the car club world, then by now you should have heard about Ford Performance Club Connect. This innovative program and FordPerformanceClubConnect.com website can help all Ford and Mustang enthusiasts get connected with both Ford Motor Company and each other. Only those clubs who register with the program are eligible for no-cost promotion and support from Ford Performance, so you owe it to members of your Mustang or Ford vehicle club or online forum to register and appear on our Ford enthusiast online club map. All it takes is a visit to www.FordPerformanceClubConnect.com and a single click on the "Register Your Club" link. Once you fill out the form and hit "Submit," you'll be notified within just a few days of your acceptance in Ford Performance Club Connect -- it's that simple, and it's FREE!
The primary goal of our Ford Performance Club Connect program is to get everyone to register their club – at no cost – and get themselves on our Ford enthusiast group map so that we can all connect with each other. Once there, you'll be able to see all of the other clubs and groups who have registered in your region – not just Mustang clubs, but ALL Ford vehicle organizations – including all of you who are part of any Ford vehicle Facebook Group. Why? Because connecting your Facebook Group with more owners and fans makes your group more visible in the hobby – and registering with Club Connect will link your online group with participants who may never have known that your group exists.

And now, registering with Club Connect also gives you Ford licensing approval for your club name and logo, as well as info on securing approved club merchandise – so there no need for additional steps. And use of our Club Connect map can be key whenever you plan a club or group activity, as you can see what other clubs and groups are in your area that you may wish to contact and ask to join you at a show or event. It also allows Ford Performance to see all the clubs and groups in a certain area, so that when we are coming to town or planning a special Ford event in your city or state, you and your club members can be contacted to participate.

It takes only a few minutes for a club principal or board member to register your club and establish a direct link for your members to Ford Performance -- and now you can also register your group and logo with Ford Licensing all in the same process. Have a product or parts question that you want answered? Wish you could get some free club event promotion in our weekly "Fast News" e-blast that goes out to more than a quarter-million Ford fans each Thursday? Looking for event coverage for your show in the Enthusiasts section of FordPerformance.com? Hoping you could find a cool Ford goodie-bag or door-prize item, or a banquet guest speaker? How about requesting on-site show support with an appearance by our Ford Performance Club Connect Meet & Greet tent, along with FREE Mustang poster giveaways for all show attendees? Individual requests are reviewed on a case-by-case basis, but they can ONLY be awarded to clubs who are registered.

So go to www.FordPerformanceClubConnect.com and click on the "Find Your Club" link to see if you are on the map. If not, then act now to register your Ford-based club or Facebook Group so that you can join this special program -- all backed and supported by a real enthusiast staff managed by Ford Performance. If you have questions or want more info, you and your members can always email us at ClubHub@Ford.com, or can simply call our Ford Performance Info Center, toll-free during regular business hours, at 1-800-FORD-788 (800-367-3788).

So what are you waiting for? Get online and make sure you're connected. Then plan to enjoy your performance Ford this year so that you can discover the fun and all of the friendly people involved in the world of Ford Performance. We're sure that being connected with each other and with Ford will make your ownership experience even more enjoyable!
Here's How Easy It Is to Get You and Your Car(s) Featured in Our Weekly 'Ford Fan Spotlight'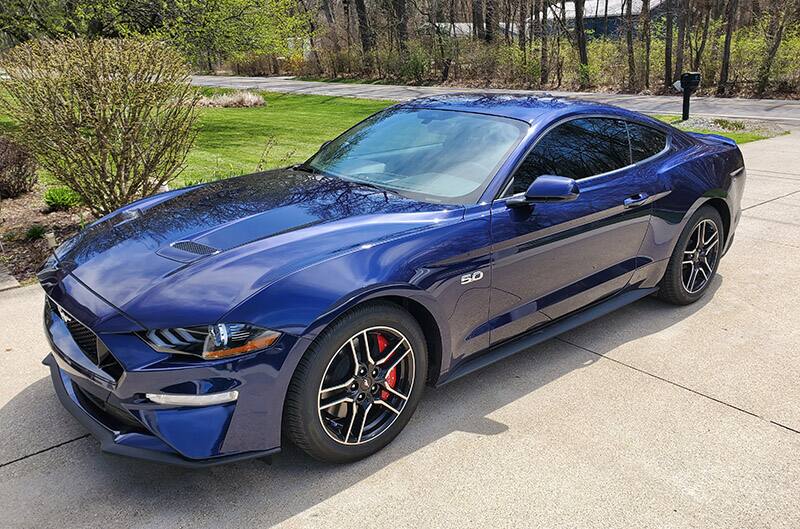 For the past decade, one of the most popular features on FordPerformance.com and in our Fast News e-newsletter continues to be "Ford Fan Spotlight," where readers can send in their own reasons why they're fans of Ford Motor Company. You know who they are: Ford "superfans;" grassroots Ford racers; unique Ford vehicle owners; loyal Ford enthusiasts; notable Ford club people; special Ford families; and/or any avid supporter of Ford, Ford vehicles, Ford motorsports or Ford Performance who deserves a little bit of special recognition.

All you need to do to get you, your car or candidate considered is to send in a brief description (200-500 words or less) and a few photos (in .jpeg format, preferably 1 mb) of a person (full name and hometown, please) and vehicle that you think Ford Performance should feature (and why) in the "Ford Fan Spotlight" for an upcoming installment of Fast News and posting on FordPerformance.com. Then email it to: ClubHub@Ford.com. (Your submission grants us your permission for us to use your copy and photos on our website and other Ford media outlets, edited as necessary.) We'll choose one submission to be featured each week. We hope to see YOU and your collectible Ford in our Fan Spotlight soon!