Even if you don't spend the day after Thanksgiving chasing down "Black Friday" bargains, holiday shopping for enthusiasts can be stressful. It's especially difficult when you can't think of a good gift to give to the "car person who already has everything." Well, we've got the perfect solution for you, and it can be found simply by visiting www.FordShowParts.com. If you have a Ford Performance fan on your shopping list this holiday season, you are certain to find a unique gift on the Ford Show Parts website, because that's the only place you can get genuine Ford memorabilia and collectibles right from the factory!
You'll find a great selection of Ford-themed hardbound books -- including hard-to-find, out-of-print editions and some that were never offered in stores – plus rare posters, brochures, keychains, license plate frames – even autographed hats and Ford Performance banners! You can order directly online with a credit card or by calling the Ford Performance Info Center toll-free at 1-800-FORD-788. Better still, spend $50 or more and receive a full-color 2020 Ford Performance wall calendar absolutely FREE (while supplies last). Don't delay so that you can get your special gift(s) shipped in time for Christmas.

Ford Show Parts.com Expands 'Certificate of Authenticity" Program Offerings

Our Ford Performance Info Center has been hard at work expanding its "Certificate of Authenticity" program which you can find on the Ford Show Parts.com website. Official Ford Performance certificates of authenticity are now available for the 2017 Ford Raptor, the 2016 and 2017 Ford Focus RS and the 2018 Ford Mustang Shelby GT350.
That also means you can now get a full Ford Performance Certificate of Authenticity Package for owners of any 2015-2018 Shelby GT350 or GT350R, which includes the following: An official Ford performance Certificate of Authenticity, VIN decoder, Production Summary Chart, Poster, Tri-Fold Brochure, Certificate Sleeve, Track Tips, Window Sticker, "Disc Brake Rotor & Caliper" Business Card Holder, as well as a Cobra logo Keychain. Many GT350 owners and enthusiasts will notice that this special package contains many of the items that were included in the Owners Supplement kit that came with GT350's when they were originally sold. Please note that there is LIMITED AVAILABILITY for these items, so order now!
What's more, official Ford Performance Certificates of Authenticity are available for a wide variety of other performance and specialty Ford vehicles. All you need is your vehicle's VIN number and a valid credit card. Order either via our Ford Performance Info Center by phone (1-800-FORD-788) or online directly from our Ford Show Parts website.

If a Thanksgiving weekend full of reheated Turkey dinners and watching football on television doesn't sound too appetizing, then you should check out the Fall Super Swap – one of the top swap meet events of the year for Ford fans. The Ohio Ford Expo is back in business again this year with its all-Ford Super Swap and Car Corral set for November 30 through December 1st. There, you can check out acres of Ford products and related parts – new, used, aftermarket and collectible. This all-indoors (and heated!) swap meet is held in the Expo Center's Voinovich and Buckeye buildings, sponsored by Jeff Johnson Motorsports. It's billed as "Still the Largest All-Ford Fall Meet in the USA." Click HERE for details. So get your fill of turkey and stuffing and then get off the couch, skip the leftovers and head down to the Ohio Expo Center in Columbus on Thanksgiving weekend.

Deadline Extended for Discount on Treasured Collectibles' Unique Ford Collection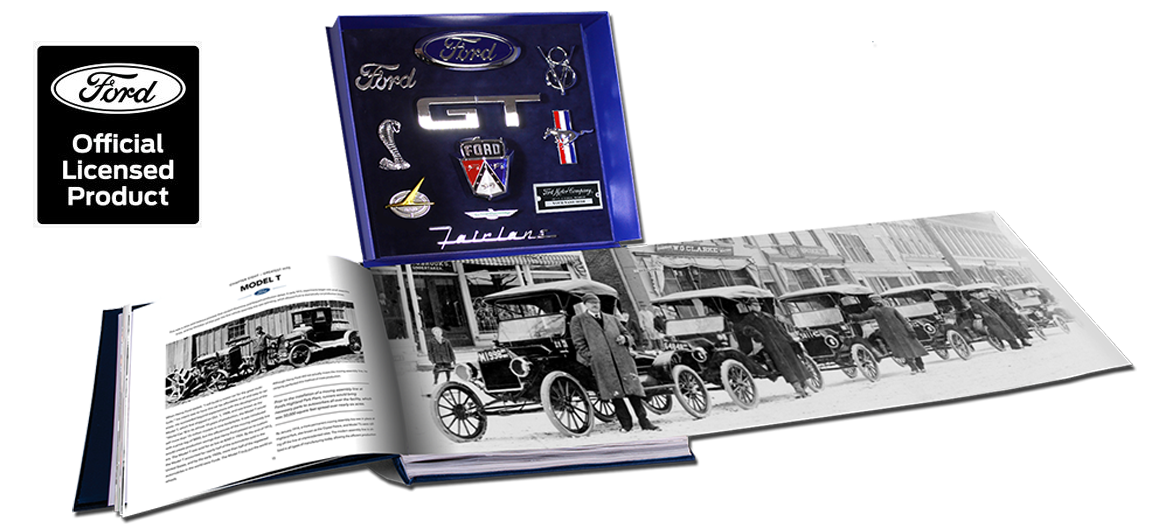 If you are looking for the perfect gift for any Ford fan, or simply would like to become part of Ford's storied history yourself, then we've got great news! The deadline for receiving a $100 discount on the spectacular Ford Collection from Treasured Collectibles has been extended until December 31, 2019. That means you have a limited time to save some big money and still get your photo printed in the Fan Album section of the Official Licensed Ford Collection and forever be a part of Ford history. But hurry, as space is limited in this 400-page hardbound book coving the complete history of Ford Motor Company and its most noteworthy vehicles.
The Ford Collection features amazing photographs to bring Ford history to life, and even includes a set of lift-out historical documents, letters and exact duplicates of rarely seen company sales and promotional literature. Included are personal letters and telegrams from Henry Ford and Thomas Edison, a copy of a 1911 Dealership Ford agency agreement, the 1903 Ford Articles of Association and a Share Certificate issued to Henry Ford, 15 replica sales brochures for various Ford vehicles, and even 11 mounted replica Ford car badge emblems.

Beautifully presented in a superb presentation case, this large-format history book and archival collection box make up a 20-pound Collection that has never been offered before, and will not be repeated again. It's the ultimate Ford treasure for all Ford and automotive enthusiasts. Visit Treasured Collectibles for details on how to pre-order your copy today! Use coupon code PERFORMANCEWEB at checkout to receive $100 off your purchase – but don't delay!
Get Your Mustang's Airbag Recall Completed!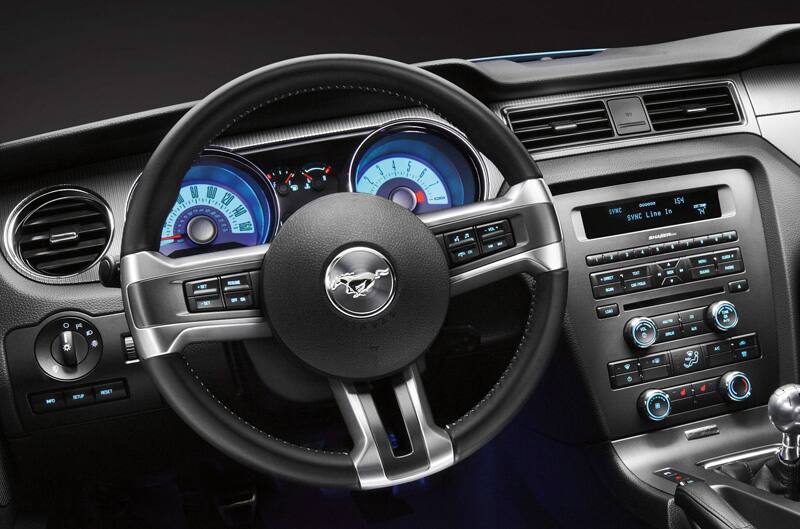 The Takata airbag recalls are the largest and most complex recalls in U.S. automotive history. The recalls currently affect 19 automotive manufacturers and roughly 37 million vehicles. Among these affected vehicles are 2005-2014 model year Mustang vehicles.
In 2014, the National Highway Traffic Safety Administration (NHTSA) and Takata Corporation determined that a defect related to motor vehicle safety may arise in some non-desiccated, ammonium nitrate airbag inflators due to propellant degradation occurring after prolonged exposure to high absolute humidity, high temperatures, and high temperature cycling. This degradation can cause the propellant to burn too quickly, creating high pressure inside the inflator, and in extreme cases causing the inflator to rupture in the event of a crash necessitating airbag deployment. A ruptured inflator can send inflator parts toward vehicle occupants resulting in serious injury or death. Additional information regarding Takata recalls can be found at www.nhtsa.gov and www.safercar.gov.
Parts are readily available to repair currently recalled Mustang vehicles. Ford sent out weekly mailings last October and November to all Mustang owners whose vehicle currently has an open Takata airbag recall. It is important that you determine if your vehicle is affected and, if so, have it repaired FREE by a Ford or Lincoln Dealer, especially before it goes into storage for the winter.
In some cases, only the driver's or passenger's side may be affected. In other cases, both the driver's side and passenger's side need to be repaired. The passenger side airbag cover is not replaced during the repair, so any signatures or other insignia on your dash will remain.
This situation requires immediate attention and is not to be taken lightly. You can input your VIN at www.FordAirbagInfo.com to see if your vehicle is affected by the airbag recall and locate a dealership to you schedule your repair. If you need assistance scheduling an appointment, or your dealership indicates that they are not able to obtain parts to repair your vehicle, please contact our Ford Customer Care Team at 1-866-436-7332.
Replacement 2001 Mustang Bullitt ID Labels Still Available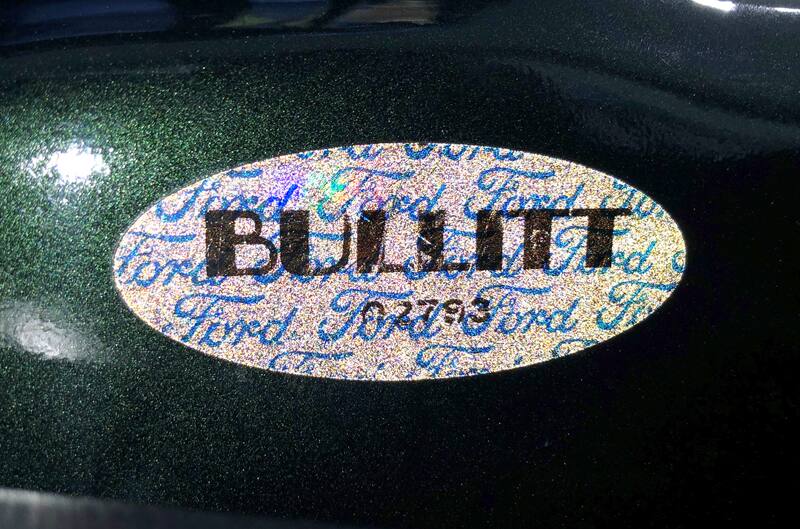 With Bullitt making Mustang headlines these days, did you know that the Ford Performance Info Center has recently begun handling replacement requests for the 2001 Mustang Bullitt shock tower holographic I.D. labels? The Info Center has acquired all remaining inventory of the labels and once they are gone, they are gone for good, so if you need a replacement for a damaged or missing factory label, the time to order yours is now! The Ford Performance Info Center will mail you a new label for your 2001 Bullitt, upon receipt of the following information (via email to FWRNTY@Ford.com):
Full VIN of the vehicle
Picture of the damaged / missing I.D Label
A contact at your local Ford dealership (Service Advisor is usually the best)
Please include the dealership's shipping information
Note: Your Ford dealership MUST perform the removal / installation of this official Ford factory replacement label. These original labels are the only remaining inventory, which were made back in 2001 when the first Mustang Bullitt models were being built. Contacting the Ford Performance Info Center is the ONLY way to get your factory replacement label. This program is offered free of charge and is being done as a courtesy to all 2001 Mustang Bullitt owners.
If you have any questions, feel free to contact the Ford Performance Info Center at 800-367-3788, option 1, or via email: FWRNTY@Ford.com
Here's How Easy it is to Have Your Car Featured in our Ford Fan Spotlight
For the past decade, one of the most popular features on FordPerformance.com and in our Fast News e-newsletter continues to be "Ford Fan Spotlight," where readers can send in their own reasons why they're fans of Ford Motor Company. You know who they are: Ford "superfans;" grassroots Ford racers; unique Ford vehicle owners; loyal Ford enthusiasts; notable Ford club people; special Ford families; and/or any avid supporter of Ford, Ford vehicles, Ford motorsports or Ford Performance who deserves a little bit of special recognition.

All you need to do to get you, your car or candidate considered is to send in a brief description (200-500 words or less) and a few photos (in .jpeg format, preferably 1 mb) of a person (full name and hometown, please) and vehicle that you think Ford Performance should feature (and why) in the "Ford Fan Spotlight" for an upcoming installment of Fast News and posting on FordPerformance.com. Then email it to: ClubHub@Ford.com. Should you wish to send a video, you simply need to post it on www.YouTube.com (preferably 1-2 minutes long) and send in the link, along with a brief description, to that same ClubHub@Ford.com email address. We'll choose one submission each week. We hope to see YOU and your Ford in our Spotlight soon!
In the meantime, make sure you get out there and find and attend a Ford club meeting this summer, join a Ford club or enthusiast group and discover the fun and all the friendly people involved in the world of Ford Performance. (It's EASY to find a great Ford club in your area here: https://registry.fordperformanceclubconnect.com/map?type=club) We're sure that being connected with each other and with Ford will make your ownership experience more enjoyable!

No matter what you decide you'd like to do with your free time, the great thing about owning a performance Ford is that – unlike with buying one of those "appliances" produced by other automakers – when you buy a Ford, you buy into an entire enthusiast world! That's because Ford cars and trucks have the kind of personality and style that forges a personal connection with their owners, who in turn celebrate ownership each year at hundreds of enthusiast events all over the country.

Stay tuned to our "What's Happening" section under the "Enthusiasts" tab of FordPerformance.com to catch the latest show news. We'll also provide the best online coverage from some of the top-notch venues sponsored by various Ford enthusiast clubs with our "Quick Look" photo galleries, or via the special features posted in our Enthusiasts Newsroom. There you'll get the inside stories on Ford people, events and places as well as unique Ford club content that you can't find anywhere else on the Web. We do it because, just like you, we're driving Ford passion!