The great thing about owning a performance Ford is that – unlike with buying one of those "appliances" from the other automakers – when you buy a Ford, you buy into an entire enthusiast world! Ford cars and trucks have the kind of personality and style that forges a personal connection with their owners, who in turn celebrate ownership each year at hundreds of enthusiast events all over the country. Now's the time for you to start planning to attend some of the big-name annual events that have already set dates for next year. Here's our own "Top-10 List" of the biggest "can't-miss" Ford-based shows for 2017:
March 24-26: Gulf Coast MCA National show (Pensacola, FL); April 30: Fabulous Fords Forever @ Knott's Berry Farm (Buena Park, CA); May 4-6: Shelbyfest (Jefferson City, MO); May 12-14: "Hoofbeats In The Desert" MCA National show (Tucson, AZ); June 2-4: Carlisle Ford Nationals & 50th Anniversary of Shelby GT500 + Mercury Cougar (Carlisle, PA); June 8-10: SAAC42 @ Indianapolis Motor Speedway (Indianapolis, IN); June 14-18: Mid-America Ford & Shelby Nationals (Tulsa, OK); August 19: Mustang Alley @ Woodward Dream Cruise (Ferndale, MI); August 20: "Mustang Memories" MOCSEM Show @ Ford WHQ (Dearborn, MI); August 24-27: MCA Grand National (Overland Park, KS); Aug. 29-Sept. 3: Sturgis Mustang Rally (Sturgis, SD) and; September 4-10: Mustang Week (Myrtle Beach, SC) …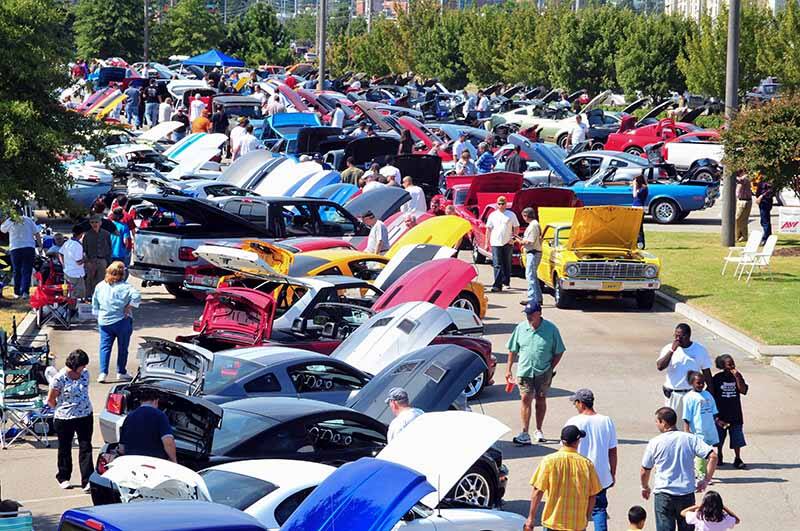 … And there are many more great shows coast-to-coast, as big events are also being planned for National Mustang Day on April 17, the Mercury Cougar 50th Anniversary at Ford WHQ June 9-12, the American Muscle annual Mustang show in August, plus plenty of other top-notch venues sponsored by various Ford enthusiast clubs! We'll get you all the details in "Fast News" each week plus provide the best coverage in our Enthusiasts News Room because like you, we're driving Ford passion!
Give the Gift That Keeps On Giving:
Ford Enthusiast Club Membership!
With the holiday shopping season upon us, we're faced with the annual challenge of what gift to get for our favorite car guy (or gal) who seems to already have everything. Beyond the Cool Stuff being offered by the Ford Performance Info Center (800-FORD-788), you'll never go wrong buying the car person in your life a full year's membership in a Ford vehicle club. Owning a performance Ford goes well beyond just driving one – there's a whole world of new friends, information and activities that await those who join a Ford enthusiast organization. And a membership in one or more of them makes a GREAT gift that will be appreciated the whole year through!

For Mustang owners, a membership in the Mustang Club of America is a must! For more specific tastes – such as the Shelby, Boss, California Special, Bullitt, Mach 1, SVO, or simply Yellow or Red Mustangs – there's Team Shelby; SAAC; SAAC-MCR; the Boss 302 Registry; the GT/CS Registry; International Mustang Bullitt Owners Club; the Mach 1 Registry; SVO Owners Association; and the Yellow Mustang Registry, Red Mustang Registry, and Green Mustang Registry respectively. Even if you're just a Mustanger in the Midwest there's the Mustang Owners Club of South Eastern Michigan (MOCSEM) or the Midwest Blue Oval Club. And on the East Coast, there's NJStangers.
Drive a Ford SVT or a Mustang Cobra? Then join the Special Vehicle Team Owners Association, the Ford Raptor Forum or the SCMC. A fan of the Fiesta, Focus or Focus ST and RS? You've got Fiesta Faction, Focaljet; STNation and RSNation. Love the Ford GT supercar? You have the Ford GT Forum. A Thunderbird? Join the ITC or the CTCI. How about a Mercury or a Marauder? You can connect with the IMOA, the Ford & Mercury Restorers Club of America and the Motor City Marauders. Or maybe the Taurus SHO? Yes, there's a SHO National Owners Club. No matter what the Ford, from F-150's to Lincolns to Mercury Capris to Pintos, there's a group of enthusiasts for it! Heck, we're even connected to Europe via MustangMania.it! Visit the club sites directly or check them all out on FordPerformance.com and look for new Ford-based enthusiast clubs we'll be adding to our list in 2017. Whichever club membership you choose, you'll be giving much more than just a gift – you'll be offering a whole Ford enthusiast lifestyle!
Ford Performance Fans on Your Shopping List?
Book 'Em with a Cool Gift from FordShowParts.com

Already a Ford enthusiast club member? Then you know that one of the biggest headlines from the world of Ford Performance during 2016 was the all-new Ford GT winning Le Mans. So it should be no surprise that Ford GT is one of the hottest car books on the market. If you have a Ford Performance fan on your shopping list this holiday season, they'd be sure to love this new hardbound celebrating the Ford GT's history-making Ford win in its return to Le Mans.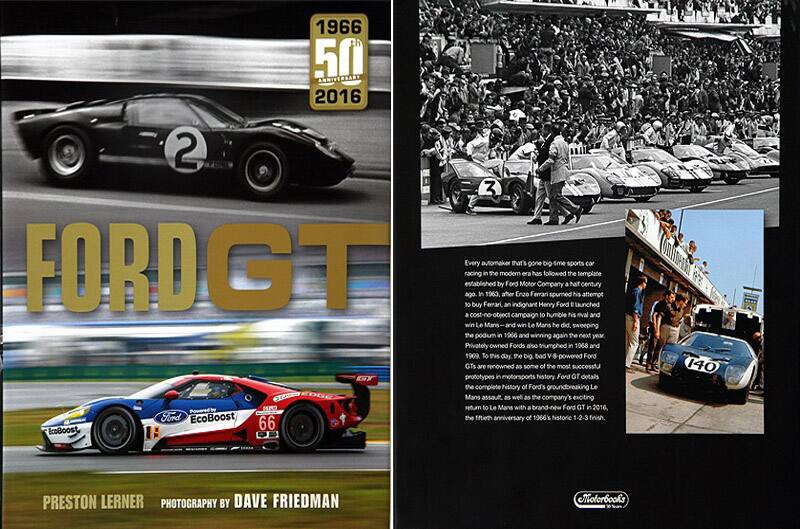 In Ford GT, author Preston Lerner covers a half-century of Ford GT history, from the cost-is-no-object campaign that Henry Ford II launched in response to Enzo Ferrari backing out of the sale of Ferrari, all the way to Ford's exciting return to Le Mans 50 years later earlier this year. Lerner explains that while 50 years ago big V-8 power was the determining factor in the success of the GT40, today new technological advances and improved power-to-weight ratio are the foundation of the brand-new Ford GT race car. This collectible book details the entire Ford GT development process, and recognizes not only all the key players who had a hand in building the GT40, but also the new names and faces that brought Ford back to Le Mans in 2016 with an all-new race car. You can order the exclusive new book today from www.FordShowParts.com by clicking HERE or simply call the Ford Performance Info Center at 1-800-FORD-788 during regular business hours to score your copy. But you'd better hurry – stock of this book is extremely limited, so order now before they're all gone!

If the Ford Mustang is more your speed, our Ford Performance Info Center has the critically acclaimed book, Mustang 2015, The New Generation that reveals the inside story of how Ford Motor Company has recreated its iconic pony car for 2015 and beyond. Mustang 2015 is a wonderfully illustrated, 192-page hardbound that includes previously undisclosed perspective on historical Mustang development plus exclusive interviews and info from Team Mustang, Ford executives, retirees, dealers, as well as Mustang owners and enthusiasts! Although the book's initial print run has sold out, they are in stock and available right now www.FordShowParts.com.

But wait, there's more: If you or someone you know also likes the Mustang Boss 302, Ford GT supercar, Fox Body Mustang, any 1993-2003 SVT vehicle, or the Ford Thunderbird, did you know that Ford Performance has special, out-of-print enthusiast books on each of those?
We also have both editions of Donald Farr's superb "Boss 302 - From Racing Legend to Modern Muscle Car," as well as both versions of "Ford GT – The Complete Owners Experience" from co-authors Marcie Cipriani & Joey Limongelli. Any of the above books would make GREAT gifts, so get 'em now while you can!
And for vehicle owners, Ford Performance is offering "Certificates of Authenticity" for a wide variety of collectible high-performance Fords. All you need is your VIN and a valid credit card. Cost is $45, but members of any of the clubs listed on FordPerformance.com get a 15% discount if you call our Ford Performance Info Center to order.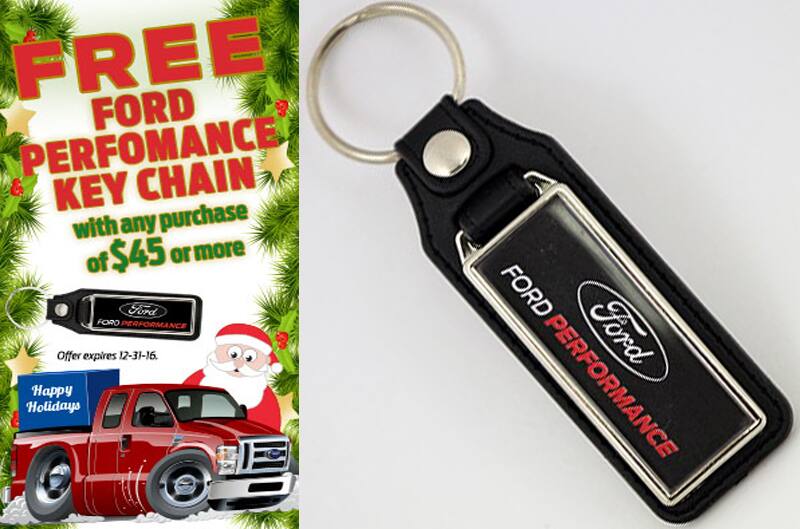 To help jump-start your holiday shopping, we're offering a Ford Performance logo keychain– a $14.95 value – FREE when you purchase $45 or more in merchandise from FordShowParts.com. This special promotion lasts only until the end of December, so get online today and get shopping! As always, if you have questions you can call the Ford Performance Info Center TOLL FREE at 800-FORD-788.
Calling All Ford Performance Enthusiasts: Do You, or Does Someone You Know, Belong in Our 'Ford Fan Spotlight?'
You know who they are: Ford Performance "superfans;" grassroots Ford racers; unique Ford vehicle owners; loyal Ford enthusiasts; notable Ford club people; special Ford families; and/or any avid supporter of Ford, Ford vehicles and Ford Performance who deserves some recognition. We want to know about them and to tell their story to the more than a quarter-million Ford fans who now get "Fast News from Ford Performance."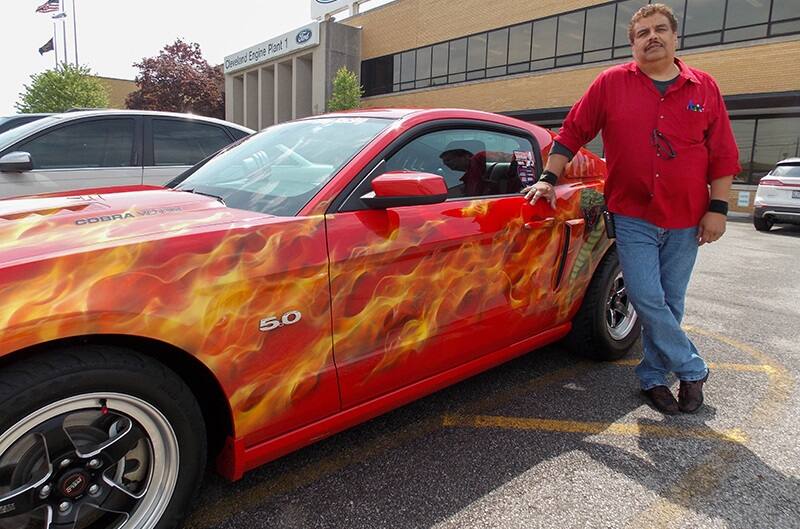 So we'd like you to send us a brief description (200 words or less) and a photo or two (in .jpeg format, preferably 300 dpi) of a person who you think we should feature (and why) in our "Ford Fan Spotlight" for an upcoming installment of Fast News. Prefer to tell us about them in a video? That's cool! Just post your video on www.YouTube.com (preferably 1-2 minutes long) and send us the link, along with a brief description, and we'll consider those, too!
Connecting with Ford and getting your favorite Ford fanatics featured in our "Ford Fan Spotlight" is as simple as sending the info requested above to: AskTFR@Ford.com. We'll choose the top candidates from your submissions, so keep reading Fast News each week to see who might bask in the glow of our "Ford Fan Spotlight!"
Get With The Program: Is it Time Your Club Joins Our Ford Performance Group of Enthusiast Organizations?
More and more Ford-based vehicle clubs and online communities are establishing an official connection with Ford Motor Company by taking part in our enthusiast outreach program. That's why you'll notice that the Ford Performance Enthusiasts Group of clubs and online communities on FordPerformance.com keeps growing. If your club has not yet connected with Ford Performance with inclusion in our "Fast News from Ford Performance" weekly e-mail program, they should at the very least be included on our "Friends" list.
So what about your national club? All you need is a "Yes" answer to at least one of the following three questions to qualify: Are your members Ford performance vehicle or racing fans? Do they attend Ford enthusiast, club or racing events? Are they interested in Ford Performance Parts? If so, then send your club info in an email to AskTFR@Ford.com or call the Ford Performance Info Center at 800-FORD-788 to discuss how to get your club involved and we'll get the ball rolling. After all, at Ford Performance, we're driving Ford passion – just like our enthusiast club members!
And if you're particular about staying on top of all the happenings in the Ford Performance world, then check out our Enthusiasts Newsroom every week, because there you'll find the inside stories on Ford events and Ford club content that you can't find anywhere else on the Web!