With the arrival of summer comes a long list of great car shows and events to attend during June, and it's time to start planning for a couple of our favorites. One notable show is the 28th Annual Rocky Mountain Mustang Roundup June 16-19 in Steamboat Springs, Colorado. This four-day Pony Car festival is so big that it's hosted by no less than six Colorado regional Mustang clubs! (Denver Mustang Club; Early Mustang Club; Front Range Mustang Club; High Country Mustang Club; Rocky Mountain Mustangers; and Shelby American Automobile Club ‐ Colorado Chapter). The show features 400-plus cars from across the country, with roughly half of them participating in Thursday's Scenic Mountain Tour while another 200 take on Friday's Autocross course. Some 1,000 or more people attend the Friday night social, and far more tour the Mustangs that line the downtown streets on Saturday before the big awards banquet that night. Check out the event website HERE for details.

Ever wish you could just head "Back To The '50's" to get your car fix? We do, too, and that's why you'll find the Ford Performance events trailer at the big annual show with same that name outside Minneapolis. This's year's nostalgia weekend is set for June 17-19 and is again sponsored by the Minnesota Street Rod Association and held at the Minnesota State Fairgrounds in Saint Paul. Look for us among the 12,000-plus show car entries!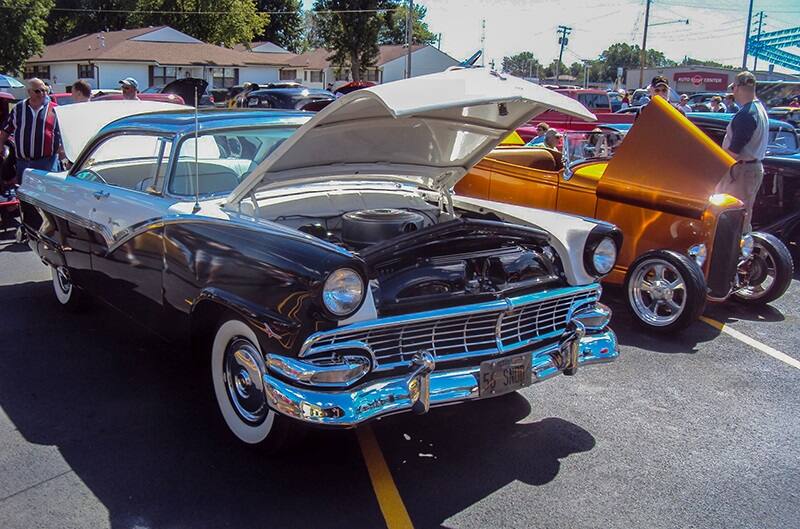 Speaking of multi-marque events, if you've ever doubted that Blue Oval guys and Mopar men could get along, then you haven't seen "Snakes On The Mountain," a yearly Cobra-Viper-Shelby event hosted by the Lehigh Valley Region of SAAC and the PA/WV Viper Club. This year's 20th annual gathering is set for June 11 – rain or shine – in Lehighton, PA. It's open to all Shelby, Viper, Cobra and high-performance Fords and Mopars. The SAAC forum has more info.
We'll be getting our own Shelby fix during "Ponies At the Point," an extended getaway weekend hosted by Team Shelby Northeast and SMC Events, in conjunction with Summit Point (West Virginia) Raceway and Carlisle (Pennsylvania) Events. Technically part of the June 2-5, 2016 Team Shelby East Coast Nationals, the event is open to all Ford fans and Blue-Oval powered vehicles. After a full day on-track on Thursday and an event banquet that night, participants cruise to Carlisle, PA, on Friday to participate at the Ford Nationals, with a dinner at the Fairgrounds and a special gathering at the Nats on Saturday. Get details HERE, and we'll see you there!
Speaking of Shelbys, if you can't get to the Shelby American Automobile Club's annual convention (SAAC 41 at Mid-Ohio June 21-25) at the end of the month, you can still get your Shelby fix at the SAAC-Motor City Region's 41st Annual "Show & Go" June 12-13. The "Show" part is held Sunday at Ford World Headquarters in Dearborn, and the "Go" happens on Monday at nearby Waterford Hills Road Race Course. Look for coverage in the Enthusiasts section of FordPerformance.com.
Traditional Mustang shows more your thing? Then let us suggest the "21st Annual Mustang & All-Ford Weekend" June 17-18 at Jim O'Neal Ford in Sellersburg, Indiana, hosted by the Falls City Mustang Club of Southern Indiana. Out in California you'll find the "39th Annual Vintage Mustang Owners Association Car Show" June 18 in Campbell, CA. And in Greensboro, North Carolina, that same day you can catch the "34th Annual Mustang & Ford-Powered Show," thanks to the efforts of the Gate City Triad Mustang Club. Click on the club sites for info.
If you happen to be in Michigan over the June 18-19 weekend, you've got two big shows to enjoy. First up is the "35th Annual Mustang & All-Ford Show" June 18 in Grand Rapids, MI, hosted by our friends in the West Michigan Mustang Club. And on Sunday the 19th, there's the "Great Lakes Stampede All-Ford & Mustang Show" in Saginaw, MI, put on by the good folks of the Mustang Club of Mid-Michigan. Links to the club websites will get you all the details.
Mercury Capri fans are again abuzz this year about the Capri Club North America's annual convention, Capri Swarm 2016, held in conjunction with the NMRA Super Nationals at National Trail Raceway in Hebron, Ohio, June 10-11-12. Events there include: CCNA Capri Show & Awards, Capri Swarm Grudge Drag Racing, NMRA Drag Racing, NMRA Show & Awards, Team Blitz Road Racing Display, Trivia Contest, CCNA Awards Banquet, Tech Seminar, Friday Ice Cream Cruise, and Team Blitz Customer Appreciation Friday Night.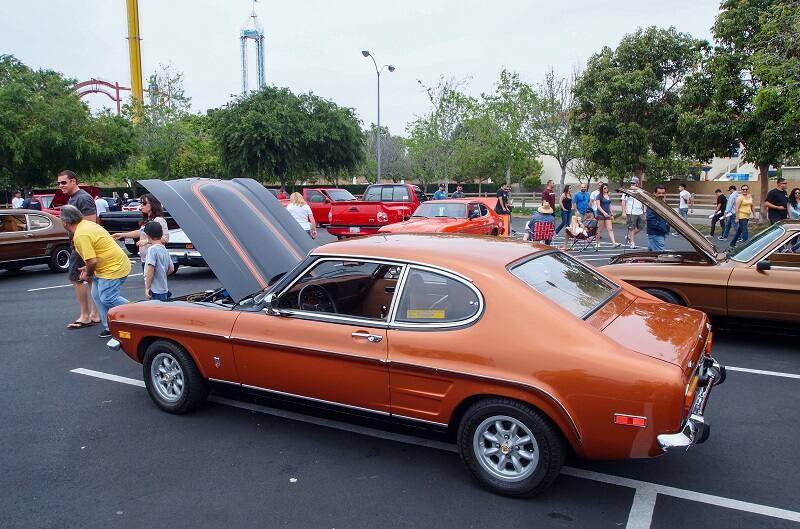 That same weekend you can catch the "34th Annual Mustang Roundup & car Show" down in Lubbock, Texas, presented by the Lubbock Mustang Club. Or simply join us at the Ford Performance Meet & Greet tent during the "9th Annual Varsity Ford Benefit Car Show" in Ann Arbor, Michigan on Saturday. If Sunday June 12th is your getaway day, then you can head to Manchester, Connecticut, where the Mustang Car Club of New England is hosting its "39th Annual Spring Roundup" show at Mustangs Unlimited. Or you could attend the "4th Annual Mustang Showdown" being held at Levittown Ford in Levittown, New York, courtesy of the Mustang and Shelby Club of Long Island. Or perhaps just get to Richard Bazzy's Shults Ford in Harmarville, Pennsylvania, for the Greater Pittsburgh Mustang Club's "32nd Annual All Ford-Powered Show." All of them will be a good bet.
In the meantime, Ford Motor Company is getting ready to celebrate all that involves the Blue Oval at the annual Carlisle Ford Nationals with a fun-filled extended weekend June 3-5, in Carlisle, PA. Ford will give fans the chance to get behind the wheel of some of their favorite Ford vehicles, and will offer an up-close look at the latest new Fords. Enthusiasts will again have access to the Ford Performance Garage to enjoy discounts on upgrades for their Ford-powered vehicles. Attendees can also enjoy a show field full of historically significant Ford vehicles and a variety of activities.
Throughout the weekend, Ford will offer guests with a valid driver's license free ride-and-drives in the company's 2016 vehicle lineup. Enthusiasts are invited to experience the impressive handling and power Ford has built into its current stable of quality vehicles. Carlisle Events was one of the first groups in the United States organized specifically to conduct and promote events for the collector car and truck hobby, and the Carlisle Fairgrounds is known as a premier site for collector car enthusiasts from all over the world.
For attendees looking to tailor their rides, the Ford Performance Garage will offer exclusive event rates for upgrades on Ford-powered vehicles, including Mustang, Focus, Fiesta and more. The Ford Performance Garage, located on the Manufacturer's Midway, will offer power upgrade packages, cold air kits, performance-tuned mufflers, handling packs, lowering springs, short-throw shifters, X-pipes and more. Ford factory-trained technicians can perform installation work on-site.
In case you've somehow never attended, the Ford Nationals in Carlisle, PA, is the biggest annual all-Ford celebration of its kind on the planet, so you can bet your Mustang that there's going to be plenty of cool Ford vehicle gatherings there this year: How about celebrating 40 years of Roush and the 40th anniversary of the Starsky & Hutch Torinos, which includes special guest appearances by Paul Michael Glaser (David Starsky) and Antonio Fargas (Huggy Bear)? Other special events include the 50th Anniversary of the Ford Bronco, the 20th Anniversary of the Mystic SVT Mustang Cobra, and special gatherings for Team Shelby, the Pinto Stampede and Ford sport compact fans with the annual "Focus/Fiesta Rising" event. Plus you can enter to win $2,000 in Ford Performance Racing Parts! So come to see acres of classic Fords and Mustangs among the nearly 3,000 vehicles expected in the show field, and find cars, people and activities that are associated with nearly every Ford model and product ever made!
With its huge show, swap, midway and car corral, plus special vehicle displays, contests, celebrities – even an autocross, and a parade and a street party! The 2016 Carlisle Ford Nationals features family fun for everyone. Ford Performance will again choose the annual "Coolest Club Hangout" award, so we'll be looking for YOU and all collectible Fords June 2-3-4-5.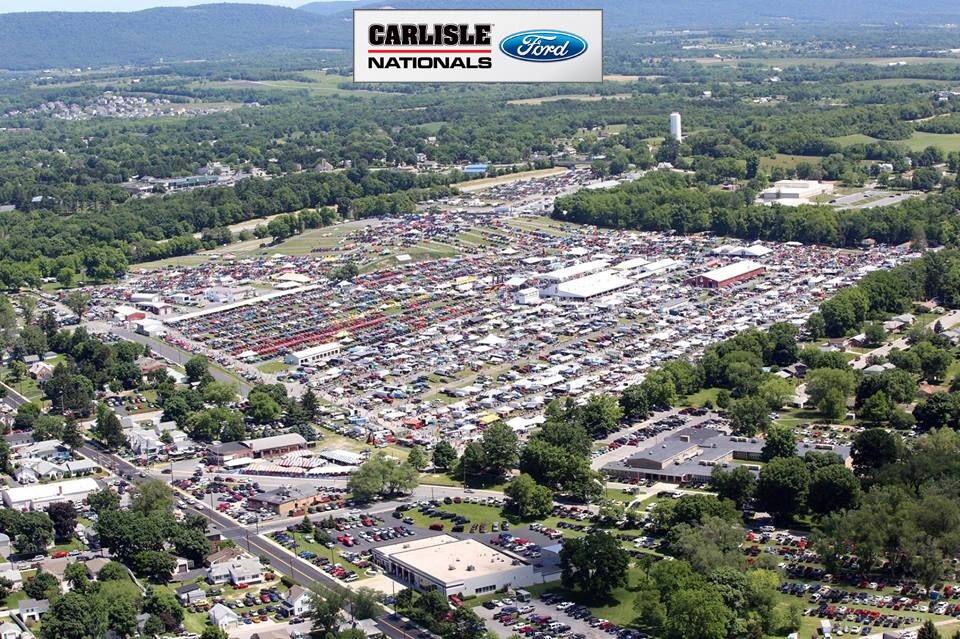 Central PA not on your GPS that weekend? How about a trip to Nevada June 3-5 to celebrate the "Magic of the Mustang" in Reno at the MCA Nationals, presented by the Reno Mustang Car Club? You could also head to Austintown, Ohio, where Mahoning Valley Mustangs are sponsoring a "Mustang vs. Camaro Showdown" on June 4. Or that same day, get to the Gordon central High Scholl Athletic Complex in Calhoun, Georgia, where the Cherokee Regional Mustang Club is hosting its "36th Anniversary Annual Mustang Show & Swap Meet." If you only have June 5 to get out and about, then you're still in luck: The Valley Mustang Club is presenting its "14th Annual Mustang and Ford Car Show," at the Hummingbird Nest in Simi Valley, California; and the "37th Annual Mustang and Ford Auto Show & Swap meet" will be held at Valley Junction in West Des Moines, Iowa, courtesy of the Mustang Club of Central Iowa. The club web sites have all the details.
Of course, Mustangs and racing go hand-in-hand, so if you're planning to come to The Motor City to catch all the action at the Detroit Grand Prix June 3-5, 2016, you'll have a cool opportunity to do something special on race weekend. This year, the Belle Isle Detroit Grand Prix has put together a Mustang Car Corral offer for Ford fans who want to drive their Mustangs to the races being held on Belle Isle, the city's picturesque island park on the Detroit River. If you buy a Corral ticket, you'll get exclusive on-site parking, reserved grandstand seating and a Paddock Pass that provides access to the Garage Area – all for a special price. Space is limited, so don't delay: To order tickets, click HERE or call 866-464-PRIX.
And if you're particular about staying on top of all the happenings in the Ford Performance world, then visit our Enthusiasts Newsroom every week, because there you'll find the inside stories on Ford events and Ford club content that you can't find anywhere else on the Web!