CONCORD, NC – The Mustang Owner's Museum, located just down the road from the Charlotte Motor Speedway, once again hosted its now-annual "National Mustang Day" event this year, attracting hundreds of Mustang enthusiasts to help celebrate the 58th birthday of the Ford Mustang, as well as the newly-expanded museum's own 3rd anniversary. License plates seen on attendees' cars were from as far away as OH, NY, NJ, TN, and FL. April 17th has been a long-standing day of recognition as Mustang's official anniversary since that's the day it was unveiled at the New York World's Fair and offered for sale to the public in 1964. With April 17th falling on Easter Sunday for 2022, the museum's National Mustang Day festivities took place from April 14-16 this spring.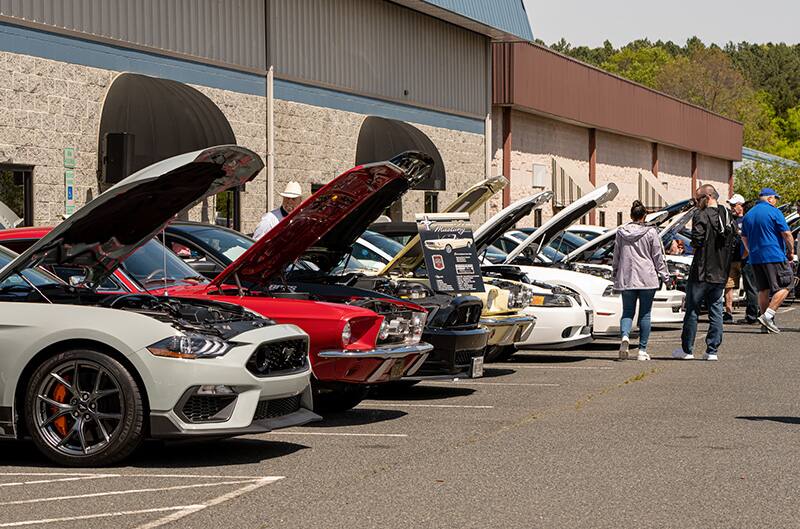 The weekend program kicked off with a private viewing of the newly reconfigured Mustang Owner's Museum, with its much-anticipated third-wing expansion now complete. Held on the evening of Thursday, April 14th the gathering served as a casual Meet & Greet with many of the special guest speakers on hand and a venue for all to enjoy a nice meal provided by Steve & Michele Hall, founders and proprietors of the museum.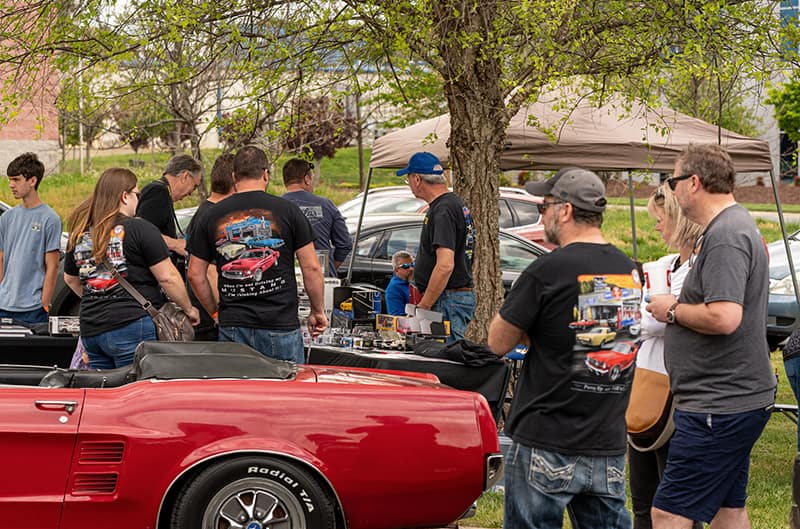 A colorful array of Ford's famed pony cars got out and about on Friday the 15th as Mustangs were parked in every nook and cranny of the museum's grounds and adjacent areas. The day's events included a Morning and Afternoon Road Tour to the local Southern Grace Distilleries (A.K.A. the Whisky Prison), about 30 miles away in local Mount Pleasant, NC. The Wrecking Crew Mustang Club led the caravan of 30-50 Mustangs for each tour. Throughout the day at the museum, the notable guest speakers gave presentations about their Mustang experiences, contributions and passion that helped shape the Mustang and its evolution into the automotive icon that it is today. The presenters included Art Hyde, Chief Engineer for the SN-95 Mustang Platform and 2001 Mustang Bullitt Program Manager; Bud Magaldi. Head Exterior Designer for the SN-95 Mustang; Emeline King – Interior Designer for the SN-95 Mustang; Lee Mansell, Family Owner of Mustang #100004, NY World's Fair Participant Car; Rick Schmidt, family owner of National Parts Depot; and Tom and Gail Wise, owners of the First Mustang sold to the public.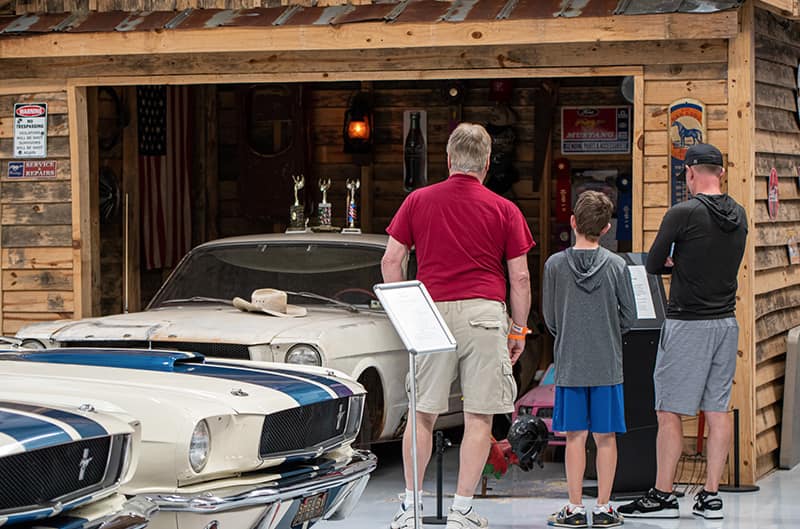 The first serialized Mustang, VIN 100001, was sold in Canada and recovered by Ford in 1966 and now resides in the Henry Ford Museum in Dearborn, MI. Even though it was the first serialized production Mustang, it was not the first Mustang sold. That coveted honor goes to Gail Wise and her '64½ Convertible that she purchased and drove home on April 15, 1964, two full days before the Mustang officially went on sale. She and Tom still own the car today – which is has the longest documented single-ownership history of any Mustang on the planet. Their restored Skylight Blue Convertible was on display at the museum, with Gail and husband Tom there to tell their story.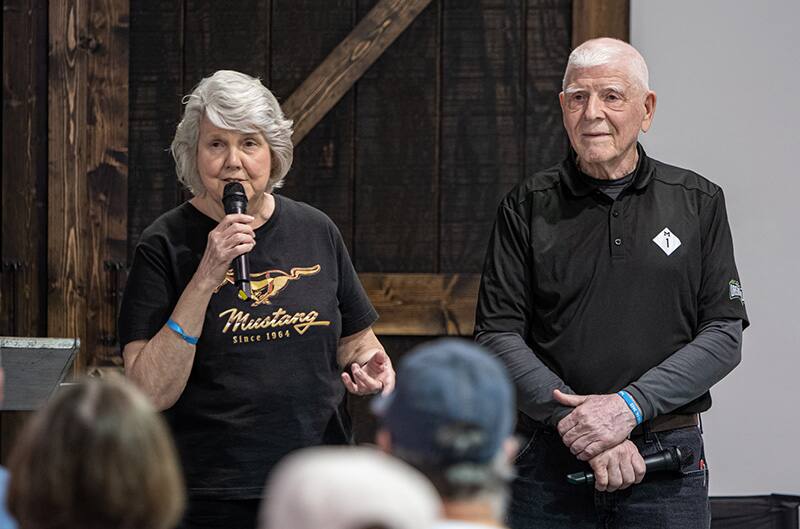 Also on hand was famed Shelby engineer Chuck Cantwell. After Ford had courted esteemed car builder and 1959 Le Mans-winning driver Carroll Shelby to give the new Mustang a more masculine demeanor, Shelby had set up a company to convert factory Mustangs into Shelby Mustangs. With the introduction of pony car's third body style -- the Mustang 2+2 or 'Fastback' as it became known, Carroll's shop employed a team of renowned engineers and drivers to help create Shelby GT350 serial #SFM5001. Cantwell was one of those original Shelby engineers. He was not only at the museum to chat about his experiences with Shelby American and the GT350 Program, but the actual first Shelby GT350 that he helped develop was also there on display.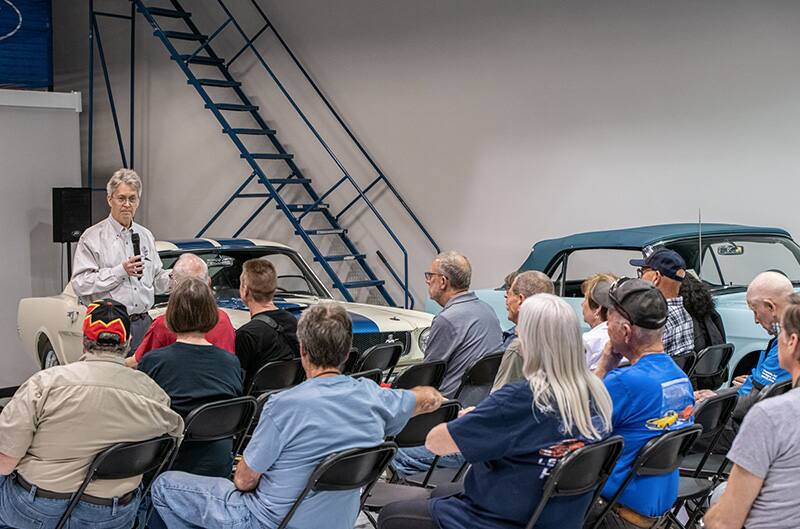 In addition, esteemed Mustang restorer and MCA Senior Head Judge Charles Turner, who restored #5001 to its current flawless state, was also present to discuss the history of the car and his contribution to its legacy. Turner headed up the effort to put this car back to the state it was in when it was first received by Shelby American, as a Wimbledon White '65 K-Code 2+2, then re-restore it implementing all the Shelby modifications that created the first GT350. Wrapping up the day was a 6 p.m. cook-out hosted by the museum and staff for 150-plus hungry participants. There were burgers and dogs with all the fixings, salads, chips, and some uber delicious home-made desserts and cookies to make up the plentiful smorgasbord, assuring that nobody left hungry.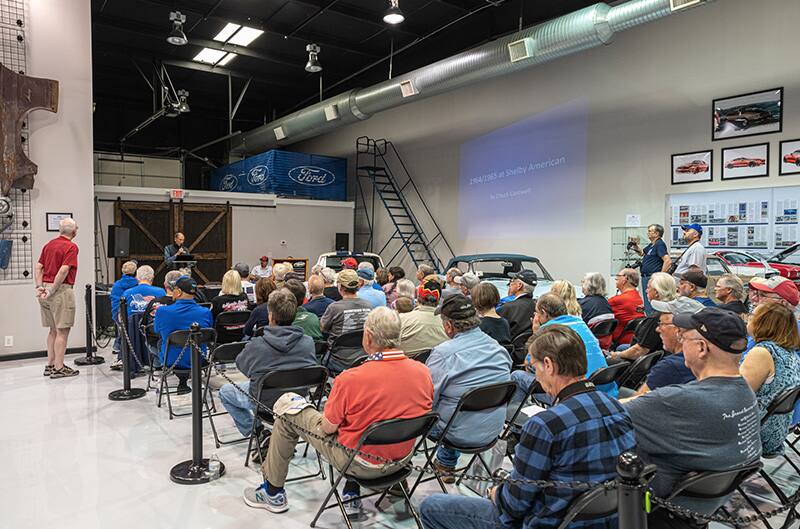 On Saturday the 16th, the NMD 2022 Car Show opened at 9 a.m. with a sold-out venue for 50 pre-registered participants. The weather forecast was for rainy skies, but prayers were answered with the only precipitation being a light 10-minute sprinkle before the day ended up being mostly sunny. The guest speakers continued with their presentations and Meet & Greets in the museum throughout the day, until the Awards Ceremony that afternoon. Six lucky car show participants had their car chosen as a personal favorite by the following Mustang celebrities: Art Hyde; Bud Magaldi; Emeline King; Tom and Gail Wise; Lee Mansell; and Rick Schmidt.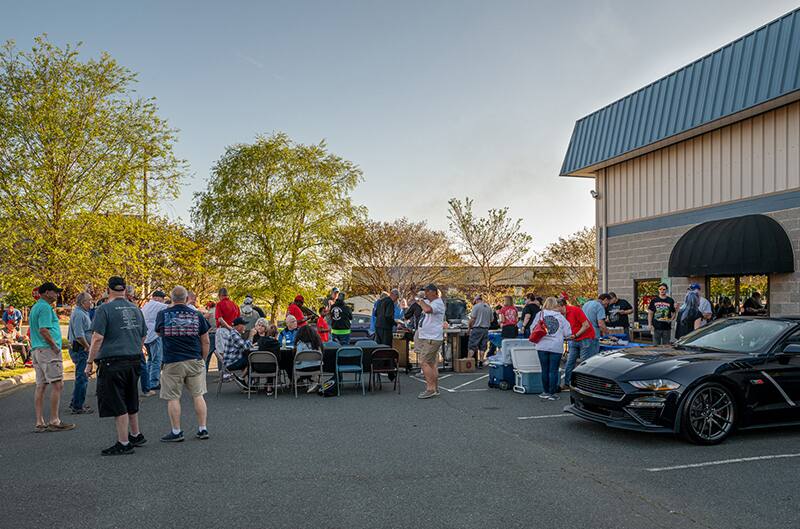 The Saturday evening Mustang Owner's Museum Hall of Fame Inductee Banquet and Ceremony was also a sold-out venue at the event's host hotel. Each year the Mustang Owner's Museum members submit suggestions for possible inductees in the four categories shown below. Then a ballot is sent out to the members to vote on their choice for each category. Congratulations to this year's 2022 Hall of Fame Inductees: Art Hyde - Mustang Industry / Lee Holman - Mustang Racing / Jim Smart - Mustang Journalism / Rick Schmidt - Mustang Hobby / Donald Farr - Mustang Journalism (2021 Inductee). They were around pretty much all evening to chat and share their favorite stories about the Mustang and what it meant to them personally. It was the perfect way to put the wraps on another successful and memorable National Mustang Day event at the museum.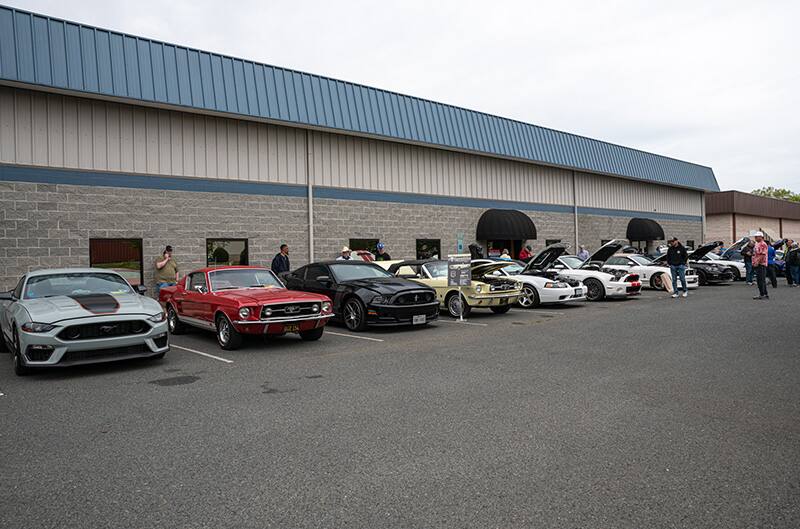 Not only do Steve & Michele Hall and daughter Ashley deserve a special Thank You for their tireless efforts planning and orchestrating not only the Museum's expansion but also this year's NMD event itself. The Halls also sent out their own thanks to all who participated in the event, including all the headliners (Chuck Cantwell; Nick Smith; Charles Turner; Art Hyde; Bud Magaldi; Emeline King; Sam Prock; Tom & Gail Wise; Lee Mansell; and Todd Adams) as well as the behind-the-scenes workers (The Wrecking Crew Mustang Club; Stephanie & Mike Roach; Mike & Nancy Semon; Mark Young; Bill & Kathy Harris; Dan Neve; Dennis Healy; Gary & Betty Walters; and Gerard Ferraioli of RGA Media Services who provided photography) who all pitched in to help make the event such a success. We hope to see you on April 17, 2023, for yet another fun-filled National Mustang Day celebration!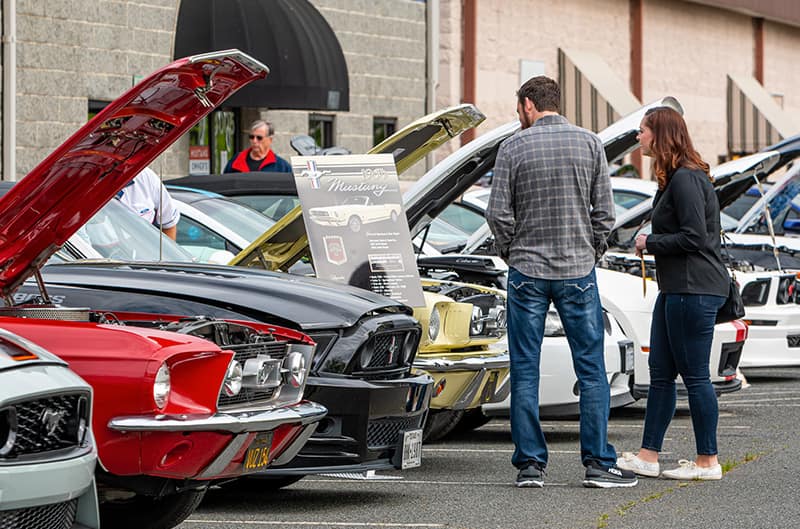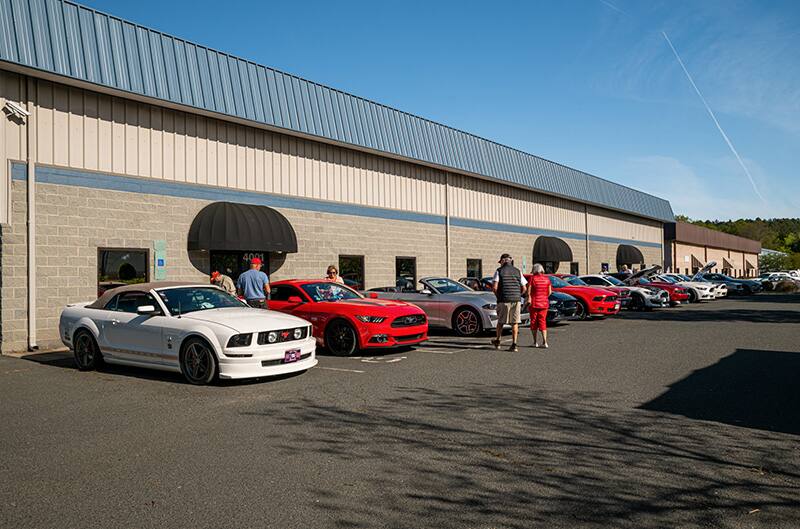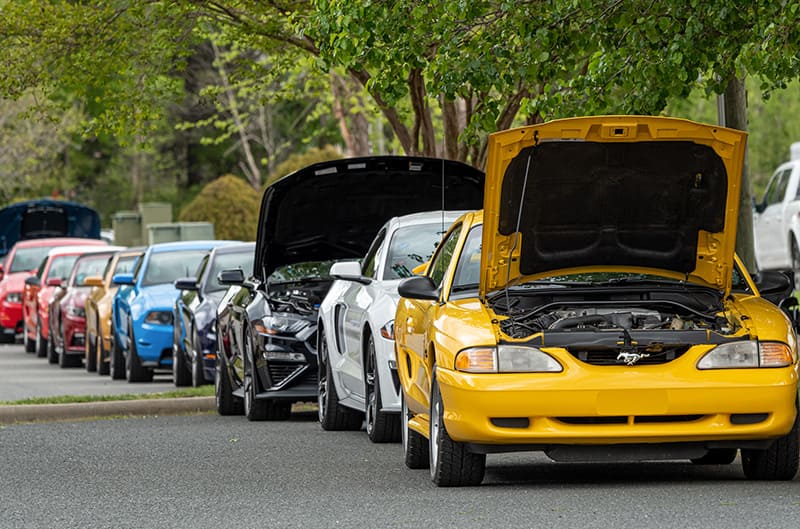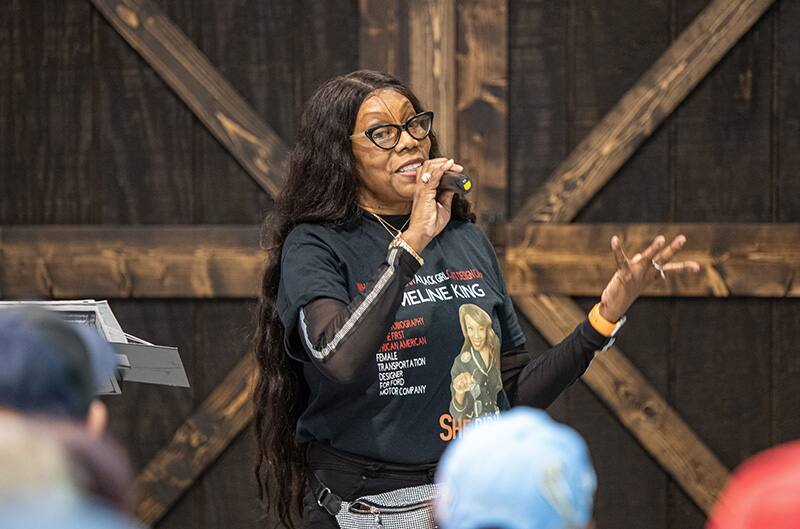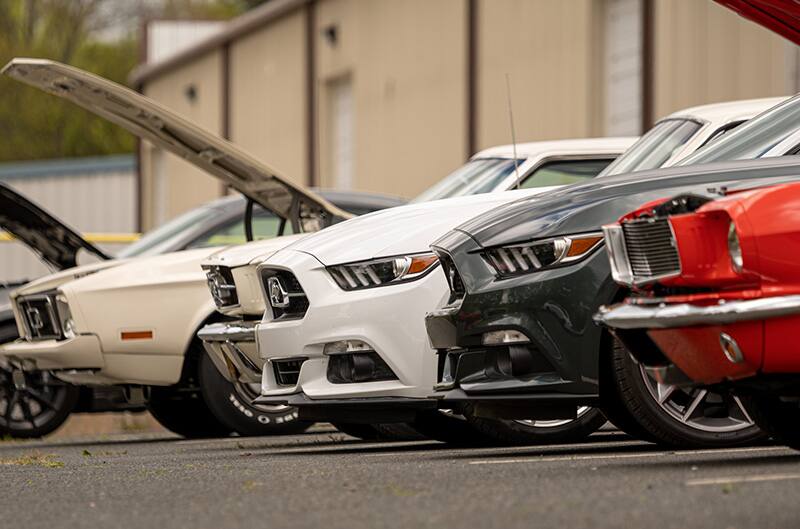 FORD PERFORMANCE PHOTOS COURTESY GERARD FERRAIOLI / RGA MEDIA SERVICES