LAS VEGAS, Nev. – After a year's hiatus due to COVID, the Shelby Bash returned to Las Vegas in 2021 at a different time of the year than usual. Originally held near Shelby's January 11 birthday, it was last held in March of 2019. The 2020 Bash was canceled along with almost every other car show and motorsports event as the world hunkered down during the long pandemic. The 2021 Bash was planned for September 23-26 this year, and by every metric, it was likely the best Shelby Bash ever.
With attendees coming from all over the world, spaces at the event were highly sought after. From the moment that the ordering banks were opened, Shelby American saw high demand, and many events sold out within days.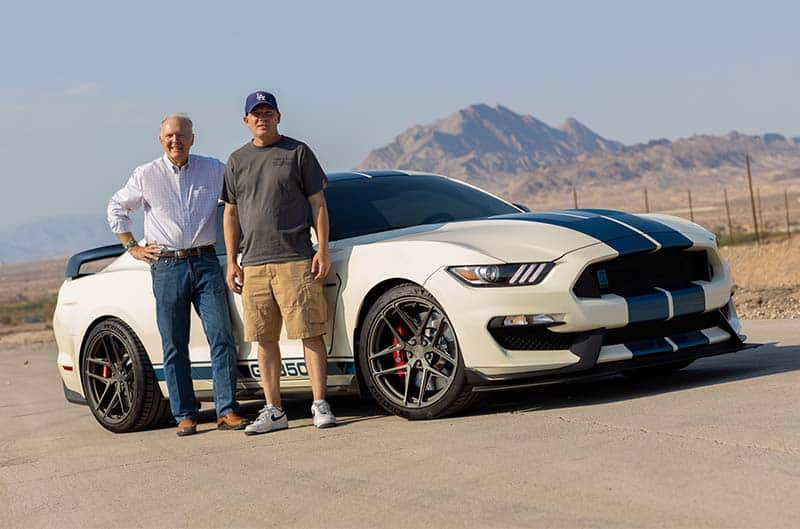 CAPTION: Famous automotive designer and the designer of the 1965 GT350/GT350R, Peter Brock, posed with Troy Rees and his 2020 GT350R Peter Brock Special Heritage Edition at the 2021 Shelby Bash.
The Bash is separated into multiple venues. Created as a family event, these different activities occur simultaneously so you can choose to either go to the track and race around the beautiful resort motorsports park of Spring Mountain, or spend your time at group events like Snakes on the Strip or the Shelby Scavenger Hunt which sends participants around the city looking for clues in a friendly team competition. The Carroll Shelby Foundation also had a presence at the event, holding a silent auction and selling raffle tickets for prizes with the proceeds going to charity.
The Shelby Bash was launched by Team Shelby on Carroll's 85th birthday. The "Shelby Bash is a celebration of the Shelby lifestyle," said Tracey Smith, Executive Vice President, Carroll Shelby International, Inc., and head of Team Shelby. "We did a birthday bash for Carroll, which he was kind of miffed about because he never wanted to trouble anybody, and we brought out all of his friends from Ford. From that, it evolved into the Team Shelby Bash, and we've just been carrying it on. It used to occur on his birthday, but we moved it because a lot of the people that we have coming, come from different parts of the country, and we needed to move it so they could drive their cars out. January was too hard on people living on the East Coast and some of the other states."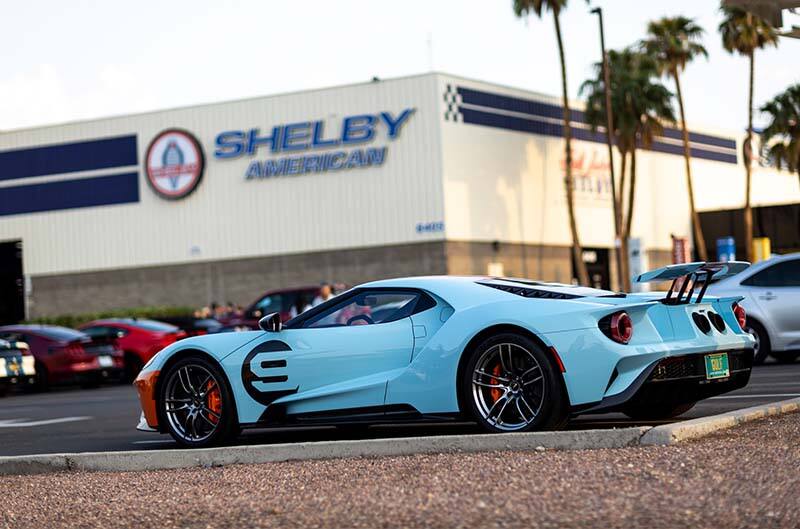 CAPTION: On Thursday, September 23, an impromptu car show broke out at Shelby American's Las Vegas Headquarters as people arrived from all over the world with their Fords.
"Shelby is an enthusiast-driven brand," she continued. "It's hard to describe, but it is just the passion that runs through the community. It brings people together. They feel it, and they connect to each other, and I think that's indicative of the automotive world in general – automotive events bring people together, and Carroll was all about people. As much as he loved making cars go faster and winning the races – and his greatest accomplishments of winning Le Mans and working with Ford Motor Company – it really was all about the people for Carroll. We carry that today with the club."
Along with Shelby American customers who brought out their Super Snakes, GT500 King of the Road's, and GT350-H's (Hertz editions), to name a few, they were joined by a plethora of other Ford Mustangs. There was a fleet of 2015-2020 Ford Mustang Shelby GT350s and GT350Rs in attendance, and they were joined by various 2020-2021 Ford Mustang Shelby GT500s equipped with a myriad of packages.
In any year, this amount of Ford owners turning out for the event would not have been a surprise, but what was surprising were the many Ford supercars that came to honor the famous Texan. There were over 13 Ford GTs in attendance.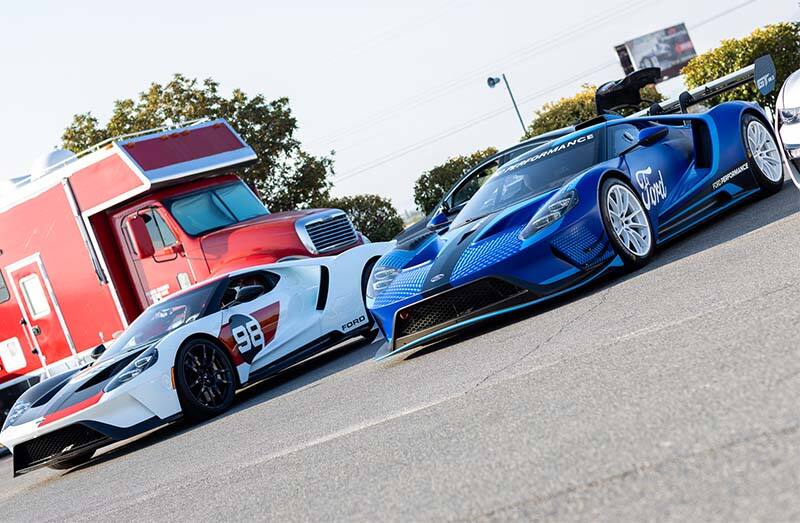 CAPTION: Ford showed up in force at the second track day of the weekend, rolling out both the 2021 Ford GT Heritage Edition and the 2019 Ford GT Mk. II.
Two of the Ford GTs were the vaunted Ford GT Mark II customer track day cars – with only 45 in existence. These vehicles have an MSRP of 1.2 million and are a true sight to behold. One of the Mark II owners also brought his Mustang GT4, the Mustang race car.
This impressive cadre of cars was aided by the vehicles that Ford Motor Company brought to the Bash: a 2020 Ford GT500 Carbon Fiber Track Pack, a 2021 Ford GT Heritage Edition that is a reimagining of Ken Mile's and Lloyd Ruby's 1966 Daytona-winning Ford GT40 MK II, and Ford's own 2019 Ford GT Mark II.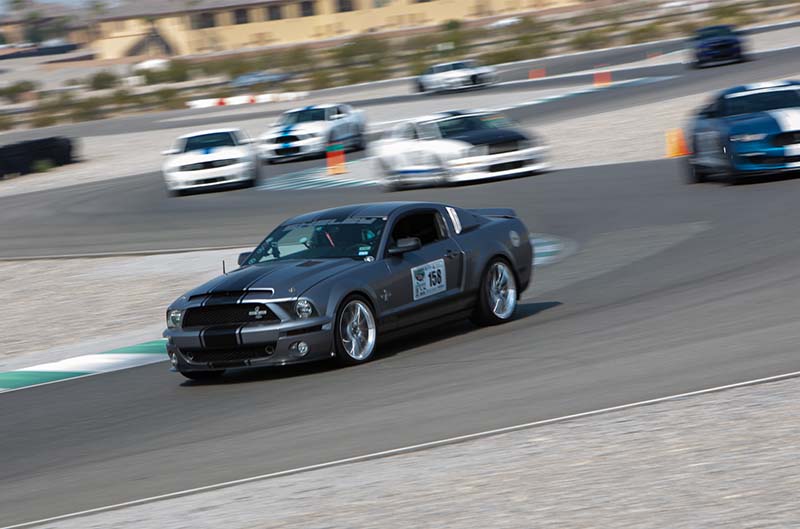 CAPTION: Participants of the track day drove around the Spring Mountain Resort's track, testing their abilities and exploring the performance of their cars.
Ford didn't just bring the cars, they brought the Le Mans race car drivers – Joey Hand and Billy Johnson. Hand, along Sébastien Bourdais and Dirk Müller, won the LM GTE Pro category in the 2015 24 Hours of Le Mans, putting Ford back in the winner's circle 50 years since Carroll Shelby's team took the victory in 1966.
Hand and Johnson signed autographs and posed for photos, plus they terrified people on ride-alongs in both the Ford GTs and the 2020 GT500. Johnson was a track favorite of both the attendees and Spring Mountain's track officials as he would constantly drift around corners and pull the impromptu donut during the sessions – although those antics got him black-flagged on more than one occasion. Whenever Johnson was in the GT500, cellphones went up, hoping to catch a smoky drift.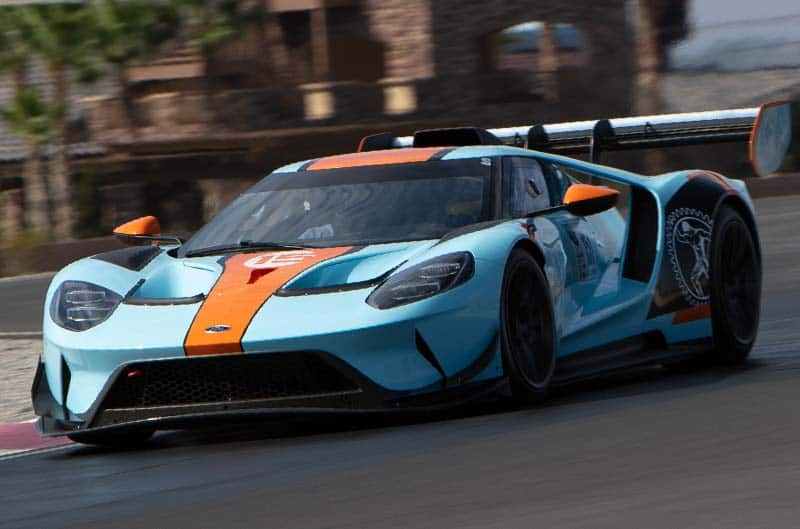 CAPTION: Ben Sloss drives his Gulf-liveried Ford GT Mk. II around the corner of Spring Mountain's big track on Saturday, September 25, 2001.
Ford GT Program Director, Mike Severson, brought out both the drivers and the cars, and he was in attendance to answer questions from Ford Performance fans.
"Ford and Shelby have a longstanding relationship and we are proud to showcase the pinnacle of Ford Performance at the Shelby Bash," he said of the event. "Together we raised money for the Shelby Foundation and gave a few lucky individuals rides in the very limited-production Ford GT Mk II with the former Ford GT race car driver, Joey Hand, behind the wheel. It was a great event and I'm proud to be a part of it."
When Ford's Mark II rolled off the truck, this marked the first time that three Ford GT Mark IIs were at the same event. Taking advantage of the situation, Ford organized a photo shoot to commemorate the moment with nine of the Ford GT street cars posing behind.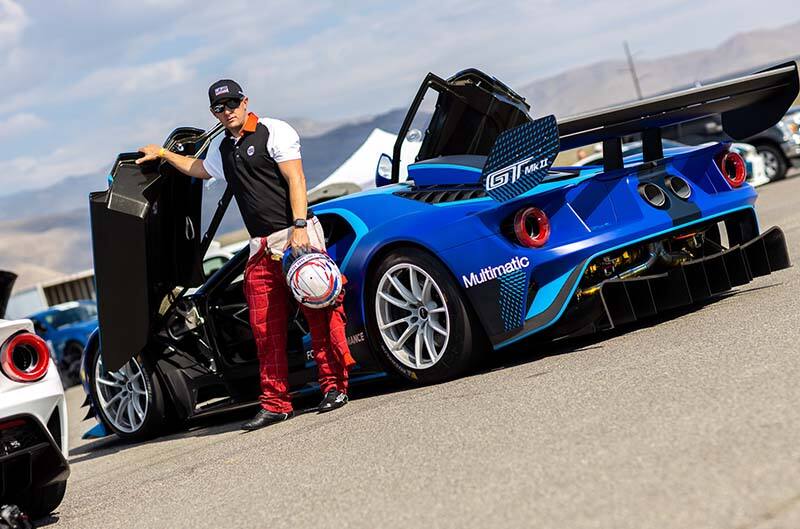 CAPTION: Ford development driver and one of the 2015 24 Hour of Le Mans Ford GT winning team, Joey Hand, was on hand to terrify participants with rides in Ford's own Mark II.
The Carroll Shelby Spirit Award, a yearly award that is given to a person who "embodies the ingenuity, tenacity, and grit of a true automotive icon," was last given to Parnelli Jones in 2019. The 2020 award was given to Ken Miles, the man who was behind so many great Shelby moments in history -- from the success of the Shelby Cobra, the Cobra Daytona, the Shelby GT350R, and of course, the Ford GT40 and their iconic victory in 1966. Accepting the award was Miles' son, Peter Miles. He spoke about his father's racing career, his relationships with other drivers, and his impact on racing history in his adopted home-country of the United States. The award was given at the 2021 event because COVID had caused the cancelation of the 2020 Bash.
The 2021 Carroll Shelby Spirit Award was given to Jim Farley, Ford Motor Company CEO, at a private dinner in Monterey during the 2021 Pebble Beach Concours d'Elegance.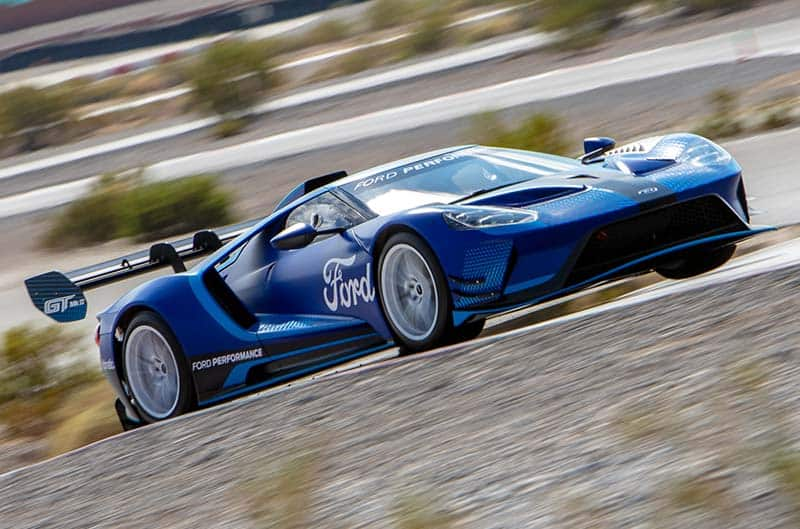 He took home a solid-brass bust of a 427 Cobra painted in blue with white rally stripes. There to watch him take the honor was Charlie Agapiou, the late Ken Miles' head mechanic who was beside Miles at his famous races, including 1966 Daytona and the 1966 24 Hours of Le Mans.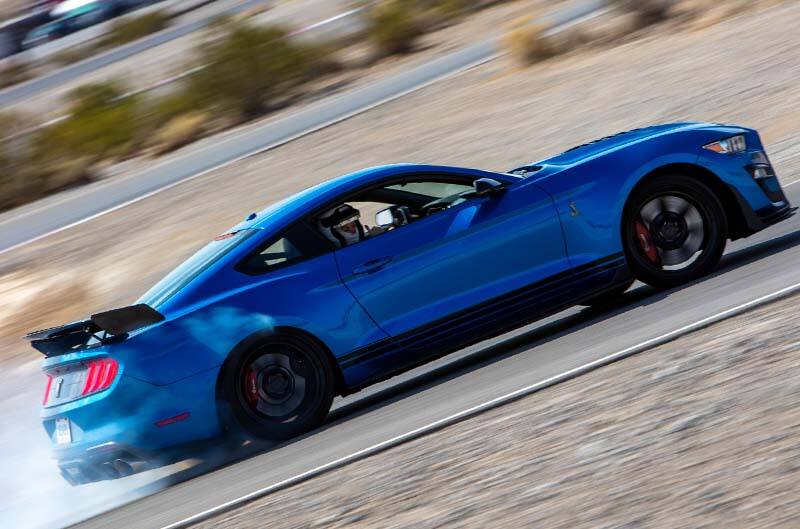 CAPTION: Billy Johnson behind the wheel of Ford's own 2020 Ford Mustang Shelby GT500 Carbon Fiber Track Pack, drifts around "the bowl" on Spring Mountain's big track. The lucky person getting a ride-along is seen giving a thumbs up as Johnson drifts.
"The 2021 Team Shelby Bash was a spectacular success," proclaimed Ms. Smith. "We had unprecedented participation in every activity. The demand for the poker run, scavenger hunt, banquet, and car show was off the charts. The strong support of Ford Motor Company – with sending Billy Johnson in a 2021 Shelby GT500 and Joey Hand in a Ford GT to give thrill rides – attracted the largest crowd to the track in our history. Carroll Shelby would have been proud of the turnout by our enthusiast community."
Ford GT race car driver and Ford test driver Johnson, said, "This was my first Bash, and it was a lot of fun. It was great hanging out and talking with so many great people and giving thrill rides in the GT500. It's quite rewarding to hear people so passionate and hear their love of cars that I was involved in the development of."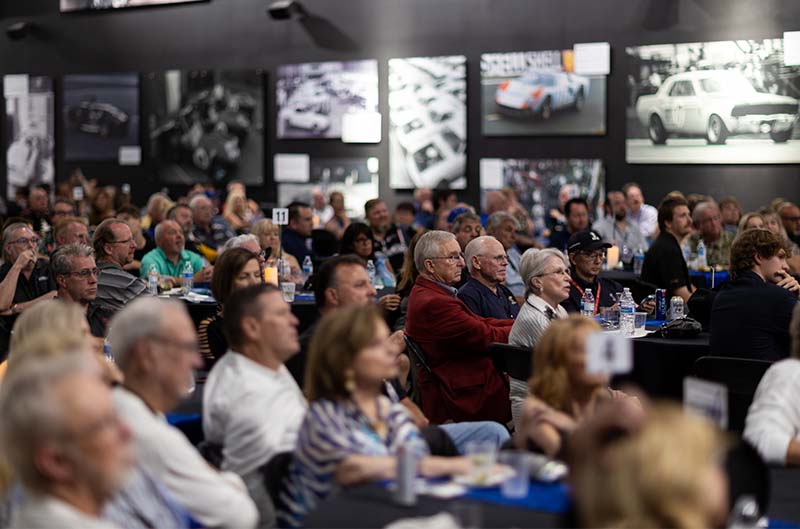 CAPTION: The final banquet had wall-to-wall seating as hundreds filled the museum in Shelby American's Las Vegas, facility. The turnout dwarfed previous event crowd sizes.
For Hand, it wasn't just the event that was special, but also time spent with Peter Miles.

For me, it was a cool thing to do, he said. "The big thing for me is that I've never been to Shelby American, so it was cool to see what that was all about – to see the shop and where they build the cars and all that. On top of that, it's always cool to drive the Ford GT. It was not my first time to be in the Ford GT street car, but it was my first time to be in the Mark II, and that thing was awesome. It gets really close to the race car, and I love being able to give people a ride and give them a thrill in something that is that close to the race car – downforce wise and power wise; it even has more power than the race cars back when we ran them. The whole thing was cool. It was a great track, a great venue, and the big thing about those events, to me, is when you get to do things with such passionate people about motorsports and about their brand – it makes it super fun. I hope I get to do it again."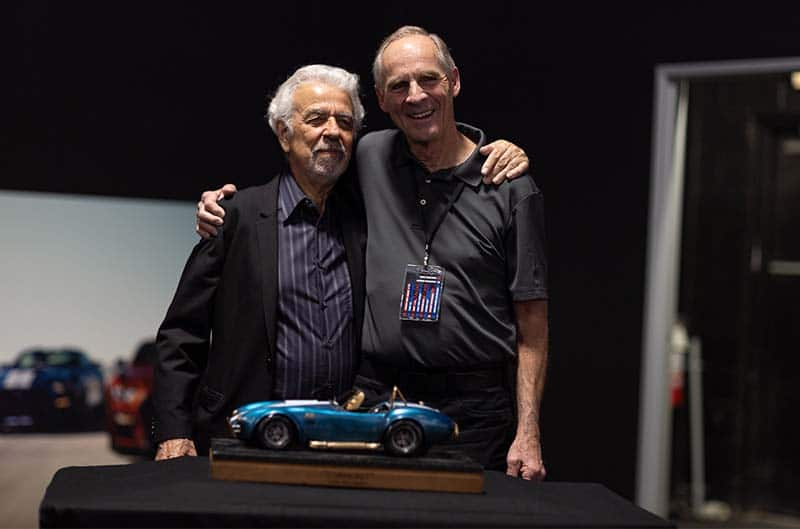 CAPTION: Peter Miles, son of Ken Miles, received the 2020 Shelby Spirit Award in honor of his father. Charlie Agapiou, his late father's head mechanic was there to embrace Miles after he received the large brass trophy.
With Ford bringing out the 2021 Daytona Heritage Ford GT, Hand reunited with Peter Miles.
"I got to meet Peter the first time at Daytona and we became fast friends," Hand said. "He is not a man of many words, but he's a funny guy if you talk to him, and it's so awesome to talk to him about the history and what he grew up with. With his dad being Ken Miles, some of the stories I heard were amazing. He had told me at Daytona, in that car, that it was the first time he had a ride on a proper racetrack with somebody since his dad gave him a ride at Riverside [International Raceway] back when he was a kid – it gave me chills. From there on, it was cool. It was great to see him at the Shelby Bash. We did some stage stuff, and he came over to me on the track days, and said, 'Hey, can I get a ride again? I would love to have a ride again.' He was like a kid in a candy store. He always wanted to go for a ride, he loved the cars, and I got to know him pretty well. Definitely got a new friend in Peter Miles, and I'm sure it's not the last time we're going to do stuff together. There are some great stories there."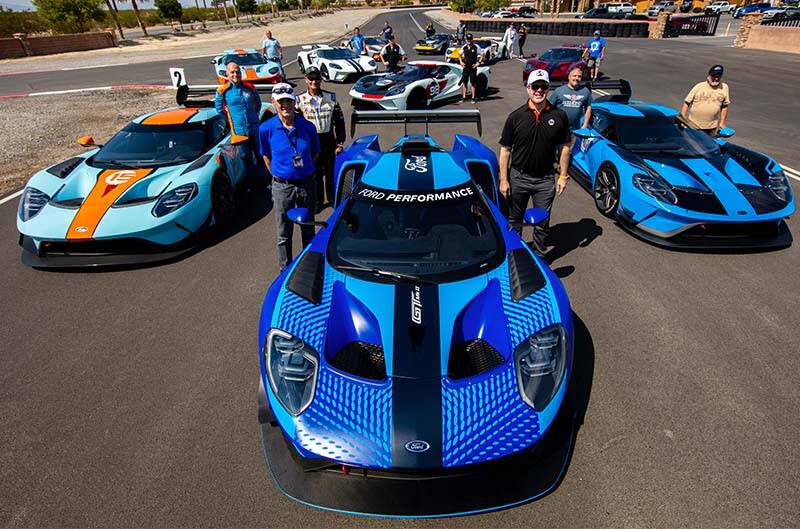 CAPTION: Ford organized a photo shoot of all of the Ford GTs that came to the event. This was the first time that three Mk. IIs were at the same event. The owners stood beside their cars, and Peter Miles and Aaron Shelby stood by Ford's Mk. II, and Joey Hand and Mike Severson stood beside the 2021 Ford GT Heritage Edition.
Carroll Shelby would have been happy to see not only that automotive people were still celebrating together, but that they were also celebrating this history that he and his team forged in those magical years during the 1960s.
FORD PERFORMANCE PHOTOS / COURTESY BRETT TURNAGE