IRVINE, Calif. -- If you live anywhere in Southern California, then you may have heard of Fabulous Fords Forever! It's one of the largest car shows in America, an event that celebrates Ford's heritage from Ford Mustangs to Model T's, to Mercury Cougars to Edsels. If it's a Ford or a brand owned by Ford, then it's welcome. Created over 35 years ago, the show is put on by the Ford Car Club Council (a.k.a. "The Council") -- an amalgamation of car clubs that together, organize, plan and run the show. Of course, they celebrate the California car culture here, but to understand The Council, you must first understand the history of its marquee event.
"The Ford Car Club Council evolved over a couple of years of formation," says John Clinard, Ford Motor Company's West Coast enthusiast marketing guru. When asked about the creation of the show and The Council, Clinard says, "A gentleman with Ford Public Affairs in the Los Angeles Region named Johna Pepper had the idea of getting together the various car clubs. He courted multiple car clubs in the areas, approaching them by saying, 'Let's all get together and have a big event.'

"The clubs loved the idea, and they quickly worked to hold their first event," Clinard recalls. "Called the 'Mustang Jamboree,' it celebrated the 20th Anniversary of Ford's iconic pony car. Held at the Warner Brothers Ranch facility, 500 Mustangs showed up. It was a raving success, so Pepper decided to get the groups back together, forming the car club council."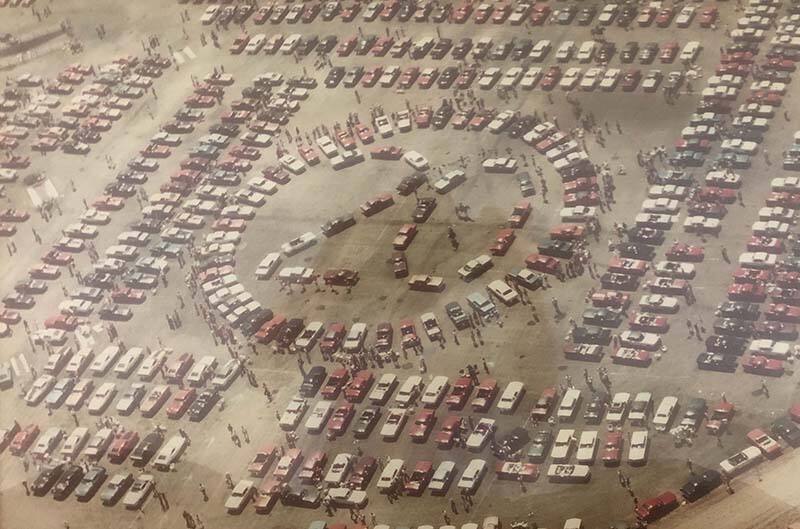 The First show, the precursor to the Fabulous Ford's Forever! show was the "Mustang Jamboree" held in 1984 at Burbank Ranch.
The originally called themselves the Ford Mustang Council, and "the first meeting was in January of 1985," says Clinard. "They decided they would meet at least four times a year and start planning events. During the first meeting, the groups started to think that they should open their event to more Ford models than just Mustang. The idea was, 'We can go beyond Mustang; let's include Thunderbird, Falcon, Cougar, Model A, Model T -- everything! Let's just make it all Ford'."
The Council then sought out other Ford car clubs in the Southern California area. Once these new clubs were assimilated into the group, they officially changed its name to The Ford Car Club Council, in late 1985. The now all-Ford council held the first Fabulous Fords Forever! event on April 13, 1986, at Knott's Berry Farm, which -- as Clinard notes -- "began the tradition, which we just celebrated with the 35th year of Fabulous Fords Forever!"
Today's Ford Car Club Council is comprised of 38 clubs. Highly organized, they have elections, sit on committees and meticulously plan everything about their events from its overall idea, location, to even giveaway items. Unique to Southern California, the southland's population density puts many clubs throughout the area in close proximity.
"There are quite a few clubs around the country, but the advantage here is the geographic concentration," says Clinard. "These 38 clubs are all within an hour's drive of each other here in Southern California. Other regional car clubs around the country could be in different states. So, the sheer efficiency of being co-located allows us the opportunity to do this as a group instead of independently."
The Council's President, Damon Tolentino, talked to us about the modern-day Ford Car Club Council. He says that although it still keeps to the same practices as its forbearers, it has evolved throughout the decades. Surprisingly, planning an event happens just like it did back in 1985.
"We meet, and first we establish some goals that we want to do," he explains. "We focus on some of the cars – the marques that we want to celebrate. We usually rotate them on a 5-year schedule and once we have the marques that we're going to celebrate, they break into committees."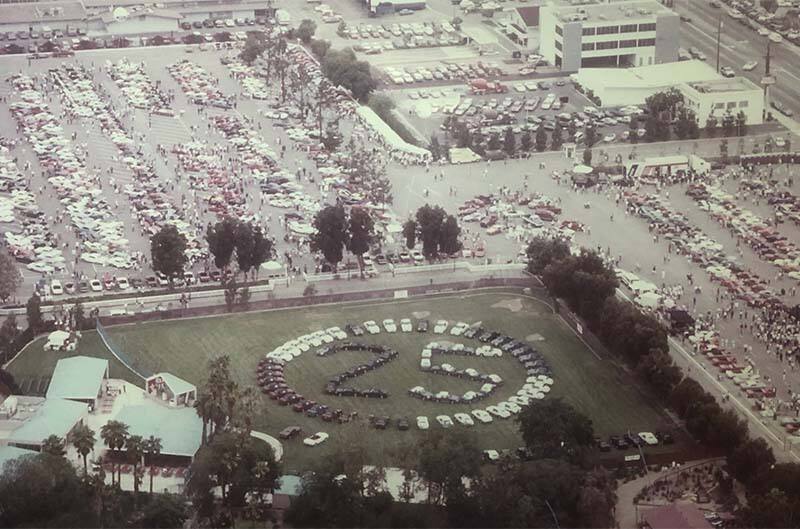 The 25th Anniversary of the Mustang, celebrated at the fourth Fabulous Fords Forever! event at Knotts Berry Farm, Anaheim, 1989.
All the committees "are charged with various aspects of the planning," says Tolentino. "For example, we have an entry form committee, we have registration, a parking committee -- we have a milestone committee; its sole job is organizing the marques that we are going to be celebrating for that particular year. We will try to have as many meetings as possible to check on the progress and see how things are going with a lot of the other member clubs. We will talk and share information, get updates from the various committees. We also have a committee responsible for the show's T-shirt design and the giveaways that we have every year. We will normally culminate our final meeting a week before the show so we can get any last information out there and share with them if there are any issues to deal with."
During COVID, the council's meetings were held virtually. Although that was a temporary change, the strong relationship with Ford has not changed throughout the years. Because both the council and show both originated from Ford, it makes sense the clubs would have extremely close ties with the company, and for decades that close association has continued. Ford at first was very involved with the planning of the show, but later decided to step back, allowing the Car Club Council to become totally independent about a decade ago, right about when Tolentino became president.
"Ford decided to back off from that [direct involvement], and put more of the responsibility and everything into our hands," Tolentino says. "We made the decisions on what we were going to do, what marques we were going to feature, what other special displays were going to have at the show."
Change always brings worry, and some feared that this new direction would be tumultuous, but instead, as Tolentino explains, the new relationship has been really great.
"A lot of people [worried, but] we have been really good with our special displays and making sure whatever requests [for special vehicles] get to Ford for help," Tolentino says. "Much of that comes from working with Clinard, who is Ford Motor Company's liaison with The Council. John works his magic every year for us. In some cases, Fabulous Fords has been almost a 'soft debut' for some new Ford vehicles. I know that a couple of years ago, we were the only place on the West Coast that got a particular vehicle."

On Ford's involvement, Clinard emphatically says, "This [show] is run by the Ford Car Club Council; it is not run by the Ford Motor Company. We support it -- our dealers support it and have a vehicle display every year, but it is the Ford Car Club Council's own entity, and it is their event."
Despite Ford taking a back seat to running the show as well as The Council's affairs, supporting Ford customers is still a major focus of the company, as Clinard explains: "Over the years, Ford has consistently been at the top for owner loyalty. There are several industry groups who survey owner loyalty, and usually, Ford is Number One. We currently are Number One, with the most loyal brand following. That is due to a number of factors, but primarily it's because we listen to our customers. We include them in our processes, and we don't separate ourselves from our customers, which could be a temptation, I think, in a large business. But we are very much a family company, and the extended family is all of the Ford owners. There is a lot of sentiment, a lot of emotion, around Ford and that is something that money can't buy. It's been earned over more than 100 years of making cars that are obtainable, aspirational, that do the job, and are fun. We're planning on keeping that going -- and staying in touch with the consumer is a key part in doing just that. Our clubs are a great forum for achieving just that."
Apart from helping The Council with cars, Clinard also helps the club in their dealings with VIP and celebrity guests for the show. "Occasionally [we] get celebrities who come in unannounced that we don't know about that come into our show, says Tolentino. "John's been really good about helping us with the media stuff, with family media requests, handling the notables and celebrities at the show."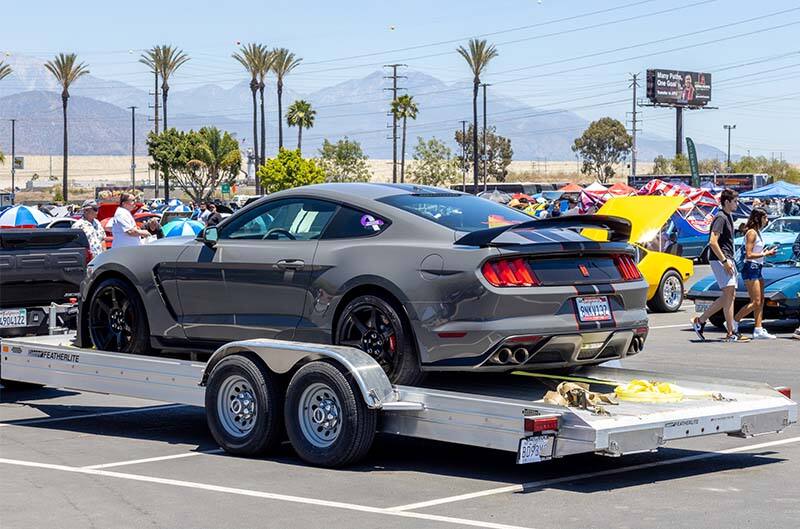 The show itself has also changed through the years. It was once so associated with Knott's Berry Farm that the show was often, in shorthand, referred to as "the Knott's show" or just "Knott's" by attendees. The show is no longer held there. After years of declining attendance, The Council started to look at how to better-attract attendees and spectators alike. They revamped their website and started to market on the internet and over social media.
"When I took over at the end of the 2012 show, our attendance had been steadily declining," says Tolentino, "With the new change in leadership we worked to actively promote the show, revamp the website, be more active on social media, and do more to promote it. The 2013 show had just under 2,200 entries that year. It became really clear to us that we couldn't continue to pack that many vehicles at Knott's Berry Farm -- we just didn't' have the space for it."
While searching for a new location, the council looked at the nearby Los Angeles Angels Baseball Stadium in Anaheim. It seemed like a fit.
"We thought that the parking situation there was great, it would allow us to park a number of spectators, it would allow us to accommodate people with their trailer queens and other vehicles that absolutely needed to be towed in," says Tolentino. "But for whatever reason, it just didn't work out for us there."
After the Anaheim Stadium show, they continued their search. They planned to hold a farewell show at Knott's in January 2020, but it was canceled when fears of inclement weather arose. "As it turns out, the actual day that we selected was a beautiful day, and it would have been a great show," Tolentino recalls. "But we couldn't have a show -- and the pandemic took care of the rest of 2020."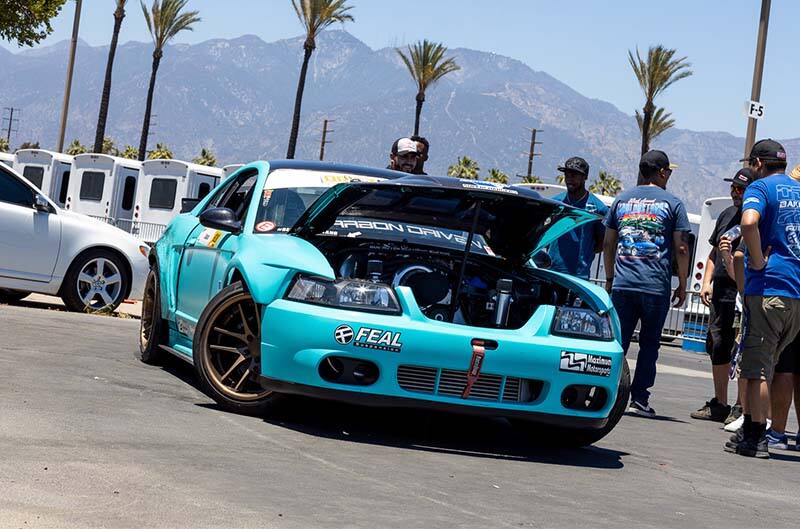 Approached by a promoter of Irwindale Speedway, in Irwindale, California, the track was seeking a notable show to move into their facility. Once the home to the MOONEYES Show, they had been seeking another very large car show to utilize their facility since MOONEYES' had changed facilities. The Council decided to give Irwindale a try.
"We were looking forward to having our show for April 18, but we were still knee-deep in the throes of the pandemic, and we didn't know we were going to have a show there until late February / early March when Irwindale got clearance to have "x" number of spectators or people in their facility," recalls Tolentino. "I think they could open at 25 percent capacity, which would have given us more than enough clearance for participants and spectators alike. With that go-ahead, and with California's vaccination rates rising and restrictions lessening, we went into overdrive in March and opened registration up in April. There had not been a Fabulous Fords Forever! show since 2019, and whether it was because people were itching to get back out and celebrate en' masse or because they just couldn't wait to be at another Ford car show, the response to the registration opening up was striking.
"Within five weeks we had sold out the show! We had a very tight window for entries, and [we] closed out registration on May 15, and sold out on that date. It was awesome! Irwindale was really surprised with how quickly that happened, and they were really excited – almost as much as we were."
When the show's date arrived, June 13, 2021, Irwindale, The Council and Ford Motor Company all were all surprised by the turnout. "Indeed," Tolentino says, "when it came to show day, they were completely -- completely surprised by the amount of people wanting to come in to see the show. We hadn't had a Fabulous Fords in two years and Irwindale was actually overwhelmed with the whole parking situation. We've spoken with them and they are going to make improvements, so hopefully our show in October will be the litmus test on that, and get our participants in there a lot quicker and have more room for spectators."


Clinard also declared the show a success, explaining that "it was apparently a record turnout for Irwindale Speedway. It caught all of us quite by surprise. Part of it, I think, is due to the end of COVID, shall we say -- I know that Disneyland is also overwhelmed; Universal Studios is overwhelmed -- people are just turning out in droves. We had twice the turnout that we had anticipated at Irwindale, and twice the turnout that they anticipated, as well. It was kind of good news / bad news. The unfortunate thing was that a lot of people just weren't able to get in. They had to actually close the gates when the place was completely full -- cars were parked on the racetrack oval itself, and in the infield -- it was wall-to-wall cars across the property, so it far-exceeded expectations.

"So for future events we're going to be mindful of that and they will make the traffic flow and ticketing processing more efficient. We are all painfully aware of the shortcomings that we experienced, but it is a learning process. The good thing is that all the people who were there, [who] did get in, thoroughly enjoyed it. It was a great event, it was a great day. We had 1,000 cars, which was capacity, and Irwindale is very supportive and keen to continue this, and that is our plan into the future."
The October event that Tolentino mentioned is the Ford Car Club Council's newest addition to their show calendar, called the SoCal Ford Festival. It will not have any judged classes, and will be more of a cruise-in style event. The 1/8-mile drag strip will be open for racing, and people can, when they purchase their registration ticket before the show, opt for one of the spots that will allow them to drag race at the event.
"People can get their drag race on and we can still have other popular items like a drift exhibition and vendors," says Tolentino. "The success of this new October show will hopefully lead to an expansion of other shows; hopefully we can add another day to Fabulous Fords, which people have been clamoring for, or we can add a third show."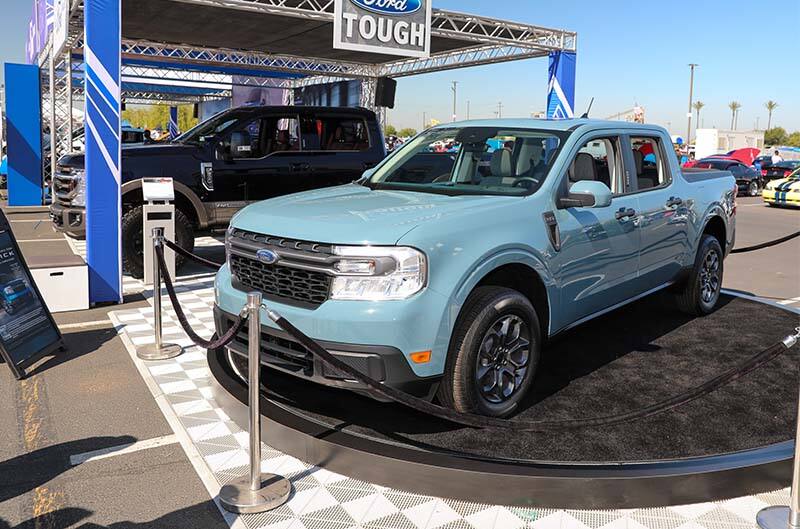 The Ford Dealer's booth featured the new Ford Maverick. This car was the only Maverick in all of the Western United States, although rare, was in attendance at the SoCal show.
Despite The Council having changed much in the recent past, Tolentino is making sure that it does not stray too far from its roots. Recalling how Ford fans fell in love with the Fab Fords show, he wants participants and spectators to still have the same family experience that made it such a draw.
"I had a great mentor in helping me learn some of things that I needed to learn for my position," recalls Tolentino. "He, himself, was a previous chairman. The heritage of the show is something that means a lot to me. This was a show, during the mid-80s, that both my dad and I wanted to go to, and for some reason, it got pushed aside and forgotten until I started to get involved in it in the late '90's. I actually got him to go to a handful of shows before he passed, and that is one of the things that really resonated with me as far as the show's legacy -- one of those things that people can remember going to with their parents, and they take their kids, and I've seen comments where guys have taken their fathers, and their grandfathers and other family members, and they just had a great time.
It's that type of legacy that I want to keep going, and I want to keep that same feeling that people had when we initially started out. I want to introduce new things to keep things lively and keep things interesting, but by the same token, I don't want to change things so much that it becomes something [people no longer recognize]."
In 2020, many people feared that they had seen the last of Fabulous Fords Forever! but as the Ford Car Club Council has shown, the fate of that show and their expanded events are not in doubt. With council and club leadership, they're sure to be a feature of the Southern California automotive landscape for years to come.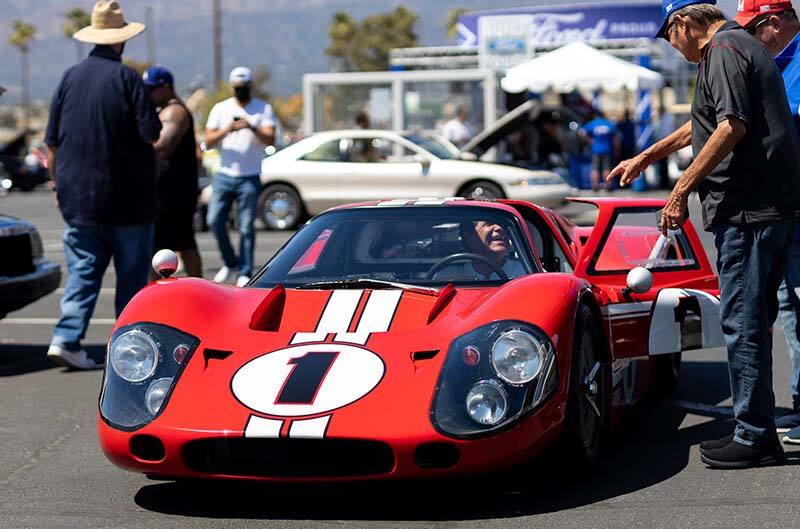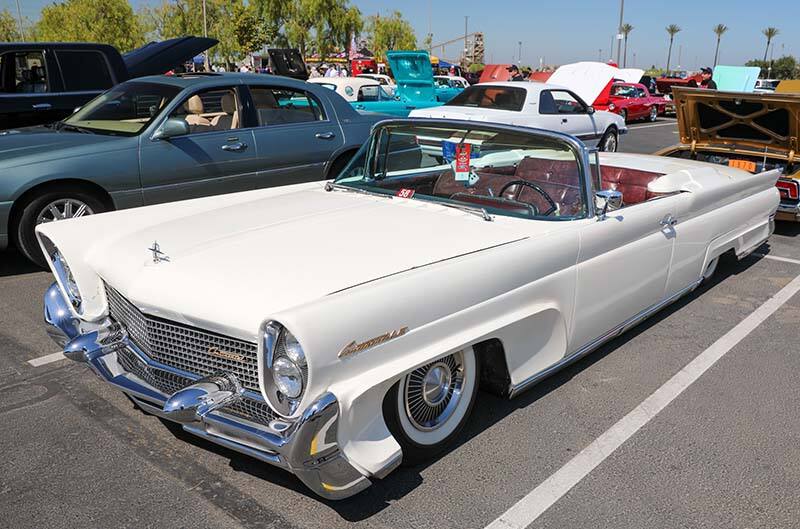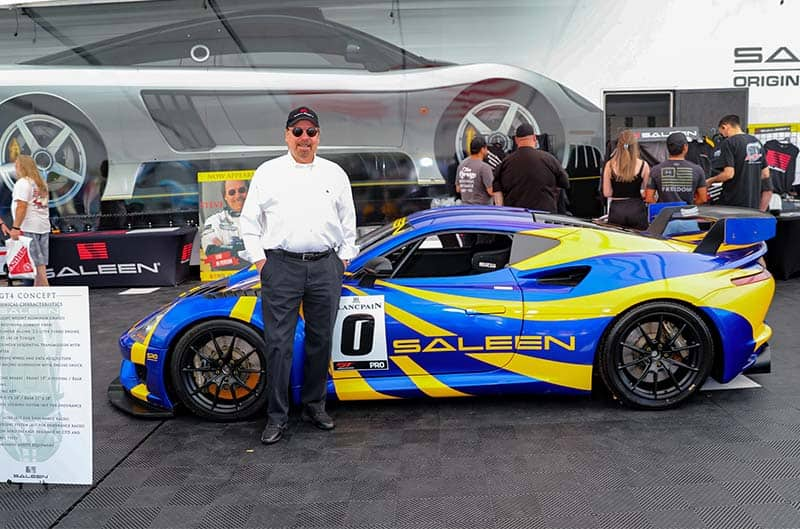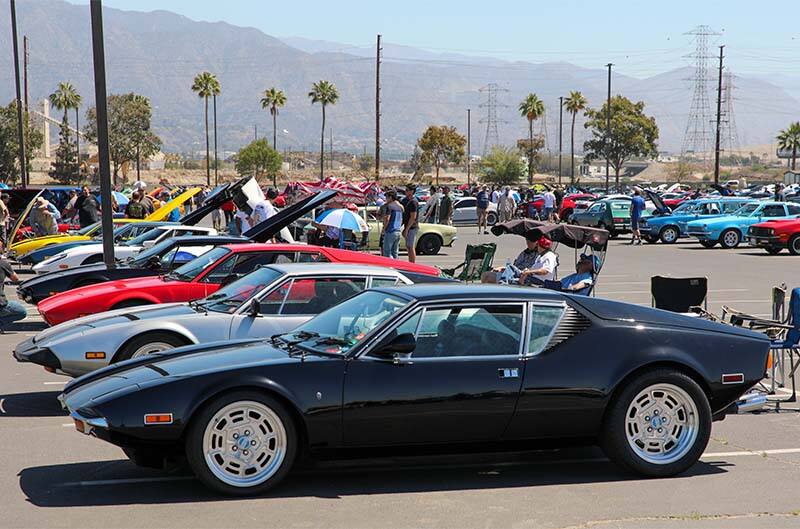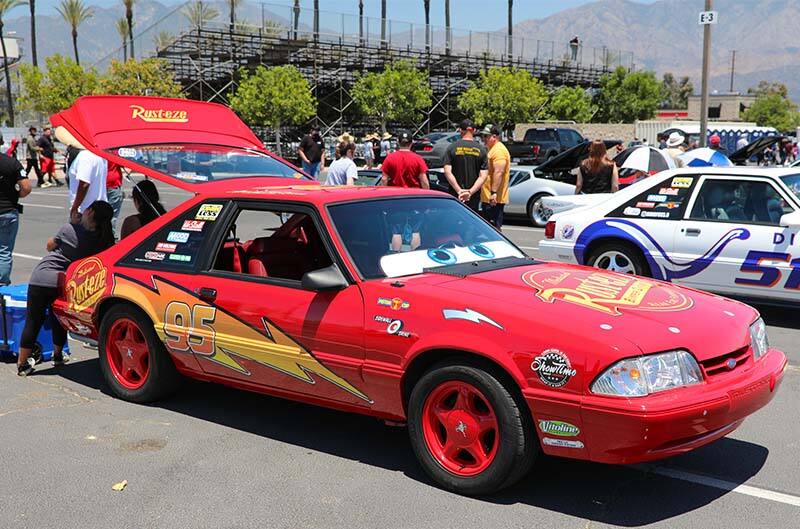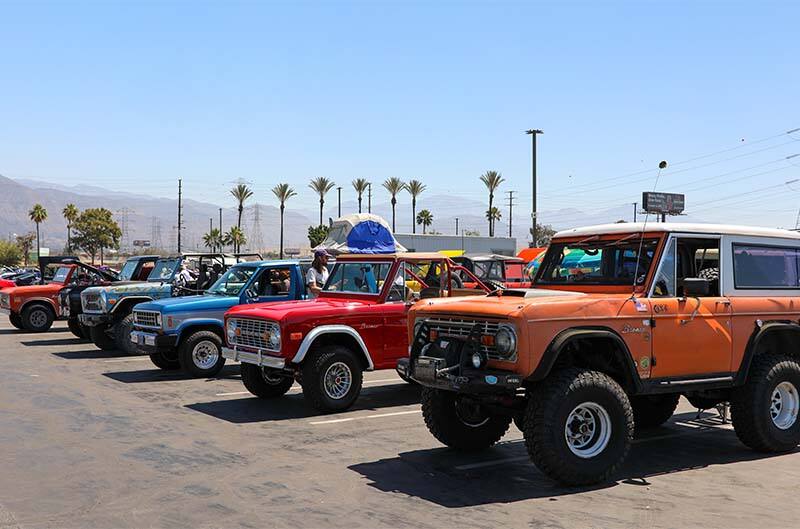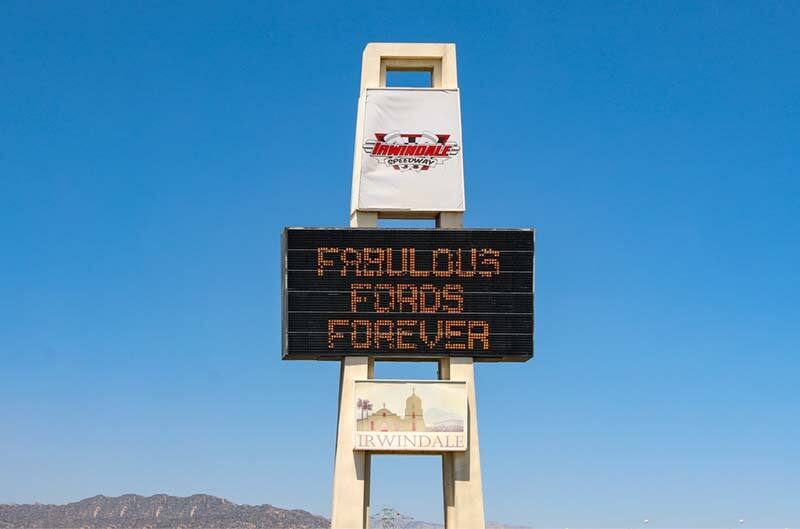 FORD PERFORMANCE PHOTOS / COURTESY BRETT TURNAGE & STEPHEN RUSSO