Rapid City, SD – If you happened to attend a big Ford-centric event recently, such as the annual Mid-America Ford & Shelby Nationals in Tulsa, and spotted a woman mastering the Autocross course in her 2019 Shelby GT350 Mustang, you may have noticed that the livery on her car is as noteworthy as her driving skills. And that's as purposeful as the motivation driving Rhonda Sue Williams, who's not just passionate about Autocrossing in a Mustang, but also about her role as Founder and National Director of the National Pancreatic Cancer Foundation (NPCF).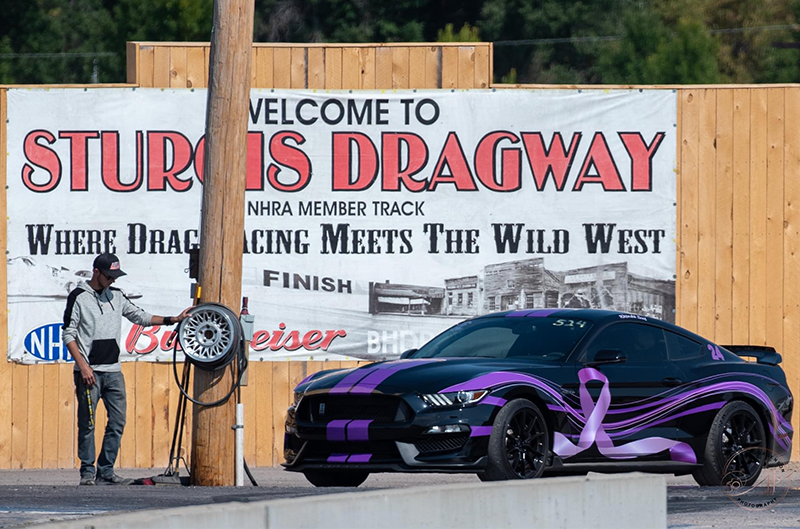 We met Rhonda in Tulsa this summer after spotting her black-with-purple-stripes GT350 dominate the Autocross event, and simply had to find out more. Turns out that Rhonda owns two Mustangs, a white '04 GT as well as the black Shelby, and uses them to bring pancreatic cancer awareness to car shows, rallies, and autocross courses across the country. With these National Pancreatic Cancer Foundation (NPCF) Awareness Mustangs that symbolize hope and remembrance for many, Rhonda has been helping to bring much-needed attention to pancreatic cancer since 2016.
Rhonda began driving and showing her NPCF racecar in 2016 at the Rocky Mountain Mustang Roundup, and in 2017 also went to the Sturgis Mustang Rally. In 2018 Rhonda again raced at the Rocky Mountain Mustang Roundup and Sturgis Mustang Rally, as well as Cruise for a Cause in Wisconsin Dells. She's since expanded her appearances to include Shelbyfest in Jefferson City, Missouri, the Mid-America Ford and Shelby Nationals in Tulsa, Oklahoma, and for this year the Mustang Club of America's "Follow the Yellow Brick Road" National Show in Overland Park, Kansas, hosted by the Mustang Club of Kansas City. She also plans a return to Sturgis for this Labor Day weekend.


As the Founder/Director of the NPCF, Rhonda brings more than a dozen years of non-profit and management experience, with an Associates degree in Business Management and a Bachelor of Science in Human Resources. Rhonda's passion for assisting those with pancreatic cancer comes after a family member lost a five-year battle to the disease in 2010, devastating them financially. She had funded the foundation after the diagnosis, and set it up to provide direct financial assistance to families, as well as to offer personal and compassionate support to those who are afflicted and affected by pancreatic cancer.

It was perhaps an omen that Rhonda put the MCA Kansas City Nats on her schedule this year, as that event also hosted the Mustang II Reunion VI gathering, and a white-with-red-stripes 1977 Mustang II Cobra II just so happened to be the first Mustang that Rhonda owned back in the day. When Ford Performance got the chance to talk to her, we also discovered that she had later bought a 1996 SN-95 -- and it was purple! She even owned a classic Mustang – a 1967 light green coupe with a white vinyl top. She bought her first NPCF racer – a 2004 40th Anniversary Mustang GT – and wrapped the car in foundation's purple livery before Autocrossing it at Sturgis in 2016 -- and won her very first time out! Her Autocross successes there and at the Rocky Mountain Roundup convinced her to buy the black 2019 Shelby GT350 and purple-wrap it, along with a car hauler and a truck.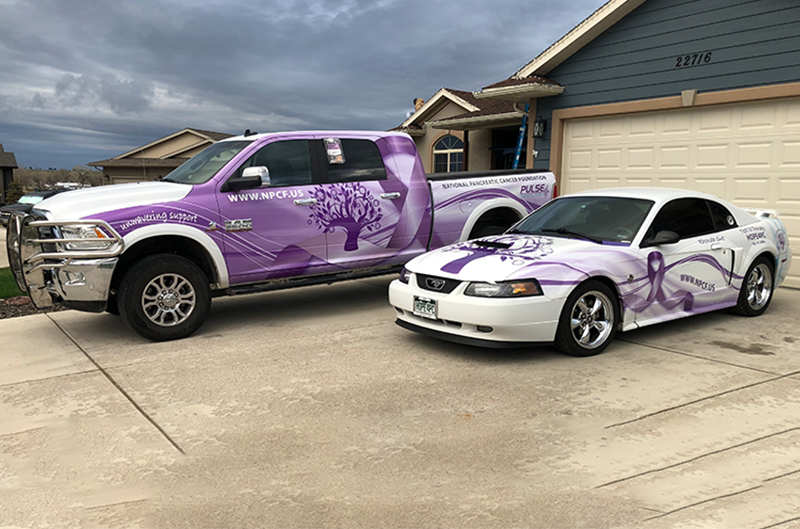 Rhonda looks forward to traveling to more events across the United States to ultimately raise more awareness and funding for the families that the NPCF supports through her love for high-performance Mustangs and her compassionate support for those battling pancreatic cancer. Visit the National Pancreatic Cancer Foundation website at https://www.npcf.us for more info on how you can help, and click on the "About" tab to follow Rhonda as she continues her "Drive with a Purpose" Mustang-powered campaign to stay fast and agile on the track and supportive of this worthy cause in person.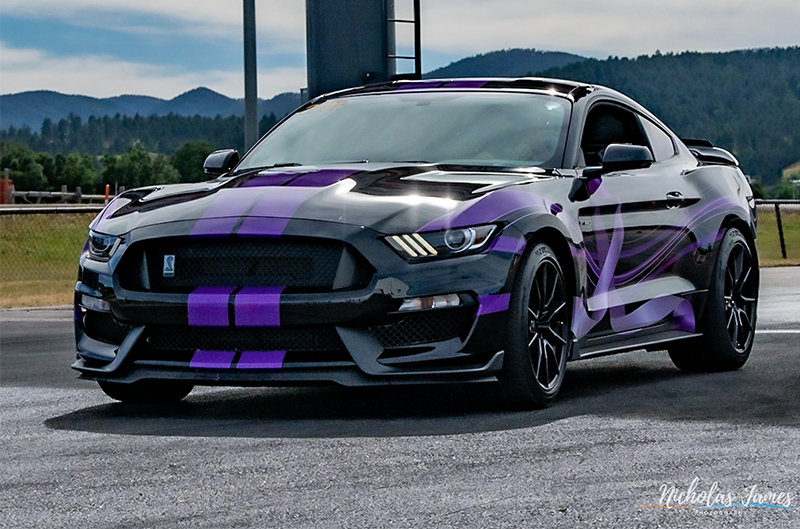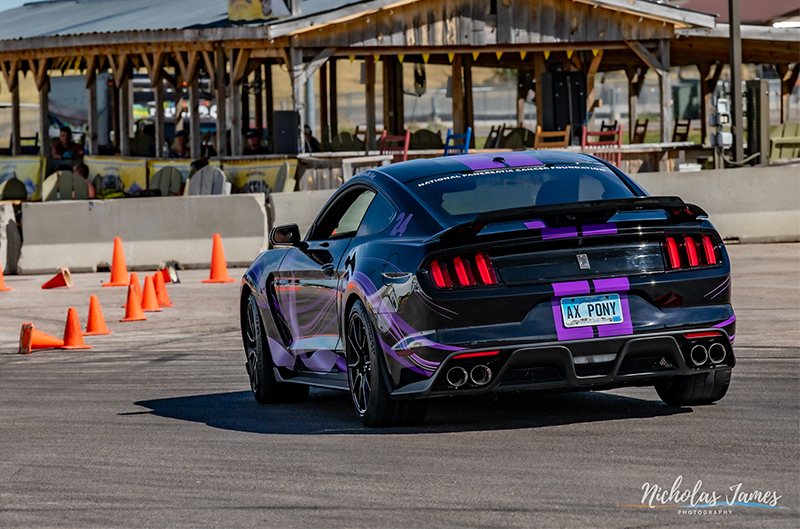 FORD PERFORMANCE PHOTOS / COURTESY RHONDA WILLIAMS