ALTON, Ill. -- You know you love Mustangs when you show up for your club's car show on a hot and sweltering summer day with the heat index at 105 degrees and a humidity level that can only be described as overwhelming. Yet that was exactly the scenario when "Mustang II Reunion IV" was held this summer as part of the Southern Illinois Mustang Association's 42nd Annual Mustang and All-Ford Roundup at Roberts Ford in Alton, Illinois.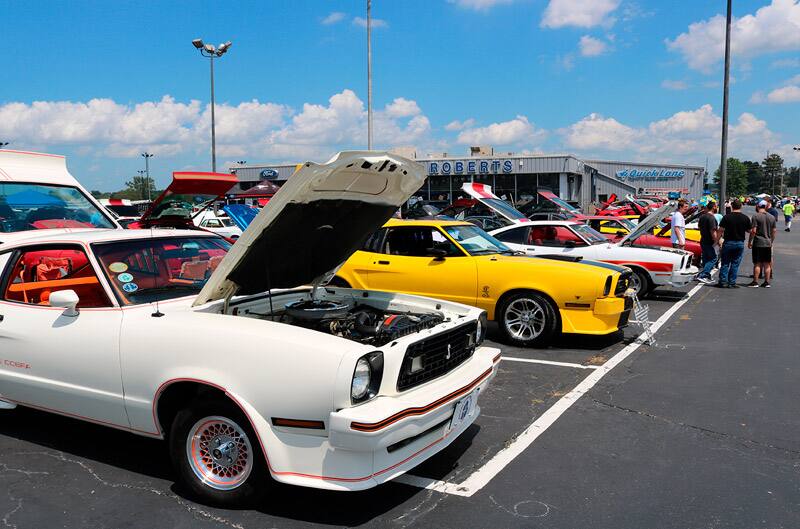 You'll recall that Second-Generation Mustang fans made history back in 2016 when 82 Mustang II's descended upon MOCSEM's big "Mustang Memories" show at Ford World Headquarters as part of the first-ever "Mustang II National Reunion," setting a record for the most Mustang II's to appear at any single event. Ford Performance spearheaded the 2016 reunion show effort to help celebrate the 40th anniversary of the Mustang II Cobra II, and won praise in the Mustang enthusiast community for organizing what it thought would be an once-in-a-lifetime event.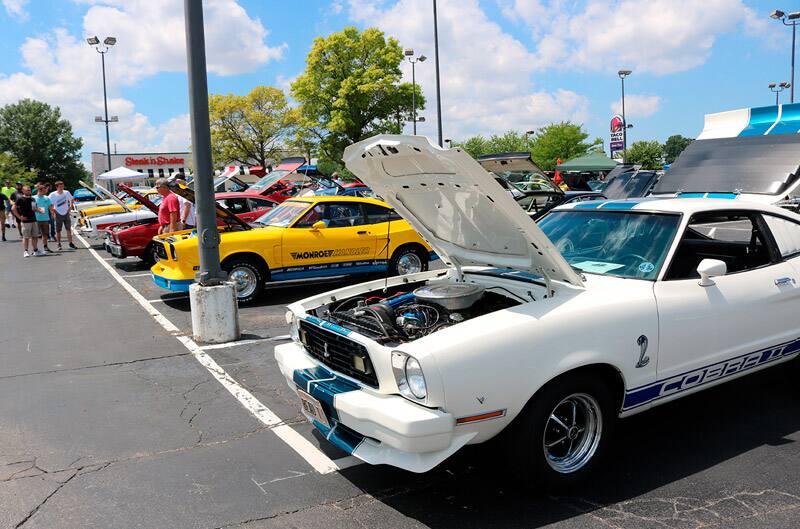 But it seems that the "show-within-a-show" idea for a model-year reunion has stirred renewed interest in the often-overlooked Mustang II. In August of 2017, the Mustang Club of Ohio kept the second-gen Mustang momentum going with "Mustang II Reunion II," commemorating the 40th Anniversary of the first T-Top Mustang while headlining the club's "Annual All-Mustang Show" in Columbus. There, more than 30 Mustang II's joined the celebration, thanks to the efforts of show chair David Rose (who has remained active in supporting II reunions since, and even provided the photos in our "Reunion IV" gallery).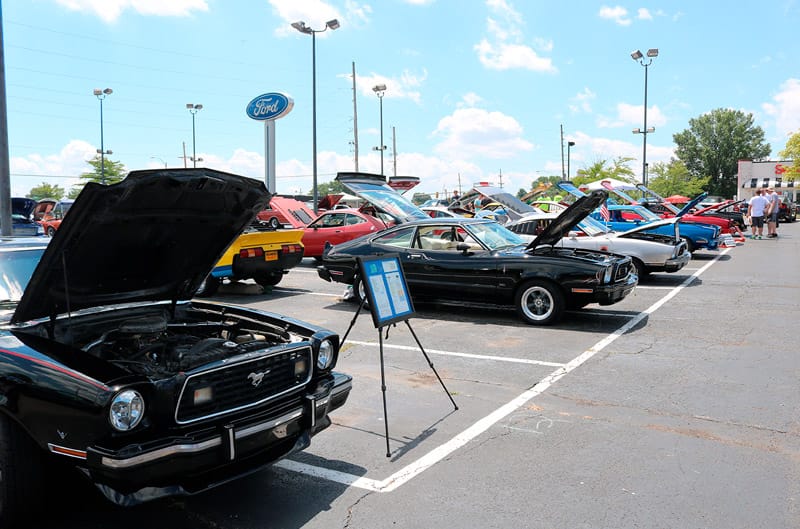 For 2018 the II Reunion theme returned to the show circuit, thanks to the Queen City Mustangers, who included "Mustang II Reunion III" as part of their "11th Annual Queen City Mustangers Pony Trail and Car Show" in West Chester, Ohio, just outside Cincinnati. Reunion III marked the 40th Anniversary of the Mustang II King Cobra with more than two-dozen Mustang II's in attendance. But even before that show, Southern Illinois Mustang Association (SIMA) club president Steve Strickell had approached Ford Performance about a II reunion, so it was decided "Mustang II Reunion IV" would be held in the St. Louis area for 2019.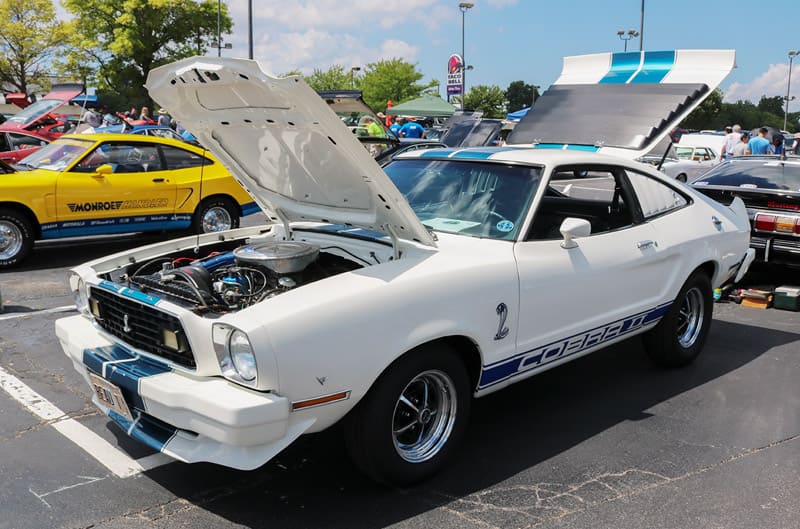 Steve and his wife, Kim (who serves as the club's MCA Director and has a blue-over-white Cobra II "Farrah" car that Steve restored) did one heck of a job putting together "Mustang II Reunion IV" back on July 20th, marking the 45th Anniversary of the all-new-for-'74 Mustang II.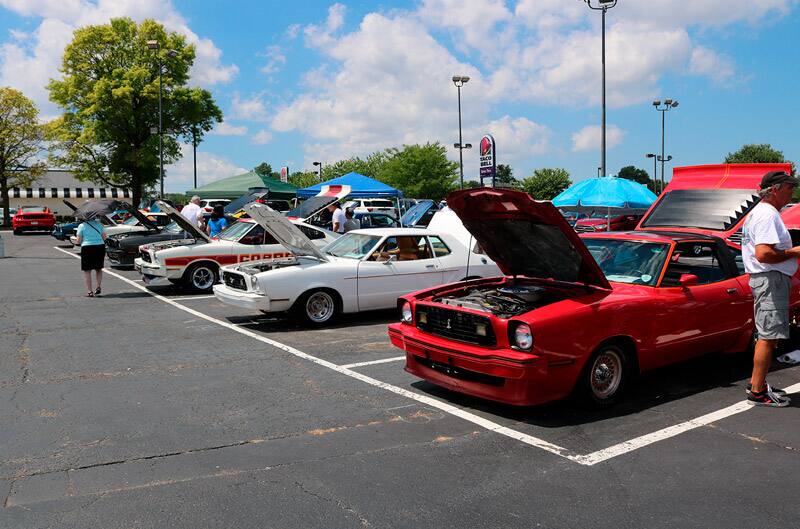 Of course, Ford Performance was again on hand, both for SIMA's Friday night pizza party and also to set up a special "Mustang II Reunion IV" Meet & Greet tent and ever-popular free Mustang poster giveaway during Saturday's show at Roberts Motors. Mustang II Reunion IV also drew a visit from MCA President Steve Prewitt, who mingled with fellow II owners at the pizza party and welcomed them to the show the next morning while encouraging all II owners to register their second-generation Mustangs for MCA National shows.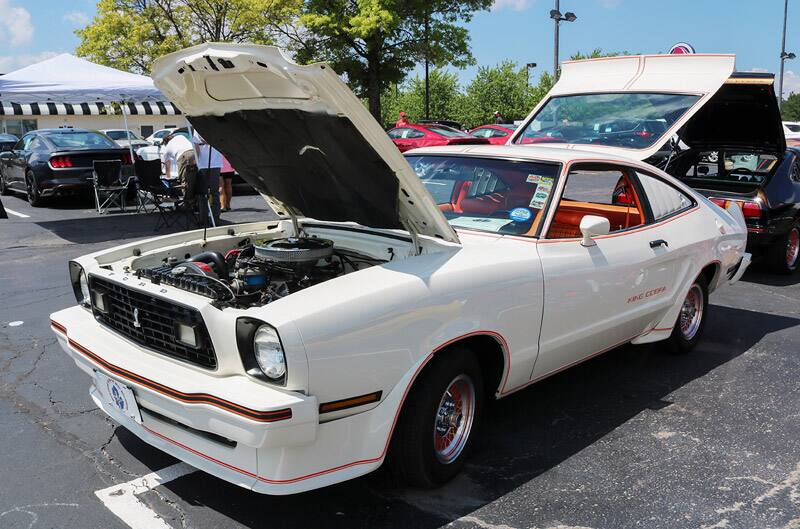 SIMA produced its own "Mustang II Reunion IV" window clings, T-shirts and banners, and Ford Performance provided special "Certificates of Appreciation" for all owners who had registered a Mustang II for the show, as well as four "Ford Performance Pick" awards, which were in addition to the special II awards that the club gave out (patterned after the Motor Trend "Car of the Year" trophy that the Mustang II won back in 1974).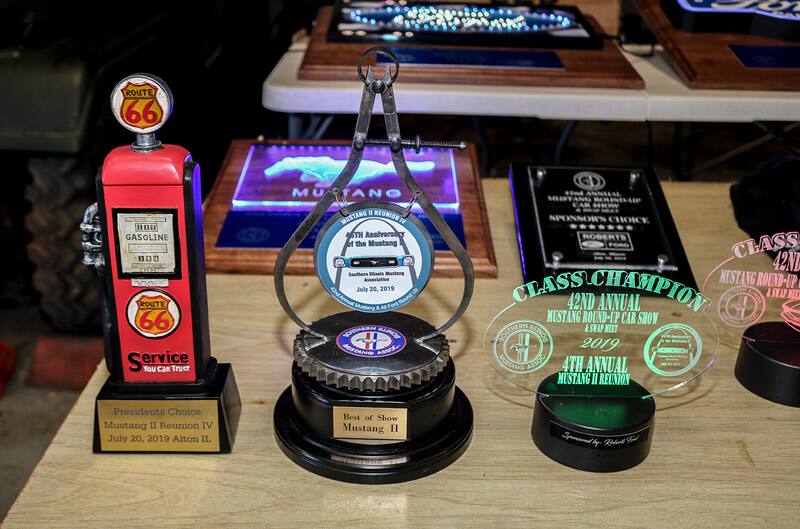 While more than 30 Mustang II's had signed up to attend Reunion IV, the "Excessive Heat Warning" in the weather forecast no doubt had many folks deciding to stay home in the shade. Despite the blazing sun, the Southern Illinois Mustang Association's event drew 21 Mustang II's to the show field -- some of which are rarely seen at any Mustang show.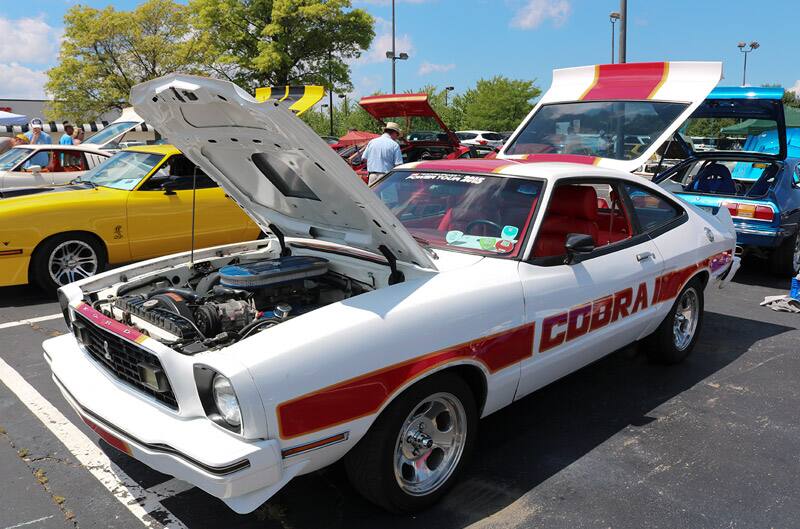 With help from the MCA's well-connected second-generation Mustang judge, Jake Jarrell, the four Ford Performance Picks included: Chuck Hedeen's spectacular blue-metallic '76 Fastback restomod; Mike Campbell's silver '76 Stallion; and Mike Haug's amazing '78 Monroe Handler.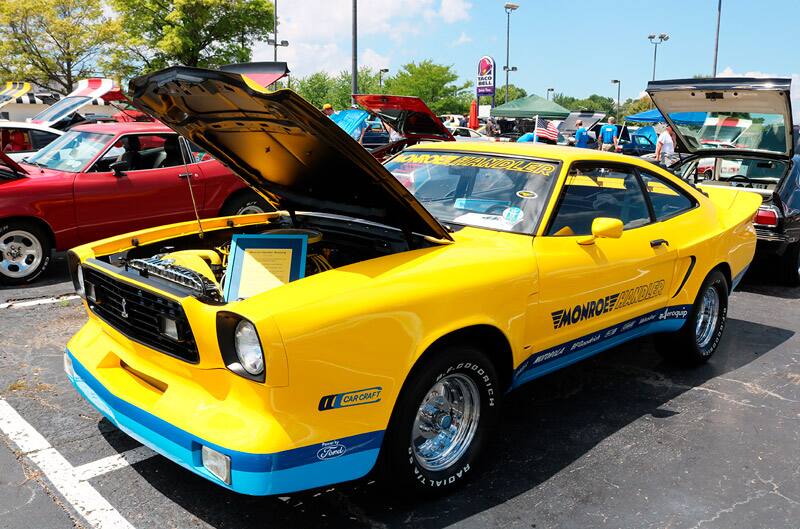 The Top Pick went to Bill Maddox. Bill's black King Cobra is likely one of the finest examples in the country, but this time he brought another rare Mustang II – a 1977 "Classic II" convertible. Yes, a "convertible" and not T-top, and Bill's "barn find" Mustang II drop-top was the star of the reunion. "I have an award-winning King Cobra, and all people keep talking about is my unrestored Mustang II Convertible conversion," Bill said, laughing. "Go Figure!"
While the Mustang II community decides where "Mustang II Reunion V" will be held in 2020, take a look at the photos below taken at Reunion IV during the annual SIMA show in Alton, Illinois, just across the river from St. Louis: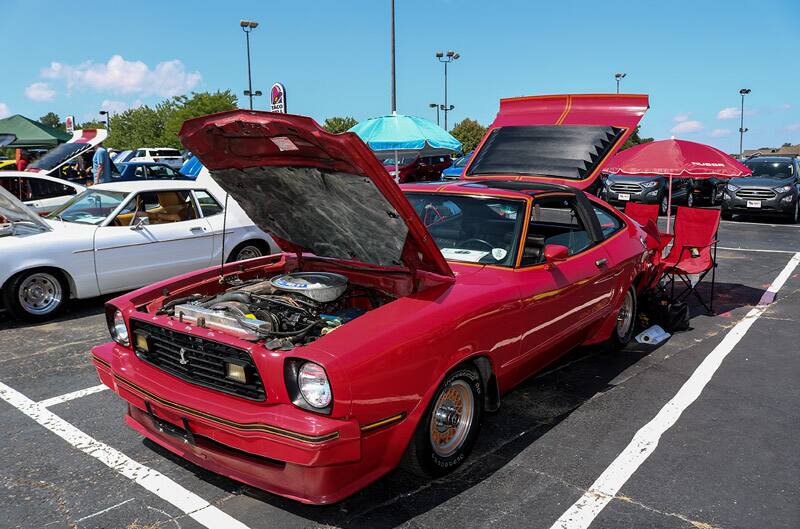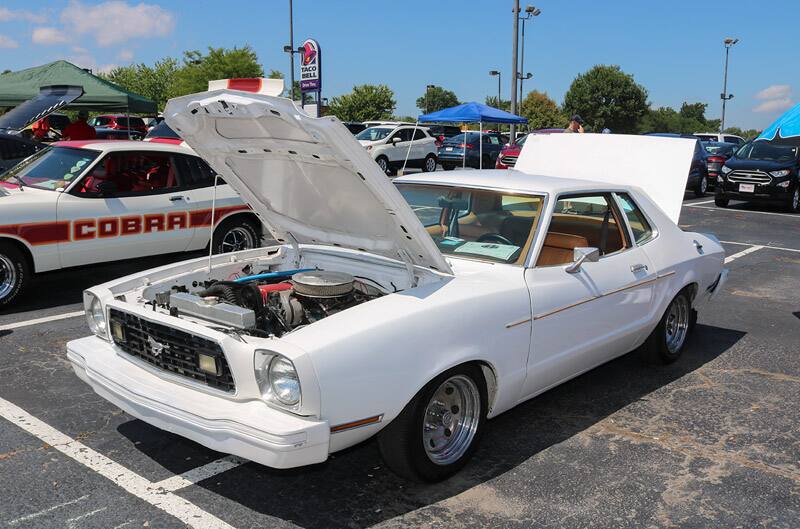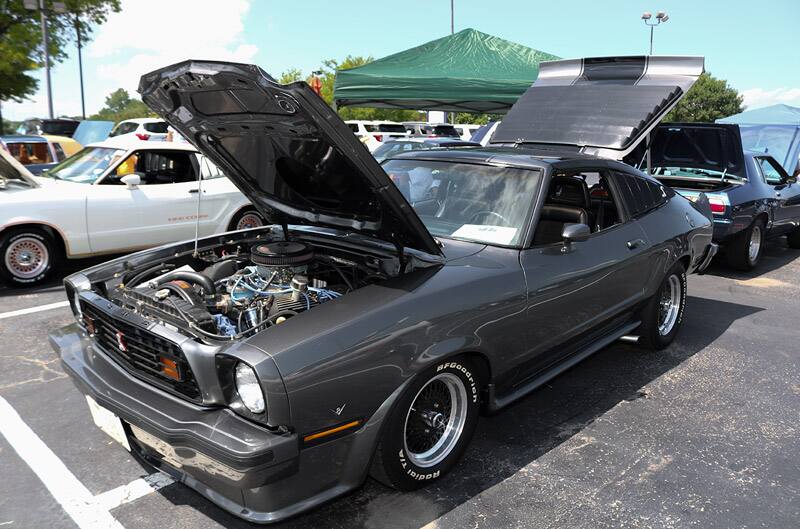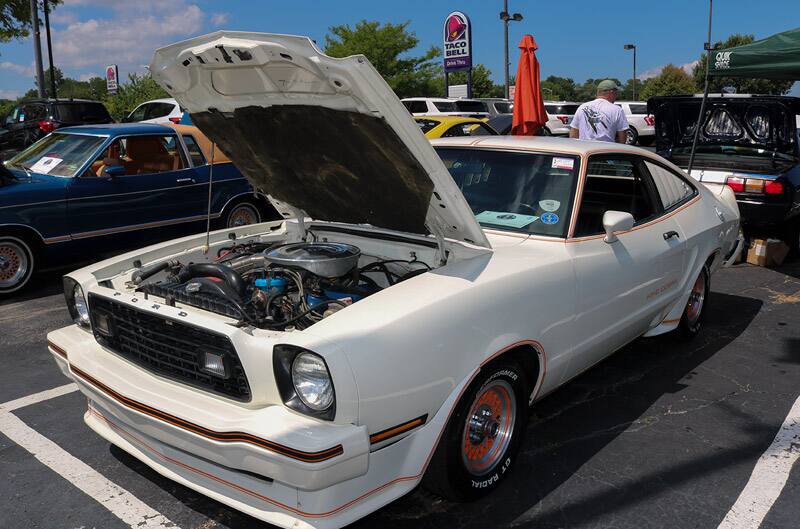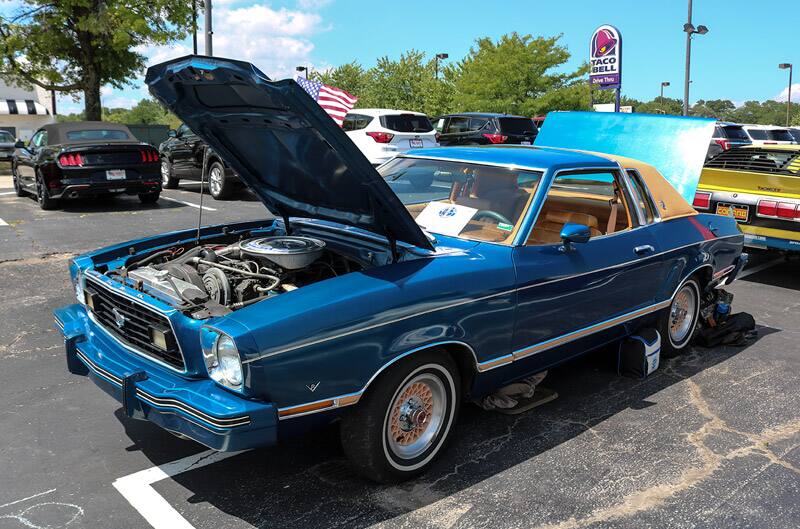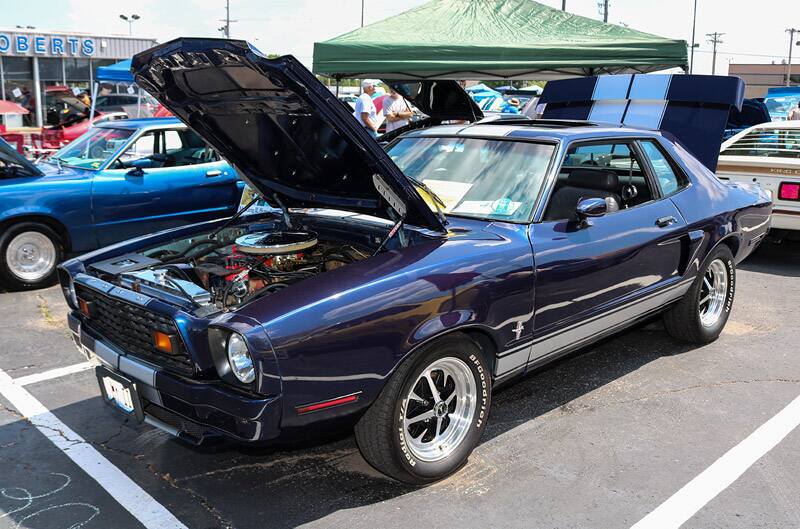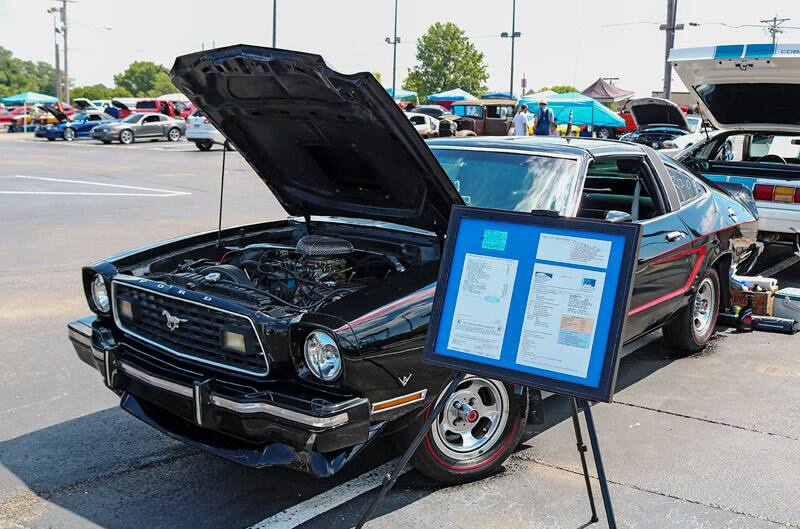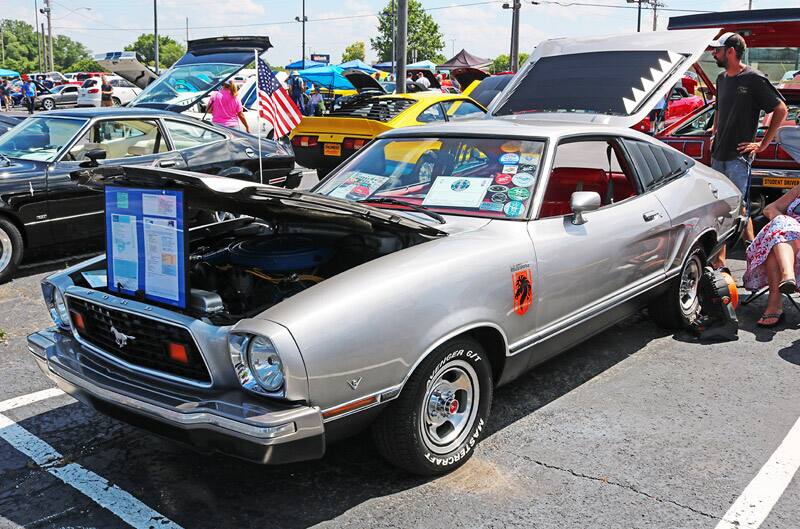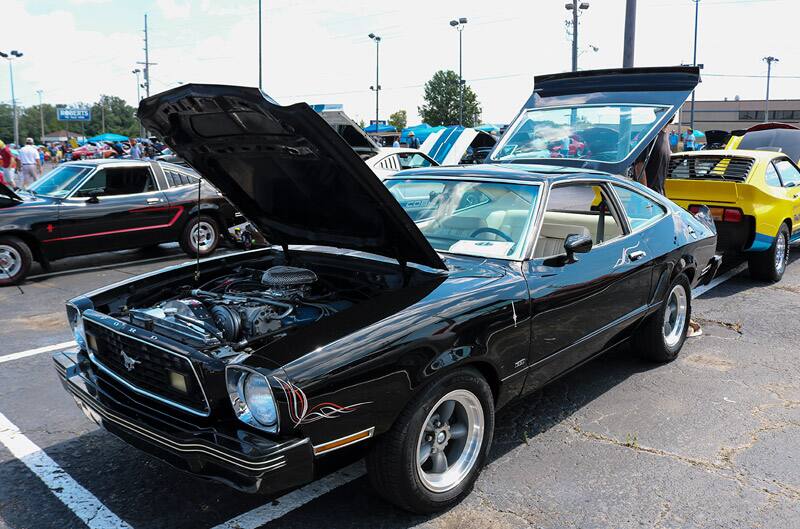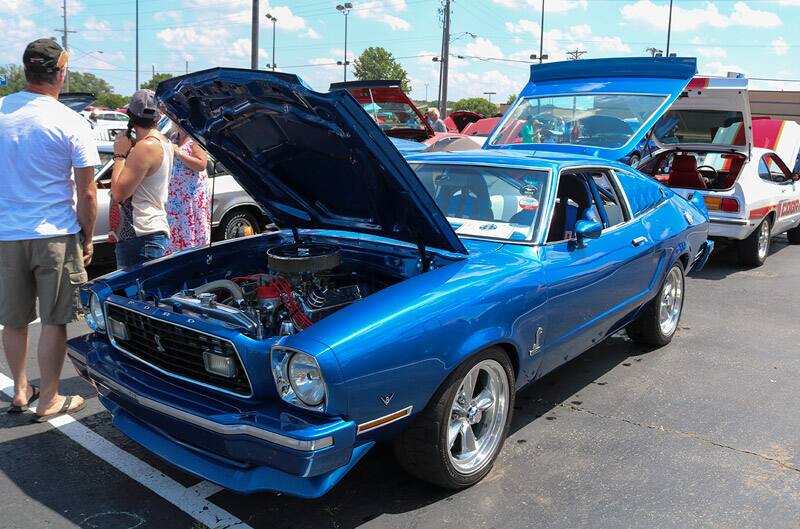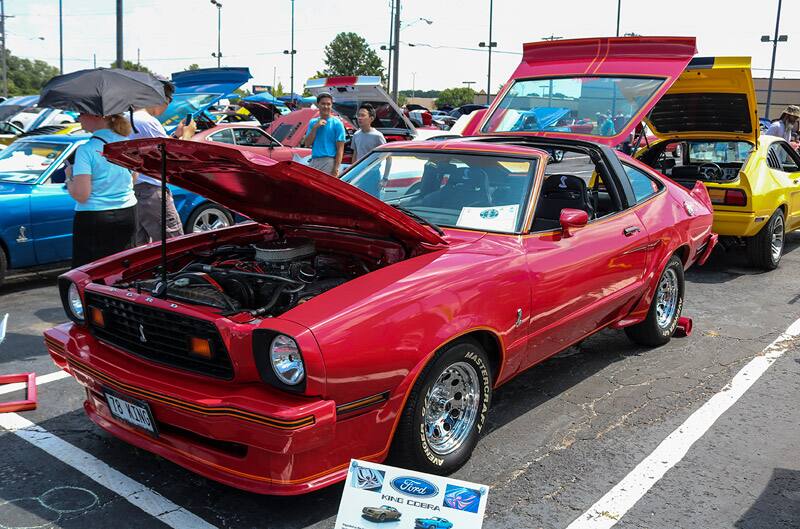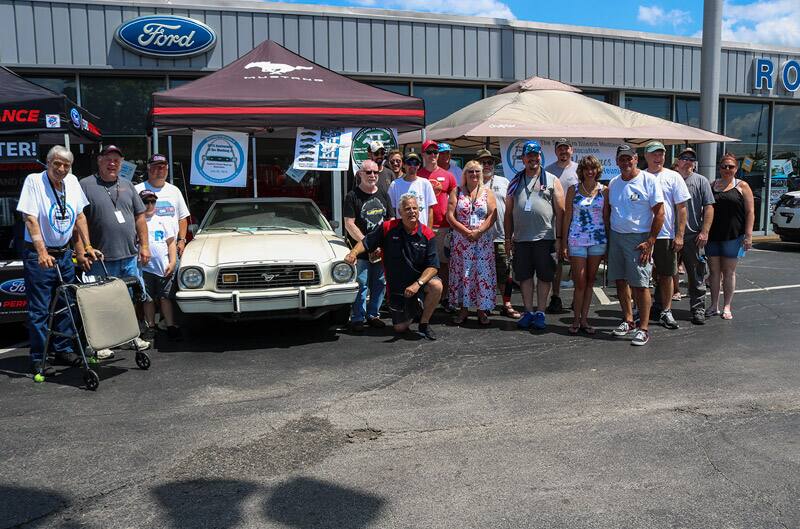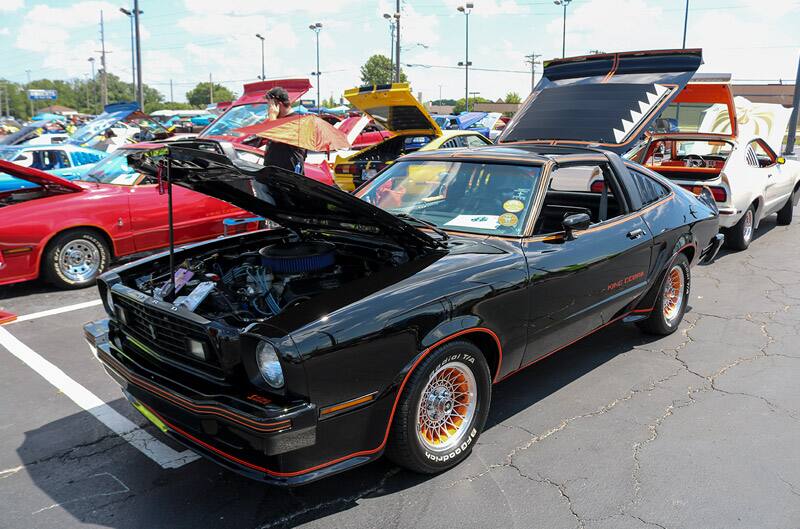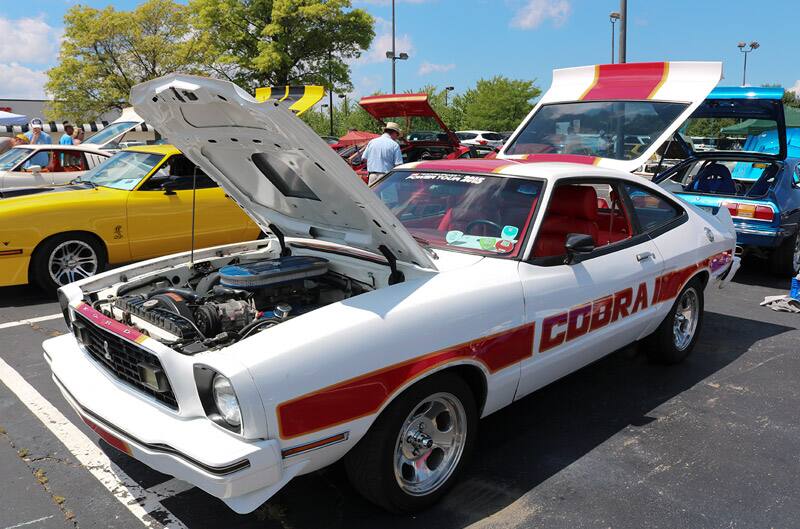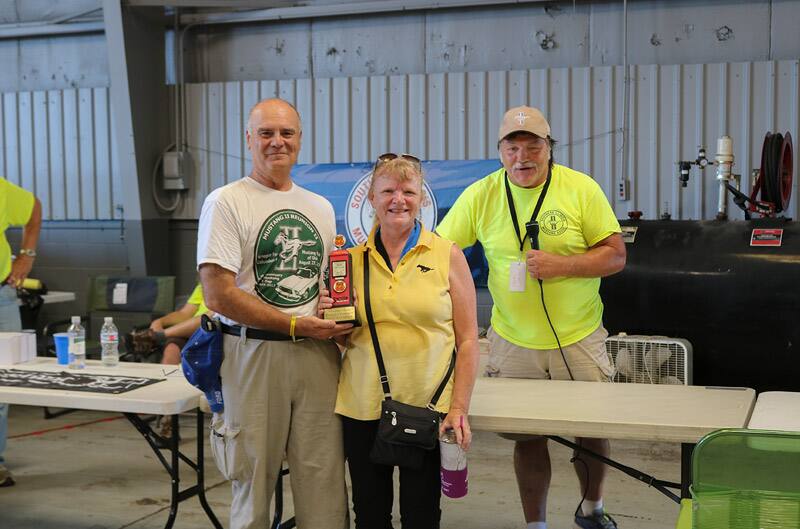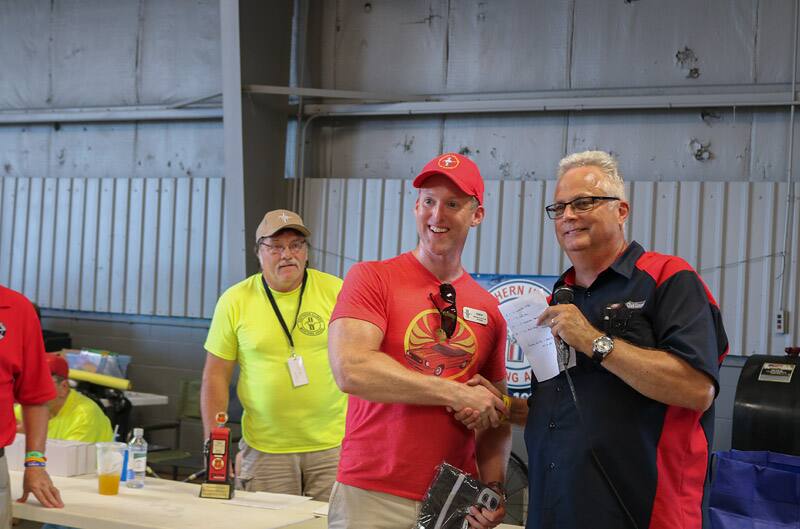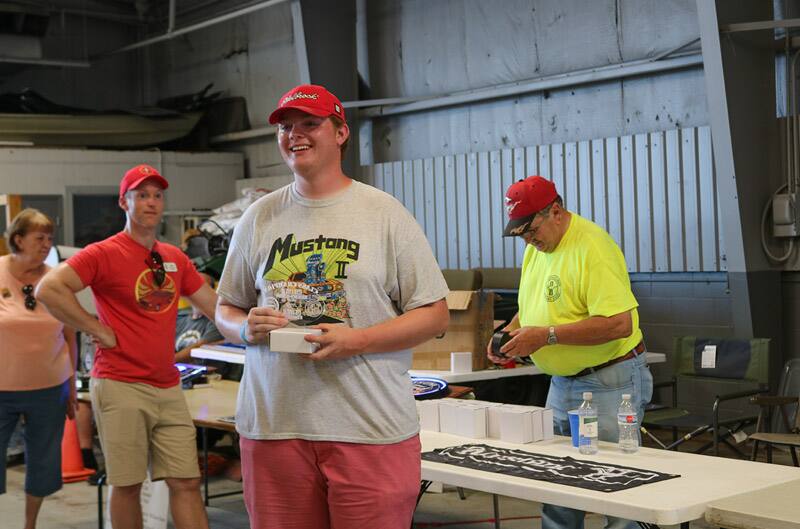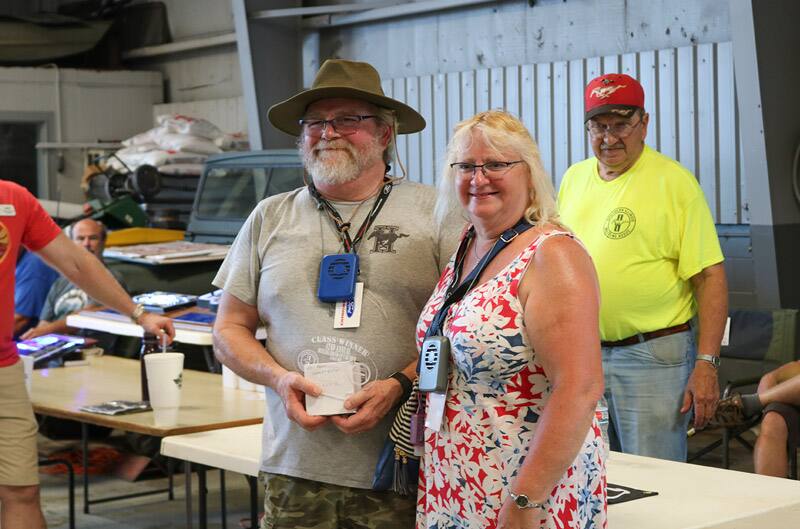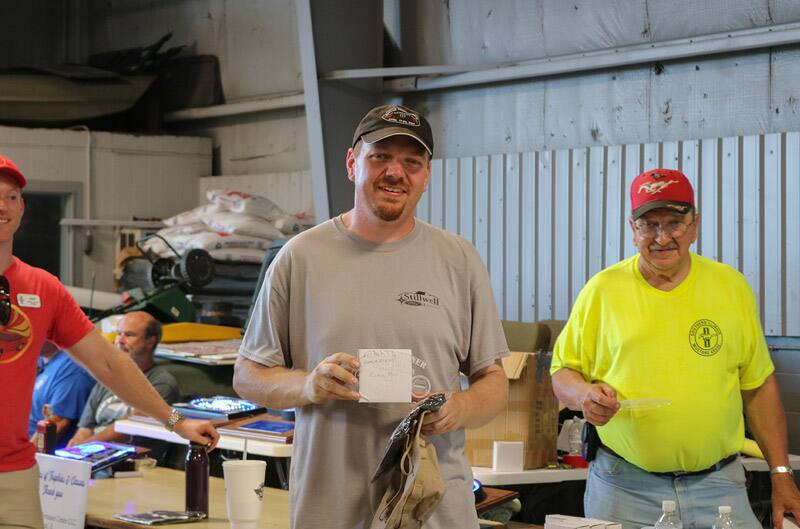 FORD PERFORMANCE PHOTOS / COURTESY DAVID ROSE