NORWALK, Ohio. – Some of the events we feature on FordPerformance.com are so impactful, that it's impossible to cover them in a single story or photo gallery. And that's certainly the case with the Cobra Jet anniversary event this past summer. While reviewing our 2018 postings to choose the Top 10 Enthusiast stories of the past year, we quickly realized that we had far more content from the Cobra Jet event than we could include in our coverage from either the reunion event itself or the reveal of the all-new 2018 Cobra Jet Mustang.
To help remedy that, we went back through all of the great content we collected back on the weekend of August 24, 2018, when Ford Performance hosted that big reunion marking 50 years of the famed Cobra Jet Mustang at Summit Motorsports Park in Norwalk, Ohio. One part of the event commemorated the 50-year milestone for the original Cobra Jet, which debuted at NHRA Winternationals in 1968, while another part served to announce the newest 2018 Cobra Jet Mustang.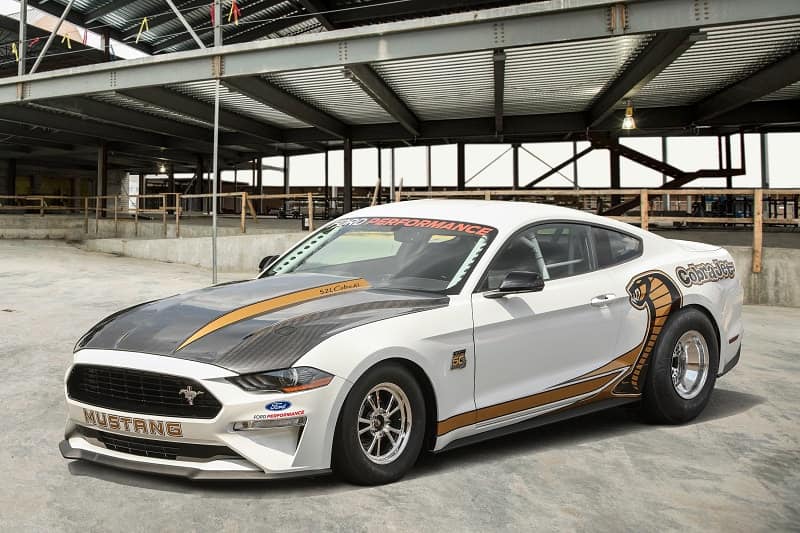 Of course, the press was very much interested in the 2018 Cobra Jet, and our staff was excited about the reunion and seeing all the legendary cars and drivers. But the event was really all about how the original Cobra Jet program, first revealed back on April 1, 1968, proved key to Mustang securing its place in muscle car history. What makes the story behind the development of that first Cobra Jet V-8 so cool is that its creation was due in large part to three separate factors: a group of dedicated enthusiasts, some available high-performance Ford parts, and the racing passion of an important Ford dealer, the late Bob Tasca Sr.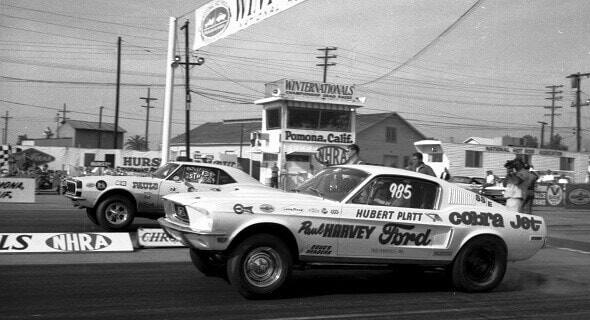 Of course the muscle car wars of the late-'60s was all about making power – the more, the better. And the fastest way to bigger power was through bigger engines. High-winding HiPo small-blocks quickly became passe' – replaced by big-block torque monsters, and Mustang had to keep pace. As the redesigned 1967 Mustang headed into 1968, the big news continued to center on powertrains and performance. While little changed on the outside -- save for the addition of government-mandated side marker lights, a new grille and a variety of trim -- under the hood, customers could find an ever-evolving parade of V-8 engines from which to choose.
Moving up from the inline six to the 289 "Challenger" V-8 only netted 195 horsepower, but by mid-year the 289s were replaced by a pair of new 302-cubic-inch versions of Ford's venerable small block. The 302 with a two-barrel offered 220 horsepower, although 10 more horses could be had if you opted for the high-compression, four-barrel 302. The 390 big-block was back for '68 (even though less than 29,000 buyers opted for it in its first year), along with 325 horses and already a reputation on the street as much more of a cruiser than a bruiser.
If you had some extra money to spare (a whopping $622, to be exact) and some extra time to wait for placing a special order (as long as it was before December 1, 1967), you could request a medium-riser version of Ford's premier race engine be installed at the dealer, the 427-cid V-8, conservatively rated at 390 horses. It turns out that only a handful of buyers took the pricey 427 plunge, with others deciding that the extra money was better spent upgrading to a new factory installed 428-powered Shelby GT500, which had shunned the 390 for the "Police Interceptor" version of the 428.
A Ford ad campaign from the year before entitled, "Take the Mustang Pledge!" included a facetious line that said, "I will not yawn when people talk about the performance of other cars." Yet in reality, most of the yawning was being done by Mustang owners unhappy about having their new 390 Mustang (or even Shelby GT500) getting outmuscled at the stoplight by more powerful competition. With Ford looking to get out of the 427 business due to that engine's expensive components and high manufacturing costs, the future looked bleak for true-blue Ford performance enthusiasts. But like it did with the Shelby Mustangs, a performance solution to this dilemma again came from outside the company, this time from Ford dealer Bob Tasca.
Tasca's Ford store in Providence, Rhode Island -- the second-largest in the world at the time -- was known for doing a brisk business selling performance Fords and fielding a series of successfully tweaked big-block race cars. Naturally, Tasca's exploits got extensive coverage in the motoring press -- a place where he often spoke his mind about the factory's performance shortcomings, even though the size of his dealership meant he had Henry Ford II's ear anytime he cared to call. But when word from customers got back to Tasca and his performance manager, Dean Gregson, that their new 390 big-block Mustangs were getting beat out on the street, they took action.
"We sold a lot of 390 Mustangs last fall and into the winter, but by March they dropped off to practically nothing," Gregson explained to Hot Rod magazine's Eric Dahlquist in a 1967 article. "We found the [390] so non-competitive, we began to feel we were cheating the customer. We had to do something."
As it turns out, Tasca and his mechanics found the answer right in the Ford Racing parts bin. They already did a good aftermarket business upgrading 390 Mustangs and Fairlanes with modified cylinder heads, hotter camshafts and higher-flow manifolds, fuel pumps and carbs, so they went to work on a new performance engine package that they called the KR-8 (for "King of the Road in 1968").
"We did well from '63 to '65, when the car-buying market was a young one," Tasca later explained to SuperStock magazine in 1968. [Then] the younger people [became] disenchanted with Ford's performance on the street, and stopped buying."
That's when Tasca decided that if mainstream Ford wasn't going to do anything about it, he would have his performance team come up with a cure. So, under the watchful eye of Gregson, Tasca's staff started with the high-line Police Interceptor 428 block and quickly addressed the engine's inherent "breathing" problems by bolting on a set of modified 427 Low Riser cylinder heads, which really perked up the power of big FE-series motor. Topped by an aluminum intake and an upsized Holly four-barrel, the new engine was swapped into a gold '67 Mustang GT coupe that became the very first KR-8 - a real street screamer.
Tasca immediately gave the car to the press for "testing" to help spread the word that he would offer the KR-8 as a conversion package for his performance customers. He also showed the car to some Ford engineers, but they seemed unable to persuade any of their managers to give the engine package some production consideration.
"Do you know how many high-performance (defined as cars with at least 300 horsepower) vehicles were sold in this country in 1966?" Tasca had rhetorically asked Hot Rod's Dahlquist in an article published in the November 1967 issue. "[Exactly] 634,434," he answered. "[And] do you know how much Ford Motor Company had of this market? Seven-and-a-half percent. That's shameful for a 'Total Performance' company."
Despite Tasca showing Ford precisely how easy it was to grab a bigger share of the muscle car market, he couldn't convince managers within Ford to invest more in the 428. So to help them understand just how important it was to have a competitive product in this high-profile arena, Dahlquist included a "ballot" of sorts in his Tasca KR-8 Mustang feature article that readers could tear out and send to Ford Motor Company to urge them get the engine into production. After a few thousand positive responses wound up on Henry II's desk, word came that Ford would put together several Tasca 428-powered Mustang fastbacks for drag teams competing at the '68 Winternationals as a prelude to later offering it for sale to the general public.
Of course it didn't hurt that two of the new Mustangs squared off in the NHRA final, where Al Joniec beat Hubert Platt before going on to trounce Dave Wren's Mopar for the Super Stock championship. On April 1, 1968, Ford officially announced it would be producing "two '68½ high-performance engine packages" for the Mustang and Fairlane "with Ford's recently-announced 428ci Cobra Jet engine."
As for why Ford replaced Tasca's "KR-8" reference with the "Cobra Jet" name, Tasca himself later surmised that because Lee Iacocca had so much money invested in obtaining the rights to the Cobra name from Shelby, it was to get top billing in any performance application; adding the "Jet" reference was likely just a shot at Chevrolet's well-publicized "Turbo Jet" engine lineup.
To Ford fans, it didn't matter what Ford called it because competitors just called it fast.
Later, Ford began bolstering the bottom-end of the CJ's 428 block with an upgraded crankshaft, connecting rods and main bearing caps in making what was dubbed the Super Cobra Jet (or SCJ). To keep the insurance hawks at bay, horsepower numbers for the CJ's were underrated at 335, but racers knew it was more like 400 hp. Shelby was soon to replace the 428s in the GT500s with 428 Cobra Jet engines -- identifying the CJ versions as GT500KRs, which some say was in deference to Tasca's contribution.
The bottom line was, the 428 Cobra Jet engine finally turned the production Mustang a true muscle car, and the Cobra Jet program proved to be worth its weight in marketing gold in the automotive performance world.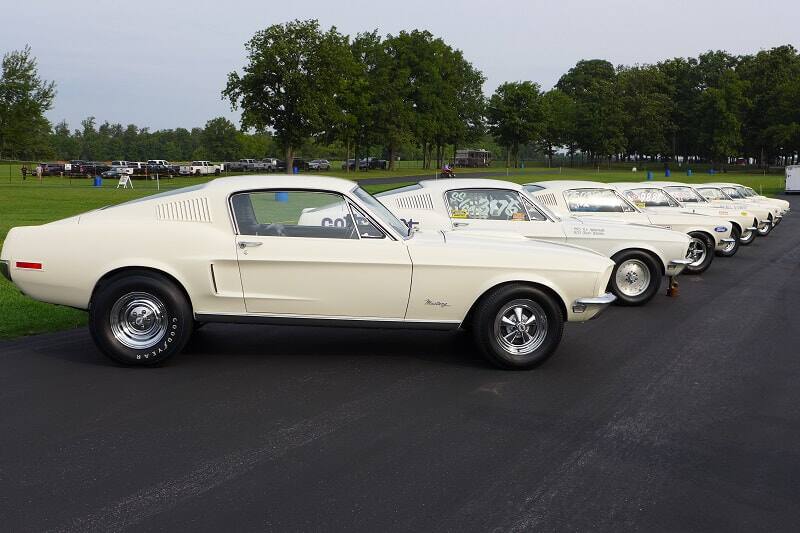 Fast-forward to 2018, when Ford Performance traveled to Norwalk, Ohio, for the 50th Anniversary Cobra Jet Reunion at Summit Motorsports Park and the largest gathering of Cobra Jets in history. More than 200 Cobra Jet-powered vehicles and other rare Ford Performance vehicles were in attendance to welcome the 2018 Cobra Jet into their select group of exclusive Ford race cars. Starting the weekend off was the Cobra Jet Reunion Dinner at the Sawmill Creek Resort in Sandusky, Ohio. There, previous CJ drivers, cars, dealers, owners and fans were honored for all of the hard work and achievements that brought fame to the CJ program. Some notable keynote speaker's names among the CJ reunion guest list were famous CJ driver Al Joniec, Ford CJ engine engineer Bill Barr, as well as staff from Tasca Ford and the Tasca family. Among Ford reps were CJ program directors Brian Wolf and Mike Delahanty.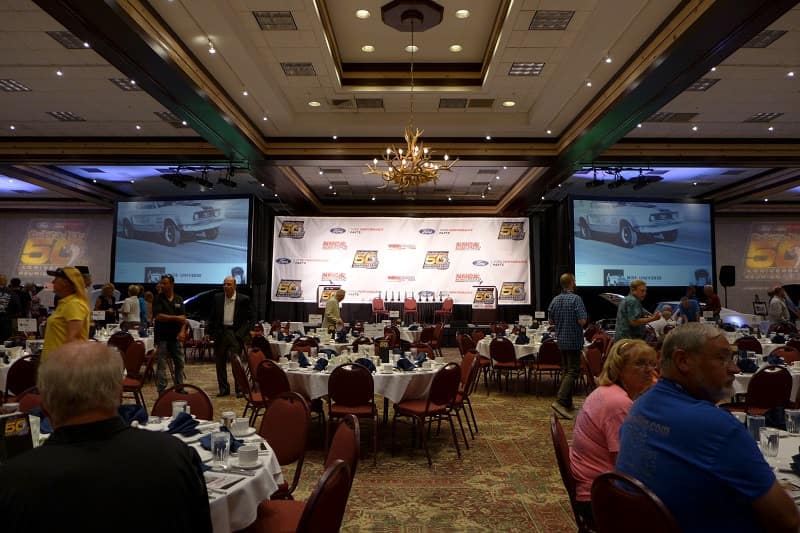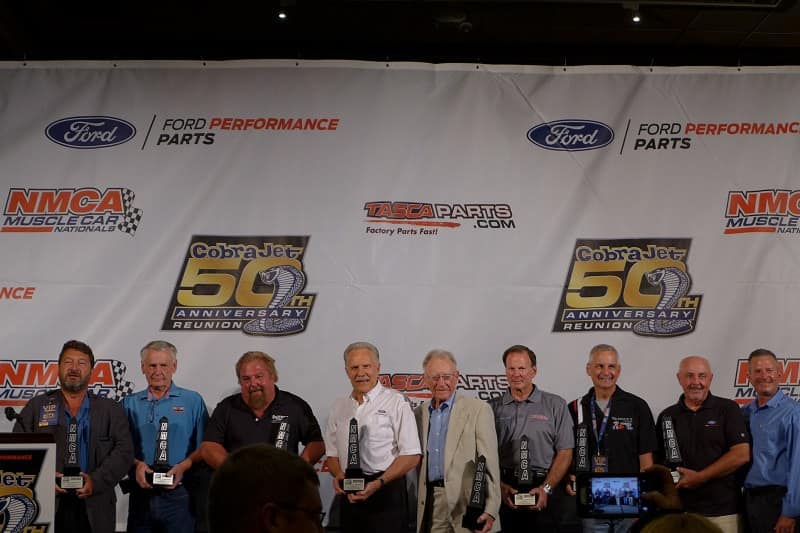 Despite a little bit of rain in the afternoon, the 50th CJ reunion was a huge success. Attendees had the once-in-a-lifetime opportunity to race their original CJ's on track against other owners and all of the distinguished guests got the chance to participle in a special group photo shown below. Check out our other exclusive insider photos of the CJ's 50th reunion dinner and event below.

FORD PERFORMANCE PHOTOS