Amid even the finest flock of 1955-57 two-seaters, Tom and Susan Mirro's '56 Thunderbird gracefully soars above. In more than 30 years of deep Thunderbird immersion, we've never seen another quite like it. Contributing to its unique charm is its long list of luxury options -- some quite rare, like the yellow-lens fog lamps integrated into the front bumper guards. The quality of the restoration is superb; in fact, the Mirro's Thunderbird was one of just 18 vehicles nominated for the 2021 AACA Zenith Award, which honors the best and most accurate restoration among the Club's 60,000 members.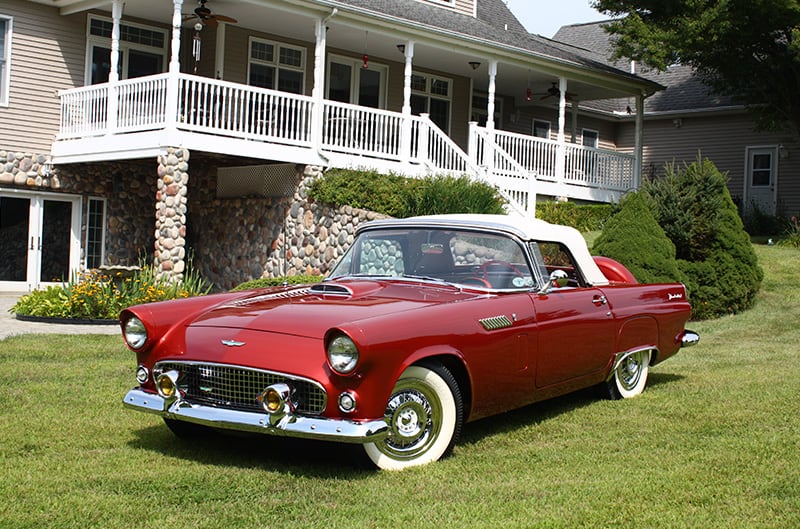 But there's something else particularly striking about the Mirro's car, and it's the color. Thunderbirds for 1956 were offered in nine vivid hues, but the deep, rich, glowing-ember red of the Mirro car wasn't one of them. It is the only Thunderbird we've ever seen in this color; it is likely the only one in the world. And, yes, we did say the car has been honored for its exceptionally accurate restoration.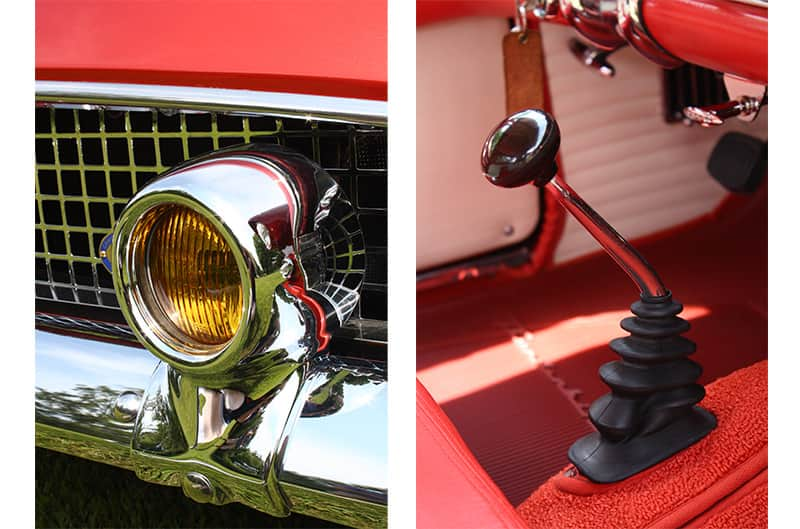 Growing up in the 1960s, near the fabled Raceway Park in Old Bridge Township, New Jersey, Tom Mirro challenged -- and occasionally bettered -- the legends of the era: Tommy Ivo, Don Prudhomme, and Don Garlits among them. "I was just a kid," he recalled, "and they were in their 30s." At one time Tom held the track record in B/Gas Dragster. His gentle, easy laugh brightens his recollections of those days.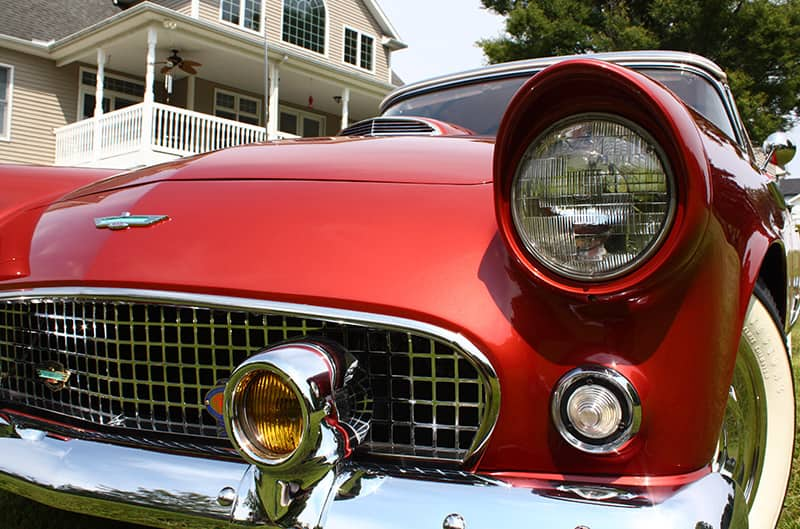 Tom was just 14 when he bought his first Thunderbird, a decade-old '56, for $600. "I took the engine out, cut the firewall out, and put in a 375-cubic-inch Chevy fuelie set back 10 inches," he explained. "I had to cut a horseshoe in the seat for the shifter. I put in a 4.88 rear, and there wasn't a Corvette around that could beat it. And then there were three or four other Thunderbirds that I fixed up and sold. I always wanted another one. And I kept looking, but didn't have much money to spend."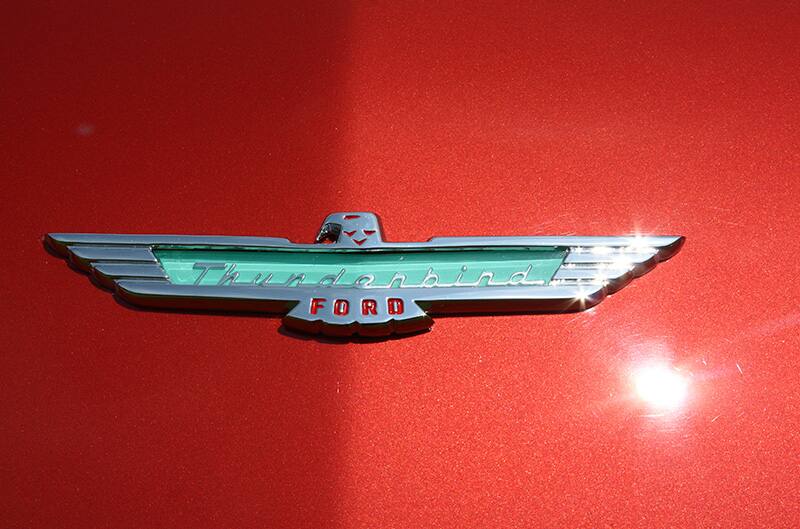 In fact, Tom was unemployed in 1974, when he spotted a newspaper ad for a '56 T-Bird in nearby Freehold. "So I said to Susan" -- the couple had married in 1970 -- 'I'll be right back.' Tom arrived at the specified address to find no one at home. But through the window of a detached garage he could see the Thunderbird, "with about three-quarters of an inch of dust on top of it. So I waited all day for this man, and it was probably six o'clock that night that he finally came home. I'd guess he was in his 70s. He told me he had been a Ford executive, and that his wife wanted a Thunderbird painted a special color."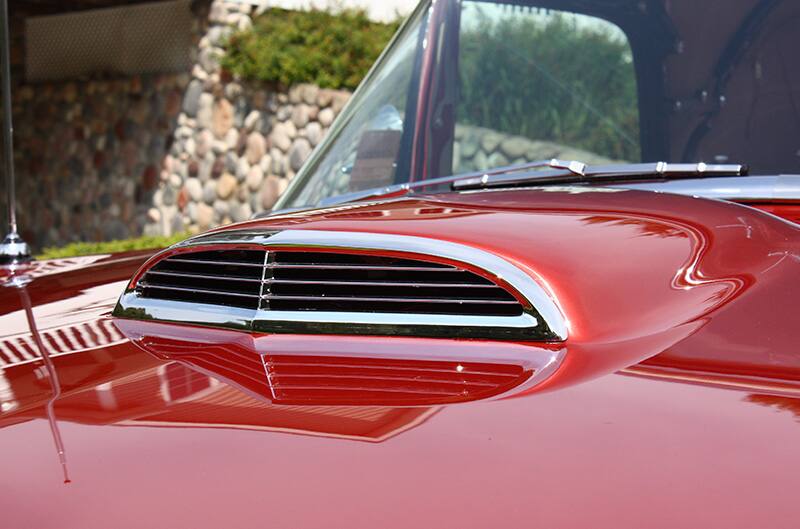 That phrase, special color, Tom readily admitted, "went right over my head at that time." And understandably so, because whatever the special color had been, the owner's wife had tired of it after three or four years and had the car repainted yellow. Sometime after that, the couple "went on vacation in Ireland and never came back." The woman had family on the Emerald Isle; the visit stretched into a decade or more; and it wasn't until after she had passed away that the retired executive returned to the property he still owned in New Jersey.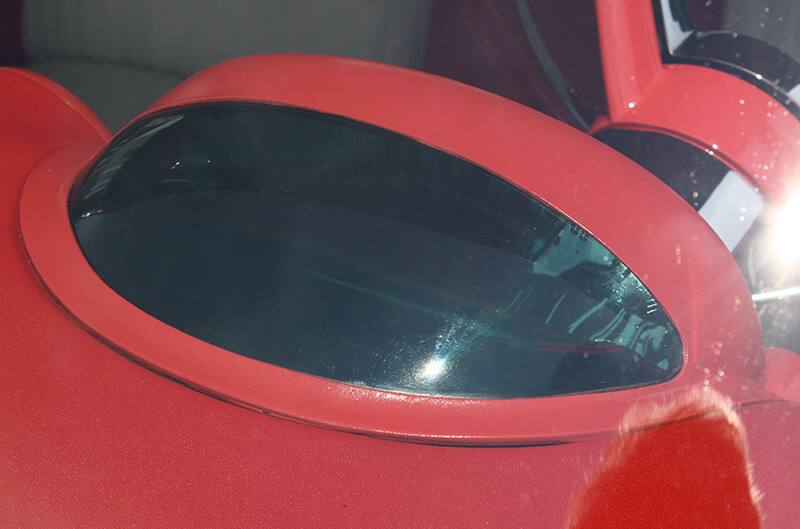 And now he wanted $3,500 for his late wife's Thunderbird. "That was a lot of money back then," Tom noted, even for a car with only 8,000 miles on the clock. "So I said, 'I'll give you two.' And he said, 'You know what, I'll take the two.' And then it took me three weeks to convince my father to loan me $2,000." But the deal was eventually done; Tom brought the yellow Thunderbird home, "changed the oil and the plugs, and we started driving it."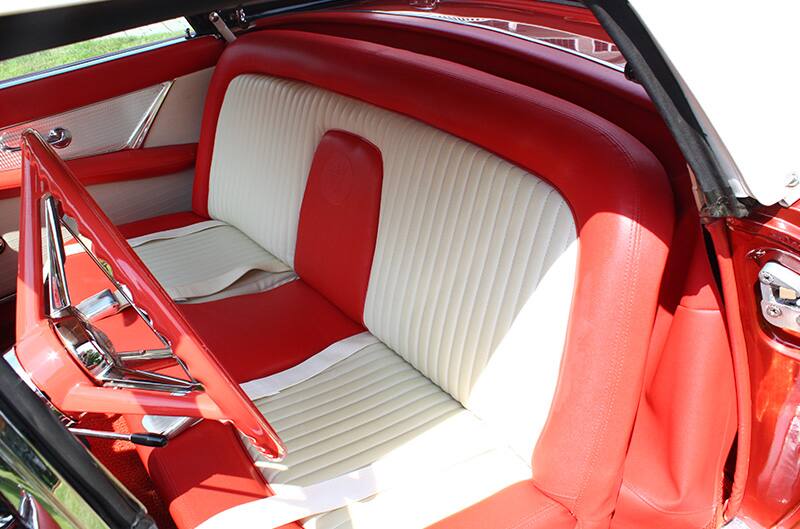 The car had been delivered with an impressive list of options: not just popular choices such as a heater and defroster, "full-flow" oil filter, white-wall tires, wire wheel covers, and rear fender shields, but also power steering and power windows, plus many safety options, including a windshield washer and "positive action" wipers (still vacuum powered, but augmented by a mechanical pump), reverse lights, and the new-for-1956 Safety Package that added seat belts, a partially padded dash and padded sun visors. A signal-seeking (a.k.a. "Town & Country") radio and chrome engine dress-up kit were also new for the model year.


The neatly integrated fog lights would turn out to be extremely rare. Tom learned later that these were dealer-installed and one of a half-dozen sets known to exist. A genuine Ford wiring harness connected to a Ford dashboard switch confirmed their authenticity. Conspicuously absent was the iconic "porthole" hardtop; the original owners had opted instead for a white vinyl folding top, which nicely complemented the factory Code XB red-and-white interior.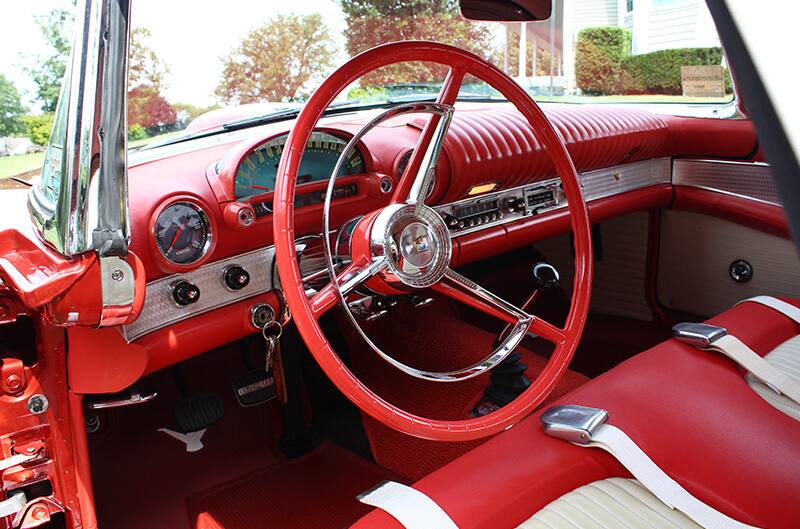 Tom and Susan thoroughly enjoyed their fast and stylish daily driver until the late 1970s, when Tom decided to "fix it up and repaint it." Around the same time, he applied for membership in the Classic Thunderbird Club International (CTCI). "And a guy named Ford Johnson asked me to read the serial number and the data plate."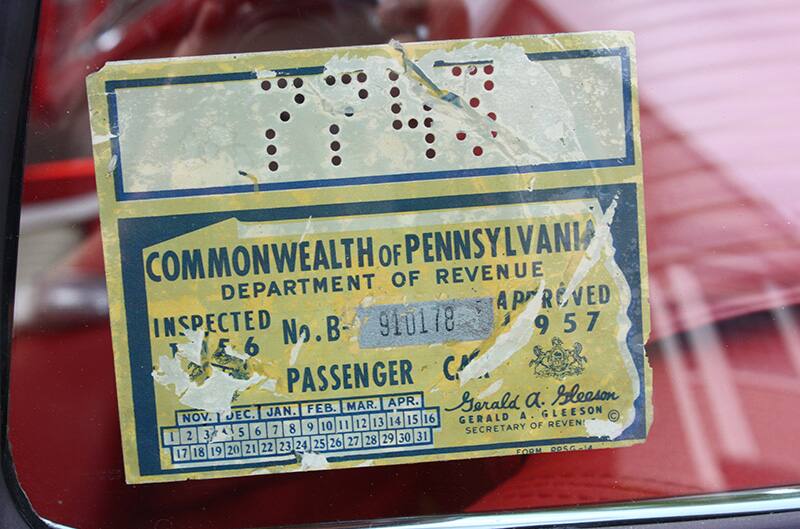 Tom obliged, and Johnson asked, "Do you know what you have?"

"A '56 Thunderbird," Tom replied.

"You have a very special '56 Thunderbird," Johnson explained, noting that the paint code "S" on the under-hood serial plate indicated a custom color – in fact, it meant that the car could have been delivered in any 1956 color offered by the U.S. auto industry.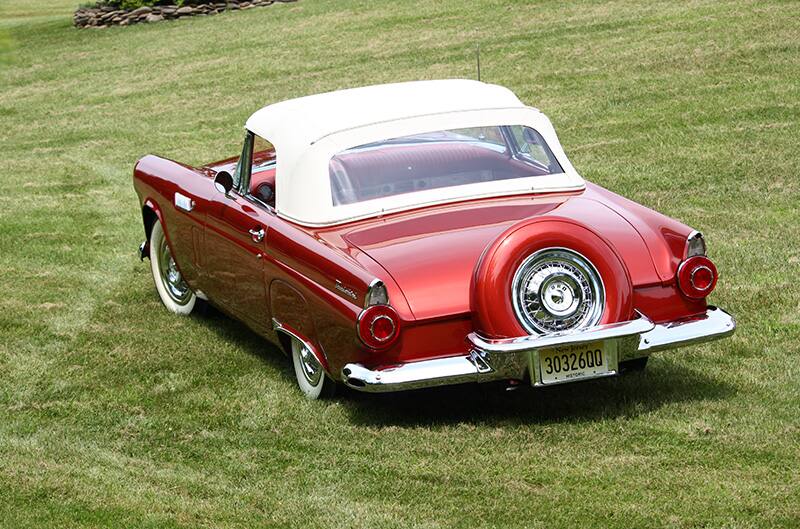 When Tom removed the hood and trunk lid for painting, he found traces of the original color beneath the hinges. "So I took a paint chip to DuPont, and they identified it as Claret Red – a '56 Buick color – which didn't make any sense to me," Tom said. Still, he decided to restore the car to its original color. And he and Susan continued to drive and enjoy it, stopping only briefly to collect an AACA First Junior award in 1987.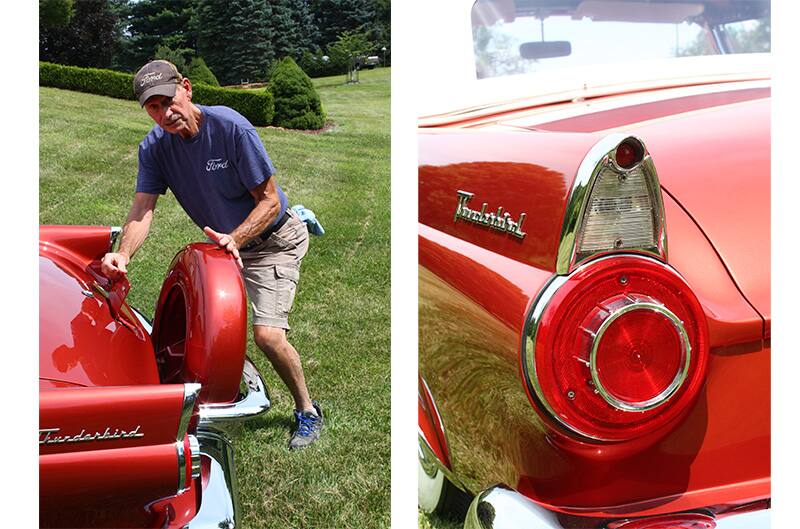 In 2013, Tom again decided the Thunderbird could use a little freshening . . . which turned into a four-year, body-off-frame restoration involving the whole family. "My son Tommy helped," Tom said, "and my grandsons T.J. and Michael signed the floorboards under the carpet."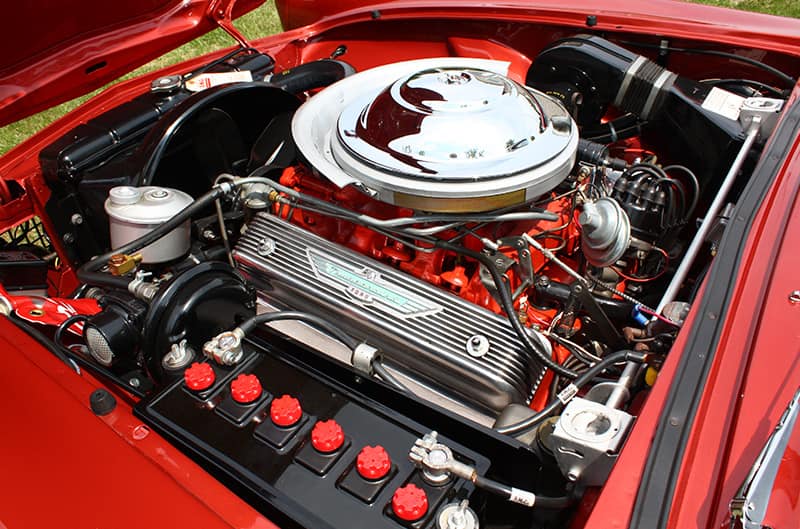 Tom again researched the paint, this time at both DuPont and PPG. Again the color was identified as Buick's "Claret Red," but this time also as "Lincoln Cinnamon" – same paint, different marque and marketing. Ford's premier division had added the color to its palette in the spring of '56. "And that made more sense to me," said Tom, "that a Ford executive would order a Lincoln color."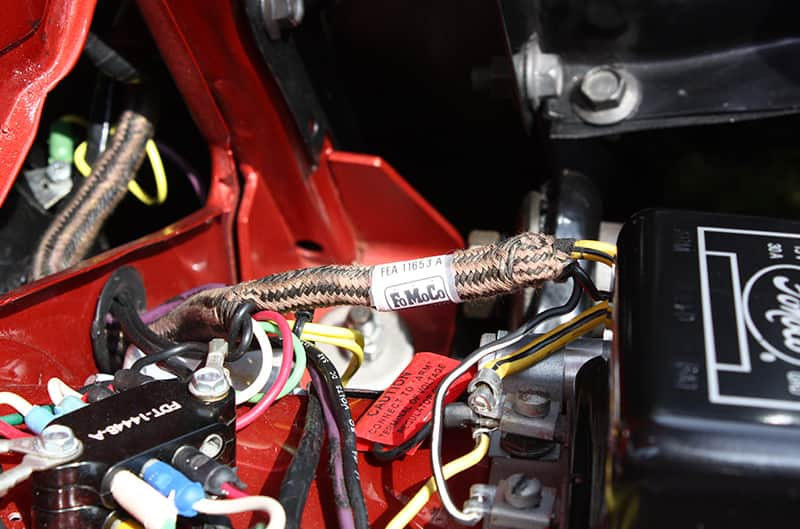 Since that second, more thorough restoration, the Mirro Thunderbird has been retired from the road; it's strictly a show car now. "In the beginning, we'd go to a show and sit behind the car, and a team of judges would surround the car, with the two head judges standing in front and looking back at us, and we knew they were talking about the color," Tom said. "And finally they'd approach us and say, 'This is not Thunderbird color.' And we would say 'No, it is not a Thunderbird color, but is a correct color.' And we'd explain to them what the S-code meant. We would take out the documentation and show them. So, it took about a year and a half, but by then all the AACA judges knew our car."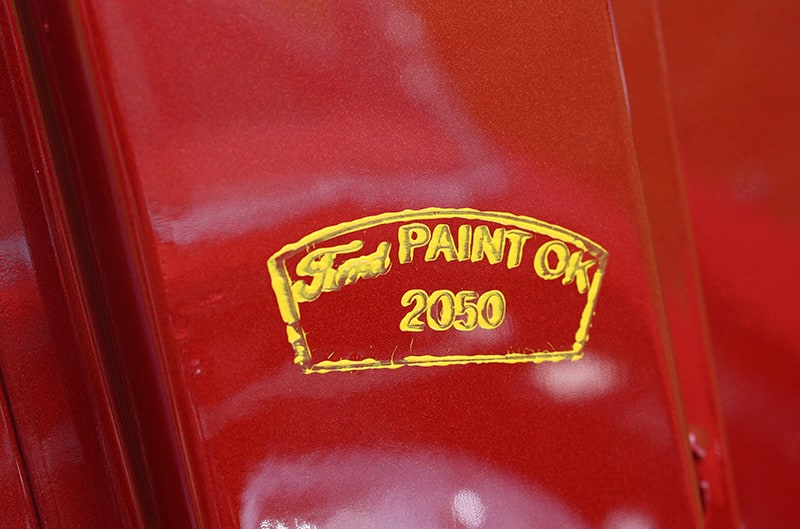 The Mirros began collecting awards, including a Senior Grand National, multiple Preservations, and the AACA Thunderbird Award for 2018. Their car has also been awarded a Senior Gold Medallion by the CTCI, and a 2019 Best-in-Show by the Vintage Thunderbird Club International (VTCI).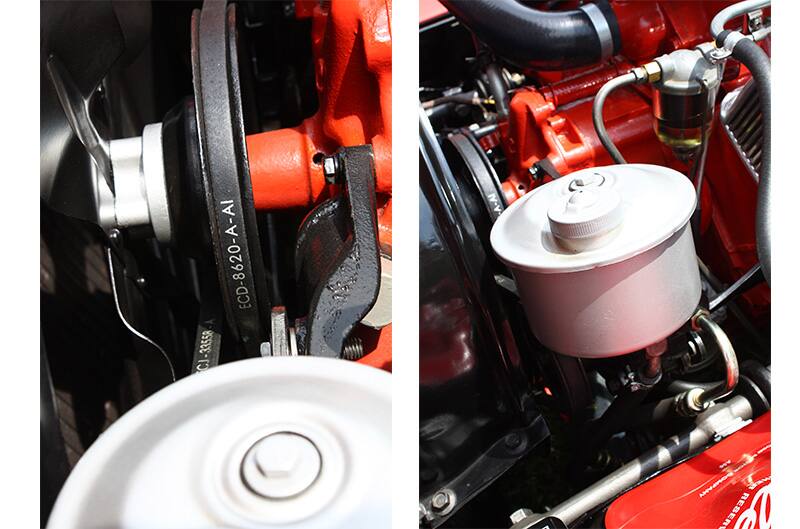 And then, in 2020, the Mirro's car became the first Thunderbird ever nominated for the Zenith Award. This best-of-the best recognition was first proposed in 2016, and every year since, a special team of judges have nominated two cars from each AACA national meet, based primarily on quality of restoration, but also accounting for "degree of difficulty . . . provenance, historical significance, and rarity." The nominees then compete for a 21-inch crystal trophy at the AACA Grand National meet the following year.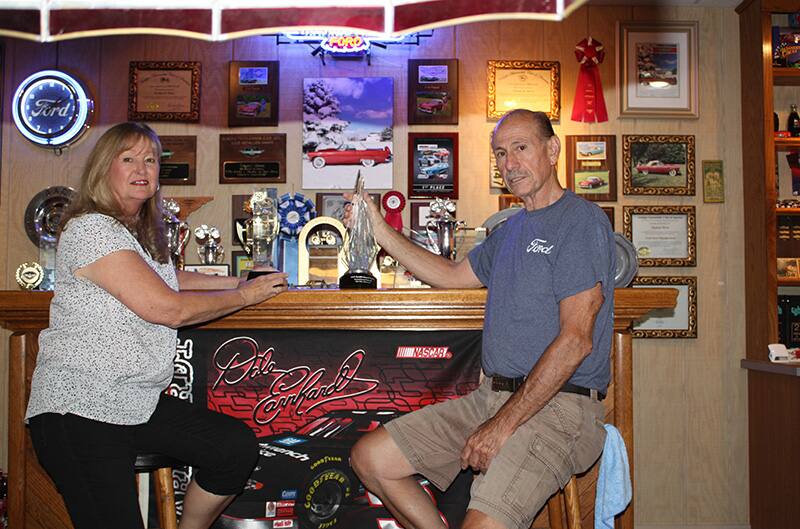 In the final scoring, the Mirro's Thunderbird finished third, behind a 1917 Locomobile Model 48 Sportif commissioned by Rexall pharmacy founder Louis K. Liggett; and a 1930 Ruxton roadster originally owned by George Kissel (of Gold Bug fame). Tom likes to point out that his T-Bird was the only owner-restored car in the competition – and that for an all-too-brief moment, it was not only the first but the only Thunderbird ever nominated.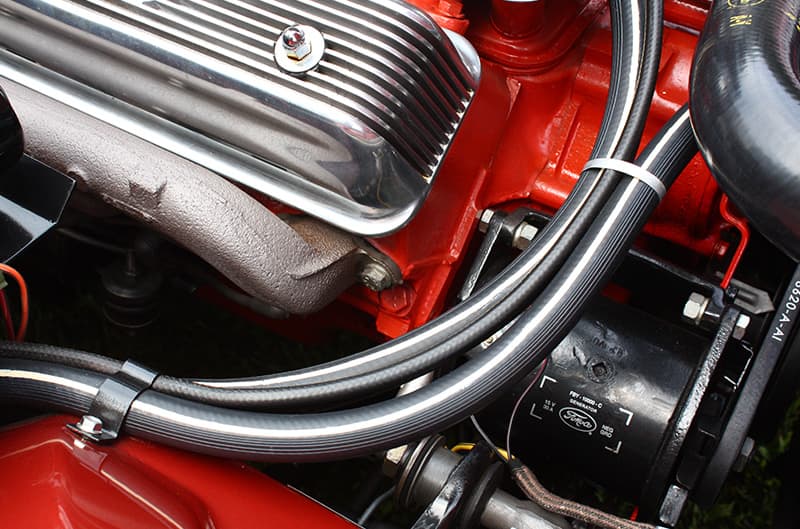 But if no longer quite unique, the Mirro 'Bird has become trend-setter: Nominees for the 2022 Zenith included another literal rara avis, a 1963 M-Code (triple-carburetor) Sports Roadster owned by Donnie & Linda Holcomb. (It didn't win the Zenith either, as the judges favored a 1929 Du Pont Model G Club Sedan.) Still, Tom and Susan's '56 remains the only true two-seat Thunderbird ever nominated for the Zenith – and therefore, arguably, the officially recognized best example of the breed.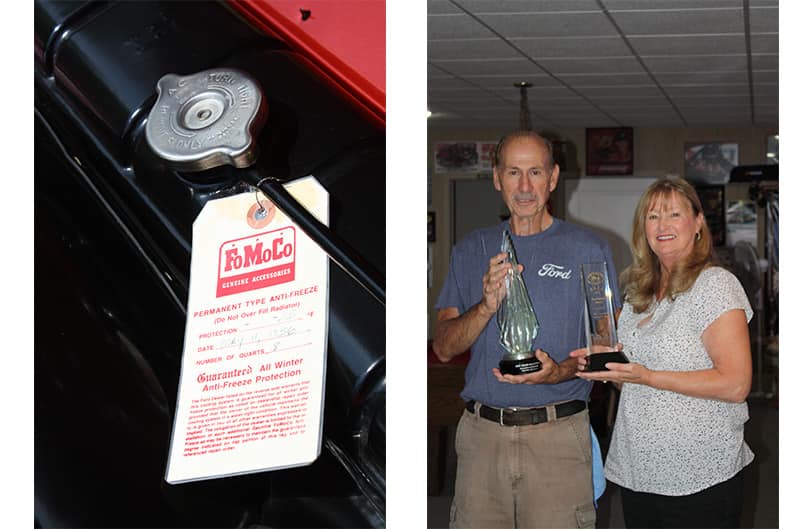 FORD PERFORMANCE PHOTOS / COURTESY JOHN F. KATZ