Bruce Marcais is an artist and photographer whose artistic creations have graced magazines, catalogs, showroom floors, and delighted consumers of many products and services with drawings, blueprints, photographs, prototypes, models, and combinations of all the above. But back in the 1960's, it was likely the then-new Ford Mustang that fueled the hot rod and muscle car fantasies of a budding creative young mind, perhaps encouraging and helping to define this young man's career and future.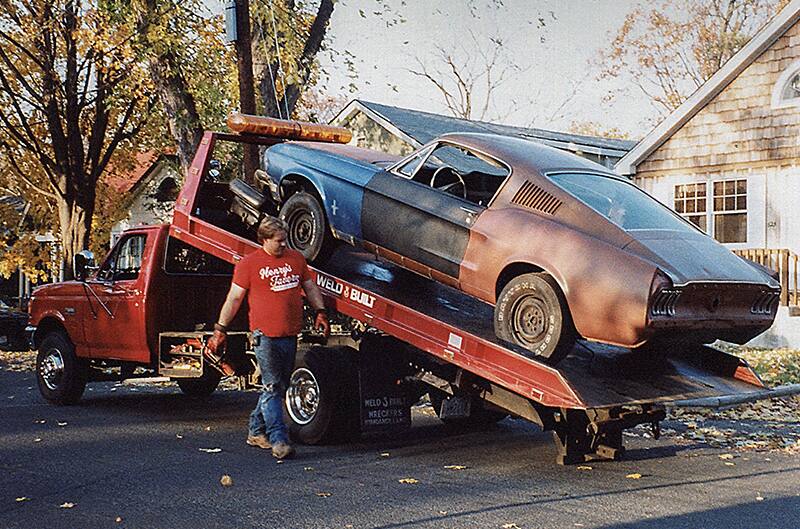 Some insiders and friends who know the story behind Bruce's "Reptilian Mustang" would say it was on November 15, 1991, that the Reptilian started life when the project Mustang was purchased in North Babylon, NY, while others would say it was 13 years later when the drawings for its trademark air cleaner were penned. Still others would swear the concept developed during the '90's as Bruce and wife Ellen disassembled, cleaned, refurbished, cut, welded, etc., the plain-jane Fastback embarking on a restoration that little-by-little morphed into a resto-modification. To some extent, all three answers are partially correct, if you consider that this custom-crafted one-of-a-kind Mustang started as the dream of a high school kid. Any Mustang makes an impact, but when romantic childhood dreams combine with a man's first car, fantasy meeting reality creates soul-stirring foundations – the kind you never forget.
So what were the influences and concepts behind the Reptilian? Well, when you peel an onion, you find many layers. Without question, we are all a product to some extent of the environment in which we grew up. An artist from Marseille (France), Bruce's great-grandfather, Victor, immigrated to America before 1900. His creative pen and brush showed a flair for design, passed on to his son (Bruce's grandfather), Archibald. Archibald and his father-in-law, Paul (Bruce's father), owned and operated Glove City Dairy, a dairy plant in Gloversville, NY, producing and delivering milk from the 1920's through 1968. Paul was trained as carpenter, became a partner in the dairy, and expanded it to include an ice cream factory – the building and machines which he built himself. Paul was also a B-17 and B-24 bombardier and navigator during WWII. Paul flew in bombers that were protected by the Tuskegee Airman, who were flying P-51 Mustang fighter planes. After closing the dairy, Paul became a teacher at a trade school and at Fulton Montgomery College.
Young Bruce worked in the dairy and ice cream factory, learned the building and machining skills from his Dad – particularly the practical "make-what-you-need-out-of-what-you-have" philosophy -- and from early on demonstrated the ability to draw and design. A Ford fan as well, Bruce learned to drive and tinker on a 1956 Ford Panel Truck, followed Carroll Shelby as a race car driver, was smitten by the Mustang – as well as just about any car with flames on it. Following Shelby in the early 1960's he idealized the race car driver-turned-race car builder, who took on and beat Ferrari – or, as in Bruce's own words, "The man who got things done."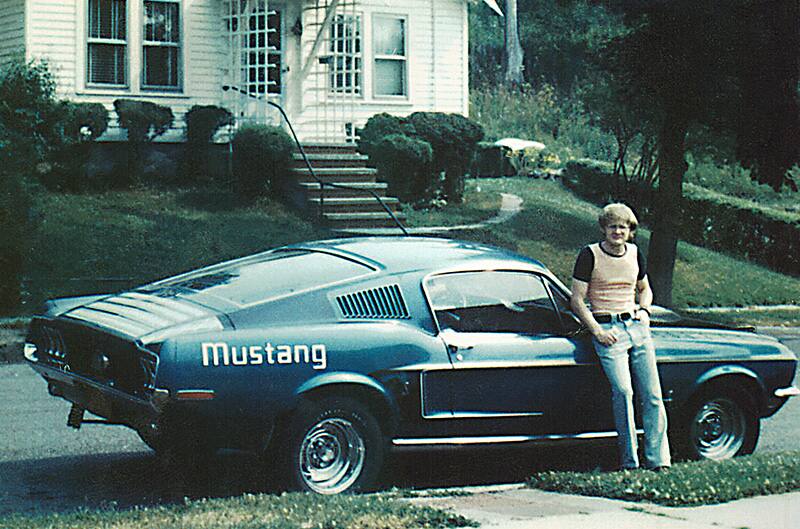 In 1969, Bruce visited a Ford dealer in Amsterdam, NY, and purchased a left-over 1968 Gulfstream Aqua Mustang Fastback. This was more than love at first sight -- it was the first step in realizing the dreams of a boy smitten (or should we say, bitten) by Mustang and Shelby fever. Selling the car several years later, he started his career, moved downstate to Long Island and married Ellen.
There have been more than a dozen project cars in and out of his garage – including the 1968 Shelby GT350 that Bruce is now restoring to concurs perfection. After acquiring his first 289-powered Mustang, his admiration for Shelby intensified with every book and magazine he read. "He was a visionary and leader," Bruce said. "As driver, builder and entrepreneur, Shelby was the guy who got things done." It looks like some of that same spirit has rubbed off on Bruce as well.
Bruce is something of a Renaissance Man himself: when he gets an idea, he goes full-bore, using all of his resources in the process. We're talking all the research, planning and preparation, including welding and body shop classes, plus plans, parts diagrams and drawings. Looking back, Bruce recalls that "it [the 68 Mustang] was such a rust-bucket. You have to remember that, back then, parts weren't available the way they are now. You went to junkyards, read Hemmings, called all over the country, and made friends. Or you manufactured your own parts."
Like any restoration or resto-mod project, Bruce's took on a life of its own as it progressed. His vision translated to reality while casting Bruce as designer, architect, fabricator, problem solver, machinist, wood craftsman, painter, finisher and overall project manager. "There's something like 10,000 hours of my time in this car over 17 years," he admitted. Call it a labor of love – or perhaps even a quest.
Mustang goes hand-in-hand with owner modification. When Ford ads proclaimed the Mustang as "The car designed to be designed by you," it subtly proclaimed the obvious: nearly everyone wanted their own unique, personally tailored car. For some that means modification. People have been modifying cars since cars were commercially available for a few good reasons: Initially, early automobiles didn't always work that well – especially over the first 50-70 years of the 20th Century. People who were mechanically inclined worked on and "fixed" their cars, often making modifications so that the cars worked better. This was critically important to the development and maturation of the automobile; those who modified their cars were showing the manufacturers what they should do differently. This resulted in better cars for everyone.
Secondly, car manufactures didn't always provide the features, options, etc., that people needed or wanted to get certain jobs done. Early service vehicles (e.g. taxis, delivery vehicles, etc.) for example, needed heavier springs to carry more weight, larger-capacity radiators, electrical systems, and the like to make their cars perform better. So people modified their cars to address these needs. Next, there was the ever-increasing desire for more performance. People wanted their cars to go faster, handle better and stop better. Some just desired to have the fastest vehicle out there.
There was yet another component of society who wanted to go faster as well: the criminal element wanted to get away faster, forcing law enforcement to increase their performance abilities in order to catch them. And since the beginning, automobile racing fostered competition that would not only challenge all automakers to create and offer performance parts, but also create an aftermarket for these items. Competition most definitely improved the breed, as many modifications born on the race track were adapted to ordinary commercially available vehicles.
Lastly, a sense of originality and differentiation drove people to modify their cars for uniqueness -- to stand out. America fell head over heels in love with the automobile, and the resulting romanticism sparked a cultural phenomenon known as "You are what you drive." The eventual socio-economic impact became ingrained in us, bonding our identity to our cars. That meant some of us just have to modify our cars to be happy owning them.
Modified Mustangs are not just a fringe movement, or something that kids do. Rather, they're an important part of the Mustang family. Where would we be without Carroll Shelby? Ol' Shel brought it mainstream, and in the process created one of the most exciting chapters of the Mustang story. And that's the essence of all the modifications behind the Reptilian.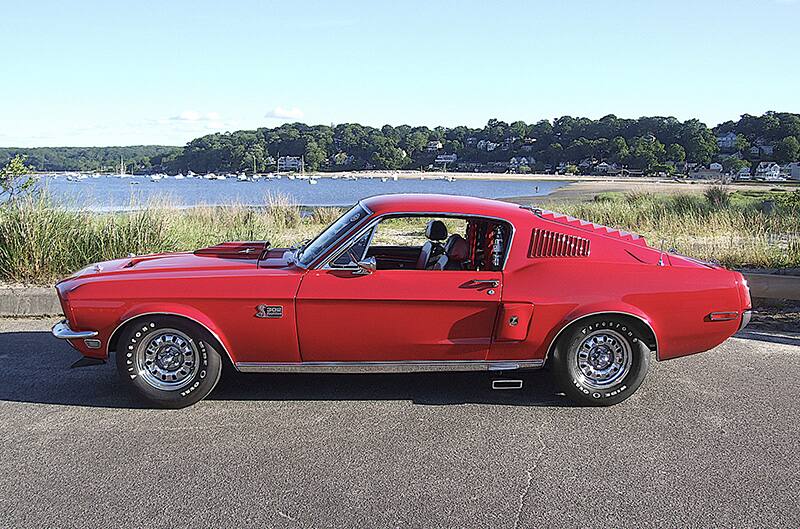 The Reptilian Mustang has more than 250 modifications to the body, chassis, suspension, engine, engine compartment, interior and trunk. Items such as the stroked 302 with big-valve heads, roller rockers, guide plates, aluminum oil pan, Edlebrock 650 carb, Hooker headers, Magnaflow exhaust, 2500-RPM torque converter with a Shelby servo, and functional Shelby brake-cooling scoops hardly compare with some of the car's custom-manufactured items that Bruce has created.

For example, here are 15 cool mods that you just won't find on any other Mustang:
Snake Air Cleaner
Gracing the engine compartment is the Reptilian's trademark air cleaner. From virtual concept to finished product, this clearly demonstrates Bruce's vision, artistry, manufacturing skill and craftsmanship. His vision was captured in drawings, then as a construction-paper prototype. The prototype was fortified with body filler, duct tape and other materials, sanded smooth, and coated with shellac. He used the prototype to make a two-part silicon mold. The "Snake Air Cleaner" was manufactured out of a heat-resistant urethane top, perched above an aluminum plenum that draws air into the carburetor via eight custom-bent tubes, each fed via a lawn-mower muffler modified to work like an air filter.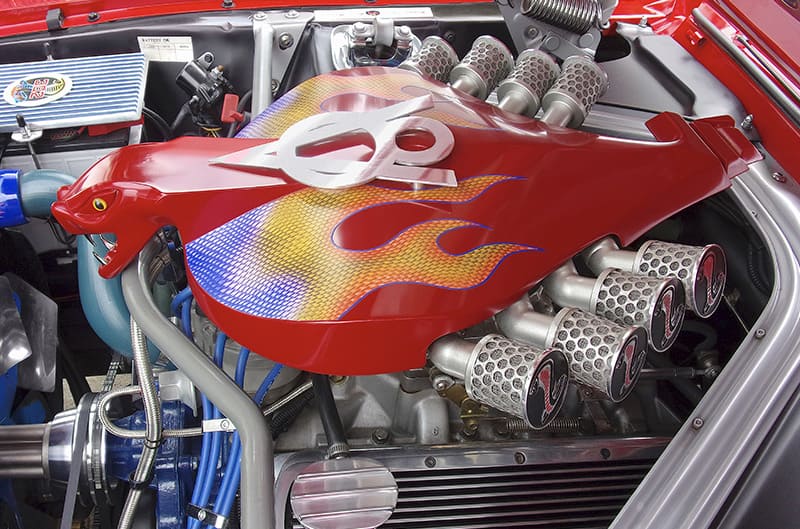 2. Snake-Eye Horn Covers
Bruce drew the horn covers, sitting atop the grill-top cover, then printed them on a thin plastic sheet, which was bonded to galvanized steel. We've seen different versions of the snake eyes that included diving lights. But one look at the snake-skin grill-top cover and you'll see this car is decked-out like a Hollywood star!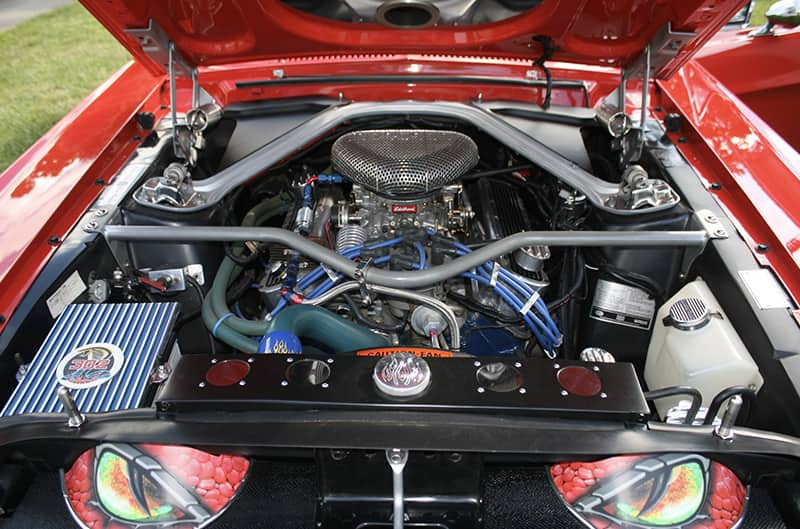 3. Induction Hood Scoop
Bruce wanted to add a cowl induction-style hood scoop to the Reptilian, drawing air from the high-pressure area created by the windshield. This creates a dense and cooler air supply that produces more horsepower. Once again, he drew a diagram and blueprint, fashioned a construction-paper model, added body filler and shellacked, then sanding to create a perfect prototype used to make a silicon mold for the one-piece urethane hood scoop that was bonded to the hood before paint. He later added the 1938 Ford "V8" chrome emblems on each side, tying the Reptilian back to the cars of his youth.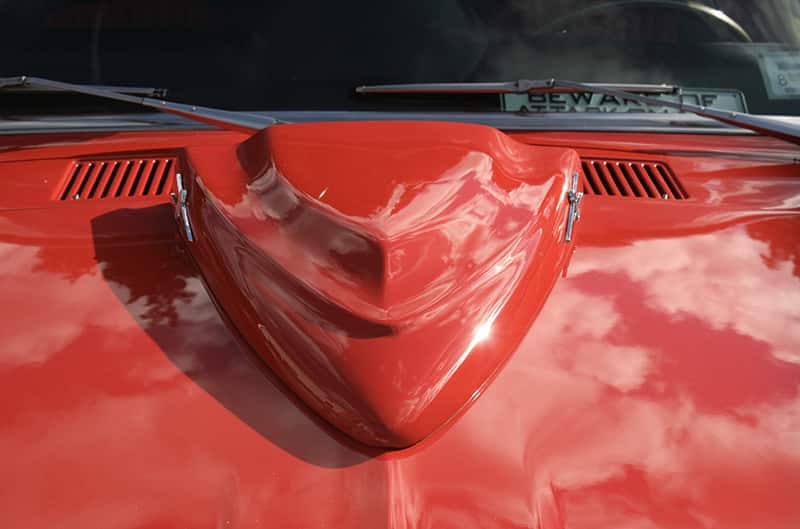 4. Export Brace Drip Covers
We're not sure why Bruce doesn't work for Ford. Bruce had noticed that water dripped into the engine compartment in places you'd never want it (near the master cylinder, steering components, brake proportioning valve, etc.). His solution was to provide a cover that clipped onto the export brace and cowl top, shielding components below from water and providing a longer life. It also cleans up the engine bay by hiding the brake booster, master cylinder and wiring clutter.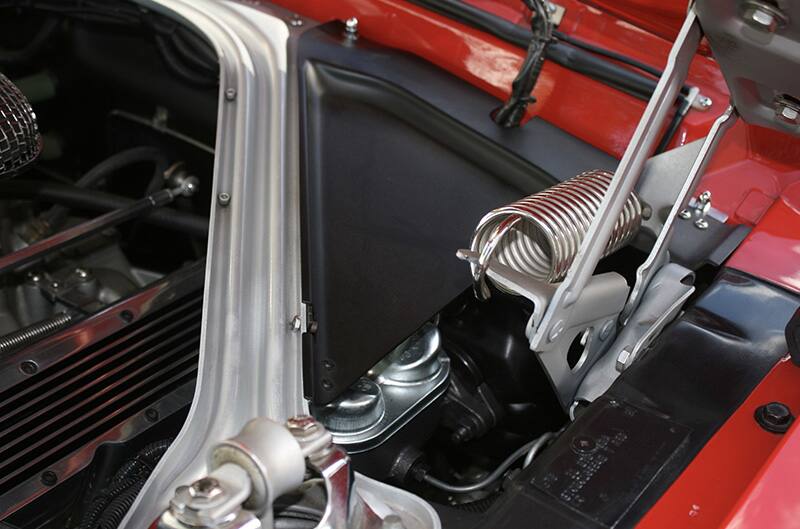 5. P-51 Fuel Temperature Gauge
Bruce drove his Reptilian to a level that most modified Mustangs could only envy: incorporating a part from a genuine P-51 Mustang plane. Finding a temperature gauge from a P-51 Mustang, Bruce modified it for fuel temperature. It now adorns his engine compartment.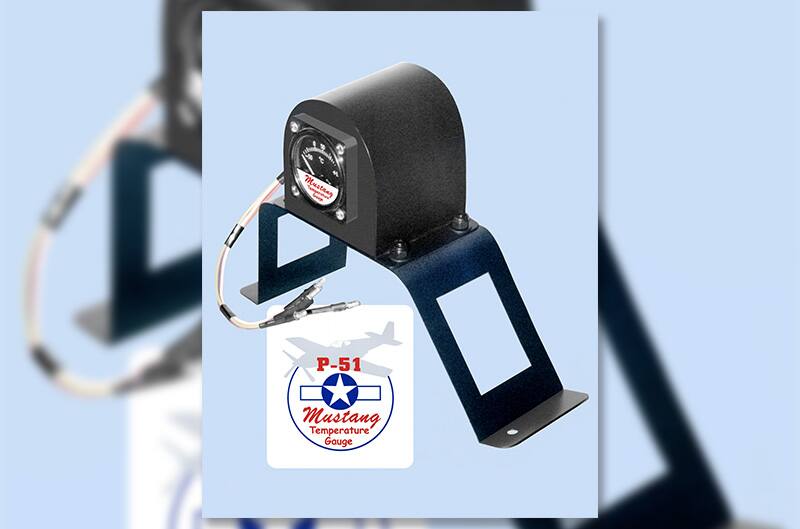 6. Buck Tag / Sill Plates
Using his own stamping process, Bruce designed his own buck tag, showing critical information about the Reptilian – including its manufacture on 11/15/1991 in the USA. Similarly, he created his own vinyl decals that he applied to polished sill plates, showing the Reptilian logo and crediting himself as driver / builder.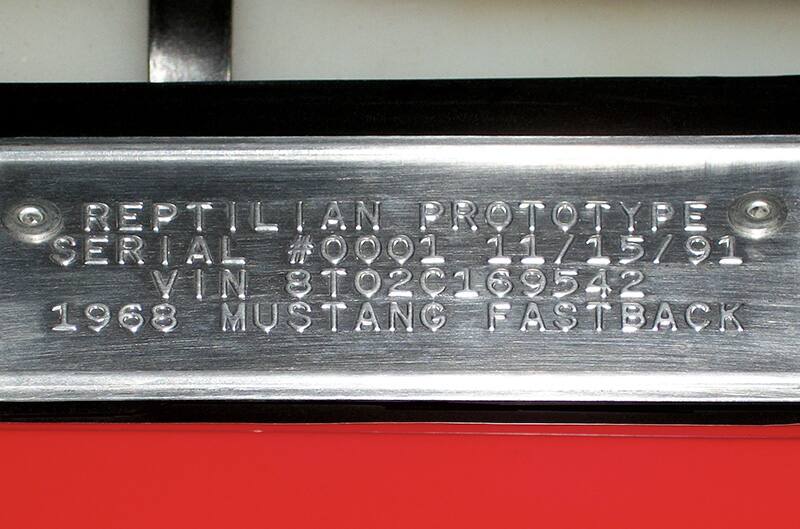 7. Grill Top Cover
As noted in mod #2, Bruce constructed an aluminum cover to sit atop the grill, neatly hiding the wasted space below as well as providing a mounting point for the Snake Eye horn covers. He then covered it with a genuine snakeskin Naugahyde that's weather resistant -- and way cool. The attention to detail in this car is over the top!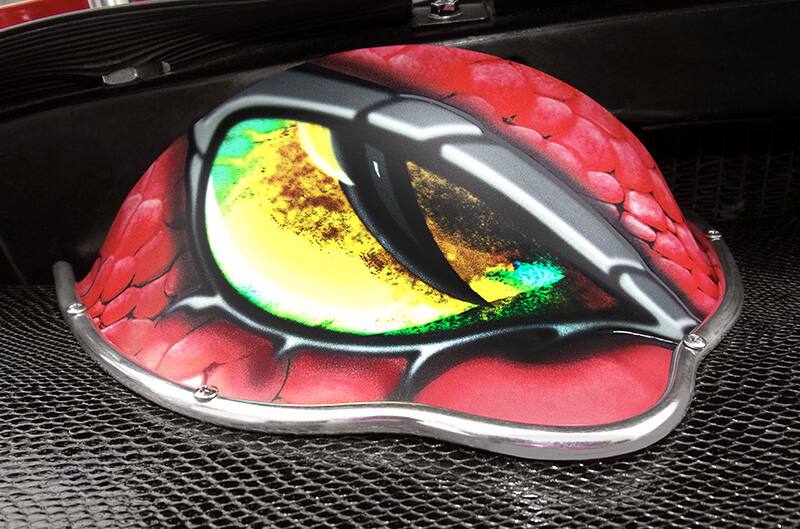 8. Trunk Tool Box
Anyone could put a tool box in their trunk; Bruce built one in, specially designed for the trunk of a Mustang with repurposed window locks that keep everything in place. It fits around the taillight bulb/lens housing, making use of often wasted space and incorporating a fire extinguisher (one of three in the car). Amazing attention to detail is evident in the red snake-skin tool box covering, vinyl decal, and Reptilian-logo tool box buttons. Going even further over the top is the custom-designed tools that come with the box, complete with Reptilian logos, custom flame screw drivers, and the like.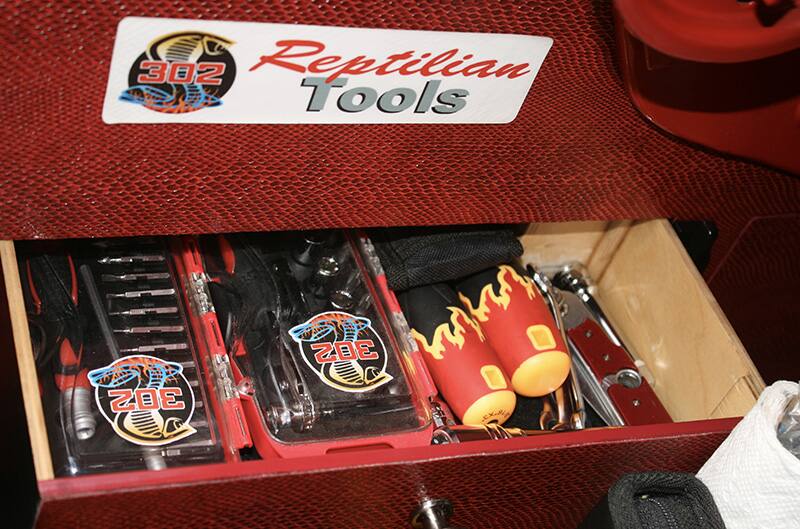 9. Surround-Sound Speakers
Bruce wanted to add a surround-sound stereo system, but he didn't think the classic door-speaker arrangement was sufficient, and didn't want to cut interior panels in which to fit new speakers. His solution was to mount two surround-sound housings for small, powerful speakers. The housing were table-top garbage cans, sourced from Kmart, with the doors removed and grill material added to the openings; the speakers were mounted inside.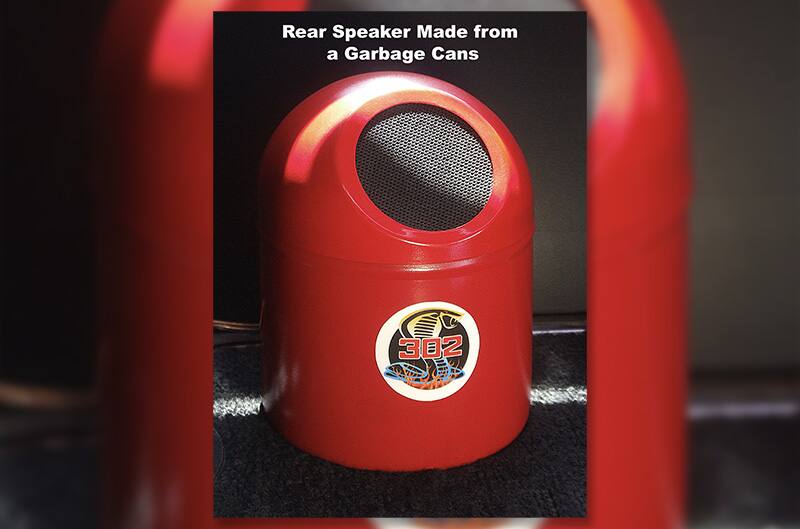 10. Rear Window Defroster
Bruce always thought the Mustang (especially the fastback) needed a rear window defogger. So he built his own using a microwave oven squirrel cage powered by a 1969 Mustang blower motor in a custom housing mounted neatly in the trunk behind the fold-down rear seat mechanism.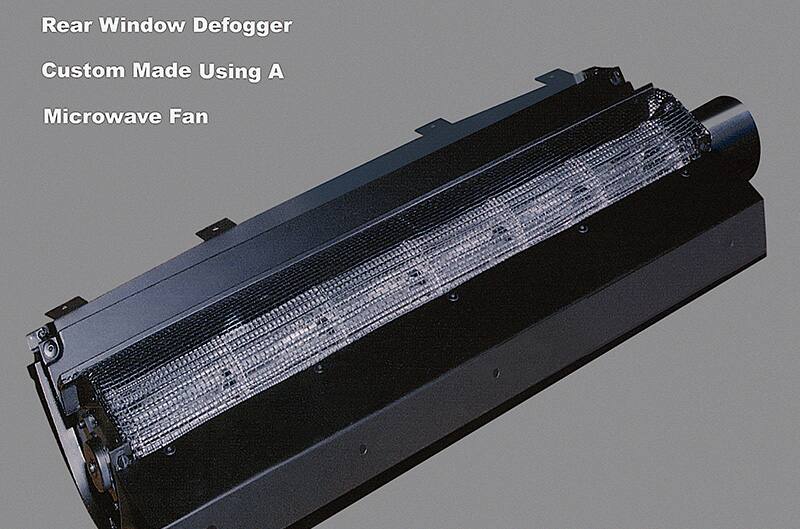 11.Trunk and Engine Compartment Lights
This is as close as Bruce gets to ordinary. His custom-fabricated housing for the trunk light and unique placement for the engine compartment lights provide usable light in both spaces with low-voltage components. Bruce is in the process of changing over to LEDs.
12. Flame Accents (Door Handles, Window Cranks, etc.)
As noted previously, Bruce loves flames -- drawing them, painting them, and just looking at them. Using seven layers of quarter-inch pine wood cut on a band saw and soaked in wood hardener and then dried and cured, they were glued together, primed and painted for a stellar look, and great durability. The theme was carried over to the window cranks, gas and brake pedals, floor mat embroidery, rear-view mirror, and plastic handles for most tools in the trunk-mounted toolbox.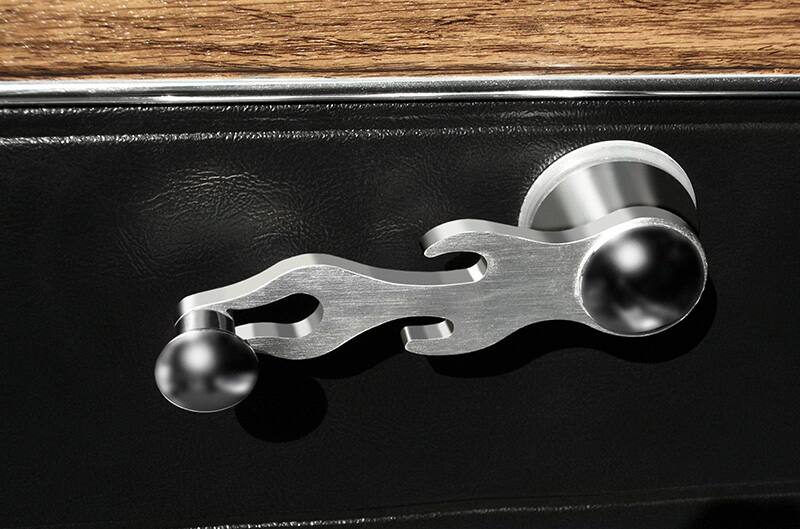 13. Emblems & Logos
Bruce has designed hundreds of logos, but for his Reptilian he borrowed the snake in a nod to Carroll Shelby, gave it his own character, and added engine size. These can be seen on the lower-rear front fenders, the inset medallions on the side scoops, seat headrests, door sill plates, surround-sound speaker cabinets, toolbox and selected tools, spare-tire hub cover, battery cover and dash logo.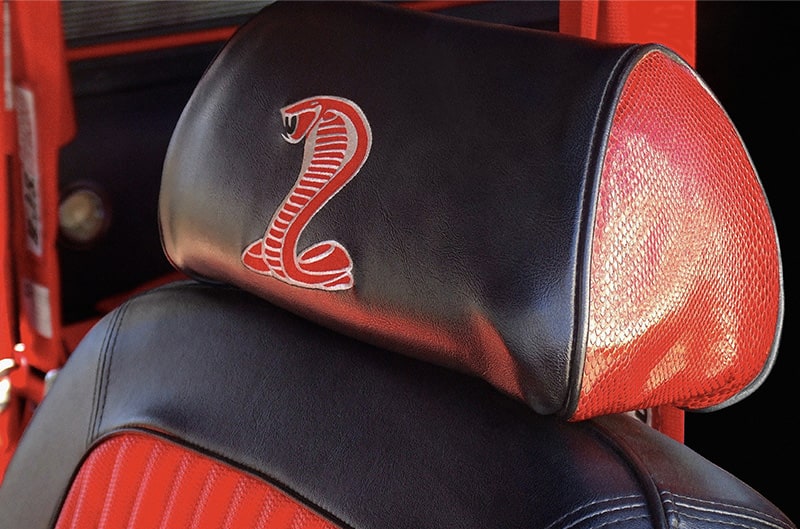 14. Side-Exiting Exhausts
Rectangular side exhaust pipes augment the car's exhaust system. Looker long-tube headers flow into two separate exhaust systems (with no H-pipe), culminating in dual mufflers with twin dual GT exhaust tips. A dash-mounted switch to electric cutouts send exhaust gases out the side exhausts, bypassing the mufflers for an awesome growl.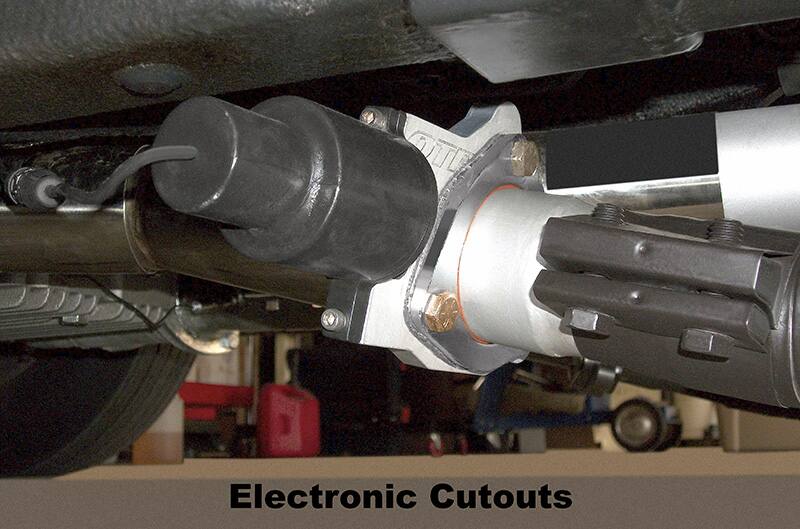 15. Rear Spoiler
Bruce isn't the pedestal-spoiler type, but didn't want to reuse the Shelby ducktail spoiler. So he instead built a balsa-wood prototype that he soaked in wood hardener, wrapped in fiberglass, sanded, primed, painted, affixed his custom-designed snake logo and mounted it on the trunk.
It's clear that Bruce Marcais' Reptilian Mustang is a holistically unique automobile that is fundamentally a Mustang, yet with added dimensions that few cars have ever seen. So why is that noteworthy? Here's just a few reasons:
First, Ford touched a chord with the introduction of the Mustang that America has been strumming since 1964. The Mustang is so ingrained in us, that some of us feel the need to use it as the canvas for personal expression. That's a big credit to the Ford Motor Company and the men and women responsible for the Mustang. It is truly the car "Designed to be designed by you."
Secondly it must be noted that all modified Mustangs are part of the Mustang family. In fact, you could say they are an essential part of the Mustang family. Modifications have always been associated with enhancing, adapting, and adding features and capabilities that make the car better. Some great examples include Tasca Ford's Cobra Jet, Shelby's Supersnake, Ford Design's Quarter Horse, or Shelby's Little Red. Mustang owners themselves have continually experimented and improved the breed as well. Ford and their customers actually benefit from the research, design and engineering contributed by modifications made by the car's owners.
Finally, there's something fundamentally American about the spirit of those who strive to make their cars better -- using the materials at hand -- as they pioneer their quest. We were once a nation that built everything, creating and inventing our way out of the ashes of the Civil War and through the 20th Century. Perhaps that spirit lives on in the minds of those who continue to adapt and modify their cars? Bruce certainly thinks so:

"Ford created the 1932 Ford which has become the most iconic hot rod in history," he noted. "History has been repeated with the Ford Mustang."
FORD PERFORMANCE PHOTOS / COURTESY JOHN DETTORI & BRUCE MARCAIS