ATLANTA, Ga. -- Joe and Kelly Charles are Ford enthusiasts without a doubt. From their business delivery trucks and personal daily drivers to their track toys, they've had more Blue Oval haulers and performance cars than we can keep track. Which is a good thing, because if we kept track, we'd be even more jealous than we are right now of just their latest Ford purchase -- a 2021 Bronco Badlands Sasquatch Edition. The Bronco you see here started as a "what if" conversation on a road trip and the idea of "retro-modding" a new Bronco became the focus of the weekend road trip. What is a "RetroMod" you ask? Well, it is sort of the opposite of a RestoMod, where a classic car is given modern touches like EFI, power windows, bigger wheels and tires and such, by taking a modern vehicle and giving it a retro or classic appearance.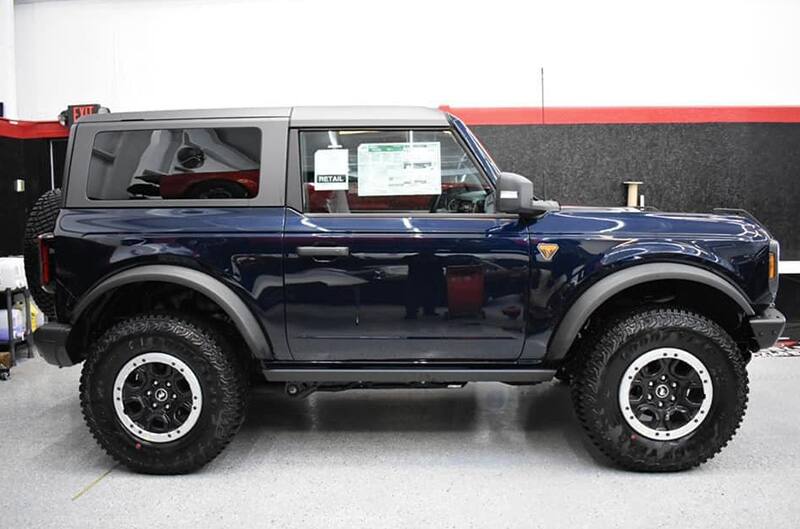 Ordered on August 3, 2020, and delivered on February 2, 2022, (568 days from order placement to delivery, peep the custom license plate), Kelly spent a few days behind the wheel of her new Bronco to acclimate herself with her latest Ford and its optional 2.7L EcoBoost V-6 and 10-speed transmission. She even ran it through some north Georgia trails before the Bronco two-door headed off to Glasslife Atlanta to be turned into the super cool ride you see here. The Charles' have a long-standing relationship with the Glasslife Atlanta staff, having all of their vehicles protected with ceramic coatings, paint protection film and more, via the business.
Within an hour of delivery, the Glasslife Atlanta crew had the Bronco panels, doors, bumpers and more removed. The goal? "Late 80s to early 90s Broncos were created out of inspiration," Joe tells us. If you recall Broncos of this time period, the 4th Generation Broncos were often delivered in striking two-tone paint combinations and were quickly modified with off-road suspensions and larger wheels for that go-anywhere look. Joe and Kelly felt this look would work well on the latest Bronco, especially the two-door version, with the idea of complimenting the modern Antimatter Blue with a classic Wimbledon White two-tone scheme. At the time of delivery to Glasslife Atlanta Joe stated, "We are going all-in and painting the panels. I've heard that 'Wraps are for people with commitment issues.' Let's hope we don't have regret issues!"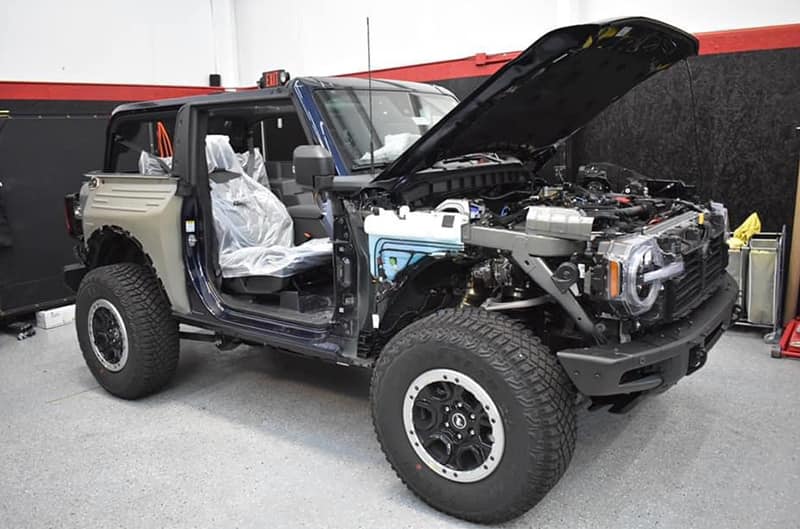 Now Glasslife Atlanta does not have the in-house resources to handle painting, so that was contracted out to a nearby body shop. So while the panels were off getting their two-tone on, the Glasslife Atlanta crew got busy with the suspension updates that the Charles had planned. Now if you're a fan of the 6th Generation Bronco, you know new parts are just starting to arrive from all the popular manufacturers out there (Ford Performance included). It takes time to engineer and manufacture these new parts, and toss in a pandemic and global materials issues and some other things -- like shocks -- can easily be a 10-month wait right now. It certainly helps that Joe has been in the aftermarket parts industry for a long time with far-reaching contacts. This was certainly helpful in sourcing some of the parts, but with a deadline to debut the new build at the Bronco Super Celebration in Townsend, Tennessee, back in April (providing just a two-month build window), timing had to be perfect for all aspects of the build.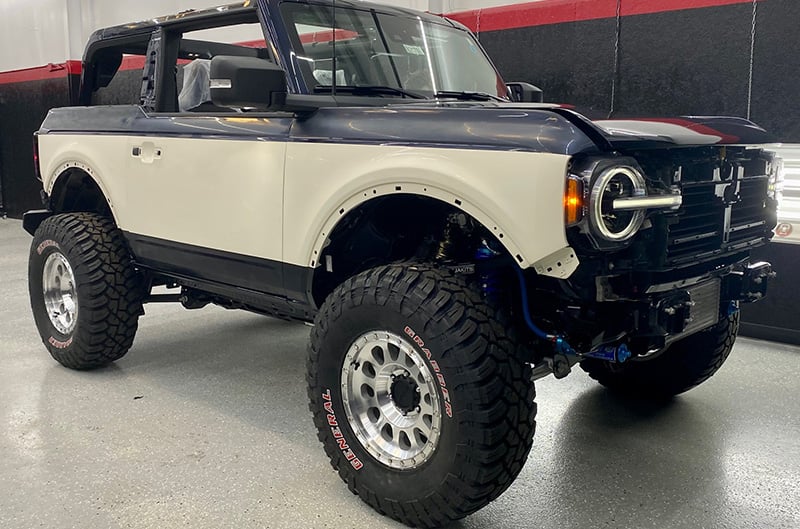 First to arrive were King adjustable shocks with coil-overs and remote reservoirs at all four corners, partnered with Baja Kits billet upper A-arms in the front and billet upper and lower arms out back. For the perfect RetroMod appeal, satin-finished 17-inch Method MR315 wheels were wrapped in General Grabber X3 35x10.5R17 rubber. "Sure, 37's would fit, but we will get more articulation from the 35's; this will NOT be a pavement princess --we intend to use this truck the way Ford intended us to use it," Joe explained of their decision to stick with the 35-inch-tall tire size that ships with the Sasquatch package.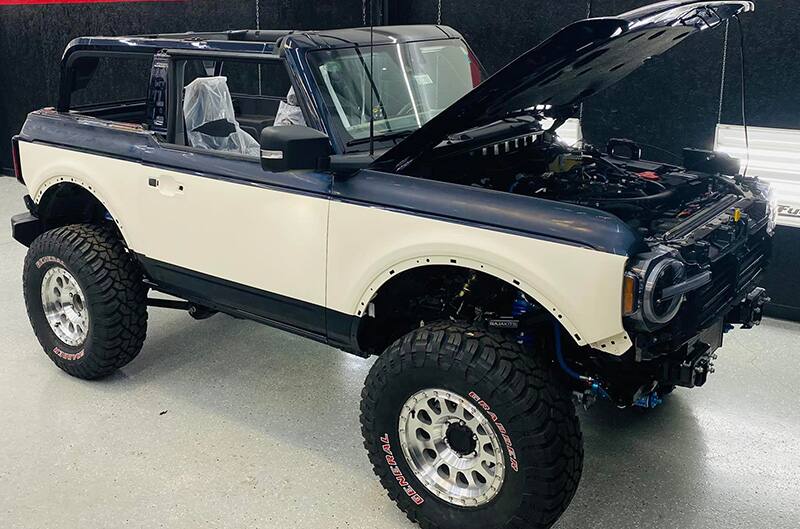 Once the painted panels returned from the body shop, the Glasslife Atlanta crew had little time to get the Bronco ready for Joe and Kelly to put the finishing touches on in their home garage before heading out to Tennessee for the big debut. We're talking just a couple of days here due to delays in "paint prison." Glasslife Atlanta protected the freshly painted panels with xPel's Stealth PPF material, providing a unique matte finish to the surfaces, topped with Glasslife's full ceramic coating package.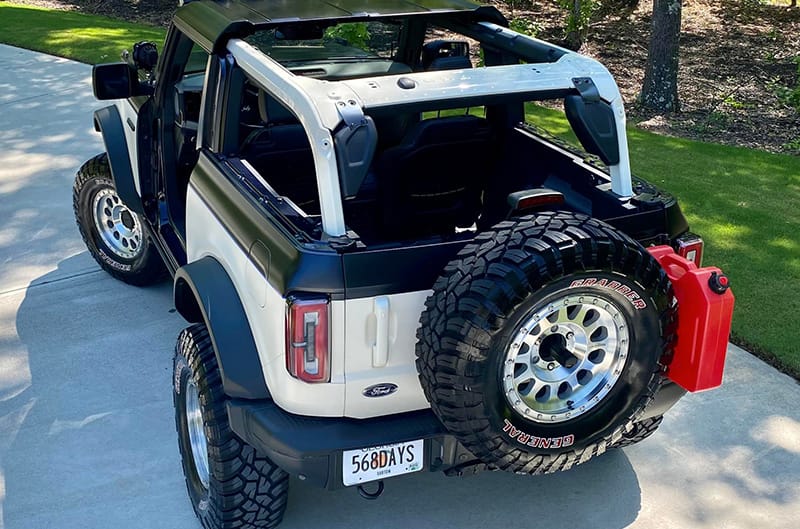 Once the Bronco was back in the Charles' well-equipped home garage, Joe and Kelly installed the JCR Offroad Vanguard front bumper with Pre Runner tube work and skid plate, red D-rings, and a Warn winch. The Pre Runner tubing was modified by adding welded lighting mounts and then having the whole assembly powder-coated black. The bumper and skid plate required Joe to relocate the Automatic Cruise Control front sensor and the forward-facing camera for the bumper install (both still work flawlessly).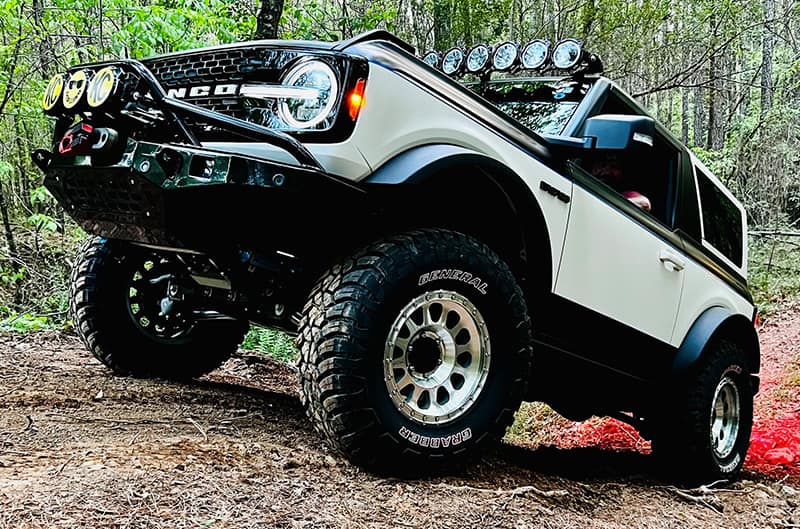 Speaking of lighting, Kelly wouldn't accept anything but KC HiLites for her Bronco build for two reasons. One, those are her initials, and two, that's what she remembers on her dad's truck back in the day. Only issue was that KC doesn't offer its iconic yellow light covers any more, so Kelly had her decal guy (what, you don't have a decal guy, too?) print up some cool period-looking yellow covers when the modern LED lighting isn't in use. Out back, the stock bumper is still in play, but with a Hammer Built Modular Tailgate Support system and the standard red fuel RotopaX container at the ready for trail riding.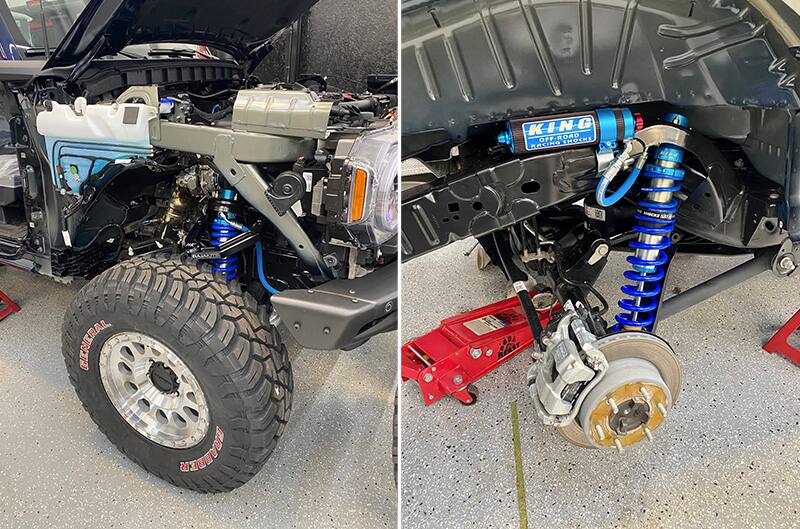 Loaded up on their trailer and headed out early the next morning, Joe and Kelly made it to the Bronco Super Celebration just in time. There, the Bronco was parked with other Gen6 Broncos, but many scratched their head at first blush wondering why this "older" Bronco was parked with all the new ones. We'd have to say "mission accomplished" when you're causing Bronco enthusiasts to do a double take and really look at the vehicle to figure out that it is, indeed, a brand-new Bronco you're looking at!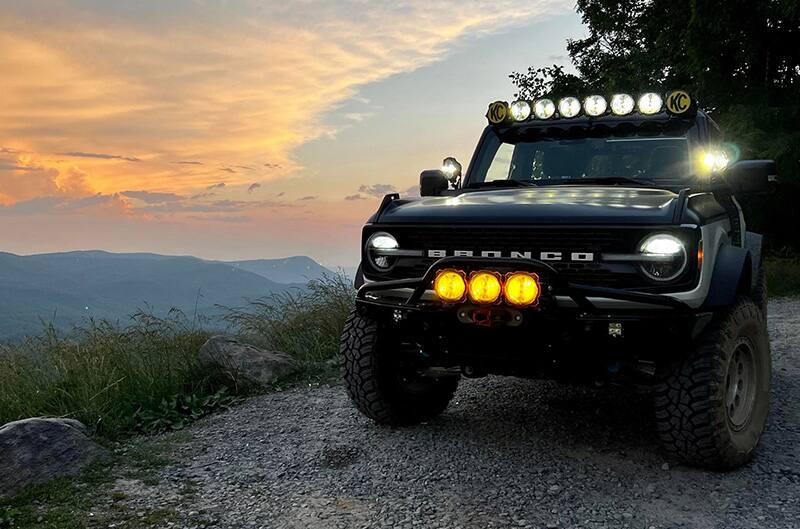 Future updates for the Bronco RetroMod build include a rear-seat delete, adding JCR Offroad's skid plates and rock sliders, and possibly a few performance bolt-ons like an exhaust system (Joe is known as "HiPo Joe" for a good reason!). Right now, the problem seems to be getting Kelly out of the driver's seat long enough for Joe to do any more work on the Bronco. Maybe once her 2022 Mustang Mach 1 arrives, she'll focus some driving time behind the wheel of her new Mach 1 so Joe can get back to work on the Bronco. You can follow all of their Bronco shenanigans and future updates at @RetroModBronco on Instagram.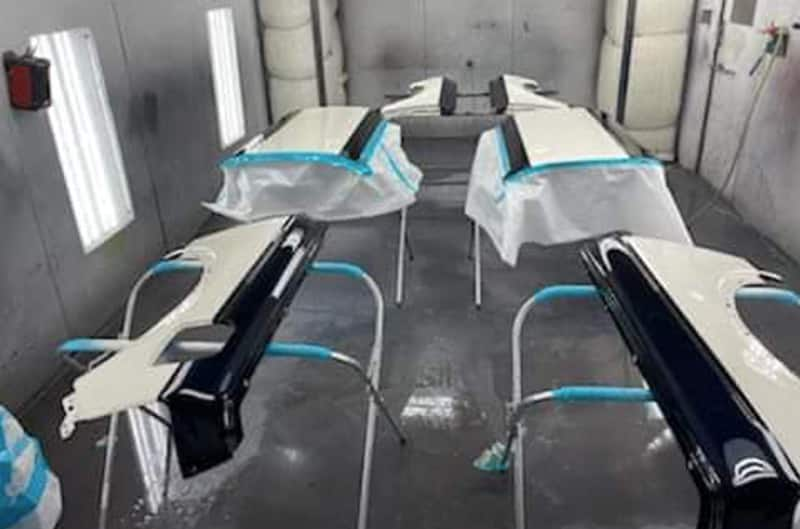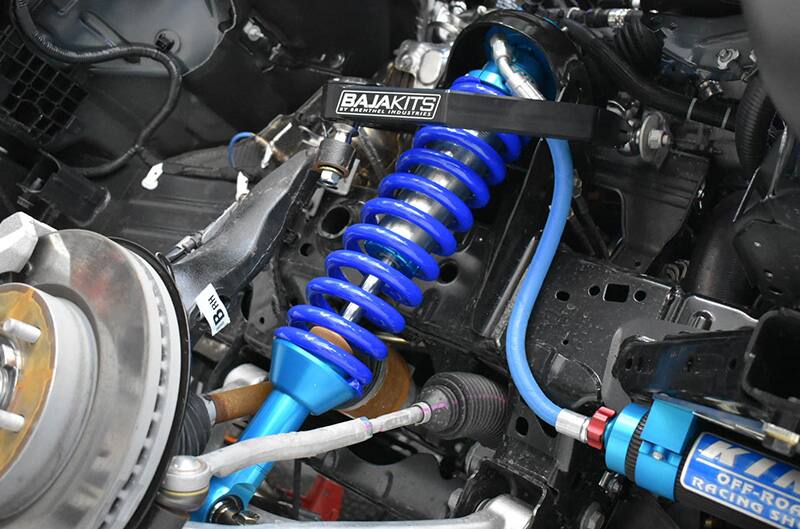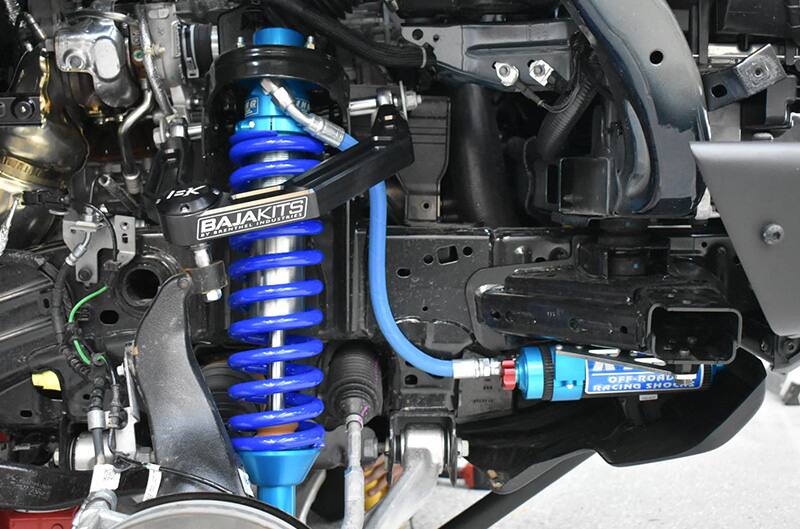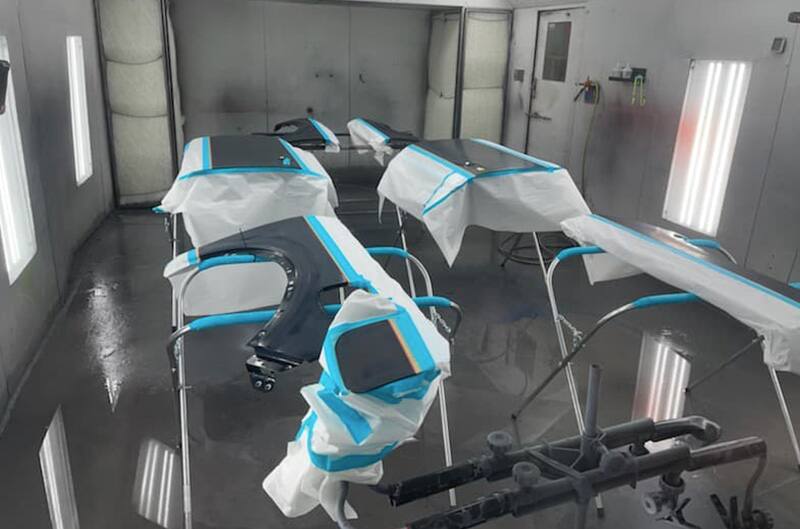 FORD PERFORMANCE PHOTOS / COURTESY MARK HOULAHAN & JOE CHARLES