KOBE, Japan – Since its introduction in 1964, the Ford Mustang has expanded its worldwide cultural appeal as an iconic American muscle car. After 58 years with more than 10 million Mustangs sold, there are many thousands of notable Mustang owners' stories from all across the globe that deserve to be shared, and this is one of those stories. It's about a very rare 2013 Mustang 5.0 GT/CS, affectionately called "BEAST" and owned by Cristina Tanaka in Japan. This is a not just a story about a Mustang seemingly lost in Japanese car culture, but a story of how the strength of the Mustang brand can speak to the empowerment of women that own Mustangs.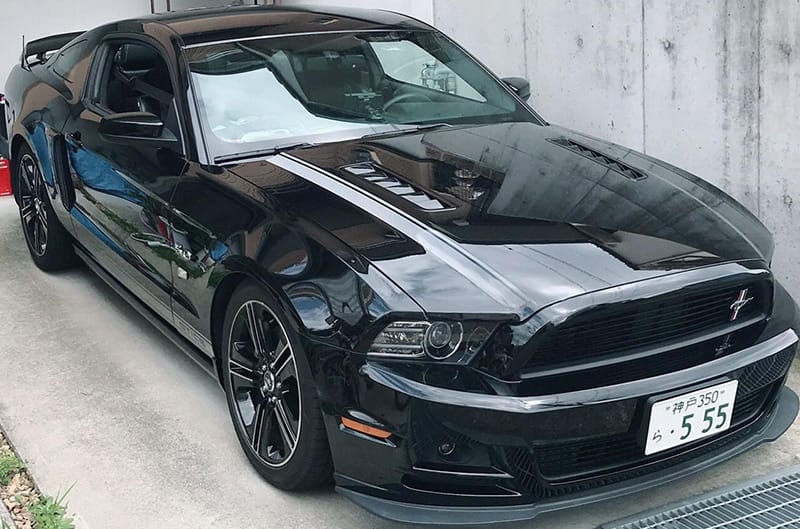 Cristina Tanaka is a mother of five in her mid-forties who works as a full-time freelance translator for the logistics department of a medical equipment company in Kobe, Japan. As a previous owner of a C5 Corvette, she believes that American muscle cars just have so much more character than other vehicles, with strong personal appeal and individuality. But Cristina felt now was the time to change from her Corvette to a Ford Mustang.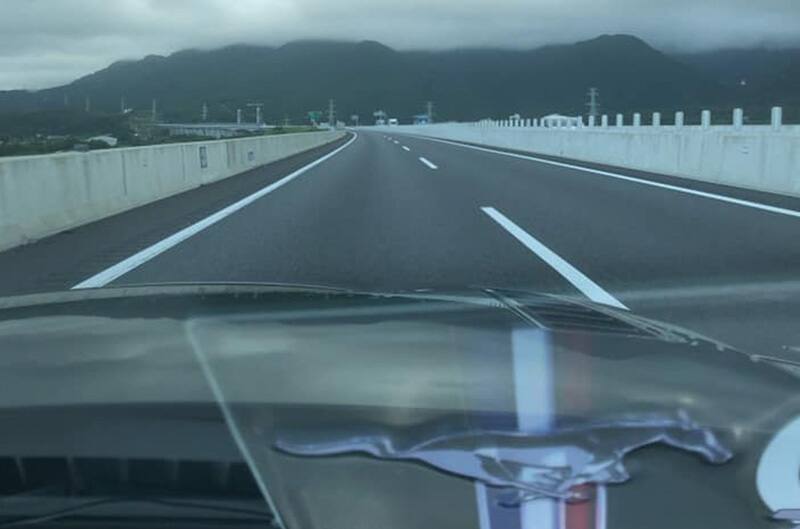 So how does one find a late-model Mustang in Japan? You go to your local Japanese car dealer that just happens to sell used American muscle cars on the side. So Cristina went to "Matsuoka Cars" in Amagasaki City, just outside Kobe, where she saw a dream assortment of Ford, Chevy and Mopar muscle cars all parked together!
How was it that a 2013 Mustang GT/CS would be on a dealer lot in Japan? It might had been part of an extremely limited inventory of Mustangs that were shipped out from California in late 2012. Ford only made 2,135 Mustang GT/CS coupes at the Flat Rock, Michigan, assembly plant beginning on August 1, 2012, and just a fraction of those were in black. Cristina's V-8 powered "Beast" puts out an impressive 412 horsepower and 390 pounds-feet of torque, capable of 0-60 times in just over four seconds. That was certainly enough horsepower and torque to go up against most Japanese-production performance cars.
Ford began corporate sales in Japan back in 1974 with just over 50 dealerships, and ended operations there in early 2016 due to government regulations and heavy competition from the in-house Japanese brands. To find a 2013 Mustang GT/CS among a total of only a few thousand Fords shipped there that year was extremely rare. Of course in 2015, Ford would make a big worldwide commitment to selling the Mustang in more than 140 countries – including Japan – with export models available in left- or right-hand drive versions.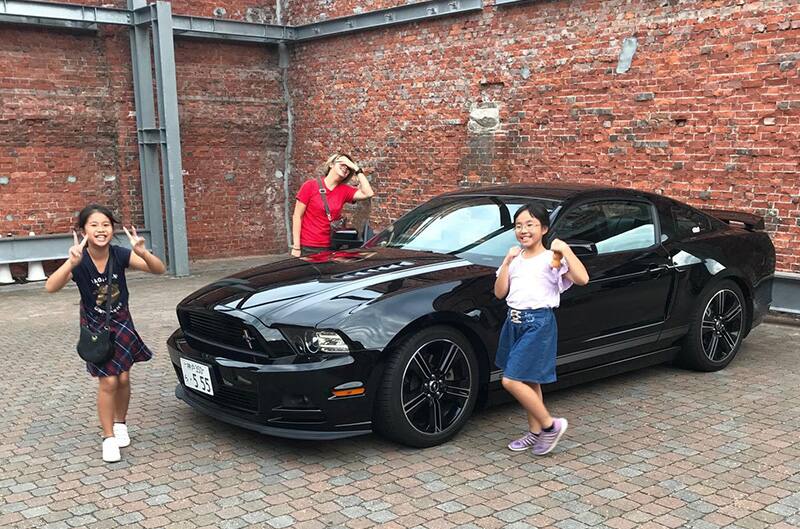 Exactly who the previous owner of "Beast" was before Cristiana is a mystery, as she was unfortunately given no clues when she bought it.
"It would have been great if a thing or two was left behind by the previous owner," she told us. It's possible that the first owner was an American who brought it to Japan with them, or it could have been owned by U.S. Military personnel stationed in Japan. But by now Cristina actually prefers not knowing how it got to Japan: It's now her car -- her mythology -- as "Beast!"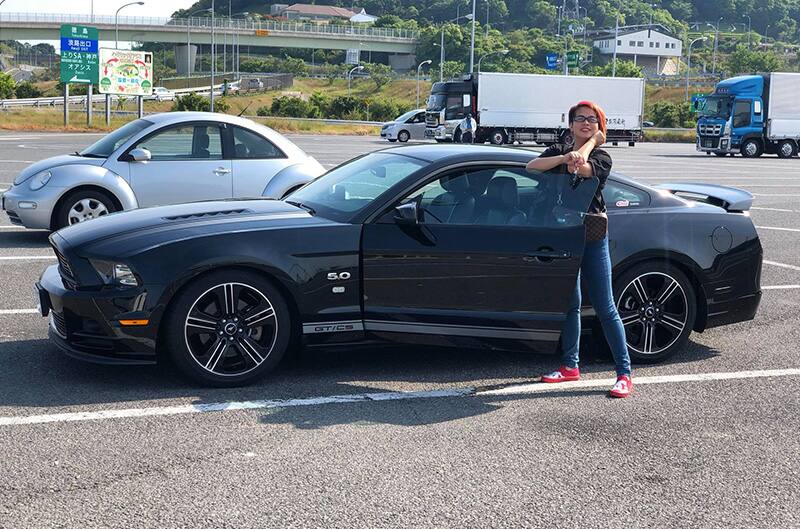 Cristina's 2013 Mustang GT/CS is "black on black" and was completely stock when she bought it. She said it was indeed "love at first sight." Immediately designated with male gender, she named him "Beast" because that was the first word that came to mind after her first glance. To her it was simply a mysterious, almost Gothic black color that looked menacing, fiercely fast, and of course totally cool. She has added a few red interior moldings "because black and red are my favorite colors," and has plans for some further modifications. But the ability to find new Ford parts, not to mention Mustang performance parts, is extremely limited in Japan. So far, she's replaced the factory shocks with a set of Eibachs and lowered the vehicle height. Next up are a new pair of Brembo calipers, and a second mirror-look ceramic coating. Her big plans are to upgrade to a supercharger someday. But all-in-all, Cristina's 2013 Mustang GT/CS serves as a strong reminder to the locals that "there's a new game in town."
Cristina discovered a possible source for Mustang performance parts in Japan is a trusted one: Mustang clubs. It turns out that the Mustang Owner's Club of Japan (MOCJ – formed in 1985), and their members are a good resource to locate these hard-to-find parts. Japan has a very strong car culture with a wide range of interests, from 1950's American Iron to the sport of "drifting" and popular performance rides like the Nissan Skyline GT-Rs and Nissan 350Zs. By contrast, an all-Mustang car show that was held back in 2020 drew over 100 attendees. Local Mustangs included everything from 1965 fastbacks to '69 Mach 1s, (and even the 1973 "Tochigi Mach 1 Mustang 429CJ Police car" -- for pursuit use only!)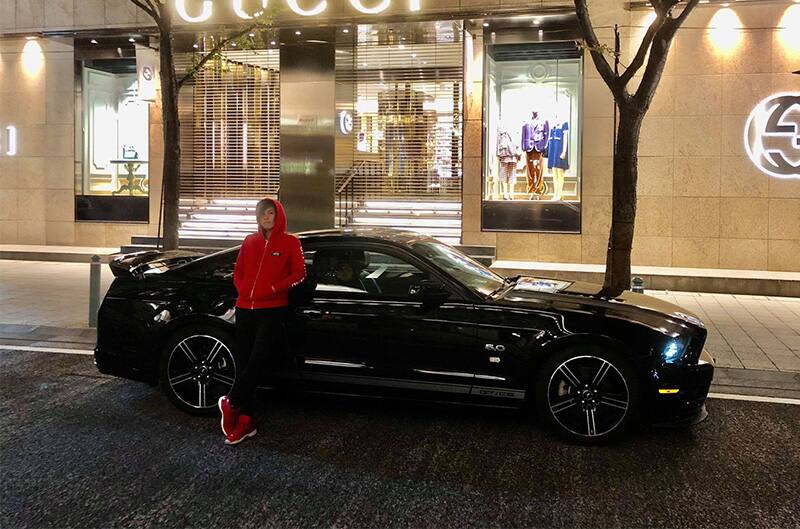 Meanwhile, Cristina also made contact with the "California Special Worldwide Mustang Club" via social media back in the USA (CSWMC is an active registrant on Ford Performance Club Connect.com) who offered to help Cristina network with other GT/CS owners, as well as make contacts for performance parts and product information.
"The members were also cool and like-minded," she said, "and I can still feel the sense of community." CSWMC President and founder Steve Rushefsky contacted Cristina to become a member . . . which also led to this article. It's clear that the worldwide community of Mustang owners has become a reality, in part due to the success of Ford's Club Connect program.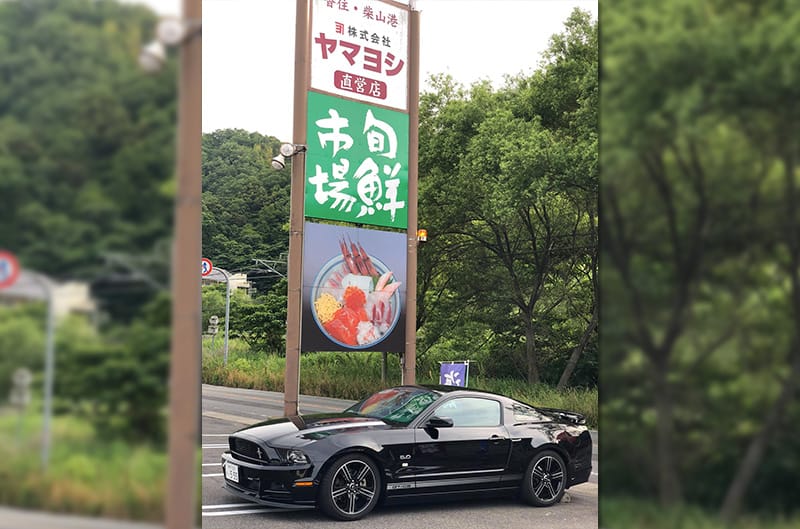 "Beast is the embodiment of my hard work in Japan for the past several years," Cristina said when asked how the "Mustang feeling" is different than owning a Corvette. "When I switch on the ignition, Beast reminds me of where I started. I also believe that Beast is part of nature because I visualize him as a wild horse in the wilderness."
Cristina said that she also has a more personal bond with her 2013 Mustang.

"I feel more confident of myself since I got Beast," she told us. "I have a special connection with it -- mostly when I feel stressed and sad and want to be alone. I love driving outside of the city to grab some coffee, and go see the green forests around Kobe. It's my form of relaxation -- away from the hustle and bustle of the city. The sound of the engine, and the power it uses to drive and maneuver the car, helps me think of the adversity that I have faced in life -- and overcame. I take Beast with me to certain quiet places where I can think, to feel calm, and reconnect with myself. My Mustang experience helps me go back to reality to face the next day."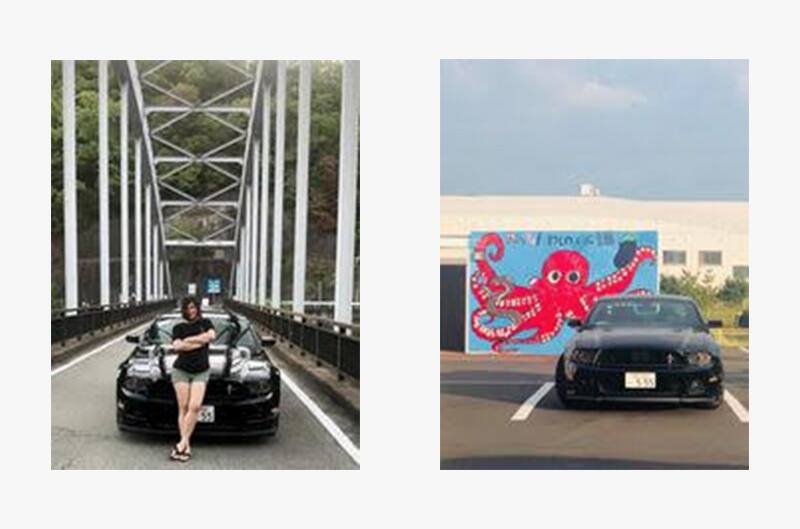 And of course there's that other part of Mustang ownership that happens no matter where in the world you happen to be.
"Beast is a total a head-turner, especially when kids who love cars point their fingers at it when it passes by." Cristina said. "Receiving such responses from kids makes me happy, and I hope it sparks something in them want to own their own dream car someday. Even just filling up for gas at the gasoline station sometimes makes me feel cool, because I'm usually asked the same questions, like: 'What's this car called? Is it fast? Does it consume too much gas?' And they will always tell me that Beast is so awesome!"

Cristine has had meet-ups with a couple of other Japanese Mustang owners. She said she's also passed by a few Challengers and Camaros on the highways of Japan. One time, a Prius driver actually tried to race her:
"Perhaps it was because I'm a female driver – but I sometimes give in and let them get what they're asking for, and they've been left behind my dust – Ha-ha!"
Japan's laws are too strict any kind of racing because of the many speeding cameras all over the city streets. As you might expect, Cristina does get a lot of "suspicious looks" from police when Beast passes by them . . .as if it's a speeding violation about to happen.
"Personally, I would love to take Beast all over the country -- from Okinawa to Hokkaido!" she admitted. "Also, to go to Shinjuku, Tokyo, to see the giant 3D cat! Unfortunately, Tokyo has been declared a restricted area due to the Coronavirus, so right now, I can only drive Beast from Kobe to Kyoto. But it's such a nice drive that it's still enjoyable."
Cristina shared some insight she's gained for women who choose to own a Mustang.
"There's a unique sense of empowerment by owning a Mustang," she said (as she's pretty sure she may be the female who owns a GT/CS in Japan. "Women can also have the same taste in cars that are owned by men, and driving them can take them to places of solitude. I would say to women who would like to drive Mustangs, check and learn about the car thoroughly before deciding to buy one. You should consider not just the aesthetics, but also check the nearest dealer for purchasing and maintenance. Then, choose what model and color -- and consider how you might customize your Mustang of choice according to your preference. Upgrading some parts to add some personality and even femininity is not bad at all. I drive Beast for special occasions to spend fun time for myself and for my kids, not only to reflect. We want our Mustangs to not only appeal to men, but to all, so don't be afraid to make it what you want.
"Mundane cars that are convenient are for everyone, but Mustangs stand out so you need to have the guts and a good state of mind to enjoy it – and do so safely. I hope that more women will be able to make Mustang their car of choice the same way that I did so that it brings them the same joy."
FORD PERFORMANCE PHOTOS / COURTESY CRISTINA TANAKA