HEMPSTEAD, Tex. – There's something about muscle cars painted in bold colors that just seems natural. Big power is by itself an extroverted characteristic, so bright colors that also have a little bit of swagger behind them makes for an ideal match. Every Ford fan knows about the Grabber colors available on Mustangs and Torinos in the late 1960's and '70s, and that heritage continues even today on the latest Mustangs, with colors such as Twister Orange, Race Red, and Grabber Yellow.
But pink? That's a whole other kind of bold.

Horace "Hoss" Collums of Hempstead, Texas, knows a thing or two about how people react to muscle cars painted in unconventional colors. His 1967 Mustang hardtop 390, nicknamed "Pinky" due to its Playmate Pink paint shade (often referred to as Playboy Pink), has been a familiar sight at national Mustang shows for more than a decade. The car attracts plenty of fans, but he says he's also been told right to his face by show judges that they don't like pink Mustangs, and wished he wouldn't bring his car to be judged.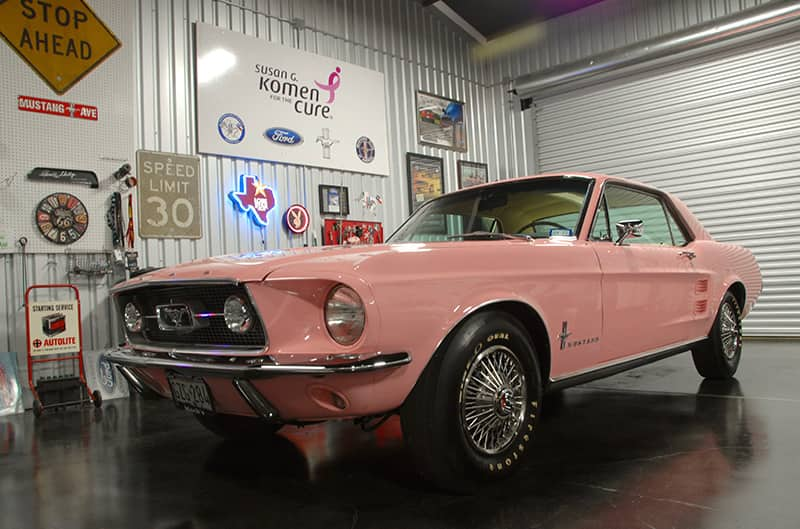 Collums received some advice on that possibility early on from Ed Hockaday, long-time board member of the Mustang Club of America and a fixture on the Mustang scene. "Horace, I want to tell you something: If you're going to show that pink car, you need to make a decision right now," Collums recalled Hockaday telling him. "You gotta have some tough skin, or sell it." Collums took the warning to heart, but was unfazed. "I've got tough skin," Horace said.
One reason the car has stirred emotions in the Mustang community is its rarity. Having never seen one before, many people don't know what to make of it. Although Ford did offer a Dusk Rose pink color for the 1967 Mustang, this car was one of a handful with Special Order pink paint (a $94.60 option). In such cases, Ford left the paint code on the door VIN plate blank.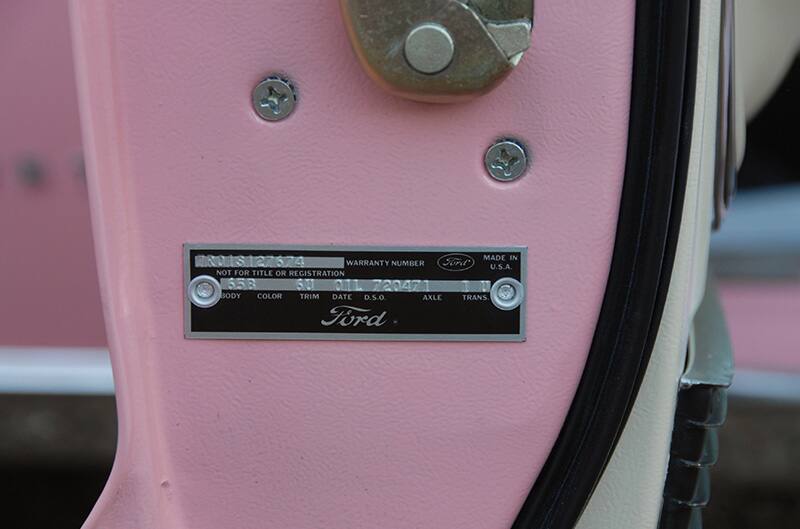 The "Playmate Pink" color ordered on this car was inspired by Playboy magazine's habit for many years of awarding pink cars to their Playmate of the Year. The pink cars were widely publicized, influencing some buyers to emulate the look. But there were never many Mustangs special-ordered in that color. Another 1967 Playmate Pink Mustang with an S-Code 390 V-8 has never been uncovered, Collums said, making this a truly singular 1-of-1 car.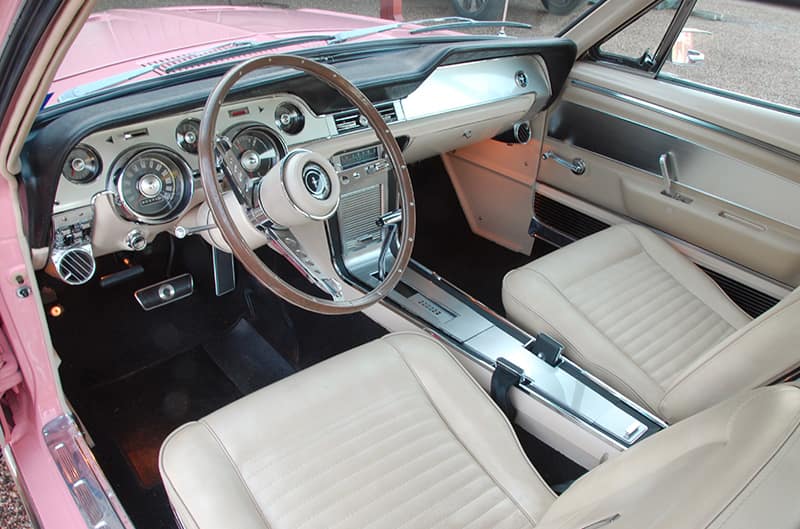 Collums has owned many different Mustangs over the years. "My son and I kind of chased cars all over the United States," he said. "We've had four '68 428 Cobra Jets -- two coupes and two fastbacks. One of them was a Tasca race car." He has also owned a 1978 King Cobra, which won MCA Gold. So when the pink '67 surfaced for sale on eBay, he knew it was something special. "That pink car right there, it just stopped everything for me," he explained.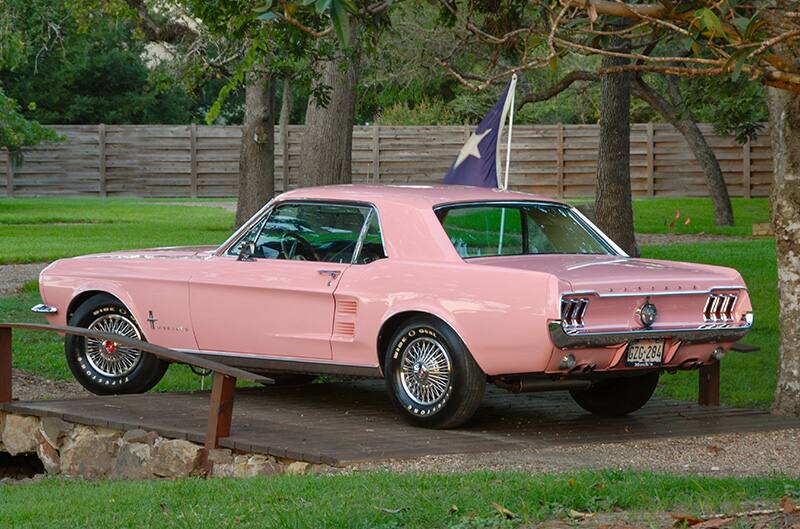 When the car went up for sale it was located in Washington state. Restoration had been started, but the car was still in pieces. After Collums won the bidding, he and his family made the drive from Texas to Washington to retrieve it. "It had the NOS fenders, the hood, everything on it was in Ford boxes. So we loaded it up … we looked like the Beverly Hillbillies," he chuckled. "I bubble-wrapped the car and stacked everything up in the truck that we could get."
He secured the services of a friend in Houston for the professional reassembly, and rolled up his sleeves for his part of the restoration. "I personally cleaned every part on it, even the harnesses in it; they've got the Ford numbers on them. I cleaned everything underneath, I blasted and cleaned and put it all back in shape," Collums said. "Every piece on that car, my hands have been on. I would hand my friends the refurbished parts and he would put them on the car."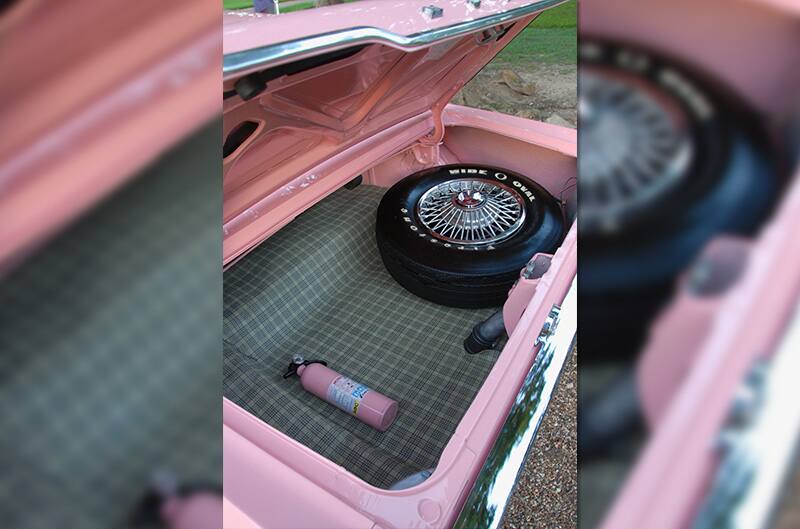 Even without the unusual paint color, this '67 would be desirable just for its equipment list — 390 big-block V-8, C-6 Cruise-O-Matic transmission, power steering, console, interior decor group, AM radio, Deluxe seat belts, Courtesy light group, rocker panel molding, and wire wheel covers. Once restored, it hit the show circuit, racking up numerous trophies, as well as the occasional sneer.
"The pink color just brings out the worst in the older people – they hate it," Collums said. "But ninety-nine percent of other people just can't keep their hands off it. You do have that group that don't like it, but I can sit there and talk to that person that doesn't like it and after about 10 minutes with him, I'll have him loving it, because most don't understand what the car is."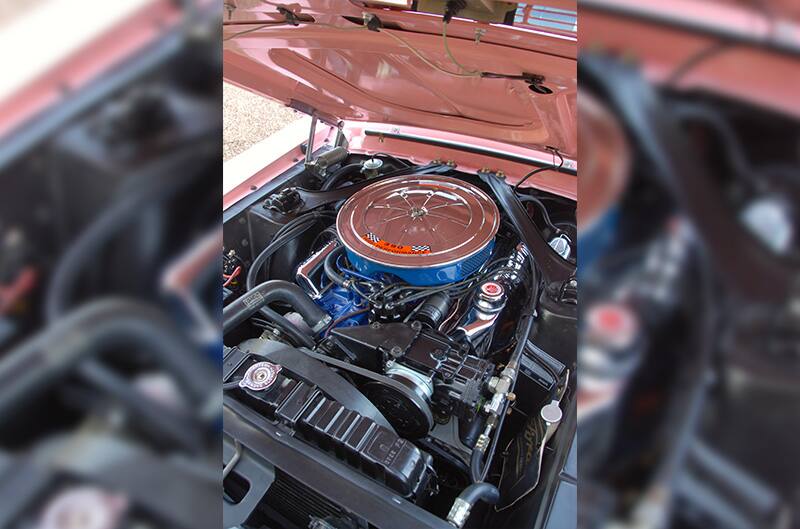 Pinky has had many moments in the spotlight, including being featured on the TV show Sticker Shock, and a spot on display at the Playboy Mansion one year. But putting the car to work for charitable causes has delivered the most satisfaction for Collums. "I had a very good working relationship with Ford and the Juvenile Diabetes Research Foundation (JDRF). That's what I loved doing with the car; to me it's all about charity," he said. "It's not about, 'Oh, I've got a pink car.' And everybody in Detroit, they know me as the little Texas cowboy."
And that's another part of the Pinky story; Collums is proud of his Texas heritage and dresses the part when he displays the car. But all good stories come to an end, and in this one the cowboy had to ride off into the sunset. A bit after our photo shoot and interview, Collums had accepted an offer for Pinky, and said with its departure to a new home that he was winding down his part in the Mustang hobby.
"I'm older now, and it really takes a lot out of you to go to these shows and stand on your feet for 10 hours a day," he said. "I just slowed down. I'm retired now and we just bought a ranch out in West Texas. We split our time between here and there. I'm enjoying my time."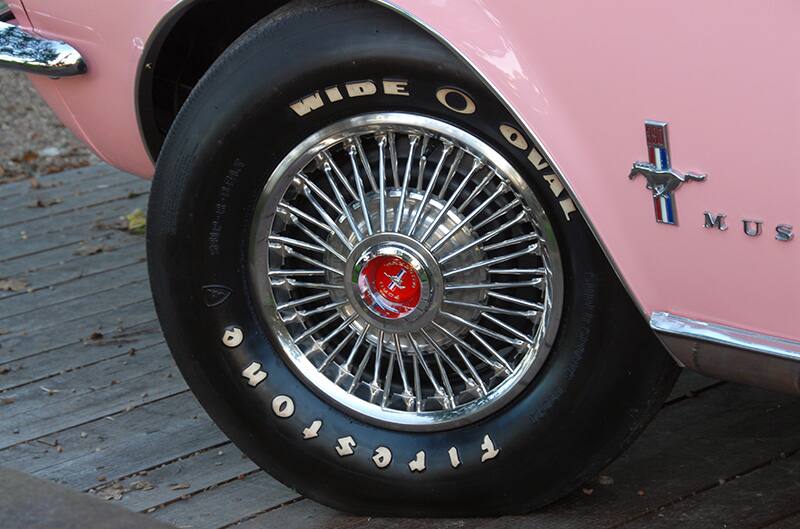 Pinky has certainly traveled far since rolling out from the factory, and now it will have new roads to navigate as it blazes its own trail in the collector car hobby. For Horace Collums, the Texas cowboy known for his Mustang called Pinky, the horizons look wide open as well.
FORD PERFORMANCE PHOTOS / COURTESY STEVE STATHAM