SONOMA, Calif. – It had some of the sights and sounds you'd expect at a motorsports event – cars decked-out with numbers showing where they fit in the running order and carrying hand-written marks indicating how fast they'd run, squealing tires throwing up smoke, the crowd cheering the best runs by their friends or family and screaming at the exhibition runs by a couple professional speedsters. But something that's been a part of motorsports since its first days was missing – the noise of the engines. There were no engines; every vehicle running was powered by a near-silent electric motor (or two, or three).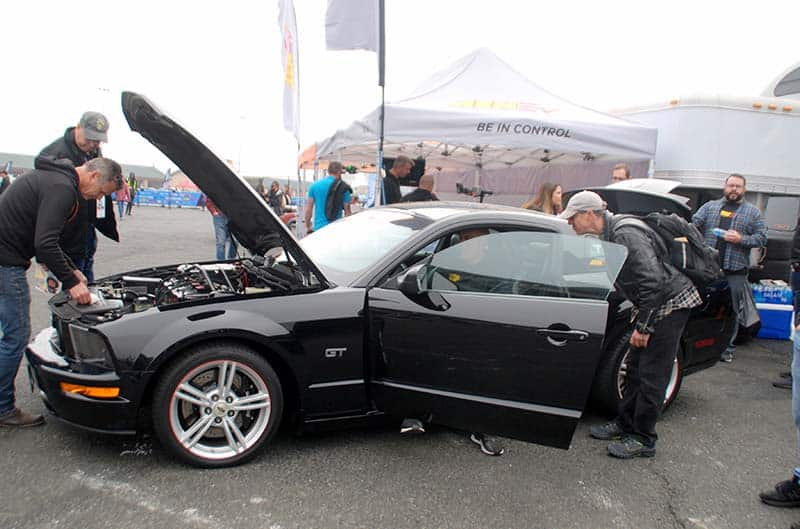 Holley's High Voltage Experience (HHVE) at Sonoma Raceway in Northern California on November 13-14 was the first event in the first year of a program that Holley Events Manager Blane Burnett said would happen annually. It's designed as a showcase for a growing number of EV-oriented products for a new breed of enthusiast who focuses on electric propulsion technology. Holley's goal is to keep in the forefront of motorsports – whatever is powering the cars.
Ford Performance was an event sponsor at HHVE, joining some traditional motorsports names such as Summit Racing Equipment, Simpson, Earl's Performance Plumbing and Halibrand wheels. But the word sponsor barely begins to describe Ford's presence at the event, as the company brought a blistering performance machine to exhibit the potential of electric power, an electric restomod that demonstrated a masterful blend of old and new, and the real, new EV that you can buy – the Mustang Mach-E. In addition to the official Ford presence, two other Ford electric conversions were on display; one of them participated in several events, and another participant brought their own Mach-E that's already set a record.
The weekend may have lacked noise other than that coming from the tires, but it did not lack for excitement as dozens of participants competed on a road course that took them around the Sonoma Raceway's picturesque but tricky track, on an autocross course, or during runs down the NHRA drag-race track. Add to that the spectacle of drag exhibition runs, a drift exhibition, the Manufacturer's Midway and a car show area, and you start to capture the three-ring circus nature of the event.
Action was near continuous and the enthusiasm of the participants was on-par with motorsports events with a much longer history. Here's some of the highlights we discovered there:
It's no surprise there were a lot of Teslas at the event – after all, this took place in California where the company has its headquarters (at least for a while longer) and production plant, and where Tesla's models have been on sale for a decade and continue to represent the majority of EVs sold. Next year we'll have to see what the Mach-E GT contingent looks like as the transition to electric-drive grows.
Ford was a big star at this first EV enthusiast motorsport weekend, starting with the Cobra Jet 1400. The electric drag car was only slightly off its recent record runs, posting a best quarter-mile time of 7.8 seconds at 165 mph. In one of its slower runs the Cobra Jet added 2 mph to the top speed. The car also made several exhibition runs down the track over both Saturday and Sunday.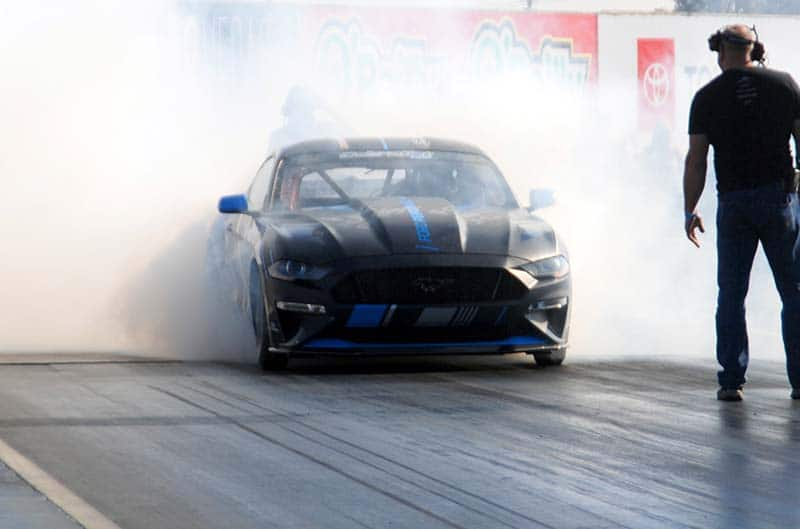 Another hit of the show was a restomod Ford had on display -- a fully restored 1978 F-100 pickup that was converted to electric drive. First shown at the SEMA trade show, this was the truck's first public appearance. Driving silently through the event grounds, the Avalanche Gray and Ceracote Copper Eluminator attracted positive attention everywhere it went. More than a few attendees were interested in the Ford electric crate motor that the F-100 was packing, and were disappointed to hear the first generation of the motor had already sold out.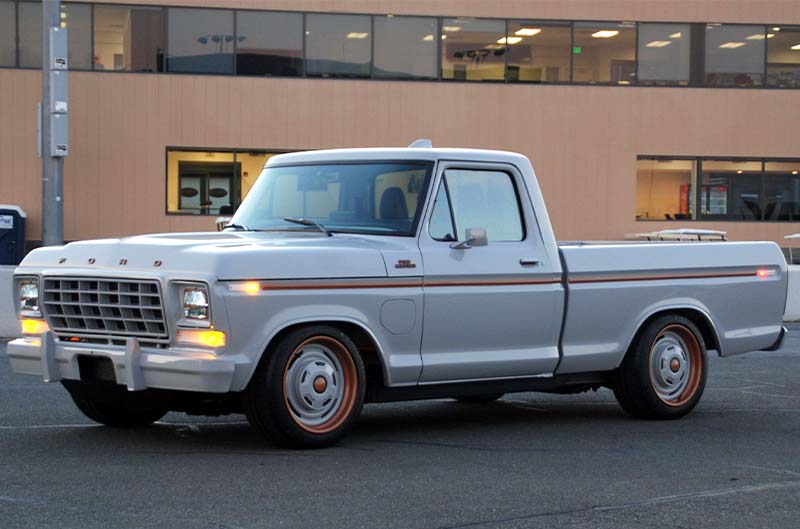 The Eluminator wasn't the only Ford restomod at the event, however. AEMEV brought its 2007 Mustang GT that they had updated to an electric drive with some of the company's key components, such as a controller board, battery management system and power distribution unit. Power for the Mustang comes from a 300-kW Tesla Model S motor fed by a pack of batteries from a Chrysler Pacifica Hybrid. The car ran in the autocross and drag race events, acquitting itself quite well in a sea of Teslas. The AEMEV folks said it was capable of running 12.19 in the quarter-mile at 112 mph.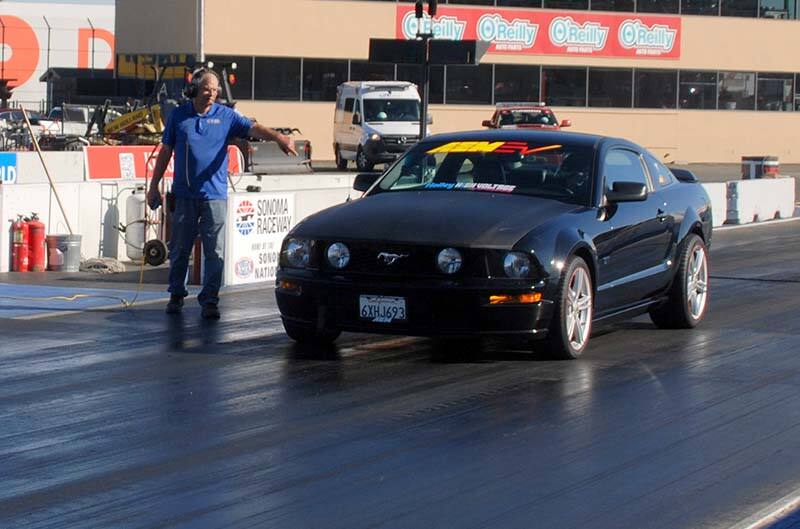 A second electric Mustang restomod was a work in progress from EHC (Electric Hot Rods and Customs). The vintage Mustang body now packs two Tesla Model S front motors turning out about 600 horsepower. The Tesla battery packs fill what originally was a back seat and also line the hatchback storage area. Tom Habrzyk, who's shepherding the project, said it will be about a year until it's considered finished. His goal is to deliver to his client a street-legal electric classic Mustang than can race on road courses and in straight-line competition. Using Ford Focus/Mazda3 components as well as some from more-recent Mustangs, he hopes to see the car compete in the Optima Challenge and also participate in the Hot Rod Power Tour.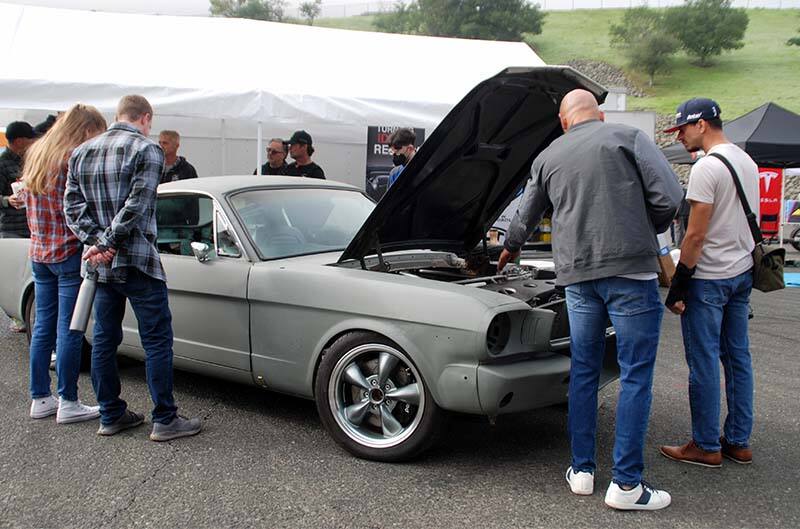 These two projects (and other examples seen at the event) underscore that the Tesla Model S powertrain is, as one observer quipped, "the small-block Chevy of the EV enthusiast world." Since Tesla doesn't seem to have any interest in the territory, Ford's crate electric motor (with 281 horsepower and 317 pounds-feet of torque) should be able to carve out its own niche in this growing enthusiast community when it resumes production.
Shifting to Ford's now-in-production EV, enthusiast and "EV storyteller" Ryan Levenson of The Kilowatts drove to the event in his own black Mach-E, fresh off of setting a new Cannonball Run record. Levenson is a social media influencer dedicated to getting more people into EVs and runs a fleet of short-term rental EVs.
Finally, Ford Performance had a pair of shiny, red Mach-Es -- one of which was a GT -- on display. A steady stream of attendees and even some of the participants took time out to check out the car's features.
This event felt like it was part SEMA aftermarket show, part club racing event and it seemed a good time was had by all in the crowd. Attendees appeared very similar to the kind of folks you'd see at a typical motorsports event, but when the announcer asked for a show of hands for those who had been to Sonoma Raceway before, he got very few positive respondents. When he asked for hands for those who had been to any kind motorsports event before, he only got a few more responses. What we saw (but didn't hear) on this weekend may very well be the start of a whole new kind of motorsports with a whole new kind of crowd.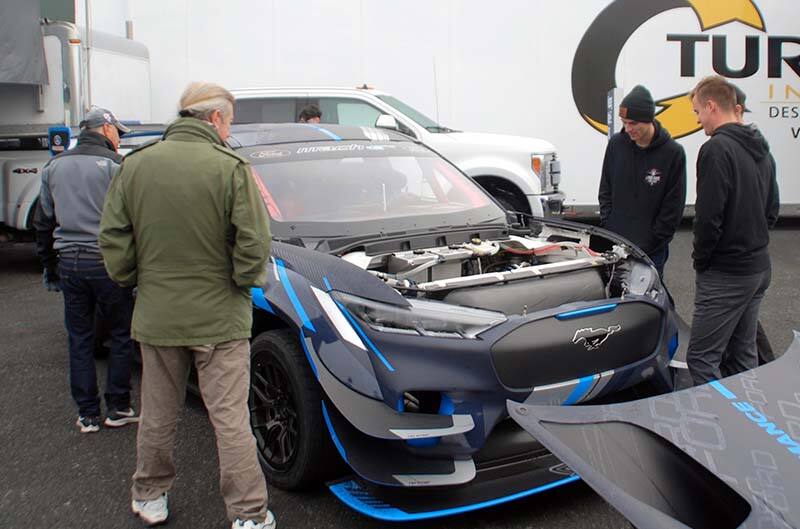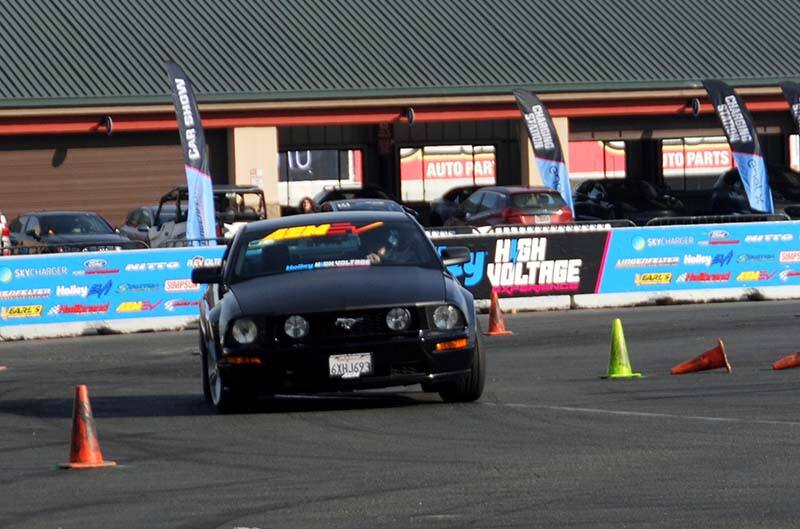 FORD PERFORMANCE PHOTOS / COURTESY MICHAEL COATES