Editor's Note: If you haven't yet experienced each of the previous three entries in our four-part Young Family's Ford story, we invite you to go back into our Enthusiasts Newsroom and catch up on this remarkable tale of a family of Ford fanatics that dates back six generations – more than 100 years! The family's current keeper of the Ford flame, active Mustang hobbyist Mark Young, has employed the art of "car-guy" storytelling to recount more than a century of his family's Blue Oval legacy. In Part One, Mark outlined his family's Ford journey from 1909 until 1990; in Part Two, Mark told us how the Mustang cemented the family to Ford; and with Part Three, we picked up the story right when Mark acquired a special Mustang just before the 2005 Carlisle Ford Nationals. With this final installment, we find out how each of Mark's children have played a role positioning the Young family for Ford ownership for yet another generation. Enjoy:


CHARLOTTE, NC – As I deliver the finale for this multi-part chronicle of the Young family's century long fondness for Ford vehicles, it's important to know about the cars I've touched that've had the biggest impact. It's the best way for me to explain how my time as caretaker of this automotive relationship has brought me to the point of passing down this family Ford legacy to my own children. By the time Ford's Mustang was turning 50, what I consider to be the most important legacy car in the Young family's Ford collection was now resting quietly in my garage. I needed a plan to get the '55 Thunderbird back on the road as my first "keeper" purchase since the '66 K-Code 2+2 nearly 10 years prior. I guess this one will serve as my belated 50th birthday present to me!
Right about the time the '55 became a part of the equation, I was grooming my son to start participating in our Carolina Regional Mustang Club's (CRMC) annual Performance Driving School (PDS). The 15th annual event was coming up in October of 2015, and my son, Brandon, would be a Junior in high school. Now that my special '95 SVT Mustang Cobra prototype was consigned for sale, and his Red '00 V-6 was a little anemic for track duties, I decided to go in a different direction for Brandon. Following the lead of several CRMC members who have participated in the PDS for numerous years, I decided on an 2005-09 Mustang GT with a manual transmission. Right out of the gate they make for a perfect track car foundation, and are reasonably priced. I asked around, watched the salvage auctions, and followed Craigslist daily, hoping to find the right car.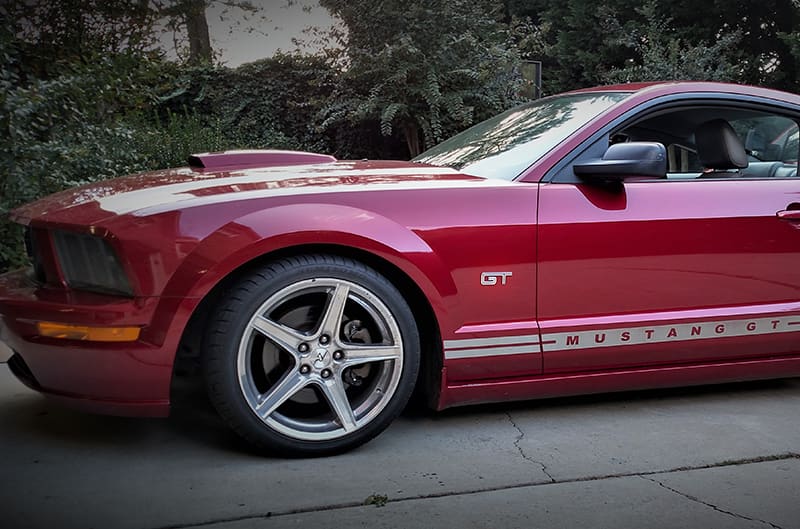 Well, as luck would have it, the ideal car popped up on CL, about an hour away. A Redfire Metallic '06 GT 5-speed was newly listed for $3,500, with 140k miles. It ran and drove, but had a "Parts Only Salvage Title," meaning it could never be registered for road use. I called and left a voicemail stating my interest with plans to build it into a track car with my son as a Father/Son project. Surprisingly, I got a call back the next day. The guy said that I was the 20th and final message on his answering machine -- and that he best liked my plans for the car. He said come get it, and bring $3,000 cash! Again, sometimes things happen for a reason.
I had previously referred to "another build I forgot to mention" as an '06 Mustang GT track car. Well, this was it. When I unloaded it out at dad's house (my stable was full) I gave it a good bath. I was then when I further realized how I really "scored" on this buy. With the cold A/C, leather interior, and half-a-tank of gas, I could have driven it to the track. The tires were a little old, so that was the first order of business. Staying on a shoestring budget, I found a used set of 18-inch Saleen wheels with nearly new tires for about $500, again on CL. With the addition of new rotors, performance brake pads and some DOT4 Hi-Temp brake fluid and a used CAI assembly, I was still under $4k on the car, all-in. Now the Mustang was ready for my son as a beginner student and his first Performance Driving School track event weekend.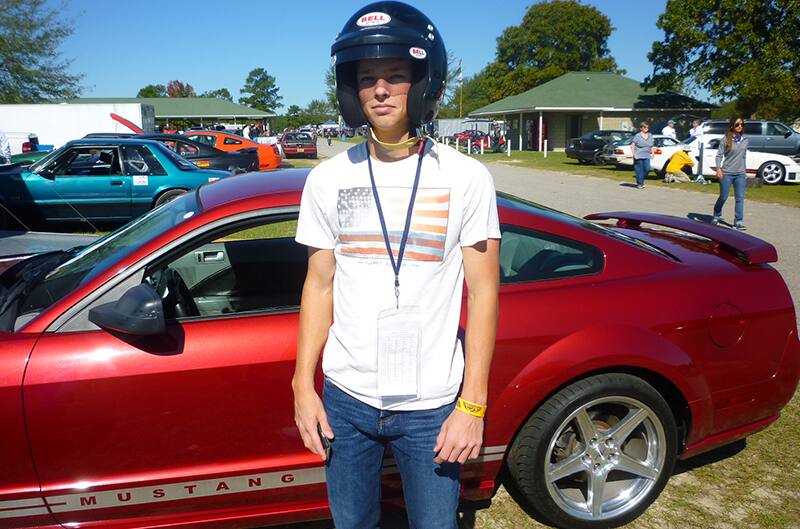 As I had hoped, Brandon was a natural out on the track with one of our PDS senior instructors riding shotgun. This was, first and foremost, a DRIVING SCHOOL, that teaches you how to better drive and handle your car at highway speeds and above, and this on a road-course racetrack under controlled conditions. It's the best $200 you could ever spend on your young driver, as it teaches them skills that daily driving could never do. The reason I say this is something that came from Brandon's personal experience. A few months after the PDS event he was on his way to school when he was confronted by a soccer mom in a minivan passing a group of bicyclists on a blind corner. This was a rural two-lane road and she was heading straight for him. His instincts took over and before he knew it, he was off on the berm as she flew by, blowing her horn at him! Did his experience in the B.R.A.K.E.S. program as well as the PDS have something to do with it? All I know is that it could have ended many ways differently, and not in his favor, That's something for all you parents to consider for your own kids.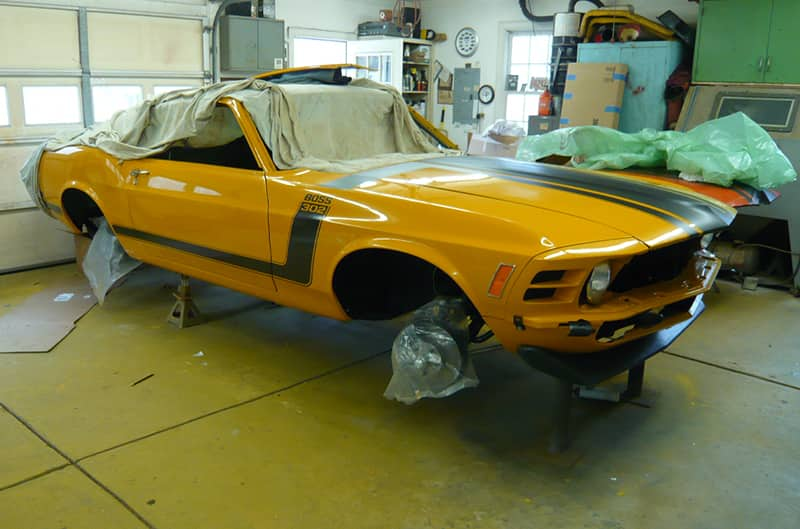 With the Track Car's Phase-1 upgrades complete and the first track event under its belt, back in the trailer it went for a long winter's nap. I was gearing up for getting the T-Bird at Al's as the '95 Cobra had just sold, so no projects were slated at that time. But that's not the same situation for my dad. His Trans-Am Boss build was nearing completion and the recently acquired Barn Find Boss was moving back to the front burner. That meant the development of a resurrection plan, far different than a full-on build plan with a $1k clean slate. This one would be about reconditioning and preservation of the originality, which was not the case on previous projects.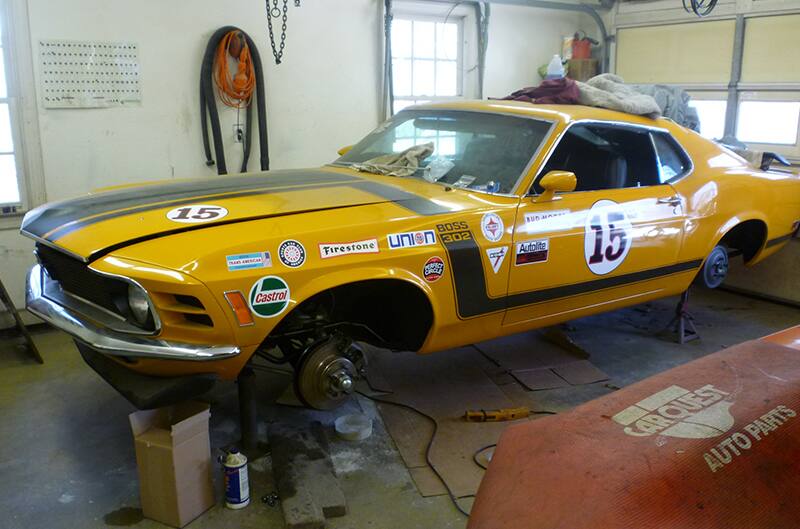 Dad started making a list of replacement and/or missing parts required to move forward with the new Boss build. Many of those were under the hood as Day-2 discarded components (parts that were removed after the second day of new ownership, such as smog equipment, carburetors, rev limiters, etc.). Then came with Day-2 replacement parts (chrome mags, fat tires, a tunnel-ram with dual 4's, etc.). All the original Day-2 parts removed were supposed to come with the car as part of the original agreement. That part of the deal never materialized, however, as Virginia Jimmy ghosted us, leaving a sizable $5k laundry list of parts to purchase. Those included a complete original smog setup, carb, intake, air cleaner and a set of Magnum 500's, just to name a few! A handshake on a deal just doesn't mean what it used to anymore, unfortunately.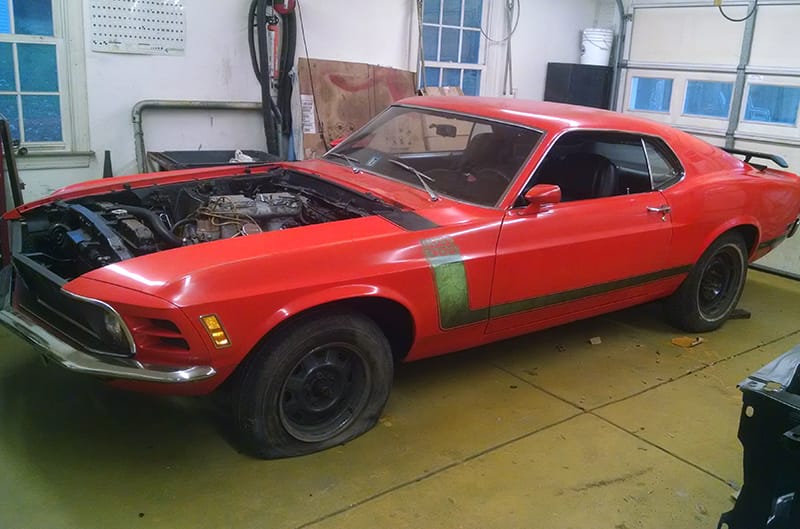 With these unexpected parts costing a sizeable amount, dad decided to fall back on what he does best -- build a couple "light hits" and sell them to generate the revenue. He first bought a 2012 V6 5-speed Mustang, then another similar one. Both sold quick and put some good cash toward the Boss Parts Fund. He then purchased an '08 Grabber Orange GT / California Special with barely parking lot damage to the right front. It only needed a bumper cover and headlight, so it was an easy fix to say the least. Once completed and cleaned up, it turned out to be a far nicer car than originally anticipated -- especially with the manual transmission and Ford Performance exhaust. This car drove perfectly and instantly became dad's new driver. Barry wasn't thrilled about this, as he had put himself first in line to buy it, with the Friends and Family Discount of course!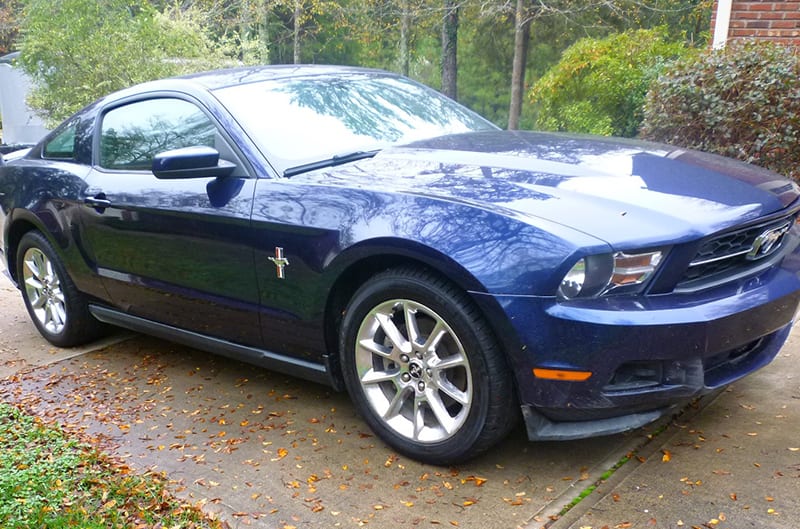 With the Trans-Am Boss completed and put up in the back building (despite having a carb / Bud Moore Race Intake running issue), dad had more focus time on the Barn Find Boss teardown. That involved a complete drivetrain removal (motor, transmission, rear-end) for a full restoration and rebuild. The Tunnel Ram 2x4 setup was sold and replaced with OEM-correct components, as was the 5.14 spool rear-gear setup in favor of the 3.50 gearing it was born with. Even though this car wasn't originally a W-Code 4.30 car, it still had the complete dealer-installed Engine Oil Cooler in pristine condition, like it was there from the factory. That setup could've been the very reason the original engine was still intact and not blown-up like most drag-raced Boss 302's.
It was now well into spring of 2016 and the Carlisle Ford Nationals were just a few weeks away. Dad, Barry and I already had our annual reservations and were looking forward to it as always. This included a special multi-club dinner on Thursday night with Ford's John Clor and 10-15 of his closest car buddies from across the country, literally! He was always booked the rest of the weekend so we were honored to be included in his inner-circle on his only "free" night.
With Barry on the hunt for anything he could make a buck on, dad and I were specifically looking for OEM '70 Boss 302 and '55 Thunderbird parts. We were both new to this genre of specific parts, so getting educated quickly was a must. Unfortunately, dad's trusty old flip phone just wasn't up to the task, but my smartphone was -- and using it saved us a bunch of money and time by not over-paying, nor buying incorrect or mis-represented parts. Like all the NOS Mustang parts I had collected over the years, I was starting the same for the '55 T-Bird. It's amazing what turns up in the Carlisle vendors section when it comes to NOS parts, and reasonably priced as well! As typical, we go up empty in my F-150, and come back with barely enough room for us and our luggage. Our eight-hour ride home goes by in a flash as we're chatting non-stop about the treasures we found, cars we saw, and old friends we ran into. Carlisle is always a fantastic time, year after year – it's our Ford mecca!
With Carlisle 2016 now behind us, the Barn Find Boss in pieces in dad's garage and the '55 T-Bird in pieces in my own garage, life for both of us was as hectic as ever. Plus, Brandon was starting his Senior year in high school which also meant that the 16th annual PDS was less than two months away. Brandon asked if he could participate in it again; little did he know I had already registered him with the same instructor. Only this time he'd be bumped up to the intermediate group where speeds are faster and the next level of skills are being taught. For the Phase 2 upgrade, I found a set of 18-inch chrome GT wheels with new performance tires that I swapped even-up for the Saleen wheels & tires. I also purchased some new lowering springs for $200, which put me just over the $4k threshold. Still okay, as would still probably be the least-expensive car on track for the second year in a row!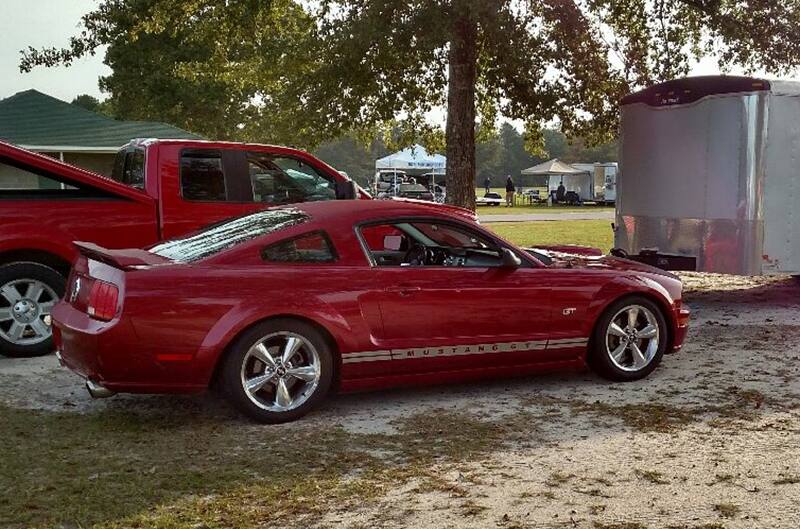 Here's a little back story on Brandon, going back to his junior year: He alt="2006 Ford Mustang GT Track car at event" applied and was accepted into the International Baccalaureate Program (IB) in our school system. It meant that he had to attend a different, rival high school where the program was only offered. This was quite an honor for him, and one that I didn't take lightly. It was a college-level separate program, only while in high school. Once he started in the program, and successfully completed his first PDS at the track, he was strongly hinting that he wanted the track car as his new daily driver. I told him that wasn't going to happen, mostly because it couldn't be registered due to its title status. However, I told him if he gets good grades throughout the year, we'd discuss getting a car with two-more cylinders (In other words, a GT.). Oh, and by the way, he was also warming up real close to his Grampie in hopes one '08 Grabber Orange GT/CS might be gifted in his direction.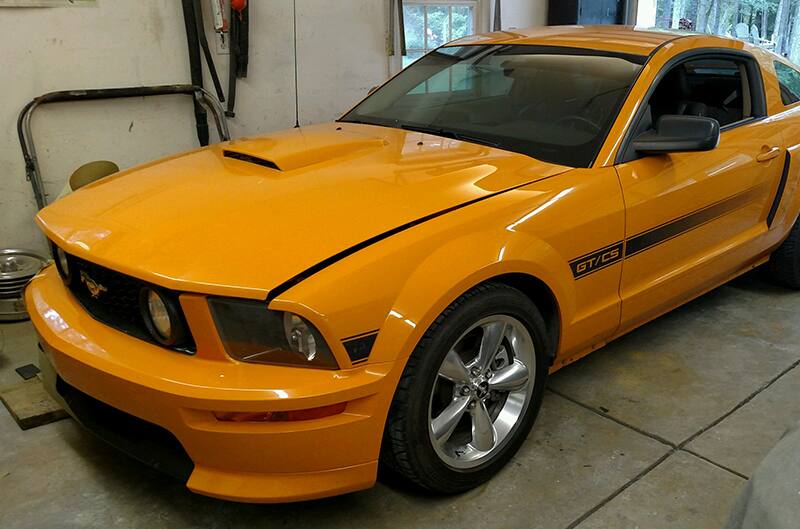 He completed his junior year with excellent grades, so holding true to my promise, we went on the hunt for a Mustang GT for Brandon. This time, the CL website wasn't producing any viable leads so we started watching the COPART salvage auction site again, where dad's last three purchases came from (including the GT/CS). This time, I found the perfect car: A black, 2001 Mustang Bullitt edition GT with only 60k miles. It was hit in the right door and quarter, but ran and drove, so it was still considered a light hit. It was in Texas, which wasn't a huge issue; it just meant a $500 transportation fee to get it home.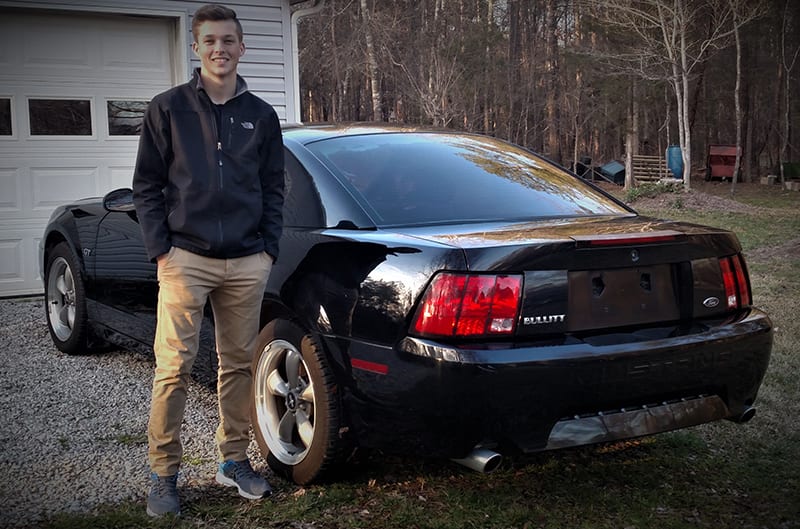 Now in typical Young Family fashion, as you've now read multiple times, another project was brewing simultaneously. Middle daughter Devon had seen her Grampie's GT/CS on numerous occasions and was beginning to show an interest in it. In the meantime, ole' Uncle B.S. (Barry) had finally wore dad down to maybe sell him the GT/CS, as dad had had it about a year or so now. Catching word of this, Devon went out to visit Grampie to plead her case that the GT/CS should come home with her -- not as a gift, but for a fair price. There was no way he was going to say no to his granddaughter. Sorry Bear, family first! So Devon took possession of her very first Mustang (Told ya she'd eventually come around!). But old Uncle B.S. was not completely out of the hunt just yet!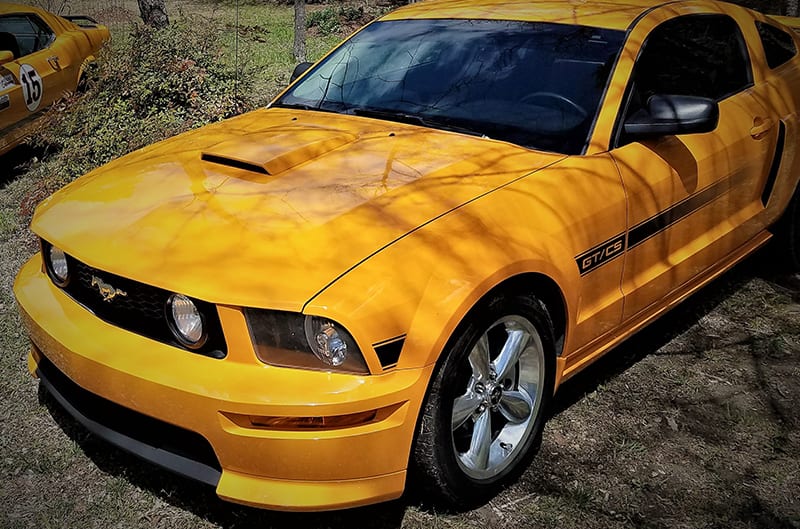 With all that going and while Brandon's pending Bullitt auction was coming up in a couple of weeks, dad started the search for yet another builder GT for himself. Again, as luck would have it, a 20k-mile Black/Black 2013 6-speed GT, hit in the right rear, appeared online. It was also in Texas, at the same yard, and on the same auction day. As I said before, you just can't make this stuff up! We got ahold of Alex, our now good salvage car buddy. Auction day arrived and Alex had his not-to-exceed bidding prices for both cars. He purchased both, came in under budget, and even got a discount on the shipping as they were both coming to the same destination in Charlotte. The lucky stars lined up once again for us . . . unbelievable!
The cars arrived about a week later and were even better than expected. Now with both cars out at dad's, whose car is going in the shop first? Dad decided that since his was going to need a frame-tug on the right rear, he would send it out to a friend's collision shop, one that owed him a few favors for referral work. That was easy! Now Brandon and I could get busy on his new car, with the stipulation that he had to help, and when it was all done, he'd have to sell his red car to offset some of the costs of the build, and before this one was to be licensed. I paid $3,800 for the car, and with shipping and auction fees it was right at $4,500. While that's not bad, all things considered, for a real 60k-mile Bullitt, but we were about to exceed my $5k budget.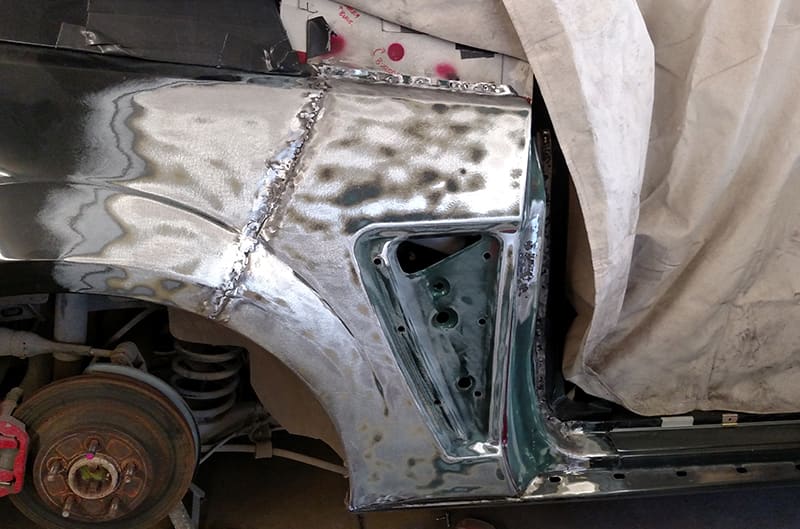 I called an acquaintance, the same guy I sold Doug's first '96 Cobra to for a great deal. (Yes, these stories and folks continue to intertwine.) Anyway, he had the parts we needed and, if I'd remove them, he'd make me a great deal. So off I went to his Mustang salvage yard with tools, a Sawzall, drills, and several rechargeable batteries. A couple hours later, I had removed a good door and drilled and cut the partial quarter panel off a '99 convertible. He only charged me $100, so my Bullitt build budget was still looking pretty good and back on track. Over the next few weeks, and another $500 or so in remaining parts, paint and materials, Brandon and I finished his new ride. He had even found a buyer for his Red Mustang, so that helped replenish the Mustang coffer slightly. By the time we title and tagged his new car, and paid for the personalized 'BULLITTT' plate, I was all-in for $5,500 -- which was a bargain for how well the car turned out.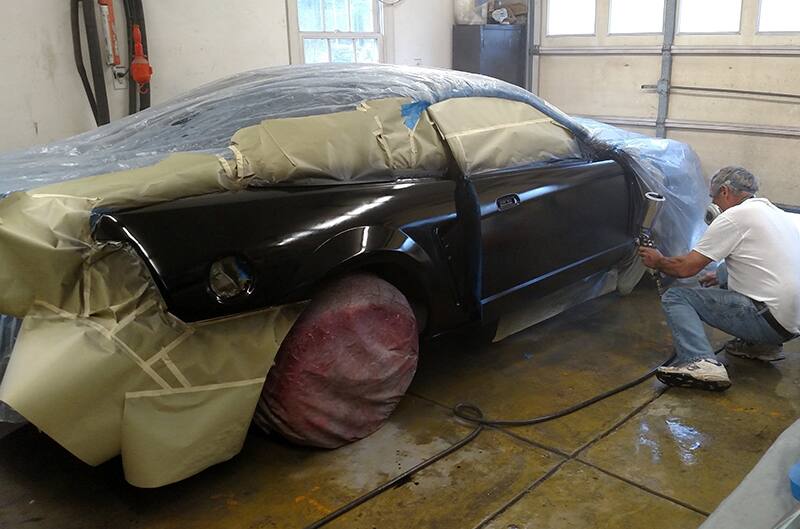 Dad's new Black '13 GT also turned out phenomenal, and it arrived fully repaired, inspected and road ready a couple weeks before we finished our Bullitt. Working nights and weekends with my son, out at my dad's shop, made for another worthy project that was just as much about the journey as it was the destination, regardless of how long it took!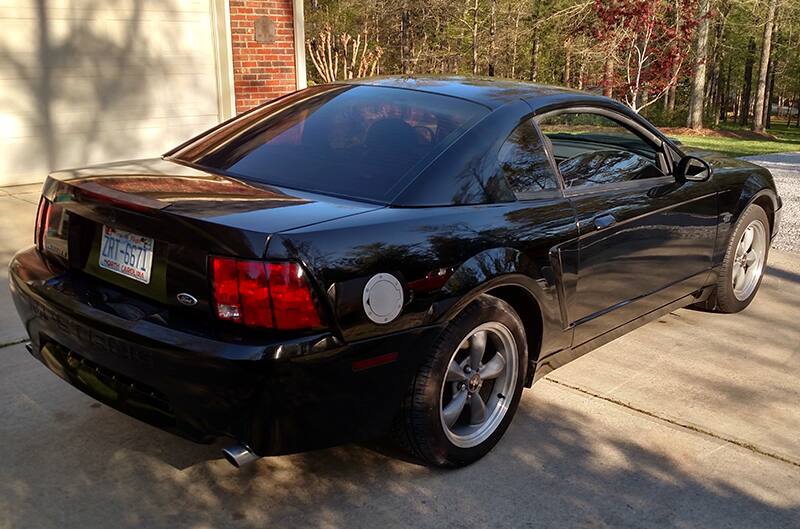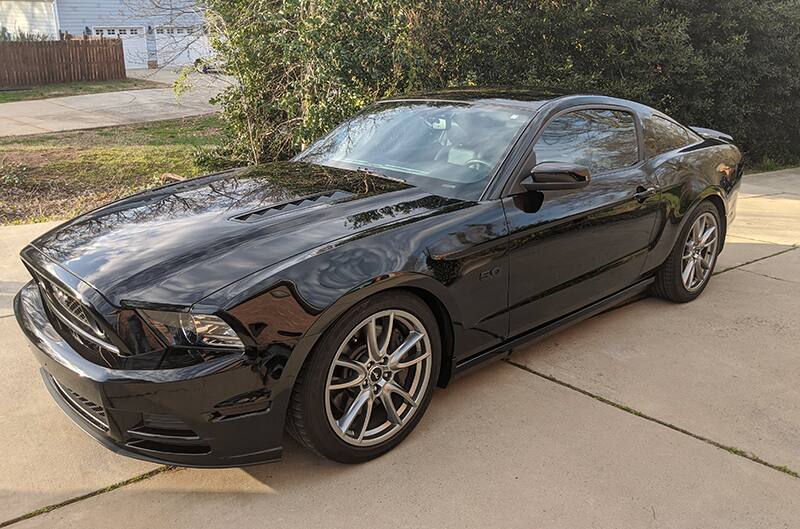 Brandon completed his second PDS at Carolina Motorsports Park, and once again, the piecemeal track car performed flawlessly. He was signed off again to run solo on his second day in the intermediate group (quite an accomplishment, in my opinion). One time he came in off the track while driving solo, and a Shelby GT followed in behind him. I thought, "Uh-oh, he did something to anger another driver?" But no – it was a seasoned driver down from New Jersey participating in his fifth or sixth PDS who wanted to compliment Brandon on how good and courteous of a driver he was on track, saying he loved following him and his track line. I was not only Brandon's crew chief, but once again a very proud father. And for the few naysayer's out there thinking I'm spoiling my son, think again: He plays high school and club soccer and is a team captain, works 20 hours a week at the local Autobell Car Wash, and maintains a 4.7 GPA in his high school's IB program. He's earned every bit of it, and I was more than glad and fortunate to be able to provide him with these memorable opportunities. Life is good.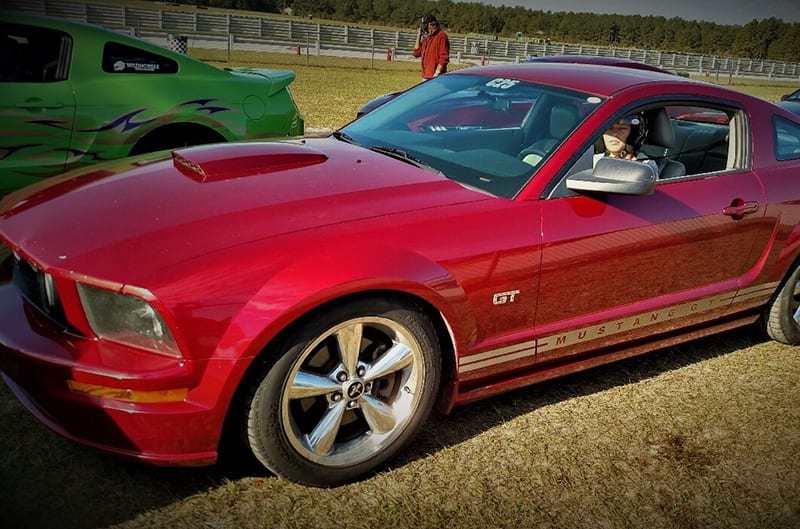 With dad busy bringing the Barn Find Boss back to life and me equally busy back on the T-Bird, the holidays flew by. My goal was to get the Thunderbird ready for 2017 spring cruising and its formal debut amongst the local car community. That was somewhat of a tall order, but doable with some late nights and weekends. I had put a heater in my garage several years prior, so 60 degrees inside was a lot better than the 30's and 40's temperatures outside. I completed my goal shortly before Charlotte's Spring AutoFair. As a side note, since I had acquired the '55, it was only appropriate that I join a car club of that same genre. So, shortly after I got it home, I joined the local Hornet's Nest Region AACA (promoters of Charlotte AutoFair since its inception nearly 30 years ago), and with it came duties of working both the Spring and Fall events at the Speedway – and not simply attending them, as I'd done for the past 20-plus years. This year was also the Hornet's Nest's 50th Anniversary (1967-2017), so it was an ideal time to have become part of a new car club family, since I was barely 50 myself!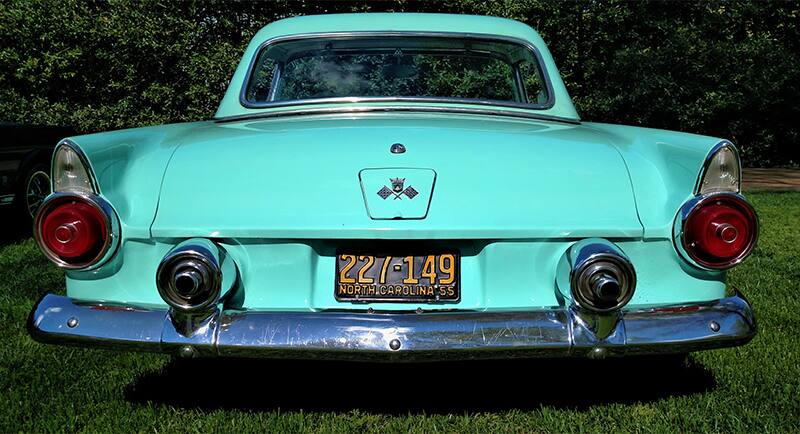 With that being said, I convinced Ford's John Clor to come down for the Spring AutoFair event. We agreed it would make for a great article for Ford Performance and the Fast News e-blast, so he and wife Jenny made the 12-hour trek to the sunny south, leaving behind the cold and misery of pre-spring Detroit. The weather was forecast to be sunny and in the mid-70's for the entire weekend. The reason I'm mentioning this is John and I have now been friends for 12 years and he's now met my whole family on numerous occasions, including both my brothers and my parents. Being the savvy journalist and car aficionado he is, he suggested I write an article about my family's history with cars and Fords in general. Well, the seed was now officially planted, but there would need to be some good pictures documenting our collection. I got Scott to bring down his R-Model from Greensboro and rallied everyone else to rendezvous at dad's that Sunday for a photo shoot for this now pending article. John and Jenny even waylaid their trip back home to help make this happen. The results were second to none, and as you'll see, my family doesn't clean up to bad either! And by the way, Devon was basically 9-months pregnant and due within the month.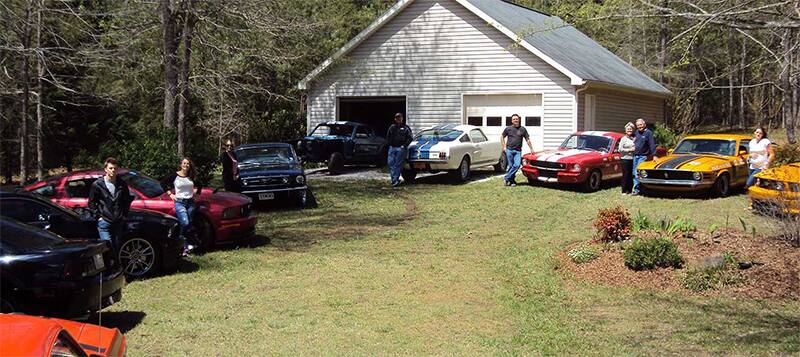 Now that the pics were taken, I had to go about writing the article and decide where to start. This was a much bigger project than just a story about me and my family and parents on that day in their backyard in po-dunk Waxhaw, NC. But more about how we got to where we were, and the generations prior, that got us there. Now with that daunting story task in mind, I started and stopped what seemed like a hundred times. To add another level of complexity to the mix, Devon and Chip had a new baby girl, Olivia Laken. It's a new beginning of the 6th Generation of the Young Family and now I get to experience what mom and dad did 20 years prior – having my very own granddaughter. Life was definitely good for both me and my wife.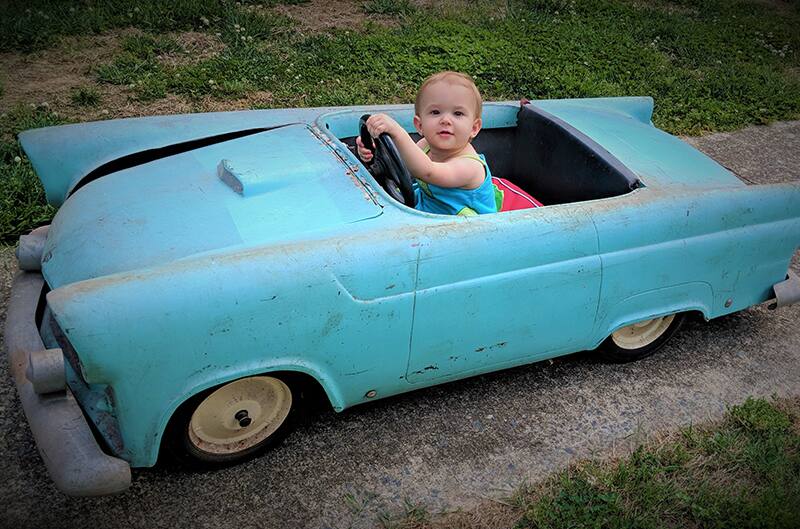 Two months passed and June's 2017 Carlisle Ford Nationals was upon us and our now-annual Thursday night dinner with the Clors and the rest of the Ford clubbies. John announces to everyone that I'm doing this family story for FordPerformance.com and the response was, of course, positive and encouraging. Unfortunately, it still wasn't enough to have it finished on John's timeline. So, a new monkey was now on my back to get this thing written. In my defense though, I did have another project that had come up and occupied my time since right after AutoFair back in April.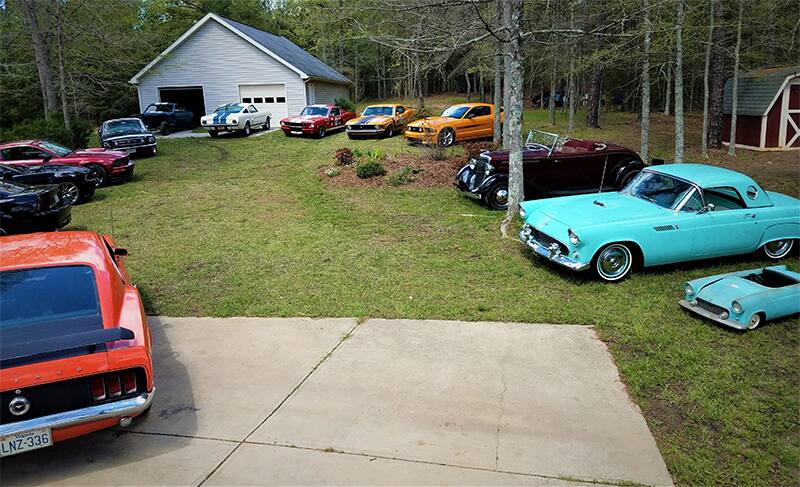 With the '55 T-Bird on the road now and the forever project Donohue '65 R-Model moved out in dad's back building, I was faced with a new dilemma: What to do for Brandon and his pending high school graduation less than eight weeks away? He had just carried his Marvin Ridge High School Soccer Team to the North Carolina State 3A Championships and scored the winning goal to give them a 1-0 victory, as well as being honored as the game's MVP. On top of that, with his 4.8 GPA and 1420 SAT score, he was accepted to UNC Chapel Hill, VA Tech, Clemson, and NC State (4-for-4 on his application acceptances). He chose the School of Engineering at NC State, and I wanted to do something special for him and all his hard work, both academically and personally -- but without breaking the bank.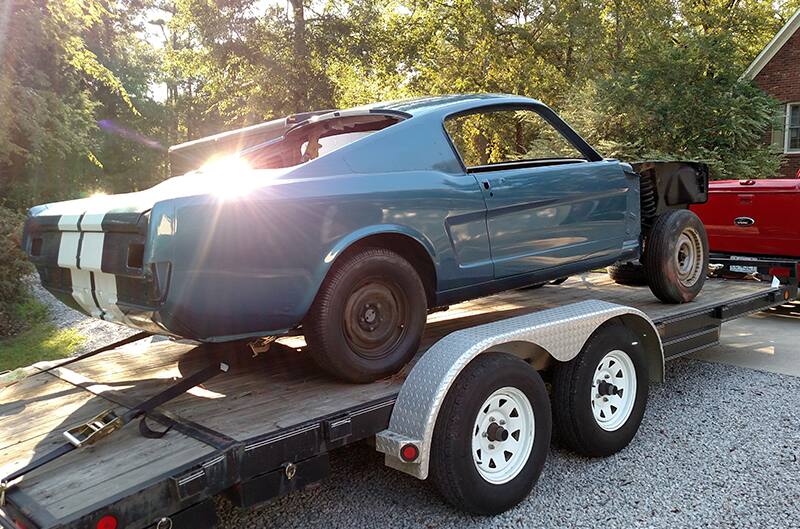 So, rather than send him off on an unsupervised beach vacation with his buddies, or throw him a big graduation party (neither of which are bad options), I decided to make some more improvements to his track car, coupled with a weekend track event at Road Atlanta. I horse-traded for some used Brembo brake calipers and rotors and added new G-Loc race pads. I fabricated new front cold-air brake ducts and inlet backing plates, plus scored a nice set of 19-inch GT500 wheels with like-new performance tires for $800, which pushed my tally to about $5,500. Once the mechanical upgrades were completed at my house, I hauled the car back out to dad's for the next part. His piece of the pie was to paint the '69 Boss 302's Black-Out paint scheme on the hood and trunk lid, and then I'd take care of the rest. I then added the custom reverse C-Stripe and special Ford Racing badging, plus added the #11 meatballs and Brandon's name as driver on the roof. The #11 was Brandon's soccer jersey number (and coincidentally Mark Donohue's number as well . . . imagine that!).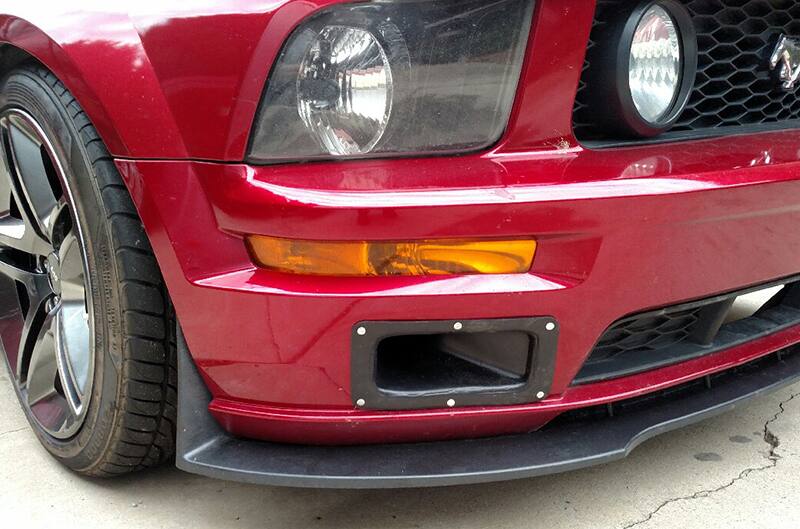 Brandon's graduation ceremony was nice and a well-deserved reason to relax for the summer. After our celebratory dinner, his mother and I gave him a card with his entry form to the Road Atlanta NASA Track Event folded up inside. I think deep down he was a little disappointed, as it meant that he couldn't go to the beach with his buddies for the week. But on the other hand, his buddies couldn't go and drive on a professional racetrack for a whole weekend. The best surprise was yet to come, as he hadn't yet seen his track car with all the Phase 3 improvements, and had no idea. With just a week to go until Road Atlanta, I spent nearly every evening buffing, waxing and doing general cleanup on the car as if it were headed to a judged MCA show. Finally, it was ready for its reveal and Part 2 of Brandon's graduation gift (not the car, just the upgrades) for him to enjoy at Road Atlanta!
We said our goodbyes to Sophia and Leah and headed out to dad's that Friday morning to load up the car in the trailer and get on the road. When we went to the shop to load it the car, it wasn't there -- and Brandon was puzzled. Mom and dad were out of town all week, so I had finished the detailing job in their lower-house garage. When I said, "Let's check the garage," and I opened the garage door, I swear it was just like the scene from Back to the Future when Marty saw his new truck for the first time. Brandon was in awe. It was indeed a special moment that I still think about frequently. I had him pull the car out of the garage and out into the bright sunshine. Talking about a transformation; I almost didn't recognize it myself! The car just popped from bumper to bumper. Now all of a sudden, the beach trip that he missed out on was a distant memory, and his friends' phones were blasted with pics of his new track ride. Mission accomplished! I even got a rare and much-appreciated hug after a little one-on-one time to go over all the mods I had made since he last drove it.
We loaded it up and headed south for the four-hour drive to Braselton, Georgia, home of Road Atlanta. The trip down was uneventful, as was check-in and car inspections. We had a quiet evening and an early next morning at the track. He was nervous at first but had an instructor that was a seasoned driver and he had Brandon feeling right at home in no time. In fact, he got signed off to drive solo after the first day! He was in control of his own destiny all day Sunday and proceeded to drive as if it were his hundredth track event. Now that I was his official crew chief, I had more fun doing that than I ever had driving. As expected, the weekend flew by and Brandon slept most of the drive home as he was exhausted from the action-packed event. The car wouldn't come back out of the trailer until the following spring of '18 when the new GT500 wheels would get transferred over to Leah's pending faux GT500 build, as mentioned in Part Three.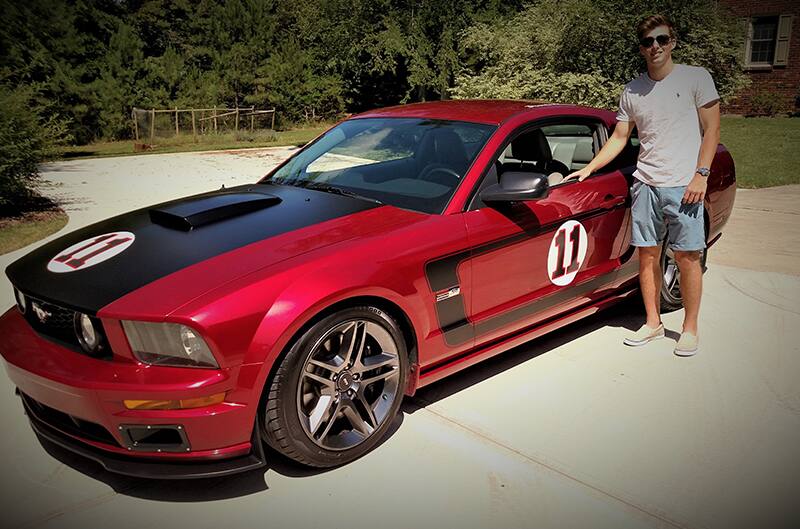 That summer flew by as they always do. Brandon's Bullitt was tucked away up in dad's building, and off he went to start his college career at NC State . . . and another one leaves the nest, and for some reason this one really hit me hard. But life goes on and Doug's passing was still fresh in my mind as well, so I had a lot to still think about as we headed into fall.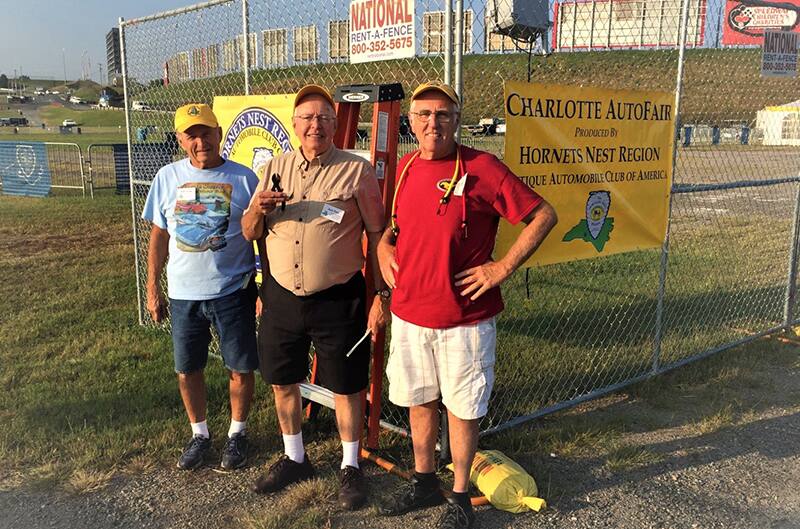 The plus side to summer's end was that Fall AutoFair was just around the corner. Since dad saw that I was thoroughly enjoying my membership with the Hornet's Nest, I sponsored him and he joined the club as well. I was somewhat of a young-buck as far as that membership goes, but dad fit right in with the elder-aged AACA crowd. In typical fashion, dad now worked the Spring and Fall events just like I did, as well as the rest of the members did, for that matter. On a Wednesday, the day before Fall AutoFair commenced, dad was up working with a sign crew hanging banners around the Charlotte Motor Speedway. They wrapped up shortly after lunch and someone texted me a picture of dad and two other members, Jack and Woody, when they'd finished for the day. I didn't think much about it until I got a phone call around 3 p.m. from a number I didn't recognize. I normally send those to voicemail but this time decided to answer it. It was a phone call that no parent likes to get, or son for that matter: My father had been in a bad accident and I needed to get to the Waxhaw satellite hospital immediately. That's all they would tell me. My mom was out grocery shopping and dad had the flip phone, so I was next in line as an emergency contact.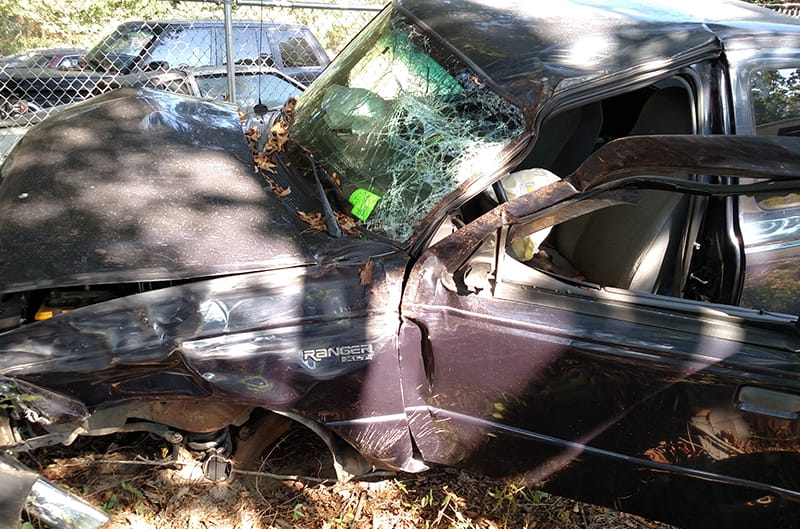 My parents had gotten the exact same phone call about me back in 1981 when I was in high school. It was after a bad car accident that almost killed me as a passenger in a friend's car. Anyway, I arrived at the hospital just in time to give consent for them to air-lift dad to the main hospital in downtown Charlotte. He was still alive, but really banged up and had lost a lot of blood. Mom got there just before or after the chopper took off -- I don't quite recall as it was all becoming a blurry nightmare. We drove into Charlotte as they were admitting him into the 7th floor trauma unit, where all the life-threatening injury patients are kept. By now he was awake and alert, but not really sure what had happened. All he knew was that his trusty 2001 Ford Ranger had bit the dust and he was lucky to be alive. Without going into a lot of details surrounding the next two weeks of recovery, he survived and that was what was most important. Had it not been for a miracle nurse who by chance stopped at the accident scene while on the way to work and stabilized my father before the ambulance could arrive, this story would be ending a whole lot differently. Dad indeed recovered, but not without a life-altering injury. He lost his right eye in the accident, which you don't "recover" from -- you just learn to do without, persevere, and make the best of a now-permanent situation.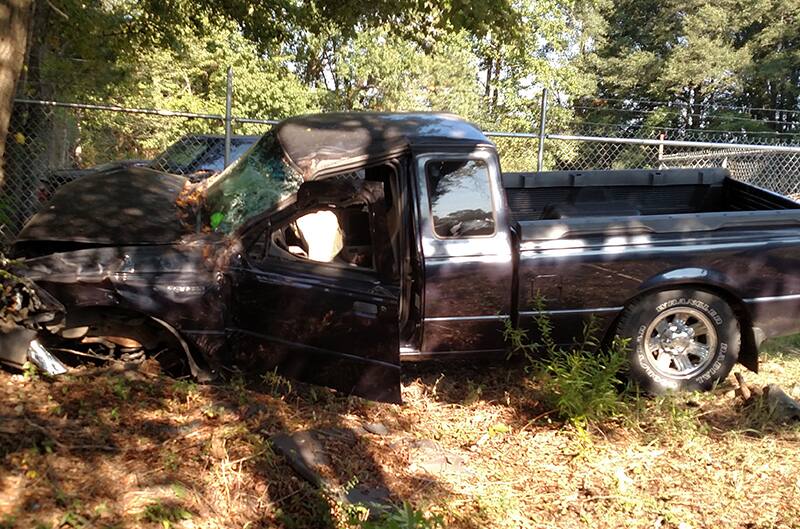 Again, typical in the Young Family fashion, there were other things going on leading up to this life-changing event. With Devon having the '08 GT/CS for a year or so, she decided that maybe an upgrade was in store, this in the form of a Black '13 GT with the Roush Performance Package. So once again she approached Grampie with an offer to buy his '13 if he'd take the '08 GT/CS back in on trade. He called Barry to see if he was still interested in the California Special, which he was, so another three-way deal was made, and Barry finally wound up with the GT/CS that eluded him the first time!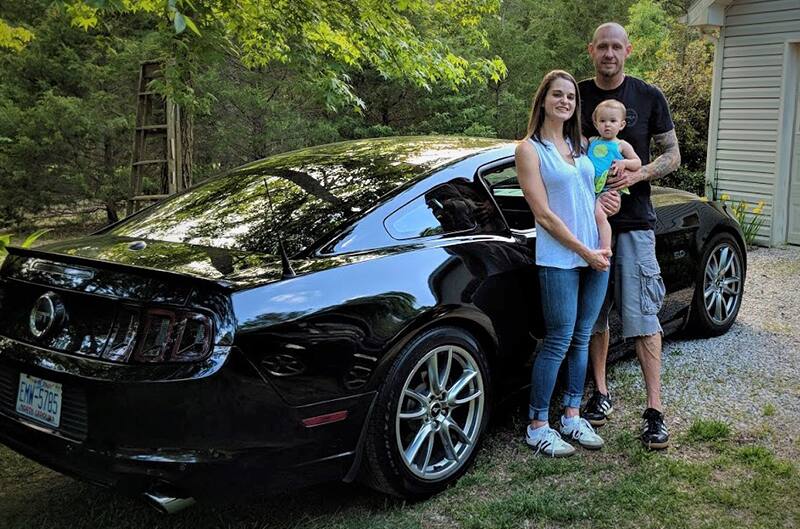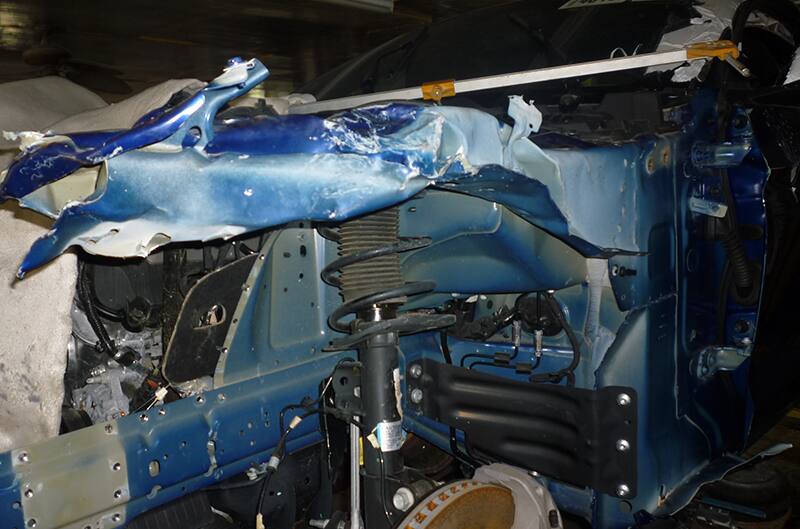 With that deal done, once again dad was left without a Mustang to drive. I hate to keep saying "as luck would have it," but it was true once again as our salvage-car buddy Alex had just gotten in a Deep Impact Blue 2016 GT with front-end damage, and only 2,000 miles on it. Dad went to see it and fell in love. After Alex's shop completed the repair satisfactorily about a month or so later, Dad went to meet Alex and test-drive the car. As expected, the repair was flawless and dad was then the proud owner of a like-new, low-mileage S550 Mustang GT with Recaro seats. It just needed a final clean-up and some detailing . . . but that was the day before his accident, and we all know what happened the next day.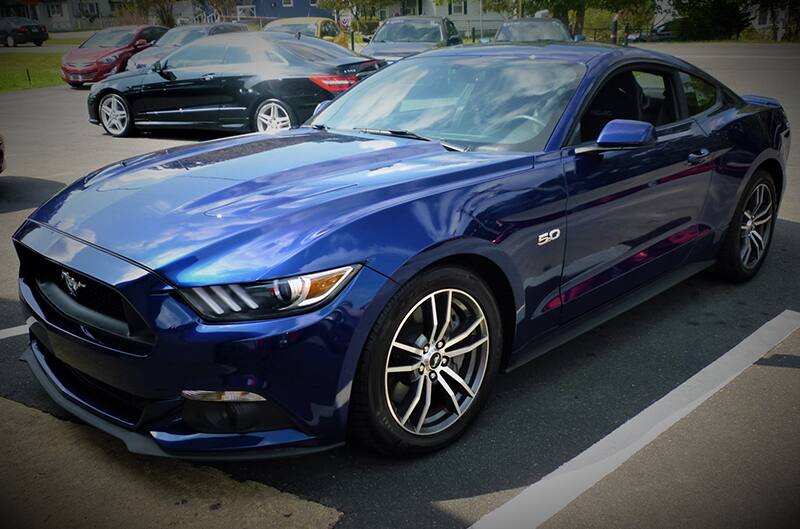 Dad toyed with the idea of selling the new GT while still going through his recovery and the tedious process of getting a glass eye. I told him he'd be back driving in no time and it may as well be in the car he only drove once and fell in love with just prior to his accident. He finally agreed and the car stayed up in the building until he was ready to start driving again. He did decide to upgrade mom's 2016 Fusion Titanium with a new 2018 Fusion Titanium, only this one had the navigation system and all the upgraded safety features for lane-changing and auto stopping in emergency situations, etc.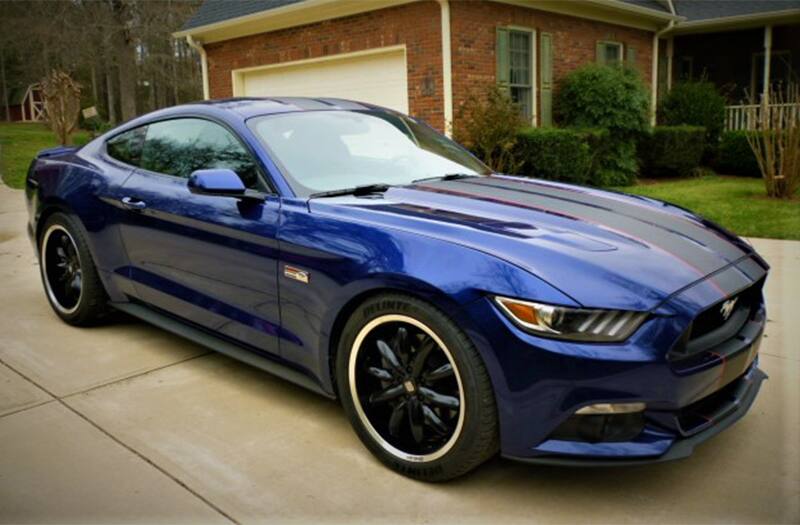 The holidays had come and gone, and dad was adjusting to his new way of life, with mom being his life-line for nearly everything throughout his recovery. By the Spring of 2018 dad started driving again, and Leah turned 17 and had received her GT500 wannabe. After Spring AutoFair, it now meant it'd been a full year since our family photo shoot with John Clor. It also meant that my promised story wasn't finished either. As a result of my procrastination on the writing, another couple of Mustangs came into the fold – Leah's '11 GT500, Megan's new '17 EcoBoost 6-speed with the Performance Package, and of course Grampie's '16 GT. In honor of these new Ford family additions, we staged another photo shoot in the same backyard location as the previous year. (See? Certain things do happen for a reason, especially in our ever-changing Ford family collection!)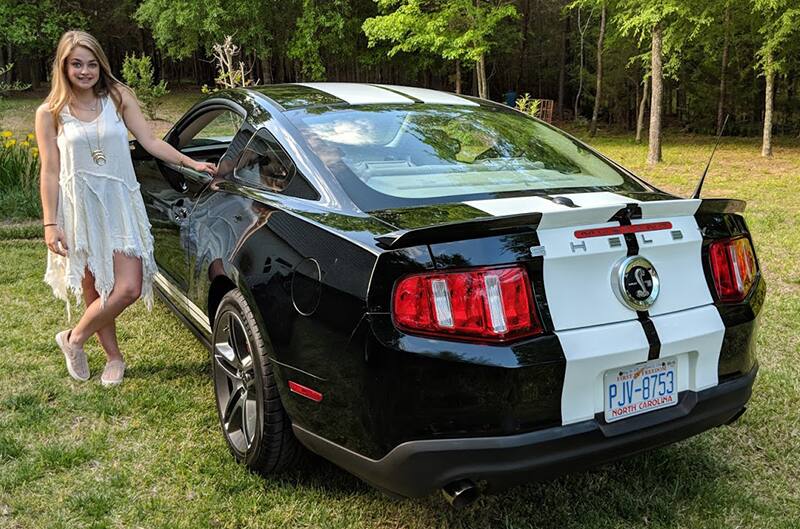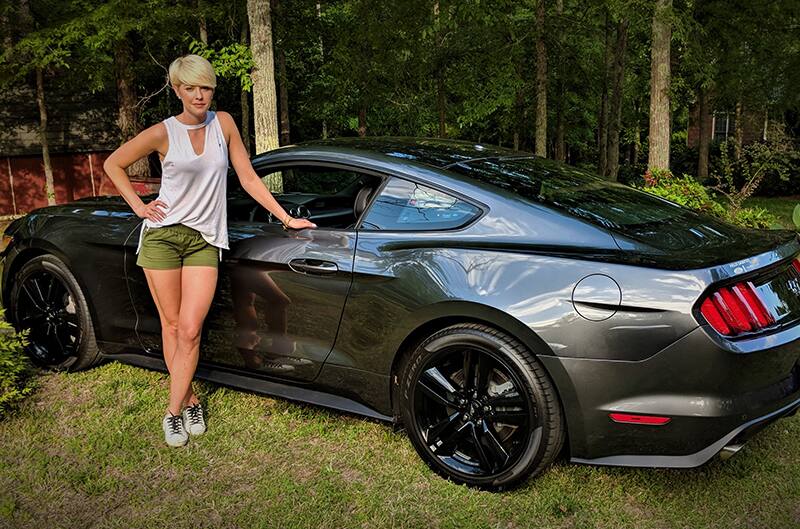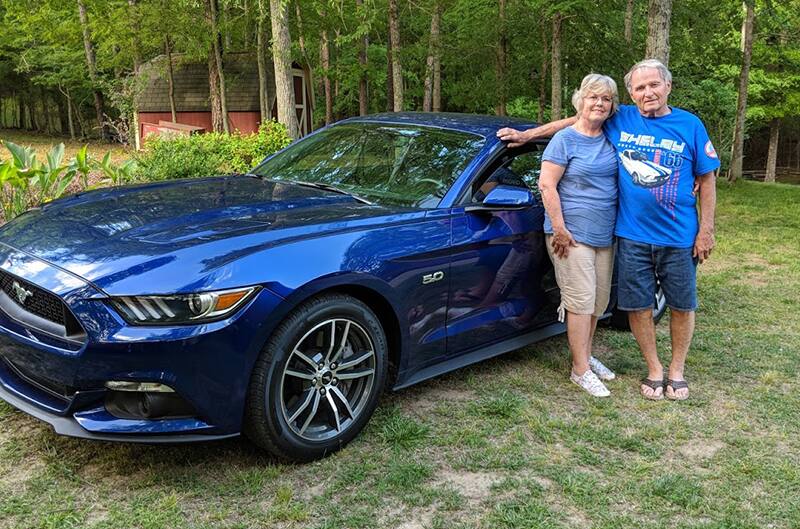 Because dad was back in the saddle, he was missing his old Ranger truck and decided to find a replacement. Unfortunately, Craigslist didn't yield any good prospects, just mostly high-mileage junk. He resorted back to the Co-Part salvage site and located a decent 2003 Bright Red Ranger Edge 4x4, with light front-end damage. This one happened to be local and at the same holding lot where the track car was originally purchased. Dad and Bear went up to preview it since it was so close by (and not in Texas). He had Alex bid on it a week later -- and won it. So we rode up to get it the next day and brought it home. The damage was minimal, and dad figured he'd have it fixed in a couple of weeks. He may be down to one eye, but that's not going to stop him form doing what he does best – and that's working on cars, and trucks!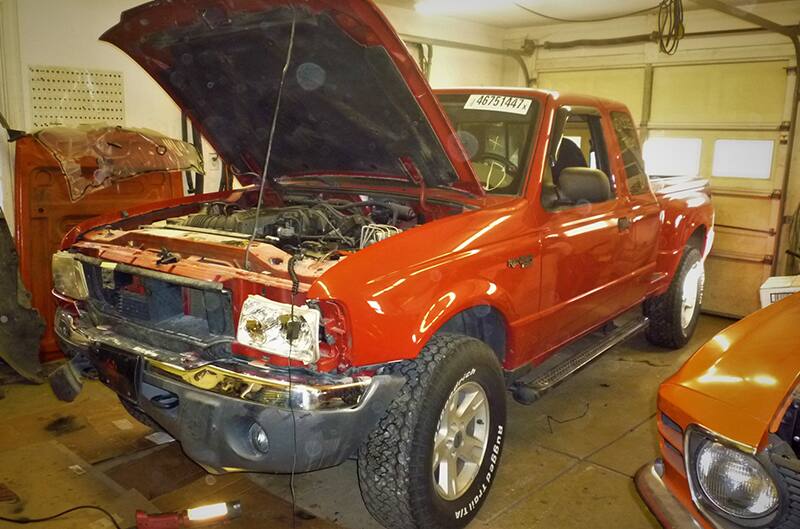 About a month went by and, as expected, the new Ranger was fixed, DMV inspected, and ready for the road. Now dad no longer had to ask mom to borrow her car – as he was still a little gun-shy about driving the '16. I figure that will go away once he gets windshield time in the new truck and comfortable again behind the wheel. After all, he is 78 now and blessed that he's still able to drive at all!
With this new lease on life, every day is a good day. We talk daily, either in person or on the phone. He starts talking about thinning the heard a little, kind of like he did with the Comet and the Thunderbolt. But know that could only mean one thing: more cars! The '34 Ford hadn't been driven in a couple years and none of our local close-knit car buddies owned a pre-war street rod. So it was time for a new owner since dad had it for about 12 years and performed numerous upgrades on it. It sold relatively quick as most cars do when they're priced right. He set his sights on something that kind of surprised me, a '55 Thunderbird. He never had any real interest in my '55, even though it was his dad's. But seeing all the fun I've been having in it, maybe it was time. Besides mine, there are four other 1955-57 Thunderbirds in our local car group, so he thought it was time to make it a fifth!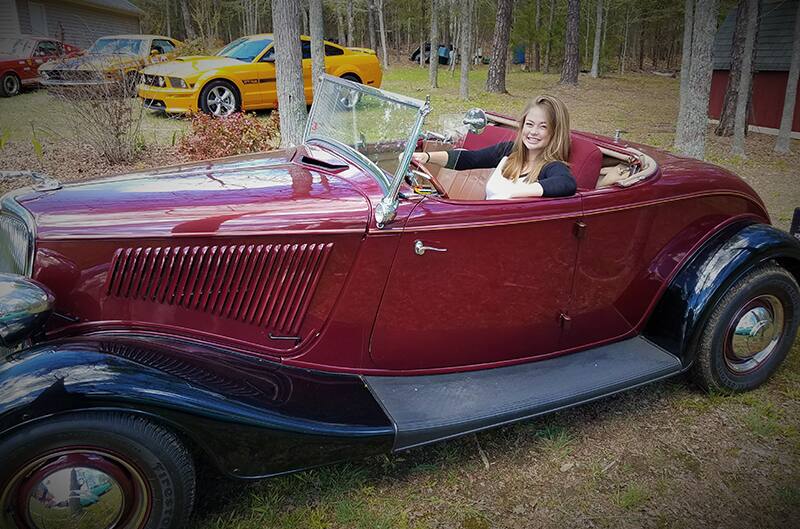 Dad located a nice Black '55 in Chicago, and that immediately raised red flags for me. But he assured me that the guy said it was a good car with no rust. Well, he should have paid attention to my red flags. No, the car didn't have any body rust, and had decent paint. But the undercarriage and frame were borderline unsafe being riddled with northern rot. Rather than try and make something out of it, he chopped the price and resold it with an honest description and mandatory in-person inspection prior to sale.
So the search continued again and a nice Red '55 showed up in Maryland, but was a California car all its life. It had lots of original paperwork and repair/service receipts from the original family owners. It had been restored in stages through the years with a repaint, new upholstery, drivetrain rebuild, etc. The owner had just taken it on a couple hundred-mile trip with no issues, so it looked like a good car. They decided to meet halfway in Virginia so that a visual inspection could be made in person. The car was as-described, with zero rust, nice paint and interior, and it ran well. They shook hands, unloaded it off his trailer and onto ours, and back to Waxhaw, NC, it went to its new home.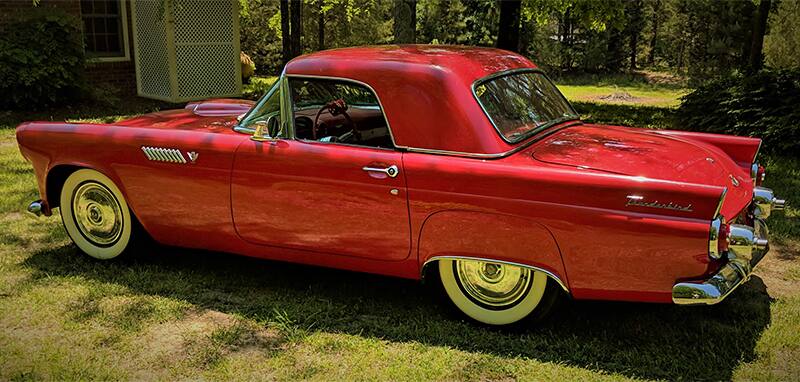 In no uncertain fashion had dad been sitting around, waiting on a T-Bird to grace his presence. The '70 Barn Find Boss 302 was by now basically done, save for a few little sniglets. He proceeded to knock those out while addressing a few minor issues with the new '55 concerning interior functions such as heater motor, radio, turn signals, etc. Just basic electrical gremlins that exist on most 50-plus year-old cars. While this was progressing, the weather was getting nicer and nicer. I drove out to dad's in my '55 and we decided to stage another backyard photo shoot with all three cars -- never pass up a good photo-op!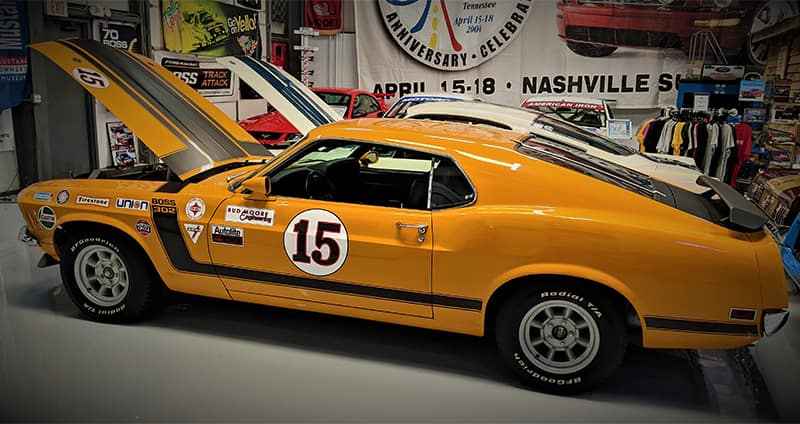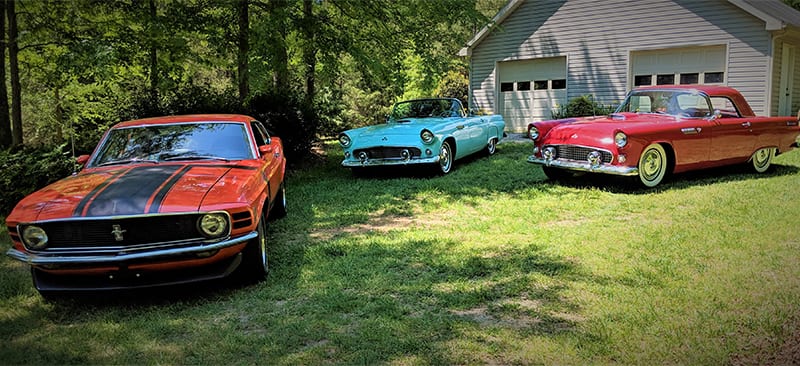 As part of my current side-line business, I do classic car inspections from time-to-time. I was contacted by a guy named John to inspect an Acapulco Blue '69 SCJ Mach 1. The car turned out to be a misrepresented car with a plethora of issues, so he passed. But since he was new to the area, and local, I introduced him to the gang and we all became instant friends. He didn't have any Fords yet, but if the right one came along . . . Well, the right one was a needle in a haystack, so to speak: he wanted an Acapulco Blue '69 S-Code 390 Mach 1, 4-speed with White interior and factory A/C. I shook my head and said they're obviously out there, but don't hold your breath.
A few months later, dad sends me a link to a car for sale out in California at a Classic Corvette dealer. I couldn't believe it: It was the exact car that John was looking for, right down to the White Interior and Factory Air. I forwarded it to John and said put your money where your mouth is -- it doesn't get any better than this! Shocked that this car was available, he wasted no time in contacting the dealership. After numerous calls, dozens more pictures, etc., he made an offer, pending final inspection. It was accepted, so he hopped on a plane to see it in person so that there's no question on what the car actually is. The deal was made and two weeks later it became a Carolina resident.
The reason I mentioned this is because I like to say that I have a PhD in spending other people's money. It's nothing I charge for; I just enjoy the heck out of doing it as a service to the local car community and sharing the knowledge I've developed over the last 30-plus years. With that being said, it leads to the next anchor car, or shall we say truck, in the Young family collection. I'll clarify that by saying my family collection is here to stay, where dad's collection is here today, but maybe not tomorrow. Anyway, in one of our "sit-around-with-a-cold-one yack fests," dad had mentioned that he'd still like a pre-war Ford truck with an original Flathead V-8. He was never really looking and the right one never conveniently presented itself . . . until now.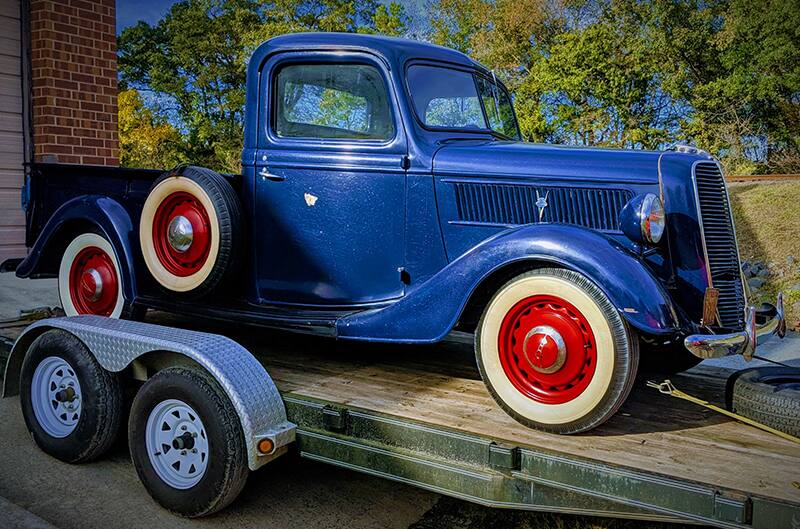 It happened while we were at the beach on vacation, and after mom and dad had joined us for a getaway of their own. I got a text from our new friend John, stating "I found the perfect old truck for your dad." It was, of all places, on this phone app called Next Door, and I'd never heard of it. I pulled it up and I hear the angels' voices singing in the background. There it was, and John was right – it was dad's perfect truck. A Washington Blue '37 Ford with Red spoke wheels and wide white bias-ply tires. And it was born with a Flathead with all-original Henry Ford body panels and no rust. It had been in dry storage for many years but running and driving when parked. I showed this to dad and said, like I told John on the Mach 1, "Here ya go, put your money where your mouth is." With some back and forth and some 'you're-not-getting-any-younger' dialogue, he conceded that this would make the perfect truck.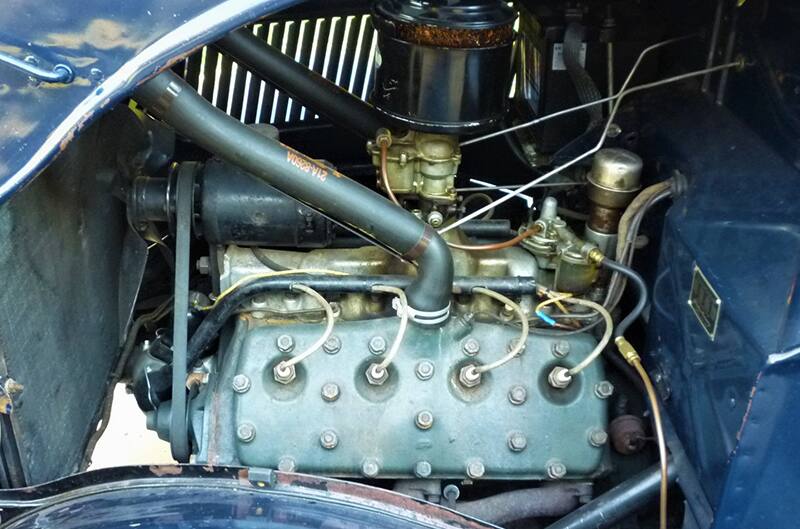 I called the owner, and her name was Mandy. It was her grandfather's original truck that she inherited from him when he passed. They spent a bunch of money getting it up and running again, but due to life in general, it sat again. When I keep saying 'some things are just meant to be,' wel , this one takes it up a notch. We made arrangements to go see the truck once we got back from vacation. She agreed to hold it, and when she gave me the address, it wasn't "next door" at her house in Waxhaw – the truck was in the same business complex as my office in Charlotte! So we went to see the truck, and it's everything she said it was -- and more. It had all five Ford Script wide whites, and the original owner's manual. Unbelievable! However, being off the road for many years had taken its toll and it would need some freshening for sure. But there was no denying that this was the quintessential perfect truck for dad and new heirloom Ford in the Young family collection.
He made the deal and Mandy was happy that it was going to a good forever home, of which I believe her grandfather would approve. I picked it up later that week. I'm not sure what it was, but this truck seemed to have an aura about it that I can't explain. As I've said numerous times now, sometimes the vehicle just finds you, and there are fewer better examples out there than this truck. Dad got to check this important one off his Bucket List, and John gets to repay the favor of spending a little of dad's money (though not nearly as much as we spent of his!).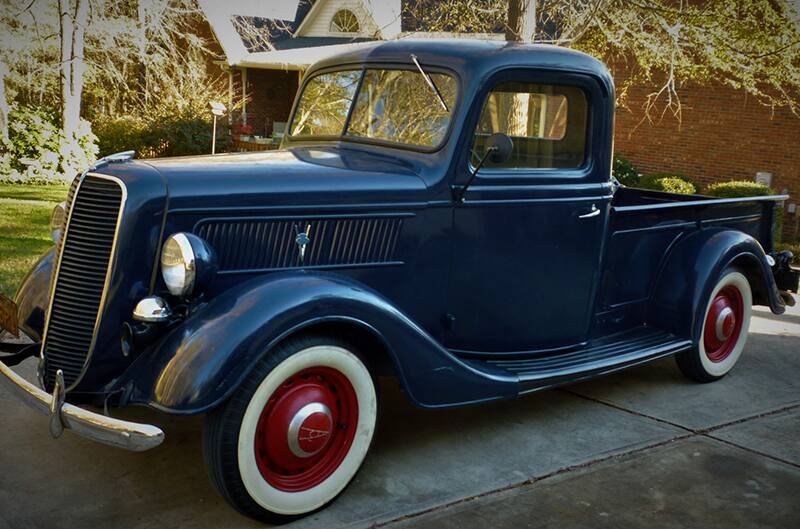 Now with a new project to occupy his time, dad dug right in with addressing some of the '37's issues. No surprises, just typical tinkering that takes plenty of time to resolve. While researching some of the issues with the truck, dad ran across another car that tripped his trigger, shall we say. A Red/White 1955 Ford Fairlane Crown Victoria down in Florida. He had a Mandarin Orange '56 when he was in the service and always wanted another one. The '56's are way too expensive but almost identical to the '55's -- so why not? He asked for my opinion. It looked good and had a good pedigree so I gave him the same answer as before: You're not getting any younger, so get it if you want it, as you may not get another chance. So he made the deal, and onto a truck it went headed to NC.
The '55 Crown Vic arrived and I could hear the disappointment in dads voice when he called. It didn't run well, the overdrive didn't engage, nothing worked inside, and the chrome was less than stellar. All of that was just the opposite when he'd talked to what appeared to be an honest owner. Well, not the case this time. Everything was verbal and purposefully not in any email. When dad called him back, he denied any of the conversations and even admitted that he was just a middleman broker and never even drove the car. He then hung up and wouldn't take dad's calls again. I had a pow-wow with dad about the car, as this was really beginning to consume him. We went over, one-by-one, each of the car's shortcomings. I thought the car looked pretty doggone nice. It was complete and very presentable, just misrepresented with the sale. Dad had super high hopes and this car just didn't deliver. The biggest issues were mechanical. The factory overdrive module was seized, the clutch chattered and the transmission was noisy. Other than that, it was all cosmetic. Oh, and like his T-Bird, nothing worked inside. The final assessment was that the car is very solid, with nice paint, decent interior, presentable chrome, and an overall 80-percent good car, and that even with all these issues, he still didn't overpay. So the next project began alongside the '37 Truck. Dad will now be fully occupied for the foreseeable future . . . well, several months anyway!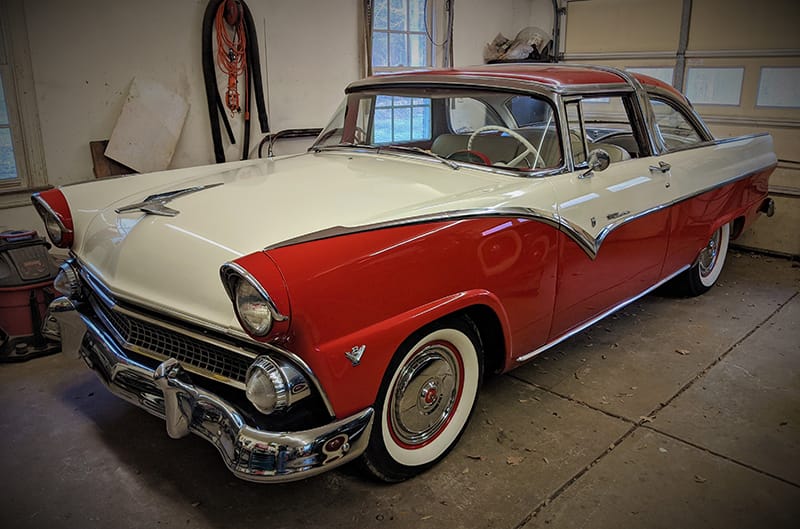 With dad back on track working on new projects, and my '66 K-code, '55 T-Bird, and the Carry-Over car all running and driving, life is good! While attending a spring CRMC Mustang Club meeting, we were blessed with an announcement by Steve Hall, Executive Director of the Mustang 50th event, that that he was planning to open a National Mustang Museum, later to be called the Mustang Owners Museum (or MOM) in the Charlotte area. Talk about exciting news! In the process he'd opened up a Preview Museum in a smaller retail space around the corner from where the actual museum would be built. Steve and I had become good friends as a result of our countless hours spent on the Mustang 50th event He asked if I could display the Carry-Over car in his Preview Museum, since he considered it "Museum Quality" even though it was just a replica. I was honored, and brought it up to Concord, NC, otherwise known as Race City USA and home to Charlotte Motor Speedway. The car would remain there for the next 12 months while the museum was being constructed.
I was also asked to be a part of a Steering Committee to help shape the final outcome of the new Mustang museum. It was set to open on April 17th, 2019 -- the 55th birthday of our beloved Mustang. Well, you can't have a 55th Birthday without a celebration. So good friend Dave Goff, who also had a Mustang displayed in the Preview Museum, agreed to help Steve with the events. I'd oversee the Museum Grand Opening and Dave would oversee the Mustang 55th event just down the street at the Speedway. Granted, that was all still basically a year away, but there was lots to do, with Steve responsible for the lion's share of both. Without boring you with the details, we all made it happen -- literally working right up to the morning of the museum's Grand Opening.
Afterward, I took the Carry-Over car home for a few months, and actually got to enjoy it some. Then Steve called one day and said he'd like to have my car back for a new display idea. He wanted to display it next to another restored (only real) '66 GT350 and reference the old commercial from the '70's: "Is it Live or is it Memorex?" So back up to the museum it went for another extended stay. But that left an open spot in my garage . . . hmmm?
My son decided he wanted to take his Bullitt back to school with him and give us our old Explorer back. Plus, that freed up a spot in dad's building for another possible future project. I decided that keeping the old '04 Eddie Bauer Explorer around wasn't that practical, as I still had my '08 F-150 and my wife had her '13 Explorer Sport. So, I decided to sell the Explorer and repurpose the money toward a new project since I haven't had one since finishing Leah's GT500. I set my sights on a late-model convertible for my wife, since she had never owned a Mustang, and more importantly wasn't expecting one. So my surprise Build #4 was begun.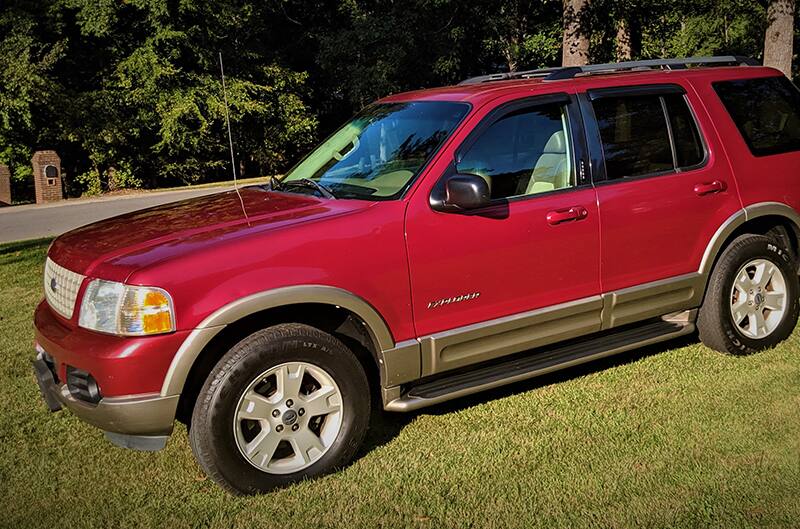 I knew the CL site wasn't going to deliver what I wanted, so I resorted back to CoPart to find another fixer-builder. A couple weeks go by and a Black 2007 GT California Special 5-speed convertible is listed with only 40k miles and light rear-end damage. It's located up in Maryland, but still only a $500 transport fee, so no big deal. Again, I get ahold of buddy Alex, and told him to just buy it as it's the perfect car. I was watching online when he was bidding on it and it looked like it would end with his winning bid at $3,500. But in the last second, another bid comes in from Texas, then Oregon, each extending the auction clock another 30 seconds. Alex and the other two kept at it -- $4,000, $4,500, $5,000. Now I was getting nervous as my instructions were to just buy it. Well, that he did -- and for $5,500. With auction and transportation fees, I was sitting at almost $7,000 delivered -- ouch!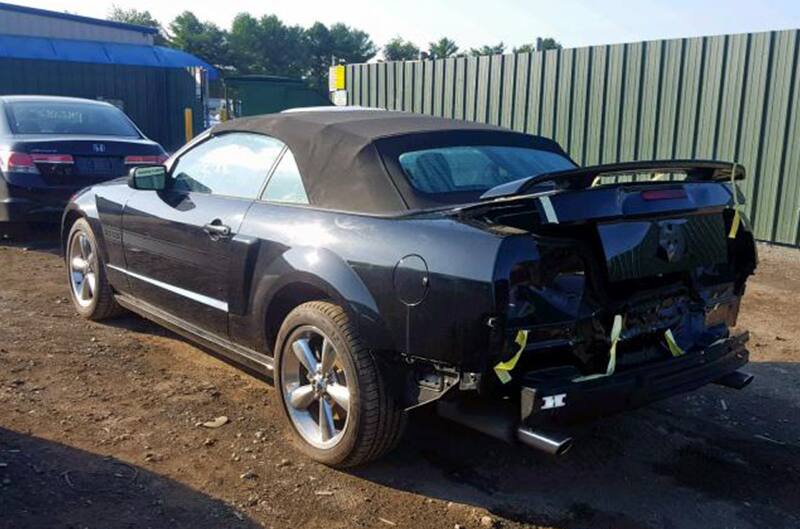 Auction prices had almost doubled since we last bought a car, and while it was more than I'd hoped to pay, it only had 40k miles and was another cream puff, as Alex confirmed. I had a large project going on at work that required a fair amount of travel, so like with Dad and the Black '13 GT, I decided to send it to our friend Billy for a turn-key repair. I'd sent him numerous Mustang club-related repair jobs, so he owed me a favor and pretty much fixed it for cost. He had it less than two weeks, and the repair was flawless. Now my wife knew nothing about this, so I had it delivered to dad's for its final clean-up prior to the big reveal.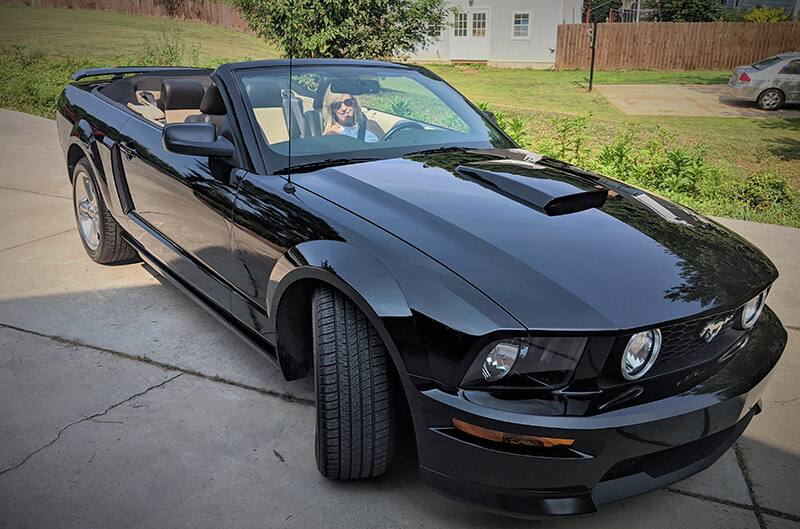 We were all set to go on our annual Brew Cruise with the Mustang club the last weekend of October. That's where we caravan to a destination, in this case Asheville, NC, and spend the weekend touring the local breweries. We do the same thing in the Spring, only it's the Wine Cruise and we tour wineries. To further deceive Sophia on this pending reveal, I brought the Track Car home from dad's and covered it up in the garage. I did the final spit-polishing on Sophia's Mustang and it literally looked like a brand-new car. It even had nearly-new Michelins to boot! I left work early that Friday and (Illegally) drove the Track Car back out to dad's with the new convertible's plates on it. I swapped them around and made the maiden voyage of the new GT/CS ragtop back home. Once covered up and back in the garage, you couldn't tell I switched cars (well, I could anyhow). The next morning, bright and early, I pulled the convertible out into the driveway right when the sun fully came up. Sophia rounded the corner and wondered whose car I borrowed for the trip? Well, as I explained, this is yours to keep -- and it's your "Birthaversary" present. (Our anniversary was the month before and her birthday was a month away – so Birthaversary!). That brought another emotional episode with another Young Mustang reveal. Even though it was the first of November, we were able to put the top down on the ride home later that weekend . . .and life was good.
We rang in 2020 without issue and the next big item on the family agenda was Megan is getting married at the end of February. The very end of February, in fact, on the 29th – Leap Year, as it fell on a Saturday, so it all worked out. I was shocked when she said she wanted to do her bridal pictures out at Grampie's with some of the cars -- how cool is that? We had a beautiful weekend that was sunny and in the 40's, and she chose the '70 Boss 302, the '37 Ford Truck, and my '66 K-Code Fastback to be in her photos. I chose not to see her in her dress and therefore didn't get to see the results of the photo shoot until after she and Justin were married. It was well worth the wait and, like the Leap Year wedding, the photos were unique and special from the first click to the last.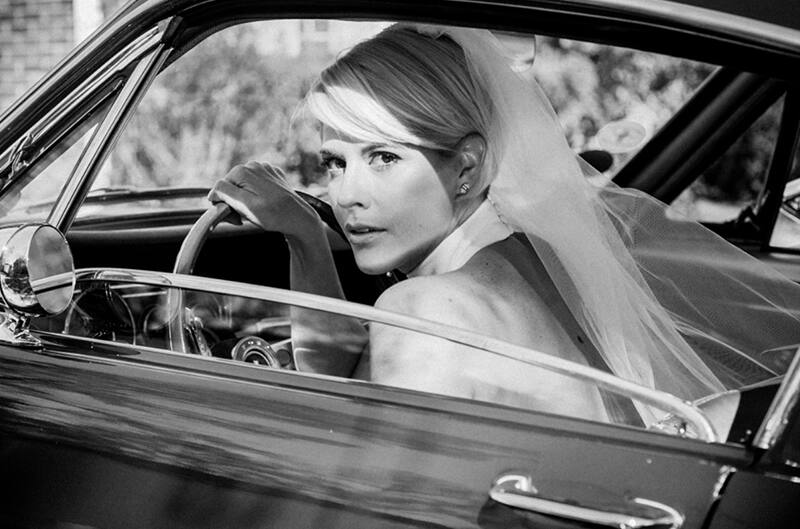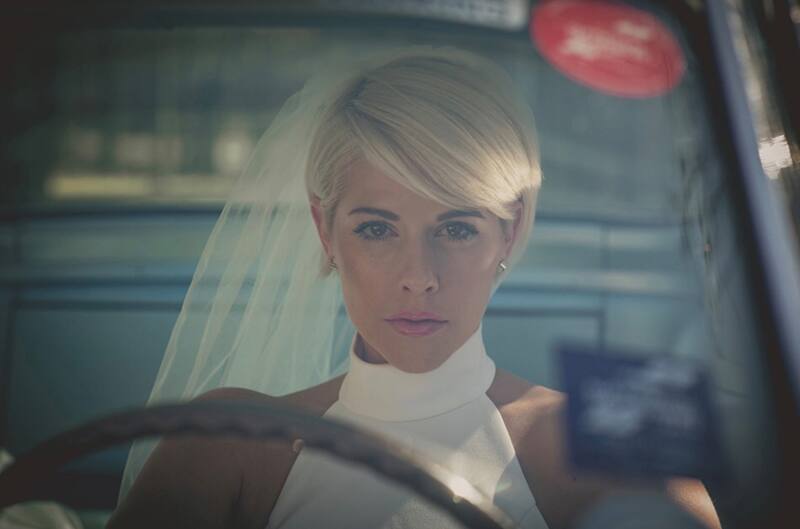 At this time dad was about to reach a major milestone. He'd be turning 80 in the middle of June, which was only a few months away. That's a big deal considering his father, my own Grampie, died at age 63. But what kind of gift could he get to mark his 80th? Back in 2012, Dad, Brandon and I flew up to our old stomping grounds in Upstate NY for the SAAC 37 Shelby convention at Watkins Glen International Raceway. If you've never been to a SAAC convention, you're missing out. There were Shelby Mustangs, Cobras, GT40's, Ford GT's, plus a plethora of vintage race cars of all makes and models. While walking the show/display field, dad noticed what appeared to be a group of '62-'64 "Slab Side" Cobras, six or eight of them. Those were always his favorite, as they were simple and powered by small-block 260's and 289's. These were actually Aurora Cobra's, a joint-venture between the Aurora Corp. of Canada and Ford, in the early '80's. The bodies were about exactly like the Shelby Cobras, but the bumpers looked a little goofy as these had to pass all the NHTSB crash (as well as emission) tests. They all had the Mustang GT H.O. 302 V-8's and either 4- or 5-speed transmissions, depending on whether it was an early or late-build car. Remember my Red '83 GLX 5.0 was an early build and had a 4-speed? Well, the very same drivetrains were used in these. Dad loved them, and upon returning from the event, proceeded to give a cursory look at possibly buying one over the next year or so. Nothing materialized and we both kind of forgot about it.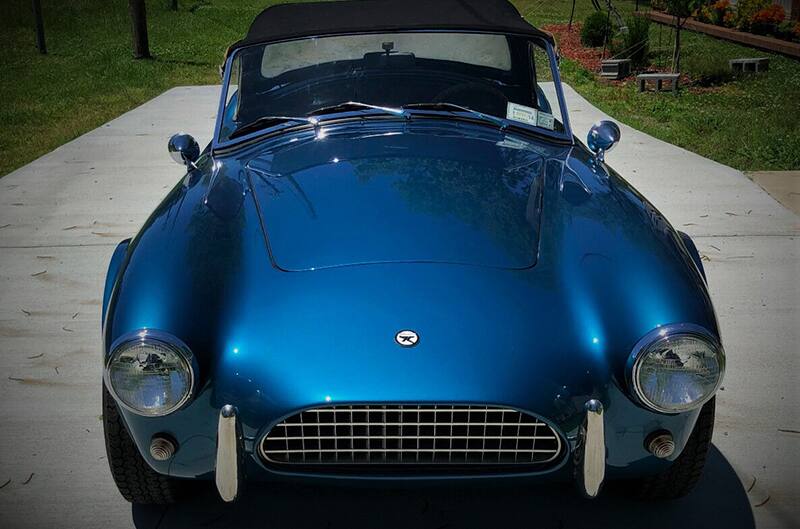 Well, as luck would have it (I know!), one popped up on Craigslist in Greensboro, where both of my brothers live. It was partially restored with its original engine, rebuilt to more race specs, and the early 4-speed transmission. The body was put back to original '64 Cobra livery with vintage bumpers and painted 15-inch wire wheels. It still lacked sorting, electrical repairs and carpeting in the cockpit and trunk. But best of all, it was painted Guardsman Blue, an original vintage color, and the same as my Donohue R-Model Fastback. For me, that was the clincher. The guy had just pulled it from the restoration shop after investing over $35k, and it still wasn't completed . . . Ouch!
Dad kicked it around, and even included Brother Bear on this one as it was quite a bit more money than he's accustomed to spending. He sat on it for about a week, when Barry called me for the information on the Cobra's location. He and dad were up near Greensboro getting some Crown Victoria parts (yeah, that one was still in process), and he had convinced dad to at least go look it over. I still had the guy's information as I had already chatted with him. He agreed to meet them. A couple hours go by and I get a phone call from Barry's phone, only it was dad. He loved the car, but would only buy it on one condition: The Barn Find Boss 302 had to go. I wasn't sure if he was asking my permission or what. But I said, like with so many previous others, if you've had your fun with it, it's time to move on to something else. In this case, it'd be a pretty accurate Slab Side Cobra. Think of it as an early 80th birthday present to yourself, I told him! Well, they shook hands for basically what he had in the restoration, and dad got one hell of a car and check off a late entry to his Bucket List!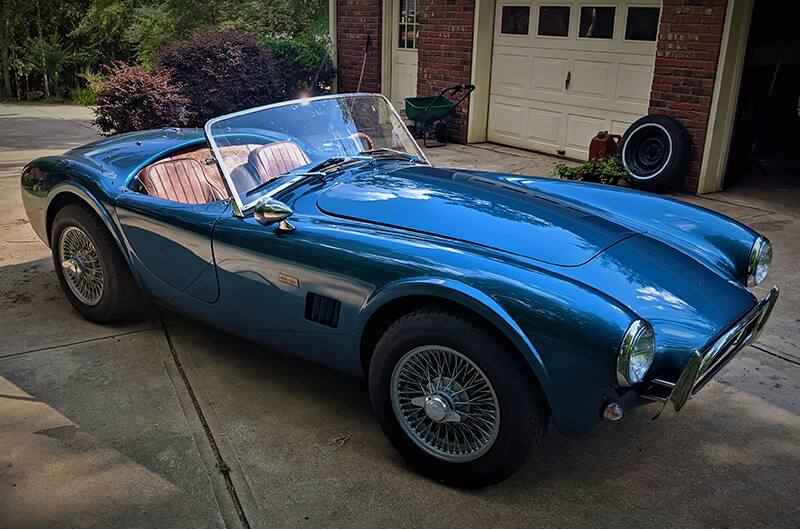 Before all this Cobra drama started, I was kicking around some ideas on how we should celebrate dad's 80th. I included mom in the discussion as well as both of my brothers, as this was going to be a momentous occasion. As a side story for this pending celebration (like we'd never had one of those . . .) I got a message form Mandy, the gal from whom we'd purchased the '37 Ford Truck. She was finally ready to sell the old gas pump. I know, I never mentioned the old gas pump she had. She'd inherited a 1937 Wayne Model 60/866 "Clock Face" gas pump from her grandfather along with the truck (I guess since they are both '37's). It was a one-year-only pump and turned out to be quite rare in the Petroliana circles, as I found out later. I asked at the time if she wanted to sell it and she was undecided, so I didn't push it as it was a family piece. She agreed to call me if and when she was ready to sell. It was partially restored already, but not yet completed and still missing quite a few parts. So, now she'd called me and we agreed on a price. Still walking distance from my office, I went and got it in my truck before she changed her mind. My next-door neighbor Paul is retired and also a big car guy and his hobby is restoring vintage gas pumps! I brought it home and dropped it off next door for him to finish. He was pretty stoked as he had never had the opportunity to work on one of these before and was still in disbelief that I had come up with one, as rare as they are. I sourced and located all the missing components and he completed it for me just in time for dad's big birthday.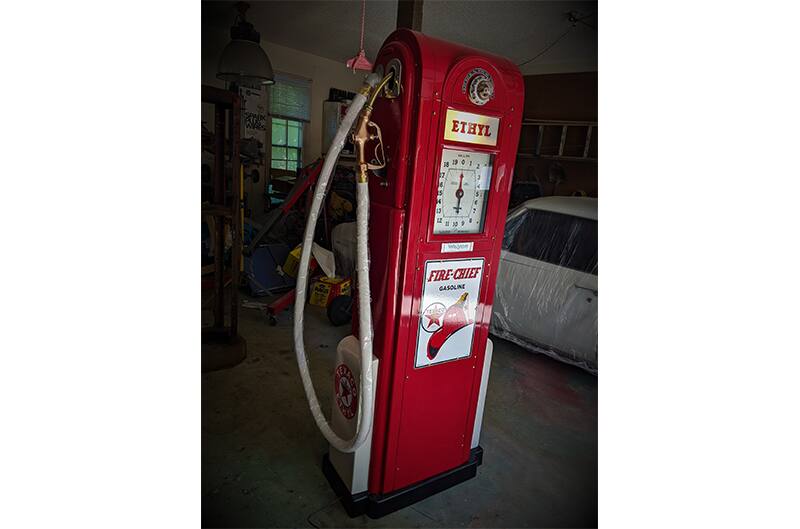 The birthday plans came together without a hitch and we hosted dad's surprise celebration at the park located in the back of our neighborhood. We invited about 30 of our closest car buddies, hoping we'd get at least 20 to attend and hoping they'd drive their favorite collector car, as this was very much a car-centric surprise birthday. The day came and we were all set. Chris and Scott drove down their legacy cars and I had my '66 K-Code and the '55 T-Bird to display. The Carry-Over car was sill up at the museum, but that was okay. I told dad and mom to ride over and come down to the park (remember mom was in on it), as there was a mini car show going on, and they were serving food. His birthday was in the middle of the following week, so he didn't suspect a thing. They pulled in and parked and he didn't figure it out at first. He knew everyone and their cars – and then we all said "Surprise!" and sang him Happy Birthday. Yes, another emotional reveal. Even our salvage-car buddy, Alex, who had just recently relocated to Northern California, flew in just for this special occasion. He even brought along our old friend Mr. Charlie, who helped out at his former business. Brother Bear, John, Chris, Scott, Brandon, etc., all kept the party going while I manned the grill serving hot dogs and hamburgers . . . lots of them! The gathering could not have been more special, and dad was still blown away with everyone being there on his behalf. His continuing car legacy is not only with us, but with pretty much anyone who's gotten to know him -- whether it was back in NY for the first 55 years, or in NC for the next 25 years and counting!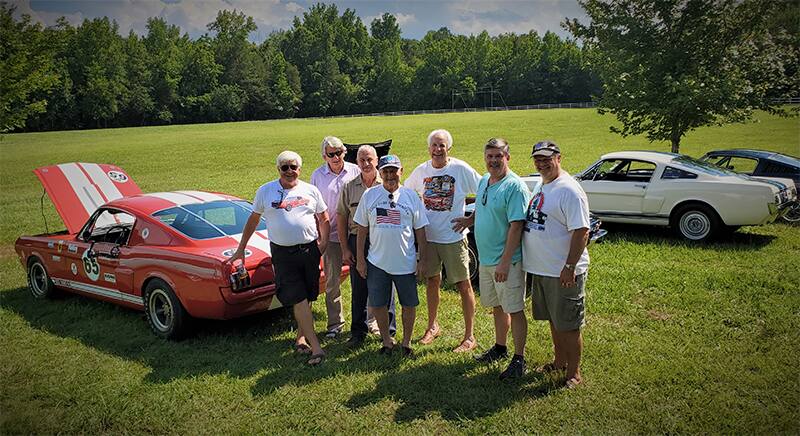 Mom and dad headed up to Greensboro for his actual birthday to spend with Chris and Scott and their families. That worked out perfect as I still had a 6-foot-tall vintage gas pump sitting in my neighbor's garage that no one knows about -- not even my wife! We got it loaded in the back of my truck and headed out to Waxhaw, to mom and dad's place. Barry met me there and we did our best to muscle it inside, as it weighs about 300 pounds! We rearranged dad's computer room / man cave and put it between the two front windows so that he can't miss it when they get home. I attached a nice card and explained the history of the pump, what it was, and how it needed to remain with his truck. Most of all, I thanked him for being my dad and such an inspiration to me, my kids, and pretty much anyone he's come in contact with since I could remember. I finally got a call when they were arriving back home, and well, as expected, he could hardly talk. We chatted for quite a while as a follow-up to his outstanding birthday gathering the weekend before. It was a wonderful way to celebrate the biggest inspiration in my life, both personal and professional.
Well, with euphoric highs like this, there also sometimes come unexpected lows. In this particular case, it involved my son Brandon. He showed up at the party with his girlfriend in her car, which at the time didn't seem unusual, though I would have preferred he brought his Bullitt. Well, after dad's party was over and we're all back at the house, I inquired where his car is. He then explained that he was in a little bit of a bump-up the night before and he'd take care of getting it fixed. At this point my radar was peaking as I knew he had no money and no means to fix anything. He finally fesses up that the night before he was trying to impress his buddy and do a little drifting with his car, on sharp corner and on some slightly wet roads. Well, the Drift King he is not, and as soon as the tires hit dry pavement, it shot him like a slingshot right into the adjacent embankment.
No one got hurt, thankfully, and the airbags didn't blow either. His buddy had AAA so they called and had the car hauled to a local repair shop. So, I went over the next day, paid the impound fee, and loaded it on my trailer and took it out to my dad's for an evaluation. The prognosis was not good; all things considered, it was totaled. We stripped off three-quarters of the right-front to better-see the structural damage, and it didn't get any better, unfortunately. At this point there was smoke coming out of my ears as Brandon was already back in Raleigh, and I couldn't yell at him for being so stupid. The whole point of all the Performance Driving Schools and Track Events was so that things like this didn't happen. I called our buddy Billy, even though I was fresh out of favors, and asked him to come have a look to see if it was salvageable or not. He said he could fix it, but it wouldn't be cheap -- to the tune of $3,600 plus parts.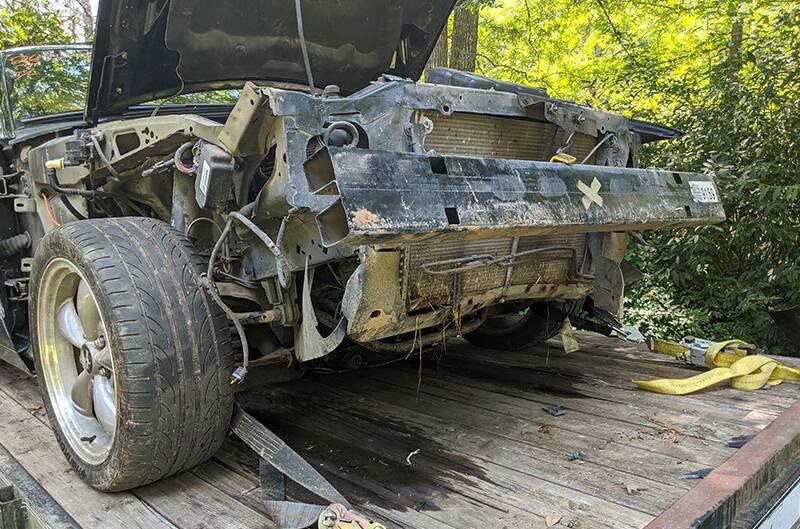 If it wasn't for the fact that we had just installed new tires, brake pads and rotors, and a new clutch just six months prior, I'd have called the salvage yard to come get it. But I'd considered this car for when Brandon gets his S550 Mustang after he graduates. So I figured I'd absorb it back into my collection as safe keeping at a later date and told Billy to go ahead and fix it. I ordered a loaded cut-off front clip from a Mustang salvage yard and everything else needed to make the repairs. Several weeks later, and the Bullitt lives to drive another day. Billy's quality of work is second to none, and once again you can't tell any work had ever been done on the car. I wish my car fund could say that, as it was now down just 5 grand. Brandon got his car back and life is good, for him at least. My checking account still hasn't bounced back from that one!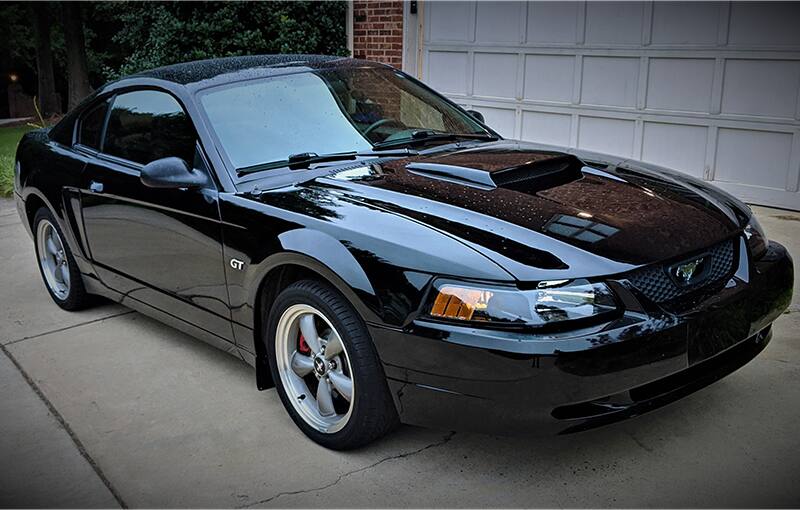 That was enough excitement for one year. Dad decided to consign the Boss 302 for sale where I sold my '95 Cobra Prototype. Now with that off his plate, he continued to stay focused on the '55 Crown Vic and his new Cobra toy. The '37 Truck was up in the building for a long winter's nap (since it doesn't have a heater.) Before I forget, I had received a message from Steve Hall that he was making a new race-themed area at the Mustang Museum and asked if dad and Scott could display the Red R-Model and the Trans-AM Boss as part of it. They certainly obliged, and the Young Family now has three of its legacy cars that dad built proudly on display at the Mustang Owners Museum for the remainder of 2020 and well into 2021.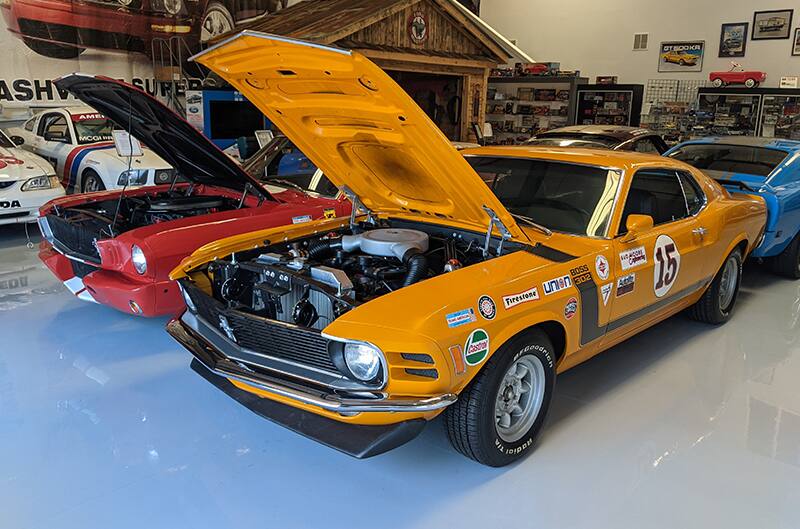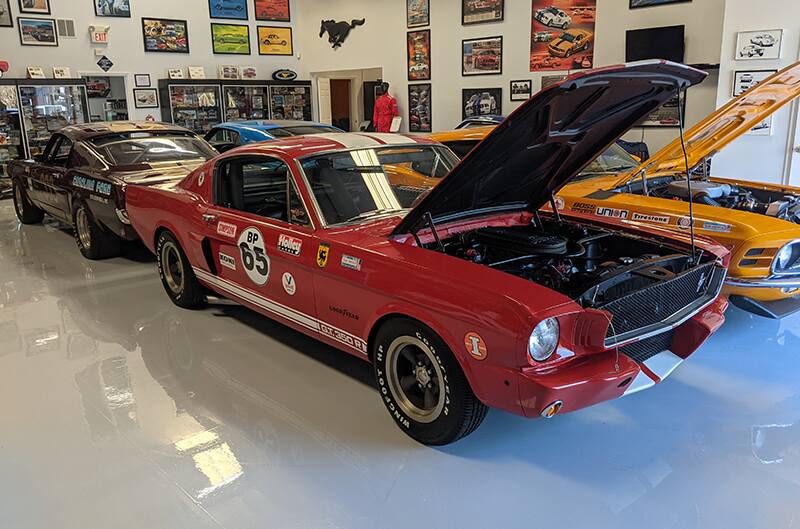 Except for Megan's wedding, Dad's new Cobra, his 80th birthday party and new vintage gas pump, and Brandon totaling his Bullitt -- it was a pretty quiet year, all things considered. With 2020 finally in the rear-view mirror, it was time to look forward to 2021. And did I mention that Megan and Justin have their first baby due in mid-April? As Mustang approaches its 57th birthday, it's now time to put a lid on the Young Family Ford collection and the many stories form all the 100-plus years of history. Mom and dad are doing fine out in Waxhaw, surrounded by their humble collection of cars, and their adorable little rescue Yorkie-poo that they appropriately named Shelby! As the current patriarch of the Young Family, dad continues to foster the legacy that few, if any, will ever be able to duplicate.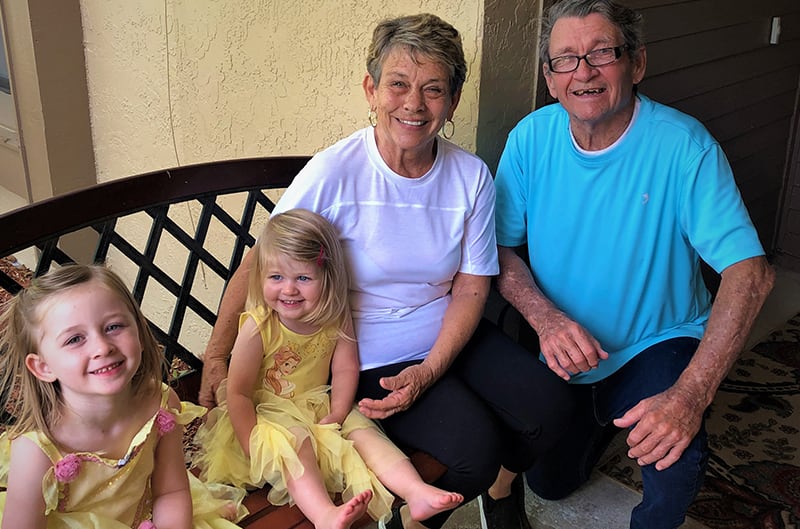 Uncle Al and Ginger are enjoying a quiet retired life in Orlando, still missing Doug now more than ever. And speaking of Doug, I purchased a Memorial Brick in his honor, that was laid at the entryway to the newly relocated Mustang Owners Museum (across the street from the original building) . . . Godspeed, Cuz!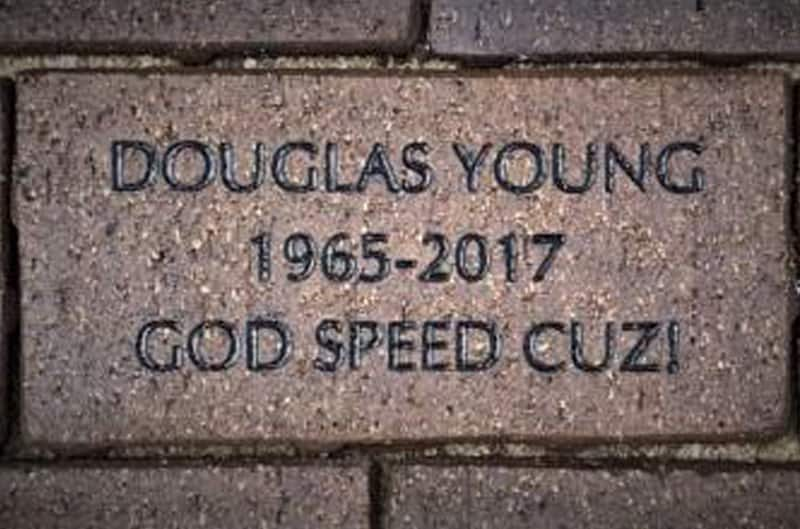 Chris and Abby are keeping up with their day-to-day, awaiting the next gathering to attend in his own legacy car. (Sorry, Bro – you shoulda picked a Ford!) Scott and Karen are currently Mustangless as the Red GT350 is still on display at the Museum. Carson and Siena are doing well in school and sports and staying out of trouble. We're still waiting to see where their interests lie and who will eventually be the recipient of dad's legacy car! Plus, Scott just turned 50 on April 1st. Happy Birthday, Little Bro!
Megan and Justin celebrated their 1st anniversary on, well I don't know if I can say February 29th as that isn't for another four years. Oh well. Anyway, they just welcomed their new baby girl on April 3, 2021, so Sophia and I are now grandparents for a second time with little Edie Marshal.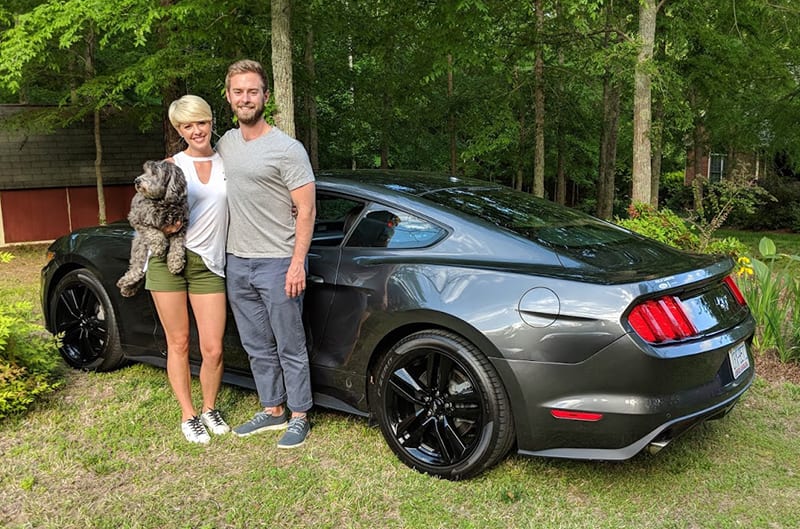 Devon and Chip are doing well as can be expected with raising a soon-to-be 4-year-old Laken, our first granddaughter, with the "keys" to the Thunderbird Junior car as well as my heart! I doubt we'll see any more grandkids from them (but there's always hope!).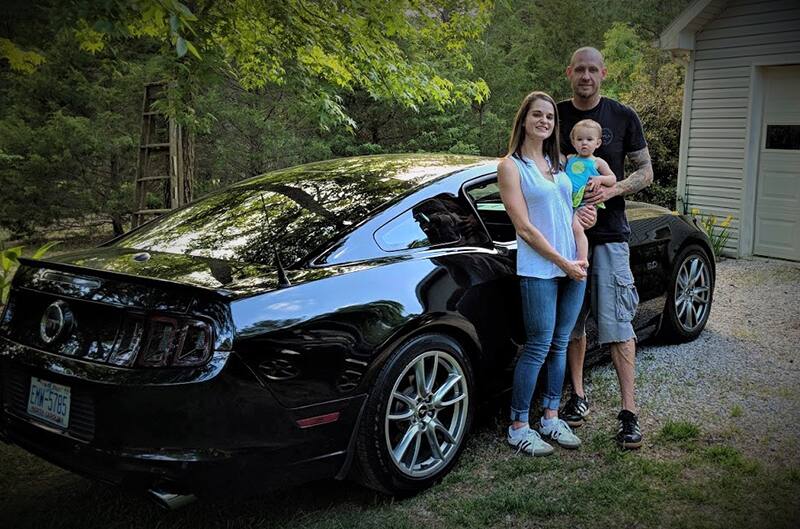 Brandon has been enjoying his newly repaired Bullitt again and has decided to retire from on-street drifting for the foreseeable future. If all goes well, he'll be graduating from NC State this December and hopefully getting a job soon after. He's the last one on my payroll, and I'm long overdue for a raise! He's also the next generation Young to carry-on the family name, and hopefully continue with ol' Homer's legacy.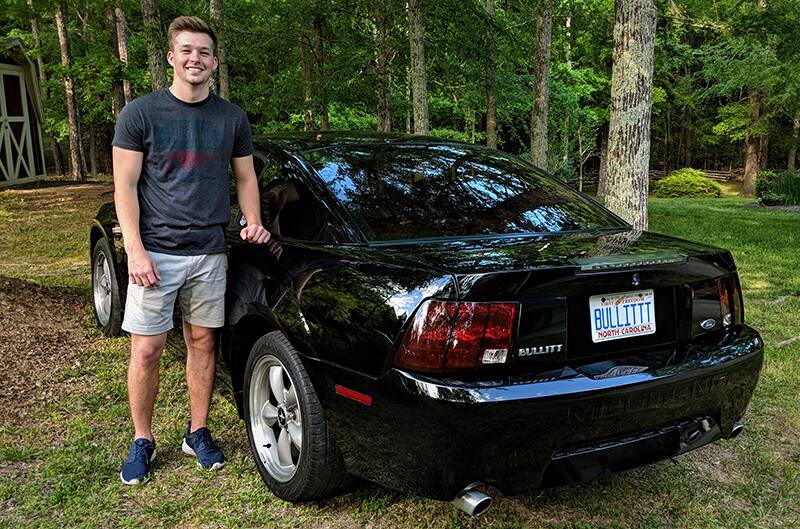 And last but certainly not least, is my youngest Leah. She chose the Cosmetology route, starting back in high school, and moved to Wilmington last year to work with Megan at the same salon. In fact, Leah's now taking on all Megan's clients while she's on maternity leave. Finally, another off the payroll! Oh, and her GT500 is still serving her well -- and like any nice Mustang with a good-looking gal behind the wheel, it remains a certain conversation-starter at about any gas station or red light. She turned 20 on April 5th, so Happy Birthday Baby Girl!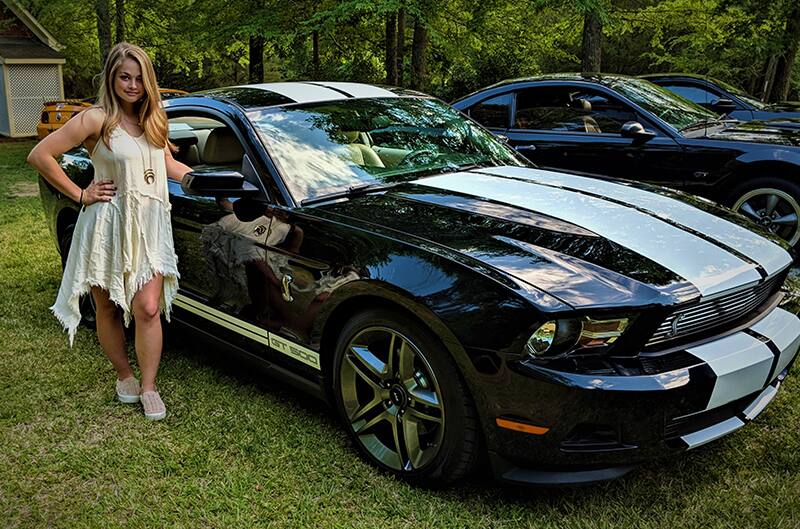 That leaves Sophia and me. We've been empty-nesters for a little over a year now. The '55 T-Bird, '66 K-Code fastback, and Sophia's '07 GT/CS Convertible are settled in nicely in our garage. Steve is doing musical chairs at the Museum while again setting up some new displays, so after some three years off-and-on at the Museum, the legacy Carry-Over Car is coming home to roost for good. I just have to figure out which one goes out to dad's for an extended stay. I'm also in the process of planning a three-day weekend with the Track Car at Watkins Glen International in mid-August. (I'm sooo looking forward to checking that one off my own personal Bucket List!)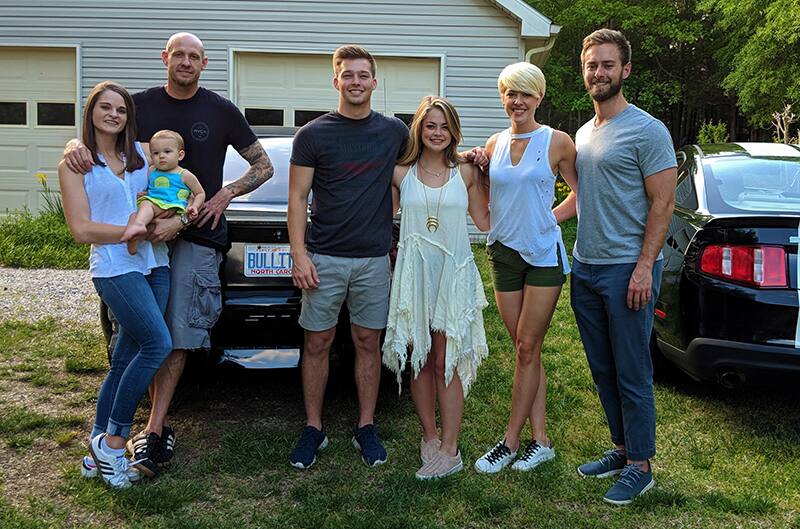 In conclusion, I apologize for the long-windedness on some -- well, okay, on all of these stories. But, without all that detail, they wouldn't have the same meaning. And if I'd not told all those little stories, then you'd be missing out on what makes each and every car and member of the Young family an equally important part of our overall Ford history. From Homer straight though to Laken and little Edie, we now have a prominent 6th Generation to help carry the Ford torch for the next generations of Youngs to come. Who knows -- maybe one of them might be the next family member to archive and write what takes place over the next 25 or 50 years (should John Clor's successor ask to share it on FordPerformance.com) and chronicle the next chapters as the Young Family Ford collection saga continues to unfold!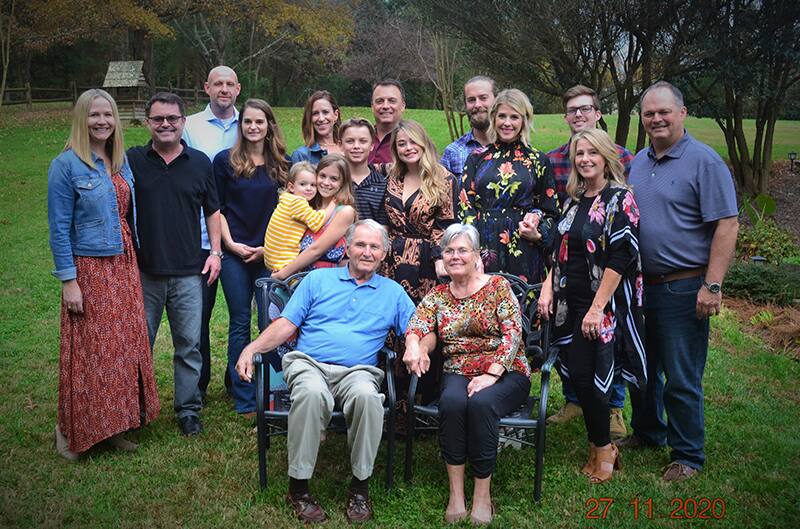 Kindest Regards,
--- Mark Young
CRMC Member since 1996
CRMC Past President 2013-2015
SCMC Member since 2001
AACA Hornet's Nest Region Member since 2016
MOM Lifetime Charter Member #22 since 2018
FORD PERFORMANCE PHOTOS / COURTESY THE YOUNG FAMILY COLLECTION and JOHN M. CLOR