Editor's Note: We've often said that when you buy a Ford, you're not just buying a vehicle -- you're buying an entire lifestyle. After all these years, we've never seen a better example of that than the Young family, now centered in North Carolina. And while we've often told the stories of some Ford owners whose Blue Oval lineage has been passed down through one, two and even three generations – we've never before been able to tell a tale of a family of Ford fanatics that dates back six generations – more than 100 years! But that's exactly the case here with the Young family's incredible tale of Ford fanaticism which, when we heard it, were so intrigued that we knew we just had to share it with our fellow enthusiasts here on FordPerformance.com. So we've asked the family's current keeper of the Ford flame, active Mustang hobbyist Mark Young, to put together the more than a century of his family's Blue Oval legacy. A couple of weeks ago, we brought you Part One of our Three Part series, were Mark outlined the family's Ford journey from 1909 until 1990. Here in Part Two, we pick it up by going back in time again:
CHARLOTTE, NC – You'll recall from Part One of my family story that I had just purchased my first and only new car in North Carolina -- a Bright Red 1990 Mustang GT. But that was a whole new beginning for this car guy. To fully understand why, we have to go back to my early youth.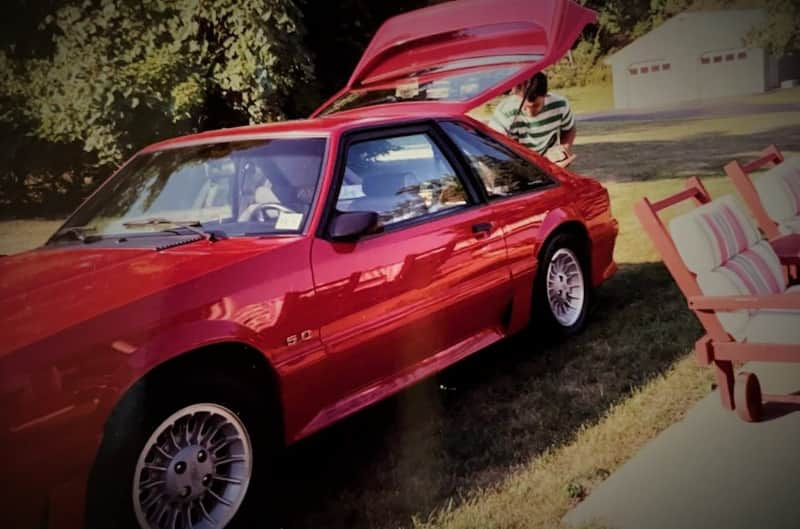 When I was very young, I recall hearing from dad, that Uncle Al always had new Fords in the garage, and my dad was jealous. He got everything from Galaxie 500XL's to Fairlane's and even a Pinto. I would sometimes get to go visit uncle Al during the summer and stay for a week or so, like a mini-vacation. It was a break from being with my younger brothers, plus a chance for some family time with Al and cousin Doug, his sister Donna, and their mother. We could all hang out and have some cuz time that was always enjoyable – at least for the most part (boys will be boys . . .) Uncle Al would bring me to his shop when things got hectic at the house. At the time, he had a little red Pinto "Sport" with a 2.0-liter inline four and 4-speed manual transmission. He would chirp the tires in the first three gears, thoroughly impressing my juvenile mind.
He liked to take me out for rides in some of the cool cars that he was working on. I recall going out in an old Ford T-Bucket street rod with big, fat rear tires and an engine taller than I was. But my most memorable ride was in an original '65 Shelby GT350 with factory Weber's and these funky seat belts. He proceeded to scare the bejesus out of me, racing up through the apple orchards on these super narrow back roads. It was ridiculously loud and rode like an old Buck Board, but stopped really well, as I believe we almost ran into an old farm tractor just over the crest of one of the hills -- oops! That was my first exposure to a Shelby Mustang, and one that would have a permanent and lasting impression. But stay tuned for that.
As a more recent sidebar, back in 2007 Dad and I were doing what we do best -- reminiscing about old Mustangs Shelbys and racing. We lived less than an hour from the original Watkins Glen racetrack, so Dad went there once in a while. One time he said he took me; apparently, I was too young to remember. But it was a time that he'd never forget. We were off in the woods, watching at one of the remote corners. Dad set me on top of an old refrigerator that was sitting there, so I could see better. Well, a wreck happened at this corner and one of the cars threw a tire. It came bouncing right at us and everybody scattered or ducked, except me sitting atop of this old fridge, as I never saw it coming.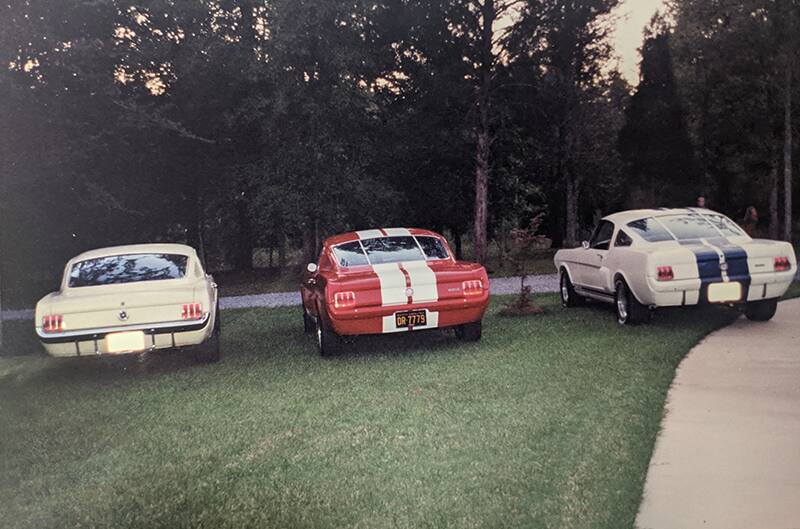 "Fortunately for me, it cleared my head by several feet and kept going further out into the woods. Needless to say, Dad was terrified but thankful that I was okay. That was the last time I went to the races with him, until I was a teenager! He also reminded me that when I was an infant, he was always building cool cars to resell. One of his good friends, Werner, had bought a new '65 Shelby GT350 and that his wife absolutely hated it. This was my Dad's first introduction to the GT350 and he absolutely loved it! Werner was always stopping by, equally admiring Dad's current cool projects. So, whenever he'd finish one up, they'd trade cars for a week or so. Dad loved driving Werner's GT350 so much that he'd frequently get pulled over by the local Town Constable for having too loud of an exhaust… "But officer, it comes factory this way . . . " Hah -- at least he wasn't stopped for speeding!
Anyway, back to that Shelby in which my uncle had terrorized me. Dad said he vaguely remembered the name of the original owner of that '65 GT350 as Frank something, as this goes back to the early 70's. He remembered the car was special as it had super low miles, something like 3,000. He also recalled that it had those factory Webers and a Hone-O-Drive 2-speed overdrive, as he also went for some spirited rides in it with Al. Those funky aircraft-style seat belts really came in handy with Al behind the wheel! So, I pulled out my trusty Shelby Registry and we went through it, car by car, until we found it -- Bingo! Frank was actually short for Francois, so it took a while. I then did a little internet investigating and found Frank's phone number, not knowing if it was him, or if he even still owned the car. Well, it was him, and he still owned the car!

Dad called him and he was a little gruff at first and not very receptive to chatting. But dad was persistent and was able to win him over and was finally able discuss his old relic GT350. He said it still sat in his garage, untouched for 30-plus years and still only had 3,400 miles on it. The whole reason my uncle had the car to begin with was to install a Fiber Fab fiberglass front end on it. (Yes, blasphemy by today's standards, but super cool back then.) Dad new that Al never finished the installation and questioned Frank as to what ever happened. Frank said he hired another local body guy to finish it. They chatted some more, and dad finally asked, "Do you have any interest in selling the car?" Well, that kind of iced the conversation for that day, as the answer was emphatically "NO!" Dad called him a couple more times, but never felt the love so he decided to just let it go for the time being.
Dad then decided to reach out to an old friend, Randy, up in Rochester where the car was located. He's known Randy for many years through all his car affiliations and restorations. After chatting and catching up, dad gingerly mentions this local one-owner '65 GT350, "that no-one knows about," stashed away in a garage for many years. Now Randy is squirming a little while dad goes on about this car and how he's been in touch with the owner. What my dad doesn't know is that Randy has an interesting back story to this car: Randy was the "body guy" that Frank hired to finish installing the Fiber Fab nose on the car, after Al headed to Puerto Rico. Now Randy was panicking as my dad now knows about this car that he believed "no-one else knows about" but him!
Finally, Randy came clean and admitted that he knew about the car and was the one that completed the nose installation in the mid-late 70's. He also admitted that he'd also been trying to buy it ever since. They had a great laugh over that one as dad conceded on the first finder's rights! Randy said he would stop by once a year to visit with Frank, and to try and buy the car, but was always greeted with the emphatic "NO!" He also said that for the last several years, Frank wouldn't even come to the door. So, Randy would just leave a note with his phone number to call him.
Well, the stars must have aligned after that chat with my dad, at least for Randy anyway. Because out of the blue, Randy gets a call from Frank, ready to make a deal and sell Randy his prized GT350! Was it the reminiscing of my first ride in a GT350, and dad's curiosity to see if the car was still around, enough to prompt Frank to make the decision to let it go?
Well, Randy gets the car back to his shop and eventually calls my dad to inform him of his new long-pursued purchase. After a thorough inspection, it was decided that a full concourse restoration of the car was in order. I saw an article on the before and after of this car in "Mustang Monthly" magazine about a year or two later. I got Randy's number from dad and called and introduced myself. We chatted about the car and the phenomenal restoration he did. He said it was the easiest one he'd ever done, short of the undoing of the Fiber Fab nose that he so completed nearly 30 years prior. Plus the fact that the bottom third of the car was coated with rustproofing by the original owner, and that once removed was pristine underneath. I proceeded to tell him about my own back story on the car with my wild ride through the apple orchard with uncle Al, way back in the day. We had a good laugh and a nice chat about the old days! I saw the car listed for sale in "Hemmings" shortly thereafter. I decided to call him about it -- and it had already sold in less than a day/ That's not surprising, even though I never could have afforded it!
While growing up in a small town in upstate New York, we had numerous Galaxie 500's and Country Squire Station Wagons, as the year-round family trucksters. I remember in the dead of winter we'd have to get a running start about a quarter-mile down the road just to get enough speed and traction to make it up the driveway. Sometimes it took two or three times if there was a lot of snow . . . ahh, the good old days! I had started riding bicycles at a young age, as that was about all there was to do besides sports and chores. We'd play cops & robbers, talk about how cool Evil Knievel was, and just do fun, kid stuff. That was back when I'd have to replace the tires on my bike because they were worn out -- not due to dry cracking from lack of use!

When I was 12 or 13, I went to the dump with my dad, and there was a whole row of throw-away bicycles. With his permission, I grabbed several and brought them home. This was my first business venture: selling restored bicycles. I made one good bike from the three, painted it and made about $30 on it. Cha-ching! I worked at this for a few years, riding them all first before I sold them. I'd ride 10, 15 and even 20 miles each way to see friends, girlfriends, go to football tryouts, or just for something to do. Once I got my driver's license, the bicycles all got sold, and there was no more being all sweaty when I arrived at my destination. Little did I know at the time that old Homer was watching over me with his Bicycle and Automobile interests at hand, long before I ever even knew about him!
Besides the full-size daily Ford's, there were also numerous early Mustangs in the family stable. They were our summer run-about cars and came out of winter storage when Little League season started in the spring. It seemed like my parents logged a million miles in a 1966 Mustang coupe, going back-and-forth to all our baseball practices and games. It was a nice little rust-free '66 coupe, Tahoe Turquoise with a painted White Hard Top, 6-cylinder automatic with factory A/C, that Dad got out of Arizona. Well . . . along with backing that '55 T-Bird in and out of the building, I'd also do the same with the '66 Mustang. I was a little more daring in that one, as I'd venture up and down the driveway to the point where I'd have to add gas so it didn't run out.
One balmy 45-degree early spring day, I decided to venture out with the '66 on a nice Driveway Cruise. After all, dad was still at work and mom had run to the grocery store, so why not? I'd back further down the driveway each time to have a nice drive all the way back up to the building -- maybe 600-800 feet. Well, my luck ran out as I got cocky and backed it off the driveway into a ditch next to the mailbox and got the car stuck! Now in full panic mode, I ran and fired up the old Cub Cadet Lawn Tractor, grabbed a chain and proceeded to pull the Mustang out of its predicament. I got everything put back in place and even shoveled some snow over the mud hole, right when my mom drove up the driveway -- whew! So that was technically the first Mustang I ever drove, long before I ever got my permit.
Later that year, my dad had borrowed an old, retired Ford F-100 NY Bell Telephone lineman's truck that was a 4WD and with three-on-the-tree. We used it to cut firewood way out in the boonies. Anyway, after watching him drive this contraption several times, I decided to give it a whirl myself. Just like with the '66 Mustang, there was no parental supervision around. I proceeded to get it going up and down the driveway, clutching and all. At that point I was feeling pretty confident, so I ventured up into the back yard, around the side, back down the front yard, and back onto the driveway. It was like a racetrack of sorts as we had about five acres of yard! Well, I did this for about an hour and realized that I was wearing two tracks in the grass and I'd better stop. Yeah, too much of a good thing sometimes catches up with you, as did this. Dad saw the tracks, confronted me and that was it. Whew -- I didn't get into trouble and promised not to do it again. Well, my younger brothers never got that memo, as they did exactly the same thing several years later, and my dad could only laugh!!
The first car that was actually earmarked for me (so I thought) was a nice original Caspian Blue '65 Mustang Convertible that was in really good shape. Dad actually had two identical cars at the same time, only "mine" was a little nicer. Apparently too nice, as that car barely made it to my 15th birthday when a family friend bought both of them to have in his own collection. He also later purchased the Little League Turquoise '66 coupe when my younger brothers were finished with baseball. I suppose after feeling a little guilty for selling the convertible, dad came through that following summer with a Red 1974 Mustang II Mach 1 for me, paying the whopping sum of $500 for it. It was a rust-free Virginia car with Black lower Mach 1 trim, V-6 automatic with P/S and factory air that blew ice cold! That was my first "official" car, and the first Mustang to get titled in my name. The transmission slipped, the paint was weak and the driver's seat was split -- but hey, it was all mine, as I'm sure most of you can relate!
I finally got my license . . . free at last, free at last! I made a trip the local junkyard, one that I had frequented many times before with my dad, and acquired a low-mileage transmission and black bucket driver's seat for my Mustang II, for about $150. We then proceeded to sand it down and give it a fresh new coat of enamel. The finishing touch was adding the NOS Silver Mach1 decals to the lower front fenders. Voila! That was the last time I rode the school bus as I now officially had my new Mustang II on the road and was able to drive it to school for the first time. Life was good!
Within a year or so of ownership, a senior cheerleader at my high school wanted my little Mustang II really bad. She paid the "I don't want to sell it" price of almost $3,000. Cha-ching! From there on, I started buying, fixing-up and selling anything on which I could make some money. Fortunately for me, my dad had acquired another Mustang in the stable, a Highland Green '68 Fastback with a 289, 3-speed manual tranny and deluxe interior with both consoles and factory air. I was able to drive it sparingly and even took it to my Senior Prom. It was a cool car to say the least! My dad loved me, but not enough to turn over the keys to it permanently. It was eventually sold locally -- and unfortunately, I never saw it again.
I completed high school in June of 1983 and had been working in a local body shop for $4 and hour under the table. I also enrolled at Corning Community College that fall for Mechanical Engineering Technology. In about the same timeframe, dad had started R.L.Young Auto Sales to further his lifelong car hobby. When Dad started the car business, he cleared a spot up next to the pole barn that he had built a few years prior. It was the same pole barn that housed Grampie's '55, our '66 Mustang, and that '68 Fastback, among other cars. The clearing gave us a gravel lot for 10-15 cars, comfortably. Dad handled the cars and servicing, mom handled the books and paperwork, and my two younger brothers, Chris and Scott, did all the cleaning and detailing. It was a true family business that I, unfortunately, missed out on. Between working and going to school full-time, then moving to North Carolina, my dance card was fully punched. But no regrets -- as you'll soon find out, because everything happens for a reason!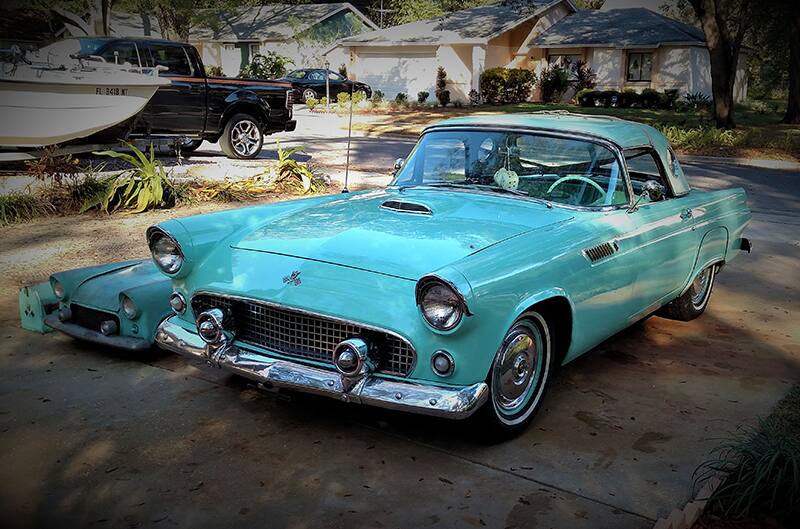 My younger brothers took over the periodic care of the T-Bird and Mustang duties when I moved to N.C. When Uncle Al finally came up from Orlando to get the T-Bird, nearly 15 years had passed since Grampie had died. I had now been in N.C. for almost five years when Dad called and said that Uncle Al finally came up and got the T-Bird. "It's about time," I said, as I was about to come get it myself if he didn't! By then, my own enthusiasm for cars was stronger than ever. I had just purchased my first new car, from Young Ford of Charlotte (coincidentally, but no relation). It was that Bright Red 1990 Mustang GT that I mentioned at the end of Part One. I justified buying it as an early 25th birthday present, to me! I hadn't been this proud since the first day I drove my old '74 Mustang II.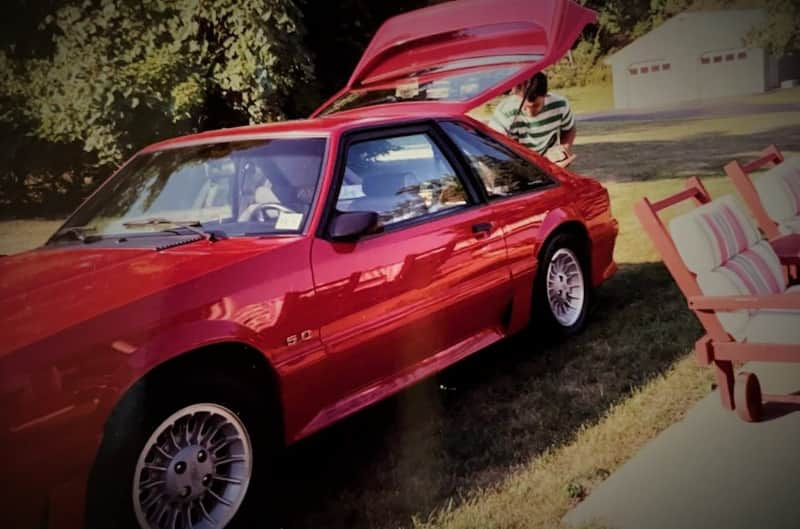 I also had a '77 F-100 Ranger pickup, and an economical daily driver beater, for going back and forth to work. Whenever it was date night, I'd drive the beater or my old truck. If I ever made it to the third or fourth date with the same gal, I'd break out the Mustang to hopefully impress her! I continued flipping cars on the side, mostly Mustangs. I had sometimes two or three at once, buying and selling to help pay for the new GT and the date nights. Over the next few years, I bought and sold quite a few cars, including the Bright Red '90 GT, regretfully. But, with 65,000 miles on it in just three short years, I most definitely got my money's worth with many smiles per mile!
The car business was a very successful venture for mom and dad, selling mostly Fords (Tempo, Escort, Taurus, Mustang, Fiesta, etc.). More than 1,200 cars were sold over the next 10 years. He was even one of the weekly topics of conversation in the Monday morning sales meetings at the local Ford dealer -- on how can they beat RL Young's used Ford prices? I'm sure ol' Homer was looking down once again with a nod of approval!
This sideline venture was lucrative enough to allow for dad to retire from Corning Glass Works at the ripe old age of 55, but that was after nearly 32 years as a Research Technician and distinguished Fellow, for his Fiber Optic Development contributions. By this time, both Chris and Scott had graduated from Virginia Tech and settled in Greensboro, NC, about two hours north of Charlotte. With dad now being retired and the car business starting to slow down with new big-box competition in the area, it was time for a change. They decided to sell the family homestead and move south in 1996. They settled on rural Waxhaw, NC, just south of Charlotte. Now they'd get to finally enjoy what I'd been bragging about for more than a decade -- beautiful weather year-round (for the most part, as its 35 degrees and raining as I write this) and no harsh winters! They built a modest retirement home and workshop on a nice, wooded lot, about 15 miles from me . . . perfect!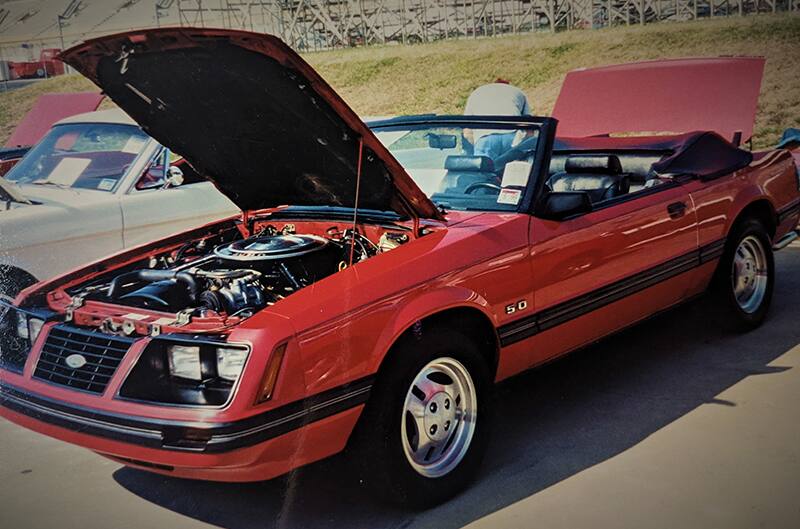 While all this was going on, yours truly had now been in N.C. for a little over 10 years and settled in as a converted Carolinian. After numerous relationships and a couple of houses later (I was buying, fixing, and selling those as well), I met my wife-to-be while the big move south with mom and dad was taking shape. She had two of the most-adorable young daughters, Devon (age 4) and Megan (age 6). They immediately fell in love with my Red '83 Mustang GLX 5.0 convertible . . . but me, not so much. After numerous trips to the ice cream shop and back-road cruises with the top down, I finally won over the three new loves of my life, and wedding bells were in the not-so-distant future. Little did I know that the 5th Generation of Car Guys would actually be Car Gals!!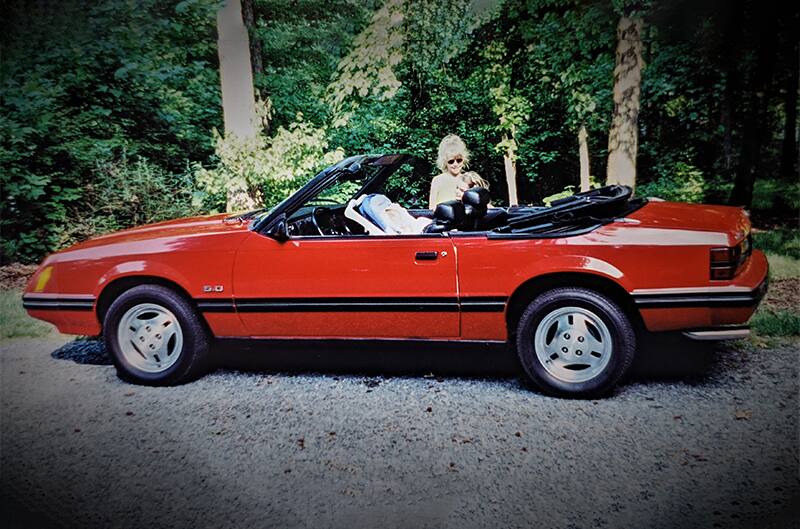 About a year later, in September of 1997, we were married. I now had the family I'd always wanted. Plus, I got something my folks had always dreamed of: grandkids! More specifically, granddaughters, as I was the oldest of three boys, so girls were apparently never in the cards. I had a nice-sized fixer-upper home out in the country, with a new detached "Shop" as they call it in the South, that I had just built. Now I had my folks close by, a family of my own, and a nice work shop with a Red Mustang Convertible inside . . . once again, Life is good!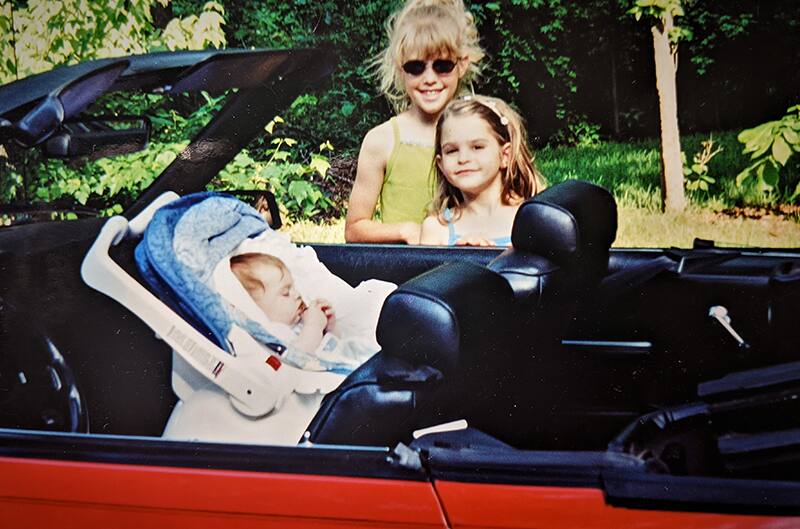 Well, the bug to have an old Mustang was no longer sitting quietly in the corner of my mind. It was time to delve into vintage Mustang ownership, now that I had a big and nearly empty garage. I had previously joined the local Carolina Regional Mustang Club (CRMC) to get acquainted with fellow Mustang owners with the same passion as I had for America's Favorite Pony Car. After some time in the club, I asked around if anyone had any first-gen Mustangs for sale. I got a reply from a senior club member with a '65 that he had in storage. It turned out to be a rust-free Springtime Yellow '65 A-Code 289 2+2, with a Black interior and rebuilt drivetrain . . . Booyah! We made a deal, and $6,000 later I drove it home. I was now the proud owner of a first-gen Mustang, and it was a Fastback. Check that one off the Bucket List!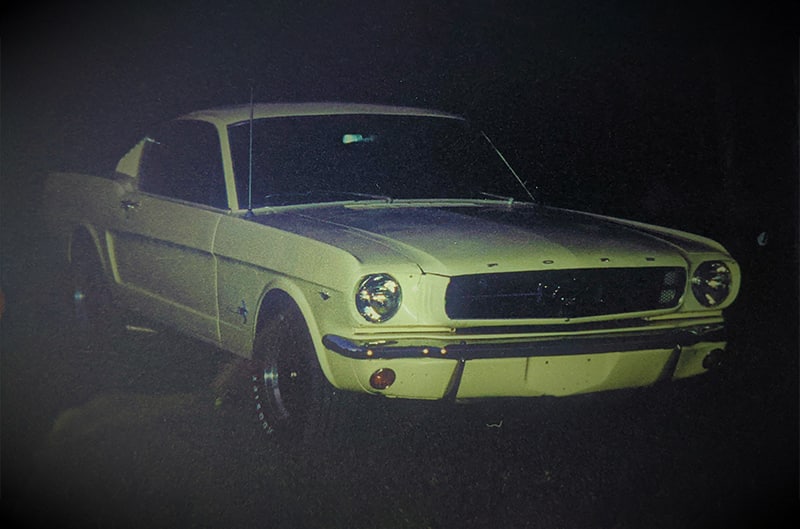 With mom and dad now settled in and enjoying being grandparents, they watched the grandkids frequently. Dad hadn't owned a Mustang since he sold the '66 Coupe and '68 Fastback. He took quite a shine to my recent Fastback purchase as it piqued his interest. Displaying it with CRMC at the Charlotte AutoFair, and sitting with me while chatting with all the admirers, was the final push. He had to get a Fastback -- and asked if I'd find him one to tinker with. It was music to my ears!
That simple request carried us to central Georgia in 1999 to look at a '65 Fastback, about an hour south of Macon, and a five-hour ride. It was a Red/White Striped GT350R replica, advertised as a retired former amateur SAAC series race car that the owner had campaigned for several years. The car, at one point in its prior life, had even been the centerfold in "Hot Rod Annual Magazine," and was titled "Copy-Cat." Unfortunately, it had been off the road and track since the early '80's and residing lavishly in an old, converted chicken coop with numerous other vintage Fords. The guy also had a wrecked '66 GT350H that was blasted hard in the front, but not for sale. This was a Ford guy like I'd never seen, with close to 50 Mustangs, Fairlanes, Falcons and Galaxies on his expansive remote property. He even owned one of Hubert Platt's long-lost Georgia Shaker Falcons, and a 2-door Pinto Cruising Wagon with the Port Hole side windows and groovy rainbow stripes!
He was a bit older than my dad and rather cantankerous to say the least. But I guess he liked us as we struck a deal for $7,000 and dad now had a Fastback of his own to tinker with. He and dad actually became friends as a result, and exchanged visits numerous times over the next several years.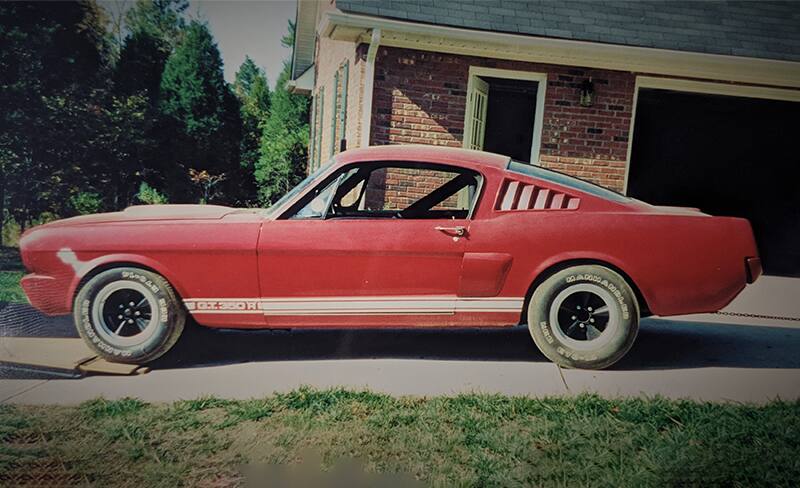 The 15-plus years in storage hadn't done too much damage to the car and made for the perfect Mustang project for dad. Over the next year, he brought it back to its former glory as a rough and tumble heater-delete '65 GT350R tribute, in Candy Apple Red with White LeMans stripes. It had the side-exit exhaust, roll bar, and vintage Torq Thrust wheels to boot. He also added meatball Numbers and period-correct decals that completed the look. It was loud and absolutely one of the coolest Mustangs I'd seen to date. The previous owner had installed an FMX auto transmission due to a bum leg from a motorcycle accident. Well, that needed to go. So, a rebuilt T5 five-speed was installed behind the 289 race motor, as the only real deviation from the way it was tracked. I thought I had my dream car until dad built this, and boy was I jealous.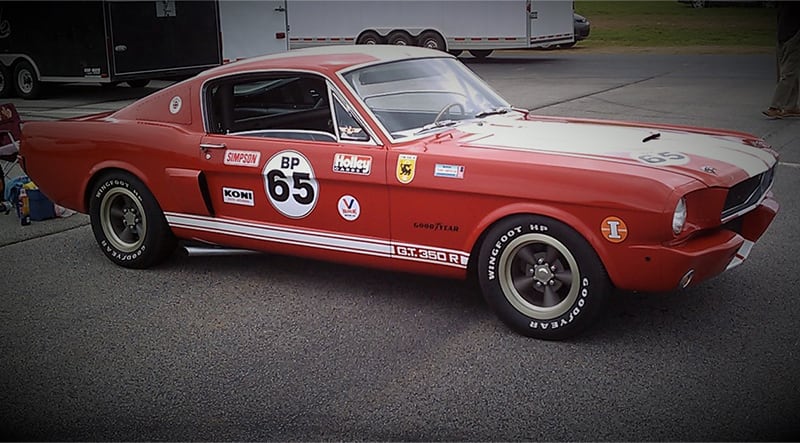 Dad finished the R-Model in the summer of 2000, right about the time Uncle Al came up from Florida for a visit. It wasn't long after that when Al got the Mustang bug and wanted an R-Model of his own to give the '55 T-Bird a stablemate. He ran across numerous great Fastbacks across Florida and proceeded to build several traditional White/Blue Striped '65 GT350 R-model tribute cars, all that were as much "go" as they were "show." It was always nice to go and visit him. We'd arrive to see the garage open with the '55 T-Bird and '65 R-Model looking stellar as ever. He built a nice, Red '65 Comet Caliente and even surprised us one time with a Dark Moss Green '67 K-Code Fastback that he had acquired as a nice running-and-driving project car. I could have bought it for $6,000, but was stuck on the 1965-66's and passed -- not realizing at the time how rare it was. I still regret that stupid move to this day!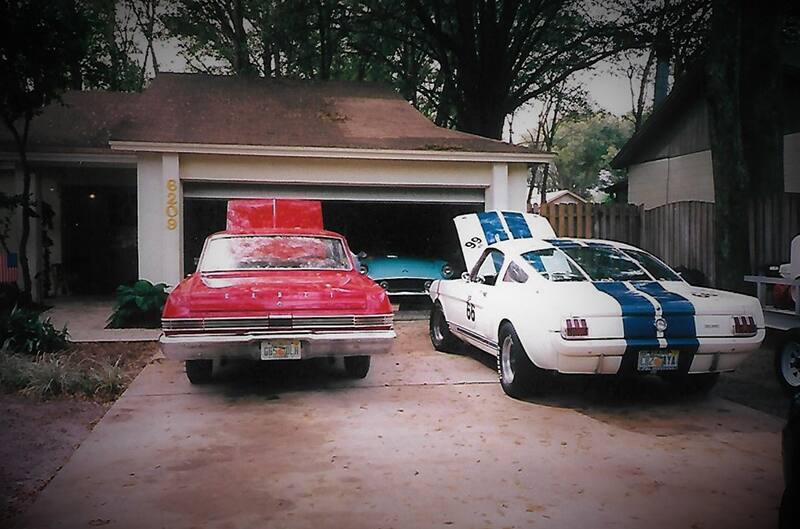 My cousin Doug, also living in Orlando, had numerous Mustangs growing up as well, including a '70 Mach1 while in Puerto Rico. While in Florida, he got into motorcycles, and that pretty much consumed his life from there on out -- accidents and all, unfortunately! However he never fully gave up his Ford roots. He acquired an early 1960's Lincoln Continental Convertible with the suicide doors. It made for a really cool boulevard cruiser, ideal for the classic car scene at Olde Towne. Doug had never married nor had any kids, so our visits were always quality "cuz time."
One of our best visits involved he and Al driving to Charlotte, back in early June of 2005. Dad, Al and Doug then proceeded to drive to Carlisle, Pennsylvania, for the Ford Nationals. I chose to fly up, but for an entirely different reason. I actually flew to Albany, NY, about 3-plus hours from Carlisle, to pick up a Crystal White 1995 Mustang SVT Cobra, fully dressed as a Cobra R. Definitely not your average Cobra by any means. Besides having all the correct R-Model look, something different was lurking under the hood. A complete '96 4-Cam Mod Motor and Tremec T-45 5-speed transmission as installed by Ford (well, actually Roush). It was PP-1 (Pre-Production Proto-type Level 1) or 1-PP (1st Production Prove-In), depending on who you talked to.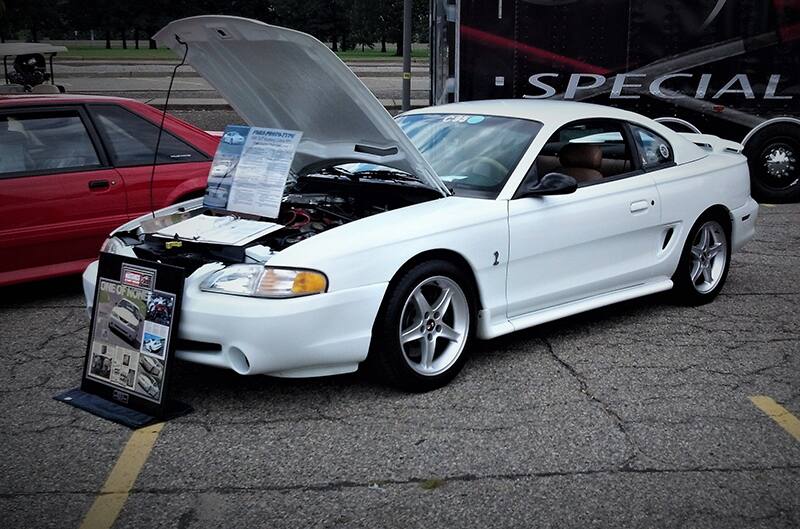 The owner picked me up at the airport, we made the deal and off I went. I made detour stop in New Jersey to see a friend's low-mileage Wimbledon White '65 GT Fastback that had been torn apart since 1969 by his son attempting to hot rod it . . . Newman! He also had a cool bright-yellow 1912 Ford Speedster parade car that hadn't seen the streets in nearly 20 years. There was so much junk in his basement-level garage that neither car could barely be seen. (My friend was definitely a hoarder!) We had a nice lunch, and then off I headed to destination Carlisle Ford Nationals. Hard to imagine today that I was doing this solo traveling in places I'd never been without the GPS on my smart phone . . . Amazing!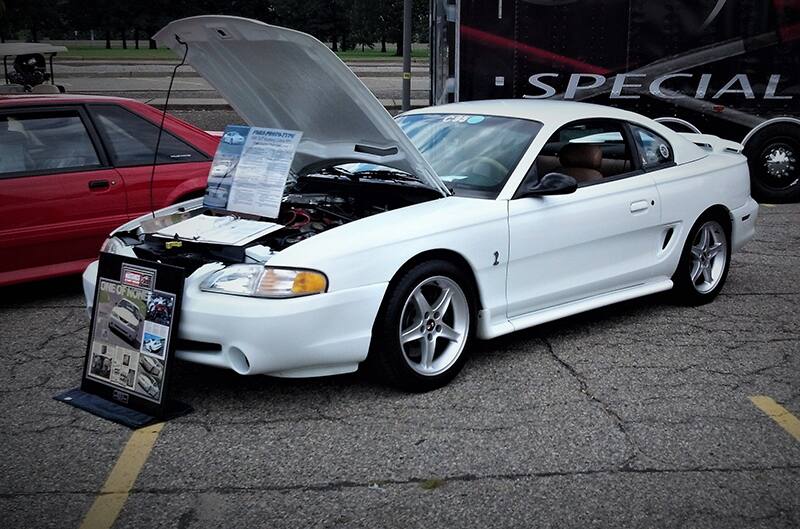 I arrived in Carlisle late that afternoon, just in time to catch up with dad, Al and Doug returning from the Carlisle Fairgrounds. We all checked out my new SVT Mustang Cobra purchase with intrigue, as we were all old-school Mustang guys and this new Mod-Motor looked as big as a Boss 429! We turned in early that night as tomorrow was going to be a big day at the Ford Nationals Car Show and Swap Meet with some 3,000-plus Fords to see and nearly 1,500 all-Ford swap meet vendors to visit and pick through. This was a Ford mecca for sure for the Young family's 3rd and 4th generation car guys!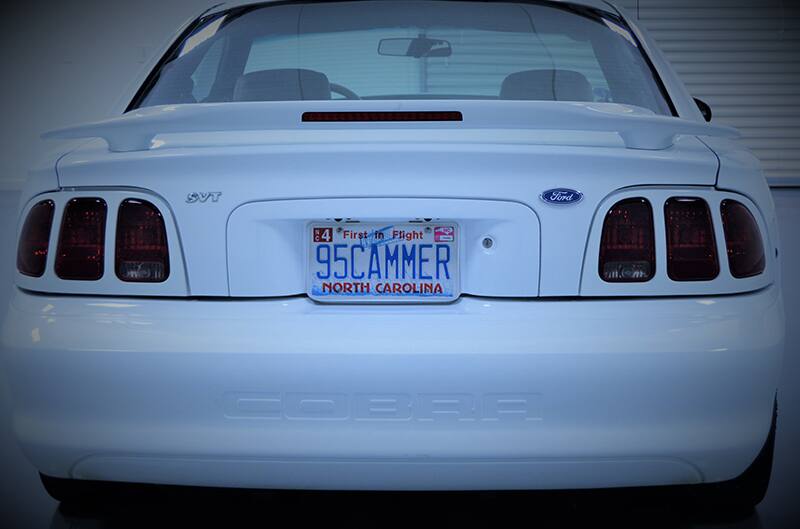 Plus, it would be the day that I would first meet longtime automotive journalist, Ford SVT / Racing / Performance expert, Mustang historian and author -- and now good friend -- John Clor. You must stay tuned for Part Three as this long tale finally unfolds!

FORD PERFORMANCE PHOTOS / THE YOUNG FAMILY