Editor's Note: We've often said that when you buy a Ford, you're not just buying a vehicle -- you're buying an entire lifestyle. After all these years, we've never seen a better example of that than the Young family, now centered in North Carolina. And while we've often told the stories of some Ford owners whose Blue Oval lineage has been passed down through one, two and even three generations – we've never before been able to tell a tale of a family of Ford fanatics that dates back six generations – more than 100 years! But that's exactly the case here with the Young family's incredible tale of Ford fanaticism which, when we heard it, were so intrigued that we knew we just had to share it with our fellow enthusiasts here on FordPerformance.com. So we've asked the family's current keeper of the Ford flame, active Mustang hobbyist Mark Young, to put together the more than a century of his family's Blue Oval legacy. A while back in Part One, Mark outlined his family's Ford journey from 1909 until 1990. Then a couple of weeks ago, we brought you Part Two of our Four Part series, where Mark told how the Mustang cemented the family to Ford. Here in Part Three, we pick up the story at the 2005 Carlisle Ford Nationals show, right after Mark bought a 1995 SVT Mustang Cobra Prototype:
CHARLOTTE, NC – My relationship with Ford grew after a visit to Carlisle (Pennsylvania) Fairgrounds for the 2005 Carlisle Ford Nationals. I headed over to the Ford SVT tent (it was still Ford SVT back then, before evolving into Ford Performance as we know it today) to inquire about the 1995 PP1 SVT Mustang Cobra anomaly that I had just purchased, when I'm directed to John Clor. First impression was he's about as approachable a guy as you'd ever want to meet. And that was to the point where I had to wait a bit to talk to him as his popularity among the Mustang fan base -- though new to me -- was well underway in the enthusiast community. After all, Carlisle was his 'Super Bowl' of Ford club events for the year, as he is oft to mention. When we finally got to chat after I introduced myself, as well as my cousin Doug, we discussed what I believed I had just purchased: an SVT Mustang Cobra prototype.

"He stopped me for a second and said, "Tell me that again … you purchased what?" I explained it again and he then shook his head and said emphatically, "I'm sure you're not supposed to have that car. I saw that very car back at Environ (Ford's disposal garage) with a Certificate of Destruction sticker on the windshield." (meaning it was headed to the crusher). He repeated numerous more times that I wasn't supposed to have this car, and how on Earth did I end up with it? John also stated that he actually drove this car when his SVT Marketing team made it available to the Press as a peek into what's could be on the horizon for the SVT Cobra. We exchanged information and have kept in touch for over 15 years now. This is yet another instance where sometimes the car finds us . . .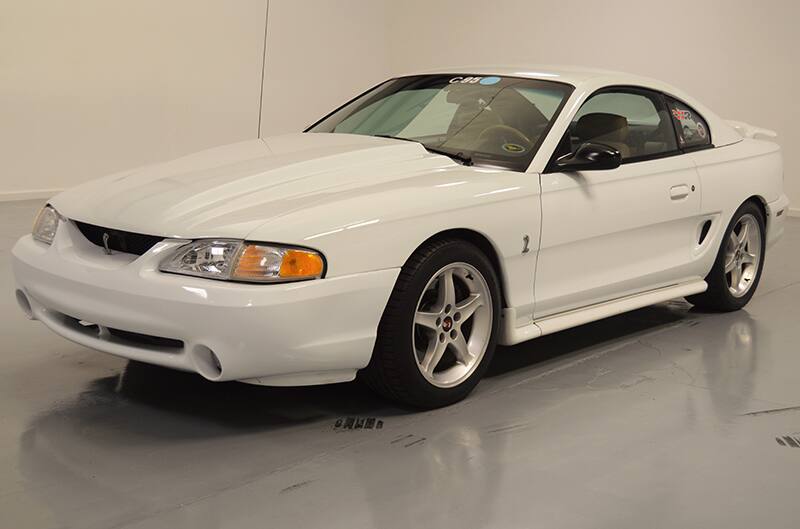 On the eight-hour drive back to Charlotte, Doug rode with me for a test ride-&-drive in my new purchase. Being a former 1998 SCCA National Champion car in the E-Street Prepared class under its original owner, Driver John Ames, the car handled phenomenally. But the ride was particularly stiff due to the Eibach lowering springs and Tokico Illumina adjustable struts (turned all the way up to 11!) Regardless, Doug fell back in love with the Mustang on the ride home (anything to get him back on 4 wheels). It wasn't long after that when he acquired his first of three SN-95 SVT Cobras! After drifting apart somewhat over the years, this renewed Mustang interest brought us back closer together, where we'd chat almost weekly. Again, some things are just meant to be . . .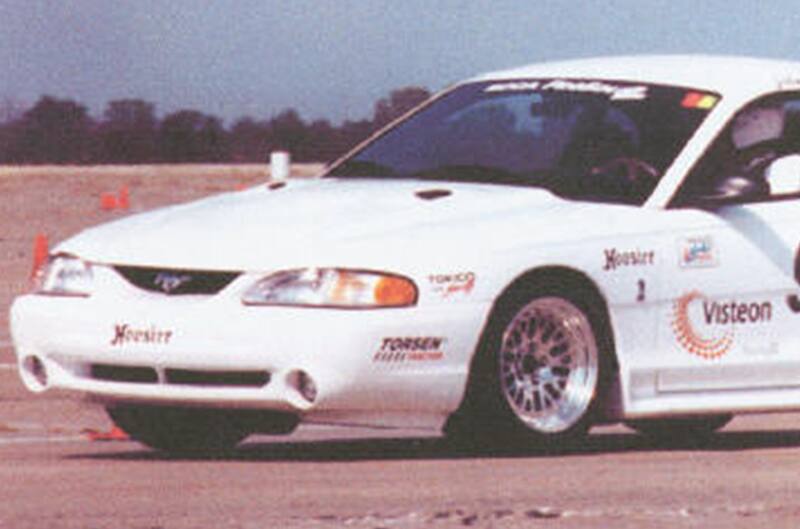 Now our trips to visit were not only about family, but seeing what Al and Doug had new in the garage. Likewise for them, as Dad and I were busy growing our own collections worthy of their visits to Charlotte.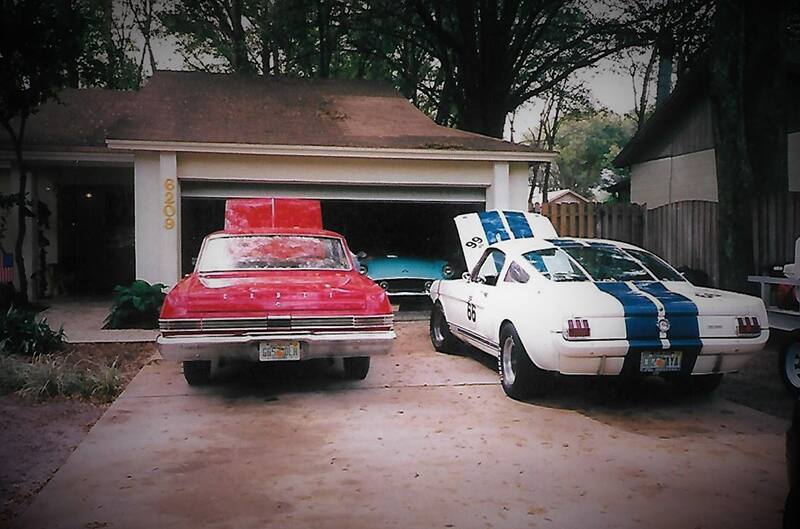 Still drooling over both Dad's and Uncle Al's R-Model's, there was also my own '65 Fastback. It's the car that had rekindled the Mustang excitement in the Young family; it was still Yellow, and basically stock, but with an old-school twist. I installed a set of Granada front disc brakes, converted it to a 4-speed, added a dual side-exit GT350 exhaust, lowering springs and some wider steel wheels and new tires. When I first saw the 1/18-scale diecast model that GMP came out with of driver Mark Donohue's '65 Shelby GT350R #11B SCCA race car, I immediately made the purchase. I now had my own R-Model build theme, hopefully to be equally as cool as Dad's and Al's. Again, a little fate was at hand here. Mark Donohue was my favorite driver growing up, and I still remember hearing news of his death in the late summer of '75. Now, with a plan in place, I'll continue the transformation into my own R-Model dream car: A Donohue #11B tribute, just like the scale model.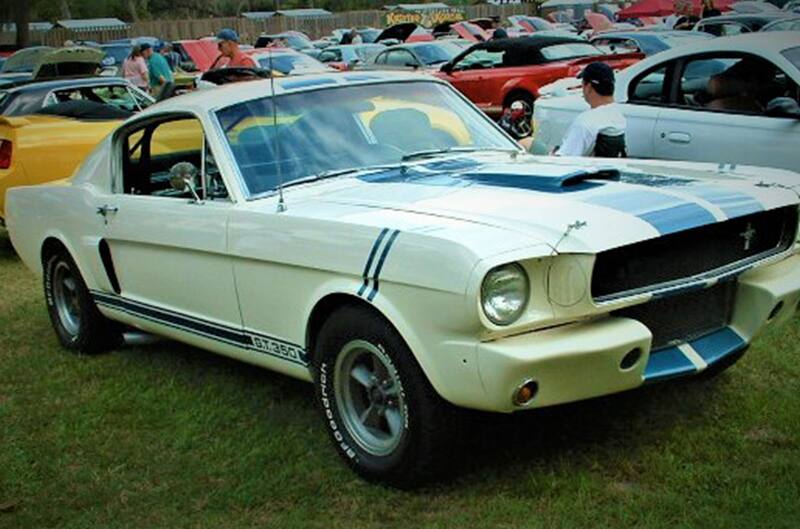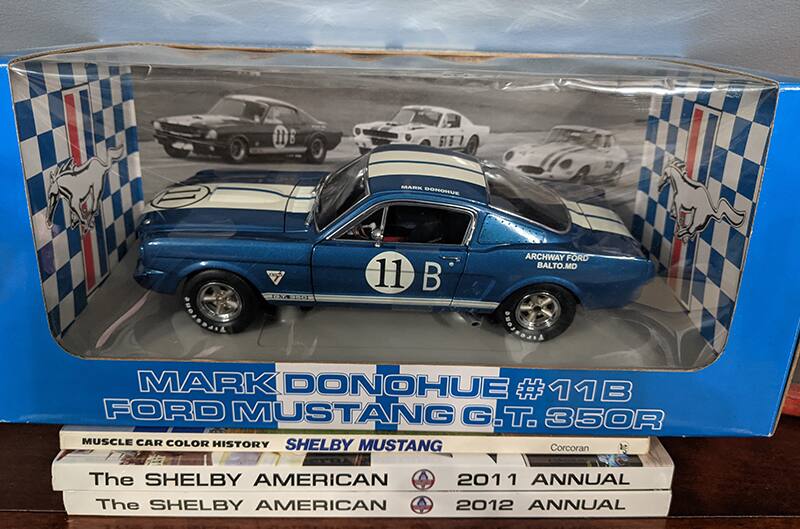 With limited spare time, I had managed to get as far as a complete disassembly by 2004, with the body hand-stripped to bare metal. To keep the momentum going, I reluctantly hired-out the next phase of body and paint work. As borderline OCD as I am and somewhat of a perfectionist, I had to oversee all the work. This included laying out the White Le Mans stripes over top of that gorgeous fresh Guardsman Blue paint job. I'm pretty sure I got charged extra for all that free advice and assistance (lol). But that $4k spent was well worth every penny and the Donohue car was taking shape, at least for now. At that point though, the project stalled. Because, well, raising a family, hustling cars, a demanding career, Mustang Club activities, etc. – life still happens. Fortunately, I had a loving and supportive wife, so yes, life was still good. But a little hectic to say the least.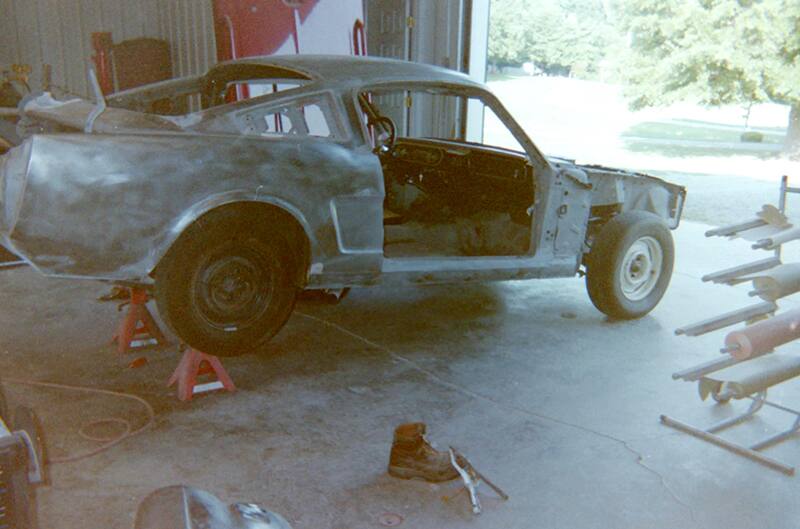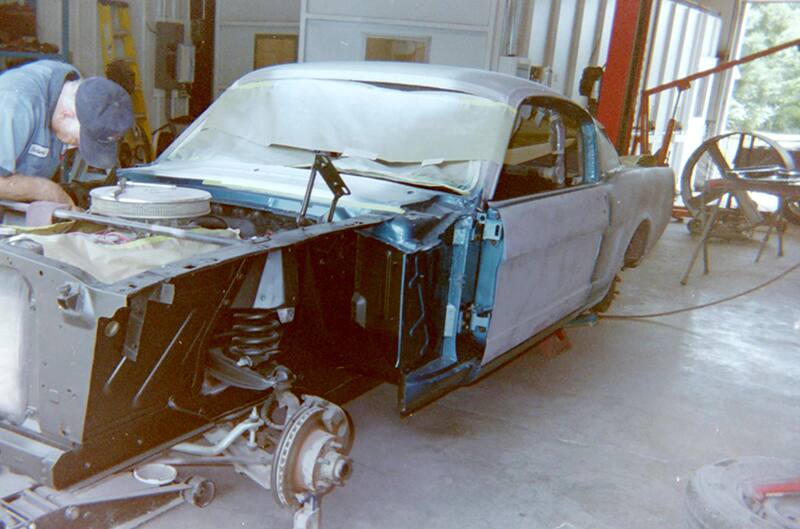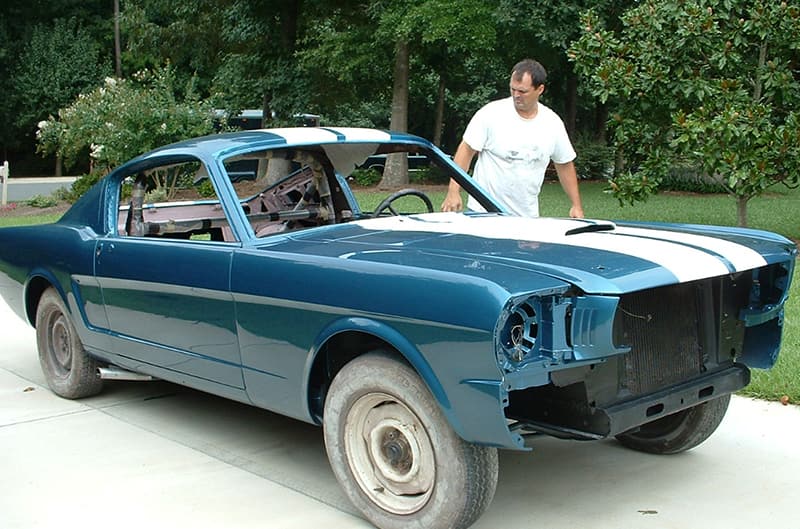 With no more projects for a while I was able to set some money set aside to start buying and selling as many '65-'66 Mustangs as I could, while the prices were still reasonable. Nothing fancy, just run-of-the-mill drivers. My sideline business, Union County Mustangs and Fords, was now in full swing for the next couple years. I bought nearly every Fastback I could find from Virginia to Georgia. I even bought a '66 GT Coupe in New Mexico, a '66 Convertible in Texas, and a '65 Trans-Am coupe racer clone out of California. Those were the only three cars I didn't make any money on as they were all purchased sight-unseen. As they say, buyer beware! The other 20 or so were mostly Fastbacks and a few SVT Cobras, including a Rio Red '94 Indy Pace Car convertible. Prices started to climb and I decided to curb the buying and selling for the time being. I only wish Uncle Al still had the Highland Green '67 K-Code fastback then, as it would have been sitting in my garage in a flash.
By now it was the spring of 2006. I reinvested the profits from all the wheeling and dealing into some pretty special cars for my personal collection. The first being the previously mentioned '95 PP1 Cobra, and a little less than a year later, an original Nightmist Blue '66 K-Code GT 2+2. This K-Code came from our longtime Upstate NY car buddy and family friend, John, now living in Kalamazoo, Michigan. He acquired it out of a local Ford dealer's personal collection. It came with it a ton of original paperwork, unheard of for most of these old cars, and what he liked most about it. Being a seasoned Mustang guy, John consulted with me prior to purchasing the car nearly a year previous. So I was very familiar with the car, and even offered to buy it should he ever want to sell.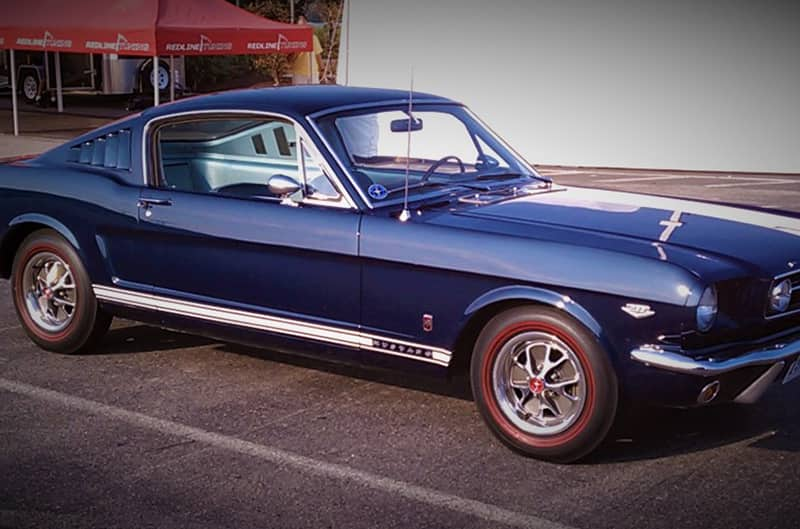 As a side note and twist of fate: Back in the summer of 1990 and shortly after purchasing the new '90 Mustang GT, our friend John had offered up a couple of original Shelby's that he'd recently acquired. A real nice Red '66 GT350 for $15k (exactly what I paid for my new GT), and a White '66 GT350 Carry-over car that was a little rough, but only $7k. Or a package deal on both for $20k, which was a lot of money back then (and still today for that matter). Anyway, Dad and I both passed on them … woulda, coulda, shoulda!
Now, back to John's '66 K-Code. Not quite a year after my consult and his acquisition of the '66, I got a call from him out of the blue. "Remember that old K-Code you helped me buy?" he said. "I'm ready to sell it and you have first right of refusal." I was both surprised and thrilled when he offered it to me, not on consult but this time to purchase. Though a bit more than both GT350's from 16 years prior, I still got the Friends and Family discount and we made the deal – Boo-ya! I now owned a K-Code Mustang, and life is good!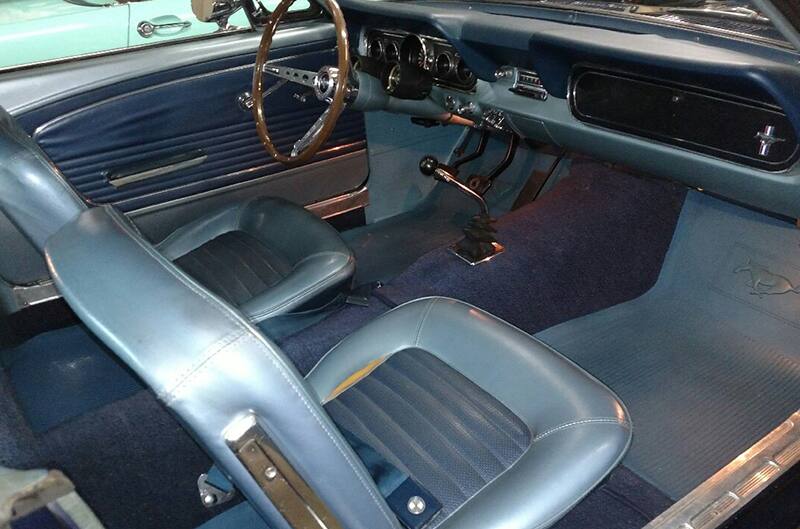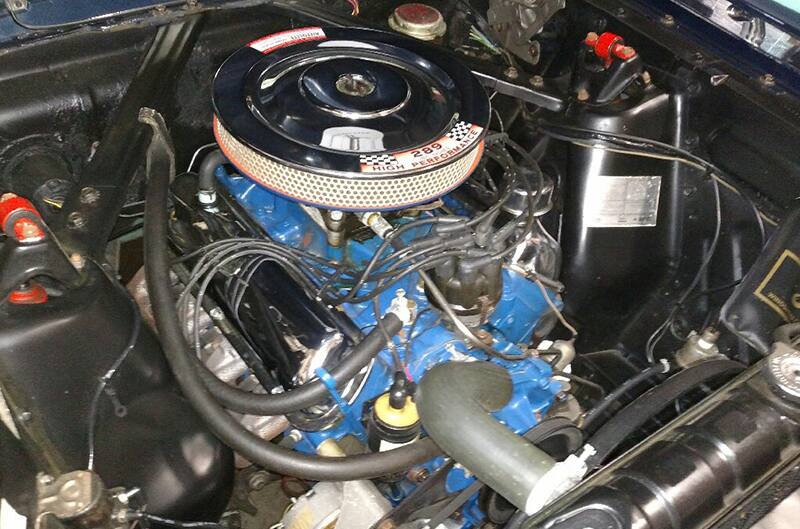 Now in typical Young Fashion, another deal was already in the works. Prior to John reaching back out to me about the K-Code purchase, he had just previewed a car for my dad. An old-school '34 Ford Roadster street rod that was close by there in central Michigan. The '34 Roadster was a car that dad had always wanted since high school, but never pulled the trigger. As a result, this one checked all the boxes, and John completed the sale on behalf of dad (also offering to buy it if he didn't). He brought it back his house, ready for its trek back to Waxhaw, NC.

The timing on the sale of these two cars was uncanny. John had already arranged for a local guy to haul the '34 to NC as he was already coming down empty to Charlotte Motor Speedway for Spring AutoFair. Once we made the deal on the K-Code, I now had to figure out how get it back to Charlotte. Just by chance, John called the guy bringing down Dad's '34. Come to find out his son was also making the same trip, and with an empty trailer . . . unbelievable. So, within the week, they loaded up both the '34 and '66 and headed to Charlotte. This all happened so quick, my check for payment on the Mustang hadn't even arrived yet! Dad and I both took delivery of dream cars we never thought we'd own. Check that one off both of our Bucket Lists!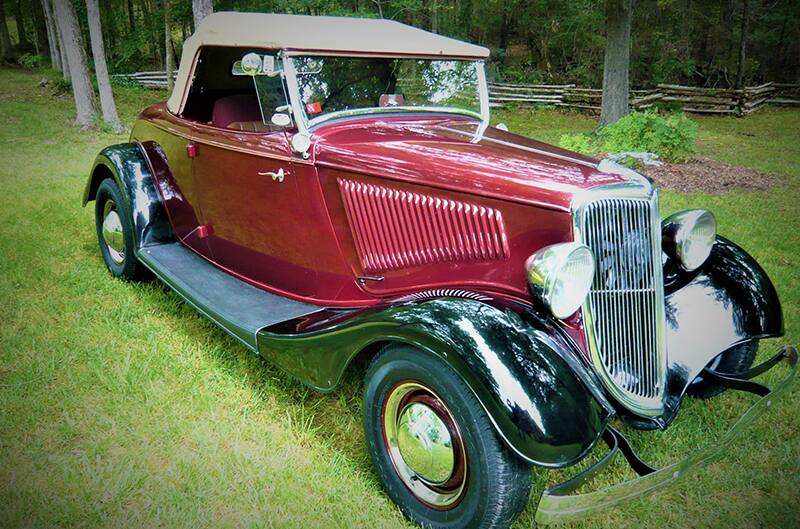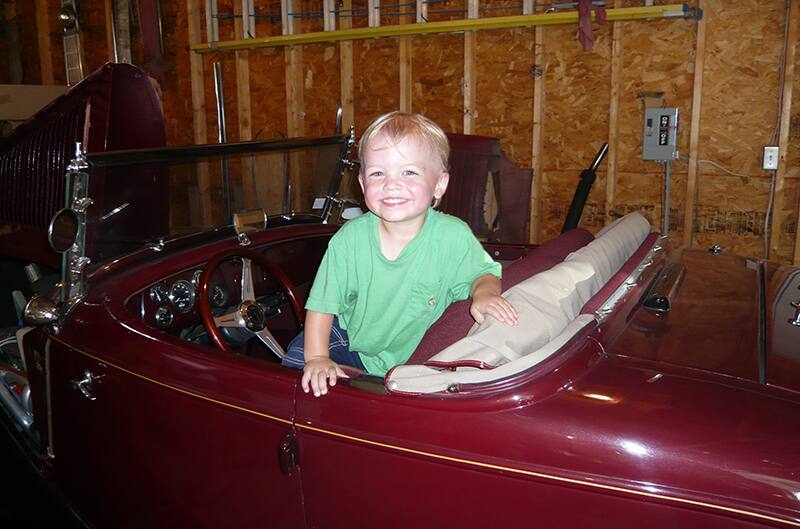 Now, let's roll the clock back a little, to dad and 2001. He took his red '65 R-Model out frequently, disturbing the peace on the back roads of Union County. He had already turned 60 by now and wasn't wasting any time searching for a new project. He asked me one Saturday to ride with him to scout-out a new car he'd found. That carried us to a small junkyard in rural SC where we literally drug out a '64 Comet Caliente for, I believe, $400. Compared to the R-Model we hauled home a couple years ago; the guy should probably have paid us to take it! But dad had a vision, as he always does, and over the next couple years he completed a full restoration on this basket-case old Mercury Comet. He had transformed it into a Wimbledon White/Red Interior Don Nicholson B/FX Drag Car tribute. It included a donor 302 roller motor and 5-speed from a wrecked '85 Mustang GT. This was his first experience utilizing a 'modern' drivetrain in a vintage build. Since my Donohue car was now in pieces, I offered up the last set of wheels I was running on it, prior to the disassembly. A cool set of 14x7 black steel wheels and RWL tires from an early Mach1 – a must to complete that old-school Drag look. The car was a hit wherever it went, as no one ever restores a '64 Comet, especially like this … Except for my dad!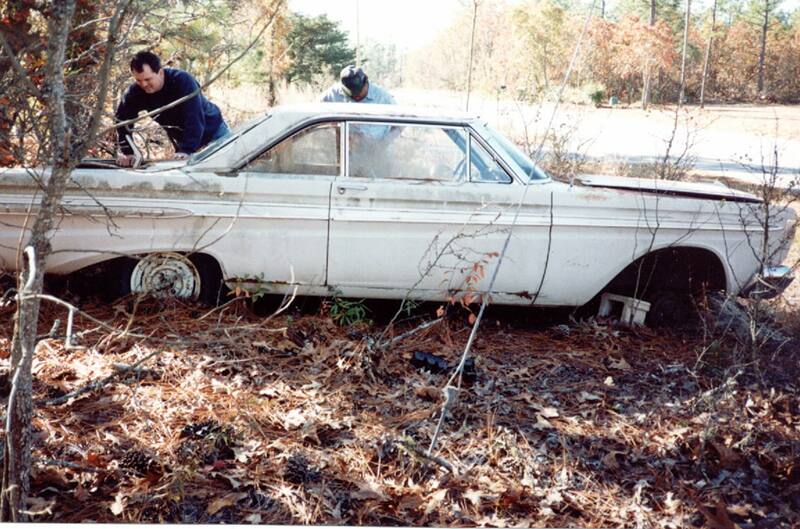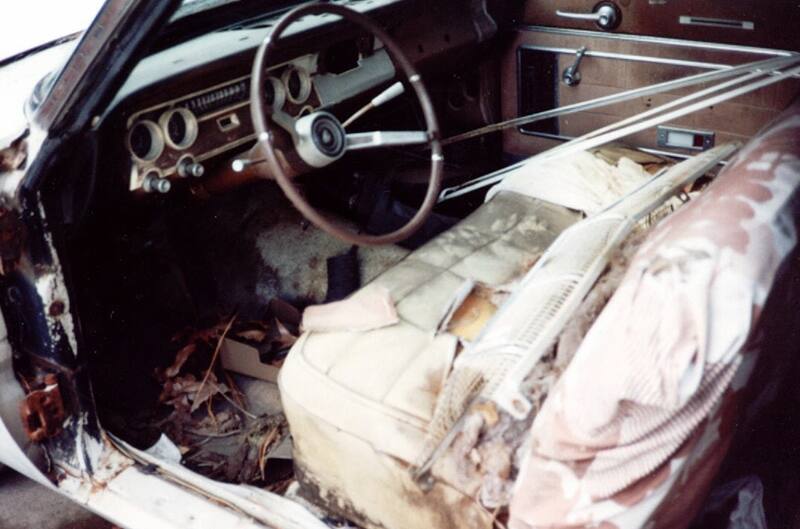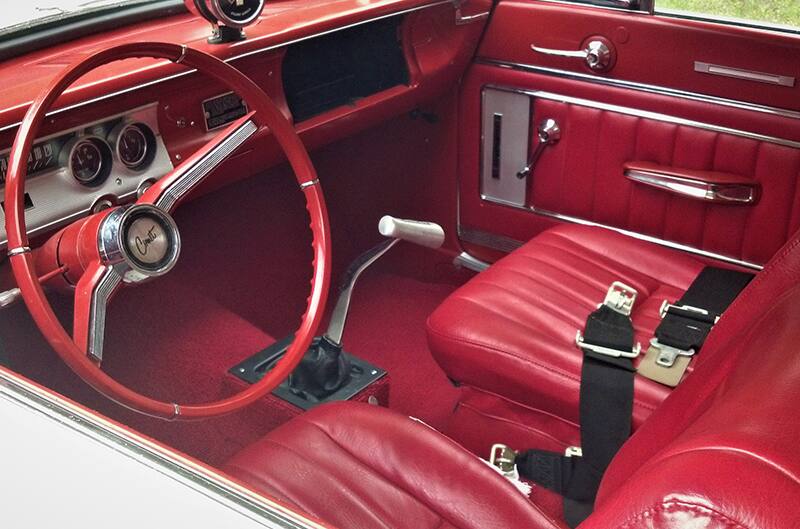 With my own R-Model build still under way (sort of), Uncle Al was busy building his second R-Model clone, with some assistance from Doug when he had the time. While wrapping up his Nicholson Comet build, dad had been following the progress on a friend's Red '64 Fairlane Thunderbolt replica build, with a 429 SCJ engine. His friend came over one day and approached him about buying the Fairlane as an 80-percent complete project because another had just become available and he needed the funds. The price was right, so dad took over the project as his entry into the Thunderbolt realm and big-block Fords! Now, in case you haven't heard of the 80/20 rule, it means that the first 80 percent of any project takes about 20 percent of the time. Comparatively, the remaining 20 percent of the project takes about 80 percent of the time. This car was no exception, and occupied dad for the next year or so, eventually completing all the final details. But the engine was killer and, even though not a 427, still made for an awesome showing under the hood, multi-carbs and all.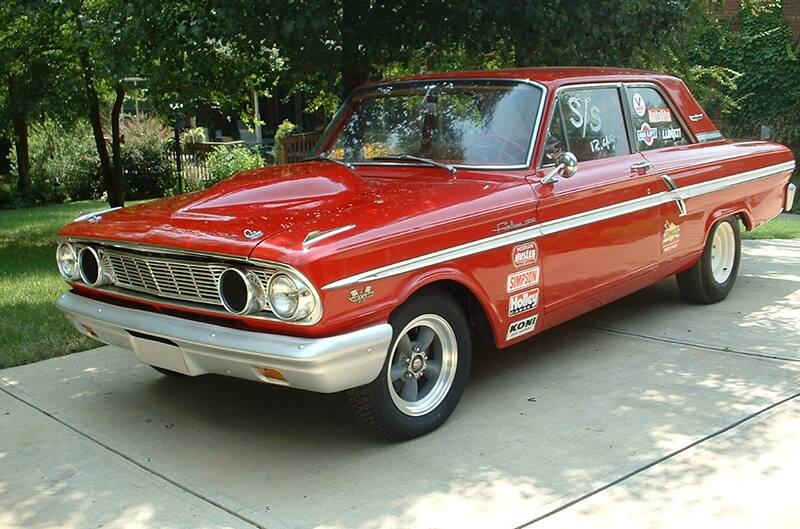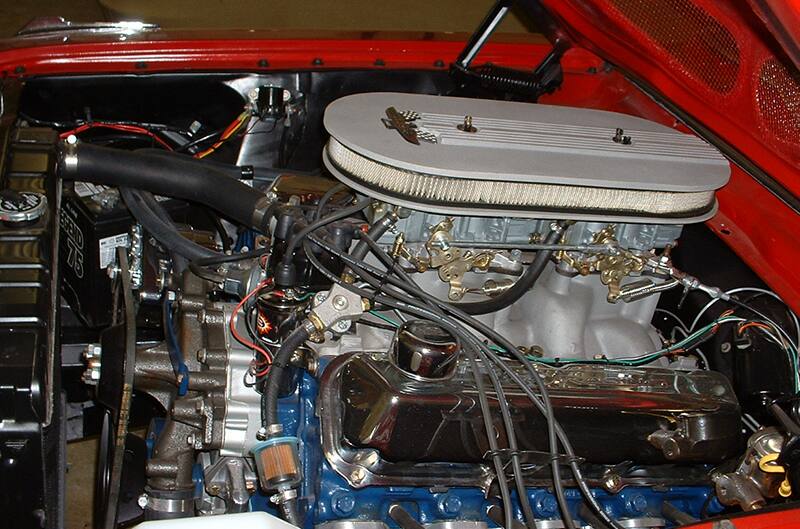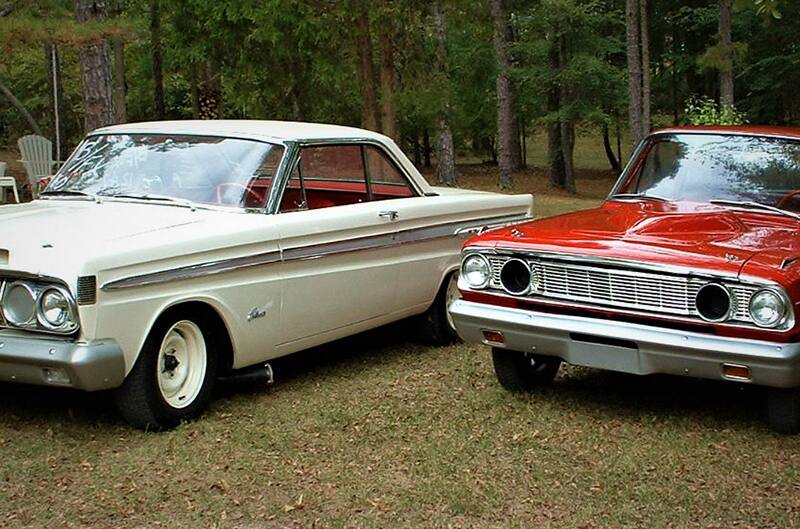 Now fully immersed into the Thunderbolt world, dad made some new, T-Bolt aficionado friends along the way. As a result, with all their shared knowledge, he decided to sell the newly completed Red T-Bolt replica. He was now on a quest to build a far more accurate version. And in typical fashion, he wanted a to do it all from scratch this time! I believe he bought and sold several '64 Fairlane 500 2-door Post cars. The last one ended up being the best of all, with zero rust, and the cheapest at $750. But he had to drive to Florida to get it. After all, '64 Fairlanes aren't exactly in everyone's backyard like Mustangs! (BTW – the Fairlane 500 2-door Post was the platform for all 100 of the '64 Fairlanes delivered by Ford to Dearborn Steel Tubing for Thunderbolt conversion.)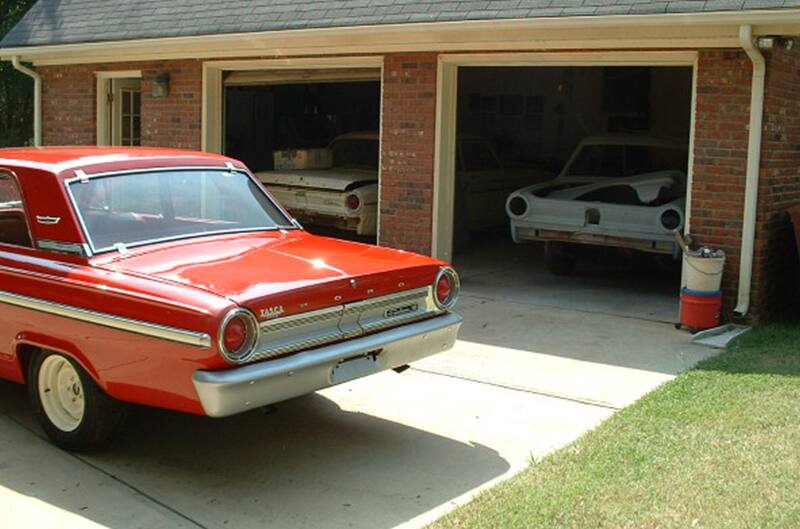 Dad spent the next 12-18 months doing the tedious research while prepping the body and chassis for all of the T-Bolt-specific DST conversion modifications. His goal was to build the perfect '64 Thunderbolt clone. In this case, clone meaning an exact duplicate of the real deal. After all, replication is the sincerest form of flattery. Rather than do a typical White car build (knowing that was the majority of what you see out there, real or not), he set his sights on replicating one of the first 10 Vintage Burgundy Thunderbolt's, all with a sparse Gold cloth interior and rubber floor mats. Specifically, the #1 car first delivered to drag racer Dick Brannan.

What set this build apart from any other T-Bolt Tribute, Clone, or Replica, was the early "Cloverleaf" Hood, only found on the first 10 cars. They were quickly discarded and replaced by the Tear Drop Hoods found on the next batch of White Thunderbolts, starting with the 11th car. Dad scanned, scaled and measured vintage pics to painstakingly develop the plug-and-mold tooling to manufacture his own special Cloverleaf hood, to make this build completely unique and much more authentic. Between the 427 Side Oiler, special hood, Top Loader 4-speed, specially fabricated custom rear axle assembly, Bostram lightweight Econoline seats, single straight exhaust, etc., this build had quickly become his new obsession and formidable crown jewel.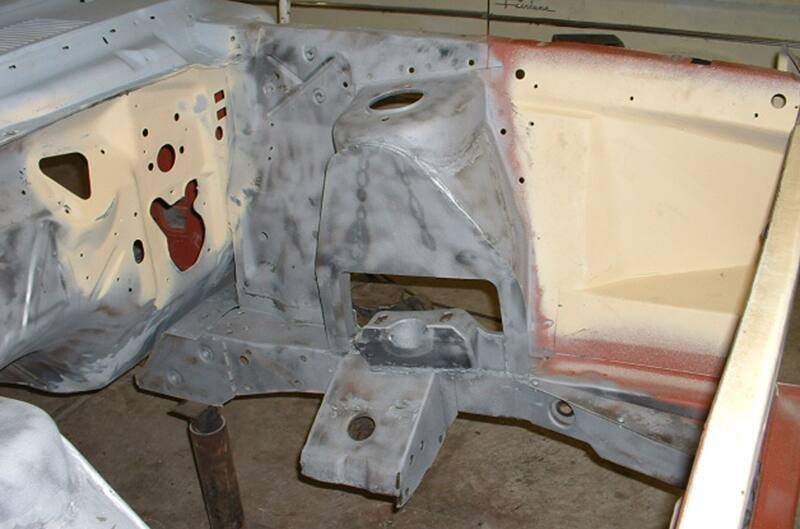 During dad's Thunderbolt build, much like any specialty build, he realized that many of the correct specialty parts needed for an accurate build just weren't available. So, with my assistance as a Mechanical Designer by day, we reverse-engineered and made up some of those hard-to-find parts. They included aluminum tow bars, rear-window safety clips, lightweight Lexan full side and back window sets, and several other hard-to-find pieces. Plus, with the T-Bolt replica community struggling with finding the same parts, we made enough extra to share with them (with the exception of the Cloverleaf hood, as that is the only one to be made). All this Drag car research took him right back to his early days in the Air Force, watching the Real McCoy's in action at the local Ft. Walton Dragway!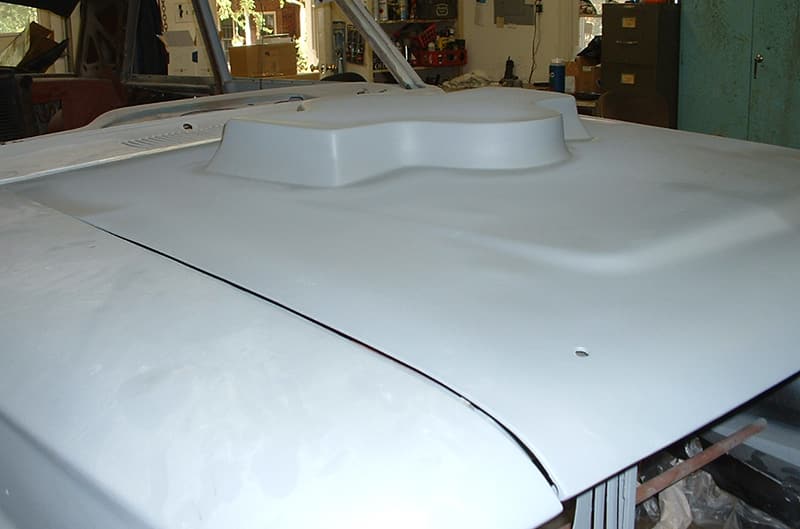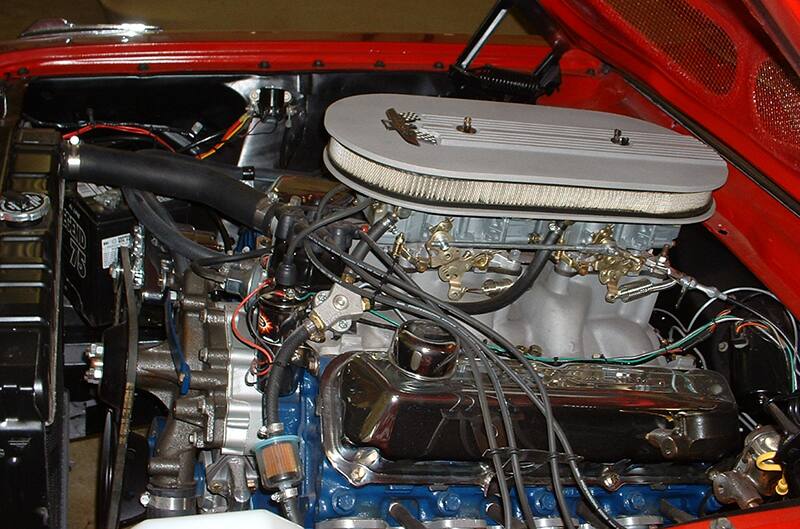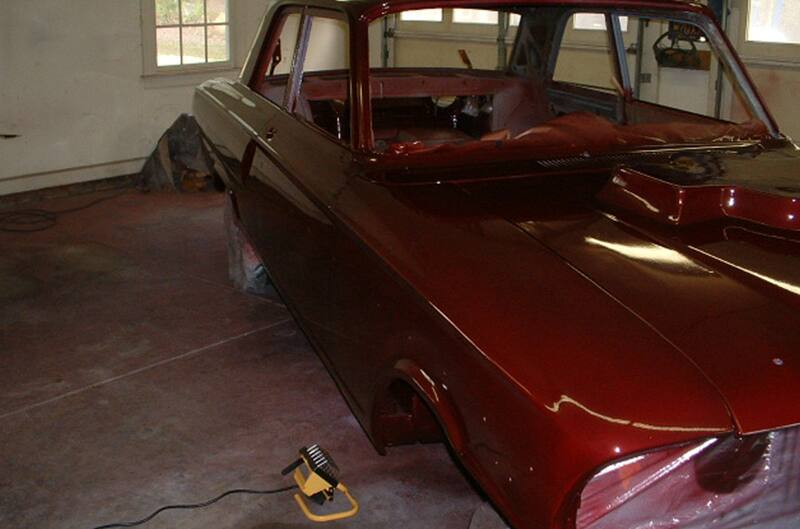 The new Thunderbolt made its public debut up at the new Z-Max 4-Wide Dragway, as part of a car show coinciding with the Nostalgia Drags going on that weekend. When dad fired it up and pulled it out of the trailer, it seemed like the whole showfield stopped and listened. The thunder of the 427 was deafening music to everyone's ears. Once in place, dad and I went and walked around while Brother Bear Barry hung back with the car while nursing a sore foot. Since he and dad were best friends and have lunch nearly every day, they also help each other on builds. Therefore, he was very familiar with this Thunderbolt build and all of its unique details, as he would soon prove.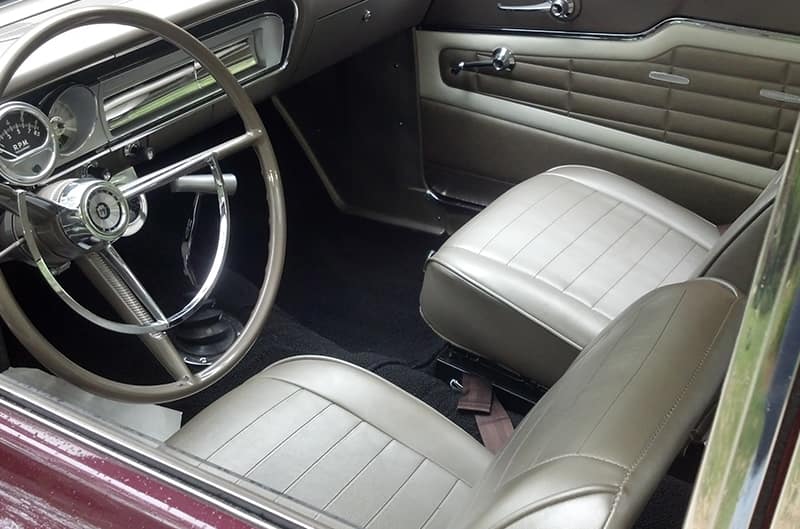 The car was garnering lots of interest when a couple of puffed-up-peacock know-it-all's came strolling up. They immediately started belittling the car, beginning with the paint color, commenting how they're all supposed to be White. And what's up with that ridiculous hood? Any fool knows that all real Thunderbolts have the Tear Drop hood. Well, at this point, Barry stood back quietly long enough. He grabbed the detailed build book that dad had meticulously put together for display out of the trunk. It included several pictures of the original 10 Burgundy cars, along with detailed shots of their unique Cloverleaf hoods. Barry proceeded to politely school these self-proclaimed T-Bolt aficionados on their numerous misconceptions of the first 10 production cars and other details.

Not so sure they appreciated the education, but now ole' Uncle B.S. was the proud peacock when it comes to verified Thunderbolt knowledge, and with pictures to prove it -- Yeah Bear! In fact, several years later, Dick Brannan himself spent a couple hours poring over the car himself while it was on display at the Moonshine Festival. It was the most accurate he'd ever seen and the only one with the Cloverleaf Hood since 1964!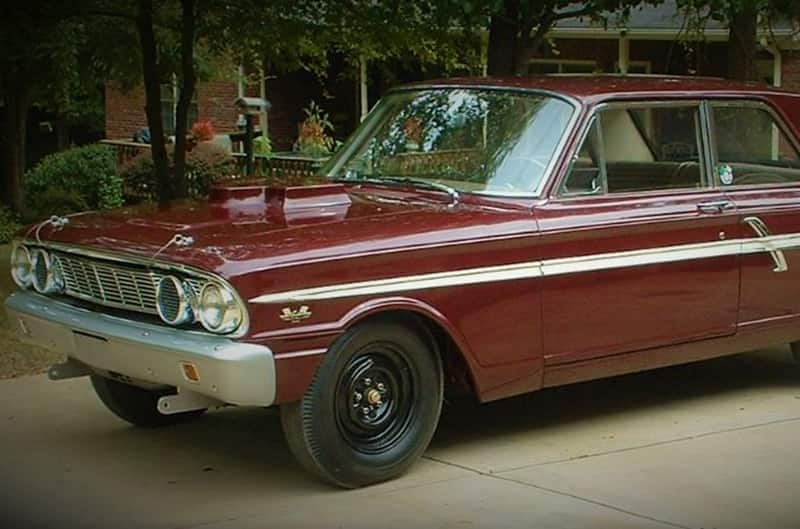 By this time, dad's shop was getting pretty full. So, after some thought and to pass on his own legacy, he decided to give each one of us boys a car – that he had built himself, of course. Now anyone with the means can go buy their kids a new car. But very few have the skills to build their kids a car, which is exactly what he did. Being the oldest, I was naturally the last one to find out about this epiphany . . .
Scott, being the youngest brother, got first choice and called dibs on the red R-Model. I believe Uncle B.S. was the most disappointed over that decision, as he and dad took it out to stretch its legs frequently! Scott did, however, hold off on getting it for a year or so while he put an addition onto his home to add more garage space. The addition was probably several times the value of the car, but no expense was spared in creating a new home for dad's still favorite legacy Mustang. Scott and his wife, Karen, have two kids, Carson and Siena -- the 5th Generation of Youngs on his branch of the family tree. They are still a little young to see whether their inherited car genes will start shaping their future. They do, however, love riding around in the Rumble Seat of Grampie's old '34 Roadster.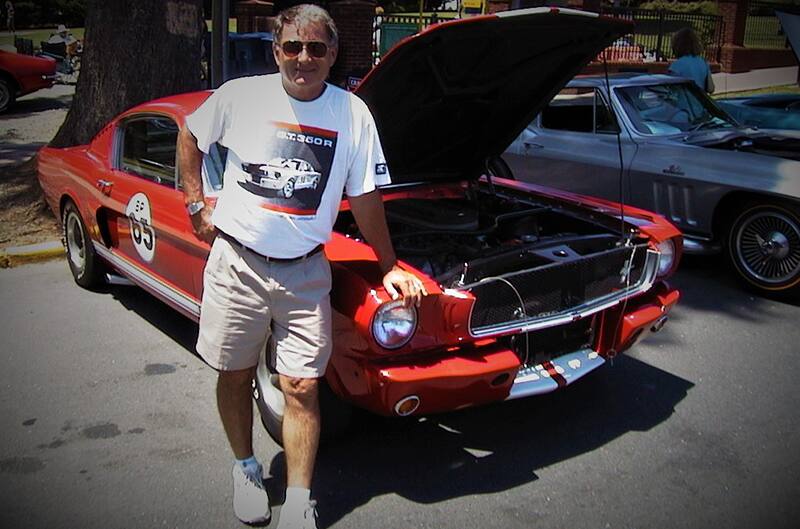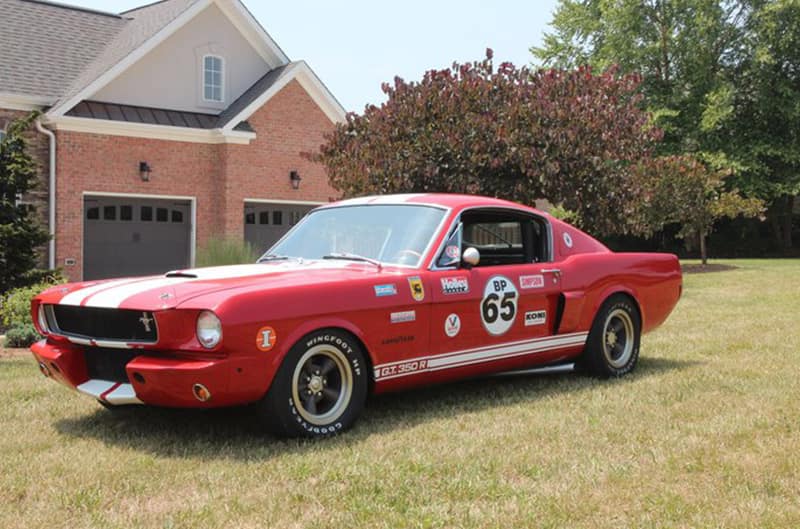 Middle brother Christopher selected a Black/Saddle '63 Convertible, non-Ford and we'll leave it at that. Still a 30+ year family car that Dad had built many years ago. It was started when Chris was in high school and he helped with the restoration, including bodywork and paint. It was shelved for nearly 20 years before completion here in NC. Christopher and his wife, Abby, don't have any kids, so that branch of the Young family tree ends with him. Hopefully his Legacy car stays in the family years from now as one of his nieces or nephews become the next caretaker.
That leaves dear old me . . .
I already had the Donohue R-Model project planned out, and the '64 Comet was a neat car, but not my choice. The '64 Thunderbolt was phenomenal, but not my choice, either, as it was barely a driver around town due to its radical engine. With that in mind, both were earmarked to eventually be sold, since they weren't getting driven much anymore. Dad has proven that as he gets older, he enjoys building them much more than driving them. So, we put our heads together to decide what would be a good build for me, one that we'd both enjoy. The early '65-'66 Shelby's were still our favorites, but there's a million clones around in various degrees of inaccuracy, and in about every color under the rainbow. With multiple discussions over several weeks (after all, this was going to be a forever car), we decided on replicating a Wimbledon White/Blue Lemans Stripe '66 GT350 Carry-Over car. The "Carry-Over" cars were the first 252 1966 GT350's that were built, those from 1965 K-Code Mustangs and purposefully ordered at the very end of the '65 model year production. This would allow Shelby American to have newly updated '66 GT350's on the showroom floor when the new '66 Mustangs were available for sale in the fall of 1965, which was when all the new models came out.
It's one thing to go shopping with your parents for a new car, and for the lucky few even getting the opportunity to order it exactly the way you want it. However, getting to order a brand-new '66 GT350 nearly 45 years after the fact is an opportunity of a lifetime, and one that I will never forget.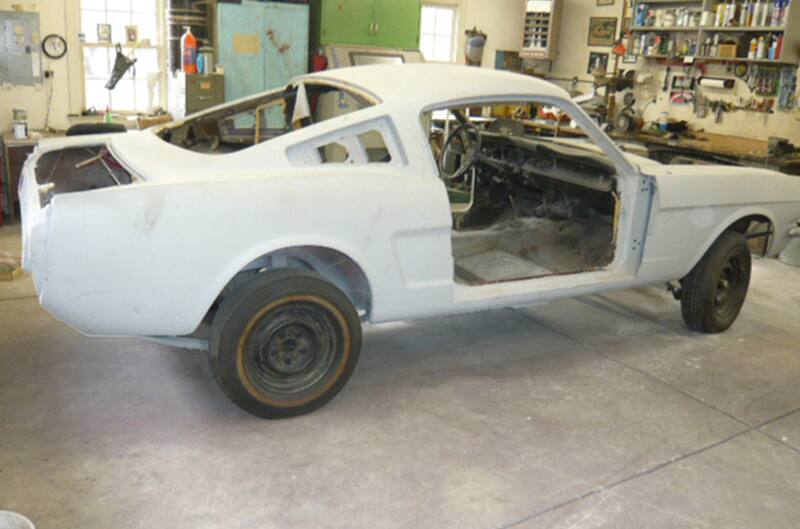 So, the quest began to start looking for a good project 65-66 fastback for the new Shelby build. Like the Thunderbolt build, the better car you start with, the better the end result. Well, once again, sometimes the car finds you. We got a chance phone call that the guy that I'd bought my original '65 Fastback from was selling out and retiring. This included all the cars he had stashed away. Among those for sale was a complete '65 A-Code 4-speed 2+2, fully disassembled and in primer. I knew this car because the exact same car was there, in the same state, 13 years prior when I originally got my '65 Fastback from him, only it was not for sale. I immediately inquired about it as we were still good friends through our Mustang club affiliations. The price was a little steep at $10k firm, but we had first right of refusal, with a wait list soon to form. As anyone knows, good, clean early Fastbacks are as rare as Hens Teeth, at about any price – especially this one being a no-rust un-hit body to begin with. It had already been professionally taken down to the bare metal in and out, and then primed, which saved a ton of work for us. The timing on this was uncanny as it made for the perfect donor, right out of the gate. So, we loaded it up, and project "Carry-Over" was officially under way.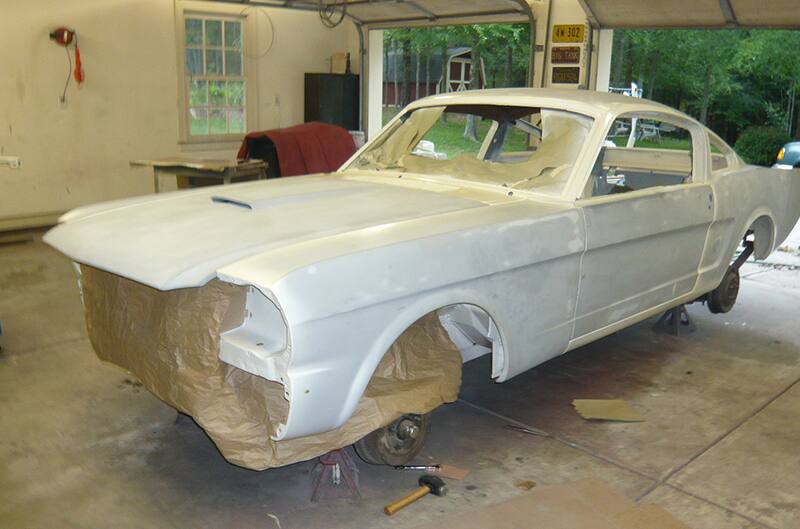 Since this new commissioned build was not going to be cheap, I agreed to supply all of the harder-to-find OEM Shelby and NOS parts I had squirreled away over the years. Between what I already had and what I was able to locate, the build was coming together nicely. But not without a tremendous amount of research determining what was original "Carry-Over" from '65 and what was all new for '66. That's what makes the Carry-Over cars unique from the standard '65 & '66 GT350's. They're considered by many to be best of both worlds!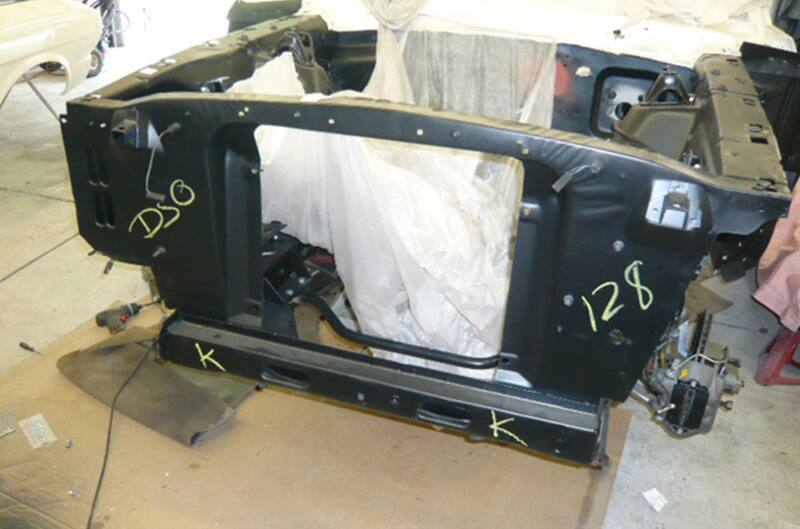 The Carry-Over car was finally completed in the spring of 2013, utilizing only a handful of reproduction parts. It was a phenomenal, nearly three-year effort on my dad's part to make one of the more accurate replica builds out there. It made its debut a couple weeks later at the MCA National Show in Asheville, NC. Dad received a Gold Award for his efforts in the Modified Trailered Concourse Class, with a perfect 100-Point score. He also received many compliments from both Mustang and Shelby aficionados alike. He even got some offers to purchase for stupid money, which he said was my call. But it wasn't for sale. It will always be a permanent fixture in the Young Family Fords collection.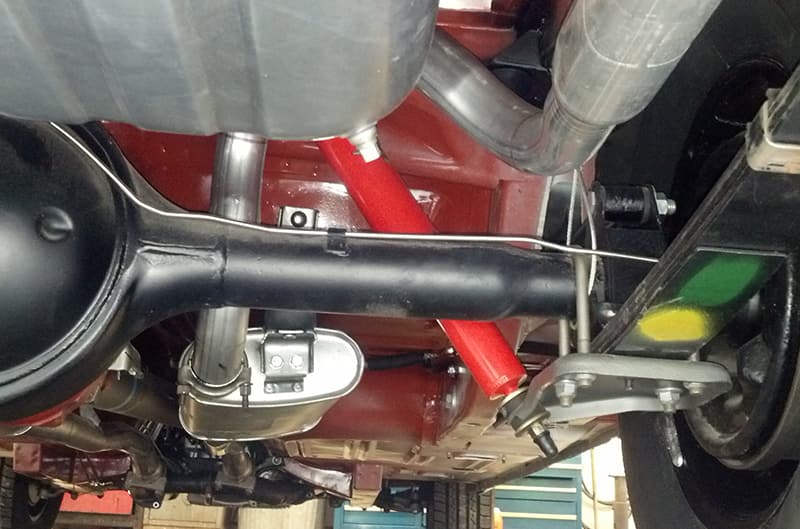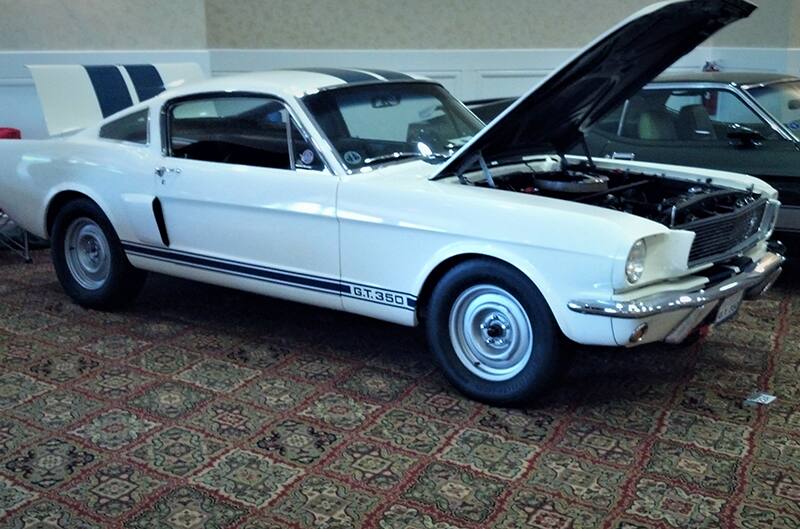 Life, Cars, Sports . . . my kids were growing up far too quickly. With Megan being the oldest of the 5th Generation Youngs, she had just gotten her driver's license and was going to need a car. Now dad and I had rebuilt many wrecks through the years and we were well-versed in repairing "light hits." So, what better car for a new teenage driver than one that's already been previously wrecked? I searched Craigslist and located a low-mileage True Blue '03 Mustang with a V-6, a 5-speed and the Pony Package. It had light front-end damage and would make for the perfect first car for Megan. So for the next couple months I built it out at dad's shop, working nights and weekends as a complete secret to her. By the time it was completed, she had her license long enough to become a good driver. So, we had a family dinner out at mom and dad's (who are actually Grandma and Grampie to my kids). After dinner we surprised Megan with her new car, and she flipped (as expected). Who wouldn't want a 5-year-old Mustang in now like-new condition for their first car? It was far newer than both my wife and my daily drivers . . . go figure! Megan had always been a Mustang girl and was my sidekick at many of the car shows and track events in which I participated. She even got a personalized license plate, 'PONYCHIK,' for her new ride. That plate still hangs on my garage wall today, even though the Mustang is long gone. It unfortunately met its demise one rainy night with a power pole on a sharp curve. Megan was fine, but we can't say the same for her first car.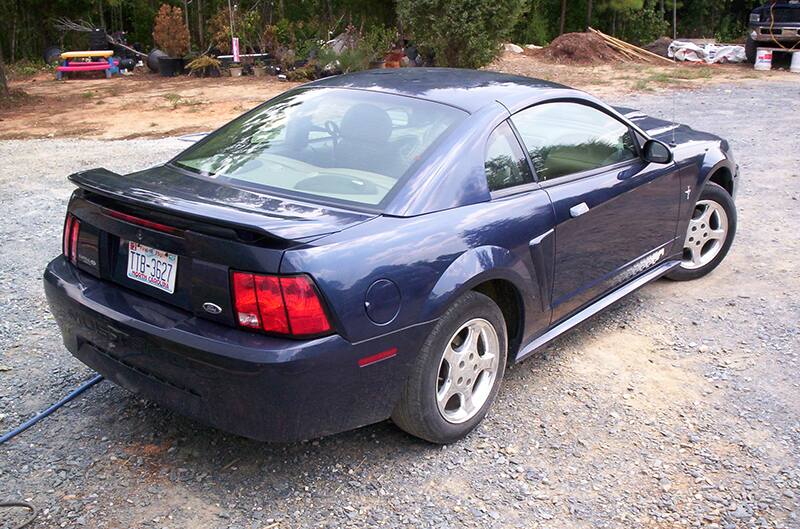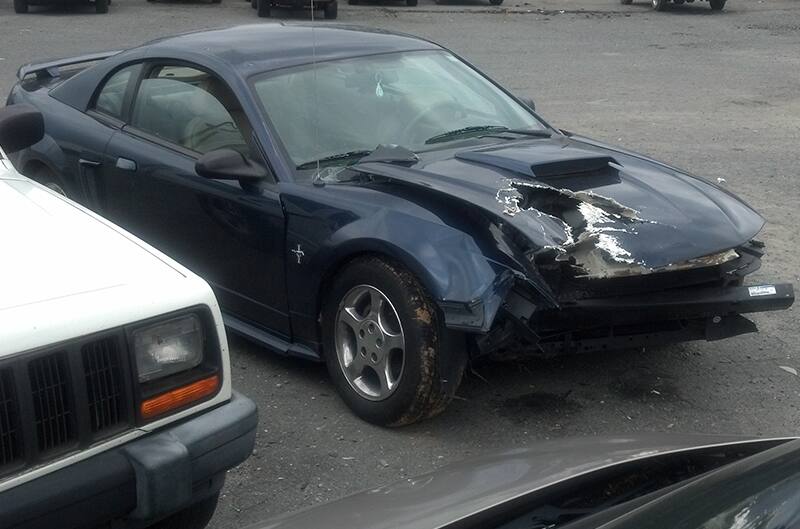 Younger sister Devon got interested in gymnastics at a young age and was a natural. We, however, weren't ready for the level of commitment her coach wanted, so it stayed at the advanced tumbling level. She then discovered soccer and again was a natural. Due to her coach leaving, I took over the team with another parent and proceeded to play through the season, with me as her rookie coach (a very rewarding experience, I might add). Cars were the furthest thing from her mind, even through high school. As a result, she went in a different direction and wasn't much of a car-gal like her big sister. She ended up buying an Explorer Sport SUV of her own accord, as her first car. At least it was still a Ford, and I was fine with that. It was safe and a blast to drive – so no harm, no foul! She would come around eventually, and I'll get to that.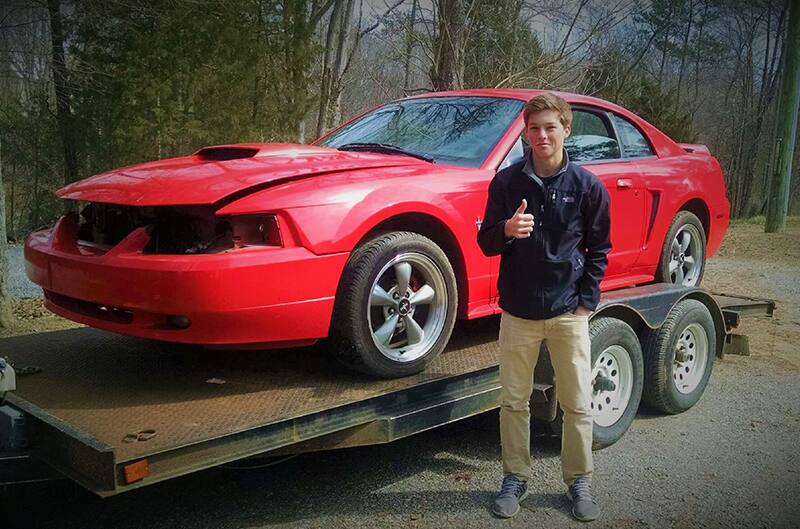 Next in line was my one-and-only son, Brandon. He loved cars and trucks as a kid . . .well, anything with wheels, just like his old man at that age. He was also a natural athlete and got interested in sports at a young age as well. More specifically it was in soccer, like his big sister, and not in baseball, as I had hoped. I continued coaching him for several years until he progressed far beyond my coaching abilities. He was playing on his club's top team, even as a U13 player, so I guess car interests would have to wait. High school came roaring in, as did vehicular independence once he got his license. Rather than busting my butt for several months in secret building him a car, I decided that sweat-equity would be the proper approach, since he was more than capable of helping. I found a Vibrant Red 2000 Mustang V-6 5-speed for sale in someone's front yard. It was wrecked in the front, by the hands of their own teenage son. So, Brandon went with me to pick it up for his far less-dramatic surprise. We knocked it out together in a couple months, and now he had his first car, a bright-red V-6 Mustang, with all the GT trimmings.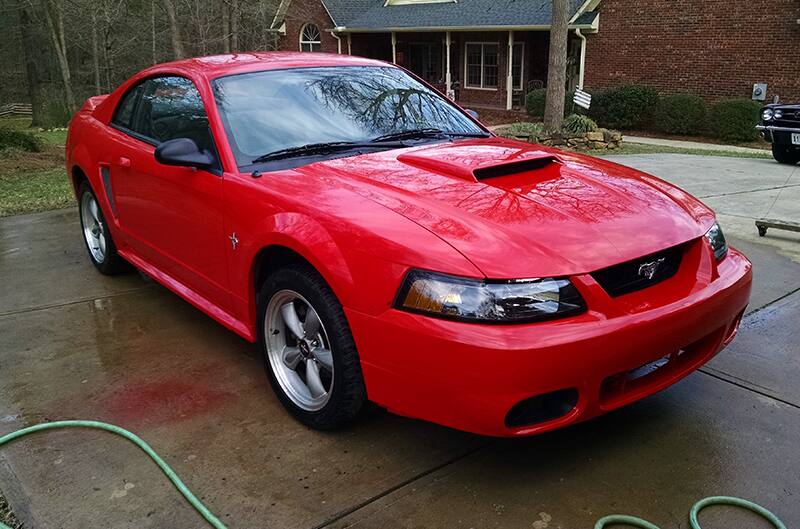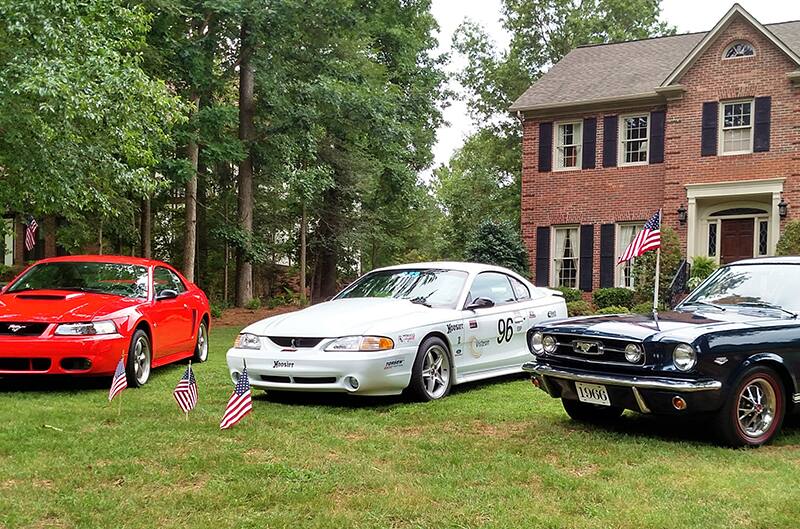 Lastly, there's my youngest, Leah, and the last of the 5th Generation family tree under my wife and me. She was two years behind her brother and already talking about what her first Mustang would be – now that's my baby girl! She would help some in the garage like her big sister Megan, so she had my attention. She also was an athlete and played club softball and then club lacrosse through middle and high school. That took her attention away from the car hobby, but that was fine. She was the youngest and had me wrapped around her finger by then anyway. Her dream car, for many years, was a new Shelby GT500 Mustang, and that was it! Indeed an awesome car, but that wasn't happening on my watch, or salary, for that matter. As luck would have it, a Black 2011 Mustang popped up on Craigslist with light front-end damage, for $3k, OBO. I showed up with my truck, trailer and cash, and made the deal for $2k (which was exactly what I paid for Brandon's car and this one was 11 years newer – Score!).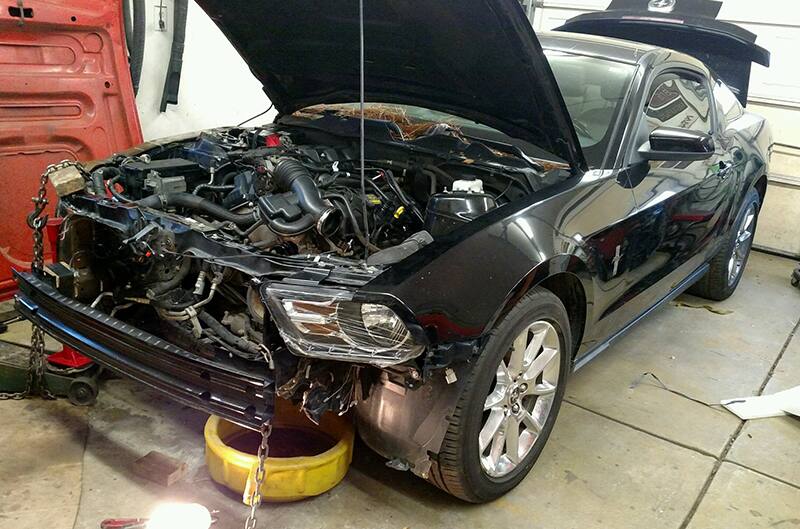 This would be my final secrecy build, so I was pulling out all the stops while still maintaining a budget. I had an OEM set of 2011 GT500 wheels on my '06 GT track car, another progressive piece meal build that I forgot to mention, but more on that later.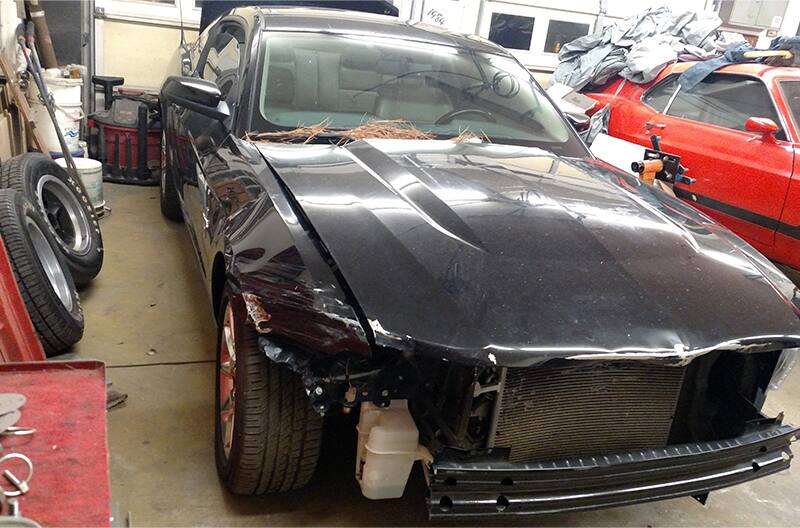 Anyway, that was the tipping point of the theme for Project Leah's build. A Black/White Stripe 2011 GT500 wannabe. It was a 125k-mile 3.7 V- Automatic car with 305 horses, so no slouch by any means. I spent the next several months collecting all the parts to repair the front end and complete the GT500 visual transformation. I came in a little under $6k, with an original budget of $5k, so not too awfully bad. (She was the baby, don't forget.) Rather than make a big deal on the reveal, I decided to make it a special moment, just between us. She was used to seeing covered-up Mustangs in the garage, so it was hidden there in plain sight. I asked her to help me out in the garage for a second, and we uncovered it for the first time together. It was a special moment just between the two of us that I'll never forget.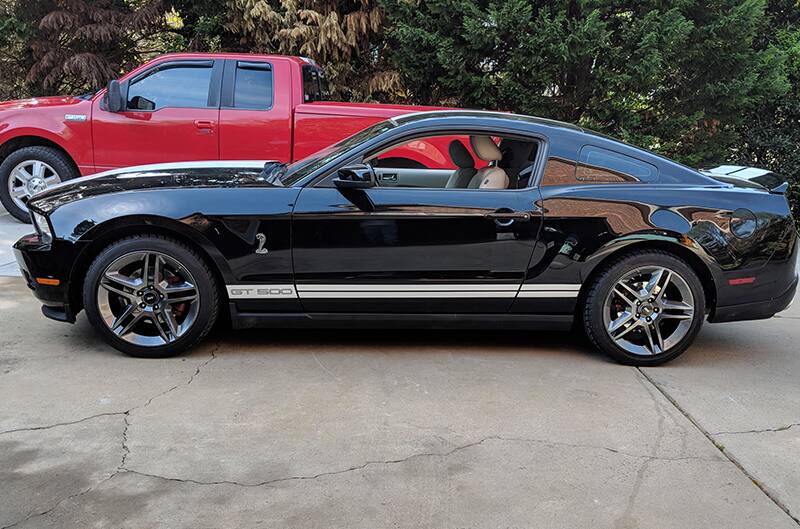 Back to dad and his project status: The Red R-Model was residing with Scott, the Carry Over car was headed my way, and the Comet and Thunderbolt were both sold. The building and shop were looking a little sparse. However, Chris's legacy car was still holding down the fort in the back corner, awaiting some engine work before he can come get it. There were a few project flips to keep the cash flow going (like a pair of rust-free '65 and '67 Mustang Fastbacks and '64 Falcon Sprint, to name a few), but that new project was in order, so the search began.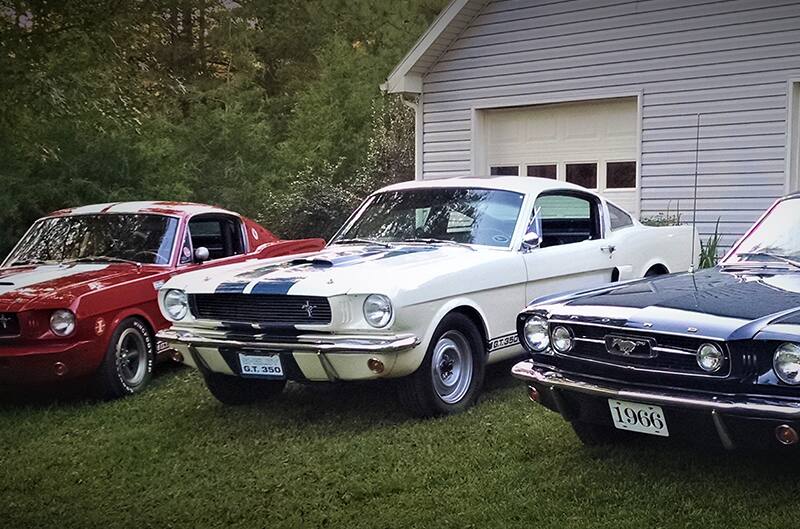 As luck would have it, a 1970 Mustang SportsRoof 351 / 4-speed project car showed up on Craigslist, for only $1k, as a disassembled project roller with no drivetrain. Dad and Barry both inquired about it, but Barry got the call back. After some finagling between them, and that knowing Barry was only interested in it for a quick flip, they went and bought the car for dad. It was a legit ad, not a scam, and a decent car with only minor rust, so a real bargain, even in 2013 (Thanks Bear!). Now, continuing in his Race Car Replica theme, Dad decided it was time to build a Boss 302 Trans-Am racer for his next project. He settled on a Grabber Orange Bud Moore Boss 302 that had won the Manufacturers Championship in 1970.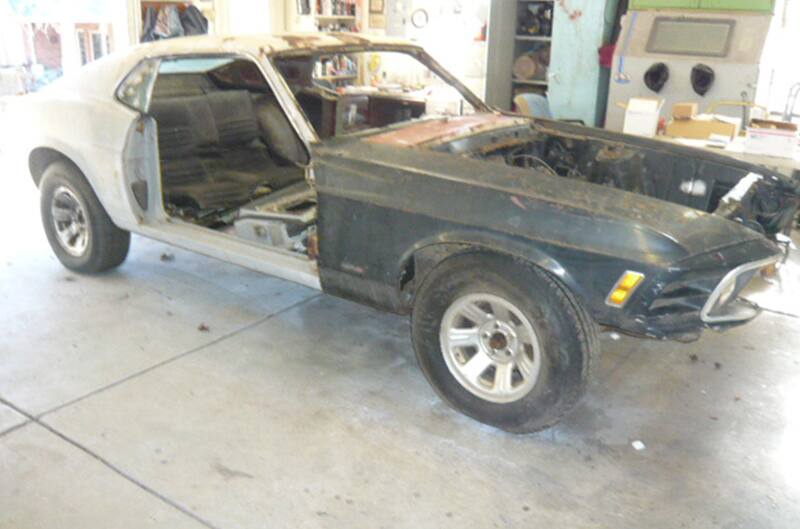 He jumped right on it, doing the body repairs and the Boss 302 specific suspension modifications first. It was now the spring of 2014 and the Trans Am car was a fully primered bare shell, ready for paint. It was also time for a break as the Mustang 50th Birthday Celebration at Charlotte Motor Speedway was upon us. I had spent the last 12-plus months planning for the event, as I was the CRMC President and we were the host club for the big MCA anniversary event once again. Dad and Barry were part of a parking team that worked tirelessly for four straight days during the event. Right alongside them were the rest of my CRMC team, plus many walk-up volunteers. The monumental team effort helped make the event an overwhelming success.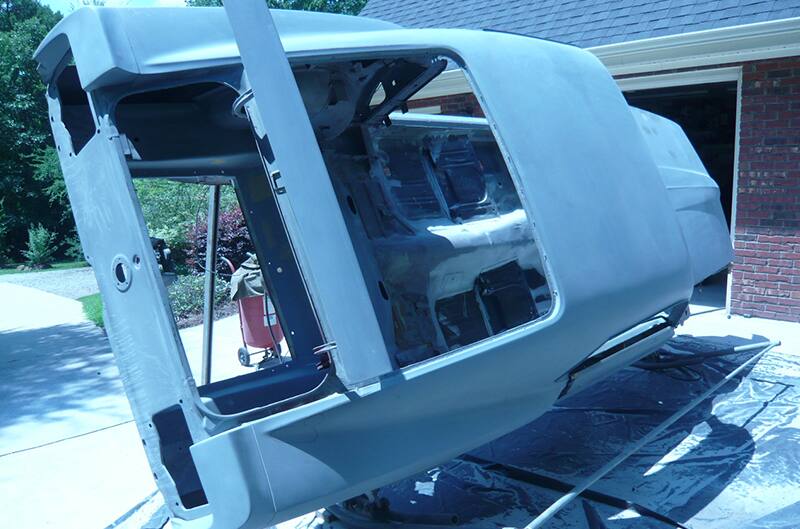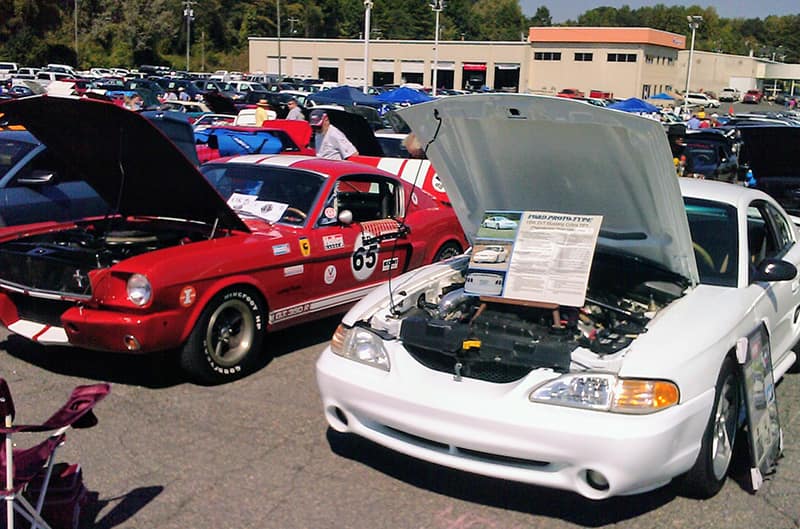 Once the dust settled form the Mustang 50th, and the annual Carlisle Ford Nationals in June was in the rear-view mirror, I got an opportunity to do a magazine article with a Mustang acquaintance, Brad Bowling. It was neat, as it wasn't a typical article about my car, but rather a weekend trip we took in my car that made it unique. Surprisingly enough, it made the cover of Mustang Monthly in August of 2014. My '95 Cobra had an article done about it several years prior, but it wasn't on the cover. Mustang Monthly was like the Rolling Stone to me, and making the cover was an honor I'd never forget.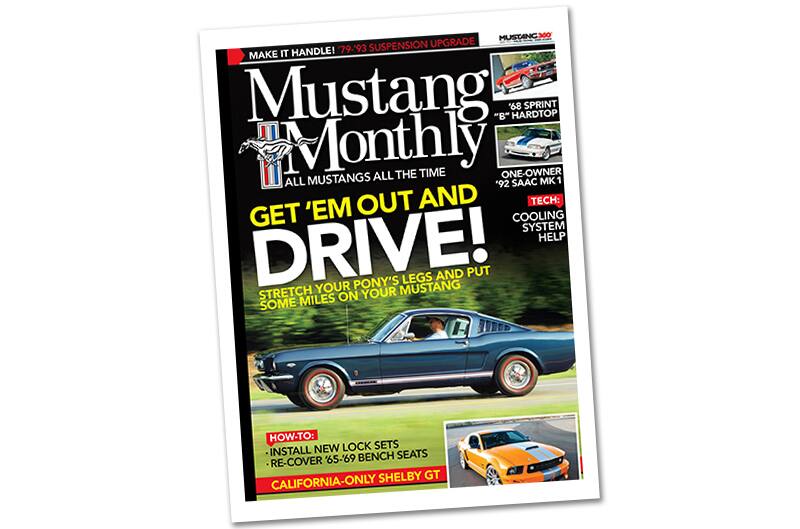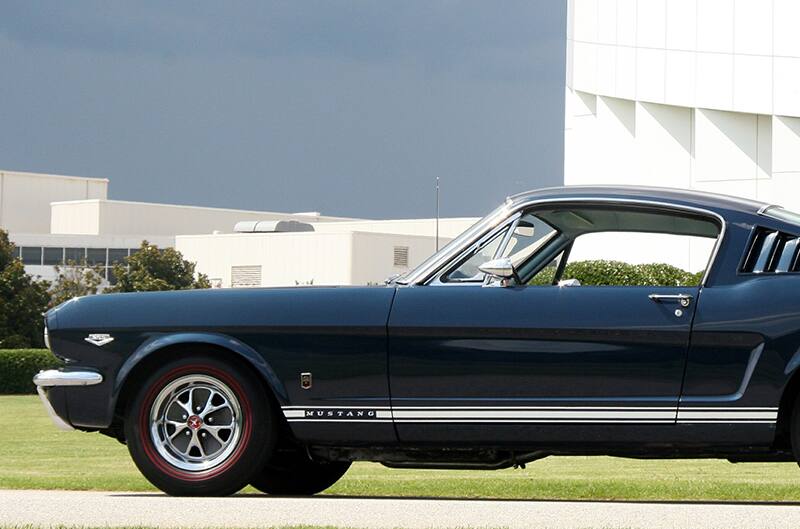 It was time to get busy back on the Trans Am build. Dad had located an original, unmolested Boss 302 engine and transmission from a local friend and Boss aficionado. So, while the fresh coat of Grabber Orange Paint was curing, the engine was torn down for inspection and the transmission was sent out for a fresh rebuild. The new front and rear suspension were installed as the build started coming together. To enhance the period-look of the T/A Boss engine bay, dad located an original Bud Moore intake and valve cover assembly, unique to the Trans Am race cars (also painted Ford Corporate Blue, making for a nice, authentic detail!). As a reminder, dad still did all his own work, from body and paint to engine builds and interior restorations. For a one-man-band, his talents are endless and he works surprisingly quick, compared to me anyway!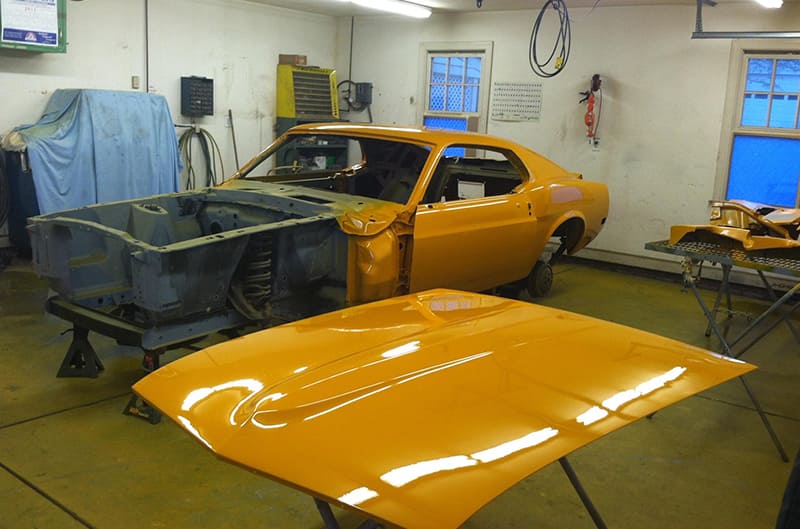 The Trans-Am car was now 80-percent finished, and we all know now what that means. Like the transition from the amateur Red Thunderbolt to the uber correct Burgundy T-Bolt, his head was now deep into the Boss 302's, sorting out the minute details that makes all the difference in a good build. As luck would have it, a guy in central Virginia bought one of dad's advertised project cars. But he also said he had a large car collection and lots of parts of his own, including some '70 fastback items needed for the Trans-Am build.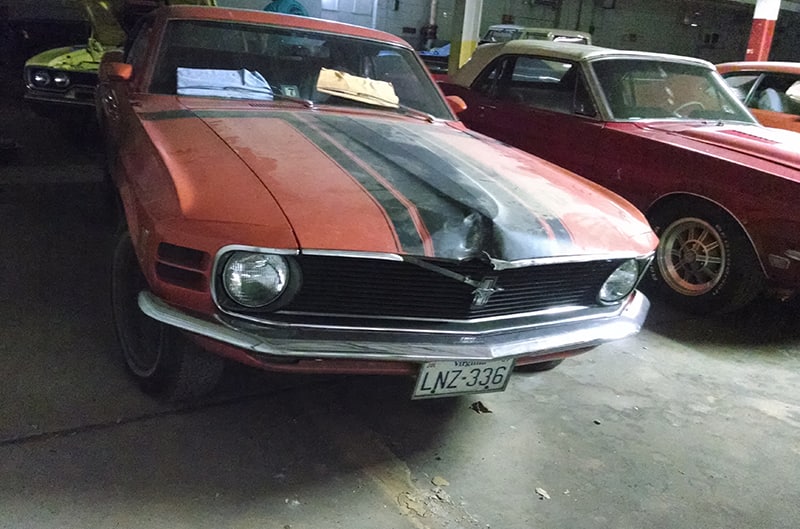 So, a trip was scheduled and off to central VA we went, -- Dad, Barry and myself set to visit Virginia Jimmy. Never pass up an opportunity to check out someone else's car collection we say, especially when an invitation is offered! When we arrived, Jimmy said he had over a hundred cars in multiple locations. Now realizing it was far too much to see in the time we had allotted, we made the best of it. He took us on the tour of what he had stored locally, about 40-50 cars or so, and to also retrieve the Fastback parts we needed.
He had buildings all over town. There were five cars here, eight cars there, 10 cars, etc., etc. It was a lot to take in. The last place we stopped was what looked to be a large, rundown textile mill in the old industrial district of Bedford, VA. Surprisingly, it housed about 10-12 cars in the dank, ground-floor basement towards the rear of the building. Among several Fords and other muscle cars stored down there, was a real '70 Boss 302 – sitting uncovered with a couple flat tires and lots of dust. It was an original-paint Calypso Coral Boss 302 showing just 80k miles on the odometer. It had a nice but mildewed original Black standard interior, with the original engine still under the hood and the highly coveted Drag-Pack engine oil cooler. With a 1986 Virginia Registration sticker on the windshield, that meant it had been off the road for nearly 30 years, and was by no means a get-in-and-go driver. Therefore, it still needed a lot of work to bring it back to its former glory.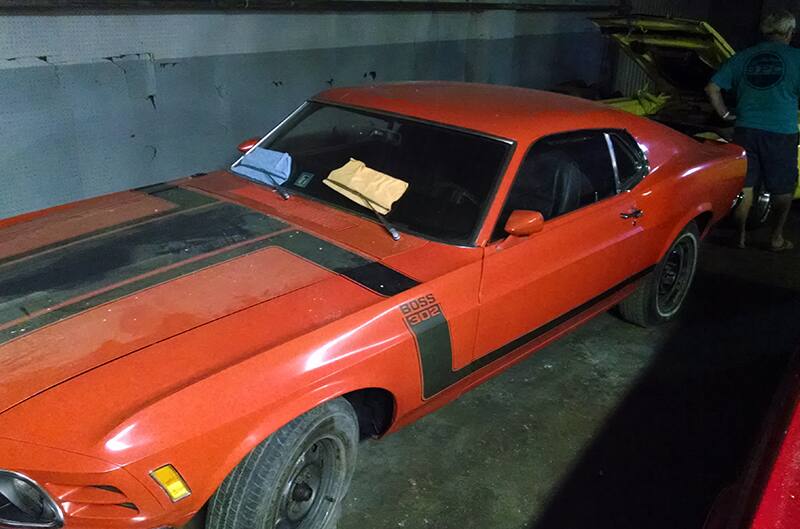 I told dad that this would be the perfect car to get, due to its originality. Jimmy told us the car wasn't for sale. But as any horse-trader will tell you, sometimes persistence pays off. So, being an American Pickers fan, I asked him what his 'I don't want to sell it price' was? -- and it was actually reasonable. Hmmm. The catch was that we had to purchase another '70 Mustang SportsRoof he also had there, as a package deal. Well, our dear longtime Mustang buddy and flipper, Uncle B.S., agreed to buy the other Fastback. So, they all shook on the deal for both Mustangs, right as it was getting dark. This made for interesting discussions on the drive home, considering all we originally went for was some trim parts!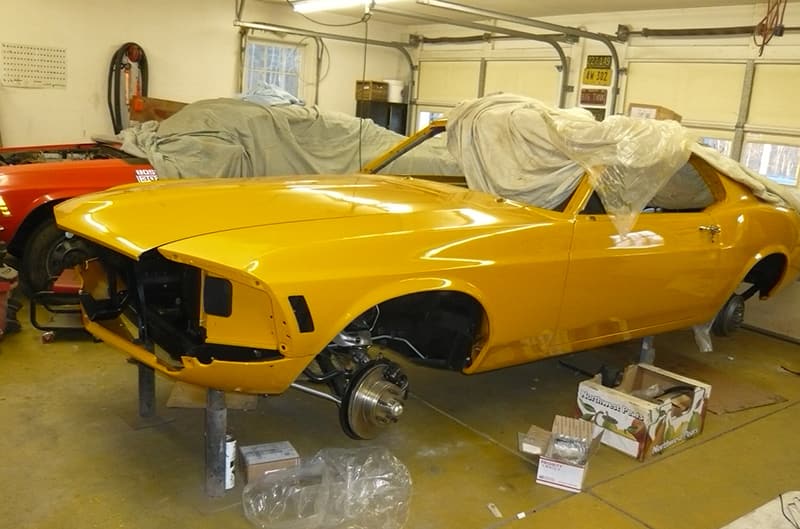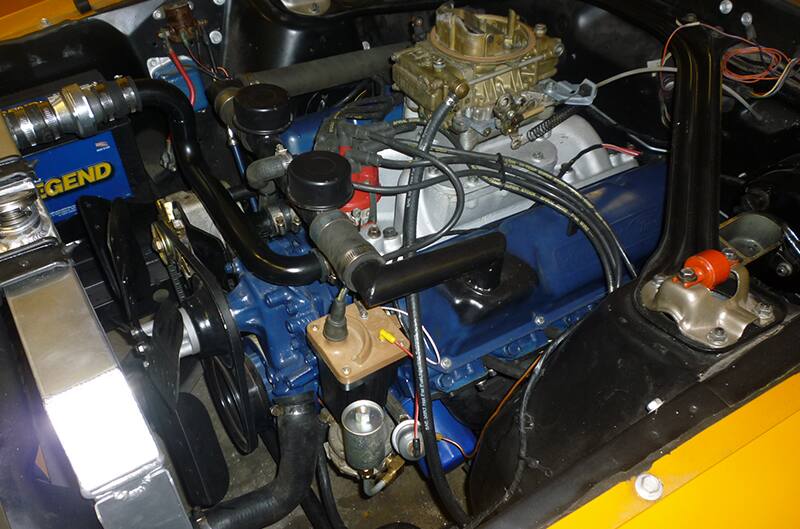 Once we got the new Boss back home a couple weeks later, it was parked in the shop next to the Trans-AM Boss, so both could be worked on simultaneously. Well sort of . . . after a full evaluation of the barn-find Boss, it was determined that it needed a fair amount of mechanical work, which included a complete suspension and drivetrain freshening. That was mostly due to its time long-term storage, and time spent at the local drag strip in its prior life with the original owner. So up in the back building it went, and efforts could get re-focused on the Trans-Am build completion.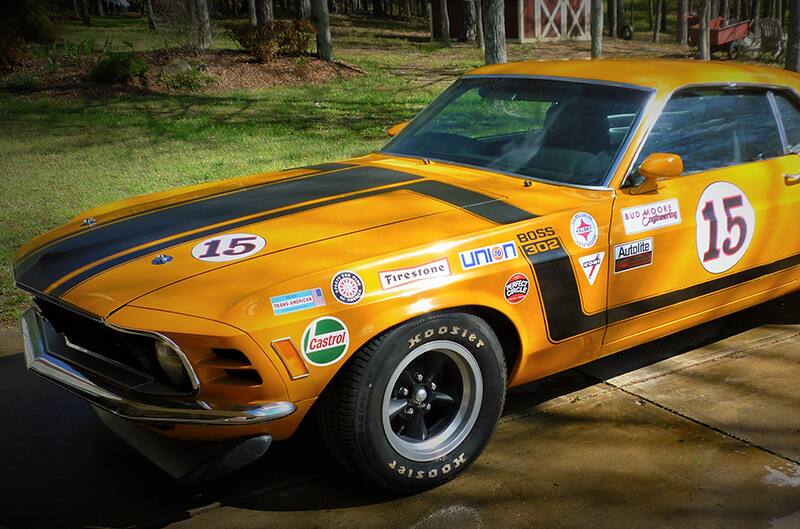 Hard to believe that 2015 was more than half over and I had just crossed a milestone -- turning 50! I had been in NC now for 30 years and it had been nearly 25 years since I bought my only new car, the '90 GT. I got a surprise phone call from Uncle Al, which was always a pleasure. We hadn't chatted in a while, so we caught up on things, and then drifted into cars as we always do, including the traditional inquiry on the '55 T-Bird and how it's doing. He hesitated and said it hadn't seen much cruising lately. It had been more-or-less sitting in the garage covered up for the last several years. Partly because he was getting older (into his early 70's by now), and also because Doug's health was waning due to numerous complications from his diabetes. So unfortunately, neither were in any position to service it and take it for a jaunt.
There was a short silence, then Al then got to the difficult point of his call. He came out and said that he'd made up his mind to sell the T-Bird (the legacy family car I mentioned earlier), and asked if I would like to buy it to keep it in the family. With remorse and some hesitation and numerous questions, I agreed to buy it. We discussed the details and consummated the deal. Unfortunately, I had to sell my keeper '95 PP1 Cobra to make it happen – which ironically was the very car that got Cousin Doug back into Mustangs 10 years earlier. But for an opportunity as meaningful as this, it was a no-brainer. On a brighter note, with the pending funds for the '55, Doug was able to purchase a 2002 Retro Thunderbird that became his new instant favorite (even over his pristine Black '98 SVT Cobra that he was so proud of!).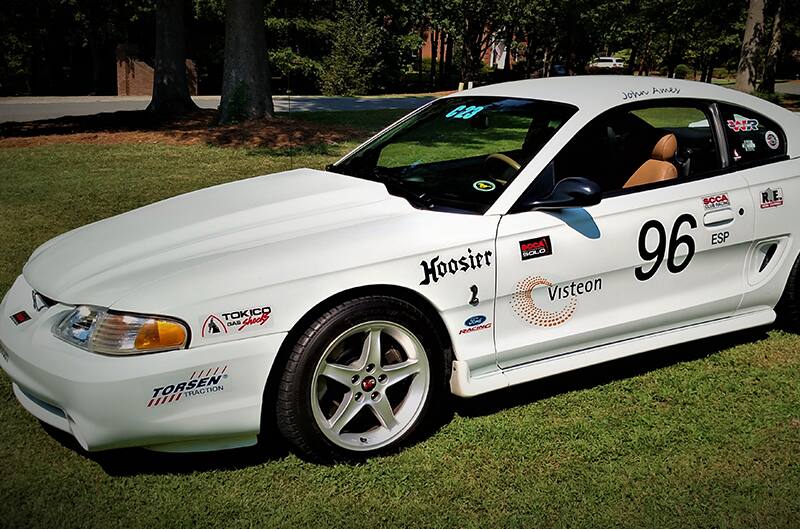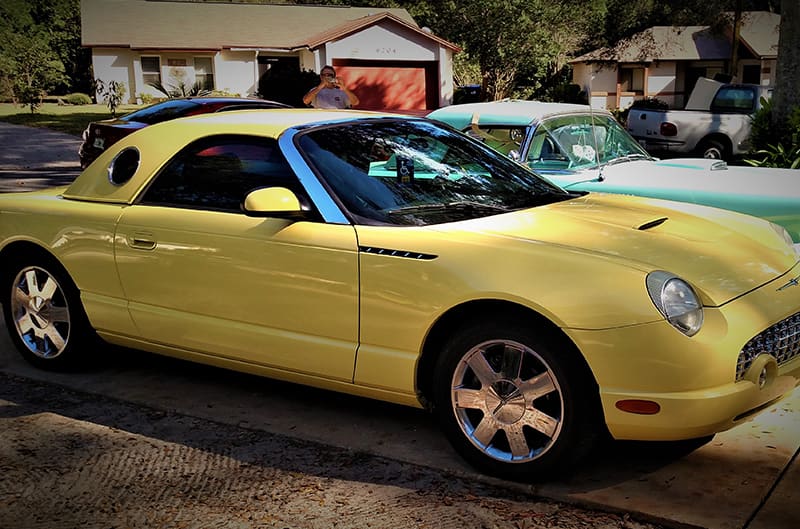 With the '95 PP1 Cobra now sold (still have seller's remorse over that one), dad and I headed to Orlando, Florida, in early January 2016 with the truck and trailer in tow, to pick up the '55. It was a beautiful, warm day and Doug came tooling up in a like-new Inspiration Yellow Retro Bird, still beaming from ear-to-ear. It had been a couple years since we'd last seen each other, so a warm welcome was past due. After all, Doug and I were both 50 now (actually Doug was almost 51) and not getting any younger! We stayed a couple days as always, just to hang out, relax and enjoy some of Ginger's signature home cooking! We also caught up with some of Al's old car cronies that we'd gotten to know over the years. It was a great visit as usual, but somewhat of a melancholy departure. Al and Doug were passing the torch on to me, to be the next caretaker of Grampie's all-time favorite car, and to carry on his legacy. It was an honor that I didn't take lightly and one for which I'll forever be grateful.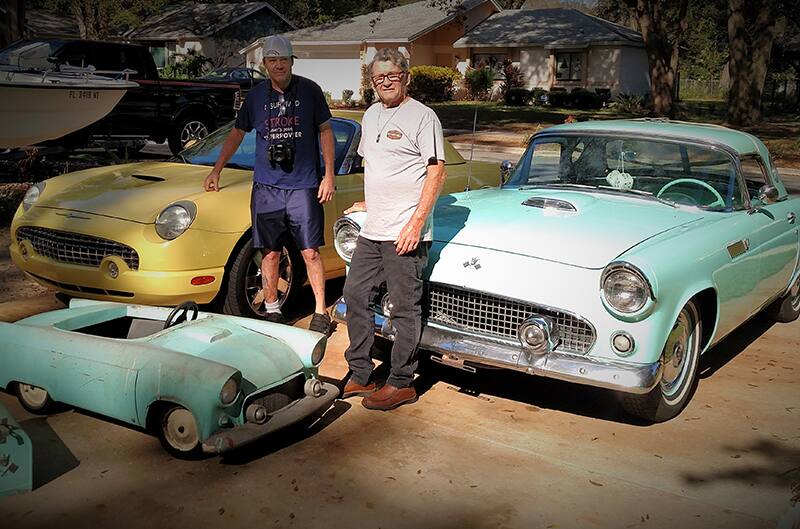 We made it back to Charlotte without incident, and I was anxious to get started on my new T-Bird rehabilitation project. Little did I know that was the last time I got to see my cousin Doug. He passed away a year later, due to advanced complications from the god-awful diabetes. He was barely 52. Doug never married and wasn't blessed with any kids. It was a very unfortunate and sorrowful end to that branch of the Young Family "Car Guy" tree.
Adjusting to Doug's passing was especially difficult for me as he wasn't a grandparent or long-lost uncle. He was my age, and we grew up together. We had lots of great times – and lots of great fights as well! But his loss hit especially close to home because he was not only my closest cousin, but also a dear friend and forever car buddy.
FORD PERFORMANCE PHOTOS / COURTESY THE YOUNG FAMILY COLLECTION