The great American car buyer embraced the Mustang immediately upon its debut in April of 1964, and the love affair now endures into its sixth decade. The Mustang remains a cultural icon, and the best-selling product in the class that it created. The Great American Pastime, on the other hand, took more than 40 years to even notice the Mustang's charms. But born of this brief flirtation was one the rarest and most elusive of Mustang special editions.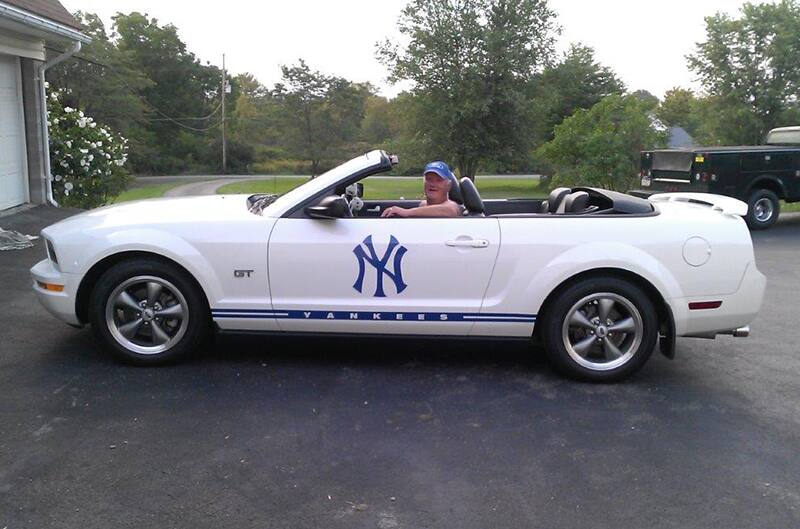 Baseball, or more specifically, the New York Yankees, succumbed to Ford's alluring pony in the summer of 2005, promoting a limited run of 60 "Yankees Edition" Mustang convertibles. These were essentially Mustangs dressed in Yankees uniforms, with the team's intertwined "NY" initials written large on the hood and doors, and bold, blue pinstriping that segmented the entire white-painted surface of the car.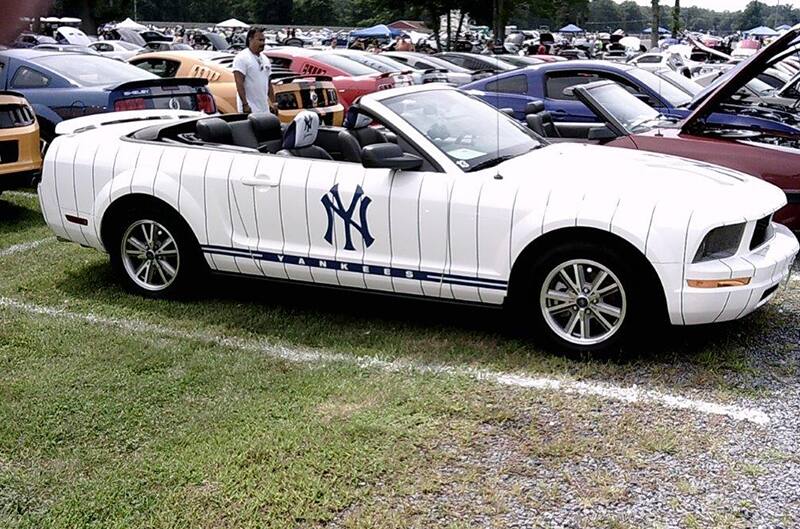 A numbered dash plaque affirmed the vehicle's limited-edition identity. Additionally, a Certificate of Authenticity, bearing both the Ford and Yankees insignia, listed the VIN and dash-plate numbers and attested that the limited run of 60 cars had been released on July 28, 2005 "at a special event at Yankee Stadium." The certificates were signed by Matthew Bradley, Regional Sales Manager for the Ford Motor Company.


Except the Yankees Edition Mustang was never a national Ford product, but rather was done as a regional special edition offering. It was – as so many of the regional special editions are -- a sales promotion conjured up by Bradley's Ford Regional Sales Office and the Yankees organization. And as a result, maddeningly little of its story is known.

According to the Mustang Owner's Museum in Concord, North Carolina, each Ford dealer in New York, New Jersey and Connecticut was allocated one car for the promotion for the 2005 Ford Mustang Convertible in the Tri-State area, but popular legend has it that the 60 cars were assigned by lottery to Ford dealers in those same states. And at least one other car -- along with a $10,000 cash prize -- was given away in a promotional sweepstakes. "This special edition Ford Mustang GT Yankee Edition convertible could be yours," teased a television ad, "and it won't cost you a thing. Register to win at your Tri-State Quality Ford dealer now, and drive home the winner." (It's worth noting that contemporary promotions used "Yankees Mustang" and "Yankee Mustang" interchangeably.)
The "GT" reference in the TV ad is interesting, because all 60 cars actually sold through Ford dealers appear to have been 4.0-liter V-6 "Premium" models, all identically equipped with automatic transmission, 16-inch aluminum wheels, charcoal leather seats, a black convertible top, a fixed list of options, and an MSRP of $29,490. It also appears that individual dealers decided what to charge for the Yankees graphics package, and frequently added their own supplemental list of accessories and charges, sometimes jacking the actual asking price closer to $40 grand.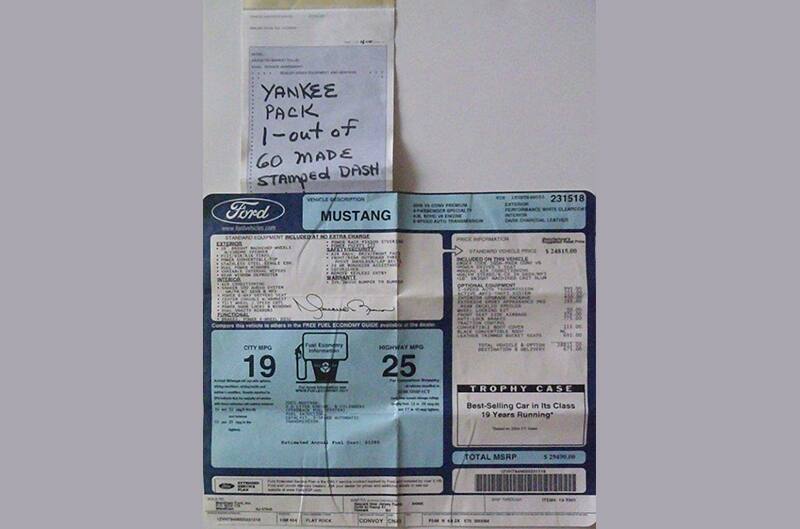 How many Yankees Mustangs actually sold for those prices is an interesting question. Mike DiLiberto, founder of the Garden State Region Mustang Club, recalled how the New York City dealer who hosted his club's annual show "was having a hard time selling its allotted Special Edition. So of course I offered to take the car for a weekend, and bring it to a cruise night where our club had been invited. The car garnered a lot of attention, but no solid leads." For the record, the 2005 Yankees tied the Red Sox with a 95-67 season, but ultimately lost the Divisional playoffs to the Angels of Los Angeles.

Regardless, the Yankees Edition Mustang returned in 2009, when the team moved from its 86-year-old home on East 161st Street in the Bronx to a brand-new, $1.6-billion facility built literally across the street in what had been Macombs Dam Park. In celebration of this event, a single 2010 Mustang GT convertible, customized similarly to the 2005 models, was again given away in a sweepstakes.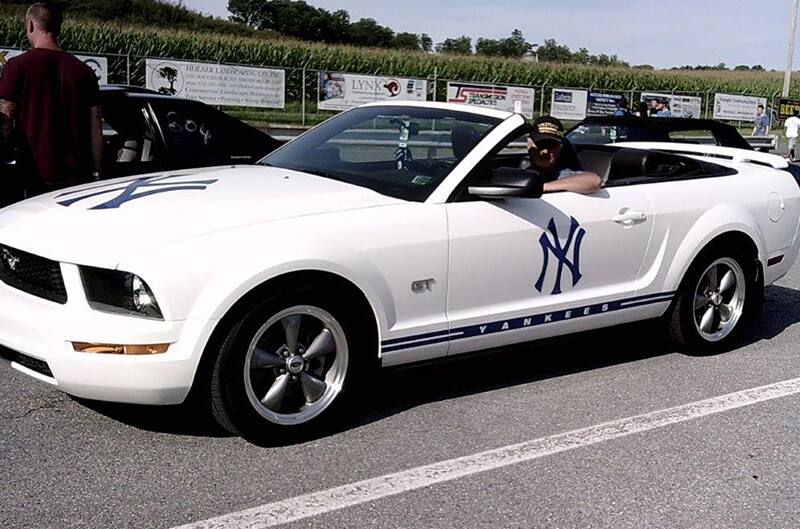 In a television ad produced by Retail First Team Detroit for the Tri-State Ford Dealers, a tomato-red fastback cruising the streets of Manhattan magically transformed into a Yankees-pinstriped convertible: "The new 2010 Ford Mustang, Yankee Style. There's only one, and it could be yours. Enter the Drive One Home Sweepstakes at jetersfordchallenge.com, or your local Ford dealer. One lucky winner will be driving this special Yankees edition home from the game on July 5. . . . "

The 2010 GT that was awarded that summer day in the Yanks' new digs was of course powered by a 4.6-liter V-8, with automatic transmission, 19-inch aluminum wheels, and a blue interior featuring ambient blue lighting. The dashboard was autographed by Yankees shortstop and team captain Derek Jeter. And that year, the Yankees nailed their 27th World Series . . .

. . . which seems to have done little for the value of this one-off Yankees Mustang. Without options, a garden-variety 2010 GT convertible would have stickered for $32,995. In December of 2009, the final (so far) Yankees Edition Mustang was sold through Absolute Auction and Realty for just $28,250. Auctioneer Rob Doyle told PR Newswire that the original owner planned to apply the proceeds "towards the education of his children." The ultimate fate of that car is unknown, although we were able to locate both present and former owners of a few of the 2005 editions, and to document some brief encounters with some others.

Back in 2005, when Sayville Ford in Sayville, New York hosted a meeting of the Mustang & Shelby Club of Long Island, club officer Dennis Healy spotted a Yankees Edition in the showroom. He does not recall its number. The dealer told Healy that the car belonged to a customer; still, Dennis was able to snap a few photos of his nephew (who is now 24) sitting happily behind the wheel.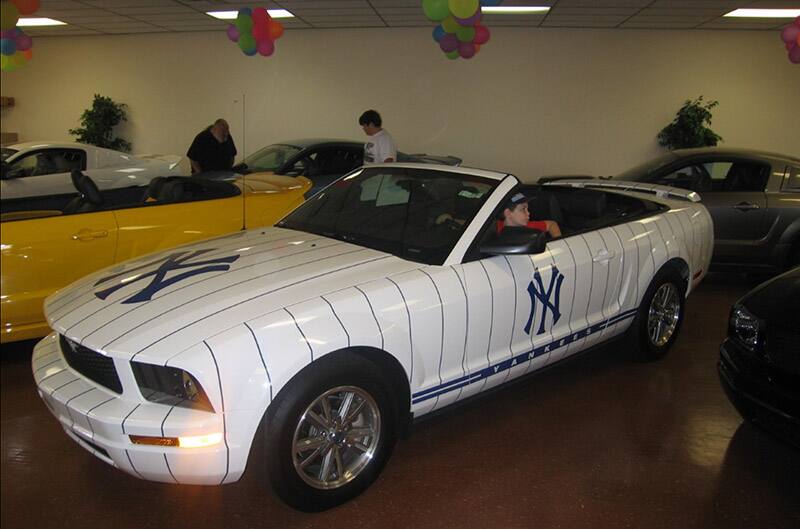 Around 2007, Dick Serocki of Costa Mesa, California, told MustangAttitude.com that he had acquired a Yankees Mustang that had been left to his sister by her late boyfriend. "I enjoyed many finger flips," he reported, "since I lived near Angels Stadium in Anaheim." But Serocki sub sequently moved to Bellport, New York, where the car was more welcome -- and kept in a garage all winter. "I love this car," he concluded.

Joseph Bedell, a long-time construction manager for New York utility Consolidated Edison, bought Yankees Edition Mustang, Number 39, brand-new on August 4, 2005. Joe's been a Yankees fan "since Mantle and Maris, when I was 10 years old." . . . The first time I saw the car was in a Yankees magazine. And I was lucky to get one, because they were limited, and there weren't a lot of dealerships" that had one.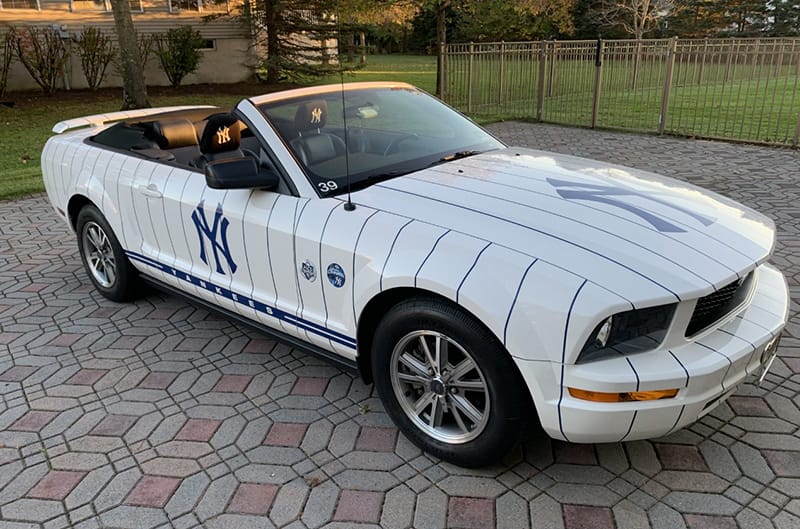 Still, Bedell shopped for the best possible bargain. He considered Number 10 at Island Ford on Staten Island, but wasn't willing to pay "close to $10,000 over the sticker price." But Loman Ford in central New Jersey wanted just $1,200 for the Yankees equipment, plus an "adjusted market value" of $5,000. A "three-hour negotiation" knocked the resulting $35,690 total down to $32,990, and Joe drove Number 39 home.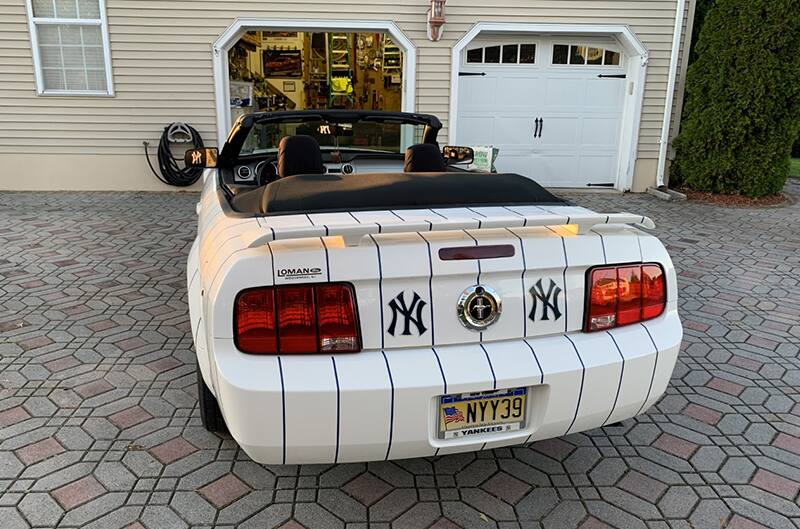 When we spoke in October, the 15-year-old car had clocked barely 30,000 miles. "I've always worried about it," Joe lamented. "You can't just park it anywhere, because you don't know if somebody would vandalize it." And then "there are people taking pictures. And some of them are fine. You pull into a parking spot and somebody wants to take a photo. But there have been times when I was at a red light, and people jumped out of their cars and started taking pictures. And then the light turned green, and traffic started moving again, and I thought, God, somebody's going to get hurt. Thank God that never happened. Even on the road, people take cell-phone pictures while they are driving.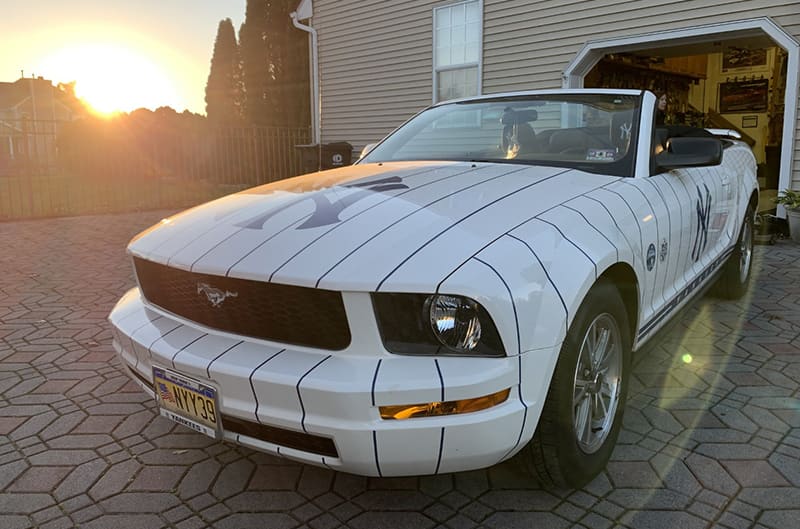 "But I've had some very good times with it," he added. "I've brought it to car shows, and I've brought it to Yankee Stadium, where people are just in awe. And twice we drove it to the Baseball Hall of Fame in Cooperstown, where it was a big hit with the fans."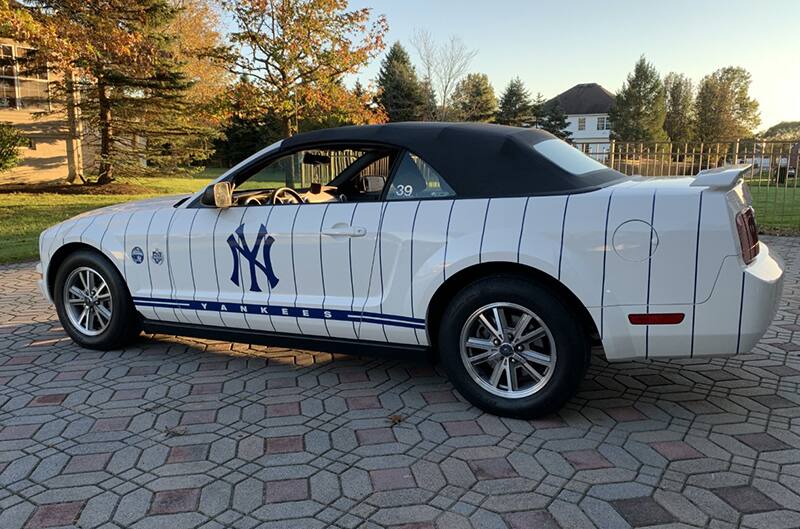 Of course the Yankee Mustang is not as fast as the '94 GT convertible that Joe has also owned since new. "It's a six-cylinder, but it has a lot of power, and it rides smoothly. And it's a convertible. I love driving it."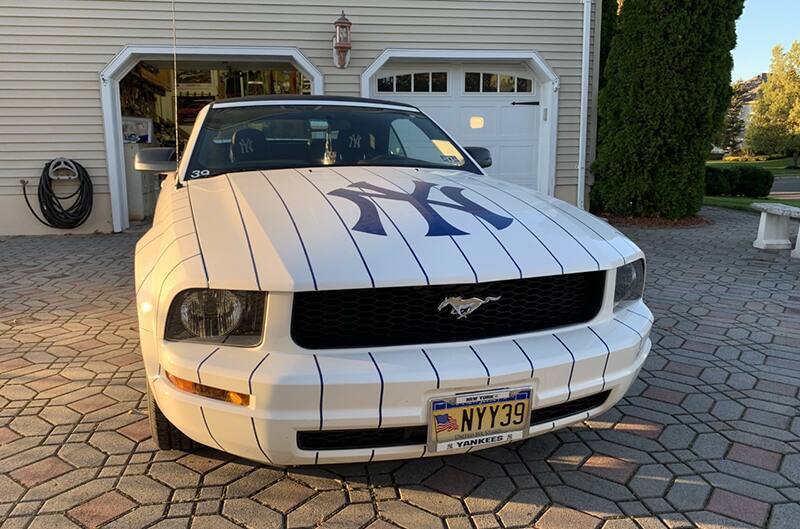 Robert L. Tabacco also worked for Con Ed when Bedell -- then Tabacoo's manager -- bought Number 39. "That car was a dream for me," Rob told us, although at that time he said, "I could not afford one." But in 2013, Rob celebrated his 50th birthday with the purchase of Yankees Mustang Number 37 from a collector-car dealer on Long Island.
According to Rob's own research, Number 37 was originally sold by a Ford agency in Toms River, New Jersey, and later traded to a Hyundai dealer in the same community. Somewhere along the way Number 37's original window sticker and Certificate of Authenticity got separated from the car, although, gallingly, both have appeared in photos posted on MustangAttitude.com. Photographed next to the original Monroney is a hand-written supplemental sticker listing the "Yankee Appearance Package" for $2,495, a "Custom Light Bar" for $1,595, and the now-familiar "adjusted market value" of $5,000, for a total of $38,580.

According to Bedell, who had seen his colleague's car, the "light bar" was in fact "a roll bar, black and very heavily constructed" -- and we have not heard of any other Yankees Mustang that was similarly equipped. Also unique to Number 37 is the signature of actual Yankee pitcher Al Leiter, who lived in Toms River, and had autographed the top of the dashboard, just below the center mirror.

Unfortunately, while Rob described the car as otherwise "pristine," the Yankees graphics were faded and peeling. He contacted the Ford Motor Company, requesting "documentation and a decaling kit." His request seemed modest enough, except no one at Ford Headquarters seemed to know the identity of the contractor who had produced the stripes; while internal correspondence that Ford shared with us suggested that Bradley, who had since left the company, "might have printed [the Certificates of Authenticity] out himself on his own computer program," such are the pitfalls of some regional models.

Despite these frustrations, Rob reported that he "had a lot of fun" with the car, adding that he had driven it in parades and "on several occasions" to opening day for the local Little League. He has also made it "available to the Make a Wish Foundation. . . . It really was a pretty car. It turned heads everywhere I went."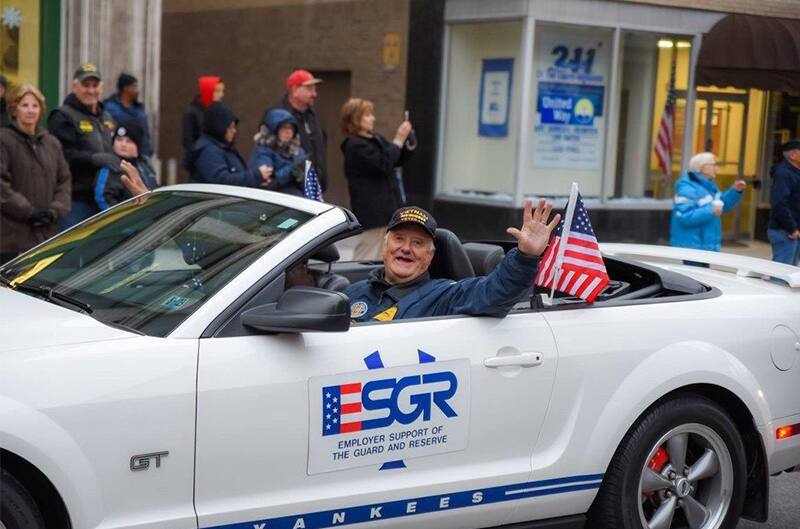 Nonetheless, in 2016 Rob sold Number 37 to a dealer in Ohio. "It took quite a while to sell it, because there is no large market for that car. And I don't really miss it, because I was afraid that everywhere I brought it someone would scratch it up. When you have things like that, people get jealous." Anyway, "it was time to move on to another Mustang." In 2018, Rob bought a year-old red GT convertible.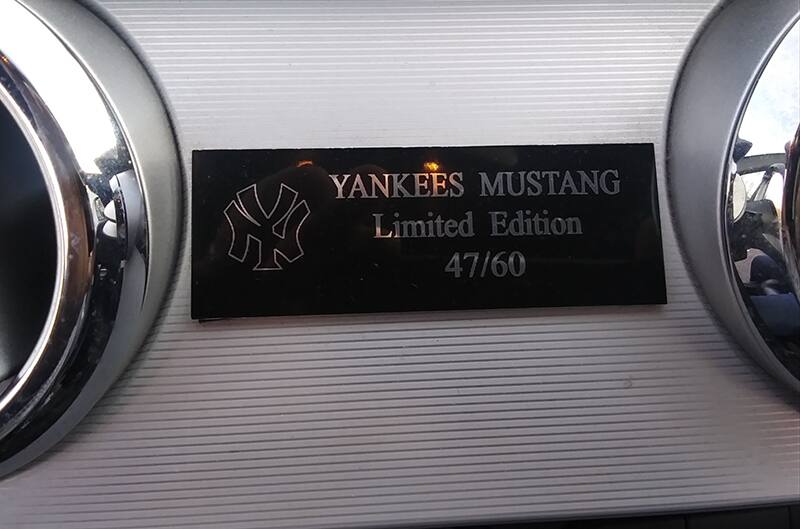 Meanwhile, in western Pennsylvania, collector Walt McClelland had admired a white Mustang convertible driven by the wife of a local used-car dealer. While negotiating a possible sale, Walt noticed a dash plaque that identified the car as Number 47 of 60 Yankees Mustangs. "So I got real interested," he admitted. "Even the Ford dealership in these parts didn't know what a Yankees Mustang was." Walt sealed the deal in May 2013, when the odometer showed just 40,000 miles.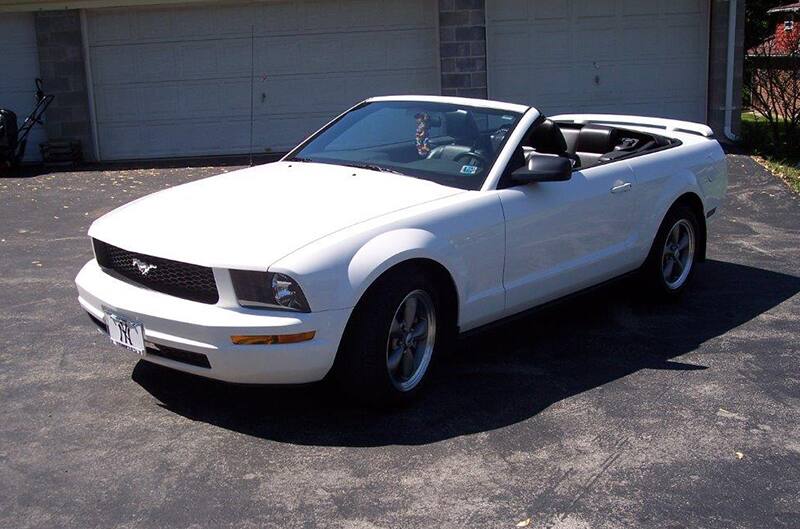 Searching out former owners, Walt traced Number 47's story back to a Chevrolet dealer in Windber, who had found the car utterly sales-proof until they stripped off all of the Yankees stripes and insignia (apparently without disturbing the original paint). In 2014, Walt brought Number 47 to the American Muscle show in Paoli, where among some 2,000 other Mustangs he encountered the fully liveried Yankees Edition Number 13, whose owner had brought it from New Jersey. Walt made the most of the opportunity, shooting many photos for reference.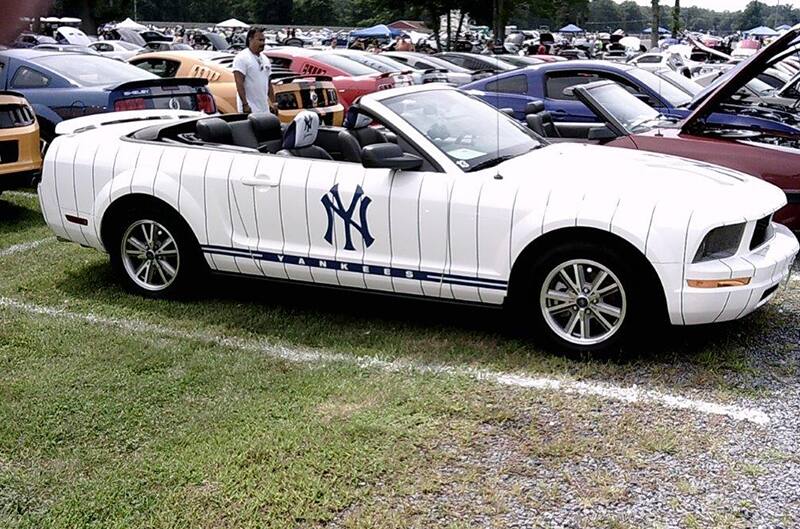 Since then, Walt has restored some, but not all, of the original Yankees graphics -- specifically the blue GT-style stripes on the lower bodysides, and the large Yankee logos on the hood and doors. (Almost incredibly, he discovered, the whole package is still available from the original manufacturer, Phoenix Graphix of Chandler, Arizona.) "To me," said Walt, "[the original package] was a little bit gaudy. There was a little too much of it. And I'm not a Yankees fan. But my wife and I decided to take it back some."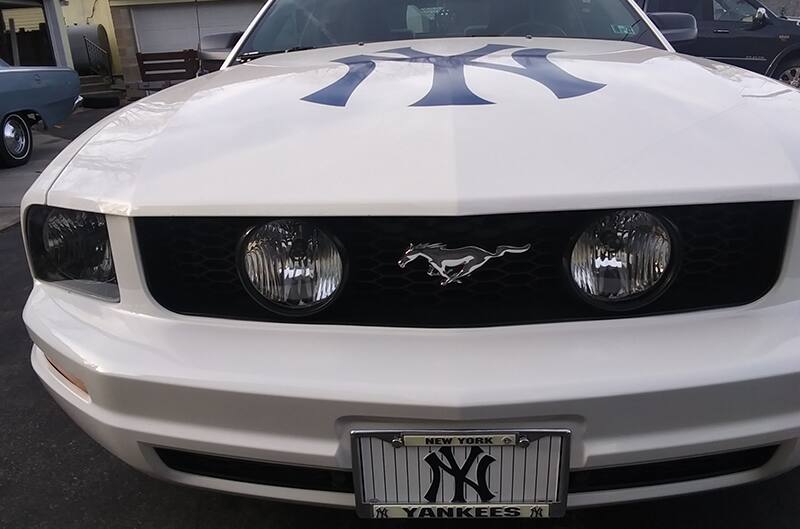 Walt's car departs from showroom original in other details as well. When he bought it, it was riding on Ford-branded 17-inch rims. The dealer included the original 16-inch wheels in the sale; but Walt has left the 17-inch alloys on the car because "they are a Ford product and they look really nice." Walt himself has installed a cold-air intake and dual exhausts, plus a custom grille with running lights, sequential turn signals out back, and GT emblems on the front fenders.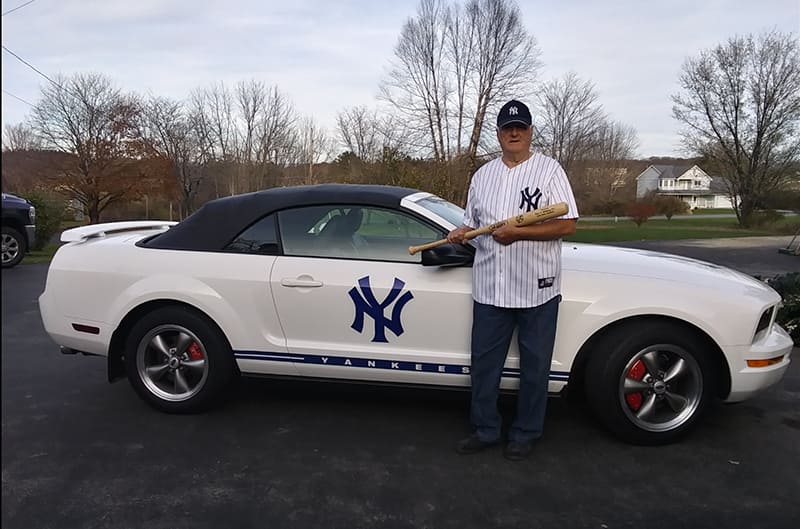 Through correspondence with Ford, Walt has further traced Number 47 to its original owner, who still lives in New Jersey, but who has not responded to Walt's inquiries. And "a friend who is very good with photography and computers" has mocked up a window sticker and even a Certificate of Authenticity, although the latter lacks Bradley's signature. "I'm not trying to kid anybody," Walt emphasized, "or pull the wool over anybody's eyes. I printed it out just for giggles."

And while he has no reason to believe that Bradley or the Yankees ever "tried to line up the numbers on the cars with the players of that time," Walt did have a Yankees shirt made with the name of relief pitcher Felix Rodriguez, who wore number 47 in 2005; he's also acquired a bat engraved with Rodriguez's name, and even an autographed Felix Rodriguez baseball card.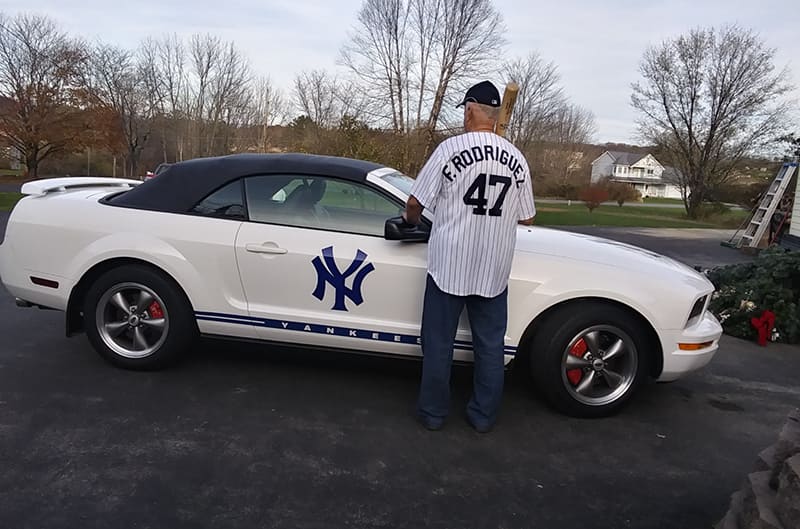 Mostly, however, Walt enjoys driving his Yankees Edition Mustang -- which he definitely rates "a keeper." It had been "garaged all the time. It has a real nice convertible top" -- and although Walt owns other classic muscle cars -- "we had never had a real nice convertible like this. So my wife and I have a blast with it. It has 50,000 miles on it now, and we just enjoy the hell out of it. It's a beautiful car, and probably 'til the I day I die, we'll still have it."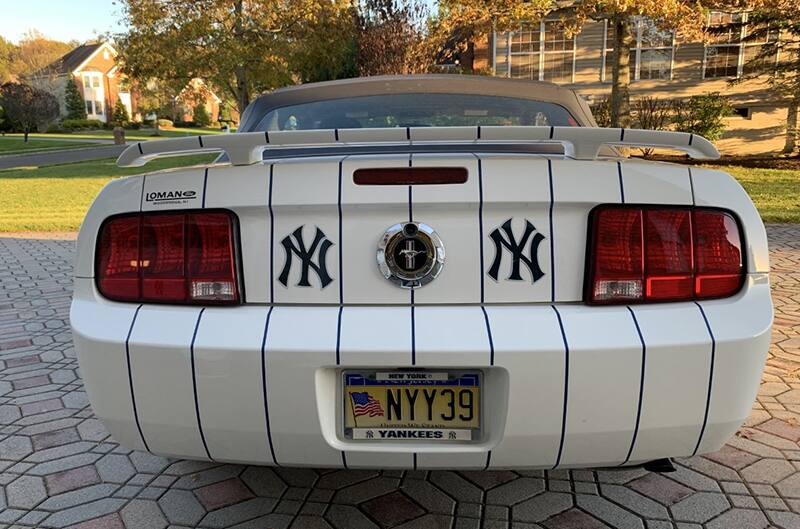 Some love affairs – and fandom to certain cars and sports teams -- do actually last a lifetime.
FORD PERFORMANCE PHOTOS / COURTESY OWNER & INTERVIEW SUBMISSIONS to JOHN F. KATZ