DEARBORN, Mich. -- Members of the Mustang Owners Club of SouthEastern Michigan (MOCSEM) were treated to a very special meeting earlier this year. Ford's Dave Pericak dropped by. Most Mustangers and club members know who Pericak is, but for those who don't, Dave was the Chief Engineer for the S550 Mustang and is currently Ford's Global Director of Icons. That means he's responsible for vehicles such as Mustang, Raptor, Bronco and the Ford GT.
Club sponsors will sometimes host a MOCSEM membership meeting on-site, and back in January Gateway Classic Cars in Dearborn offered up some of its showroom space for the club to hold one of its monthly meetings there. MOCSEM is known for inviting guest speakers for its meetings from all over the world of Ford, so club president Mike Rey as asked Pericak if there was any way he could stop in if only for a few minutes to say hello to members in attendance at the Dearborn venue. Being the enthusiast that he is, Pericak did just that. He made a surprise appearance at the meeting and walked up to the Directors Table, where Rey handed him the microphone to loud applause.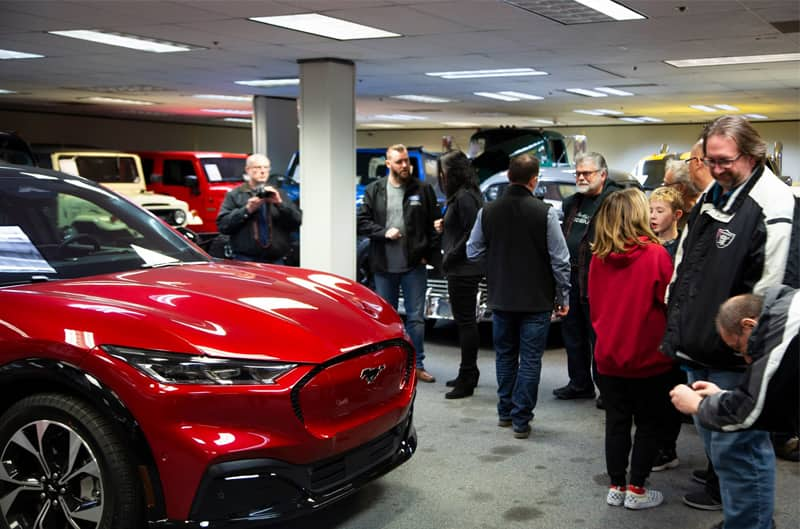 Dave spoke to the group about his career at Ford and how he progressed to where he's at today, but then moved on to the topic everyone was waiting for -- the Ford Mustang. After getting folks excited about the new Shelby GT500, Dave then shifted gears and began talking about the latest addition to the Mustang brand family, the upcoming Mustang Mach-E. While some club members are Mustang purists when it comes to their beloved pony car, they listened intently to Dave's explanation of why Ford decided to brand its all-new EV as a Mustang.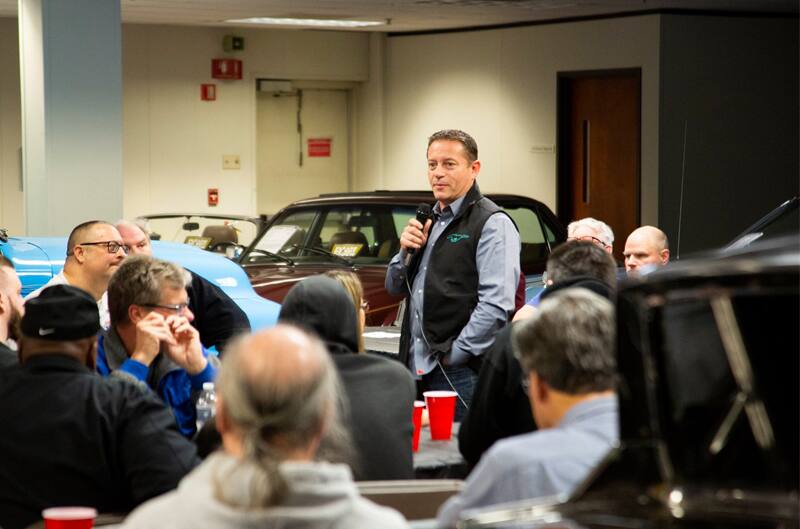 "When we realized how good we were going to be able to make this product, we said, 'What if we made it a Mustang'?" Pericak told the club. "The day that we finally decided we were going to make it a Mustang, Bill [Ford] went around the room and he asked each and every one of us, 'Are we going to do this? And if we're going to do it, are we going to do it right?' And we all agreed that we were."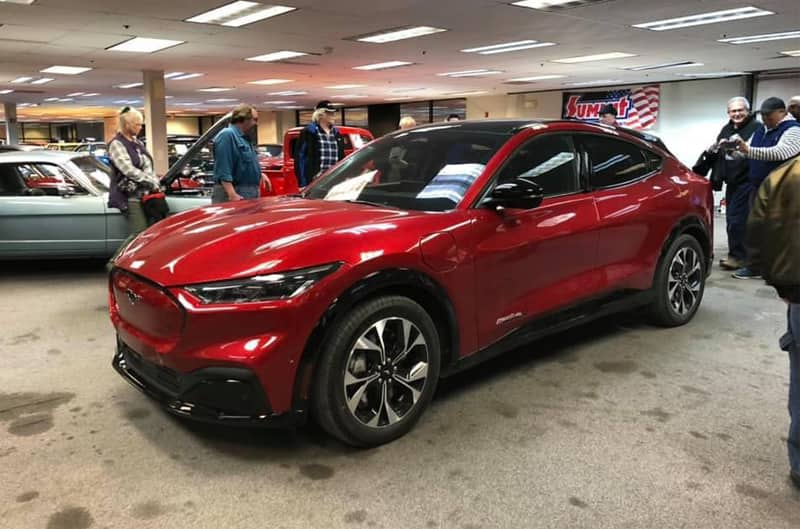 Of course, when the topic of performance was brought up, Pericak was excited to respond. "The Mach-E powertrain is state-of-the-art," he said. "The GT version will deliver some 460 horsepower and over 600 foot pounds of torque . . . and you don't wait for it."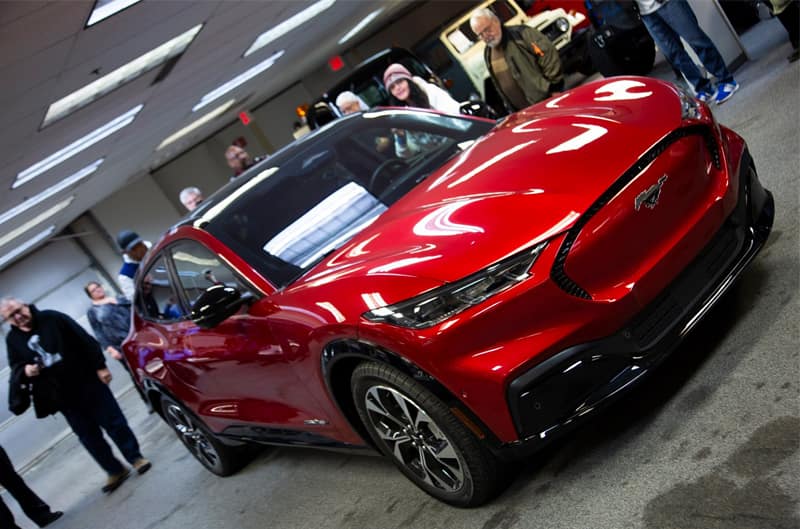 When members voiced concern the Mustang name is on an SUV, Pericak countered with, "It's not an SUV. It looks like one, but dynamically it's not one." But when pushed about why make an electric four-door Mustang, Dave spoke with passion:
"What was important to us as a company as we introduce our first real ground-up BEV, was that we do it in a way that no one else could do it," he said. "No one else can do a Mustang. And the EV is where the future is at; when you look at the regulations that are upon us from the government and everything else that we must deal with, we're not going to meet those regulations if we don't figure out a way how not to rely entirely on internal combustion engines."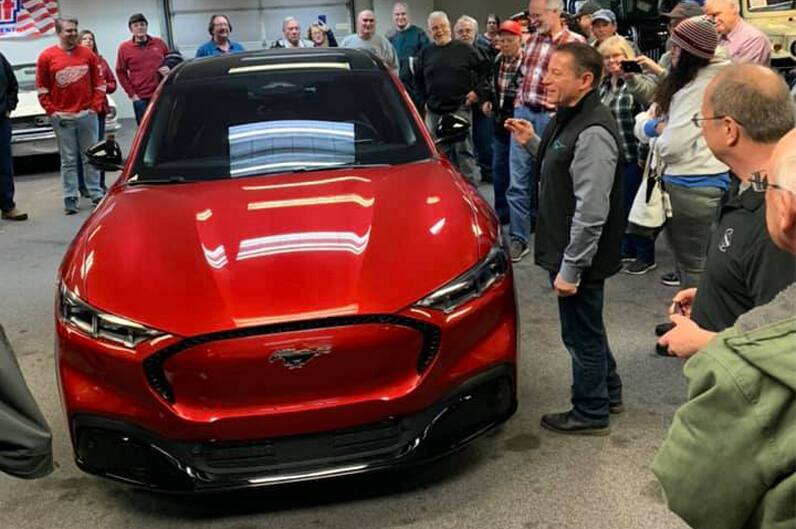 There was a spirited Q&A session that followed, with a Board member who drives a modded GT500 challenging Pericak to a drag race against a Mach-E. Pericak smiled and said, "You'd be surprised – better be careful of what you wish for." And when one member suggested that he saw the move as the beginning of a Ford shift away from the Mustang, Pericak shook his head.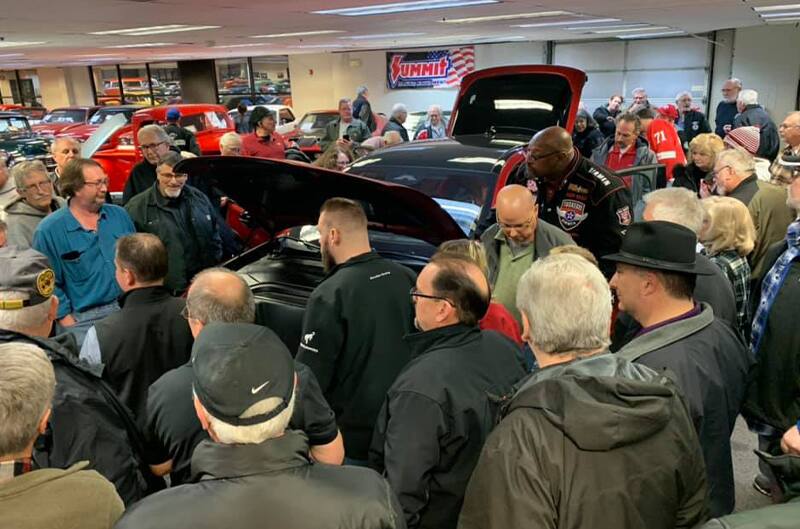 "The company is dedicated to keeping Mustang alive," he assured the crowd. "This doesn't mean we don't love building Mustangs like the GT500. But with new regulations upon us -- and very difficult ones, to be sure -- if we don't start figuring out how to offset some of that CO2 that we put out with cars like the GT500, we won't be making GT500's long into the future."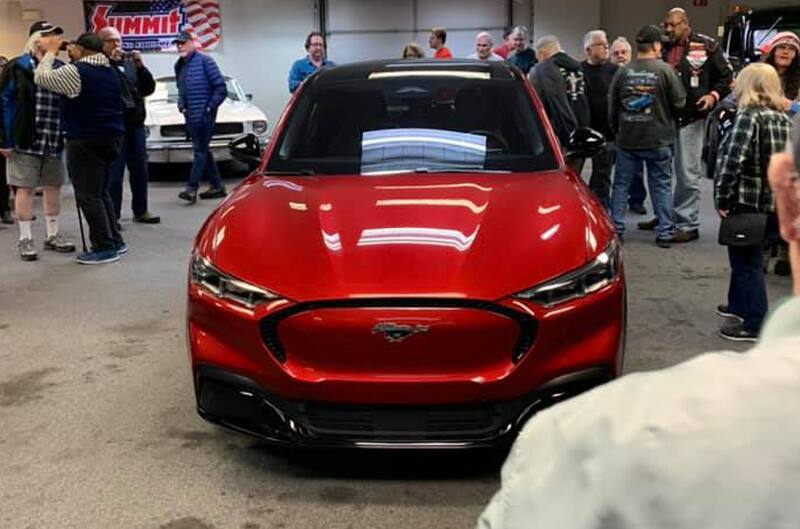 As a buzz came across the audience, Pericak said to the MOCSEM members, "You have my commitment -- you will be proud of this machine!"
Then he delivered the biggest surprise of the night: "In fact," he said, "why don't you all stand up and head over into the adjoining showroom – I drove a Mach-E here, and I want you all to see it in person!"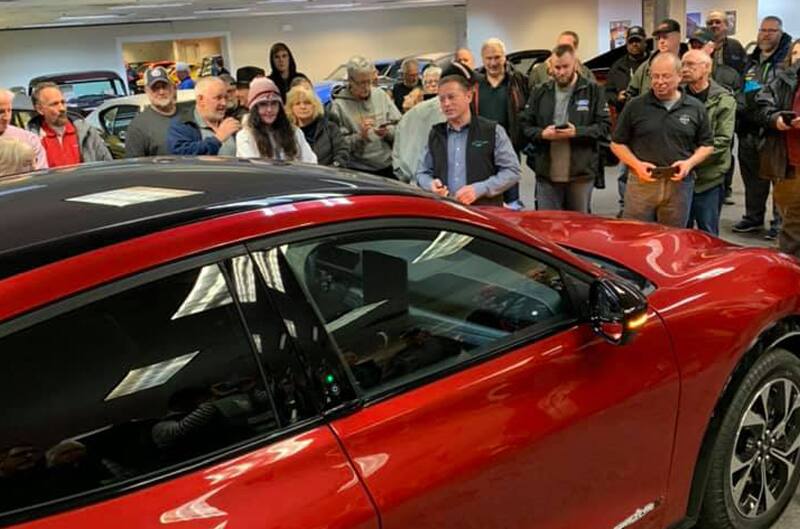 The crowd of over 200 members in attendance got out of their chairs and walked around the corner to the showroom area where a prototype Mach-E had been driven and parked. They crowded around the Mach-E and got the chance to check it out up-close. They were able to touch it, sit in it, and even try out some of the infotainment features. Even those not in favor of naming it a Mustang were impressed with the Mach-E.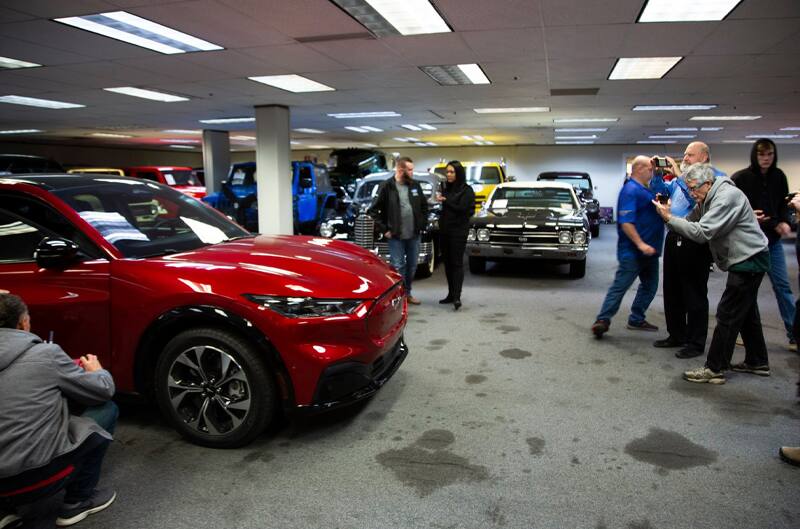 Dave finally hopped in, started it up in silence and drove the Mach-E out of the Gateway showroom door and off into the night so that the MOCSEM Board could finish its meeting. All had agreed – even people with the strongest opinions on the Mach-E – that it's a credit to Ford and Pericak himself that he took the time to share his and Ford's vision for the Mustang with the club in person. For all who were there, it was a perfect example of the strong connection that Ford has with its enthusiasts, and of the tangible benefits that come with a MOCSEM membership.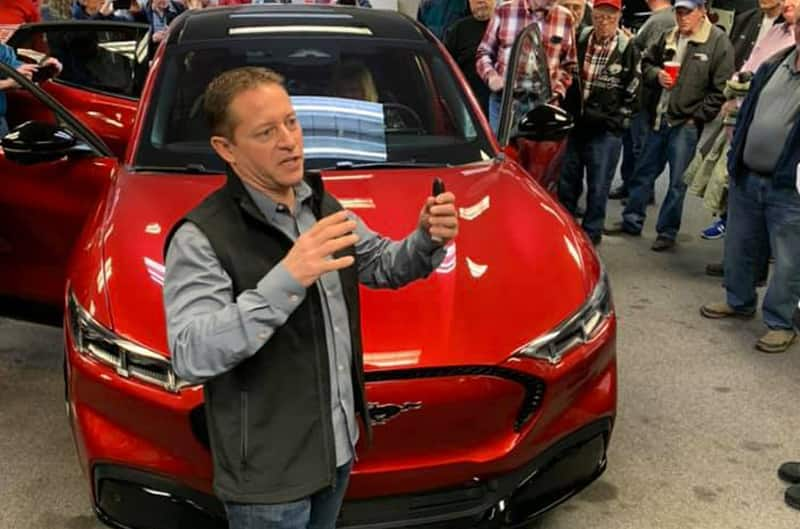 FORD PERFORMANCE PHOTOS COURTESY SHAD KANYAK / MOCSEM