The Ford Mustang has been celebrated over the past half-century with many special performance versions, including several unique models that have proudly carried their own nomenclature. There have been HiPo's, Shelbys and GTs, plus California Specials, Bosses, Cobras, SVO's and 5.0's, Cobra Jets and Bullitts – each with distinct design cues and equipment enhancements targeted at specific buyers. Of them all, perhaps the best-known and most accessible to the widest owner base is the Mustang Mach 1, a sporty fastback first introduced in 1969 that had the look, features and performance that helped define the muscle car era.
In postwar America, the Jet Age influence was all the rage -- especially in the auto industry, where tail fins and air intakes influenced progressive car designs. It was then when the terms "Mach 1" and "Sound Barrier" became part of public conversation, as jets and rockets were being employed in aeronautic experiments to help humankind soar past the speed of sound.
Ford's first use of the Mach 1 name came on a concept vehicle – a wheel-less single-seat "pod" tethered to an arm that allowed it to glide on a cushion of air around a circular track set up at the Ford Rotunda in the spring of 1959. Ford's Levacar Mach 1 Concept was an air-propulsion "flying car" of sorts, suggesting that vehicles in the future could use ducted air to "levitate" and maneuver at high speed while off the ground.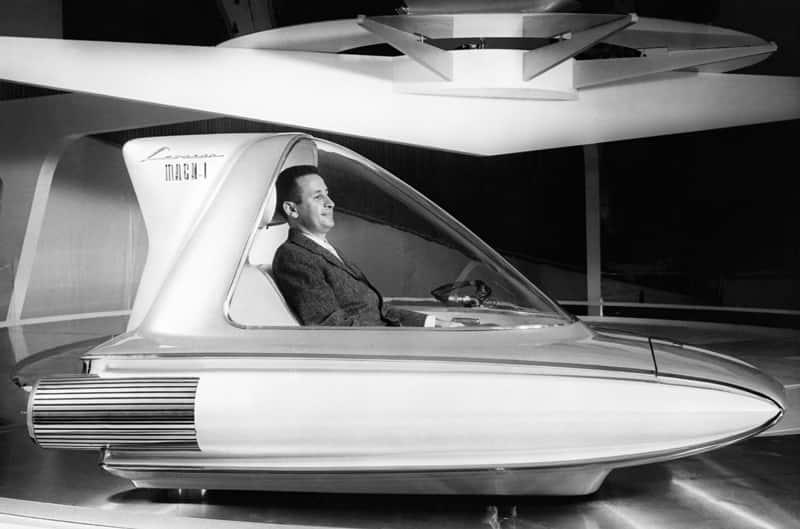 The Mach 1 name was resurrected in 1966 for another Ford concept car that was meant to preview some aerodynamic and styling advances for a futuristic high-performance Mustang fastback. The two-seat Mustang Mach 1 Concept that was shown at the 1967 Detroit Auto Show featured a slanted areo-grille, severely chopped roof, large air scoops and steeply slanted rear glass as part of a full hatchback -- a design feature that wouldn't appear in production until 1974. Ford updated the Mustang Mach 1 Concept with a new front-end treatment in time for touring the auto show circuit in 1968 to herald the popular pony car's third styling refresh due the following year.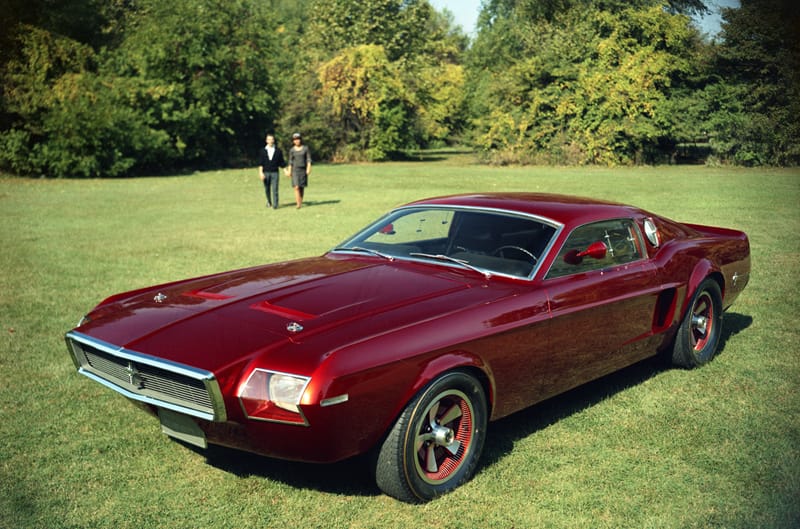 By the time 1969 had rolled around, the again restyled and upsized Ford Mustang was facing a series of new challenges, both in the muscle car wars taking place out in the marketplace by an onslaught of powerful new competitors, and inside of Ford Motor Company, where a new, "Steed for Every Need" marketing approach expanded pony car offerings to five distinct models with at least 10 different powertrain combinations. Ford's Mustang had galloped into its fifth model year refreshed with unmistakable good looks, thanks to its 2+2 fastback now called the "SportsRoof," featuring upper rear-quarters cut with forward-facing scoops and a dramatic tail that incorporated an upswept rear edge.
While economy minded Mustang buyers could stick with the base 200-cubic-inch inline six or move up to the 250-cube version, few did either, as more than 80 percent of all Mustangs sold in 1969 were equipped with V-8s. There were various 302 and 351 "Windsor" small-blocks as well as 390 and 428 big-blocks from which to choose, but the most muscle came from a pair of 428's – the "Cobra Jet" rated at 335 horses or the "Super Cobra Jet" packing 360. This year, the "CJ" engine wasn't limited to Mustang GT versions only, but instead was being offered in all models and bodystyles. Even Mustang purists will agree that the 428s had successfully turned Ford's pony car into a true muscle car.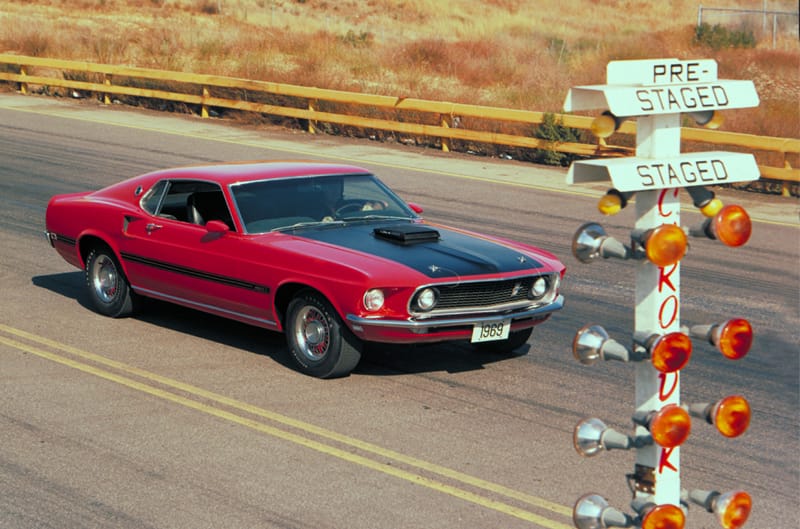 Even though the GT equipment group introduced in 1965 was again available for a final year, it was overshadowed for 1969, as the hot ticket was an all-new "Mach 1" model – wearing the name borrowed from those radical recent Mustang show cars. The new Mustang Mach 1 came standard with the 351 and the GT's non-functional hood scoop, plus special reflective bodyside stripes and an uplevel interior. But the trick option was the soon-to-be-famous "Shaker" hood scoop, so-named because it was actually mounted atop the engine's air cleaner with the hood closing around it, meaning you could see the scoop "shake" as the engine torqued with every blip of the throttle. Getting cooler, outside air directly into the carburetor was accomplished by engine vacuum, which actuated a small door in the scoop under acceleration.
This "Ram Air" setup could be had on GTs and Mach 1s with 351s, 390s or 428s. (A 428 Cobra Jet with the Ram Air "Shaker" was known as an "R-Code" version; those without it were "Q-Code" cars.) Later, a flat-black rear decklid spoiler and a set of rear window louvers were added as dress-up options. To many enthusiasts today, a '69 Mach 1 equipped with a 428 Cobra Jet V-8 and "Shaker" hood scoop is the ultimate collectible Mustang.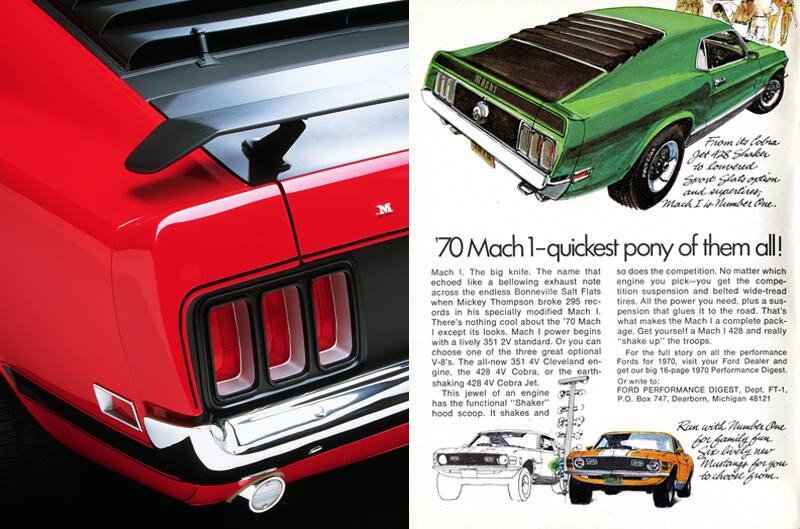 Other than yet another front-end freshening (including going back to just two headlamps and adding non-functional outboard air inlets) and the elimination of the side scoops, the biggest change to the 1970 Mustang lineup was a move to the Cleveland-design 351 V-8 over the Windsor 351 version from the year before. The GT model was dropped in the face of the Mach 1's popularity, but the 428CJ engine option was again available across the board. When it came to consumers, the so-called muscle car era was already winding down at the just about the same time that insurance costs and gasoline prices were going up. What's more, the federal government was in the process of mandating a set of rigid vehicle exhaust emissions standards as part of the Clean Air Act and the forming of the Environmental Protection Agency (EPA), all while the Organization of Petroleum Exporting Countries (or "OPEC") began raising the prices of oil and oil products that it exported to the United States and other industrialized nations in what was a hint of things to come.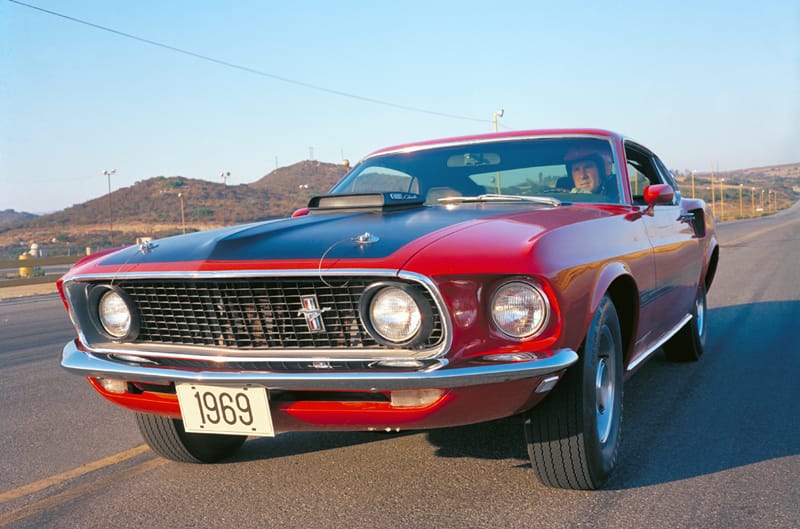 By 1971, Ford's famed first-generation pony car had already undergone its fourth major facelift to stay current with market trends. Of course Mustang retained its trademark long-hood, short-deck proportions, but the influence of GM transplant-turned-Ford president Semon "Bunkie" Knudsen had been felt. Bunkie wanted Mustang to be a bigger, wider car with room for bigger, wider engines, plus he had his own ideas on styling. So the 1971 Mustang featured an extended nose with slab-sided flanks and a flattened fastback roof. Every single dimension had grown; the Mustang was now wider, close to a foot longer and around 600 pounds heavier than the original. What was once a sporty, compact pony car that caught America's fancy had morphed itself into a big, brawny American muscle car. And the Mach 1 was now Ford's bread-and-butter enthusiast model.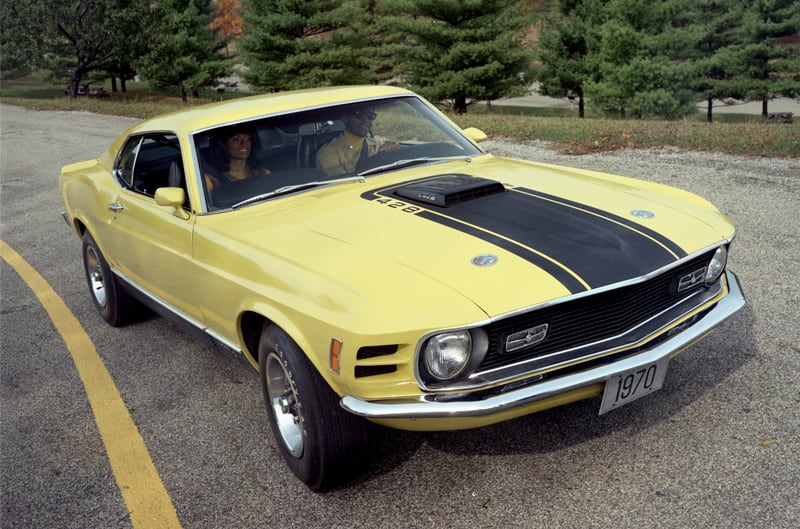 Three bodystyles – a fastback, coupe and convertible – were again offered. In the absence of a GT, the Sports Roof-only Mach 1 model was the image leader, with the option of replacing its standard 210-horse 302 V-8 with the brand-new big-block 429 Cobra Jet engine, good for 370 horsepower. Like with the original, Mustang was again made a movie star in the 1971 James Bond film, Diamonds Are Forever. This time, instead of Agent 007 chasing a Mustang, Bond himself was behind the wheel of a Mach 1 during a car chase through the streets of Las Vegas. Now in its waning years as a muscle car, Mustang had not only lost the 428s and the exotic (and expensive to manufacture) Boss 302 and Boss 429 models that made such performance news in 1969 and '70, but also the availability of any new Shelby GT350 or GT500 Mustangs for the American market. While a new, one-year-only Boss 351 debuted for 1971 with an H.O. (High Output) 351 Cleveland V-8, the fan favorite was again the Mach 1. Order a Mach 1 with the 429CJ, add a Drag Pack option (making it a 429 Super Cobra Jet) and request a functional Ram Air hood, and you had Ford's high-roller ride that year.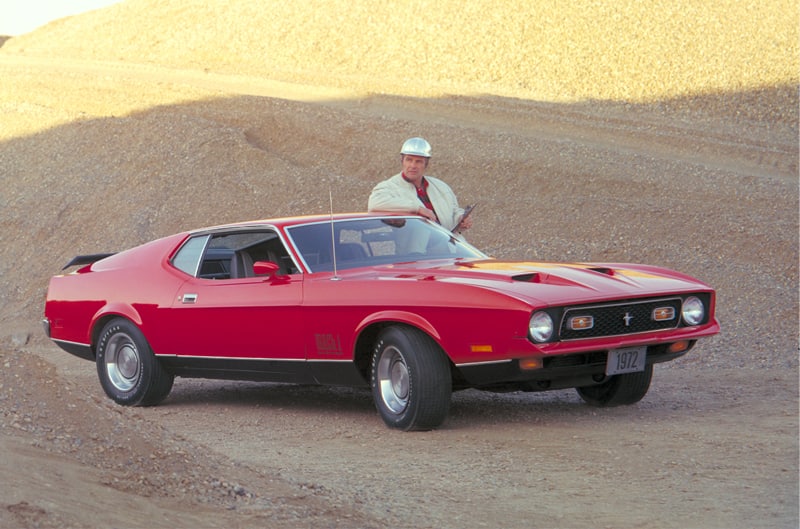 There were only minor changes on tap for Mustang in 1972 and '73, most of them dealing with the options list and the continuing emasculation of engine offerings and horsepower in the face government emissions and fuel economy regulations, as well as the elimination of a convertible model. By this time, Lee Iacocca had quickly replaced Knudsen as the company's president, and was already hard at work trying to "right-size" his beloved pony car for the nameplate's upcoming rebirth in 1974.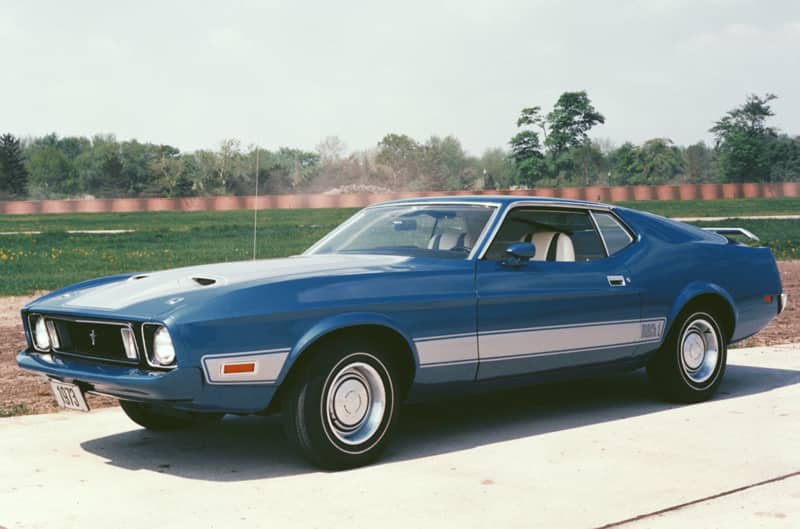 The automotive performance world soon came to a screeching halt in the wake of an oil embargo and resulting gas shortages, forcing most Americans to abandon their muscle cars and V-8-powered rides in favor of smaller, more fuel-efficient vehicles. Rather than bemoan the fact that a big, bad Mustang muscle car was suddenly out of touch with the needs of U.S. consumers, Iacocca saw the market shift as the perfect time to return Ford's pony car to its roots – a compact, affordable, sporty car whose styling and image captured the spirit and imagination of the American public. This time around, however, acceleration and horsepower numbers took a back seat to fuel economy and practicality.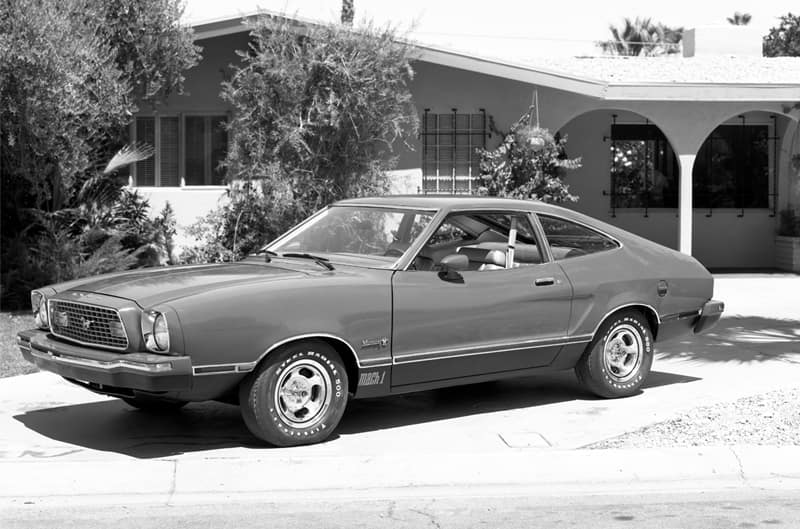 When the new-from-the-ground-up, second-generation "Mustang II" was launched for the 1974 model year, it was the first Mustang equipped with a four-cylinder engine. An all-new 2.3-liter I-4 produced around 90 horsepower for the downsized Mustang II -- yet performance was roughly equivalent to the previous Mustang's big inline six. The Mustang II was available as a hardtop two-door "notchback" coupe or a three-door hatchback-style fastback. Buyers had a choice of either I-4 or V-6 power, as well as a three-speed automatic or four-speed manual transmissions. Ford product planners weren't so foolish to think that enthusiasts would simply go away during the Mustang II years or would totally abandon their love for performance models. So, an enthusiast-focused Mustang II Mach 1 version was offered as a three-door hatchback-style fastback, replete with bucket seats and a floor shift, blackout stripes, styled-steel Rallye wheels and a required V-6, an optional German-based 2.8-liter derived from the "Cologne" OHV engine available in the Mercury Capri. While the two-barrel V-6 was rated at 119 horses, power wasn't really that much less than the old base Mustang V-8 and yet it offered substantial weight and fuel economy savings.
Sales of the '74 Mach 1 were up 8,609 units over 1973, and an impressive 16,371 over the 1972 Mach 1. Testers found that the Mustang II Mach 1 hatchback was fun to drive in manual transmission form, which allowed drivers to get the 2.8-liter V-6's mechanical lifters into full song. The car felt rather light on its feet, and thanks to its standard front disc brakes, rack-and-pinion steering and special suspension tuning, it was downright nimble on twisting, two-lane roads.

There's little question that the saving grace for the Mustang II's performance reputation came when Ford finally realized it needed to put the 302 V-8 back onto the Mustang option list for 1975. The V-8 was available in any model, but only mated to a three-speed automatic transmission, as a four-speed manual was delayed a full year until a suitable clutch could be tooled up for the V-8. The initial two-barrel 302 that engineers shoehorned into the Mustang II could still meet emission limits while making 122 horsepower, or only about a dozen ponies less than the last 302 offered in the vastly bigger 1973 Mustang. And when Ford installed catalytic converters to help Mustang meet 1976's tighter emissions standards, the 302 actually benefited with an increase to 139 horsepower – nearly equal to the '73's power level. More music came to the ears of performance-hungry enthusiasts with the Mach 1's optional "Competition Suspension" which offered heavy duty springs, adjustable Gabriel shock absorbers and a rear stabilizer bar to improve handling. Better still, opt for the "Rallye Package" and you'd get the suspension upgrade as well as a Traction-Lok Differential, extra cooling package and bright exhaust tips, as well as some appearance items.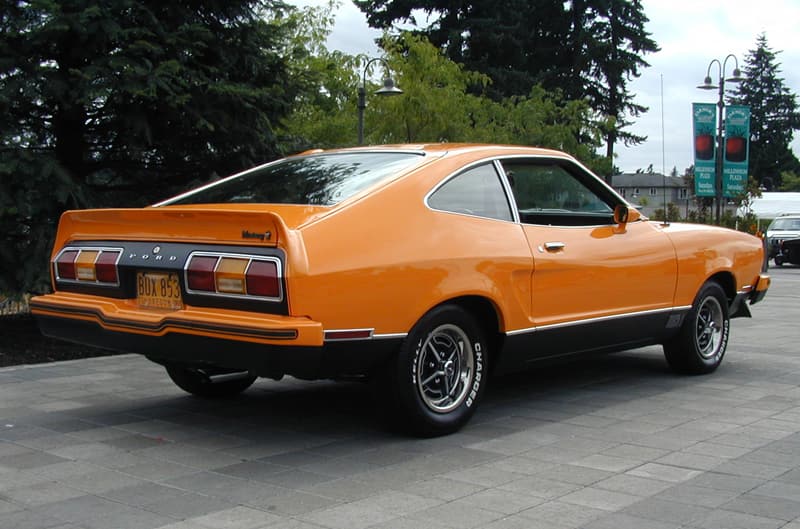 The Mach 1 remained through all five years of Mustang II's production, and even though some purists were disappointed its optional 302 V-8 could churn up just 139 horses and a 105-mph top speed, both numbers were comparable to the 1973's 302-powered Mach 1. What stunned many pundits was the sales numbers that Mustang II racked up, nearly 386,000 in the first model year alone – or about triple that of the last-generation car and second only to the original in single-year sales. Motor Trend magazine named Mustang II its "Car of The Year" for 1974 (in the only year the II was not offered with a V-8). And by the dawn of the third-generation Mustang, the Mach 1 as an enthusiast offering had come full circle. The name would not return again to the Mustang line until some 25 years later.
After the 1979-93 Fox Body Mustang years had come and gone with the reintroduction of a GT model, new sheet metal on a revamped "SN-95 platform" helped to rekindle consumer interest in a fourth-generation Ford Mustang. Enthusiasts lavished their attention upon the 1993-1999 Mustang Cobra performance model developed by the Ford Special Vehicle Team "skunkworks" group. With SVT's 2001-02 Mustang marking the final years that the Cobra would be powered by a naturally aspirated V-8, mainstream Ford engineers looked to specialty models to fill the mid-market slot between the standard Mustang GT and the upmarket Cobra.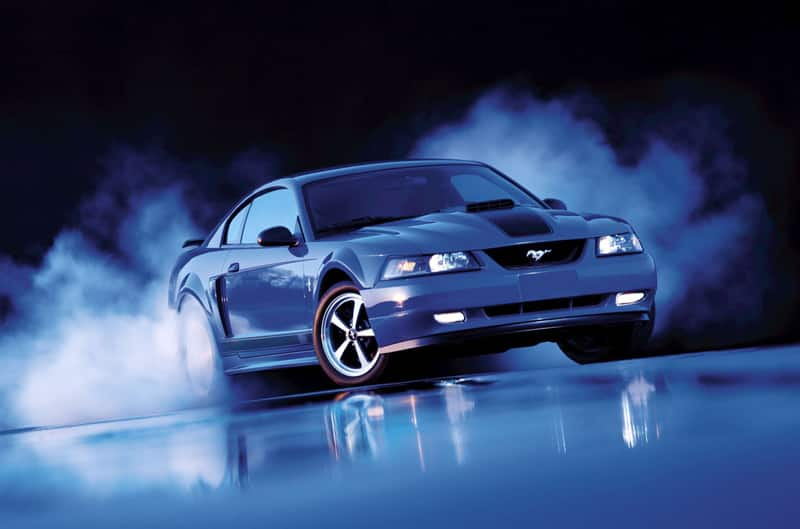 The first of such so-called "Living Legend" specialty cars built to fit that niche was the 2001 "Bullitt" Mustang – which proved so popular that another, even more performance-oriented model would be launched for 2003 and this time wear the storied "Mach 1" name. The 2003 Mach 1 offered car collectors and enthusiasts a modern Mustang with an infusion of Ford muscle-car styling from the 1960's. The functional "shaker" hood on the new Mach 1 was modeled after the original 1969 Shaker, and the rest of the car inherited many of its design cues from its '69 namesake, which had a distinct drag-racing image. These included a blackout hood, black front air-dam extension, black rear decklid spoiler, predominate rocker panels, body side scoops and 17 x 8-inch five-spoke wheels.
To match its aggressive look, the '03 Mach 1 was powered by a special 305-horsepower engine, a 4.6L DOHC modular motor that featured a dual-bore 57mm throttle body, cast-aluminum intake manifold and a set of new high-flow, four-valve cylinder heads. Exhaust manifolds were port-matched to the heads, while specific Mach 1 mufflers were tuned to create a unique sound. Unlike the SVT Cobra, the Mach 1 offered an automatic transmission option in lieu of the manual, and consequently drew a new group of enthusiast buyers into the Ford fold. The strong customer response prompted another year of Mach 1 production for 2004, the Mustang's final year on the SN-95 platform. With the original Mustang being launched in 1964, the 2004s – including the Mach 1s – wore "40th Anniversary" badges on the front fenders and rear decklid, making that final year just a little extra special for collectors.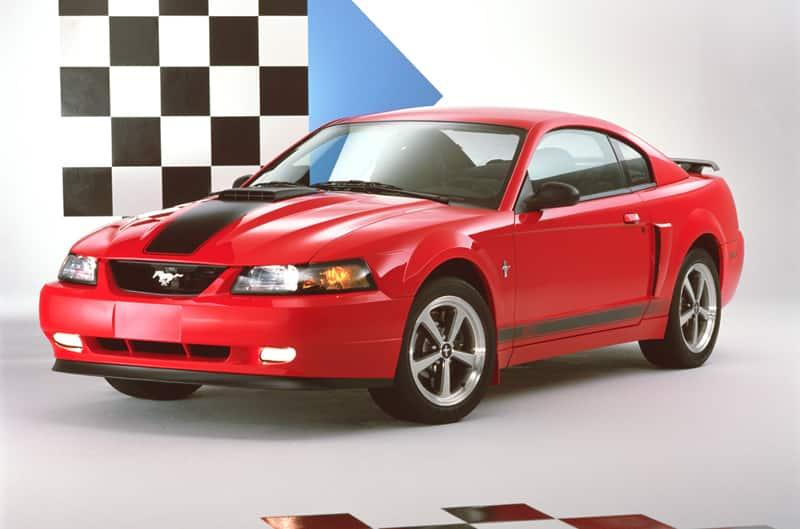 Thanks to a popular mix of appearance, features and power, the 1969-73 Mach 1's proved to be "everyman's" muscle car, and have earned a respected place in Mustang performance lore. Beyond those classic years, the Mach 1 carried over for all five years of the often overlooked 1974-78's before a hiatus that ended with the modern and muscular 2003-04's. The Mach 1's return to the Mustang lineup for 2021 is sure to add a new chapter on modern-day muscle for this beloved model, and will cement its rightful place near the very top of Mustang performance history.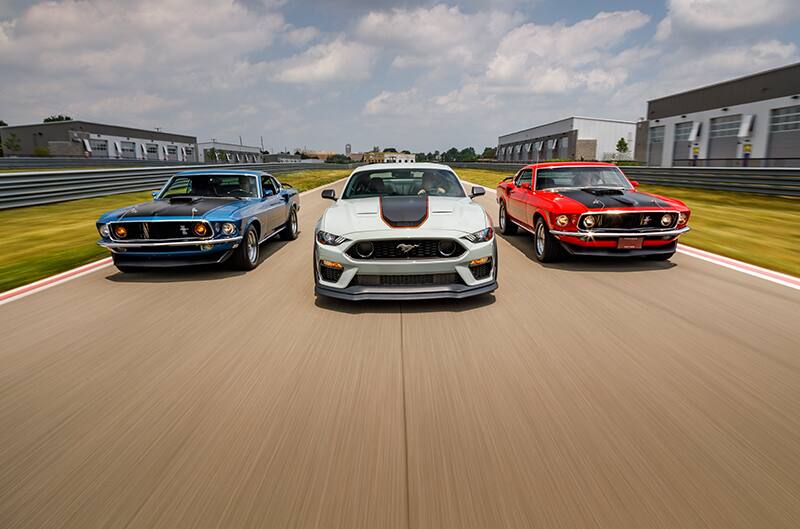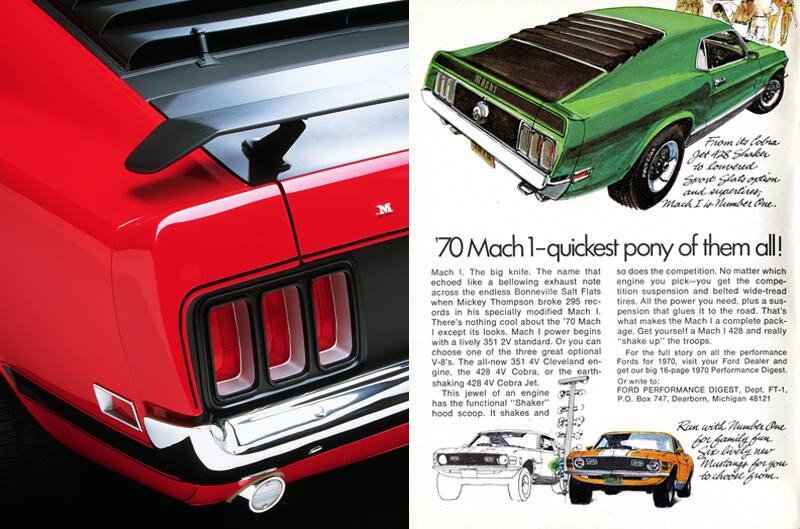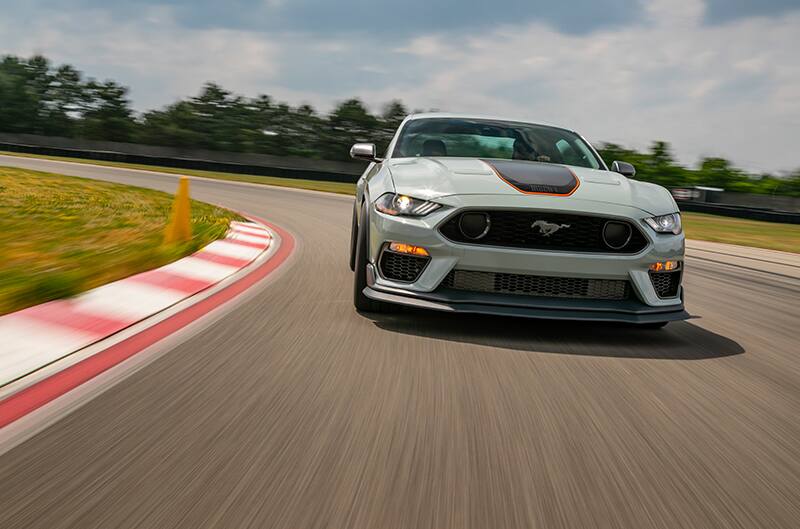 FORD PERFORMANCE PHOTOS / COURTESY FORD ARCHIVES & FORD MEDIA