BAKERSFIELD, Calif -- Ford has been producing and selling law enforcement patrol and pursuit vehicles for many decades, as have most other American-brand carmakers. The majority of those cars have been large rear-drive four-door sedans with huge V-8 engines. You know, just like Elwood said in the original 1980 Blues Brothers movie: "It's got a cop motor, a 440 cubic-inch plant, it's got cop tires, cop suspensions, cop shocks. It's a model made before catalytic converters, so it'll run good on regular gas." So you may wonder how and why so many Highway Patrol departments ended up deploying Mustang LX 5.0-liter notchback coupes as pursuit cars, between 1982 and 1993.
The first answer is that Ford saw an opportunity to sell more of the hot, new 5.0-liter Mustangs through its "Special Service" vehicles programs. However, a perhaps equal part of the credit goes to Chrysler.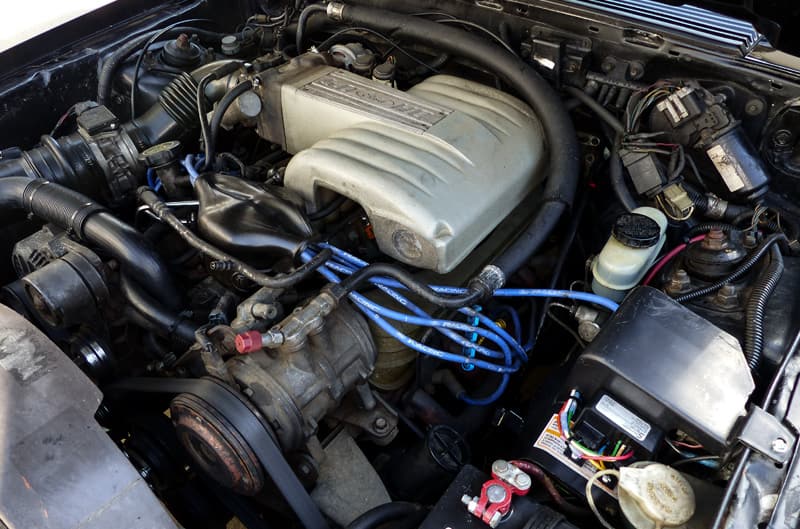 Why? It's simple enough: The early '80s 318 cubic-inch V-8 powered Dodge St. Regis and Diplomat sedans used by police agencies were so slow, they couldn't outrun their own shadows. Long-gone were the days of the late-60s' full-size, body-on-frame, four-door Dodge Polaras powered by howling 440 Magnum V-8s. The smog equipment-choked, low-compression 318's could barely push the hapless 1980-83 St. Regis and Diplomats to 100 miles per hour, which took some time and a long, straight road to get there.
Your writer once asked a California Highway Patrol (CHP) officer often assigned one of these cars what he did when a Lamborghini Countach or a Porsche Turbo whistled by him at 125 mph (or better); he sheepishly admitted his choices were to either watch, wave goodbye, or radio for a helicopter or plane to chase the speeder. These hapless Dodges earned the nickname "Dog Fleet" and a program was instituted in an attempt to make them faster: Catalytic converters were removed, and carburators were retuned, along with other quiet countermeasures in the hopeful search of more power and speed. It just wasn't enough, and most of the Dog Fleet Dodges ended up in local police or fire departments that seldom needed the high-speed pursuit capability required by the Highway Patrol.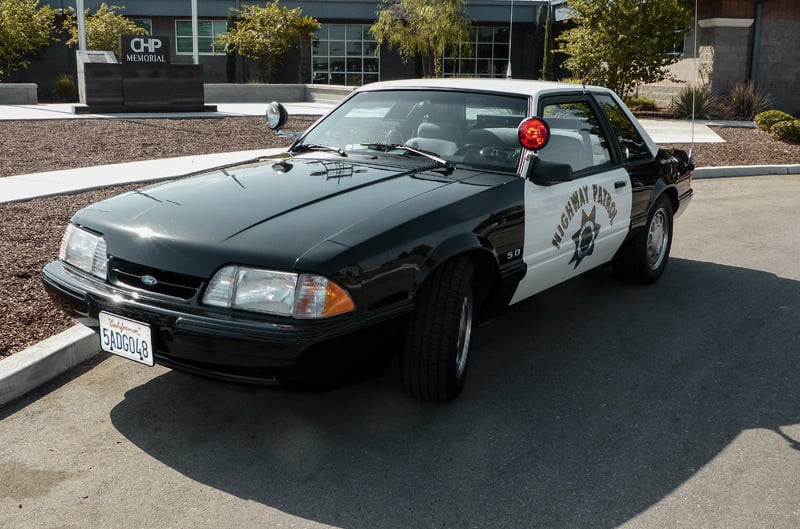 Ford had an answer. Although it took about 100 unique pieces and equipment changes to properly prepare the Mustang LX 5.0 coupe for law-enforcement duty, much of the heavy lifting was done. That's because the car already had the horsepower needed, as well as a performance-oriented suspension setup. The SSM program -- originally standing for the Severe Service Mustang, but soon renamed the Special Service Package, or SSP Mustang -- began with the 1982 model year, and the California Highway Patrol (CHP) was the most notable buyer, signing on for 400 of the cars.
Each SSP Mustang was specially set up for the production line (obviously no leather interiors, sunroofs, nor AM/FM/Cassette audio systems could be had). They ran the stock 5.0-liter V-8 with 4-speed manual transmissions, and were configured with 14-inch black steel wheels wearing modest center hubcaps, speed-rated tires, air conditioning, roll-up windows, an amped-up (pun intended) alternator, heavy duty blue silicone-rubber cooling hoses – and each factory painted in the colors mandated by the purchasing municipality. In the case of the CHP Mustangs, that meant a largely black body paint job, with white-painted doors and a white roof. Another added benefit to the purchasing departments was that the nearly service-ready SSP Mustangs cost a mere $6,868, or about a grand cheaper than most of the slower Chrysler and GM offerings.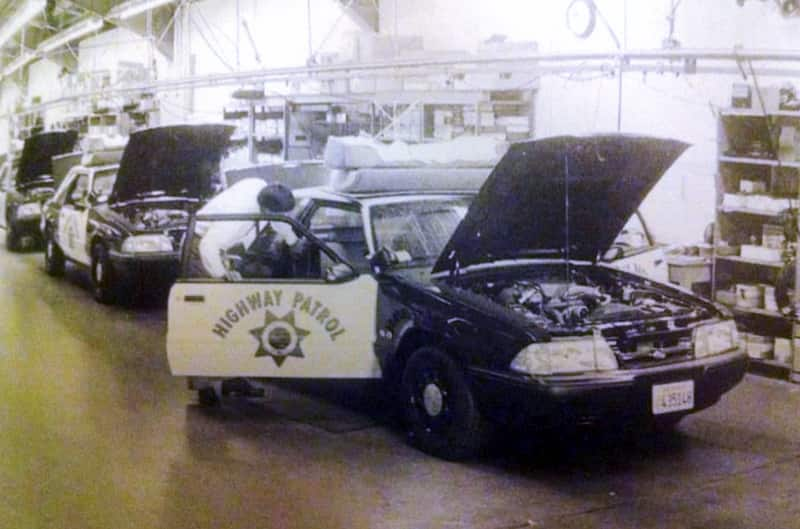 How then did an SSP Mustang then become a fully equipped CHP cruiser? That's the work of California Highway Patrol's Motor Transport Field Operations unit, which has the responsibility to "acquire, develop, equip, and deploy," and ultimately maintain, all CHP cruisers. Field Ops was a pioneer in the development of police and pursuit vehicles, investing considerable time, research and exhaustive testing into the pre-purchase evaluation of vehicles, plus of what equipment (radios, lights, sirens, shotguns and such), and how and where it is all installed.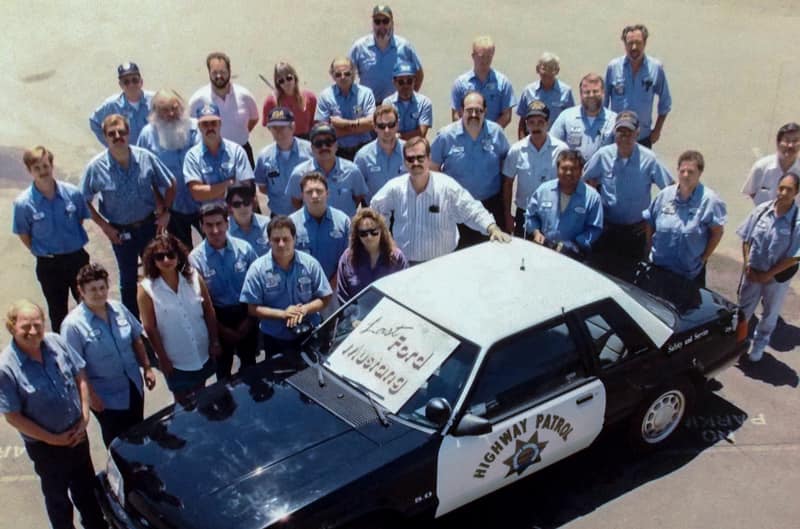 The goal is that any officer can hop into any CHP-equipped car and know exactly where everything is, and how all the equipment works, as second nature. Ergonomics science proved invaluable here, and the testing and evaluation of vehicles under purchase consideration involves hundreds of thousands of oft-times brutal test miles, exposed to all manner of weather conditions and terrain, to make sure that any vehicle purchased by the department has the "right stuff" and won't let an officer down under punishing pursuit conditions.
The CHP Transport Ops division did such a thorough and professional job of testing, designing and equipping these cars that the Nevada Highway Patrol subcontracted it to build the Silver State's SSPs. Some officers have gone so far as to say that their cruiser is as important a tool as their sidearm, is an integral part of their uniform, and is as much their partner as a fellow officer could be.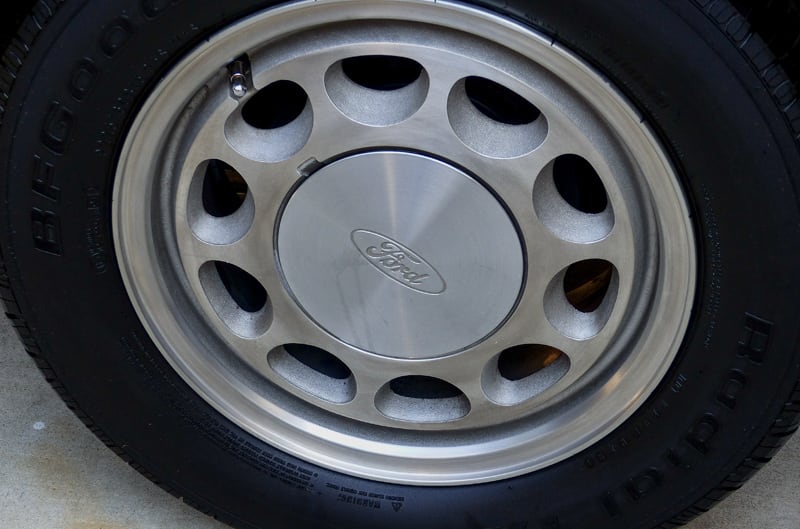 As time went along, the SSP equipment spec evolved; when the original 14-inch rolling stock was judged too puny, Ford stepped it up to the 15-inch aluminum 10-hole "phone dial" wheels, either in natural finished aluminum or powdercoated in black for a stealthier look. As 5.0-liter horsepower rose and fuel injection came along, so it did for the SSP machines. Most of the cars, throughout the Special Service Mustangs' 11-year production run, were equipped with the 5-speed manual transmissions, although an automatic was optionally offered during some years. All were notchback coupes, thus neither hatchbacks nor convertibles need apply.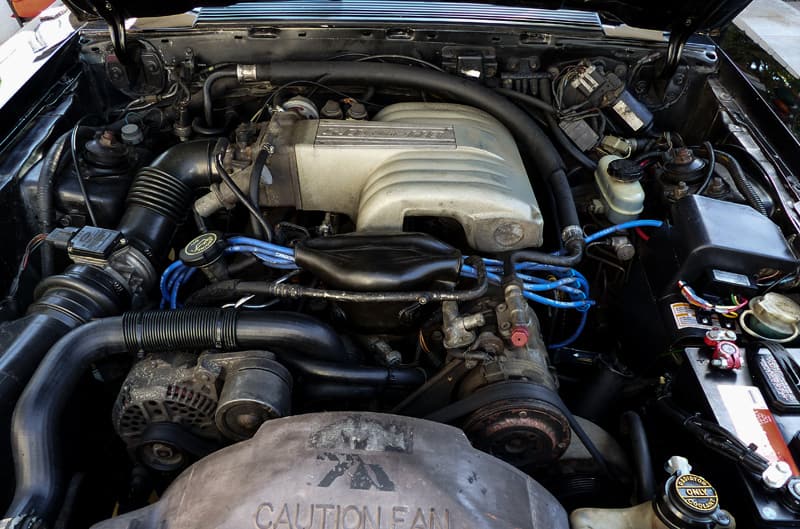 Eric Gaona is a working law enforcement officer, although not a member of the California Highway Patrol. He is of early-mid baby boomer age, grew up on muscle cars, and is a certified gearhead. He's had his share of cool cars over time, and as a kid that grew up watching Adam 12 on television, he at one time built a highly authentic Adam 12 spec police car replica. That Plymouth sedan was sold to another like-minded enthusiast, as Gaona went in search of his next law-enforcement related collector car.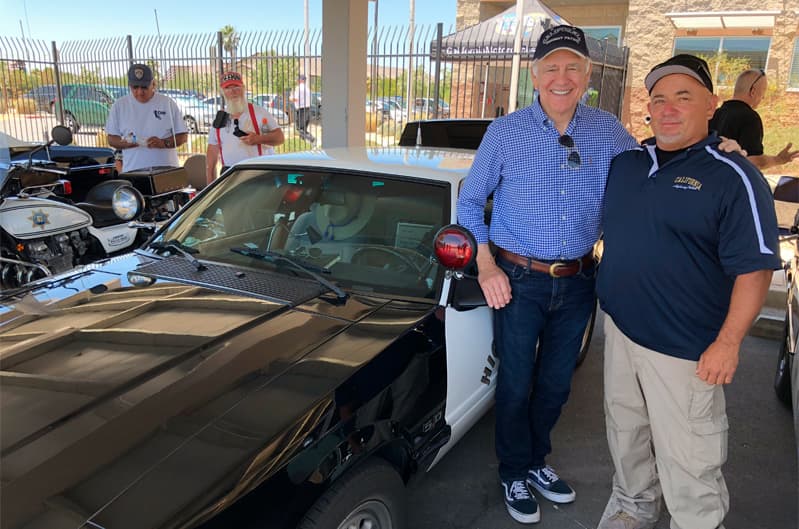 It wasn't long before he settled on a former CHP Special Service Package Mustang; in 2012 he came across the 1993 example in these photos. Post-CHP service, it was stripped of all its law-enforcement gear, painted green, and sold into private hands. The car had more than 150,000 miles on it and appeared to have previously suffered minor accident damage but was in generally sound condition. He then set out to restore it to virtually as-new shape and equip it identically as the CHP Motor Vehicle Field Ops division had done when it first went into active service.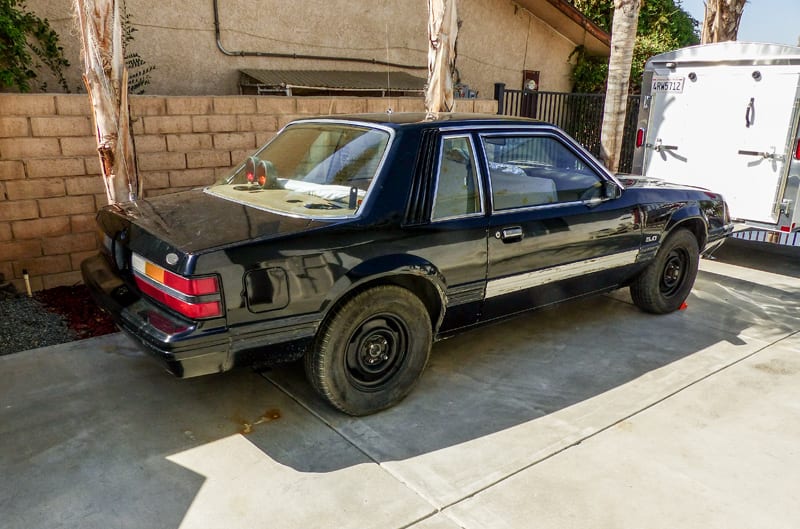 The restoration and equipping process, which took about 13 months to complete, was a hands-on labor of love for Officer Gaona. The engine and drivetrain didn't yet need overhauling, but the exterior, body and paint needed stripping and a complete redo. The interior, although slightly worn, was largely intact and needed tidying and deep-cleaning prior to outfitting. The by-then obsolete equipment gathering was the real scavenger hunt – but not quite as hard for Gaona, because as a member of the law-enforcement community, he "knew people" and had inroads to a variety of sources from which to shop.
"Some of the stuff comes off of eBay, and some things you can get fairly reasonable, although certain sellers try to gouge a bit," he explained, "yet most of the guys who collect this stuff are fellow enthusiasts, so we trade amongst ourselves at fair prices."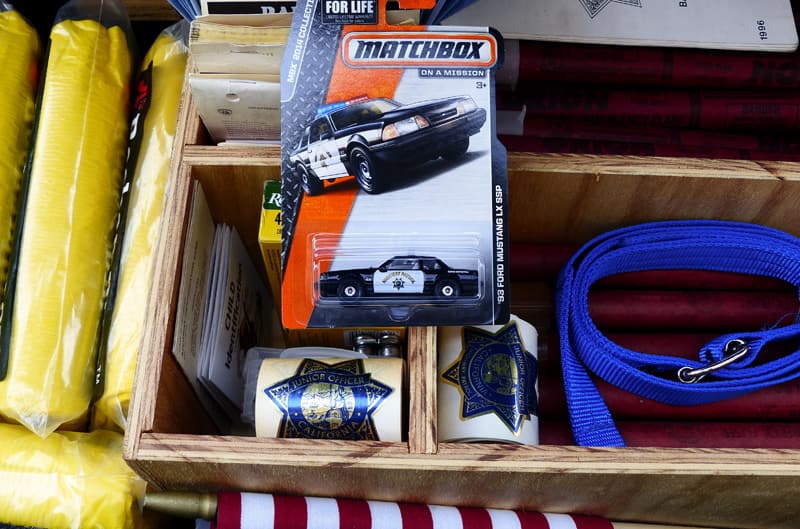 Some of the goodies Gaona has secured came from CHP departments that had stripped out decommissioned cruisers and still had leftover equipment lying around. Whatever he couldn't find or source, he made (such as the radio and scanner brackets and electro pushbutton release gun bracketry). To him it's critical that everything he bought and bolted into his car either works or looks as if it does.
For example, it's not legal for civilians to broadcast on a police-band radio, so the now-obsolete radio in his car lights up and appears to turn on but won't transmit. The police scanner bolted to his dashboard, however, is fully functional and legal. All of the lights and siren are fully operable. The pump-action rifle is a replica. A friend of Gaona's produces the perfect reproduction door and body decals.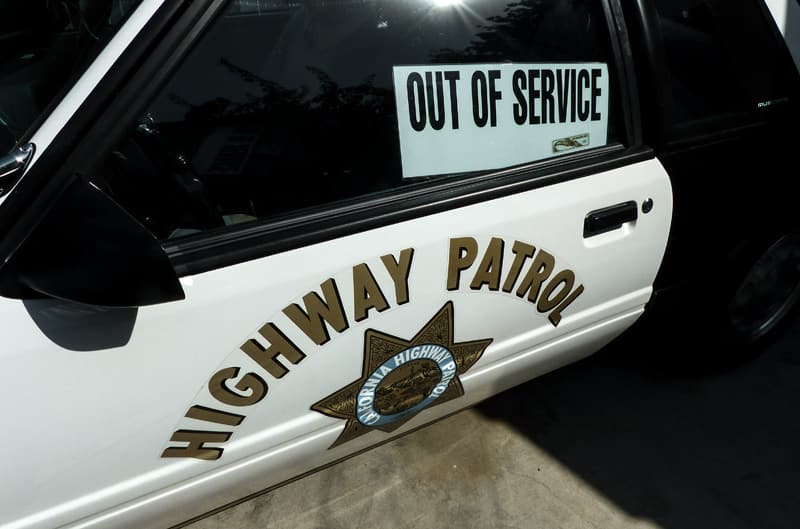 The real masterpiece of this Mustang is the trunk, which is fully equipped exactly as it would have been while "on duty" in 1993, including the plywood "kit" box, which Gaona made himself. All the CHP stuff is there: hand cleaner, flares, oil dry, a roller measuring device, first aid kits, and yes, body bags. Authentic . . . and impressive. Even the leather-bound ticket book on the dash is a legit piece, and the CHP jacket draped over the driver's seat was donated by the family of a fallen officer.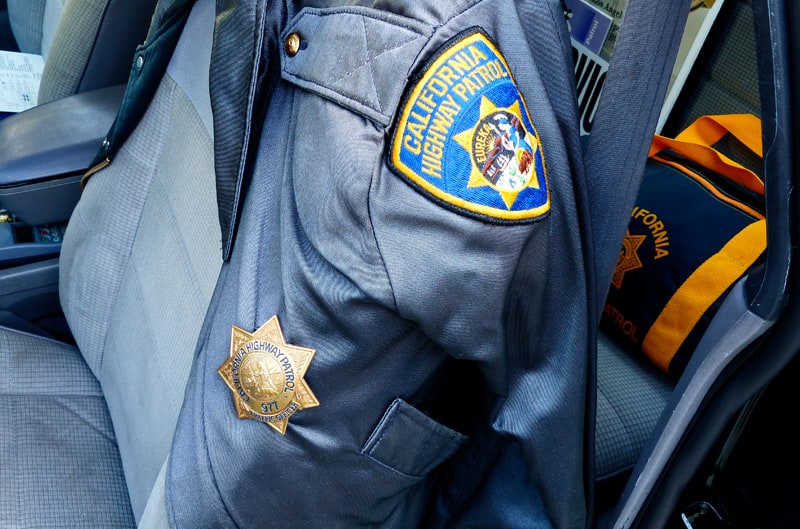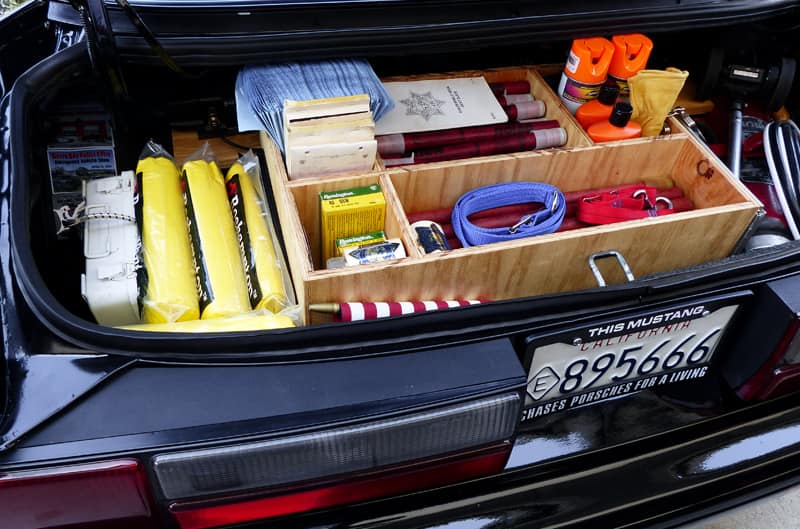 Although your writer has no particular cop-wannabe fantasies, who could resist the chance to drive this car when offered? The engine starts, sounds and runs like a relatively fresh 5.0-liter should, without a hint of lifter rattle or smoke. The clutch has been replaced, as have the rear axles and catalytic converters. As you'd expect, the car pulls smoothly and hard even from low rpm, shifts smoothly, and rides well. Steering turn-in and response have lost a bit of their original precision, testimony to the Mustang's current 170,000-mile reading on its Certified calibrated 160-mph speedometer. Otherwise, the car feels relatively fresh and seems patrol-ready. And yes, it's fun to drive, all the while resisting the urge to fire-up all the lights and sirens, and blaze down the freeway in full Code Three mode.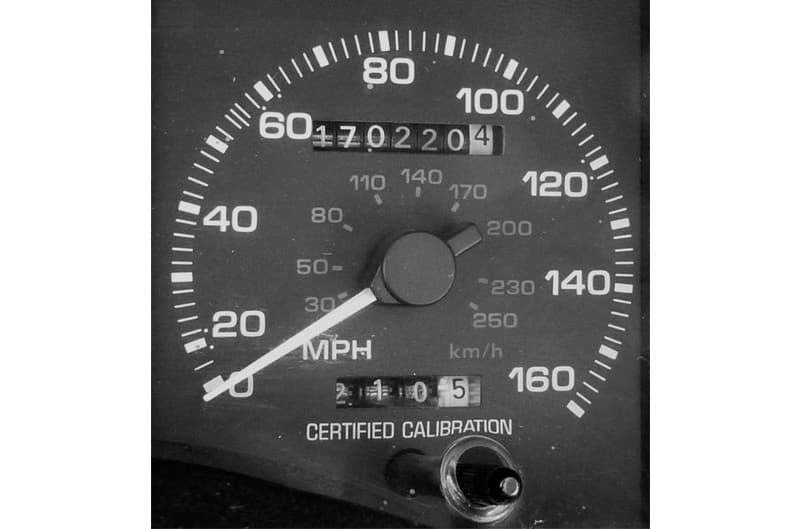 The Special Service Package Mustang patrol cruiser served a fruitful 11-year production life, and it's fair to say it was successful if not perfect. Its foibles are clear to spot; for one, the car is a lot smaller than a full-sized sedan, without the passenger/prisoner carrying space found in the usual four-door cruiser. Most officers soon learned, however, that they could safely transport "guests" in the back, in handcuffs and leg straps, with the seats moved all the way back. It's true some of the taller or otherwise larger officers complained about the Mustang's compact interior dimensions. And believe it or not, some number of officers didn't know how to drive a car with a manual transmission – many of them learned on an SSP during cadet training.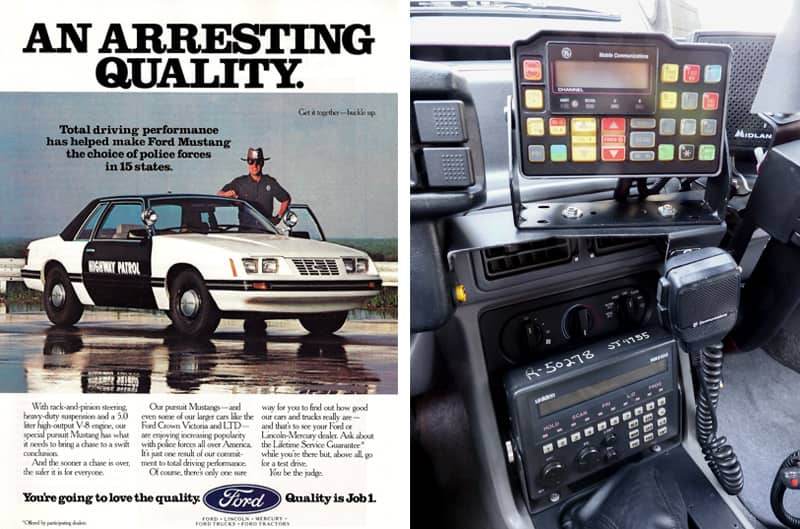 Still, these Mustangs proved tough and fast enough to handle the high-speed pursuits that the somewhat-lame early 80's Dodges could not. The CHP went through thousands of SSP cars over time.
Officer Gaona's car has garnered so much enthusiasm and attention that several like-minded collectors have asked him to build one for them, which he does as a low-key side business. Another '84 SSP occupies his driveway awaiting restoration and equipping, and now that he knows how to produce and/or source all the CHP goodies, he can do one or two cars per year . . . but only for other active or retired law enforcement.
"I restrict this to other officers only out of respect to the Highway Patrol," he told us, "and also to minimize the risk of some slightly misguided individual street racing or running around doing doughnuts in parking lots with what looks like an active patrol car."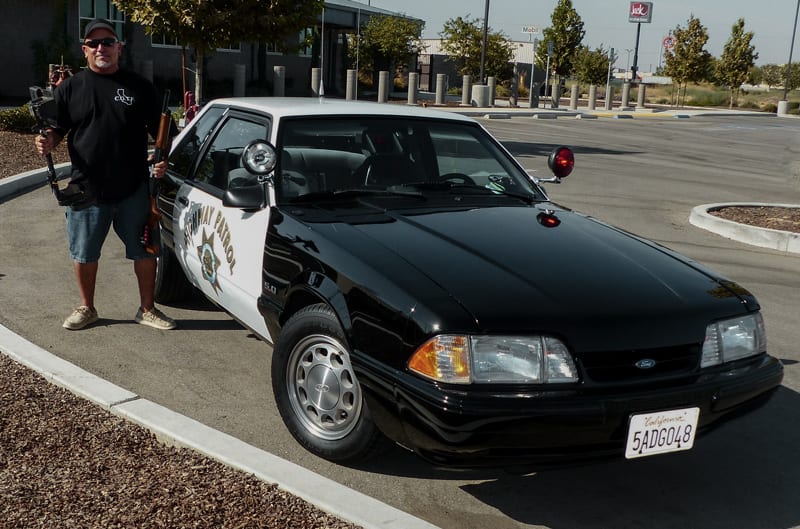 If someone is restoring their own SSP car, he will also build and provide all the official goodies -- once again only to active or retired officers. Gaona's car is in huge demand at car shows, which he does a lot of, also under one proviso: The show must be built around a charity element, primarily for children's benefit associations. Eric Gaona has done a highly detailed and brilliant job of recreating an authentic early '90's CHP Special Service Package Mustang and shows and uses it in only highly ethical ways.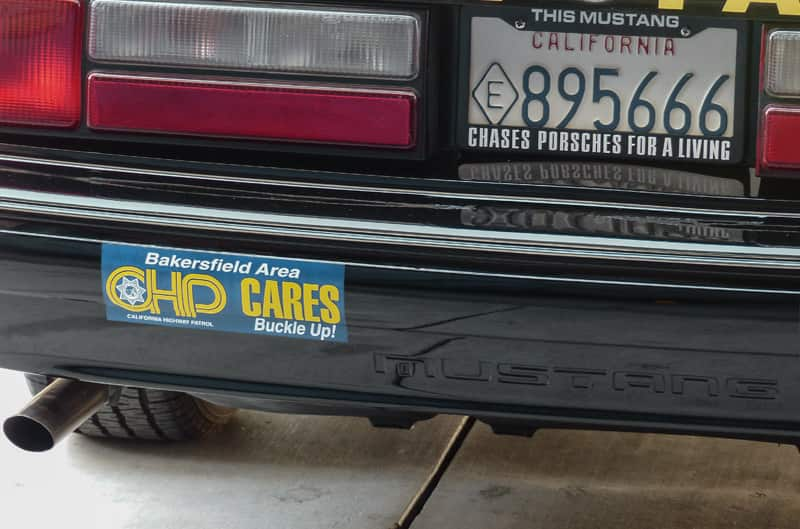 There are currently no SSP's in active duty anywhere in the state of California. So if you ever see a '93 SSP Mustang in your rearview mirrors, with lights ablaze, it's likely Eric and he's just messing with you. Learn more about these amazing cars at http://www.specialservicemustang.net/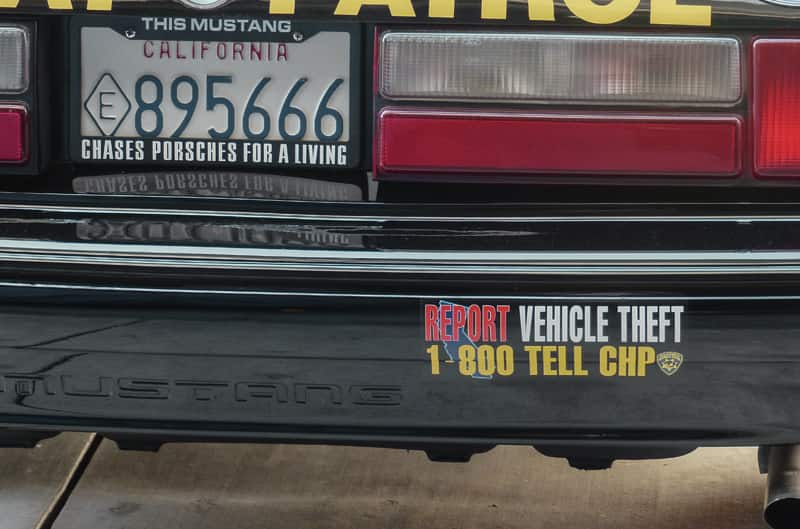 WITH OUR THANKS to Officer Eric Gaona, the California Department of Corrections and the Bakersfield California Highway Patrol.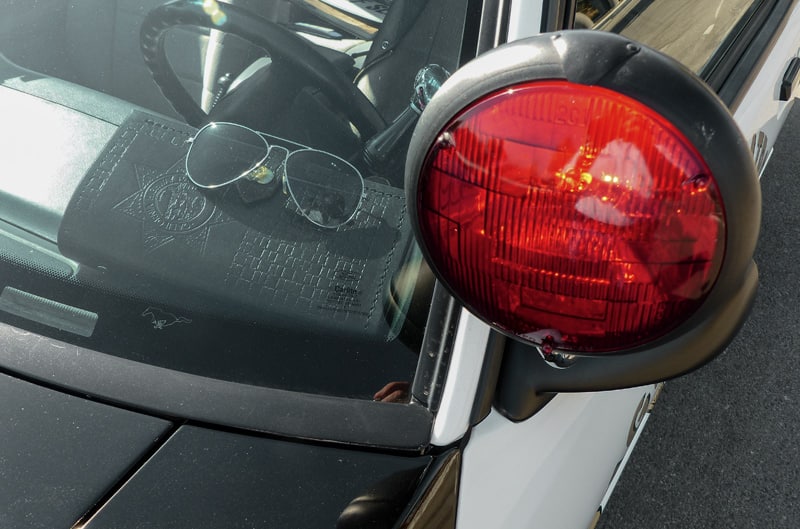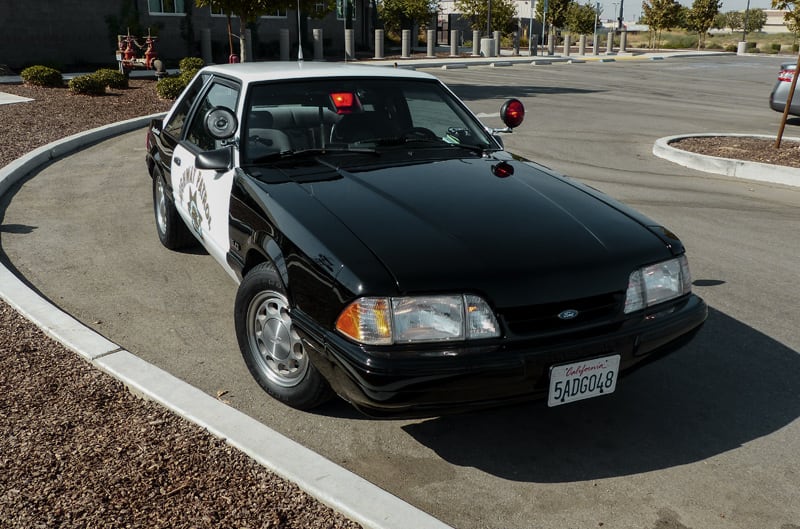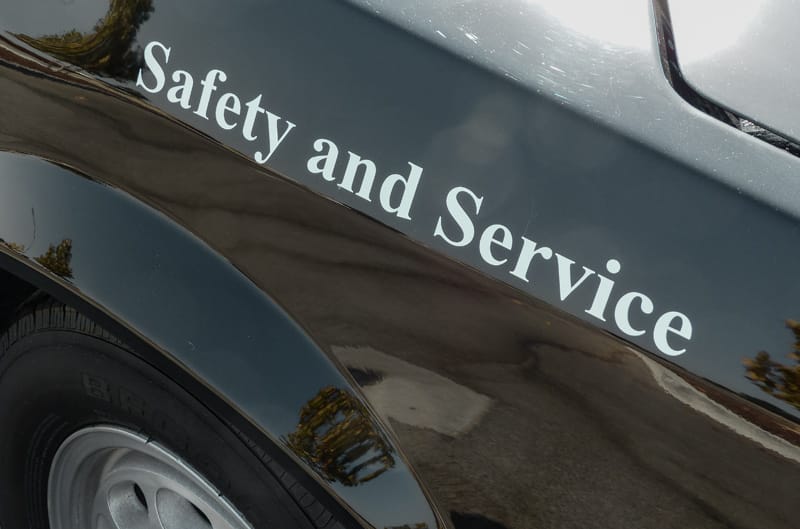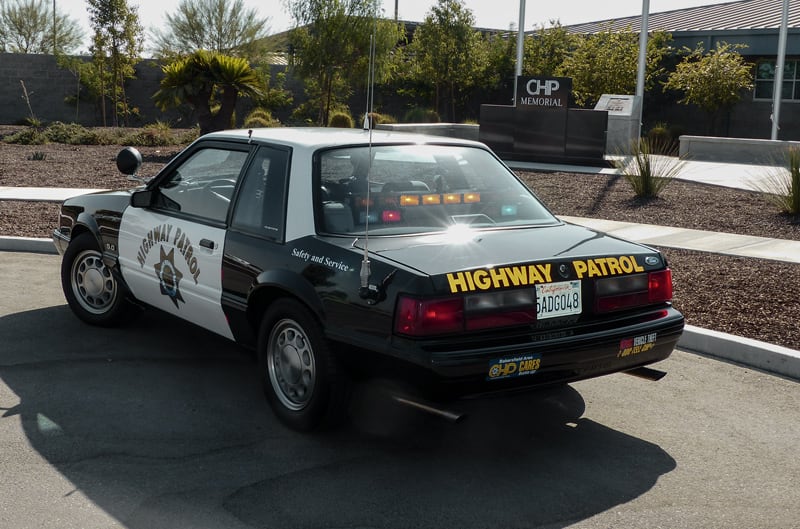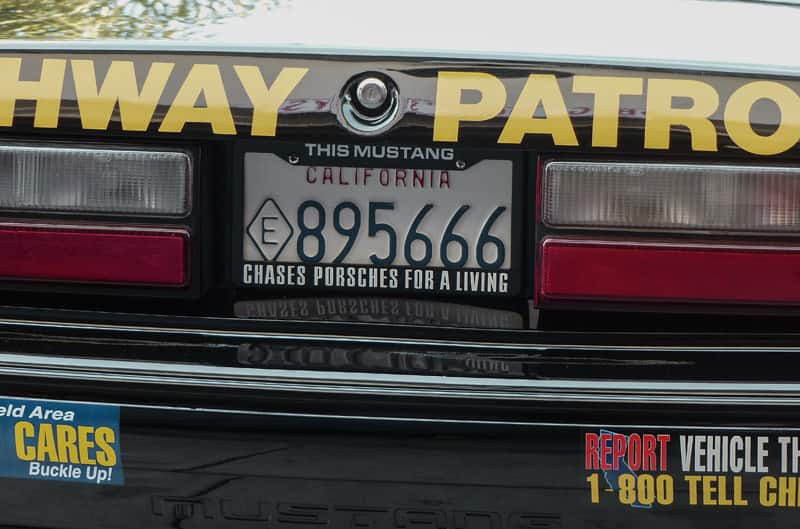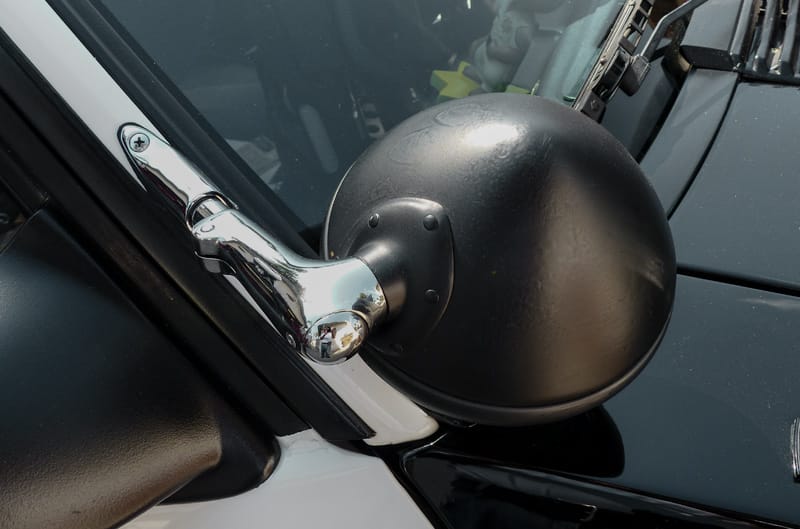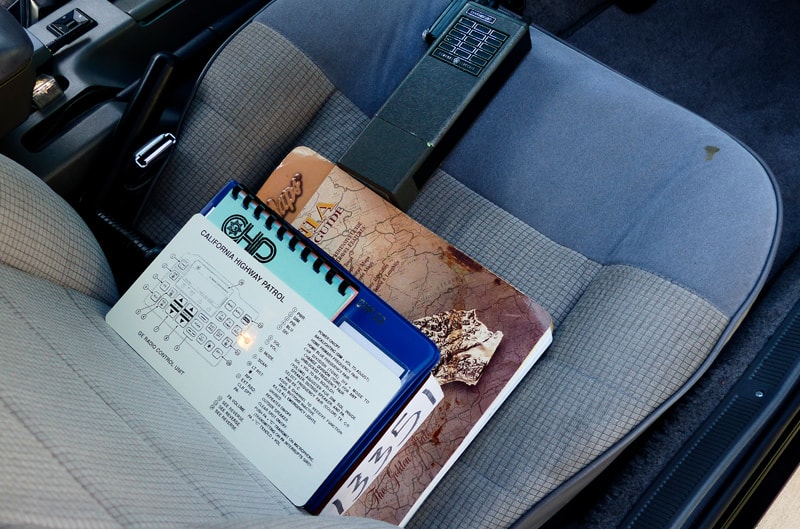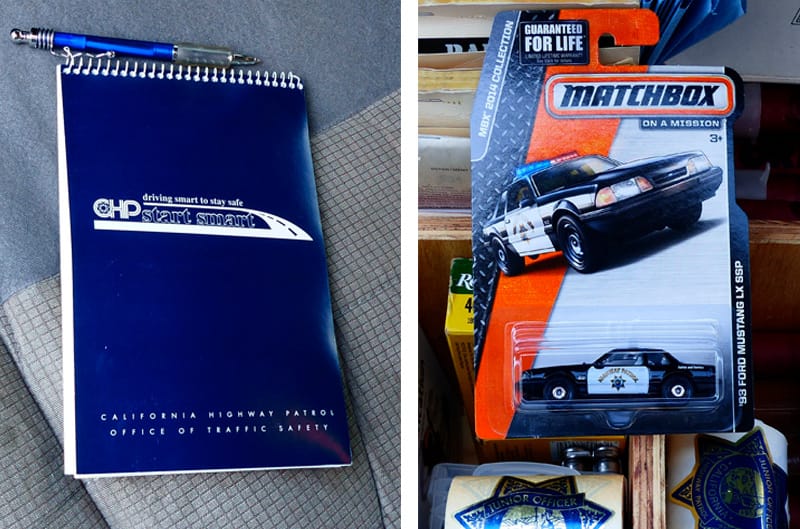 FORD PERFORMANCE PHOTOS / COURTESY MATT STONE and the ERIC GAONA COLLECTION