DETROIT, Mich – Most automotive enthusiasts in the northern states know of the long-running series of rod & custom car shows known as Autorama, which for years have helped big-city car fanatics survive the cold winter months while their prized possessions have been tucked away in the garage. In Detroit, some car-centric venues such as Pasteiner's Auto Zone, and High Octane Cafe & Bakery continue to hold automotive gatherings throughout the winter, but most cruise-ins and shows are out of commission until the grass begins to turn green again. This is where the Autorama shines through the overcast skies of winter for the Motor City's car lovers.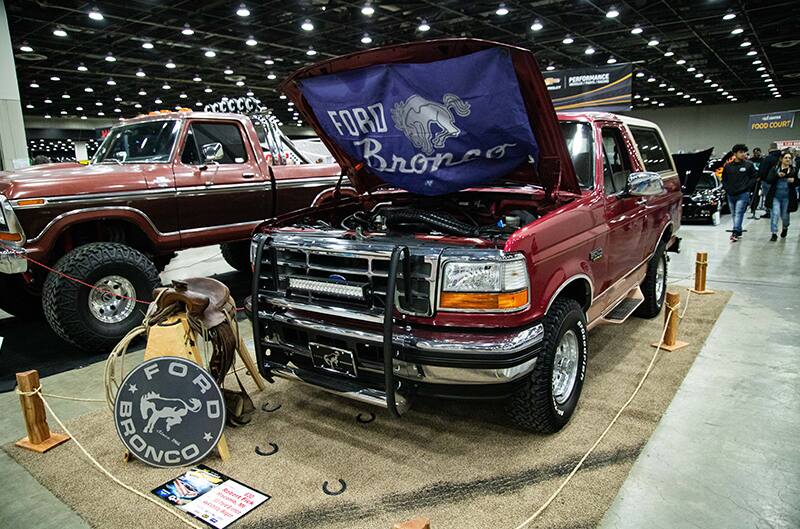 Each year at the end of February, the Detroit Autorama draws thousands of unique specialty vehicles of every type, year, make and model for an extended weekend display that attracts a surprisingly wide and varied audience at TCF Center (formerly known as Cobo Hall). Of course, since Autorama is known primarily as a hot-rod, custom, muscle-car and street-machine show and this stop on the tour is hosted in the heart of the American automotive industry, most show vehicles found at the Detroit Autorama are of products of The Big Three. As you might expect, our focus is clearly anything that involves the Blue Oval so we strolled the aisles covering 723,000 square-feet of exhibit space over two floors to find our favorite Fords.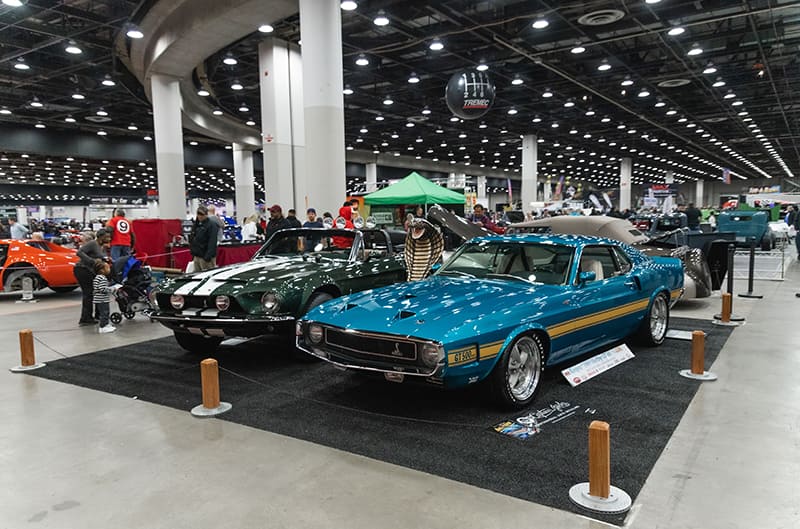 But there's something extremely noteworthy going on here that's noticeable well before you can get in to see even a spec of chrome. And that is the people riding the elevator down from the convention center's roof parking, or waiting to hand over their ticket for entry into the show. While most might assume a car show all about the hot-rodding culture would be packed mostly with baby boomers, the fact is that many of the attendees walking the show are, in fact, millennials and young families, complete with strollers and kids in tow.
Apparently, researchers who claim young people don't like cars haven't visited the Detroit Autorama.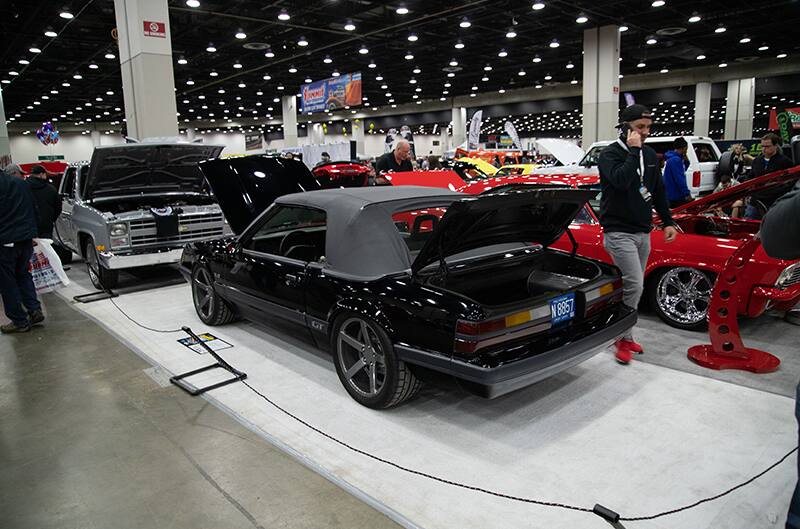 This may also help to explain why the Detroit Autorama has the largest attendance of the dozens of Autorama shows hosted in major cities all over the United States. Rather surprisingly, some 51% of the attendees of this show are in the 18-34 age range (according to Autorama.com's own demographic information). The good news here is it's a clear indication that the hobby is being passed down through generations, which will surely help keep the car culture very much alive for automotive enthusiasts of the future.
And the youth movement isn't limited only to spectators. One cool exhibit we found at the show was from nearby Washtenaw Community College, which displayed not one, but two Ford-bodied vehicles. The first one they displayed was a 1927 Ford XL 27 painted a deep burgundy with gold wheels and a dark-brown leather interior. This vehicle was originally built by students for the 2017 Detroit Autorama and continues to be a fan favorite. The school's second display vehicle was a 1929 Ford Model A Sedan which was also built by students with the help of local shops, including Hof Designs for the interior and Pete and Jake's Hot Rod Parts.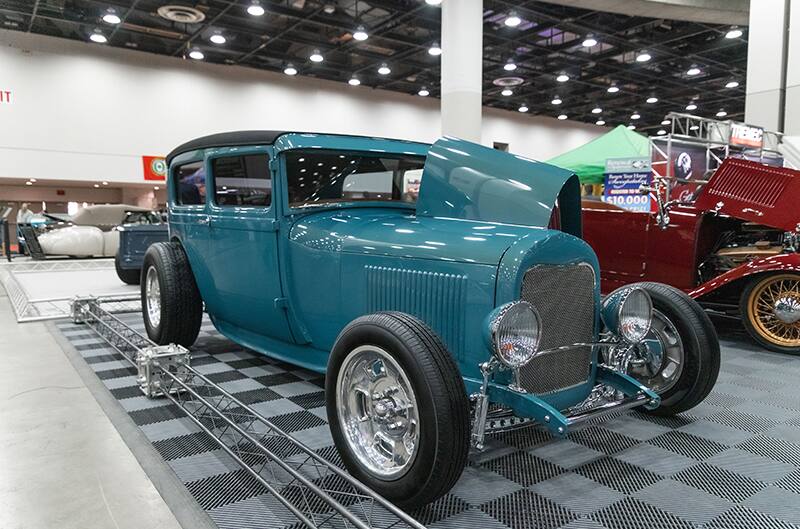 Beyond showing off the students' handiwork, a big reason for the school's annual display at the Detroit Autorama is to show that Washtenaw Community College is a great place for young people to get a head start in the automotive industry and learn techniques needed to gain the knowledge and skills required to be successful. You can learn more about their programs here: https://www.wccnet.edu/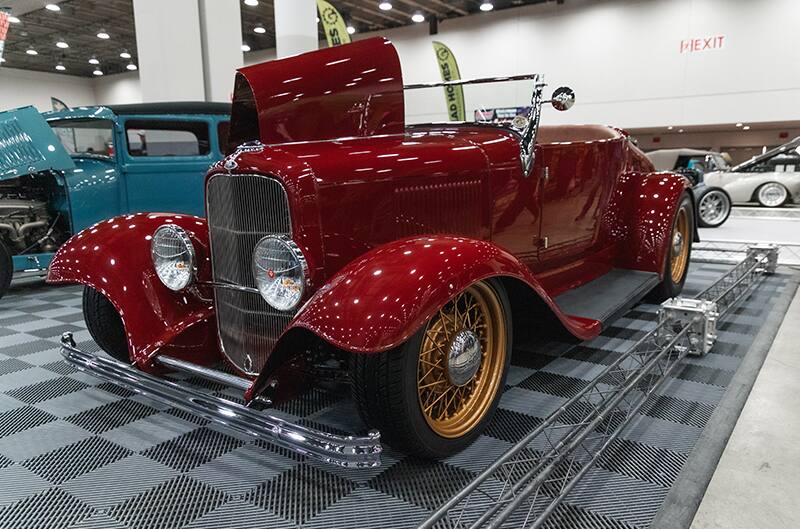 Show organizers are keenly aware of the interest this show stirs up from young car lovers. Before the official opening of the show, Autorama hosts its Annual Student Career Day. Held since 2006, this special program has become a tradition where the show invites high school and college students involved in automotive educational programs to come out and hear from special guest speakers, vehicle builders and industry insiders. Each student typically receives a gift such as a hat, T-shirt or other collectible item, and once the speakers wrap up, the students are granted access to the show floor where they can navigate the display areas and speak directly with the vehicle builders. The day is sponsored by Summit Racing Equipment and the International Show Car Association (ISCA), and seems to be growing every year.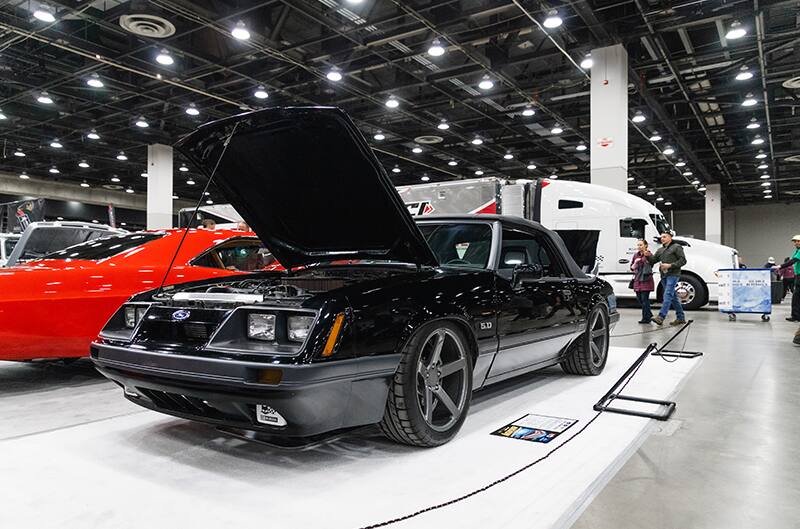 While the main floor of Detroit's TCF Center houses the display area for the traditional show cars, street machines and high-end custom cars in annual competition for the famous "Ridler Award," there's a completely different vibe once you head down the escalators to what's known as "Autorama Extreme." It's down here where your ride does not have to be detailed, shiny, or even running. This level hosts everything from original Ford Model T's to Rat Rods and flame-throwing Chops. The underground car counter-culture is on full display, so don't be surprised if you don't notice many bright or shiny colors down here, as the most common theme among these vehicles tends to be "Hot-Rod Black."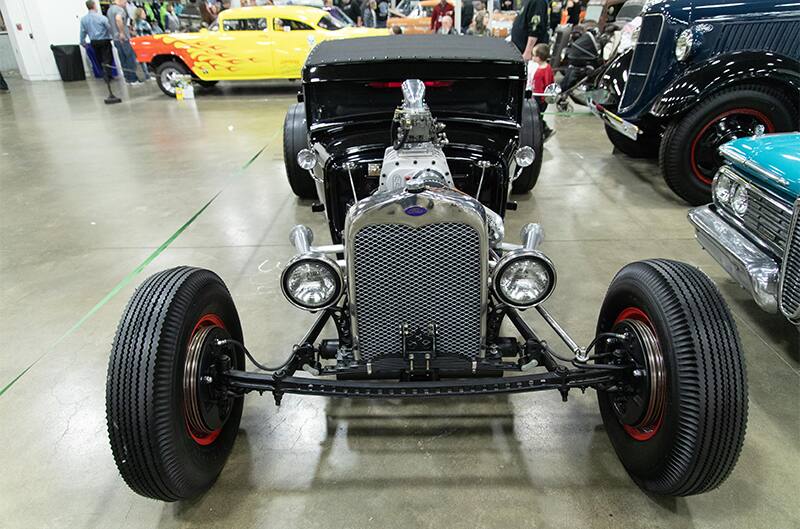 The Autorama Extreme display area exudes a laid-back environment that hosts a variety of unique events that include a live chop-top demonstration from the famous Gene Winfield, a Pin-Up Girl Contest, and live music playing throughout most of the weekend. You'll also notice many of these vehicle displays also include couches, coolers, televisions and memorabilia to create the ultimate hangout for grassroots vehicle owners throughout the weekend.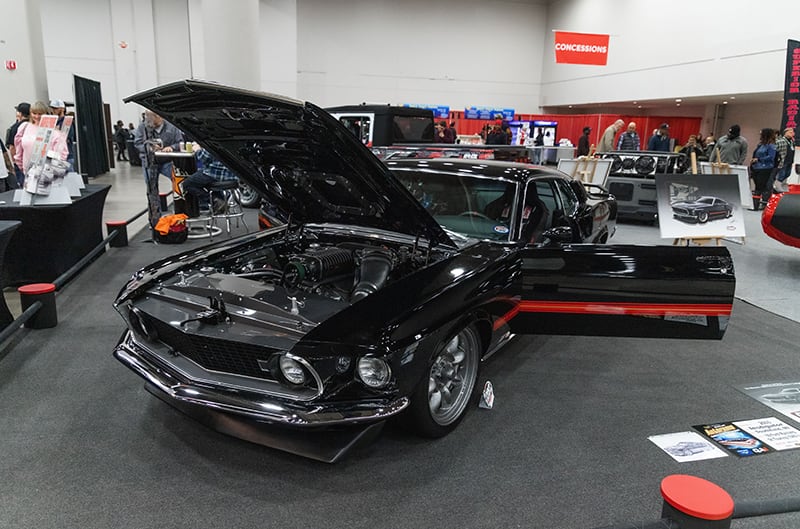 We found some of the most unique Fords at the show downstairs, including a 1965 Falcon "Warbird" built by Holman-Moody, a 1965 F600 vehicle hauler, and even an unrestored 1930 Ford Model A. We could go on and on about the unique finds in the basement, but that's not in any way discounting what you'll find upstairs on the main floor of the Detroit Autorama.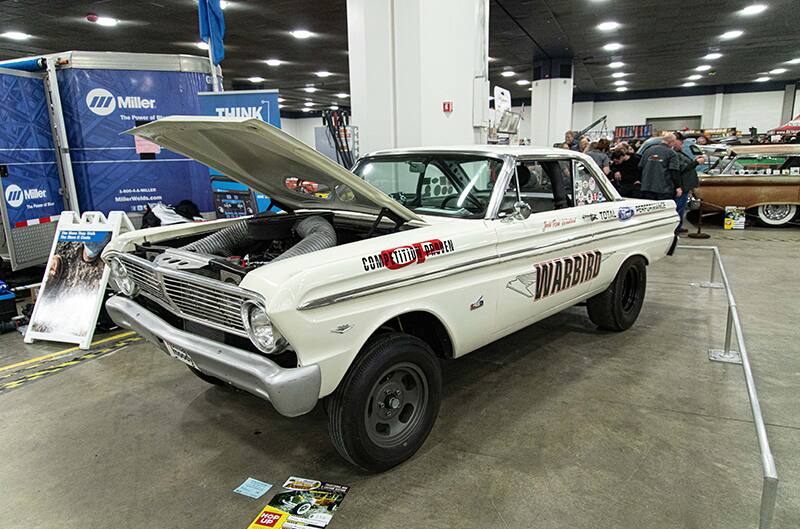 Upon entering though the main doors to the show floor, you'll first notice a dozen or so custom builds that appear to be way past your average restoration project. These cars and trucks have every nut and bolt polished or powder-coated with the undercarriage and belly pans painted and finished off, with mirrors laid on the floor to show off every angle of the car – even underneath. Many of these high-end customs are the ones going for the coveted Ridler Award as the best new custom of the year.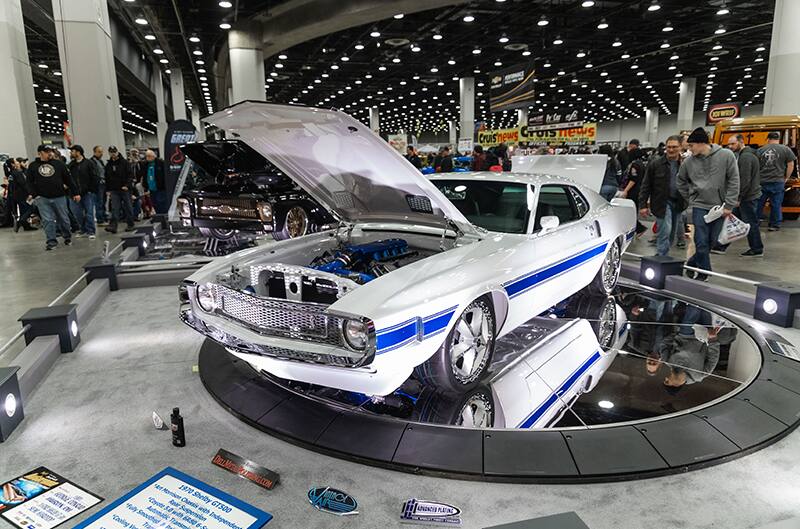 While it's hard to not stop and stare at every one of these creative builds, we managed to pry ourselves away to check out so many of the other unique modded vehicles that the show has to offer. The cool Blue Oval rides that particularly caught our eye were an F-100 powered by a modern Coyote V-8 engine, several restomod Ford Broncos, and a superb 1969 Mustang Mach 1 with a supercharged 5.0L Coyote. Long lines were found around the Ford Performance display area, as all sorts of folks of all ages happily waited to get a free T-shirt.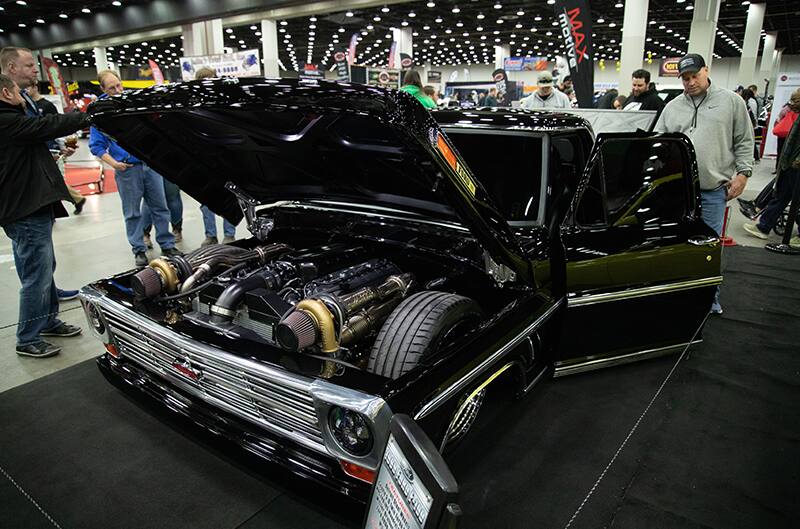 If you find yourself deprived of this level of automotive excitement during the winter season next year, the Detroit Autorama is certainly one event you should make the effort to attend. With a variety of different attractions that have proven to provide fun for the whole family – from grandpa and grandma to boomer dads and moms to millennial car fans and even young boys and girls – is easy (and encouraging) to see why this show brings joy to those of all generations.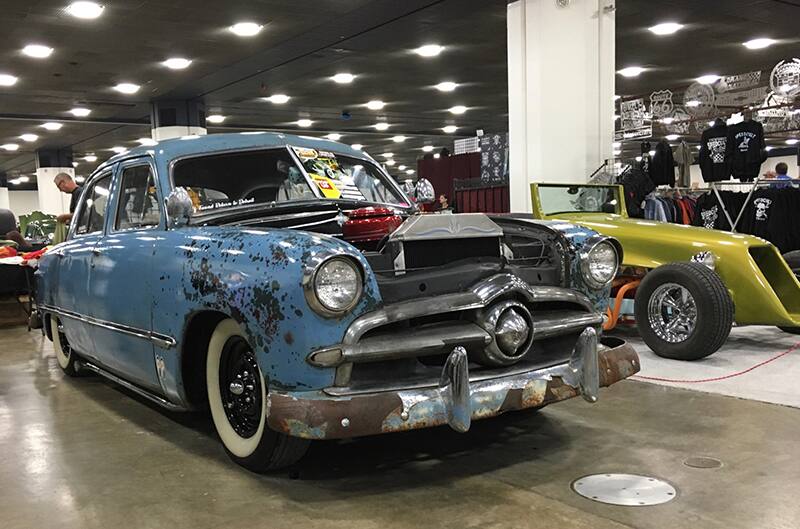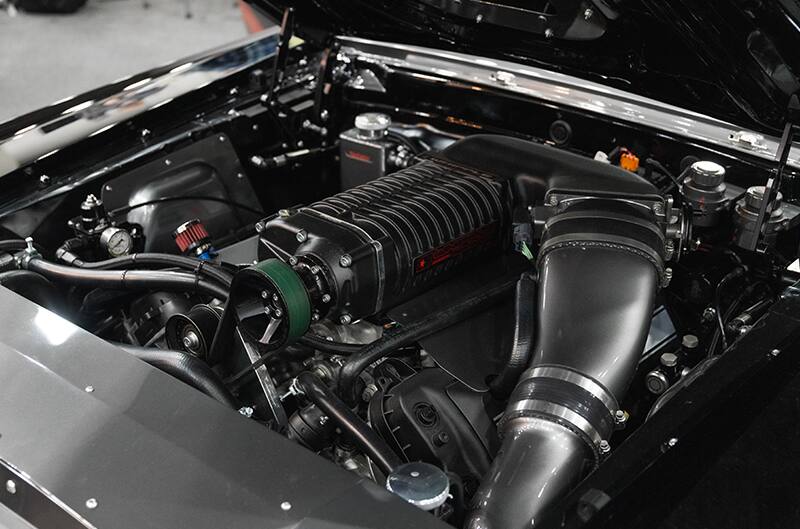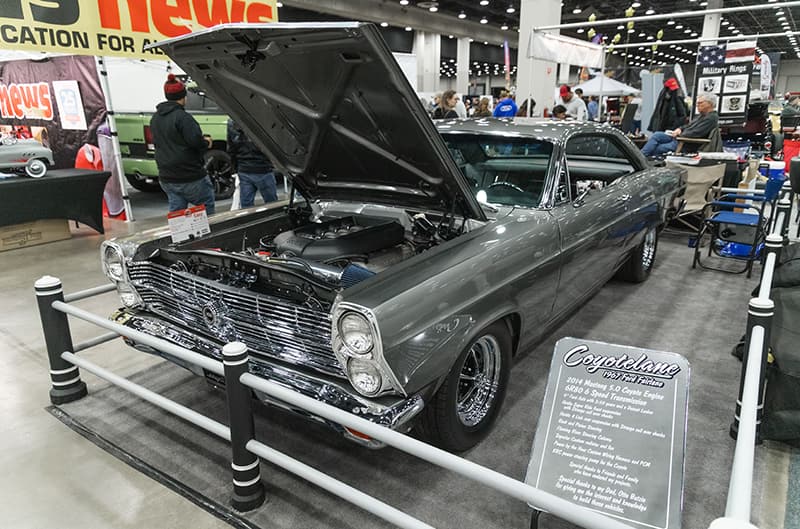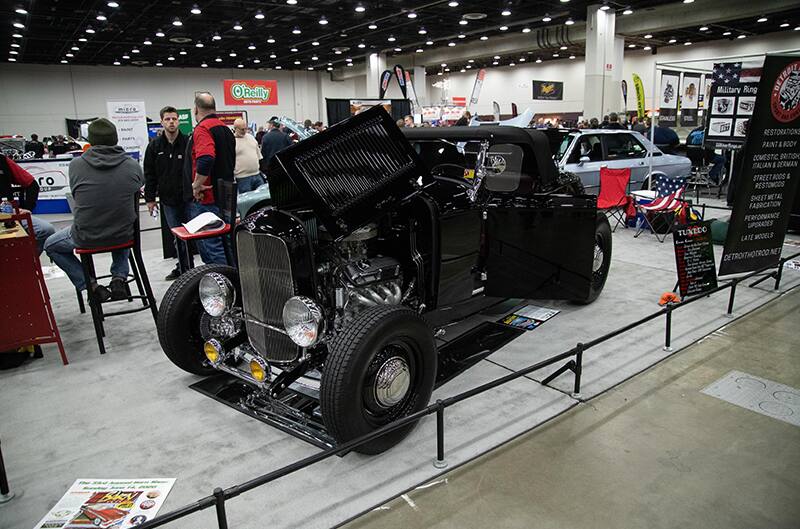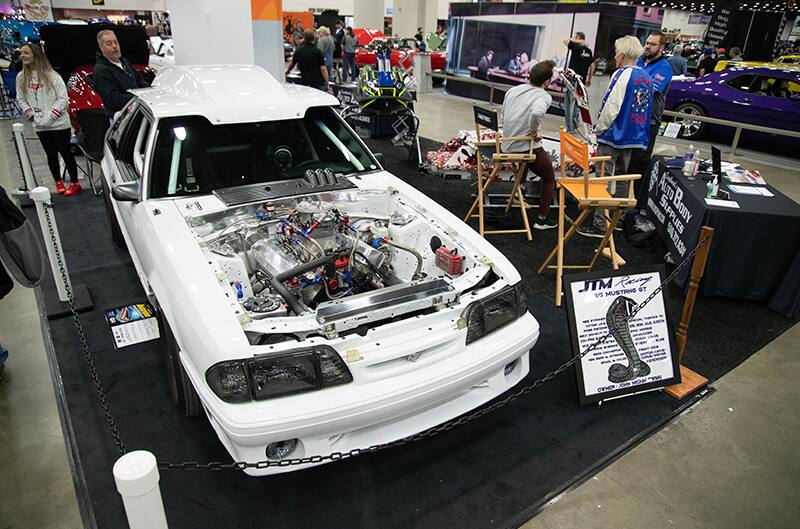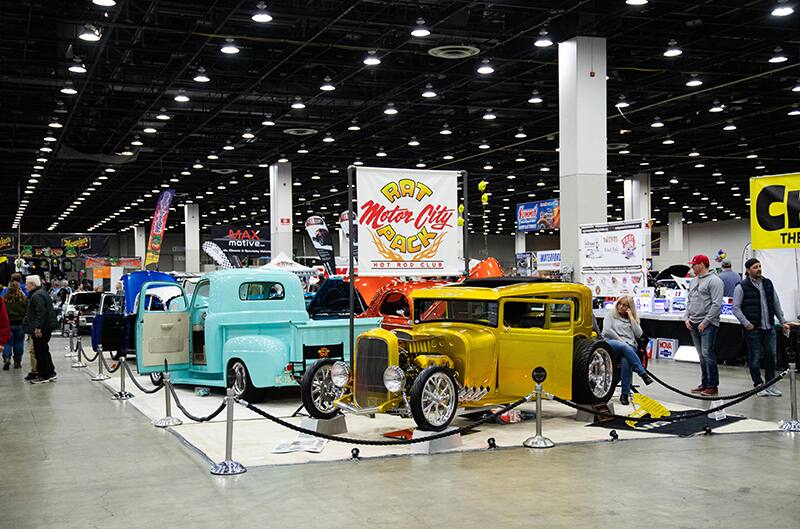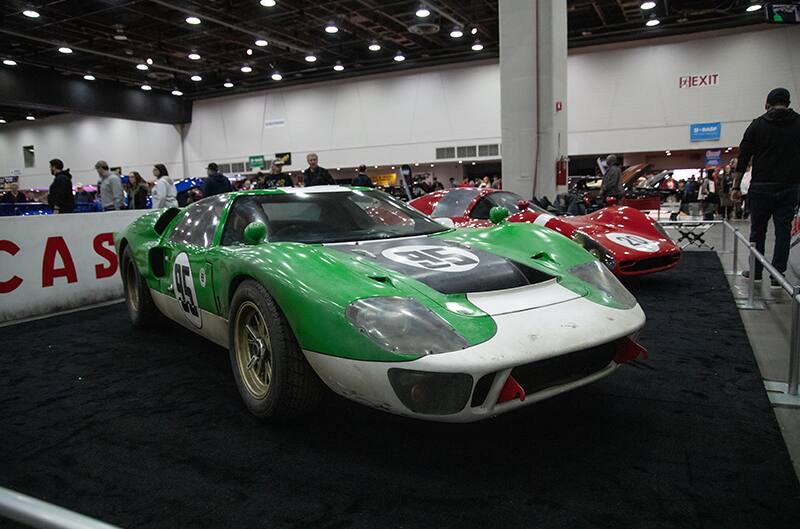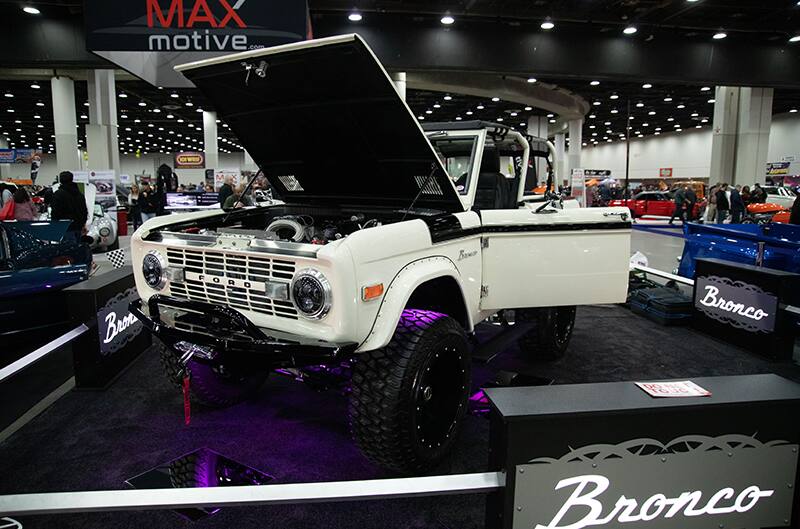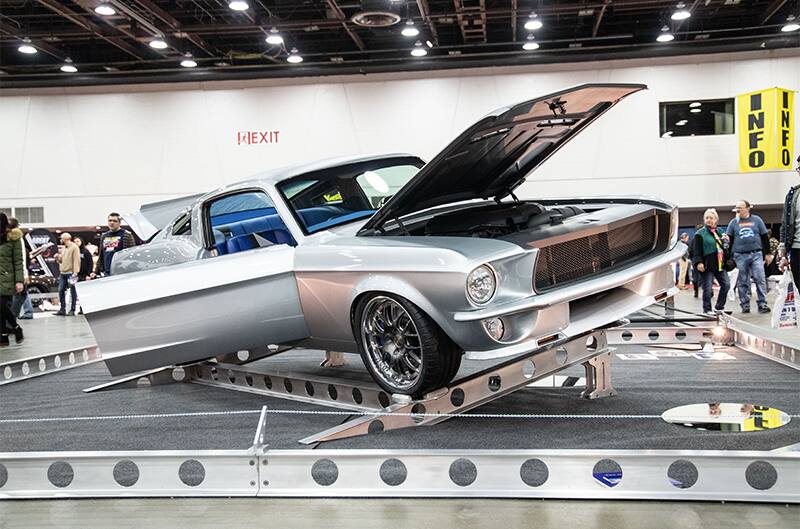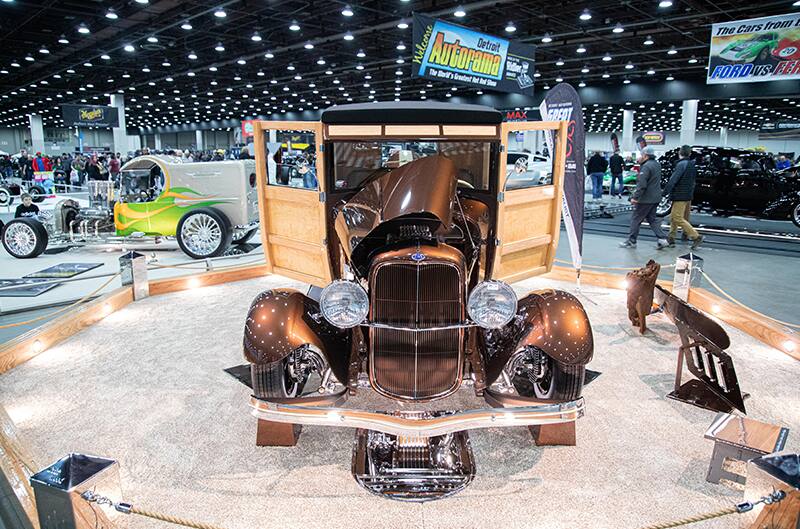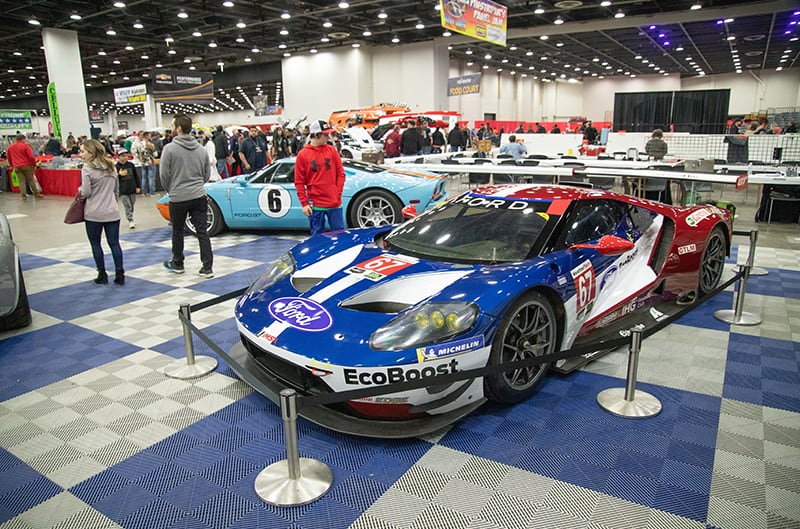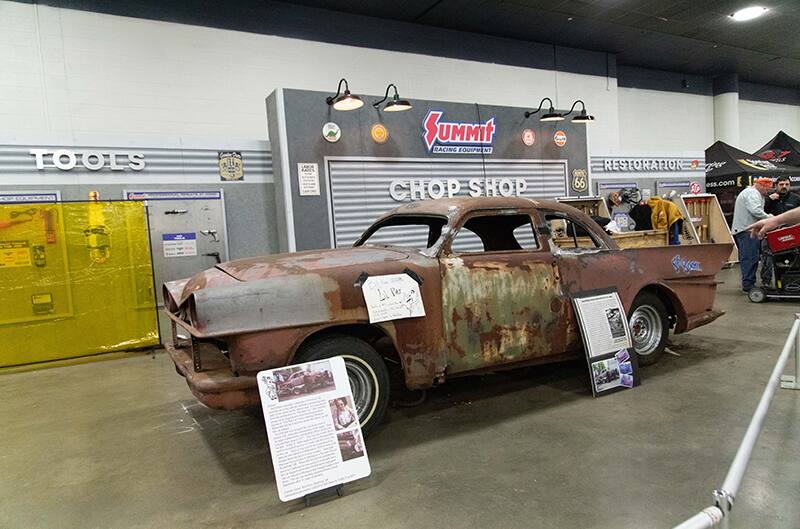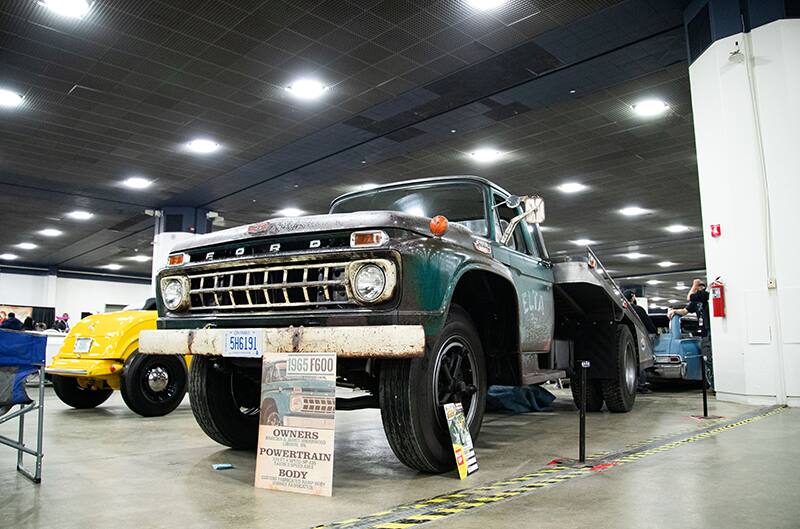 FORD PERFORMANCE PHOTOS / COURTESY MARCUS CERVANTES