"Kona Bob" Tremain is an interesting guy. He's a handsome, fit and friendly 66-year-old whose current motto is "Striving and Driving to Enjoy Life." A successfully retired father and grandfather who has earned the nickname "Kona Bob" because he lives in Kailua, Kona, Hawaii, he's done a lot of compelling things in his life, including building and ultimately retiring out of a major metal fabrication business on the island, and running big-game crab boats (think Deadliest Catch, without all the "reality" TV fake drama, replaced by real adventure while out deep-sea crabbing).

And Tremain just loves road racing and running track days. A recent track weapon was a supercharged 2006 Saleen S281 Extreme Mustang, which he elected to retire (although he still owns) from track-day campaigning. He was concerned about the engine's longevity given the considerable heat and boost generated by the supercharger on the car's 4.6. So he set about a search for his next project car, which for a time appeared as if it might be a Corvette Z06, but that car didn't have near the luggage capacity for the around-North America-track-days tour he was planning.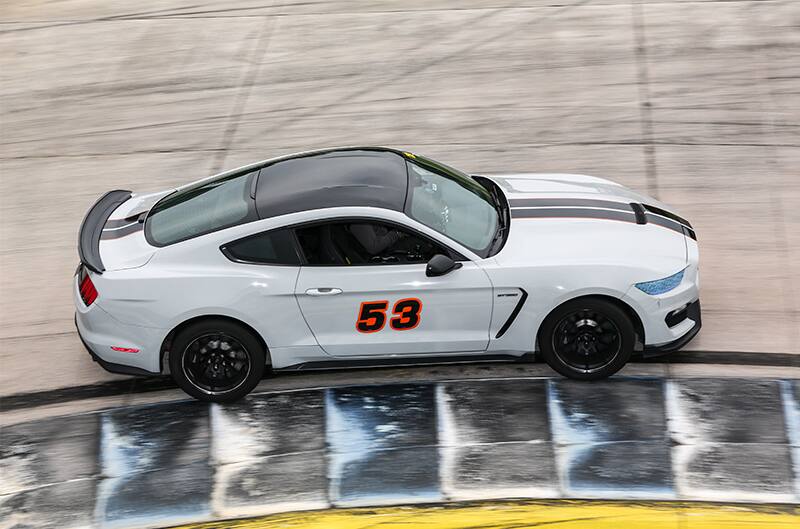 That whole idea stemmed from a larger and grander retirement vacation that he and his late wife were developing; the notion was based on a major motorcoach the couple planned on purchasing in which to see the Greater 48 and some parts of Canada. When his high-school sweetheart and only ever wife unexpectedly passed away, Tremain was emotionally gutted yet felt compelled to take on a similar, if somewhat reimagined, travel and road-racing adventure trip in her honor and memory.

A big motorhome was no longer part of the plan, so his next car would need enough luggage capacity for Bob's (much trimmed down) personal travel affects, his race kit, golf clubs and the proverbial cooler. Very much a fan of modern Mustangs, he divined that the current Ford Shelby GT350 would be the right tool. He realized that his notion of "packing" would have to evolve a great deal, yet that the Mustang platform's rear-seat area and trunk would be just enough if he were uber-realistic about what he really needed to have with him, and take on a North American racetrack tour.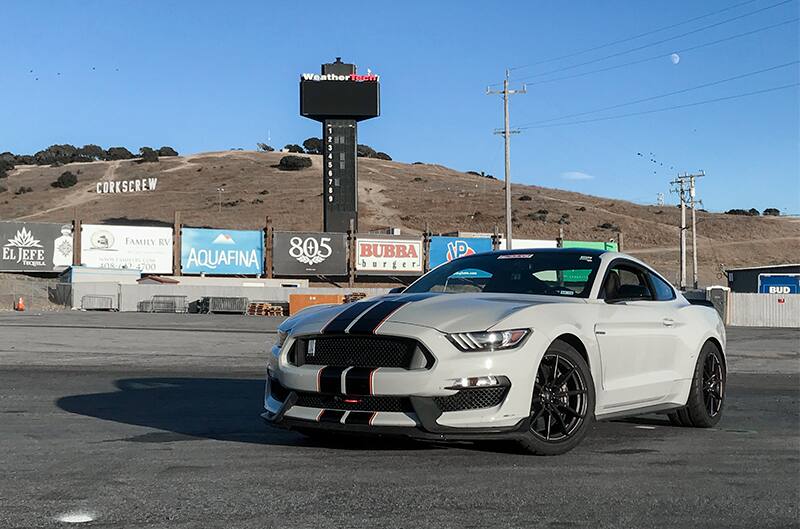 So his search began for the right car; he shopped several dealers for new GT350s but didn't want to spend as much as the window stickers were asking for as it would be no show car. So he plied the pre-owned ads and sites, ultimately stumbling upon this used Avalanche Gray 2017 GT350 (the standard-spec car, not an R Model) at a bargain price in Texas. He made the deal; the first step in Bob's great race trackday adventure had been taken.

Tremain describes his goals thusly: "The idea behind the trip was to try to drive (race) the Shelby GT350 on 17-20 of the best and most significant road courses in North America. It took me approximately two weeks to prepare the car and figure out how to trim my lifestyle requirements down to everything I needed and then get it all to fit into a GT350 Mustang. I would be traveling by myself as I had lost my wife to a sudden, unforeseen death 1-1/2 years earlier. I was looking to spend lots of time(s) in "My Happy Place" -- driving fast on road courses. The first and foremost important piece of gear was my full set of golf clubs. I am an avid golfer and knew I would have spare time to play some of the great rural courses across the USA and Canada. I needed a floor jack, jack stands, a drill, grinder and miscellaneous tools, an air compressor, and spare parts, plus my racing suit, shoes, helmet, street clothes, and so forth. I drove the car from venue to venue staying with friends sometimes and hotels at other times."
That's correct; the car was never to spend a minute on a trailer going from track to track, and every time he got to a new track he had to unload all of the stuff mentioned above into a pit garage. O.K., this guy's serious.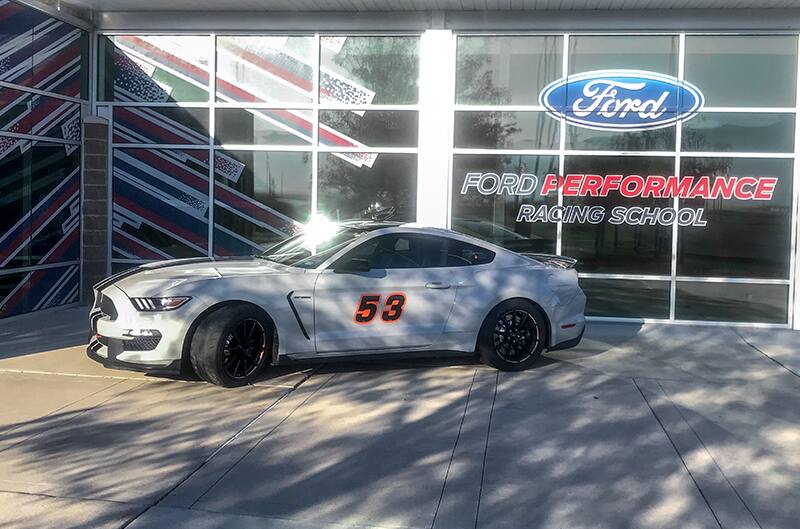 What many will find astonishing about the car's spec is how stock it is. Tremain added front and rear tow hooks, a Granatelli cooling system expansion tank, FIA-spec Schroth four-point racing harnesses for both front seats, plus the Schroth HANS device, and Nitto NT05 tires all around. Otherwise, he felt the Shelby's spec was up to snuff, and suited his driving style perfectly -- so engine, suspensions, brakes and most everything else has been left alone. The attractive black-and-orange stripe job was added by the previous owner, but otherwise, the car is much as Ford built it.
The car was great when he got it, but there was a big reason he got such a great deal on it. Likely driven hard and put away wet too many times, the main problem was that it guzzled oil, and a deep-dive check by the folks at Galpin Ford determined it not up to snuff for the intended track duty. So the original 5.2 was replaced at no cost under warranty. Bob has had the car serviced along the trail at a dozen Ford dealers, and he was full of positive comments on the great level of service he received from every one of them -- even though he didn't buy the car there. When you consider the hammered mechanicals that needed repair, plus the mass quantities of wear items and consumables that he went through, the numbers are a bit mind-blowing. Here's a bullet-point summary of service and repair items along this utterly unique 32-state odyssey:
Replaced one 6-speed Tremec transmission
Replaced one left-side header assembly (cracked weld)
Replaced one secondary exhaust pipe section (cracked weld)
Replaced four cam-sensor wires.
Replaced one windshield cracked by a flying rock (Repair in 90 minutes by Safelite with an OEM part).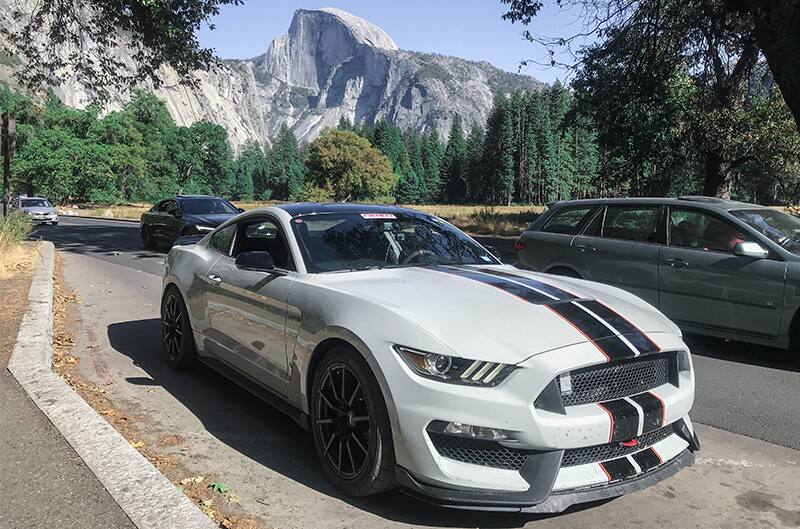 "Ford Motor Company was awesome," he said. "It replaced all of the parts listed above, under warranty and free of any charges with very minimal down time. I worked with a total of 12 Ford dealers across the U.S. and Canada doing the repairs listed above and below. That is the total summary of repairs that were required for the duration of the trip. I think it is amazing how well the car performed for that many high-speed road course miles. The new motor burns no oil."
So where exactly did he go, and how many miles and racetracks did he run? Again, the list somewhat boggles the mind:
Total Miles Driven (including track miles): 25,038.2 (Note: It takes 24,901 miles to go once around the world.)
Total Road Course miles: 4,039
Full sets of four new tires: 6
New sets of front brake pads: 5
New sets of rear brake pads: 2
Oil & filter changes: 10
Brake system flushes: 4
Transmission fluid changes: 3
Differential oil changes: 3
Plus an amazing 52 ROUNDS OF GOLF!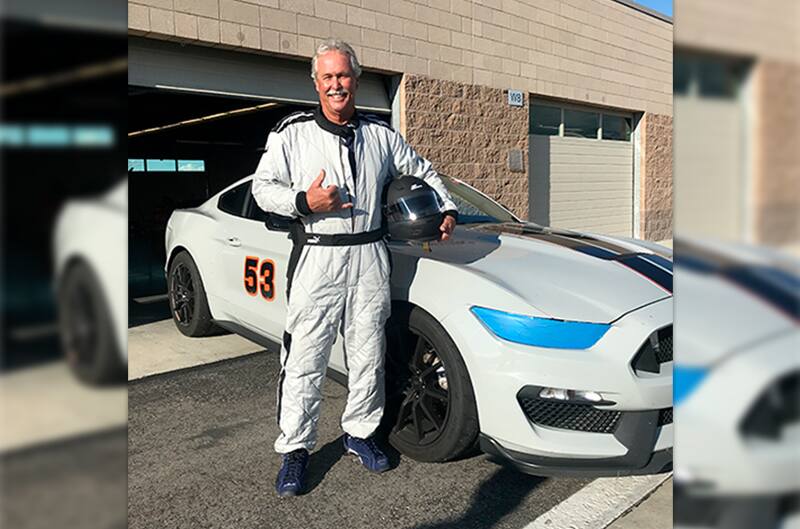 The adventure ran from March 4, 2019, to October 15, 2019 – no question a fair amount of time to be gone from home and living out of your car. Bob went back to Kona for 10 days one time, and for 19 days another time for family celebrations. When he left in March from California, the odometer read 9,111 miles, and when he put the car into post-trip storage in Los Angeles, the clock read 34,149.2 miles.

And he was absolutely successful in visiting and running many of the greatest road courses in North America in the process, including:
Buttonwillow Raceway, Buttonwillow, CA - 3.1 mi long
Sonoma Raceway, Sonoma, CA - 2.52 mi long
Chuckwalla Raceway, Chuckwalla, CA - 2.68 mi long
Wild Horse Pass Motorsports Park, Phoenix, AZ - 1.52 mi long
Utah Motorsports Complex, Erda, UT - 3.4 mi long
Pueblo Motorsports Park, Pueblo, CO - 2.2 mi long
Circuit of the Americas, Austin, TX - 3.4 mi. long
NOLA Motorsports Park, Avondale, LA - 2.0 mi long
Barber Motorsports Park, Leeds, AL - 2.38 mi long
NCM Motorsports Park, Bowling Green, KY - 3.15 mi long
Road Atlanta, Braselton, GA - 2.54 mi long
Sebring International Raceway, Sebring FL - 3.65 mi long
Pittsburgh International Race Complex, Wampum, PA - 2.78 mi long
Virginia International Raceway, Danville, VI - 3.27 mi long
Watkins Glen International Raceway, Watkins Glen, NY - 3.40 mi long
Canadian Tire Motorsports Park (Mosport) Bowmanville, ONT, Canada - 2.50 mi long
Calabogie Motorsports Park, Calabogie, ONT, Canada - 4.0 mi long
Mid Ohio Sports Car Course, Lexington, OH - 2.40 mi long
Buttonwillow Raceway, Buttonwillow, CA - 3.1 mi long
Laguna Seca, Monterey, CA - 2.4 mi long.
Plus Bob also put in some miles on the legendary Highway 129 "Tail of the Dragon" (considered by many to be America's version of the Nurbergring), which runs through the Appalachians in Tennessee and North Carolina – where one 11-mile section of the Dragon packs in an amazing 318 turns.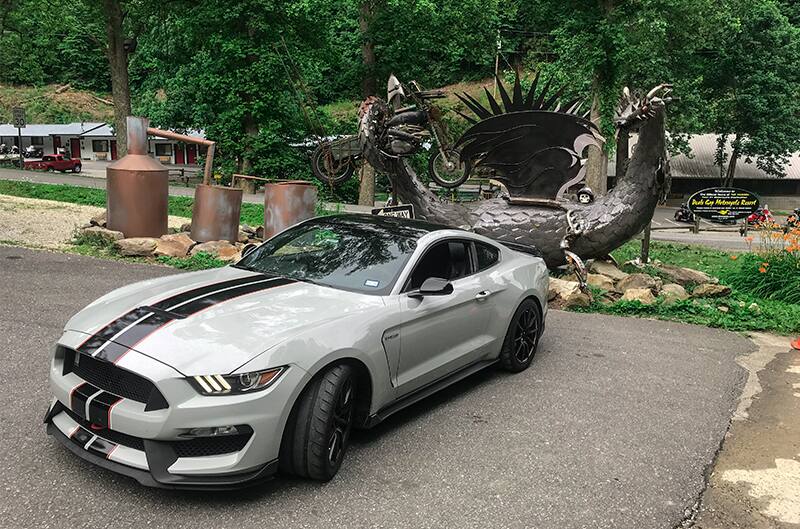 But the number that absolutely stupefies -- and tells you how much this man loves to run track days (and is worthy testimony to the GT350's appropriateness for this job) -- is his 168 total track sessions of 20-30 minutes each, some on very hot days, pushing the car hard all the way. He's also made it his mission to encourage enthusiast car owners to run some track days.

"It's so much fun, and you'll learn so much about your car," he said, "and how to drive it fast safely."
To see Tremain's Shelby GT350 today, you'd never guess that its endured so many punishing hours on road courses plus the thousands of highway and back-road miles required to get to them all. The Shelby wears a clear bra system by Ghost Shield, a self-healing applied sheet film on the front one-third of the car -- hood, headlights and other impact areas on the side and back. So rock chips and other visible wear are kept at a very minimum.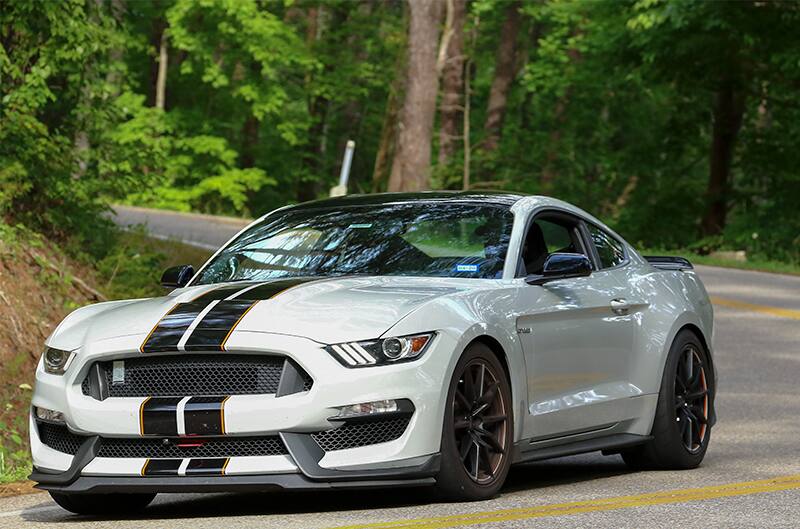 Tremain has zero regret in doing this trip just the way he did it, commenting that he felt as if wife Dianne was with him every lap and mile along the way, and that he'd do the whole thing without question again. All of it the worthy definition of his "Striving and Driving to enjoy life . . ." Our kinda guy – well done, Bob!
FORD PERFORMANCE PHOTOS / COURTESY BOB TREMAIN