LOS ANGELES, Calif. – Since its official beginnings as a production automobile, Ford's Mustang has evolved considerably, yet with several constants underpinning its pony car nature. Those being a four-place car with two doors, its gasoline-fueled engine mounted in the front, and rear-wheel drive. Of course there have been coupes, and convertibles, and 2+2s, Sportsroofs, and Shelbys, Bosses, GTs, and even Indy Pace Cars.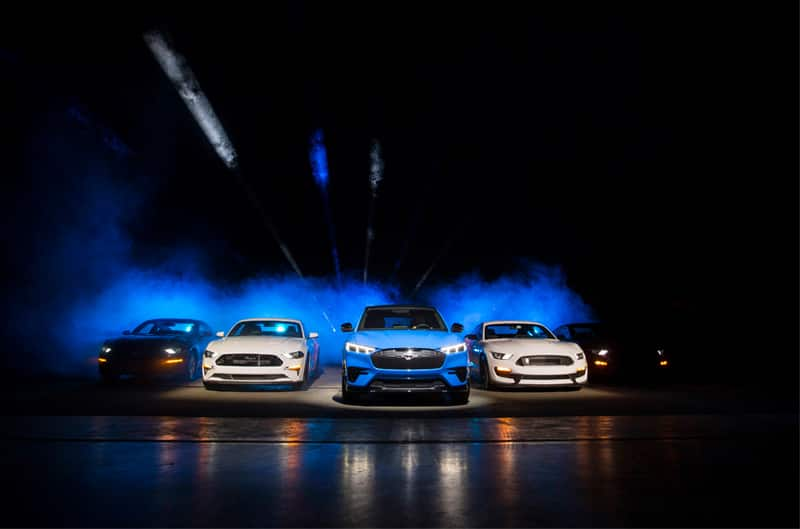 Yet Ford rocked the collective house, the automotive marketplace, and the Los Angeles International Auto show when on Sunday, November 17, 2019, on the eve of the show's opening, Ford launched a new Mustang model that scant few saw coming. A few years ago, Executive Chairman Bill Ford more than hinted that a pure electric Mustang was possible. Yet nobody expected this -- the first crossover sport/utility vehicle to be Mustang inspired, and in fact, to wear the Mustang's running pony badge.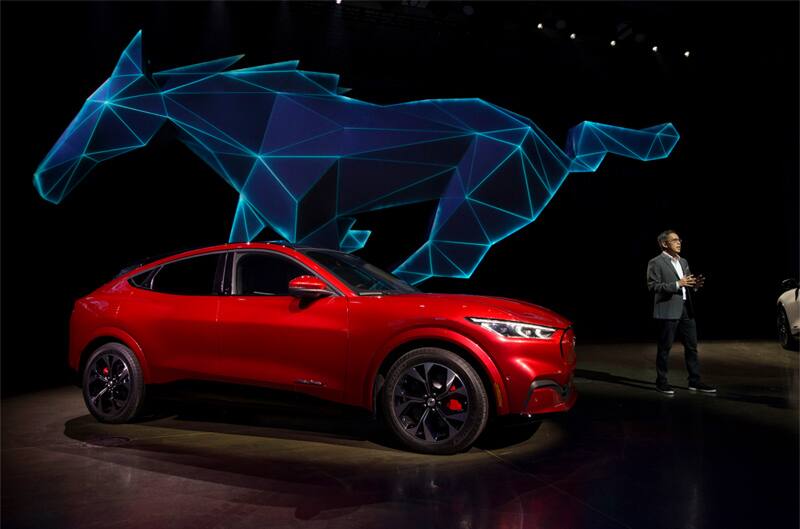 Ford did so by dipping into Mustang's prestigious and long-successful muscle car past by reviving at least part of the name of one of its most iconic and recognized models, that being the Mach I. Initially there was some notion of calling this new vehicle Mach I, but a considerable group of the hardcore Mustang enthusiasts contingent (both inside and outside of Ford) spoke up that this would be a bad idea, so the latter has been morphed into the Mustang Mach- E, with the "E" of course referring to Electric.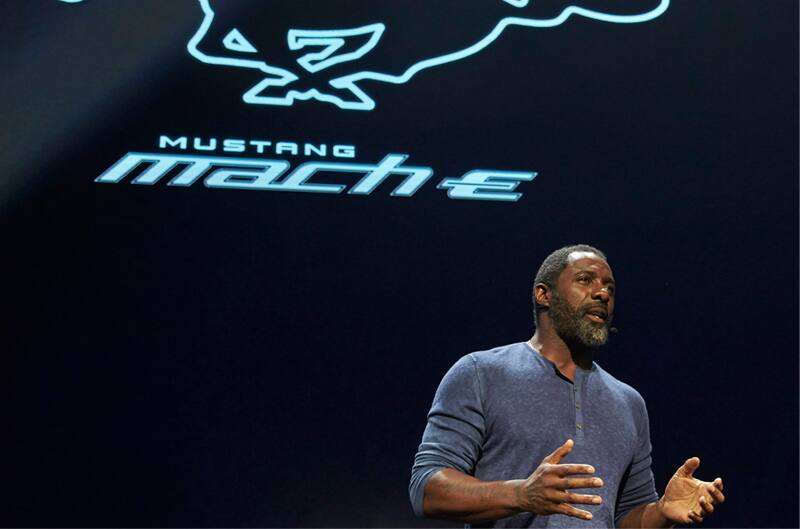 The very special launch program for the 2021 Ford Mustang Mach-E was a pure Hollywood-style bash rivalling any movie premier you can imagine. The Hawthorne Executive Jet Center (next door to Elon Musk's SpaceX concern, and a Tesla regional operations center) is huge, and was set up for this major show of shows. The place was packed full of automotive and general media, select Ford enthusiasts, many members of the Mach-E build and development teams, and the Ford brass that drove and approved the project -- including the aforementioned Bill Ford; company President and CEO Jim Hackett; President, New Businesses, Technology & Strategy, Jim Farley; Chief Product Development and Purchasing Officer Hau Tai-Tang (who has several Mustang models and generations under his very experienced belt), Ford Global Design Chief Moray Callum; and several others – not to mention 1,000 or so Insta-bloggers.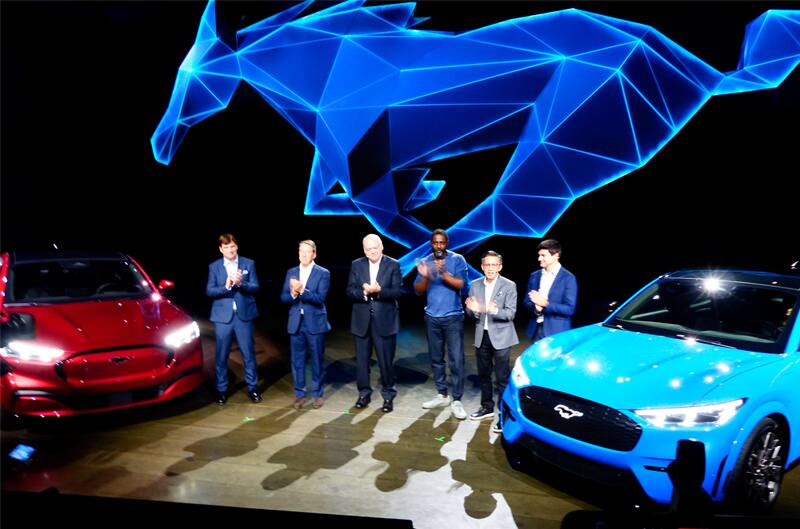 The globally acclaimed Detroit Youth Choir powerfully sang and danced several hip-hop style songs for the reveal. The music pounded to fever pitch, while lights flashed. The event was staged and presented like a live television show – which was most appropriate, as it was being live-streamed all over the world. Dominating the center-stage area was a two-story tall Mustang "Running Horse" logo light sculpture, intricately "faceted" as if to sparkle like a giant Mustang-shaped jewel.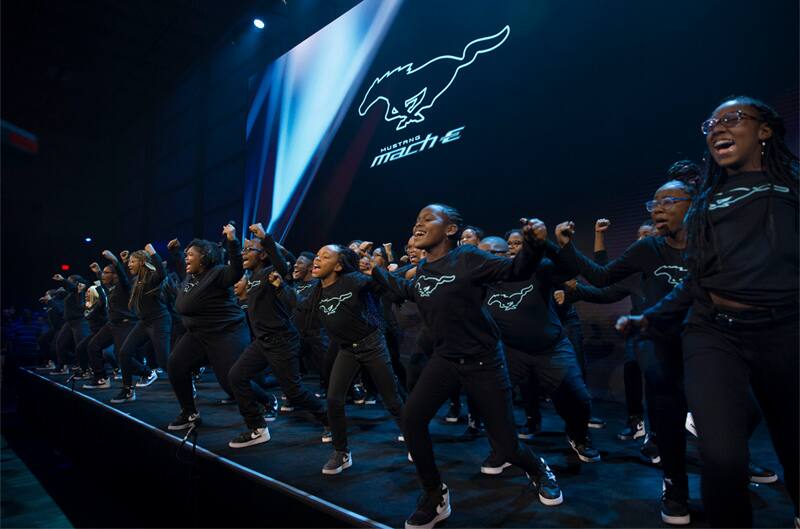 And to add another helping of international and Hollywood flare, Idris (He Who Many Wish Would Be the next James Bond) Elba was on hand as host and celebrity presenter, and will also appear in the Mach-E's TV ad campaign. While chatting on-stage with Bill Ford, the tall, charming and particularly well-spoken Elba described his connection with the Ford Motor Company. Elba had worked for a few years back at Ford's production plant in Dagenham, England, jokingly referring to Bill Ford as his "former boss." He also quipped that perhaps the "E" in Mach-E really stood for "Elba."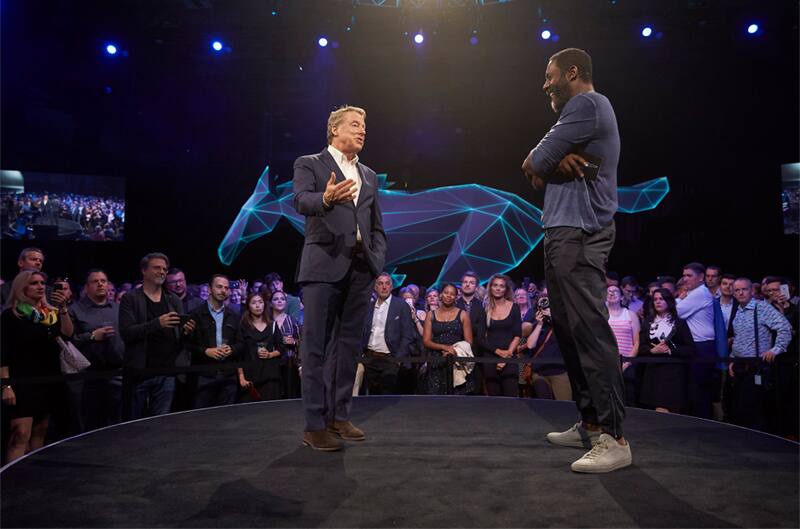 Chairman Ford made it very clear that this product, in order to be called a Mustang, had to really "look, feel and drive like a Mustang. And it better go like hell." He also noted that the Mach-E was faster than a Ferrari Portofino, "because you know [in obvious reference to Ford's racing record and the film Ford v. Ferrari] how much we love beating Ferrari." He also referenced the current Mustang lineup, importantly noting that "the Mach-E isn't replacing any of those, it's just that there's a new horse in the Mustang corral."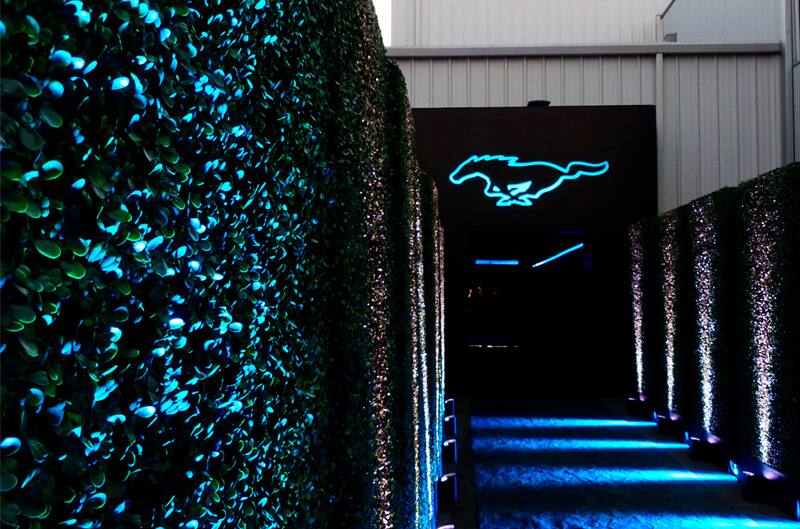 The vehicle itself hits many high notes. It's absolutely handsome, sporty and aggressive even. Its two-row, five-door platform architecture is all-new and designed only for pure electric vehicle use. Recognizable Mustang design cues are baked-in, and not merely pasted-on. It's particularly graceful in the pure side view, with an arching, fastback roofline leading to a hatchback trunk area. The headlights have a proper Mustang glint to them, and the taillight design is pure Mustang. The "grille area" -- although it doesn't house an open Mustang grille because, of course, there's no radiator -- is a large, ovalesque-framed opening that somewhat recalls the current GT500, and perhaps that of the 1968 Shelby GT350/GT500 Mustangs. It also mounts an appropriate Mustang running horse, backlit on the GT to great effect.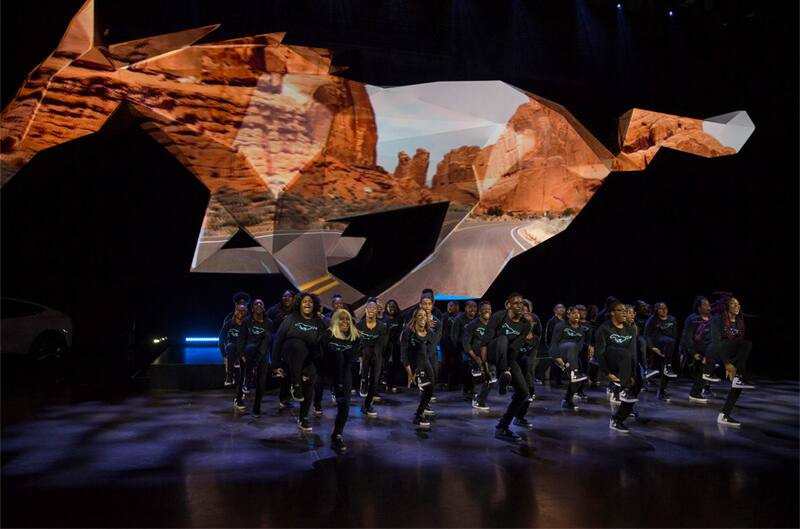 The Mach-E boasts wide, muscular flanks and flares, absolutely recalling the current Mustang GT and GT350 body detailing. Its aggressive, sporty, and powerful looking from every angle, recognizable as nothing but a Mustang -- although this time with four doors, massive cargo capacity, and optional all-wheel drive, sans hood scoop and rumbling dual exhausts.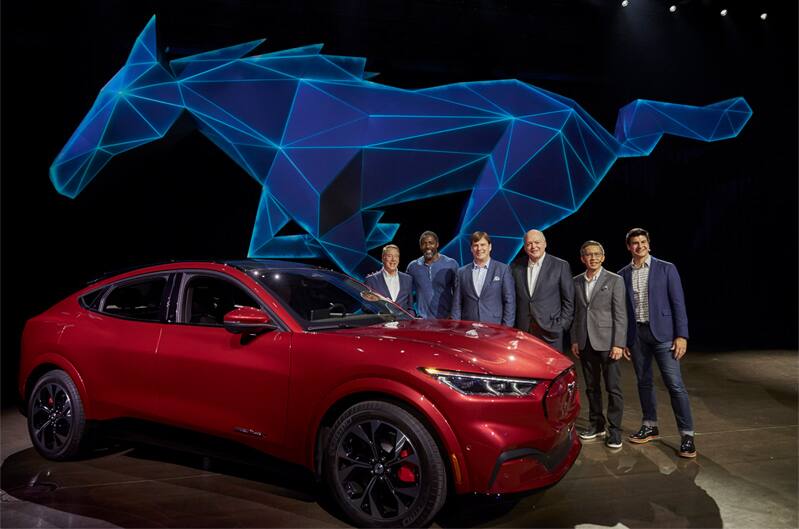 Besides offering the stellar torque-laden performance of a modern EV, the Mach-E was developed with industry topping technology and connectivity designed to enhance the driver and driving experience in every way possible. Save for one programmable control knob at the bottom of its 15.5-inch center screen, all of the Mach-E's instrumentation and passenger interfaces are entirely digital. It all represents a complete reimagination and redevelopment of Ford Sync, with some spectacular capabilities.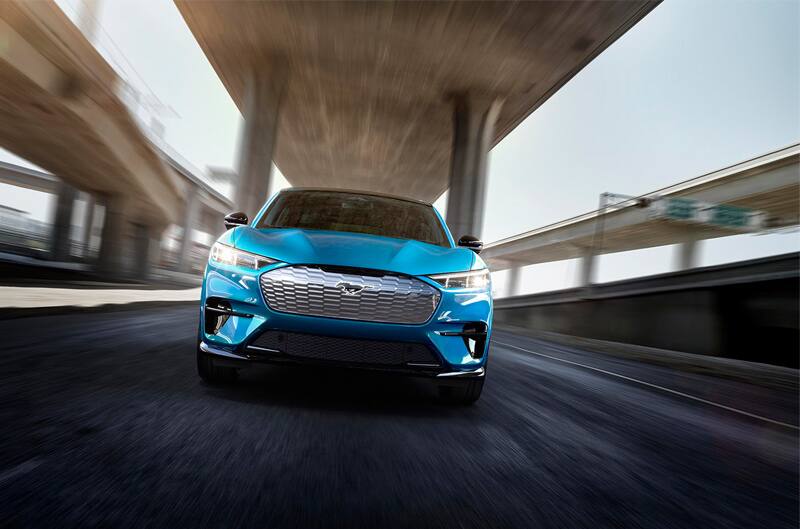 The new system offers previously unimaginable driver and passenger adaptability all programmable within the car or via a smartphone. The infotainment screen will, among dozens of other capabilities, show you mapping of something like 12,500 charging stations –the ones closest to you or anywhere. Range anxiety? Not with the Mach-E. Its most range-efficient model is rated at more than 300 miles on a full charge, and the car charges very quickly, either at home or out in the world. The Mach-E's infotainment system updates and upgrades itself in real time -- as Ford issues software upgrades and patches, the car receives them continuously and wirelessly; no more stopping in at your dealer to download the latest software.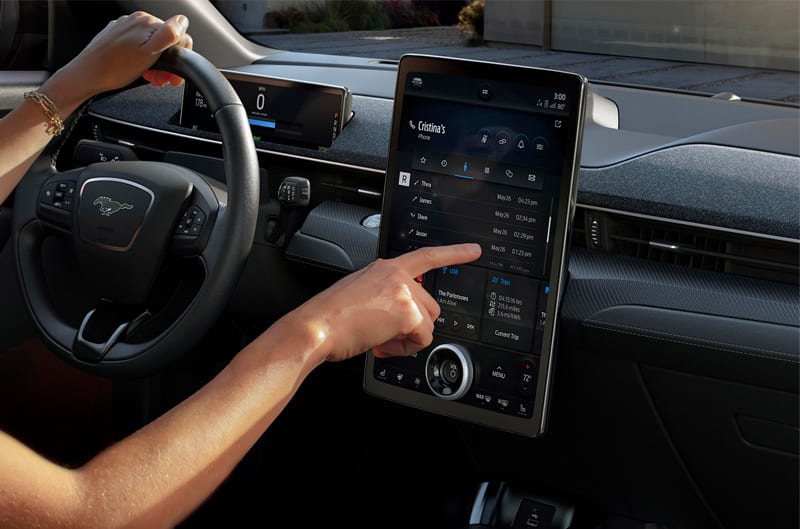 As you'd hope and expect, yes there will be a Mustang Mach-E GT model. When it arrives in late 2020 as a 2021 model lineup, Mustang Mach-E will be available with standard and extended-range battery options with either rear-wheel drive or all-wheel drive. powered by permanent magnet motors. Equipped with an extended-range battery and rear-wheel drive, Mach-E has a targeted EPA-estimated range of at least 300 miles.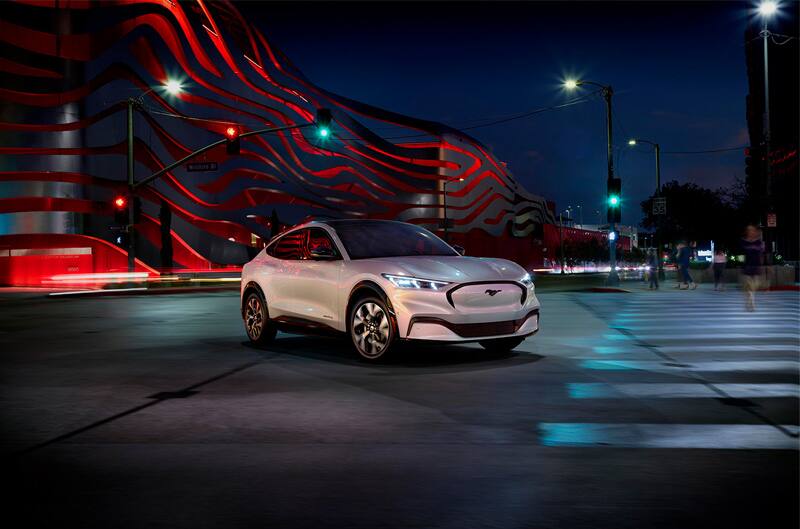 Goodness knows it's fast: In extended-range all-wheel-drive configurations, Mach-E is targeting 332 horsepower and 417 pounds-feet of torque, with the standard all-wheel-drive variation targeting quicker times to 60 mph than the base Porsche Macan. Ford also will offer two special performance versions. The GT is targeting 0-60 mph in under 4 seconds, making it faster off the line than a Porsche Macan Turbo (an obvious Mach-E competitor). The GT Performance Edition, meanwhile, is targeting a comparable 0-60 mph in the mid-3-second range to a Porsche 911 GTS. Both GT configurations are targeting an estimated 342 kW (459 horsepower) and 830 Nm (or 612 pounds-feet!) of torque.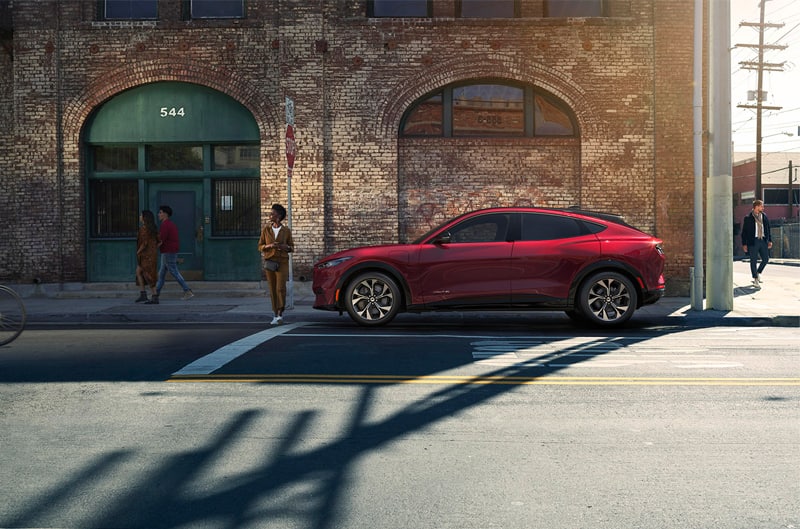 Many are enthused, while others just don't get it. This all very much depends upon your outlook on the notion of branding. Certain members of the media and the collector car hobby, plus old-schoolers on social media, decry that Ford has diluted the magical Mustang name and brand with the Mach-E. Others who want a decidedly sporty, electric SUV but don't want something with a miscellaneous brand or nameplate, are quite thrilled. This falls under the "cake and eat it too" principle: With the Mach-E, they can have their high-performance, socially conscious pure EV and their Mustang, too.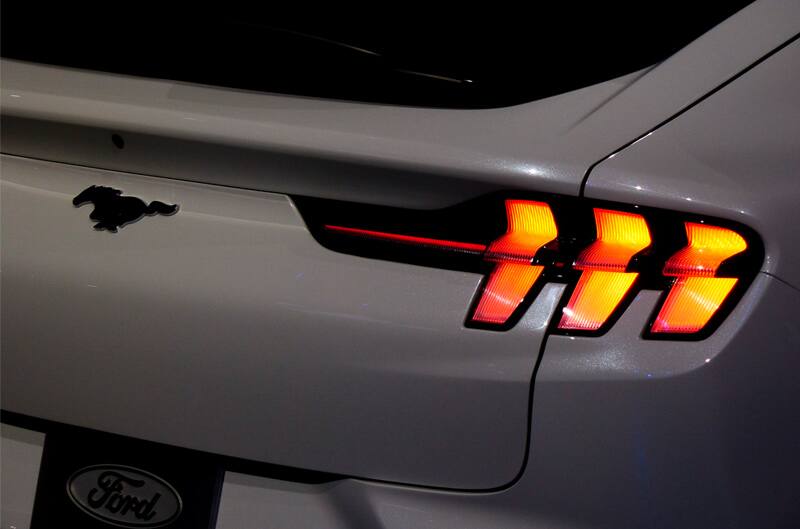 Some iconic Ford brands have considerable bandwidth, such as F-Series. You can buy an F-Series pickup in stripped down, rubber-mat floored, V-6 powered, light-duty work-truck configuration, all the way up to an F-750 Super-Duty that could carry or tow your house, if the latter had wheels. On the other hand, certain brands stretch only so far; take for example the notion of wristwatches. When you think of Rolex, you think of certain product attributes and price levels for those products. When you think of Timex, you equally think of certain product and price attributes -- and the two brands seldom mix in the marketplace.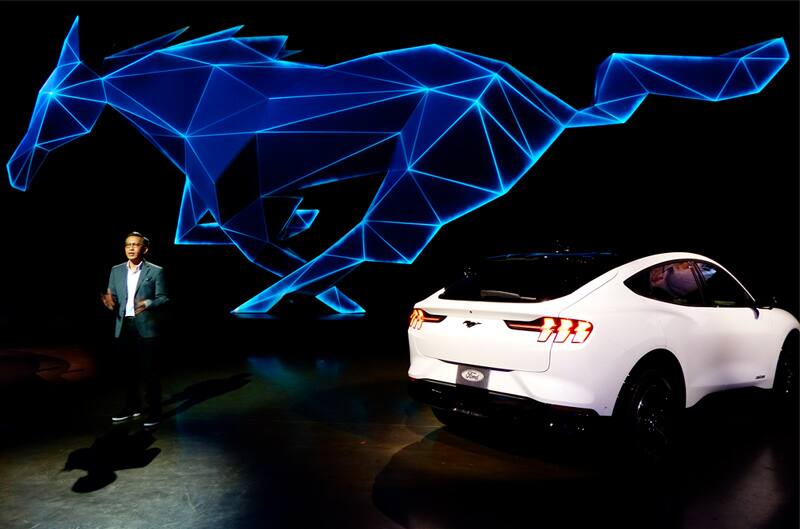 Ford had done nothing here beyond a major extension and expansion of the Mustang brand. The product itself is handsome, undeniably sporty and technologically up to date. Will it fly with buyers and Mustang enthusiasts, as a new SUV introduction -- or as a Mustang? Or ideally both? Only the market will tell us for sure.
FORD PERFORMANCE PHOTOS / COURTESY MATT STONE and FORD MOTOR COMPANY