LOS ANGELES, CA – Every Mustang and Shelby enthusiast is familiar with the Hertz/Shelby car rental program. It began in 1966 with the original Ford Shelby Mustang GT350H, which has come, gone and evolved over time. It's without question the most successful co-branded automobile production and car-rental program ever. Shelby American's model line of Shelby Mustangs is virtually all-new for 2019, and with it comes a new car-rental program, with a different premium-brand car-rental company joining the fold. This new partnership offers the first supercharged Shelby Mustang model ever launched into a rental fleet.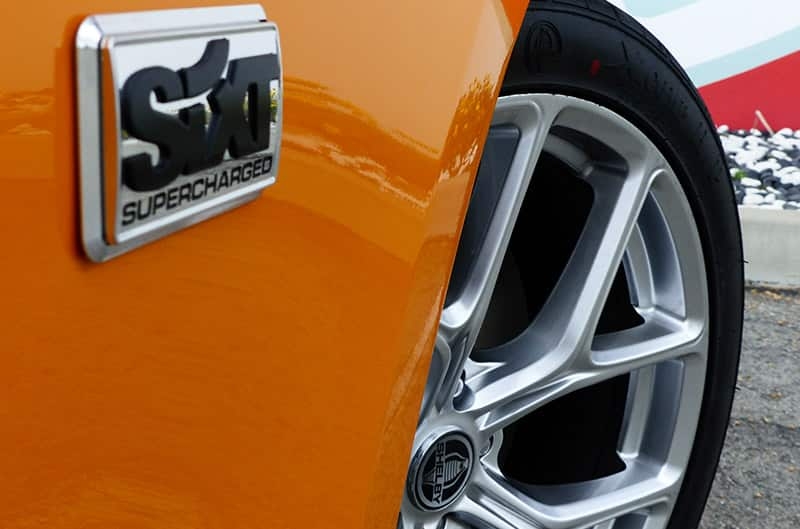 You may or may not have heard of SIXT, but you should know that it's one of the oldest car-rental companies in the world (pronounced like "Sixed," and not "Sixty"). SIXT has just announced it will team with Shelby American to offer a special SIXT edition supercharged Mustang GT-S in select markets, so far being Southern California, South Florida and Las Vegas, Nevada. SIXT is a multinational company with more than 2,200 locations in over 105 countries worldwide, and since 2011 is now America's fourth-largest vehicle rental firm.

Most significant about this program is the car that can be rented at those select SIXT locations is a genuine Shelby Mustang, equipped with a tempting smorgasbord of proper Shelby American equipment and modifications. Most notable among them comes in the form of a Shelby supercharged 5.0-liter DOHC all-aluminum V-8 rated at 600 horsepower.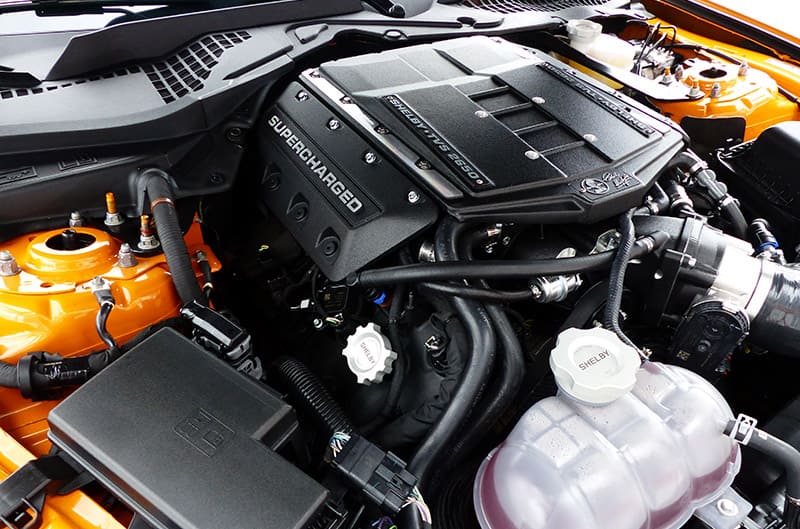 The car's suspension and handling portfolio have been suitably upgraded to make the most of the SIXT GT-S's prodigious power. It includes Shelby alloy wheels running beefy, oversized Shelby-brand tires that maximize grip and response. The suspension hardware has been firmed up-accordingly, with the goals being to make the most of the high-performance rolling stock, while preserving a substantial modicum of ride comfort. Equally, the brakes are upgraded to Shelby/Brembo-spec calipers to ensure the "whoa" matches the "go." All Shelby SIXT GT-S Mustangs will be equipped with Ford's uber-responsive 10-speed automatic transmission, with shift points and other performance parameters specially calibrated by Shelby American.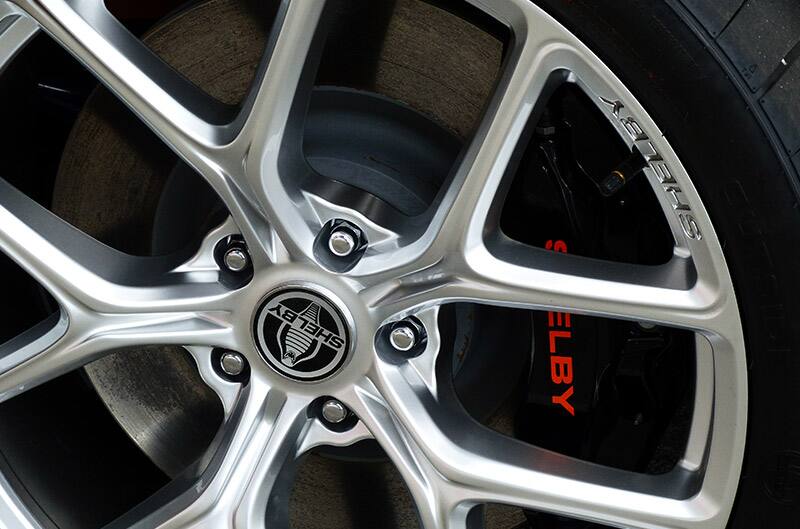 Just as much as you'll recognize those early 1966 rental Shelbys due to their now iconic black-and-gold livery, you won't have any trouble identifying the SIXT Shelbys either, as they're finished in SIXT's flagship orange-and-black livery. The cars are fully serialized and badged as genuine Shelby Mustangs, and also wear appropriate SIXT branding. The effect is stunning, somewhat recalling the orange-and-black livery used on Ford's factory entered SCCA Trans-Am championship-winning Boss Mustangs of 1970 as driven by Parnelli Jones and George Follmer. All Shelby SIXT GT-S cars will be fastback coupes for the duration of the 2019 program (sorry, convertible fans!).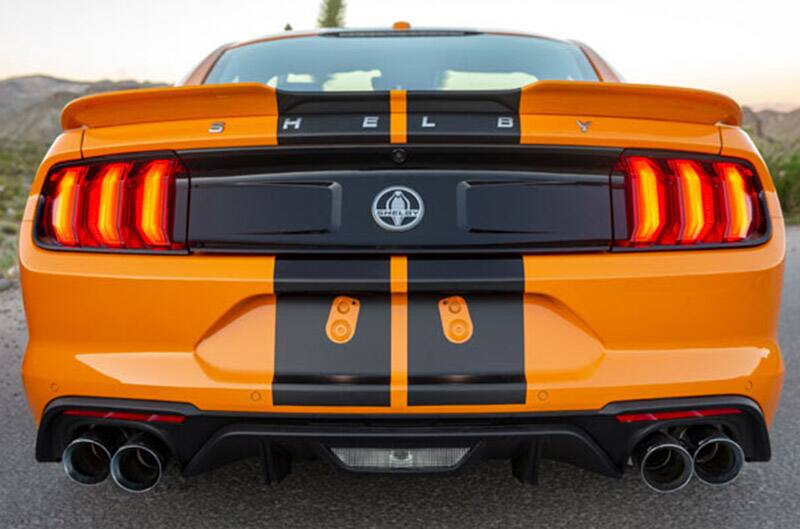 Inside you'll note a special gauge package mounted high on the center stack, as well as orange leather highlight panels (and Shelby I.D.) stitched into the black-leather power sport seats. The car also earns a special lightweight composite Shelby hood, and the new-for-2019 Shelby front splitter and fascia designs. And it just wouldn't be a Shelby Mustang without a proper, rumbly stainless-steel quad-tipped exhaust system. The initial program announcement encompasses the building and distribution of just 20 of these very special cars into SIXT premium rental fleets.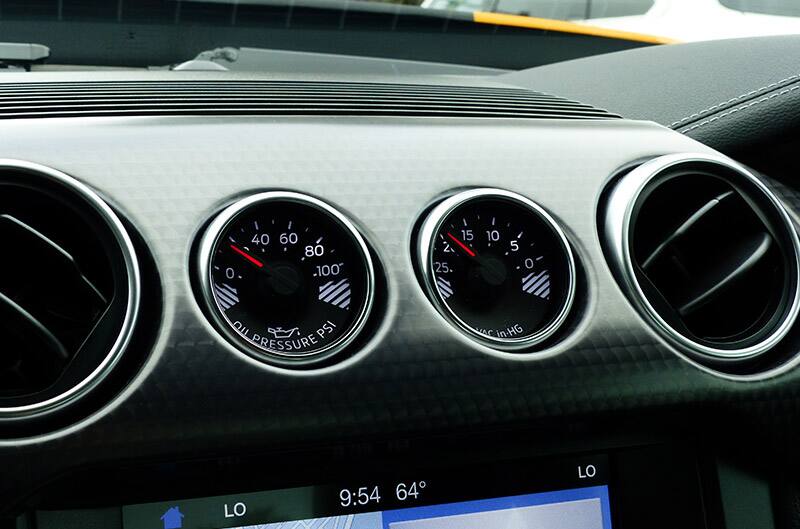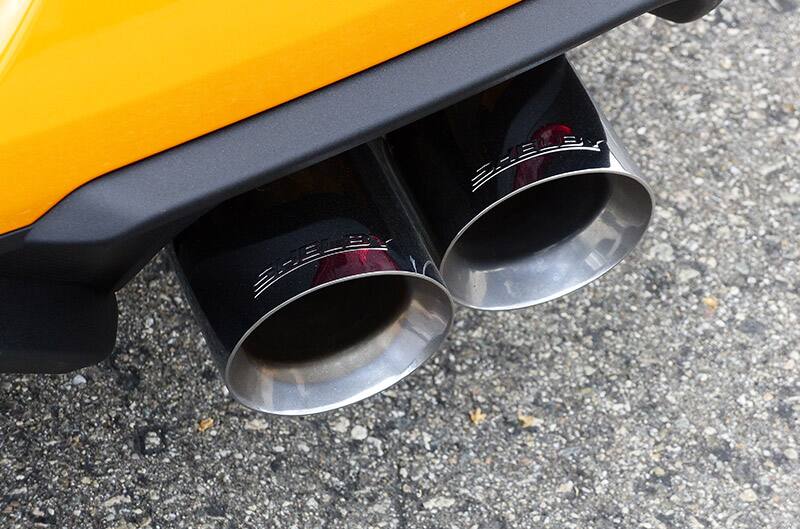 "The SIXT edition Shelby GT-S combines terrific handling with astonishing power, excellent braking, a muscular exhaust note and striking good looks," said Vince LaViolette, Shelby American Vice President of Operations and Head of Development. "We worked closely with SIXT to design a car that makes a bold statement when you see it and then delivers when behind the wheel. SIXT is giving the public a very rare opportunity to enjoy one of the best sports cars in the world at some of the most exciting destinations in the U.S. This is the rental-car experience that people could only dream about before the Shelby GT-S."
LaViolette should know, as he and company president Gary Patterson did the lion's share of the development driving for this very special model.
"Our customers are itching to get behind the wheel of the first SIXT customized Shelby," said Sebastian Birkel, CEO, SIXT USA. "We're always looking to grow our fleet with premium cars that bring passion and excitement to the drive. We can't think of car that better fits that idea than Ford's brand-new fully loaded Shelby. This will be the first ever supercharged Shelby available to rent and we are thrilled to have it at SIXT."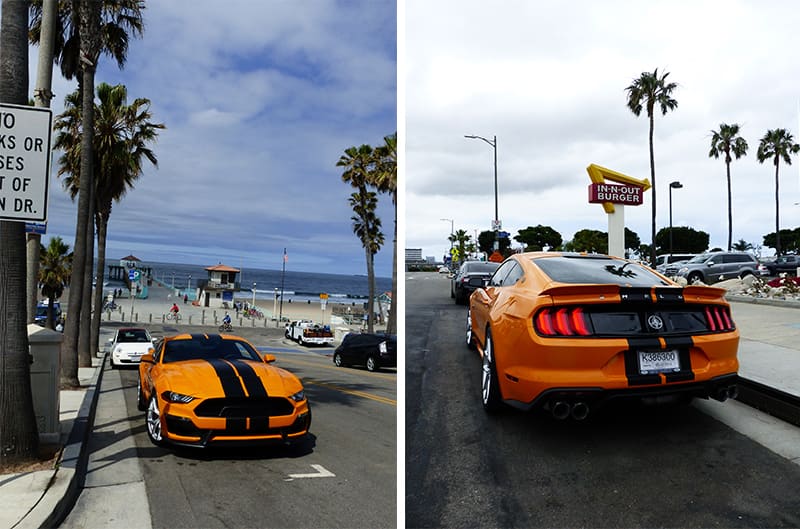 We picked up our Shelby SIXT GT-S test unit at the Shelby Los Angeles facility, choosing to drive where many rental customers may also decide to; The South Bay legs of California's storied Pacific Coast Highway 1 are just a few miles south of Shelby L.A. So we scoped-out a route that would take us through interesting, scenic, and historic touchpoints along the Shelby American trail, including the South Bay beach communities of Manhattan, Hermosa, and Redondo Beaches, then on into El Segundo near LAX Airport (where GT350 production was based back in the day, and also where Carroll Shelby lived for some time), under the famous LAX tunnel, then on to Venice (home of the Shelby American racing team shop for some time) Santa Monica, and then up Highway 1 along the coast into the canyons of Malibu. All told, great scenery and great driving roads combined.
Lighting up the SIXT GT-S is as simple as thumbing the starter button mounted down low on the center stack, and the fortified, 600-horse Ford Shelby supercharged V-8 awakens with a chesty bark, immediately settling to a smooth yet authoritative idle. It's then when you hear the burble of those quad exhausts overlaid with the gentle whir of the blower at idle. Select "Drive" and you're away.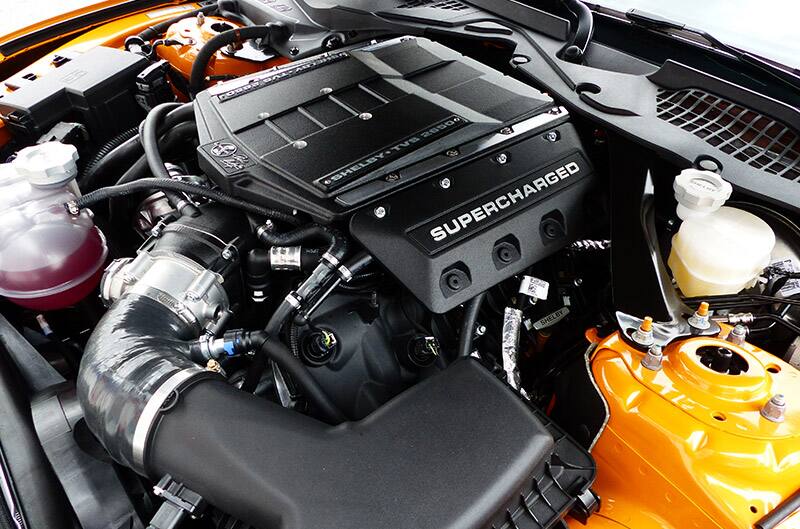 Pootling the car around town at low revs is a cakewalk; the sound and throttle response a constant reminder that big-game performance is available as close as the end of your right foot. Yet when you're on the cruise and down-low, this Shelby is docile enough for your grandmother to drive. That's how we did most of our time through Hermosa, Manhattan, and Redondo – resorty beach towns with mellow speed limits and plenty of radar guns.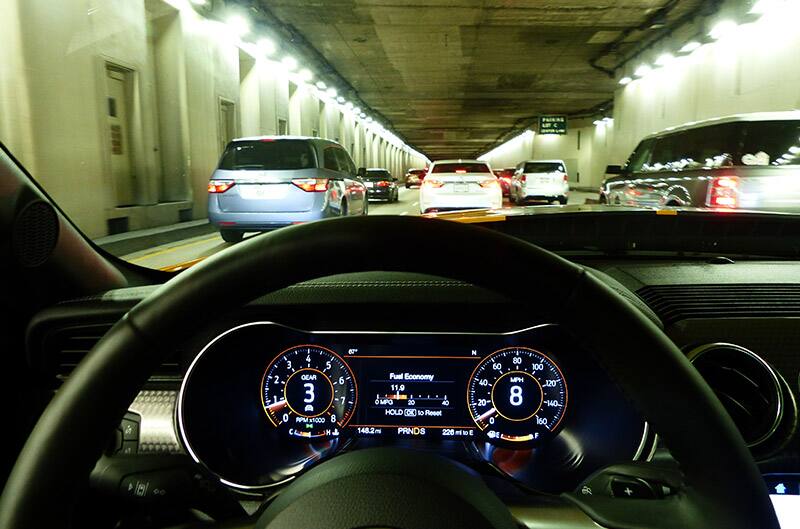 What strikes you immediately is how well this car rides, given its decidedly handling-biased suspension and rolling stock; it's firm, crisp and responsive, but never punishing, no matter the road surface. The only distractions are the urge to unleash the beast, and the attention you'll get from onlookers – constantly giving you thumbs-up and snapping camphone pix of the brilliant orange-and-black livery.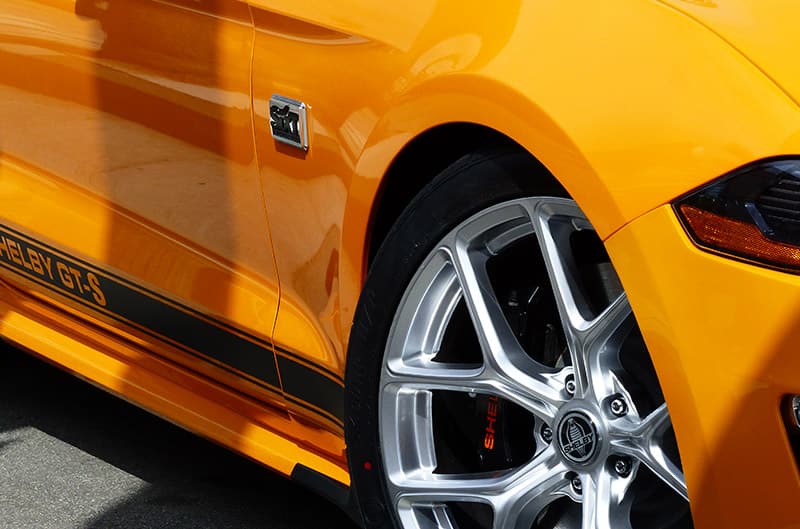 While parked, more than a few passersby asked what kind of car this was, or more correctly, "What kind of Mustang is this?" But once they read the Shelby badges, they knew. More than a few jumped in for selfies with our tester.

Decker Canyon, Malibu Canyon Drive, and Mulholland Drive are all historic canyon roads through the mountains north of Santa Monica and Malibu; home to the famous Rock Store bar and diner, plus other sports car and motorcycle enthusiast haunts. Steve McQueen used to carve-up these canyon roads when he lived in nearby Brentwood, and later Malibu. We found it the perfect place to let the SIXT Shelby off the chain a bit.

The only word to describe its 600-horse power delivery is ferocious -- yet it's controllable and comes with an air of sophistication. Unabashedly American, yes -- with big power available all over the tach, this car builds or carries speed with so little effort it nearly isn't funny. And the chassis has the moves to keep it all pointed where you want it. Of course you can burn rubber, and hang the tail out if you wish, but there's little need for that as the steering is so precise, the control so confidence-inspiring, and the grip limits so high that it's really much more fun to stay on-line and make time than to drive it like a monkey. All of this, again, with a firm yet controlled ride that never punishes.

And a word to those who may poo-poo the 10-speed autobox; actually, just don't. Because it's that good. Ford's 10R80 Transmission is a serious, technologically advanced bit of kit; it combines some technologies from "autoclutch manuals" or "sequential manual gearboxes" in that it contains 10 forward ratios and employs internal clutches. It melds the best of a CVT or Continuously Variable Transmission, known as a highly efficient design, and a conventional automatic transmission in that it employs a torque converter. The 10R80 offers a standard Drive mode, where the transmission shifts up and down completely automatically, and smoothly, dependent on vehicle speeds and power demands employing all 10 ratios. Plus it has a Sport mode which locks out the top overdrive ratios, offering the engine only lower- and mid-range gear selections to maximize performance. There's also manual control via steering wheel-mounted shifter paddles, by which the driver can summon near instantaneous up-and down-shifts with the flick of the paddle (the right-hand paddle controls upshift, while the left-hand paddle commands race quality downshitfts).
In standard Drive mode, the transmission shifts seamlessly up and down through the gears, always responsive to throttle commands by the driver; in Sport mode, the shifts are a bit firmer and more crisp, yet still fully automatic; when driven "on the paddles" in Manual Sport mode, shifting is of course up to the driver, again with firm, crisp, quick responding shifts.
Hard-core stick and clutch drivers will be highly impressed with this transmission and, as calibrated in this Shelby GT-S specification, it's likely more efficient, faster on track and easier to drive than a 6-speed manual. Unless your last name is Andretti, you can't shift faster than this box. Period.
Just to further test its ability to read the driver's mind (and right foot), we summoned-up a full-throttle passing situation while on the cruising up-to-speed on the freeway yet still at about 50 MPH. The transmission shifted down from 7th or 8th gear into 3rd, and actually broke the rear tires loose once all 600 horsepower connected to the rear end. It was completely controllable, borderline violent, and silly fun – now, honestly, when was the last time you burned rubber on the freeway?
Besides your chance to rent and drive a fabulous car in an iconic vacation spot, another benefit of the SIXT program is that it can offer you an extended test drive should you be considering the purchase of a new Shelby GT-S. LaViolette summarized it, saying, "Of course our dealer will facilitate a test drive in any new Shelby product, but imagine being able to spend a day, a weekend or a week in one – it may be the ultimate expression of 'try before you buy' a new Shelby."

Like all Shelby products, each SIXT GT-S will wear its own Shelby American serial number, and be included in the official Shelby Registry.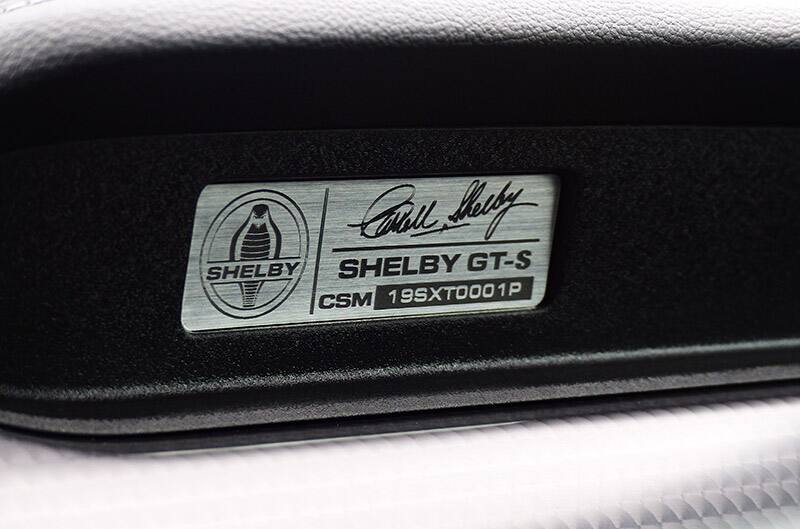 For those of you that purchase and collect Shelby rental models, you'll be interested to know that Shelby American and SIXT have publicly announced that these cars will be sold off into private hands once this first phase of the Shelby/SIXT program has come to a close. That date has yet to be determined or announced, and will not likely come prior to summer 2020.

"Shelby American has earned a reputation for building the most exciting rental cars for over fifty years," said Gary Patterson. "Our team is honored to make history with SIXT by offering the first supercharged V-8 FordMustang available at multiple rental car locations across the U.S. The hot, new SIXT edition 2019 Ford Shelby GT-S Mustang will make any trip an amazing and memorable adventure."

I couldn't have said it better.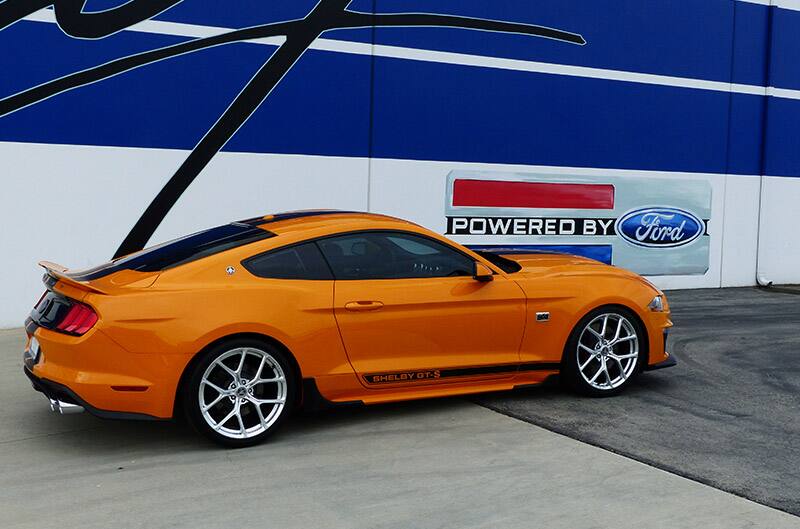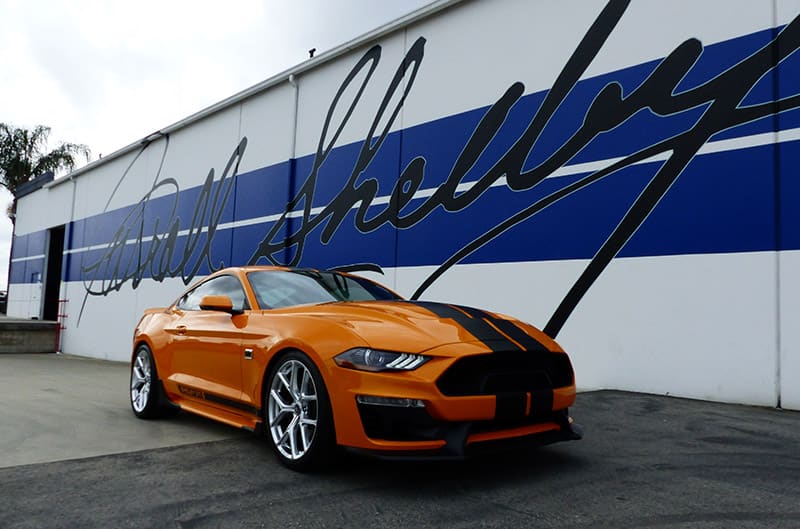 FORD PERFORMANCE PHOTOS / COURTESY MATT STONE