CHARLOTTE, N.C. – When I last left you on FordPerformance.com, life with my recently acquired 1978 Ford Bronco was getting to the point that I knew it was time for a makeover. So I decided to launch "Project Road Warrior 2.0," and set the wheels in motion to get my beloved old Bronco much more roadworthy.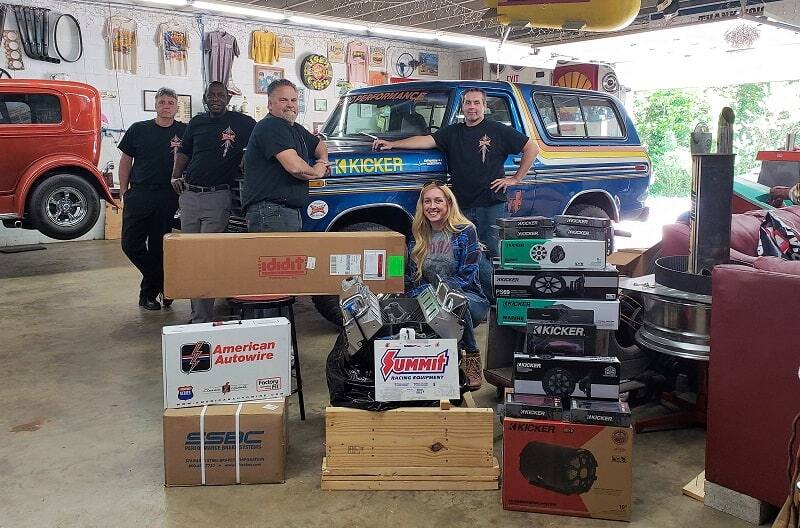 The day had finally arrived. I made it back to Classic Speed and Custom in Charlotte, NC, with my '78 Bronco and it was finally time for the tear down. It always amazes me how easy this part is: Things seem to come off so simply and without thought that you never think to label or take pictures of everything. Which is wrong! You would think I would have learned from my '65 Mustang rebuild, and I did in some ways, but clearly nowhere near enough. Just having a bag of bolts labeled "engine bay" can drive a human insane just two months later when trying to put things all back together. So my advice is to label everything and separate it down to individual parts. Basically, if you don't have at least 100 zip-lock type plastic baggies labeled with hardware by the time you are done taking everything apart, you will hate life at some point in your future, and that is my public service announcement for today.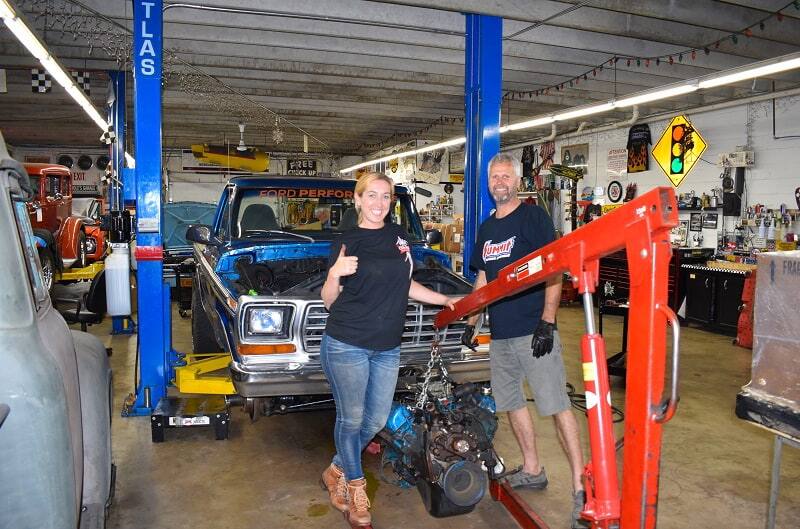 We started with the motor and then I continued to work my way to the back of the Bronco until every wire, line and seat had been removed. After it was all said and done, the truck was pretty solid for a 40-year-old beast. There was some rust around the floor by the door frames but nothing resembling the Flintstones car, or that wasn't fixable with a metal patch and welder. Once it was empty I got to work on the engine bay. Years of oil buildup, flaking paint and corrosion flew off with the grinder and some 80-grit paper, and after getting a new coat of paint it looked like it was brand new! Lucky for me, Joe Jordan (a.k.a. Tall Guy) was at the shop working on his wagon. I could build a tiny house in that Bronco engine bay and I was very thankful for his long arms to reach all the places I couldn't.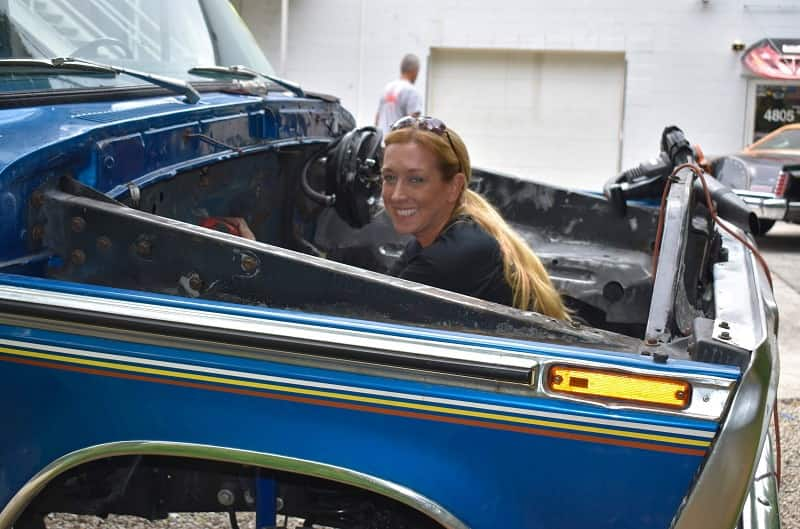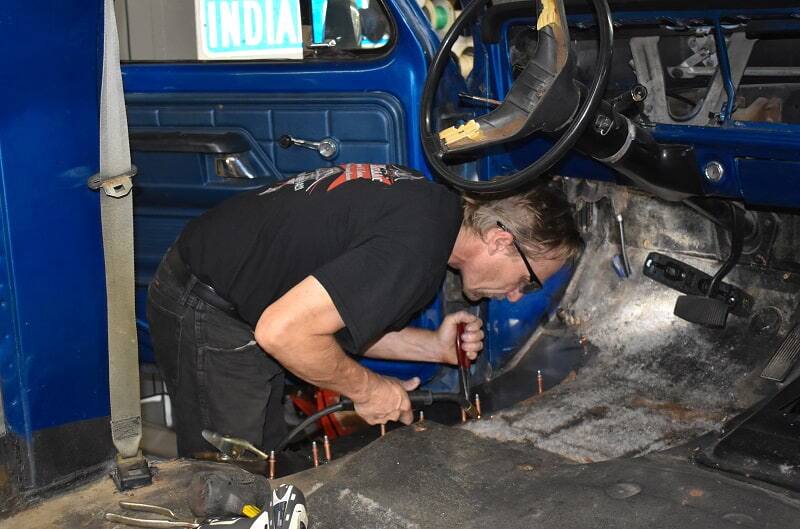 After finishing-up the grunt work it was finally time to play with my new motor. I had painted the 347 Circle Track Motor in my Mustang magenta, and ever since Bronco's new Ford 408 stroker from Summit Racing arrived at the shop, I had been debating on what color to choose for it. I purchased the Matte Black S-Drive Serpentine Pulley System from Eddie Motorsports and wanted a color for the engine that would look good with the black accessories and still pop.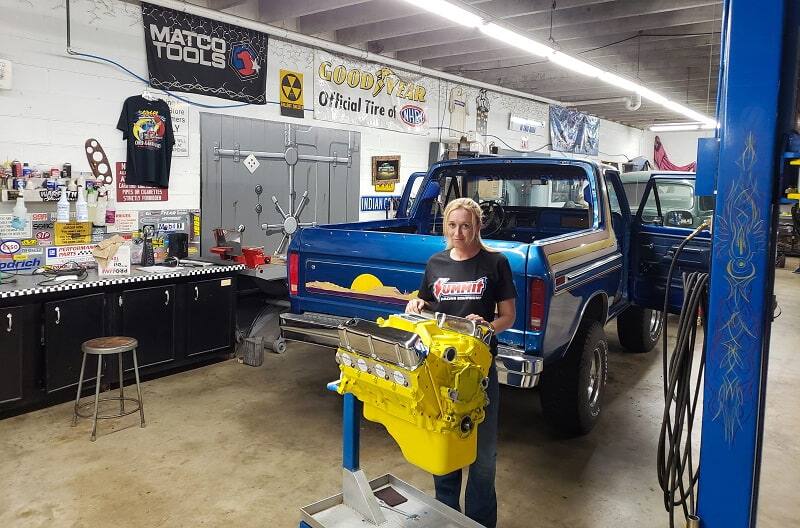 Now for the part I've been wondering if I should leave out of this story. But because car restoration "reality" TV shows drive me insane by making everything look like "shoop, shoop – done," I will share. I decided to go with yellow for the motor color, and after a day of tapping, sanding and spraying, I shared my masterpiece with my sponsors that supplied the motor only to find out that yellow was not their favorite color. Although I was a moron to miss it from the beginning, once I was aware of their dislike, I couldn't un-see it. So I decided to have a Paint Day, Round 2.
No one told me I had to do it, but out of gratefulness and respect for those who have helped me, it was a no-brainer. And I'm really happy I did it over because now the motor looks so much better in Ford Orange Crush! Yes you just read that right, I painted a Ford engine a shade of orange and it looks fantabulous! At the time there was a cooper-colored 1930's Ford Tudor at the shop and it matched the stripes on my Bronco as well. I took a picture of the car to the paint store and without even trying picked a Ford color; it was meant to be.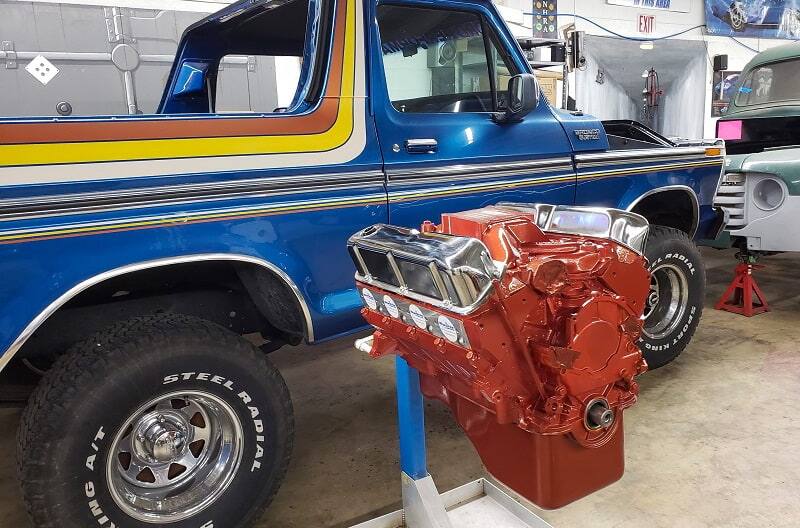 After my 18 layers of paint dried it was time to put on the new pulley system. I already had some practice with my Mustang because it's the same system as on the 347. You may wonder how that's possible since the 302 and 351 use different heads, but the Eddie Motorsports S-drive pulley system actually bolts to the block only, so it is a universal fit style that can work on many different applications. I've put over 200,000 miles on the Mustang's system with no issues so it was the right choice, although I did go with the matte black instead of the chrome this time around because the Bronco's engine bay is a little tough to get into to clean. I'll admit I did break one bolt during the install . . . Deciding when something is tight enough has never been my strong suit -- I always want to give it just one more turn! Once the pulley system was on I added their matching valve covers and air cleaner set and hadto step back and admire the masterpiece that would soon be powering my Bronco down the road.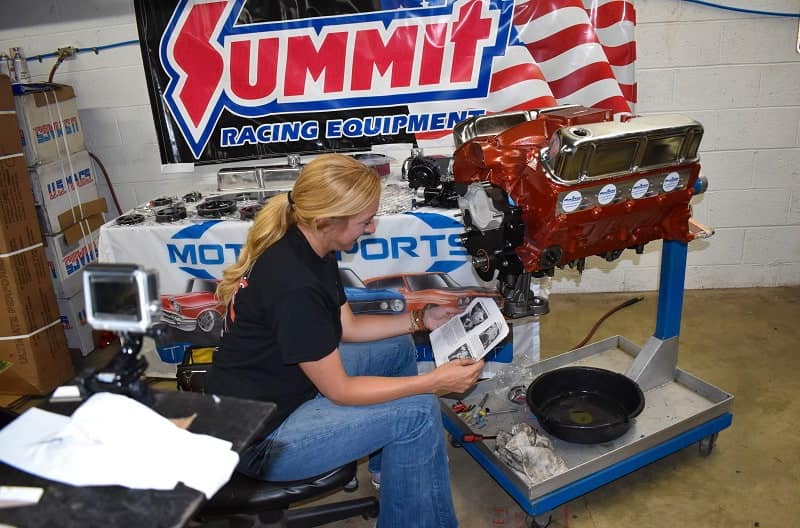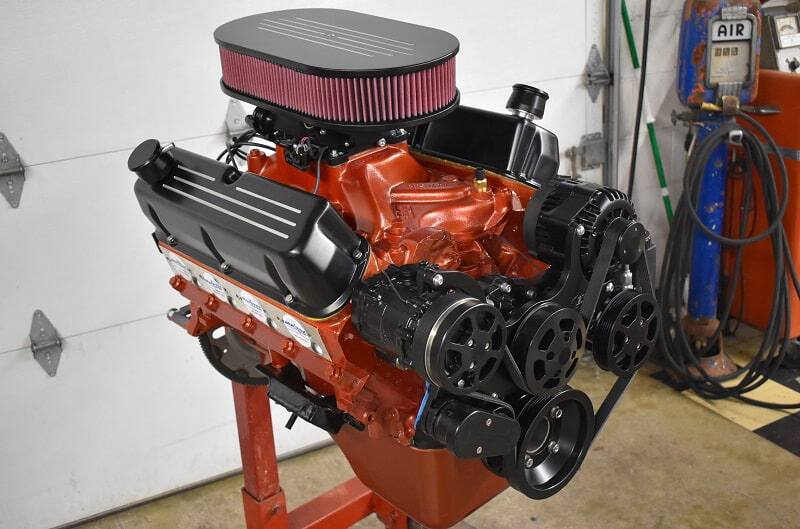 And then it was back to work! We were waiting for the transmission to arrive from Gearstar Performance but wanted to see how the motor would fit and tackle any issues without the extra weight on the back. The original Bronco motor mounts would not work with the 351 Windsor block and 351 Windsor mounts didn't line up either. Writing it out makes it sound like a simple task of deduction but when you add a 500-pound swinging motor over your head, the process becomes a little more heart-pounding. I don't think I will ever be a fan of engine hoists; they even haunt me in my sleep. Lucky for me National Parts Depot is located right in Charlotte, NC. When I showed up there, they had pulled every mount that might work that I could try back in the shop, and the motor was sitting in her new home by the end of the day.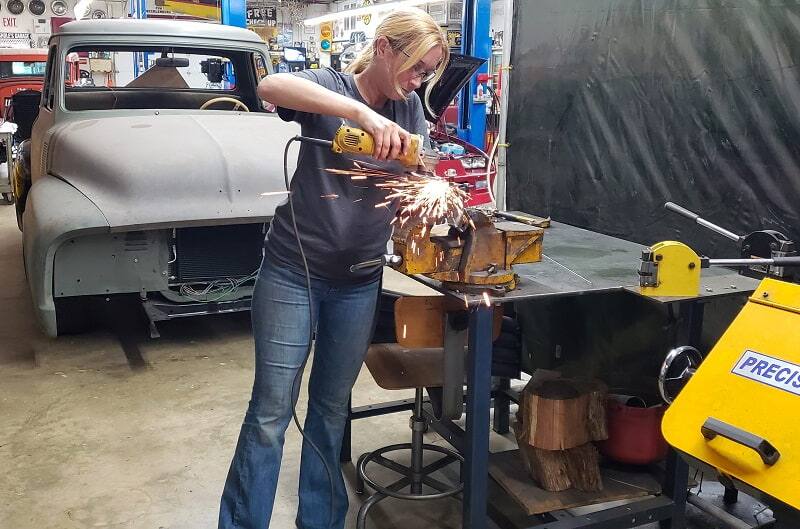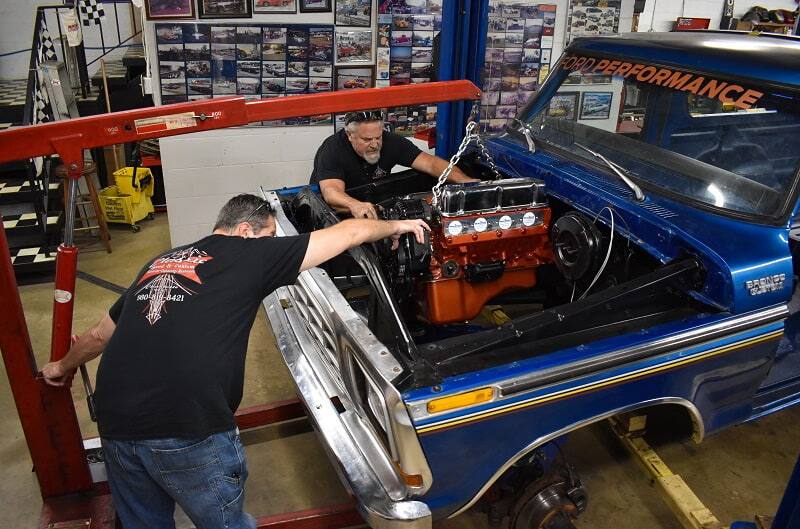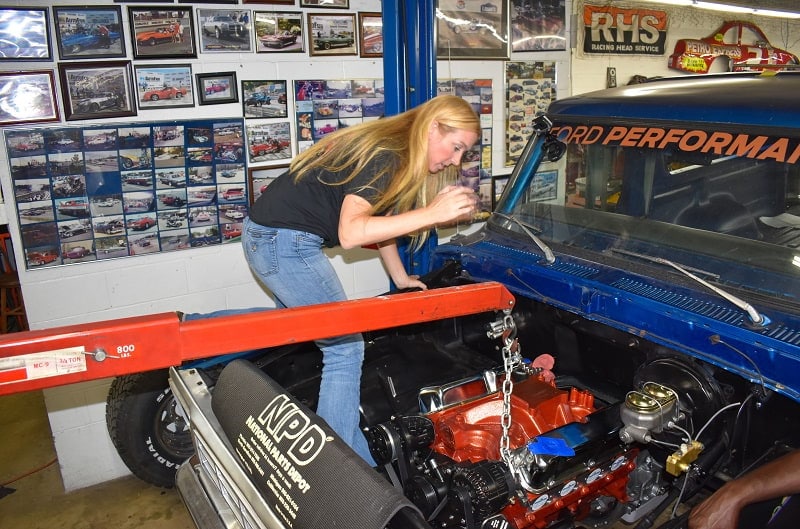 With all the new power installed the next thing on the list to tackle was the brakes. The old 400 motor was known for its lack of compression and vacuum and I experienced it firsthand driving the Bronco. The brakes had felt like more of a suggestion than a statement, and that needed to change. While I was at James Duff, Inc. earlier in the year we were talking about the brake issues and lack of options available on the market when I mentioned a T-Bird caliper conversion that I had read about on the online forums. But I read that everyone always had problems finding new lines to make them work.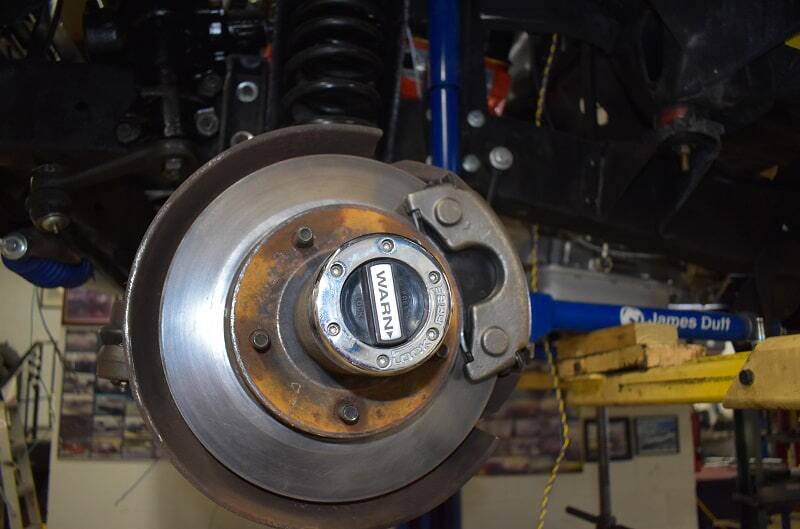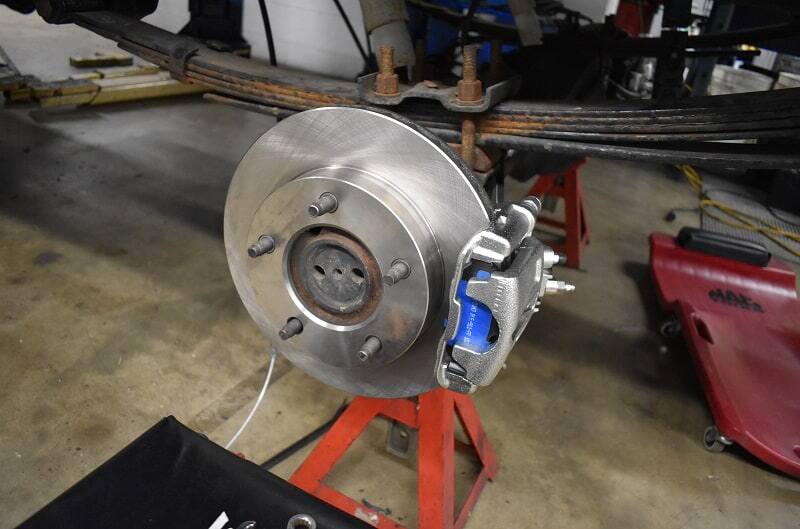 Sometimes in this world you get a sign that you are exactly where you should be, and at that moment Michael Duff pulled out a box with the Thunderbird calipers and the lines that would hook right up to all the stock Bronco fittings. The calipers create more surface area to apply to the rotors, creating more stopping power while leaving everything else original. Summit provided a back disc conversion from SSBC that fit on the stock 9-inch rear end without any issues and eliminated the old drums. After that, we switched to the master cylinder and proportioning valve provided by James Duff for use with all-around disc brakes, and it was time to run the new lines.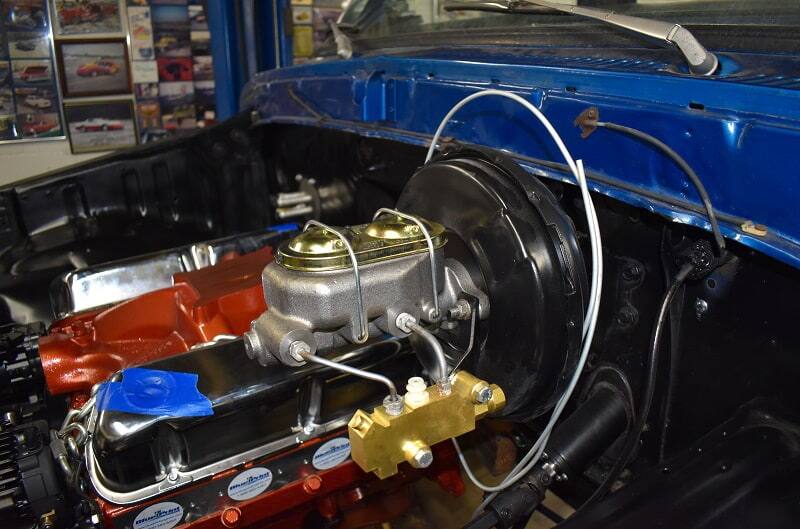 After the brakes were done it was time to get to work on the fuel system. The original lines were in horrible shape and had actually failed me on a trip to Florida before the build. As fun as it was to piece it back together with some hose and clamps, I was very happy to be adding a new fuel pump and lines from Holley Performance. The serpentine setup eliminates the stock fuel pump and Holley offers a Retrofit In-tank Fuel Module.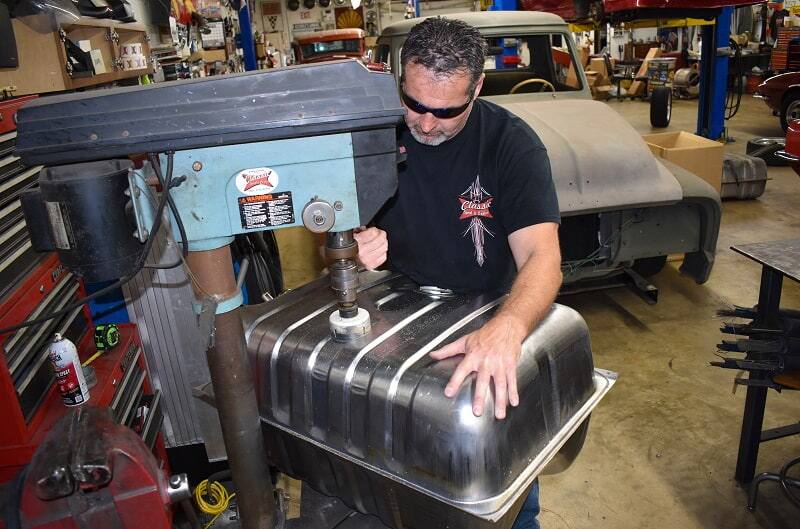 I will only go with an in-tank pump from now on after vapor-locking in the fast lane on a five-lane highway in my Mustang because of a misplaced in-line pump setup. I don't care where you put it, in the heat of the summer with pavement so hot you can boil an egg on it, you need every bit of cooling power you can get. The fuel module can work with different size fuel tanks, which was a good thing because I was going big! National Parts Depot supplied a new 33-gallon tank that would keep the Bronco on the road longer and hopefully get us through the long stretches of nothing we'll soon see on our way to the Arctic Circle. The tank did require a few minor modifications to accommodate the return line, but nothing that Classic Speed and Custom couldn't handle.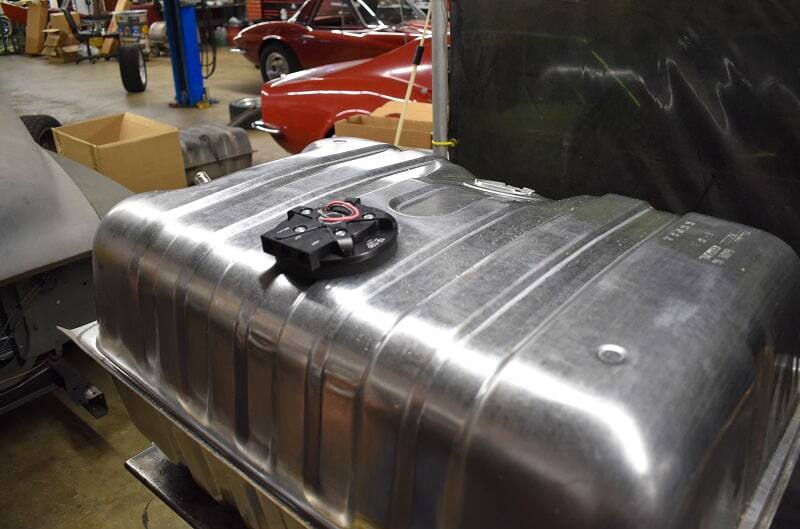 With the motor happy in its new home and the brakes and fuel system done, I was getting ready to hit the road for the "Hot Rod Power Tour" and thought it would be the perfect time to get the Bronco over to Streamline Auto Care for a bed liner. But not before Victor Cabrera of Premier Auto Sounds came by to finalize the plans for the Kicker sound system. We decided to leave off the back trim panels, mainly because I didn't have any and because it rains a lot in South Carolina and I plan on this Bronco going topless as much as possible. So instead, Victor would put the speakers in the doors and back pillars, right next to the headrests, for maximum sound presentation.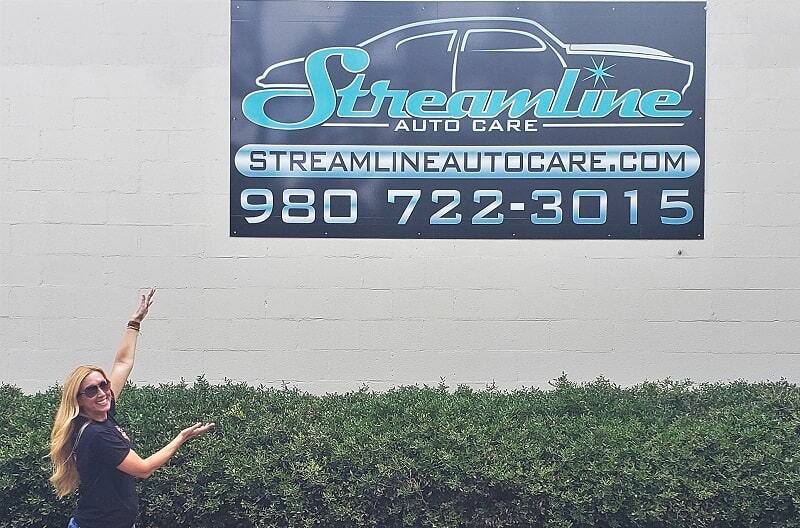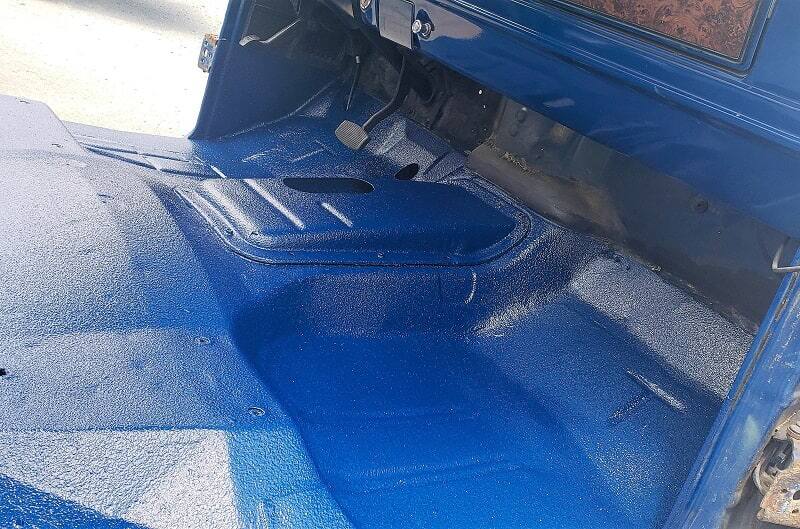 The back was looking a little rough and I was still trying to figure out a solution for the many snap holes left by the previous owner. He had run a soft top and screwed in snaps without using any silicone or rust preventative all along the edge of the bed, and every time it rained each one would cry rust-colored tears. I decided to pull the bed liner over the edge to fix the problem and I was more than happy with the results. Shawn and his team at Streamline patched holes, scraped paint and made the bed look better than new.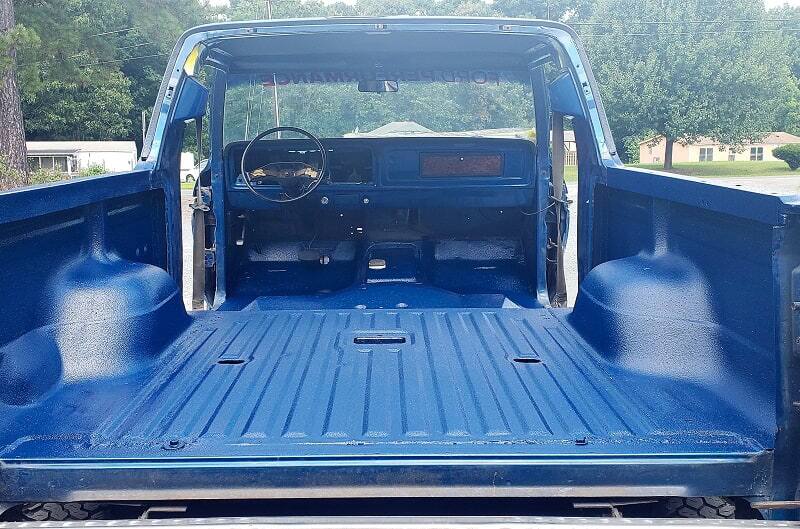 So that's plenty about this project to digest for now. Stay tuned for the last part of Project Road Warrior, filled with all the wiring and interior goodness, engine and transmission mounting fun, and a 5,000 mile test run to SEMA 2018. You won't want to miss it to see how things turned out!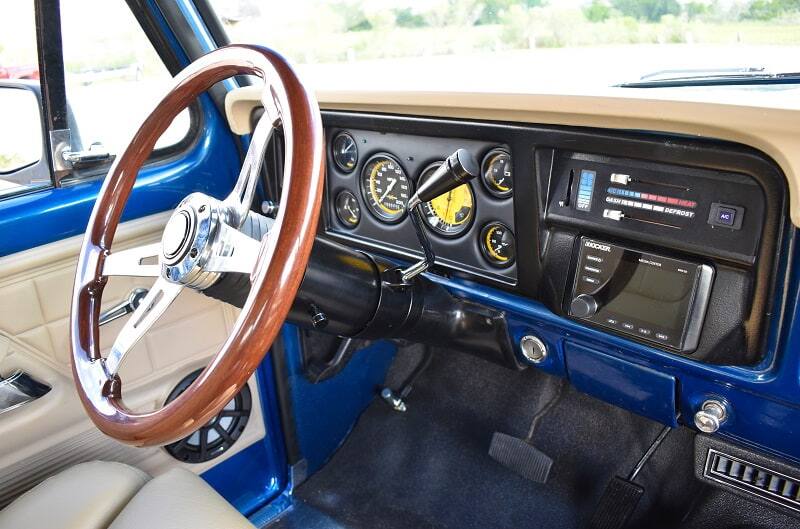 FORD PERFORMANCE PHOTOS COURTESY COURTNEY BARBER / TEAM MUSTANG GIRLS