SAN LUIS OBISPO, Calif. – We've all heard the expression "Seeing Red." Or being blinded by the "Red Mist." UrbanDictionary.com defines them thusly: "In bullfighting, the matador beckons the bull with a red cape, which agitates the bull, and it charges for the cape. Seeing red refers to when someone becomes so angered that it controls them, enraging the person." Yet when mega car collector William H. Swanson looks over and contemplates his fabulous collection of mostly red cars, there is no agitation, anger, or ill-founded rage involved. Swanson sees beauty, passion, art, engineering, elegance, history, speed and . . . enjoyment.
Bill Swanson has had nice cars on and off over time, but he only recently began building his singularly themed "paint them any color you wish, so long as it is red" collection. As you can see from these photos, Mr. Swanson is a Tier One customer at the Ferrari factory. And you'll spot several Porsches, a Bugatti Veyron, a few Mercedes-Benz SLs, and even a pint-sized BMW Isetta microcar dotted around his various coastal California car barns.
Plus Fords. Not many -- but all of them great.
It should be obvious by now that Mr. (and Mrs.) Swanson have done well for themselves, and invested deeply in the things that they enjoy the most. Among his many pursuits, many of them based in engineering, Bill recently retired from his positions as Chairman and CEO of Raytheon Corporation. If you aren't familiar with Raytheon, it is among the world's most significant and capable technology companies. Founded in 1922, in Cambridge, Massachusetts, Raytheon can be considered among the world's first -- and ultimately most successful -- technology start-ups.

Its first revolutionary innovation was the S gas rectifier tube, a device that eliminated one of the cumbersome, expensive batteries that previously powered home radios. This groundbreaking tube transformed the radio into an affordable "must-have" appliance that could be plugged into a wall socket, turning radio into a true mass medium that brought the world into America's living rooms.

Raytheon quickly moved to the forefront of innovation in the electronics industry. The company helped guide the Apollo space missions to and from the Moon, and as you can imagine is today a top-tier technology provider to the United States government, military and intelligence agencies. Raytheon's business is technology, hardware, defense, and all manner of computer and cyber security. Yes, a big outfit.

Bill Swanson started there as a beginner-level engineer, out on the production floor, designing and developing emerging technology. He worked there for 42 years. As you'd expect, he's travelled the world in his various corporate capacities, and his office evidences photos of him with the last half-dozen presidents and vice presidents of the United States. As the company was founded in Massachusetts, and Swanson lived and worked in Boston for many years, it won't surprise you that a similar hallway displays several autographed photos from some New England guy named Tom Brady.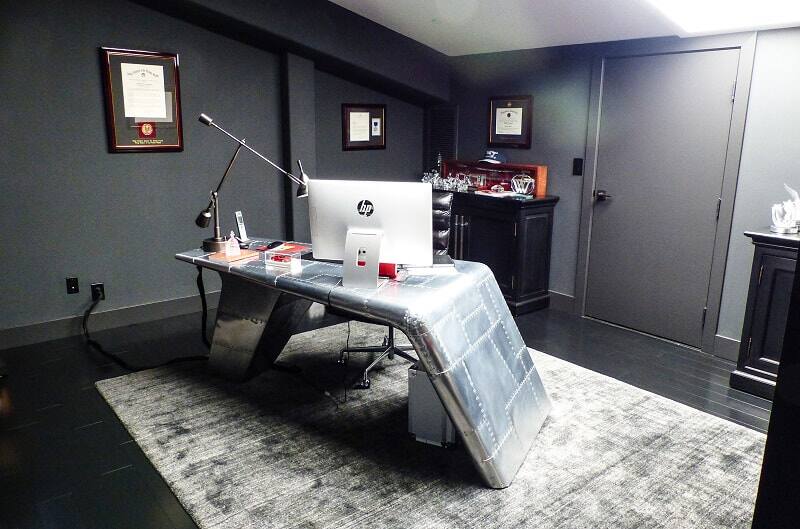 Mr. Swanson's Ford-related holdings include a charming and immaculately restored Model A pickup with custom wood bodywork aft of the cab; a very early Shelby 289 Cobra (which was a podium finisher at Pebble Beach a few years back); plus a street-spec 427 Cobra; capped with a pair of Ford GTs. And oh, there's also a new Ford Super-Duty tilt-back loader truck to help move things around.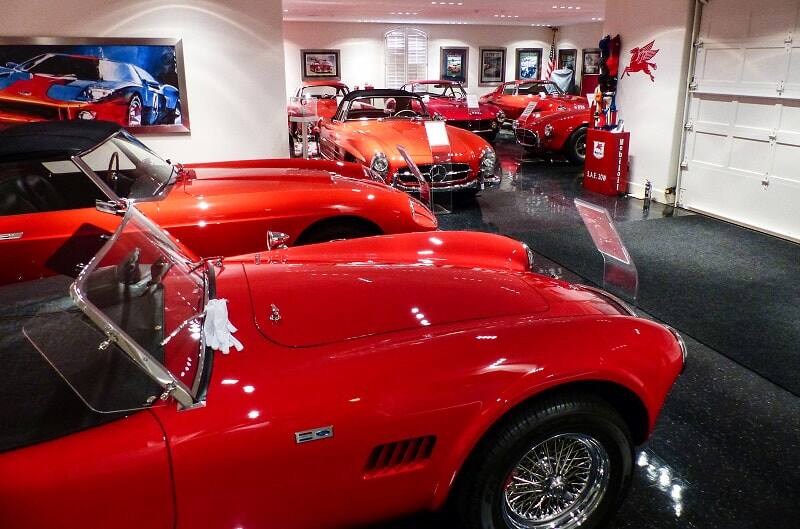 Why all the red paint, you may wonder? Simple enough: It all began with a Ferrari that he owned, and the saying goes that, "all Ferraris are red, no matter what color they're painted." So one Ferrari became two, then more, and then more, and before long the "red sea of see" had become A Thing. And after a while, even non Ferrari cars in his stable were repainted in classic Ferrari "Rosso Corsa" a formulaically and Ferrari-centric specific shade of red.

Both Ford GTs were built to order for the Swansons, and have been owned by them since new; the first V-8 GT is an early build 2005, and the new GT is a 2019 of which he just took delivery. Naturally, both are painted Ford Mk IV Red.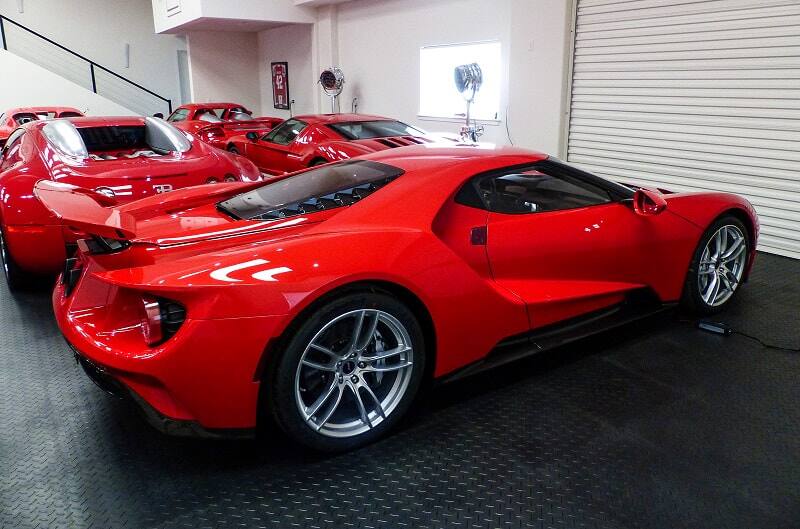 You may wonder how many miles can one man drive his collection of around 40 cars. Some of the cars are virtually new and untouched with test-only or minimal miles on them. Some have covered considerable ground. The new GT to date sits in the former category, as it has not yet been protected with a "clear bra" type material.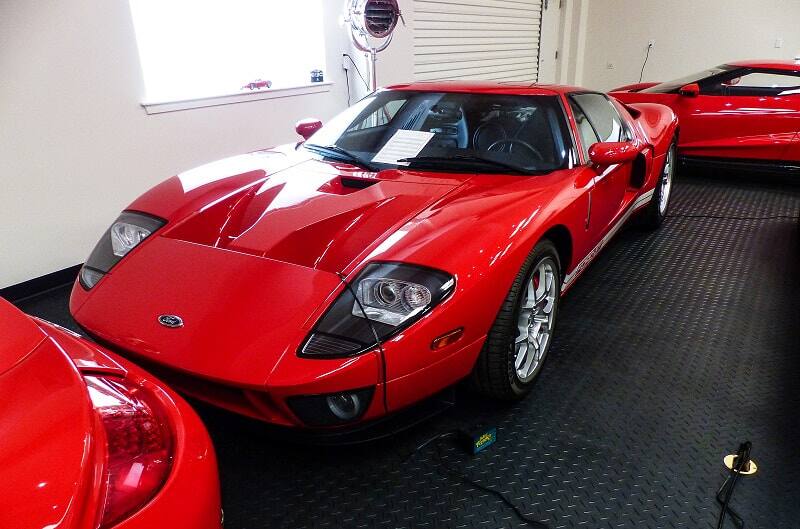 "You can't put that kind of product over a brand-new paint job that's still curing . . . so we have to wait four months for the paint to fully dry and harden before we can apply the film," was the explanation, which also means that driving the car will wait for those 120 or so days to tick by.

Being an engineer by trade and mentality, Swanson was extremely precise in the way he spec'd and ordered his new Ford GT: "Leather upholstery had just been announced as a new option, and I really wanted that over the standard Alcantara and fabric trim." He also specified satin black exhaust tips (as opposed to chrome or polished stainless steel), as he felt they look more harmonious on the car's tail, accenting the holes in the taillight clusters.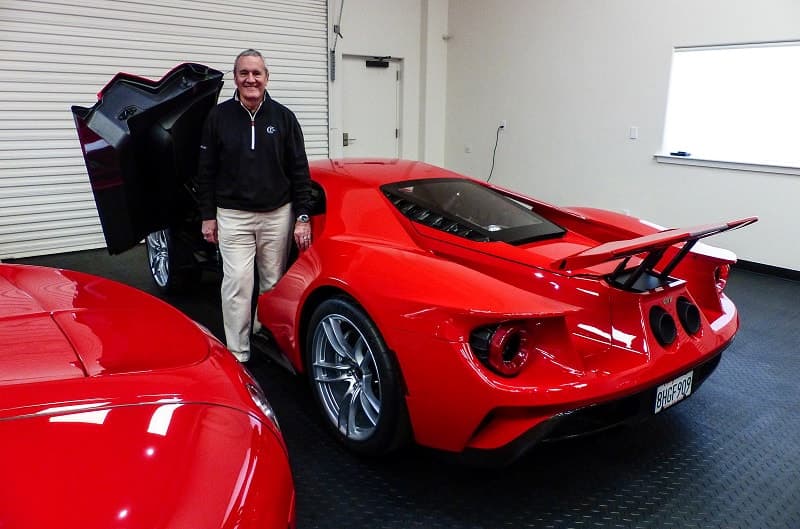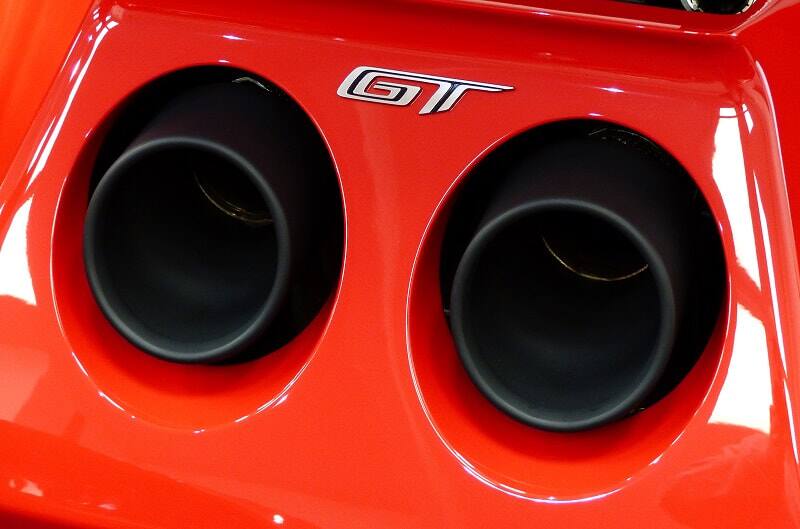 Swanson also appreciates the aerodynamics and engineering that gives the new Ford GT its race-car manners – from the high-tech rear wing and its sophisticated deployment parameters to the mega powerful EcoBoost V-6. Standing at the rear of the car, he appreciates and discusses the taper of the engine cover from its widest at the trailing edge of the roof, to its narrowest point at the very back of the car: "Look at this closely," he says, "and it's obvious to me that a big four-cam V-8 wouldn't have fit back here without drastically changing the car's design and aero technology." True enough.
Bill is also quite excited about the GT's high-tech instrumentation, dual-clutch transmission, and big power. He's not a "track day" kind of guy, but without question said that once the car's been "clear bra'd" and broken-in that he'll take it out and let if off the chain a bit. He has other cars that exceed the GT's 647 horsepower rating, so he has some idea of what to expect when he lets it loose, yet knows the experience will be utterly unique among everything else in his collection. For the new Ford GT, he took advantage of the Concierge Delivery program, and was more than a little excited as the transporter showed up at his garage with this newest baby.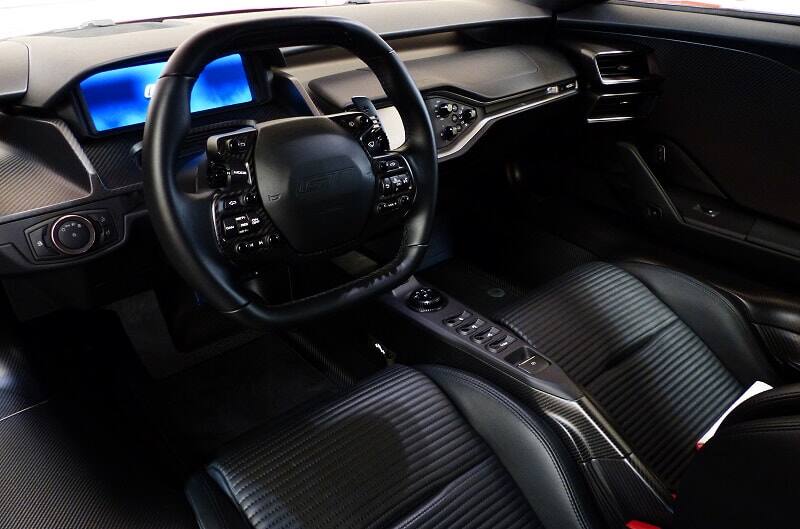 You'll notice that every car in each photo is immaculate; this stems from Swanson's self-admitted nature as a "clean freak." There are plenty of glass cleaner bottles and detailing supplies around his garages, although he doesn't rub on them as much as he used to. Wife Cheryl comments that, "Bill used to start out in the garage on a Saturday morning, checking tire pressures and fluid levels, "quick detailing" or waxing paint, and he'd finally come into the house at the end of the day (or weekend) just exhausted. So he's since brought in some help to keep every car charged up, clean, serviced, and ready to fire and drive on the button."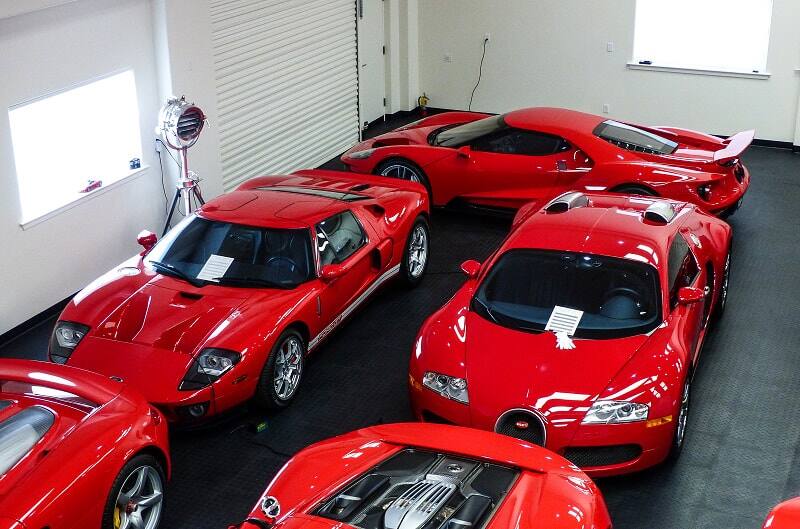 And of course they are all licensed and insured; Mrs. Swanson personally sees to that. The Swansons also count Edsel and Bill Ford, as well as retired Ford CEO Alan Mulally, as personal friends.

Although technically retired, Swanson keeps very busy; his automotive pursuits consume considerable time, and he also sits on several corporate boards of directors. Some of them are for-profit business, others non-profit charity support organizations, and even multiple philanthropic endeavors. And he consults with a few high tech start-ups as well. And that's not to mention his fabulously elegant, sustainably farmed wine estate in San Luis Obispo, California's, Edna Valley wine region.

There's an interesting parallel between Bill Swanson's 42-year career at Raytheon, and the fact that the Ford GT exists as one of the world's great super cars: "To think that a kid from the California coast could begin working as a floor engineer at Raytheon and end up as Chairman could happen in a singular place! [Like the story of the Ford GT] . . . Only in America!"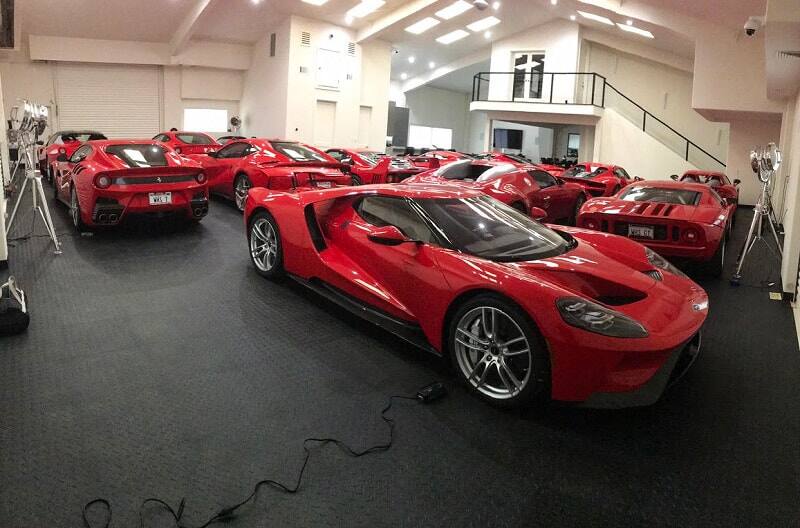 FORD PERFORMANCE PHOTOS COURTESY INSPIRED COMMUNICATIONS / MATT STONE