CENTER VALLEY, Pa. – Seven climbing switchbacks crowd a mile-and-a-third of pavement, leading to the hard right-hander at the Pagoda: It isn't difficult to see why Charles Duryea chose this serpentine stretch to wring out the innovative automobiles he built in Reading, Pennsylvania, from 1900-1911. We're traveling a bit faster today, riding shotgun with Alan Hanna in his race-modified '66 Shelby GT350, effortlessly hanging with a pack of late-model Shelbys as the storied hotel rises into view. Then with a quick downshift and some rapid winding of the helm, we flash past the Queen City's most famous landmark, as the road dives rapidly into a quick left-right kink.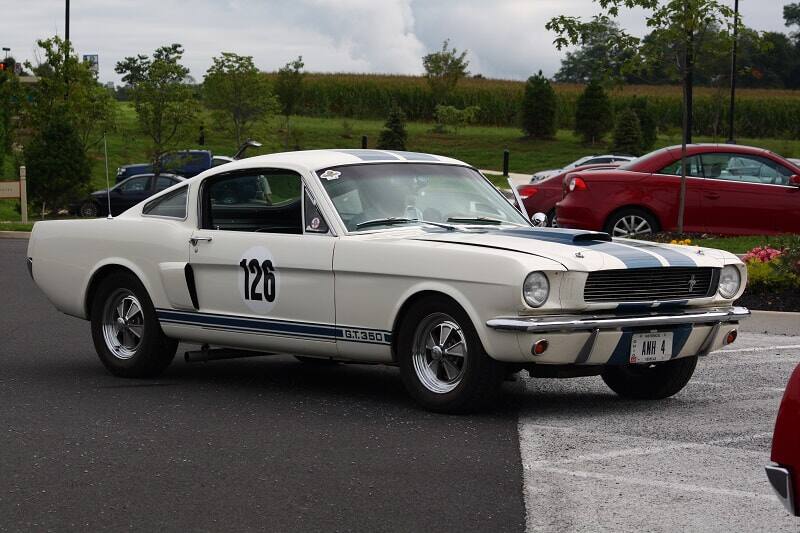 The Ninth Annual North East Regional Meet of the Shelby American Automobile Club (SAAC) had launched the night before, on Friday, September 14, 2018, with a meet-and-greet at the Homewood Suites in Center Valley. I caught up with the club on Saturday morning, as they were cleaning, prepping and polishing their cars for the day's 75-mile color tour.
Event chair Dan Reiter recalled that the last time I toured with SAAC, back in 2013, I rode with Mark Terlecky in his then-new Cobra 289 Continuation car.

"So this time, how'd you like a ride in a Shelby Mustang race car?" he asked.

I've barely nodded my assent when he's arranged a seat with Hanna, who's run open-track events at Watkins Glen, Pocono, Road American and Mid-Ohio, among other venues. Alan's race-style seatbelts require some adjustment for my girth, but otherwise we're off without a hitch, on-time at 10 o'clock, heading southwest on Center Valley Parkway about mid-pack in a lineup of powered-by-Ford performance some 40 cars long.
Despite its name, SAAC embraces a wide range of Ford and Mercury products, and our caravan includes not only Shelby Mustangs old and new, but a couple of classic Mach 1's; an '01 Mustang Bullitt; an '07 Mustang; and '05 Focus from Saleen; '05 and '06 Ford GT' s; a '66 Sunbeam Tiger; and Dan's own deliberately disreputable primer-gray Cobra. Also running with us is Chuck Cantwell, Shelby's project engineer for the original GT350, in his own Sapphire Blue '66.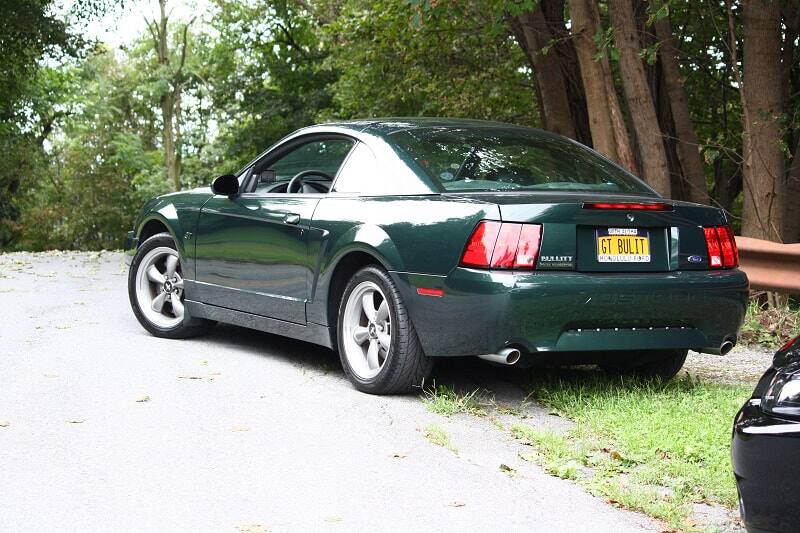 Suburban traffic signals quickly split us up, but around 10:30 a.m. we regroup at Limeport Stadium -- a 1,100-seat ballpark built in 1933 as the home of the Limeport Milkmen, and still serving several regional baseball teams today. In fact, we seem to have rolled into a practice in progress. But our stay is hardly longer than a single at-bat, as Dan lines us up and dispatches us again due south on the Limeport Pike.
More rural now, our route passes stone farm houses and slows through small towns, where people come out to point admiringly, snap photos, or -- in the case of one woman in Pennsburg – grimace, with fingers stuck firmly in her ears. By 11:30 we've reached the Eastwood store in Pottstown -- one of three brick-and-mortar outlets maintained by the auto restoration catalog company. (The other two are in Parma, Ohio, and Chicago, Illinois.) The adjacent warehouse doors are rolled open, and the sound system inside blares Just Another Band Out of Boston.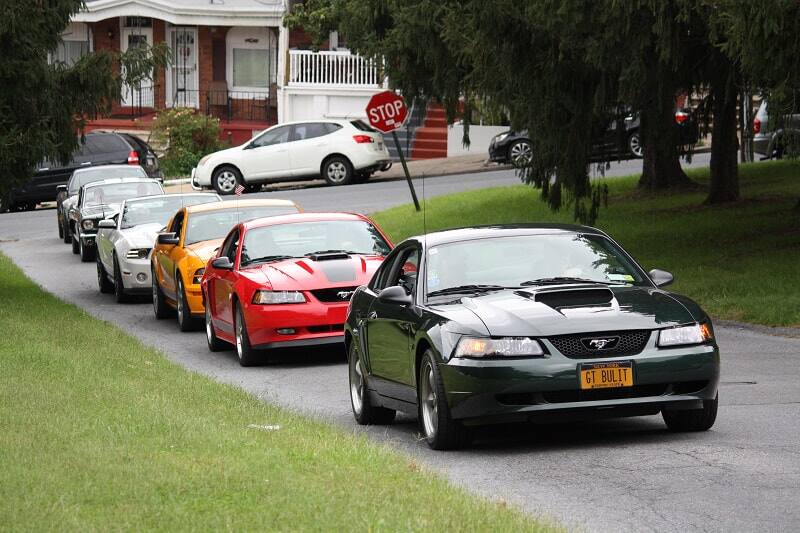 This is the midpoint of our tour, where we'll linger for over an hour, munch submarine sandwiches under a large tent, and casually browse Eastwood's paints and coatings, metal-shaping tools and MIG and TIG welders. We note with some pride that one of the two project cars in Eastwood's own workshop is a blue 1991 Mustang.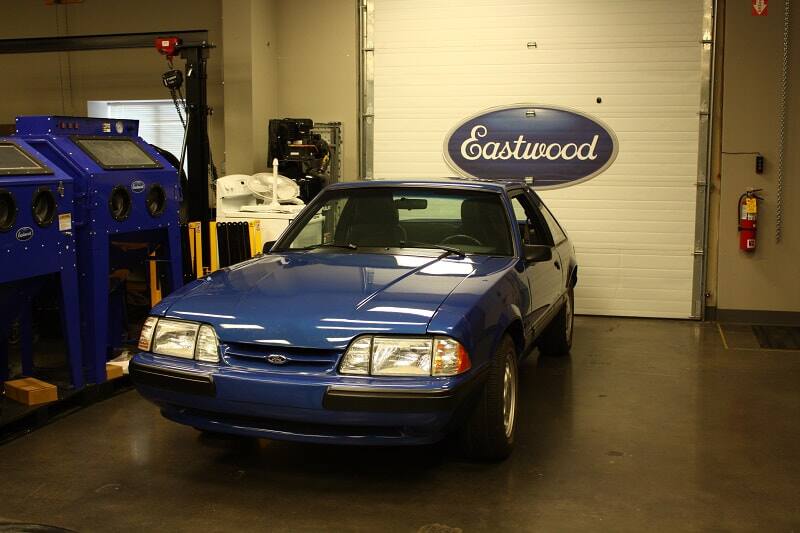 I took some time, also, to admire (and photograph) some of the other cars on our tour. None are more conspicuous that Dan's Cobra, its headlights painted over with astonished orange spirals, its body joints unfinished, and the outlines of various road courses inscribed on its sides. Based on an '04 Factory Five 427 kit, it's powered by a 1968-vintage 302 stroked to 331 cubic inches and dyno'd at 440 horsepower. Dan said he runs about 10 road-race events each year -- at Lime Rock, Pocono, VIR, Mid-Ohio, NJMP, Monticello, Summit Point, and others. He was off to Watkins Glen immediately after the meet.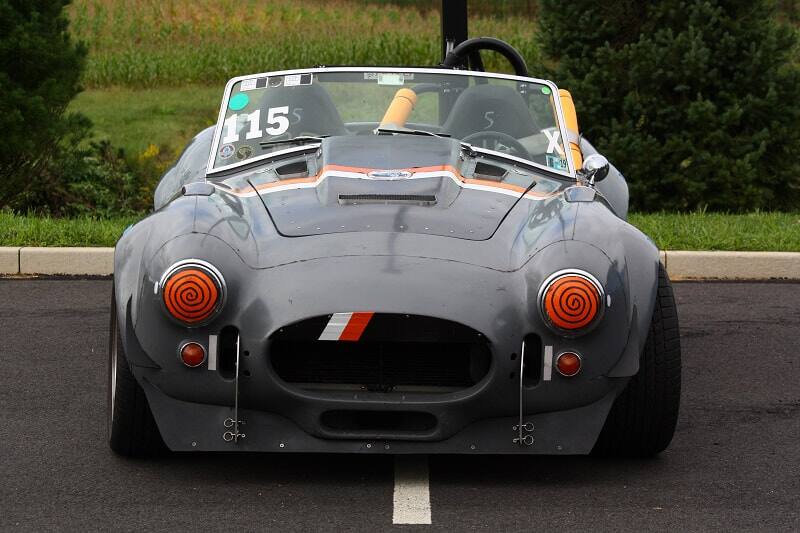 Back on the road by 12:45 p.m., we follow the Tiger and a red '66 GT350, dipping just three-tenths of a mile south on Glassgow Street before turning northwest on Berks. Another mile and a few more turns and we're blasting back north on the appropriately named Rattlesnake Road.
Somewhere between Pottstwon and the Pagoda, Alan tells me the story of his car -- beginning with the original owner, an apparently well-off 18-year-old from Dearborn.
"He had it for six months," Alan said. "He and his buddy left Dearborn in January of '66 and drove through a snowstorm to California. They toured around the parks out there and then took it down to the hanger at LAX because of a laundry list of things that were wrong with it (all of which Shelby fixed under warranty).

"And then they drove it through the southern states to Fort Lauderdale. And by the time they got back home, he had just five bucks on him, and his mom handed him his draft notice. So he sold the car, and then he flunked his physical. And then he couldn't remember who he sold the car to! The guy I bought it from in '78 had found it in a junkyard in 1970, minus the engine and transmission."

Alan scrounged a 289 HO and a four-speed tranny from a wreck; he has since further fortified it with a high-lift cam, three two-barrel carburetors, and a pair of cylinder heads that Joe Mondello ported some 50 years ago. This combination sends a certified 300 ponies to the rear wheels, and Alan notes with significant pride that not a single part number in it predates 1967.
But that's not the end of the story: In 2009, Shelby enthusiast Howard Pardee found the car's original engine on a pallet in Florida.
"So I got the original engine back," said Alan, who is still in no hurry to install it. That engine is worth quite a lot, and the one in the car runs just fine. "It's a gas-and-go car. I change the oil, gas it and drive it."
We enter the city of Reading on the Oley Turnpike, then zig-zag to the top of Mt. Penn, stopping at around 1:30 p.m. at the east end of Lombard Street to again regroup before our dash to the top of the city on Duryea Drive.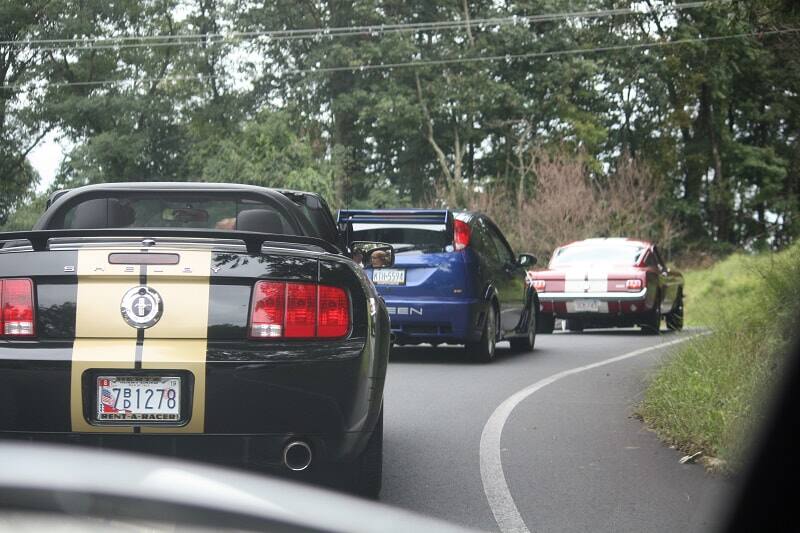 Duryea had built nearly 300 cars and trucks in Reading by 1906, when stone quarry magnate William A. Whitman, Sr. commissioned a luxury hotel, built to resemble a Japanese pagoda, high above the city at the top of Mount Penn. Bankrupt before it ever opened, this seemingly misplaced landmark has been owned and maintained by the city since 1911 -- coincidentally the same year that Duryea moved his automaking operation to Saginaw, Michigan.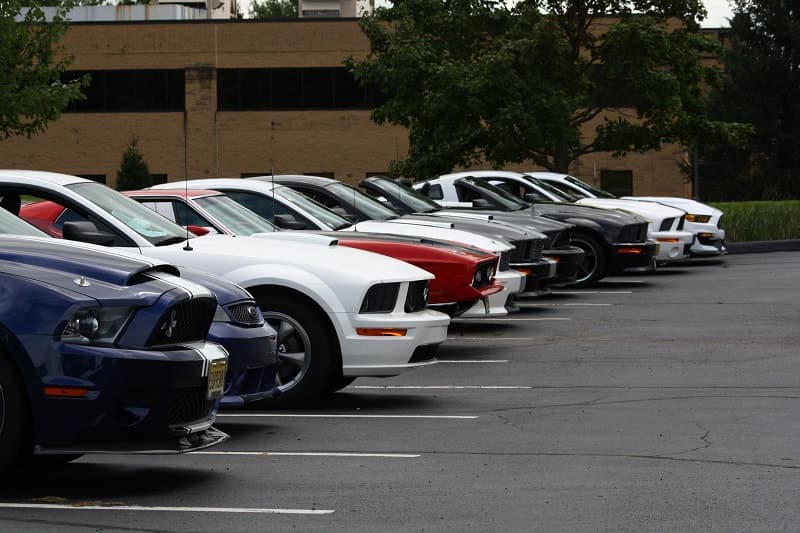 By 1951, however, Duryea's test route had been discovered by competitive hill-climbers. Currently the Pennsylvania Hillclimb Association (PHA) hosts two events here every year: a 1.35-mile run from Lombard up to the Pagoda, and a longer, 2.3-miler that continues onto Skyline Drive, adding a high-speed straight to the challenge. That's the route we'll be following, using the Pagoda as an oversized traffic cone.
Now on the final leg of our journey, history finds once us again: About 12 miles north of Reading, we pass the former Fleetwood Body plant, which supplied coachwork to Packard, Chrysler, and others before GM bought the operation in 1925 and moved it to Detroit in 1930. Then we blast back to Center Valley on an assortment of numbered highways and country roads. Some of the former are of the four-lane persuasion, and Alan two-steps around the other tour cars, lining up additional photo ops. Most of the other drivers are eager to cooperate, once they realize what's going on.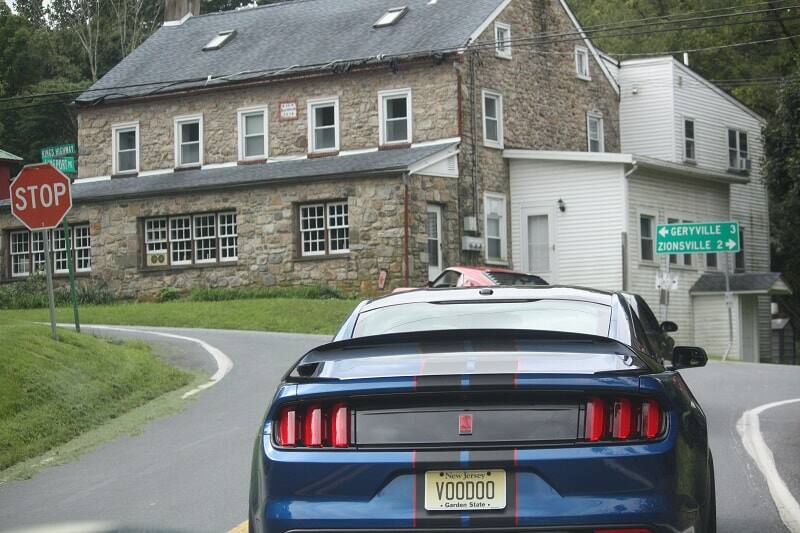 Our final destination is an ice-cream shop across the Parkway from the hotel.

"Everybody knows I love ice cream," said Dan. And that's where a prior commitment forced me to say good-bye.
But wait, there was more: That night, the group met for a catered dinner at Nicola Bulgari's NB Center for American Automotive Heritage in Allentown.

"Oh my God, fantastic!" Dan marveled. The international jeweler's complex is built on the grounds of a former drive-in movie theater, and so club members also enjoyed an outdoor screening of the The Gumball Rally which, not coincidentally, pits a Ferrari against a Cobra.
Sunday's car show drew some 120 examples of powered-by-Ford performance vehicles ("up from 85 cars last year," Dan noted), ranging from five '66 Shelby Mustangs to a 2017 Ford GT, and including no fewer than 32 cars built before 1971. Awards were presented in 18 classes, plus a "Top 20" list (where Barry Bartalovits's 2006 GT scored Number-One). Various sponsor's awards went to Fred Gimble's '67 K-code Mustang; Bob & Diane Troxell's '68 Mustang GT; and Kevin Wolbach's '06 Mustang GT. But in an event that was really powered by people, it was Ed Shaw's '69 GT-500 that won the People's Choice.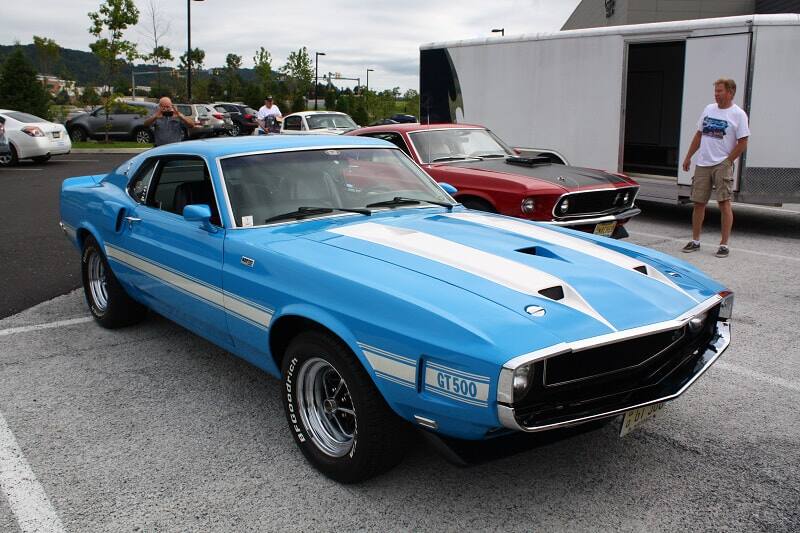 We hope to see the 10th annual edition of this colorful event hit the 2019 calendar soon.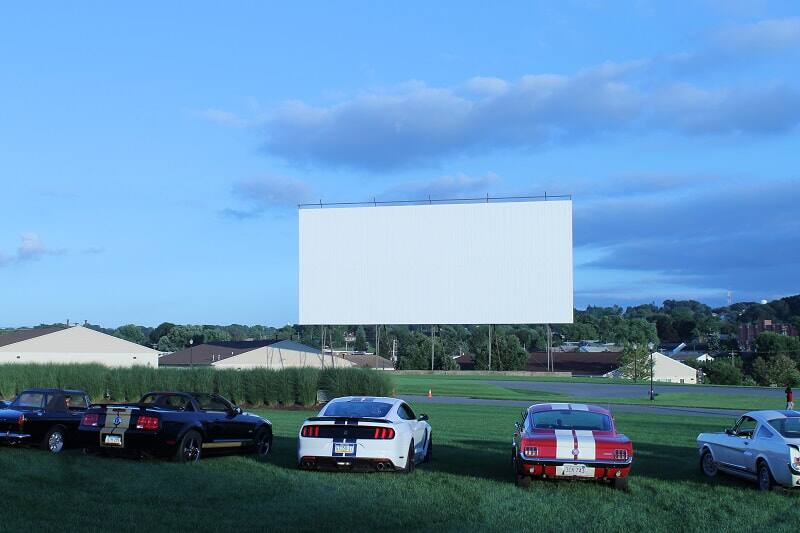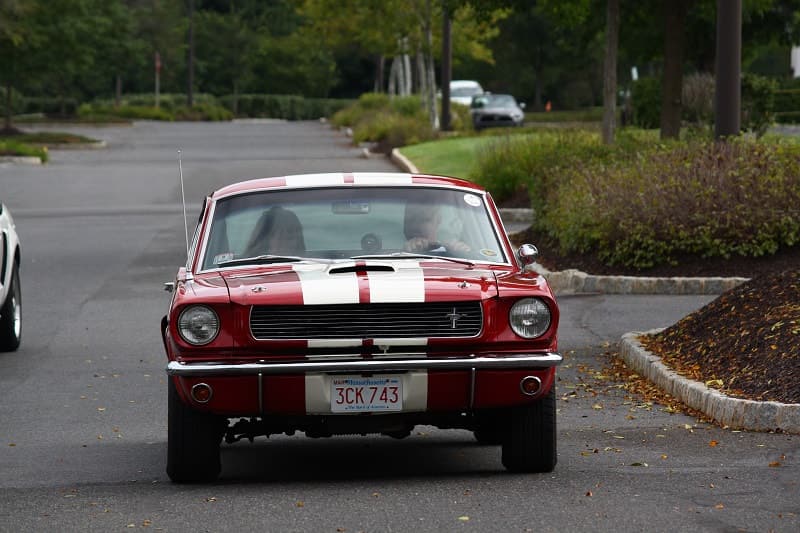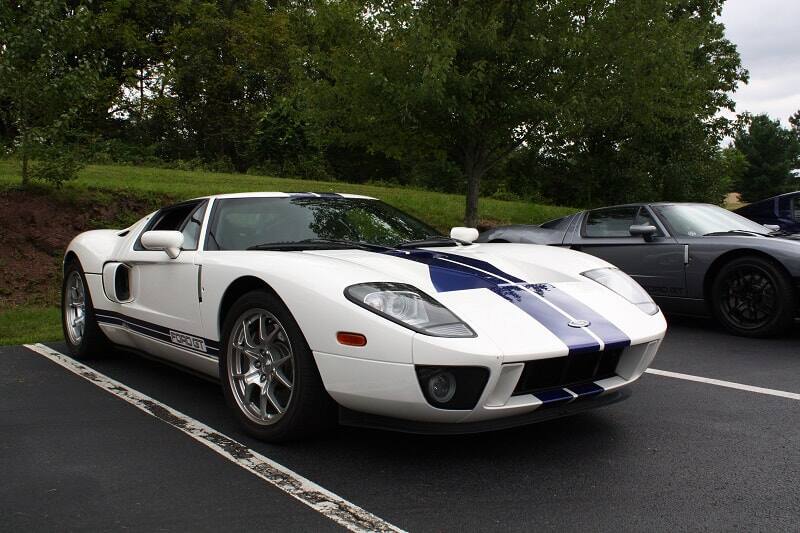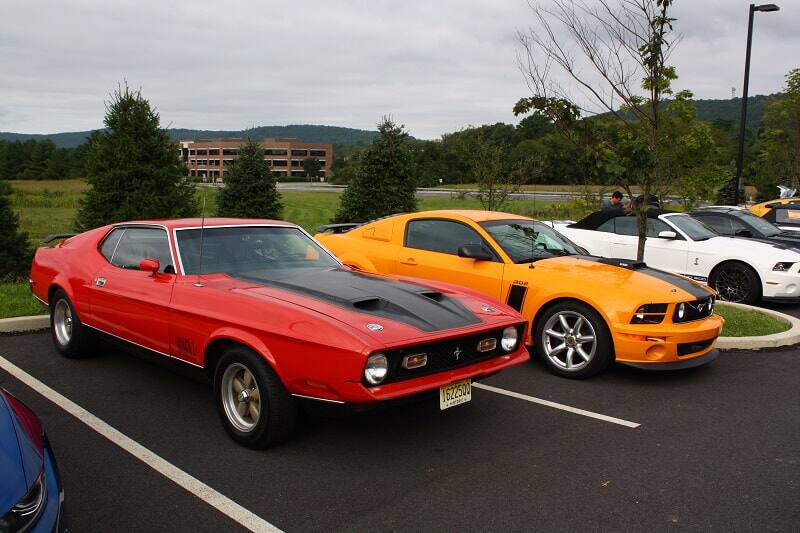 FORD PERFORMANCE PHOTOS / COURTESY JOHN F. KATZ