INDIANAPOLIS, Ind. – There's no question that the new Ford GT supercar will raise eyebrows whenever and wherever it happens to be seen in public. Ask any of the lucky few who happen to own one, and they'll tell you that this car's "wow factor" is the driving force behind the desire to add Ford's futuristically designed, technologically advanced exotic to their high-end garage or personal collection.
As if possessing this prized automotive gem wasn't enough, some celebrity owners have raised eyebrows even further after taking delivery of their Ford GT. Take pro drifter and Ford driver Vaughn Gittin Jr., for example. Vaughn went right out and made videos of himself doing a few tire-frying donuts and even some hot laps in his factory fresh, gunmetal-gray Ford GT jaw-dropper. But IndyCar racing star Graham Rahal has found a way for his recently acquired Ford GT to draw double-takes even while it's standing still.
How? Well, by having it refinished in an eye-popping shade of purple paint! That's right, purple. No, that's not one of the eight base hues you'll find on the Ford GT Configurator, which does include attention-grabbing red and yellow as exterior color choices. We're talking purple. As you might imagine, Rahal caused quite a stir on Instagram after posting photos of his just-acquired vibrant purple Ford GT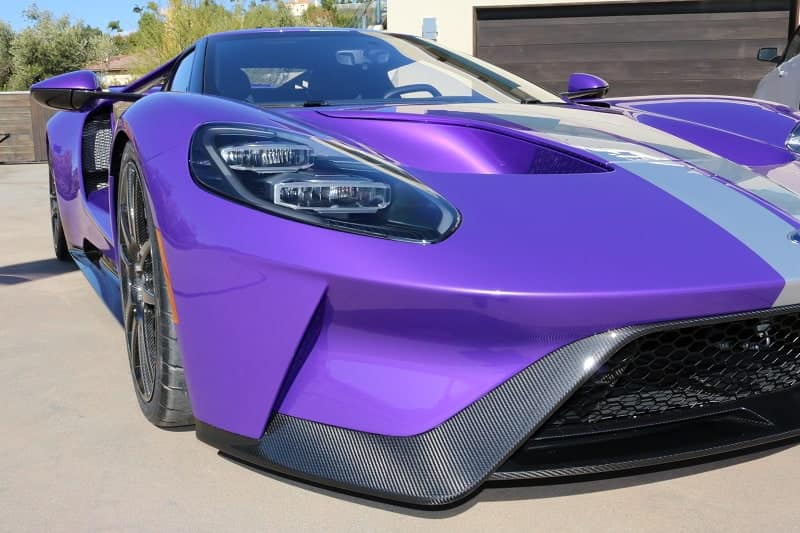 So we got in touch with him last week to get the skinny on his color choice – beginning our conversation with, "We have to ask you right off the top . . . Purple?"
"Well, I like to be unique," he explained. "People who know me know that I like to stand out from the ordinary. I wanted my car to be bold."
We then made an assumption for our next question, and found out instantly that our assumption was wrong: "So your favorite color is purple?"
"Actually, no," Rahal replied. "My favorite color is orange. But I saw that orange had been done on a GT already. So I wanted to do another color that wouldn't likely be replicated."

What he was referring to is the orange Ford GT owned by Andy Frisella, who made headlines in the GT world after he had special-ordered his car to be custom-finished in orange at the factory – in Lamborghini's own "Arancio Borealis" orange, to be exact. He, too, turned to social media after word of the orange GT got out.

"This is one of the very first customer cars delivered and the first off-palette spec produced by Ford," Frisellahad said on Facebook. "It is, and will be, 1-of-1, and I can honestly say it's the sickest car I've ever seen in my life … ever." (That's sick, as in cool, for those who think his description sounds as if he doesn't like it.)

Graham Rahal, on the other hand, wanted to up the ante on his own exotic Italian color. His custom purple was created by Axalta Racing and is based on Lamborghini's "Viola Parsifae" color. But to make it stand out even more, Axalta's purple hue has a pearlescent finish that makes the paint look lighter in the sun and darker in the shade. The addition of silver stripes provide a striking contrast to the purple.
"I'm really happy with it," Rahal said, adding that the next step is to work with Xpel to cover the car in paint protection to preserve the custom paintwork.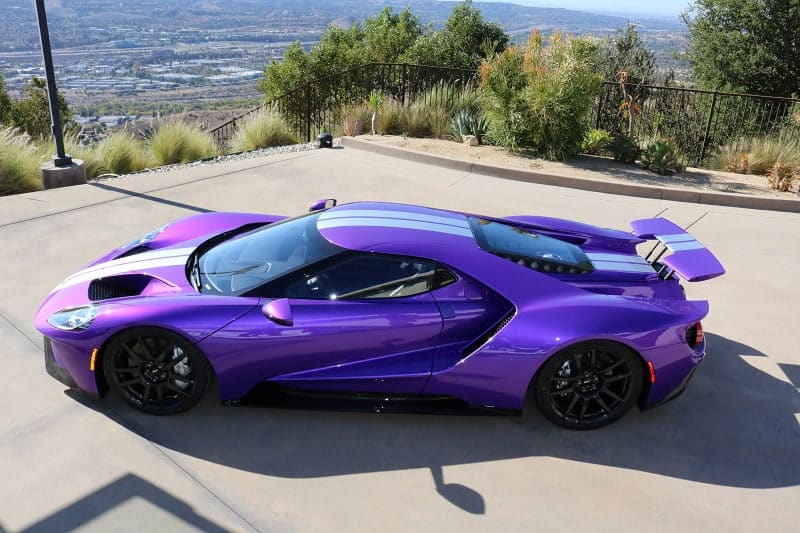 Knowing that the six-time IndyCar race winner (five of them since 2015) drives in the Verizon IndyCar Series for a team co-owned by his father, three-time IndyCar champ and 1986 Indy 500 winner Bobby Rahal, late-night talk show icon David Letterman and businessman Mike Lanigan, we simply had to ask him about the Ford GT's racing heritage.

"Did the GT40's storied racing legacy and the fact that Ford campaigns the new Ford GT in endurance racing influence your decision on owning one?"
"That's very important!" Rahal said. "As a race car driver, I know that racing heritage is key for any successful car company. What I like about the new Ford GT is that it was designed the way all great cars should be. By that I mean, this car was designed as a race car, then Ford figured out how to make it work on the street. That's always better than building a street car, then figuring out how to make it into a racing car."
It turns out that Graham had long loved the Ford GT's racing lineage, partly because dad Bobby Rahal had once owned a 1967 Ford GT40 – a car that he now wished he still had.
"Let's face it – cars such as the Ford GT40 and the Shelby Daytona Coupe are some of the most iconic race cars in American history," Graham said. "They are all amazing machines. My dad even owned a few of the 05-06 second-generation Ford GTs and even a Heritage Edition model. Those cars link back well to the original and will never go out of style.
"But this new Ford GT has a design that is simply spectacular. It's a blend of both amazing styling and modern technology that few cars can hope to match. It's timeless in both design and execution."
We wondered if being married to NHRA drag racing star Courtney Force -- daughter of 16-time NHRA drag racing champion and Mustang legend John Force -- influenced his decision in any way to buy a Ford GT.
"Courtney was certainly fired up about it when we first talked about getting one," Rahal said. "Her dad had a 05-06 car, and she was really excited that we'd be in the Ford GT family with the new one."
Although he hasn't yet had the chance to drive it much, Rahal said he can't wait to begin taking his new purple Ford GT to shows or enthusiast events.
"I'm going to work on it a bit (in his Instagram post he said he's looking for a new set of wheels to "preserve those carbons."), then plans to "drive the wheels off the thing."
Rahal's passion for racing extends beyond the track to all types of performance vehicles, and has led to the creation of Graham Rahal Performance – a custom automotive tuning and performance parts company based in suburban Indianapolis. Graham loves all kinds of high-end and exotic cars, and is no stranger to other Ford Performance vehicles.
"My dad has a Shelby GT350R – and that thing is a beast!" Graham said. "I've owned about 10 F-150 Raptors over the years and my shop has built a lot of them. The Raptor has changed the way the world sees the Ford F-150."
Beyond cars, racing and owning his own shop, Graham set up the Graham Rahal Foundation, which is dedicated to helping children with medical conditions. He formed the organization back in 2009 after being inspired by the philanthropic effort of the late Paul Newman, whose team he drove for from 2007 to 2010.
Although his daily driver is an Acura NSX, Rahal also owns a Ferrari F12tdf, as well as other custom-colored exotics such as the first Porsche 911 GT2 RS finished in Amethyst Metallic, as well as a bright-green Porsche 918 Spyder. Of them all, none quite have the pop of his purple Ford GT. While others might see it as a bit over-the-top, for Rahal, picking purple paint for his Ford GT is just perfect. And for a colorful IndyCar racing star like Graham Rahal, we'd have to agree.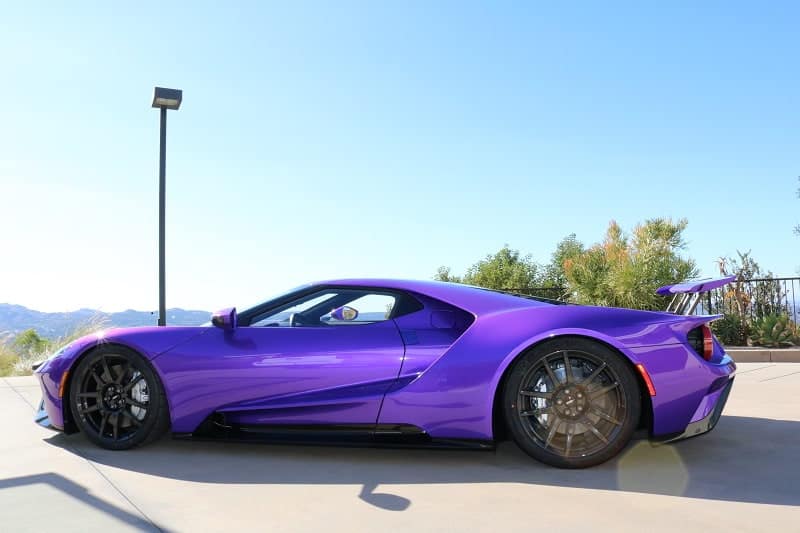 FORD PERFORMANCE PHOTOS / COURTESY GRAHAM RAHAL