HERSHEY, Pa. – The world's oldest known road-registered Mustang is also one of the most unusual: a short-wheelbase, triple-carburetor, custom-designed hot-rod prototype that survives today largely because it was stolen more than 50 years ago. But we are already getting ahead of our story.

To be clear, older Fords with the Mustang badge survive, including the mid-engine, V4-powered "Mustang" barchetta that debuted at Watkins Glen in October of 1962; and the hand-made prototype "Mustang II" unveiled at the Glen exactly one year later. Both of these vehicles were built fully operational and presumably could be made so again. Both are also treasured artifacts in the collections of significant museums (the Henry Ford and Detroit Historical, respectively), and so are unlikely to appear on any public highway.

Whereas our featured car is driven regularly by owner Howard Kroplick, who also provided much of the research and many of the photos that made this article possible. Most of this past summer it had been temporarily off the road, serving as the crown jewel and centerpiece of a major Mustang retrospective that was featured at the AACA Museum in Hershey, Pennsylvania. But Howard was soon found back behind the wheel soon after the exhibit closed on October 14.

Long known as "Shorty" Howard's car is the 9th of probably just 15 pilot-production Mustangs built at Ford's Allen Park facility between August and December of 1963. The purpose of the pilot program was to expose any potential problems with the assembly process, and to make necessary changes early on in the process. Ford's Dearborn Assembly Plant then built another 180-200 "pre-production" Mustangs before ramping up to true mass production on March 9, 1964. Some of these pre-production vehicles would be used for advertising and promotion, some would be crash tested, and still others rebuilt as race cars.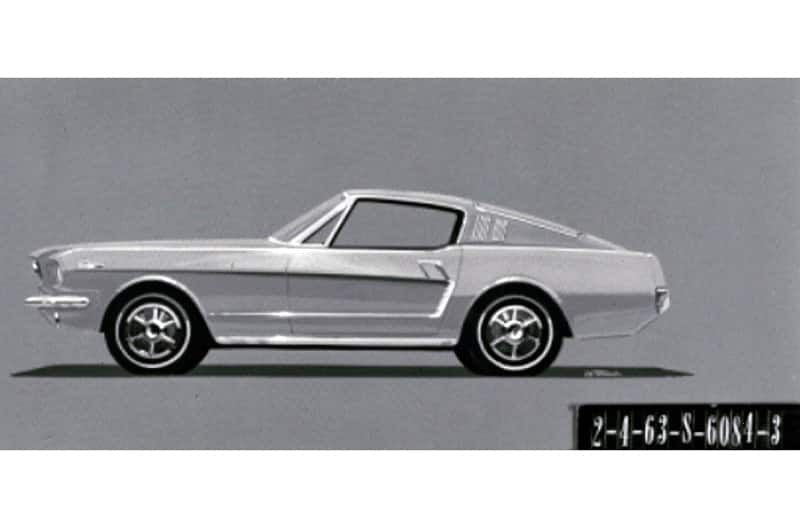 Most, however, would be scrapped – and pilot-production cars fared even worse. Bob Fria, author of Mustang Genesis, has documented the destruction of the 2nd, 3rd, 6th, 8th, 10th and 14th pilot-production Mustangs; and firmly believes that Numbers 1, 4, 5, 7, 11, and 13 were scrapped as well. Somewhat remarkably, Numbers 12 and 15 were re-numbered as pre-production vehicles, and survive today in Dearborn's Henry Ford Museum and Fria's own collection, respectively.

But as we noted above, Number 9 traveled a very different road. Originally a convertible (and officially numbered 5S08F100009), it was diverted in June 1964 to nearby Dearborn Steel Tubing (DST) to be reconstructed as a two-seat fastback. A longtime Ford supplier and prototype shop, DST had already built the Watkins Glen "Mustang II" show car from a production '63 Falcon.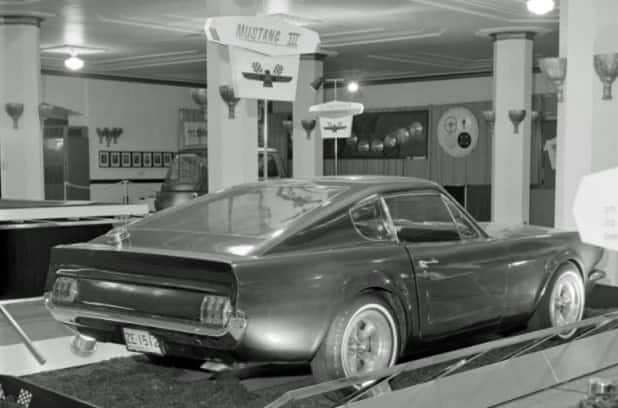 Writer Alex Walordy detailed Shorty's transformation in the April '65 issue of Custom Craft. DST stripped the Mustang's unit-body down to its structural floor pan, and then shortened the remaining platform by 18 inches, reducing the wheelbase from 108 inches to just 90. All external sheetmetal behind the cowl would be replaced with Fiberglas.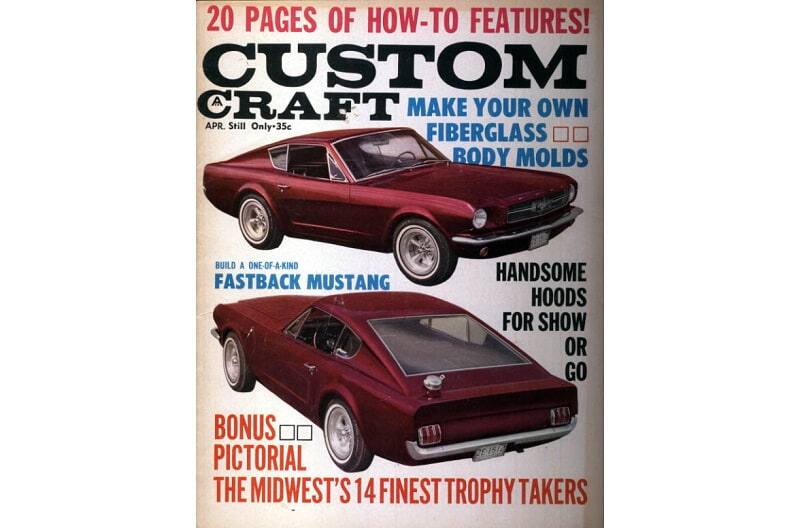 The exterior design of the shortened fastback was assigned to free-lancer Vince Gardner, whose design resume included contributions to Auburn, Cord, Studebaker, and the Budd Co., as well as some previous work for DST and Ford. The most striking and individual features of Gardner's fastback Mustang were its boldy concave sail panels, providing a visual tension that seemed to pull the sharp-edged, sloping roof down onto the flattened deck and quarters. Small, concave rear quarter-windows further distinguished Shorty from any other Mustang.

Otherwise, Gardner preserved as much of the production car as his design brief allowed. The Mustang's trademark side coves terminated in the shortened doors, maintaining their stock relationship to the rear wheel arches. A racing-style, quick-release fuel filler topped the non-opening rear deck, but the rear bumper and three-segment taillamps remained factory-stock.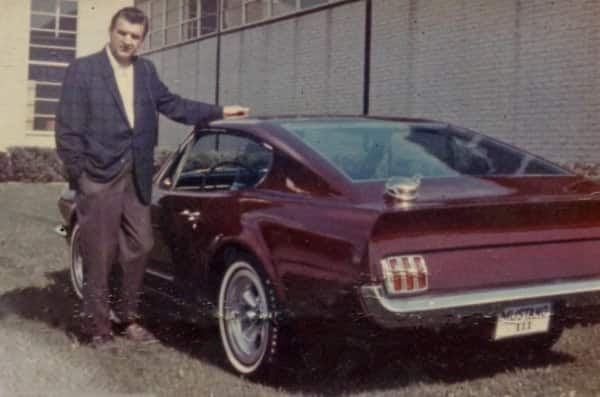 Gardner modeled his design directly on top of the shortened chassis, using wood, clay, and pieces of the original sheet metal. "This combination was constantly re-worked," wrote Walordy, but when Gardner was satisfied, plaster molds were taken directly from the model and used to make the Fiberglas panels.

The stock front end was retained, including what appears to be a production safety-glass windshield. But the door windows, the uniquely concave quarter windows, and the sloping backlite were made of Plexiglas. The interior also retained stock parts where possible, but the headliner, inner door panels and everything behind the doors was custom-fabricated. A carpet-covered box behind the seats provided some concealed luggage space. Bumper-to-bumper, the finished prototype measured 22.5 inches shorter than a production Mustang.

Shorty's original 260 cubic-inch V-8 was enlarged to a prescient 302 cubic inches, fortified with three Holley deuces, and decorated with a dress-up kit. A modified Ford C4 automatic transmission sent the torque to an open 8-inch rear, and ultimately to 7.75x15-inch tires on chrome Cragar S/S rims. (The stock Mustang V-8 tire size was 6.50x14.) Ride height was reduced by trimming the front springs and bolting-in lowering blocks at the rear. The drum brakes were power-assisted, but the ball-nut steering was not.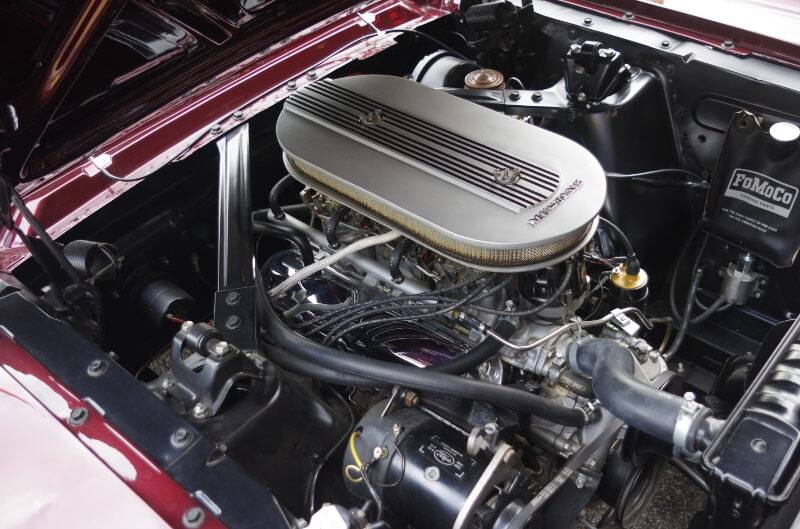 By July, the "Shorty Mustang" was finished, painted a deep candy-apple red, and dubbed Mustang III, suggesting a direct lineage from DST's earlier Mustang II concept cars and the sporting V4 barchetta, which by then had been retroactively re-labeled "Mustang I." The Mustang III toured the country with Ford's Custom Car Caravan until May 2, 1965, when it disappeared from DST's shop on Inkster Road.
DST asserted legal ownership of "Shorty," and filed a claim with the Aetna Life and Casualty insurance company, seeking reimbursement for the $16,979.02 that the company said it had invested in the car. A few weeks later, DST and Aetna settled on an even $10,000 for the loss. Still, the grand theft of this most unusual auto demanded further investigation. In the late autumn of 1965, a former DST employee, working at Mucha's Metal Shaping in Detroit, told DST that he had spotted the Mustang III behind a wall in a loft above Mucha's shop on Marston Avenue. But a uniformed police officer sent to investigate failed to locate the automobile.

Aetna called in the National Automobile Theft Bureau, a private investigative service financed by the insurance industry. One of their agents, accompanied by Sgt. Stanley Zimmer of Detroit's own Auto Recovery Bureau, paid a second visit to Mucha's. This time, the insurance investigator spotted a plywood wall in the loft, and climbed up on a metal skid to peer over it. There, he saw a car partially covered by a canvas tarp, but with its front end exposed, so that "it was plain to see that the vehicle was a Mustang and of the same color as the stolen vehicle."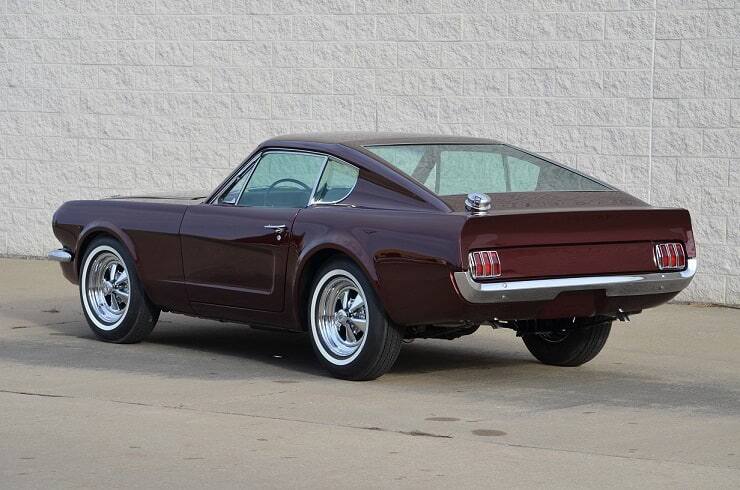 Further investigation revealed that the loft had been rented since July 1 of 1965 to Vince Gardner, who had put down $50 for the first month and hadn't made a payment since. As a result, building owner Ed Putnam had locked Gardner out. Upon learning that the car was stolen, Putnam helped the authorities remove it from his premises.

For reasons still uncertain, Gardner was never charged. According to the NATB agent who discovered the car (writing in an internal document later obtained by Kroplick), "Inasmuch as there appears to be a very close relationship between Mr. Vincent Gardner and the representatives of the Dearborn Steel Tubing Company, it does not appear that the assured in this instance will cooperate in any prosecutive efforts . . ."

Gardner's motivation, on the other hand, is considerably more clear. For a variety of reasons, show cars tend to be scrapped soon after the show season ends. Maybe Gardner had hoped to save Shorty for himself. Regardless, he had saved it. Shorty was now the property of Aetna Life & Casualty. An Aetna exec bought the Mustang III for his own use and titled it for the road.

As late as May 1965 – ironically close to the time that Shorty was being stolen – Motor Trend described the Mustang III Prototype as "a limited-production 1965-1/2 offering . . . This shortened, lightened version is for sale, and you'll hear much more about it in the future. Its new fastback roof may herald changes on production models in 1966."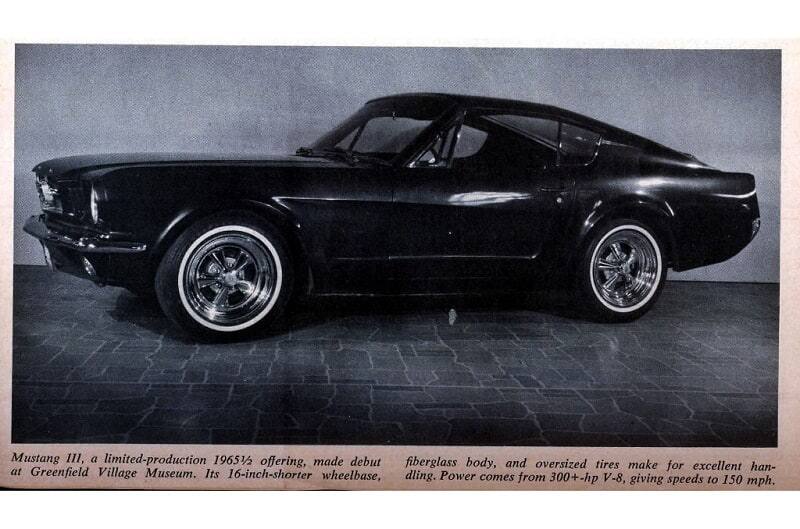 MT was probably not the only publication whose enthusiasm overwhelmed their fact-checking, and Bill Snyder of Ohio was probably not the only enthusiast to try to place an order for his own Shorty Mustang when the Caravan came to town.

"I asked what it was going to cost," Snyder recalled for Auctions America back in January of 2015. "And the salesman told me, 'This is the only one'."
Turns out the Mustang III was not for sale, not at any price – not then, anyway. Snyder bought it three years later, through an ad in Hemmings Motor News.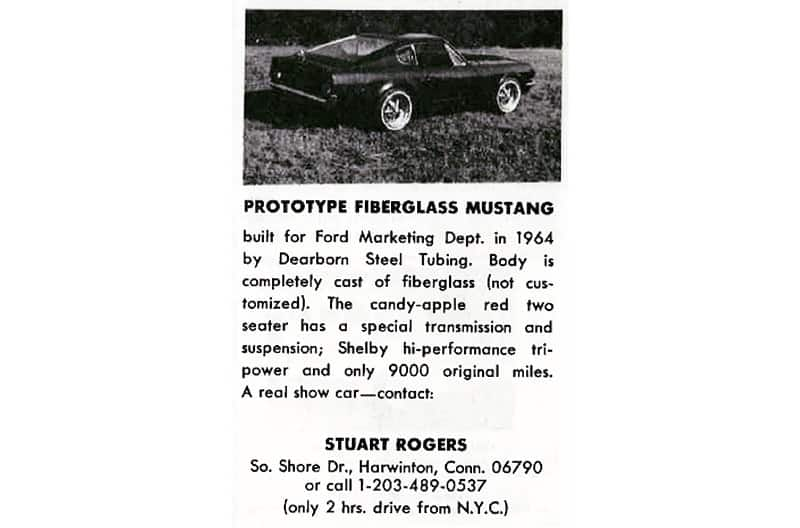 In fact, Snyder owned Short for almost 50 years. For most of that time, he kept it in storage, finally beginning an extensive restoration on the prototype in 2011, in time to show the Mustang III at the Amelia Island Concours in 2013. Two years later, in March 2015, he sold Shorty to Kroplick through Auctions America.

In May of 2018, Kroplick told Hemmings Classic Car that driving the Mustang III was "similar to driving my 1966 Shelby GT350H, but it's louder, and its smaller size gives the perception that you are going at least 20 mph faster than shown on the speedometer."

More recently, Kroplick told FordPerformance.com that Shorty also "seems a little bit more nimble [than the Shelby] because it's smaller – or maybe I'm just a little more careful because I'm driving a piece of history."

We asked him about the surprisingly heavy 2,920-pound curb weight reported by Hemmings, and he replied that this figure was obtained by actually weighing the car on a scrap-metal scale. That this short-wheelbase Mustang weighs only 10 pounds less than a factory-stock V8 hardtop (as reported by Road & Track in August 1964), and 130 pounds more than a Shelby GT350 (R&T, May 1965) may seem at first surprising. But it is, after all, a prototype¸ and may have required considerable reinforcement to compensate for the sheet metal that was cut away.

Although Motor Trend's prediction of even limited production proved overly optimistic, nostalgia for the two-seat Thunderbird, still fresh in memory, more or less guaranteed that a two-seat Mustang would at least be considered. The Mustang III was, in fact, just one of several such two-seat Mustang proposals. Ford Design studios were still sculpting short-wheelbase clays as late as April of 1964, even as the first production Mustangs were driven home from dealers' showrooms. But Ford market research had aimed the Mustang squarely at the fast-growing 16-to-24-year-old demographic – and at young married people who wanted a sporty car but needed a back seat.

When Ford did unveil a production Mustang fastback (on September 9, 1964), it was built on the standard wheelbase, leaving just enough room for a cramped rear seat still suitable for small children. Its design had been frozen in May 1963, and it is entirely reasonable to assume that Gardner had seen it, and had perhaps created Shorty's elegantly concave sail panels to set his fastback apart.

More importantly, by saving Shorty from destruction, Gardner provided future enthusiasts with a precious and revealing glimpse inside the mind of the Ford Motor Company on the eve of one of its greatest successes.

Sadly, Vince Gardner took his own life on May 14, 1976.
FORD PERFORMANCE PHOTOS / COURTESY HOWARD KROPLICK