CHARLOTTE, N.C . – When I last left you on FordPerformance.com, I had gotten a Bronco . . . and that's where I got stuck. I thought I had scored a sturdier steed than my 1965 Mustang but the good 'ole saying, "Let the buyer beware" came back around to bite me in the butt. I don't know if it was buyer's remorse or just fear of an ill-handling ride but somehow the excitement of driving that just-purchased Bronco was fizzling as soon as I drove it away.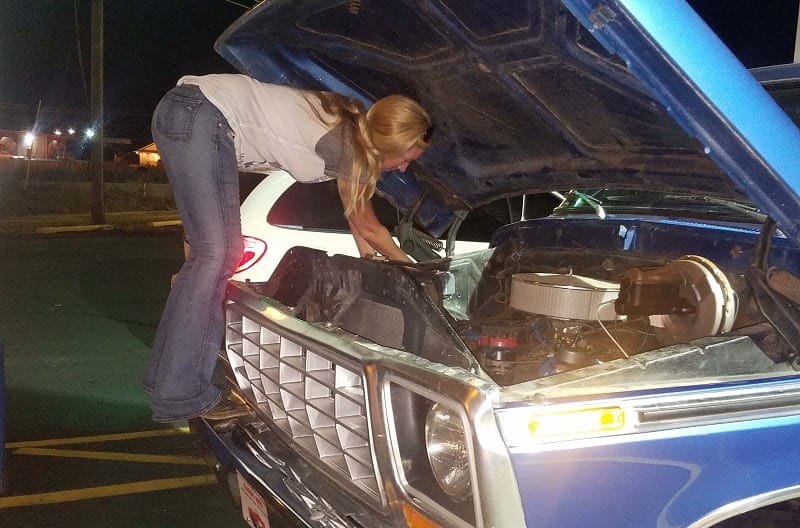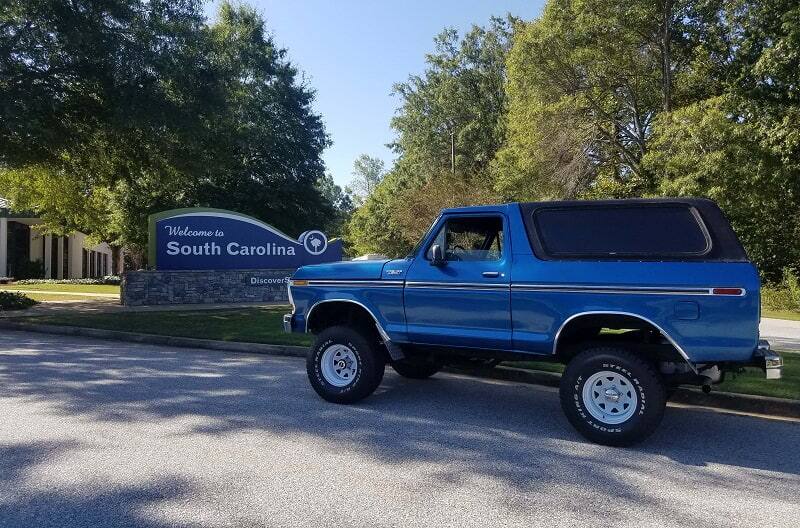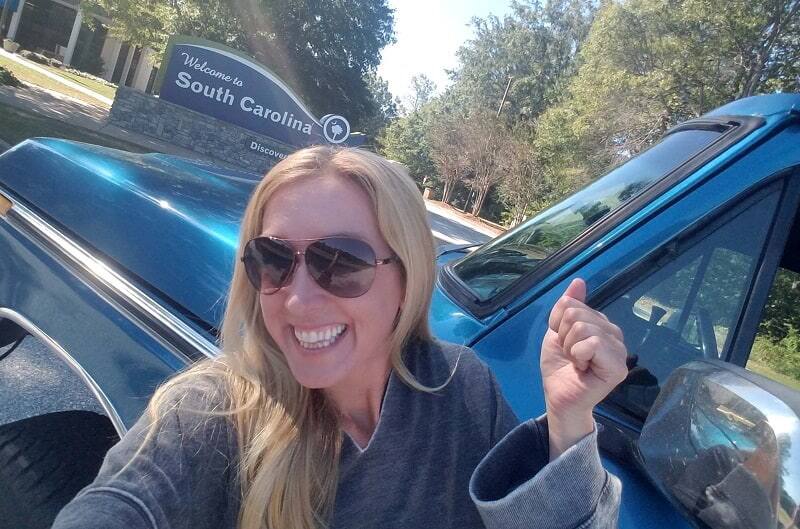 After my scary 1,200-mile journey home I took the Bronco to Classic Speed and Custom in Charlotte, North Carolina, in hopes of regaining my Bronco fever. While I should have been focused on the suspension and steering issues this truck had, I decided to turn my attention to more important things – like paint! Maybe if I made it look like I wanted it to look, everything would be better mechanically.
I fell in love with the stripe packages that came on the 1978 Ford Broncos and I wanted to do my own version, based off of a jacket that I found on Etsy.com. The sun's rays shining against the metallic blue color of my Bronco reminded me of a sunrise on the ocean. Having lived on Folly Beach, South Carolina, for the last 10 years I was lucky enough to see the sunrise many times while walking my dog in the early morning. For adding graphics on my Bronco, I wanted to take that memory with me so no matter how far the road took me from home, I'd always have that visual reminder.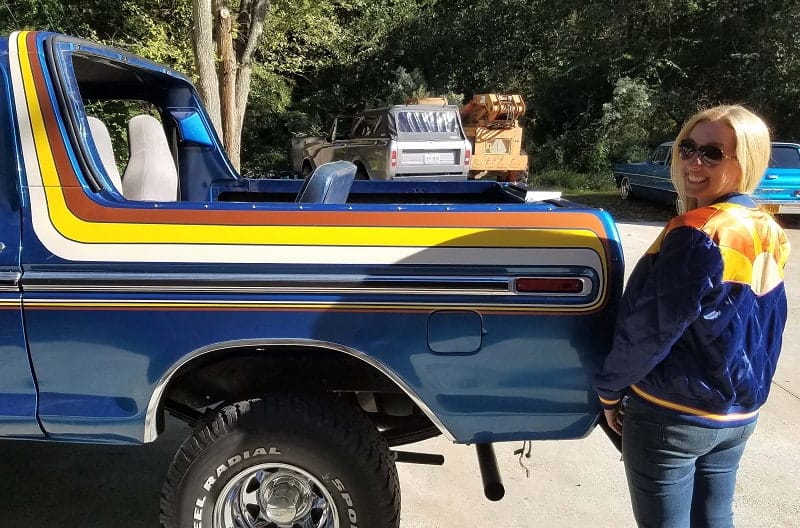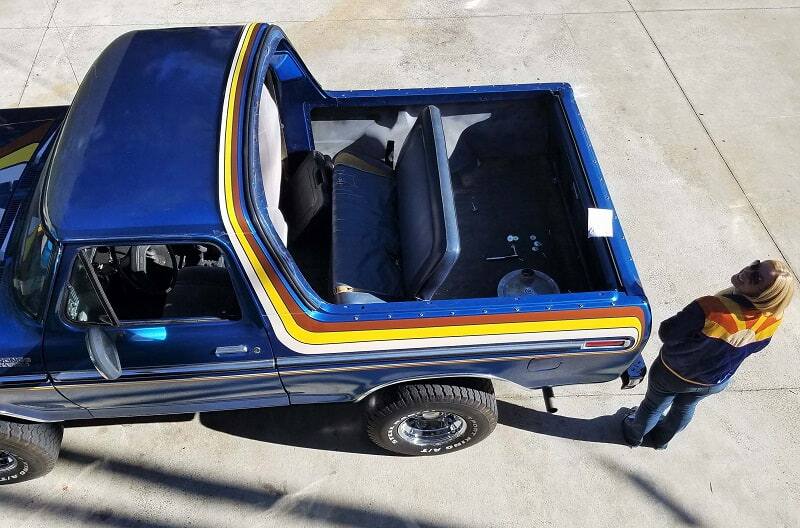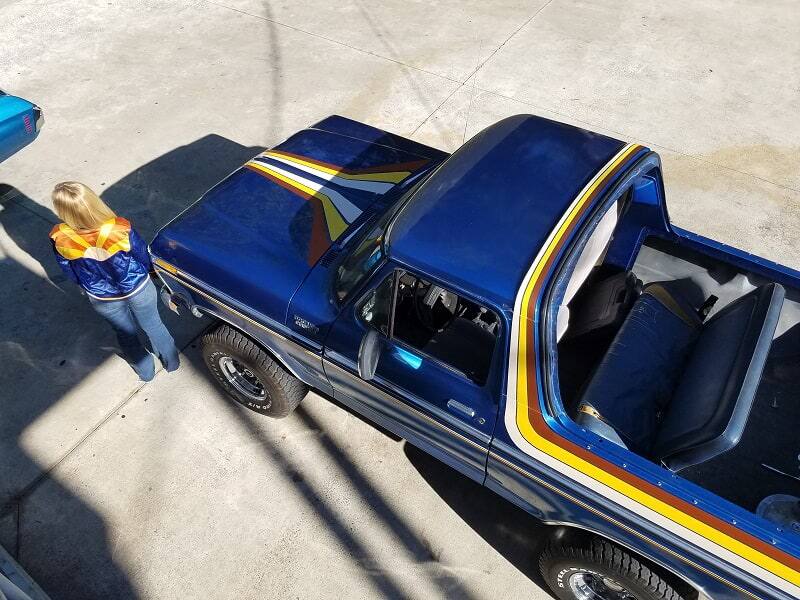 Although I could have easily ordered a pre-cut decal package online, I decided there's nothing better than the real thing, and with paint colors that I could pick individually. So I had Russ Petty of R. Petty Custom Murals carefully lay out the striping for each color before Manuel Costales (a.k.a. Manny the Paint Guy) sprayed on my "sunrise." I knew it was a huge risk, and many people told me a custom stripe package could look horrible so I should stick to the more common Bronco two-tone look, with the top white over a blue body.
But I wanted the whole truck to be blue, as I thought any difference on the top would just distract from the stripes. As Manny's new paint was drying, I couldn't help but think I may have destroyed a decent paint job on my Bronco by doing the stripes. But the moment I pulled off the paper and tape, I was thrilled with the result. I'm glad I was stubborn and stuck to my guns on the colorful stripe – it was everything I had dreamed it would be! My custom paintwork somehow managed to get even better when I found out that it was actually the cool thing back then to paint the back tailgate. God, I love the 1970's! So Russ added a desert sunset on the back to complete the look of my refreshed Bronco.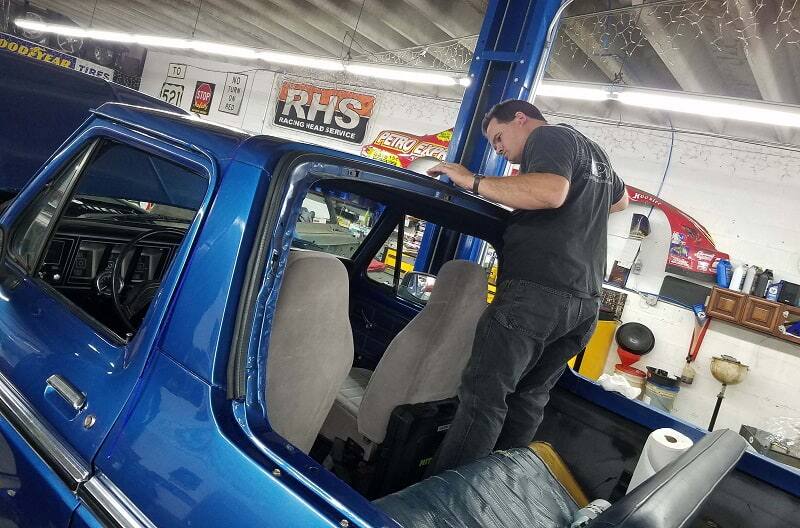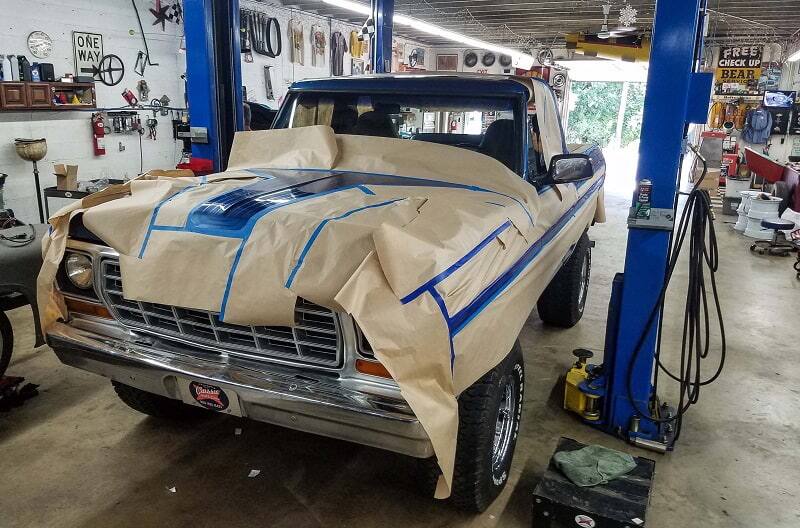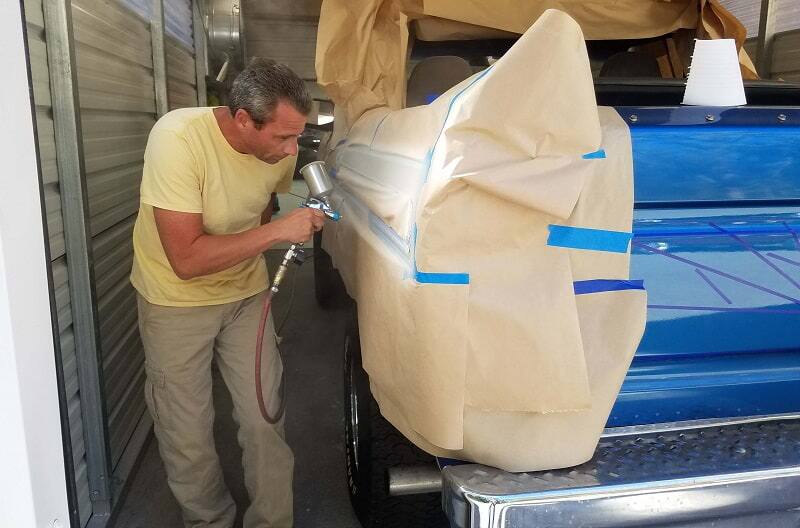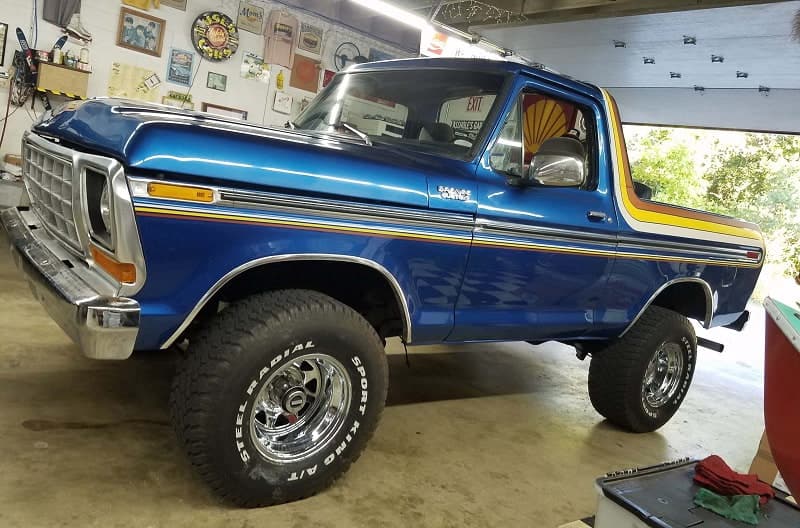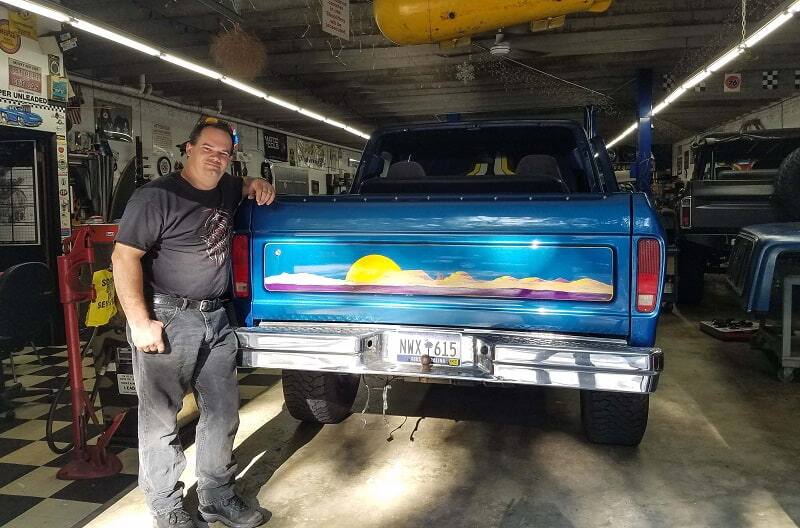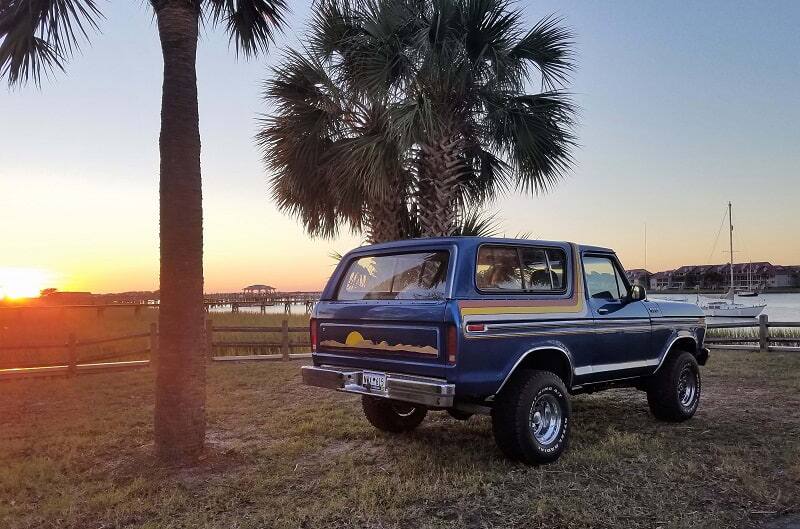 Now that it looked the part of a road warrior, I had to face the reality that I had a lot of work to do underneath. My initial plan was to get the Bronco home, do a little tune-up and then start driving. My main goal was to get the Bronco all the way up to Tuktoyaktuk in the Northwest Territories of Canada (a.k.a. the Arctic Circle). But my oil-blowing, all-time-4-wheel-drive transmission leaking, death-wobbling suspension Bronco needed a complete mechanical makeover before that had a chance of happening. And so it was that I began Project Road Warrior 2.0.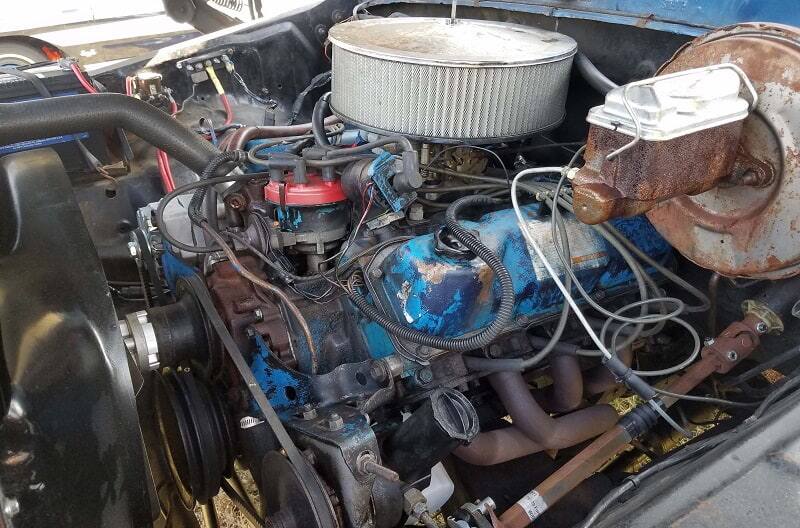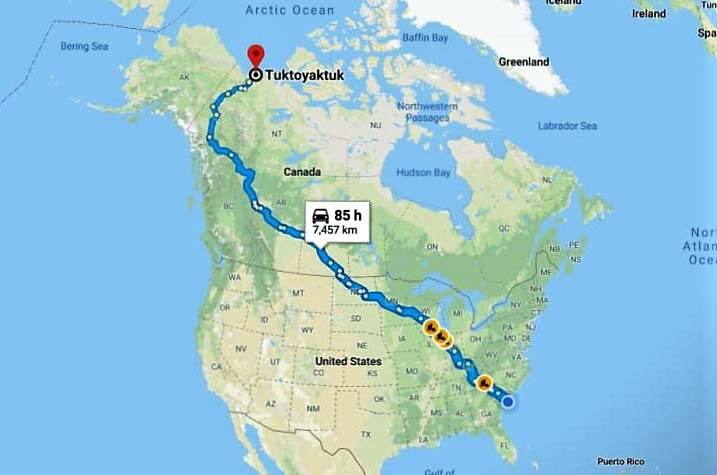 What I needed to do is to build a reliable road vehicle that could take on some harsh road conditions but still be highway friendly. When Summit Racing Equipment decided to join the project, I felt that Bronco excitement come back to me! The old 400-cid engine in the truck had been rode hard and put away wet, and wet it still was because of all the blow-by! What's worse, it could no longer make enough of the vacuum needed for good braking, plus it needed a lot of other work. But the more research I did, the more I realized that even with a complete Rebuild, the 400 would not be the best motor for my application, as gas mileage was also a major concern.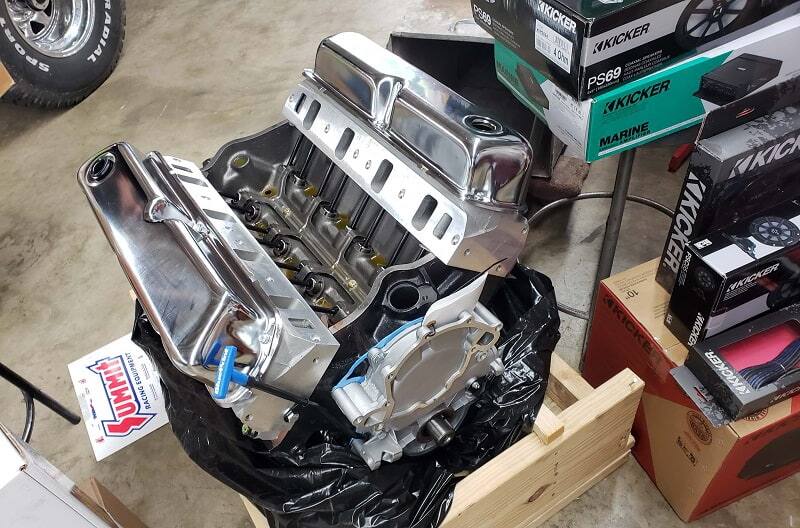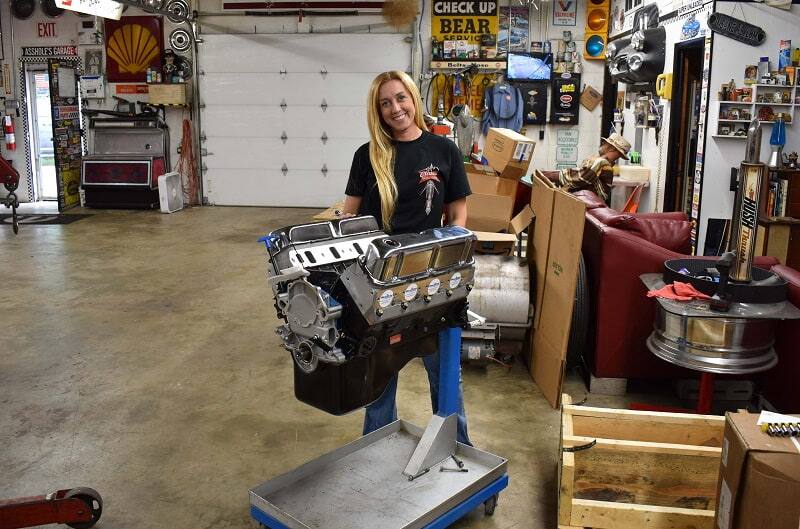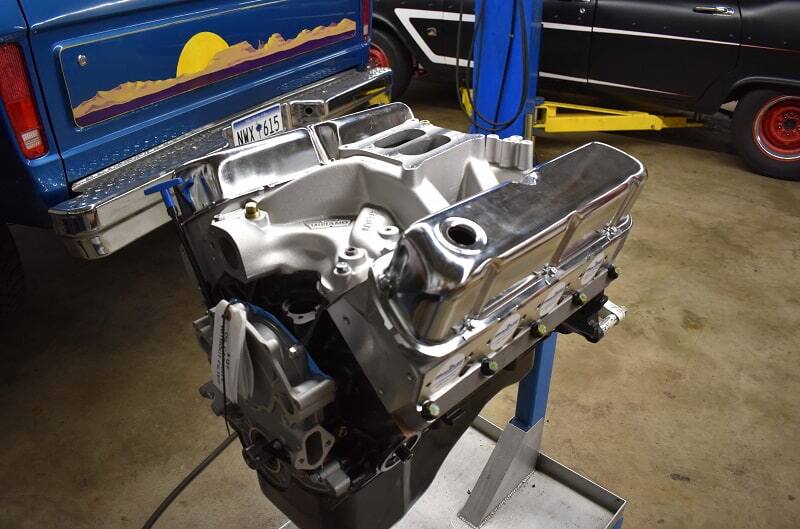 When I looked through Summit's engine options I kept going back to the 351 Windsor. I had one in my Mustang and still, to this day, regret selling it. I couldn't kill the thing. She would climb with power and keep on chugging along uphill (but was always grateful for the downhill stretches). So I decided on the 408 stroker motor – technically a small-block 351 Windsor crate motor supplied by Blueprint Engines. The specs showed it had enough torque and power to move my beast of a truck without going overboard so she would still be highway friendly -- especially when paired with overdrive from Gearstar's Ford AOD and the Holley Performance Sniper EFI.
I've always been a big fan of carburetors, especially doing what I do and driving to the middle of nowhere. All you need is fuel, air, and spark -- and worst-case scenario, you lay down 500 bucks and get a new one, which means swapping out four nuts later and you're rolling again. What can I say -- wires and computers scare me! But Holley swore this was an idiot-proof system. Because it sounded like it was made for me and would help get my Bronco to top 8 mpg, even I was willing to try the EFI system, figuring that maybe even an old dog could learn new tricks, right? Wrong. After a few bumps with the EFI, I decided to go with a carburetor. Some of us are made for the simple things, and to me computers are the devil. So instead of the Sniper EFI, it will be the Holley Avenger 670. Guess I'm an old dog that doesn't like new tricks!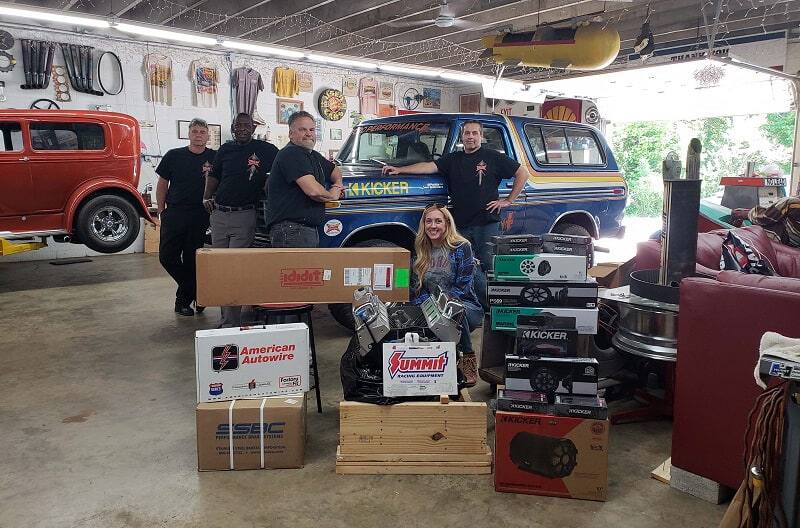 With the parts on their way from Summit to the Classic Speed and Custom shop in Charlotte, I had one last stop to make before the tear-down began. At the Bronco Super Celebration, I was lucky enough to meet Suzy and Michael Duff of James Duff Inc. I was still fighting the loose steering and caster issues even after returning the Bronco to stock ride height, but I managed to get them to take a look and they immediately offered suggestions to fix my problems. So back to Knoxville I went to James Duff Inc.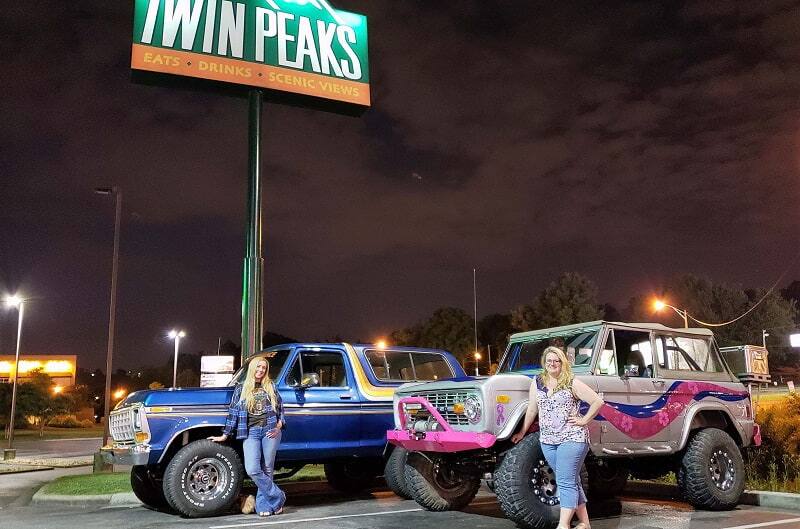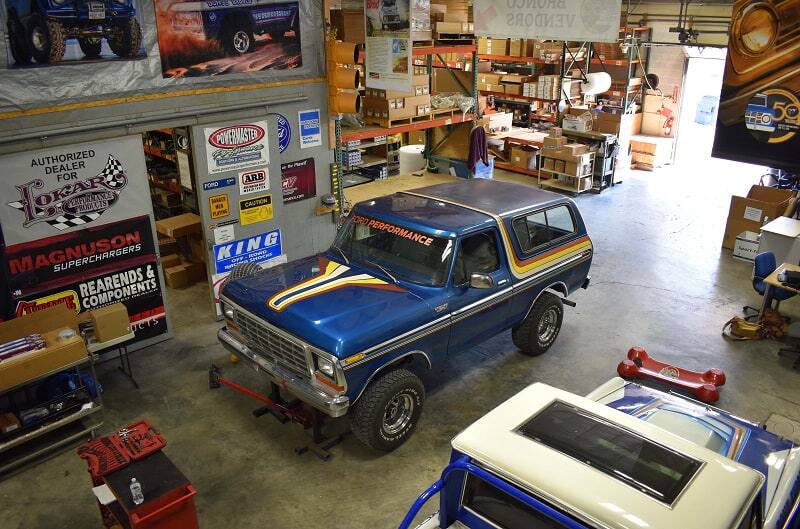 The previous owner had added a three-inch lift to my Bronco and another three-inch body lift kit. As someone who has been driving a lowered '65 Mustang for the last nine years, this was just way too much up in the air. National Parts Depot had everything I needed to switch out the springs and shocks back to stock height, but I quickly found there was another big difference between my Mustang and Bronco – and that was parts availability. Damn, was I ever spoiled with the Mustang! You can find any Mustang part imaginable and have it in your hands usually within a day or two. But a '78 Bronco? Not so much.

Now I know why the 1978-79 Broncos are known as "the bastard years." Most parts places don't stock many parts or just skip them all-together and go right to 1980 parts. My radius arms were in rough shape and after paying an arm-and-a-leg for a "new, refurbished" set, I ended up with four sad, rusty-looking arms. I managed to use one of the "new, refurbished" ones and an original one and now my chances of them snapping off and having me die in a crash went down from 99 percent to perhaps 50 percent!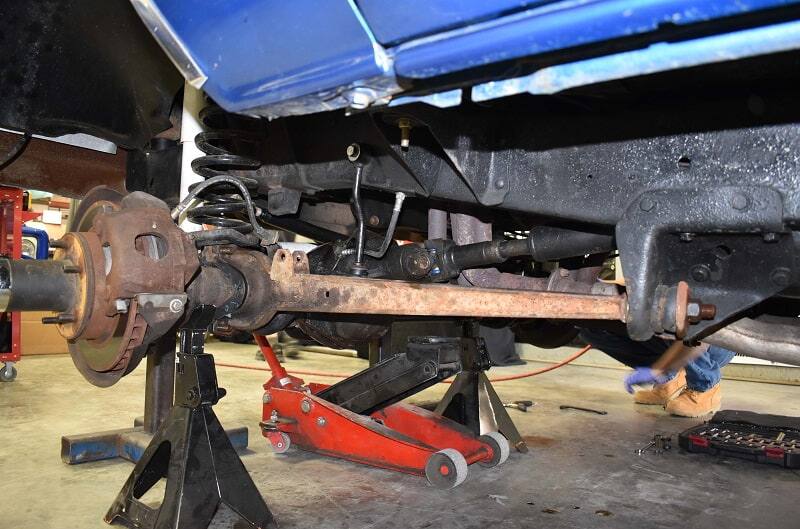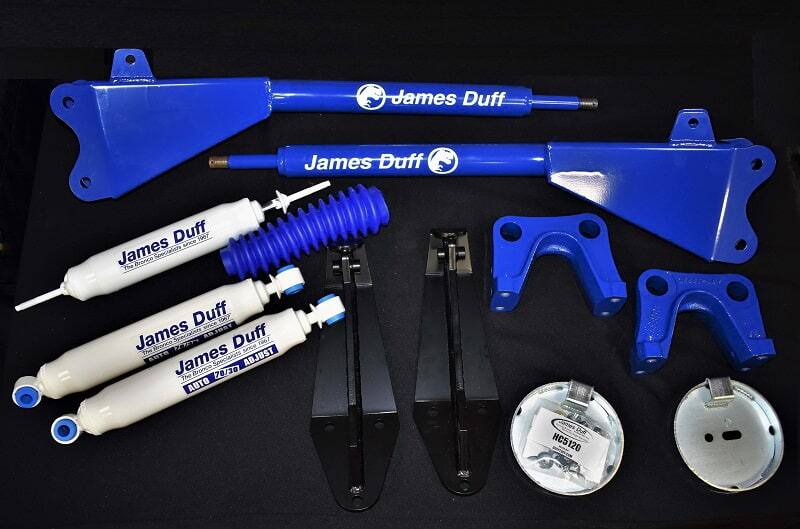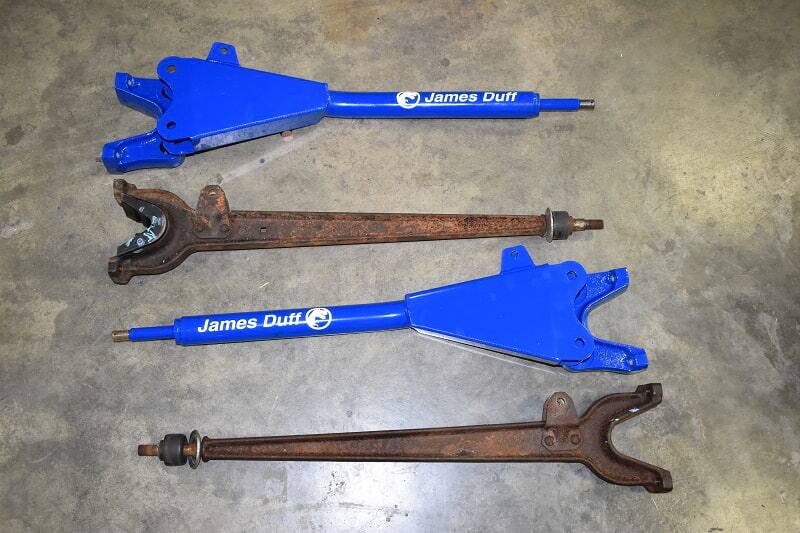 And then came James Duff Inc. They actually offer new radius arms for people like me, who want big tires and a great ride but no lift. At first, we discussed their long arms that are made more for off-roading, but after hearing my plans, Michael Duff knew the T-Rex arms were better suited for my application. And I'm sure that was tough for him, considering he's used to lifting so many Broncos that he has the nickname "Monster Mike!"

The arms we chose have 4.25 degrees of caster built in, so you don't just have to rely on the bushings. Caster, for those of you who don't know, is what helps return your wheel to center after a turn. Just think about an annoying shopping cart at the grocery store – you know the one that you fight up and down the aisles wanting to go its own way? That's a caster issue, and it multiples greatly in a 4,500-pound
Truck like my '78 Bronco. Getting the setting correct can also greatly affect the drivability of anything with wheels, but James Duff Inc. got mine dialed in perfectly. Combined with their shock stabilizer, I was going straight down the road back to Charlotte to officially begin my Project Road Warrior 2.0.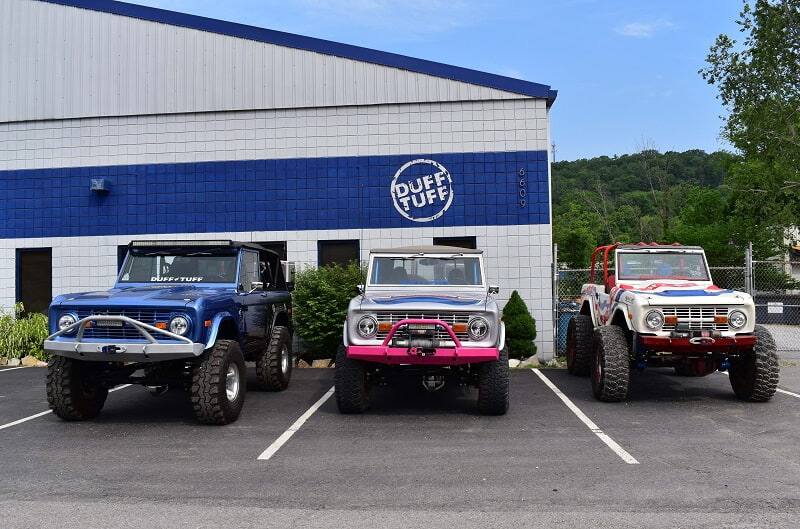 I now am looking forward to seeing the Bronco transform into a true Road Warrior with help from my friends at Classic Speed and Custom, Summit Racing, Kicker Audio Performance, National Parts Depot, Holley Performance, Gearstar Transmissions, James Duff Inc., Eddie Motorsports, Old Air Products, Procar by Scat, Classic Instruments, General Tire, Ididit, Griffin, Torco, AGR Performance, and Optima Batteries. Check back with me on the build here on FordPerformance.com before we take the Bronco on the ultimate test drive to the Arctic Circle!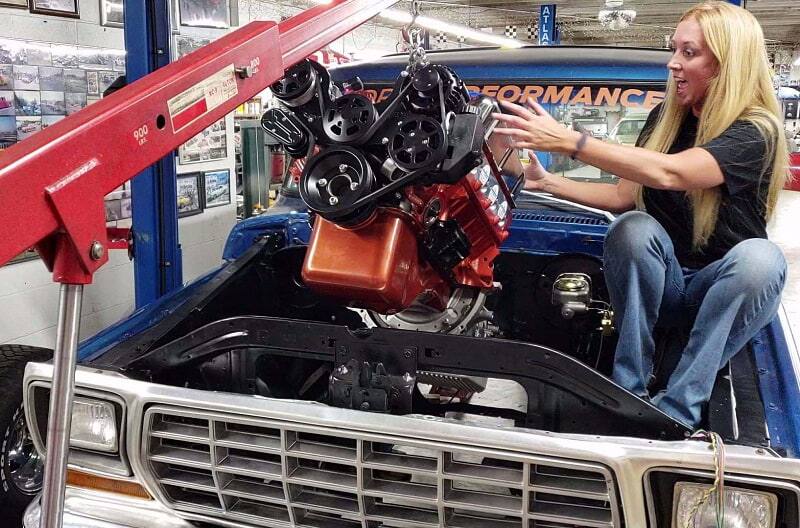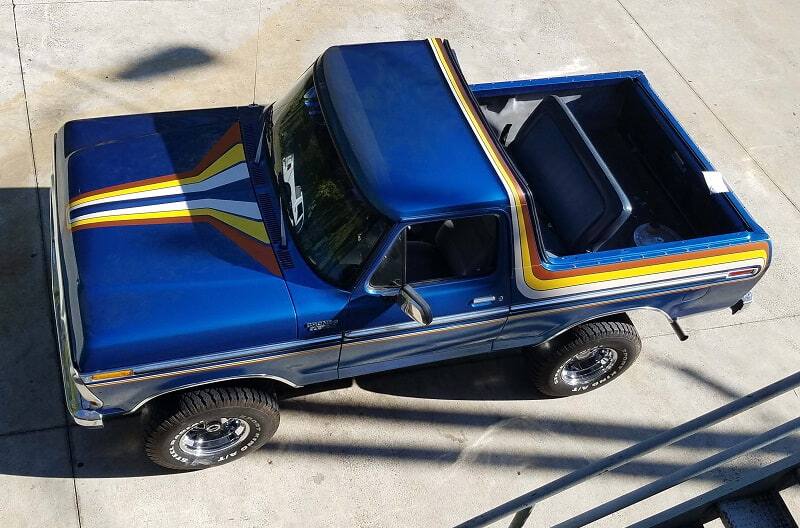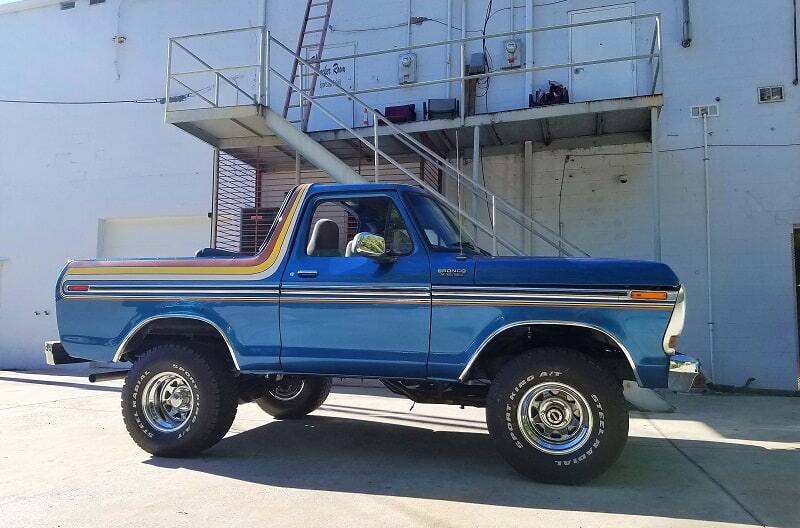 FORD PERFORMANCE PHOTOS COURTESY TEAM MUSTANG GIRLS / COURTNEY BARBER