DEARBORN, Mich. - There are many, many personal Mustang and Shelby stories out there, but what began for me as an infatuation with a Shelby Mustang coupe has turned into an almost spiritual 30-year experience. That's because the car known as "Little Red' has brought car people together, made things happen at Ford, and is still creating far-reaching interest for Ford enthusiasts.
On Friday, August 17, 2018, the Mustang and Shelby enthusiast world was shocked to learn that the long-lost 1967 Shelby experimental coupe called "Little Red" still existed! Barrett-Jackson's Craig Jackson made the breaking-news announcement during a special Team Shelby banquet at the Henry Ford Museum in Dearborn, held the night before Detroit's famed Woodward Dream Cruise. The general public got to see the car at the Mustang Owners Club of Southeastern Michigan's annual "Mustang Memories" show, held at the Ford World Headquarters the Sunday after the big cruise. (See the video here: https://www.youtube.com/watch?v=vPQ5puY6BtY&t=93s.

For over 50 years, it had been assumed that Little Red had been sent to the crusher by managers at Ford, since it was an experimental prototype car that was on loan to Shelby American. But it was recently discovered in a Texas field where it had been sitting for the past 20 years, right in the middle of "Tornado Alley!" When it I had first heard that it was found, I immediately reflected on my own Mustang experience, and just how much this car had impacted the Mustang, Shelby Mustang and the California Special Mustang's history.
Finding Little Red had become a tremendous personal quest by Craig Jackson and his support team, which has now dedicated itself to uncover as much information as possible on this historically significant prototype. An online outreach has been set up called Shelbyprototypecoupes.com for anyone wishing to share any information on Little Red (and/or is sister car, he Green Hornet). After news of this important find was posted by all of the major automotive news outlets on that weekend in August, much new information has already come forth that will greatly help in piecing together Little Red's storied heritage.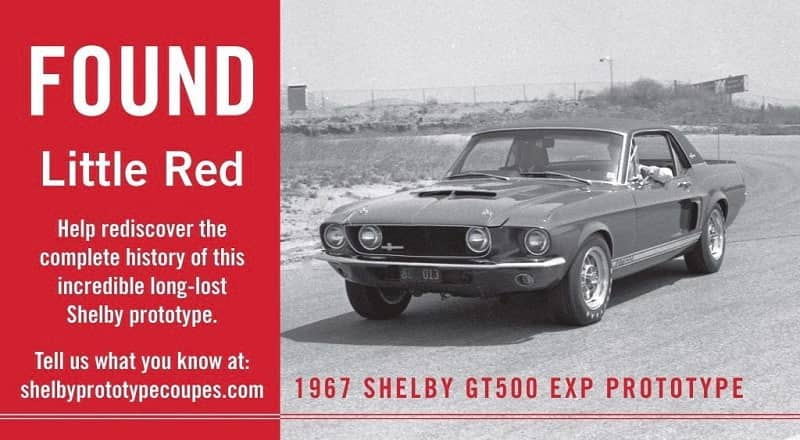 I remember the first time I saw "Little Red." It was in 1981, and I was visiting a classic car dealership in Monterey, California. On their bookshelf was the "Shelby American Guide" compiled by Rick Kopec (of the Shelby American Automobile Club, better known as SAAC). On page 87, I spotted a photo of a unique Shelby Mustang coupe named "Little Red," which was a supercharged gentleman's coupe with a Lincoln-inspired roof.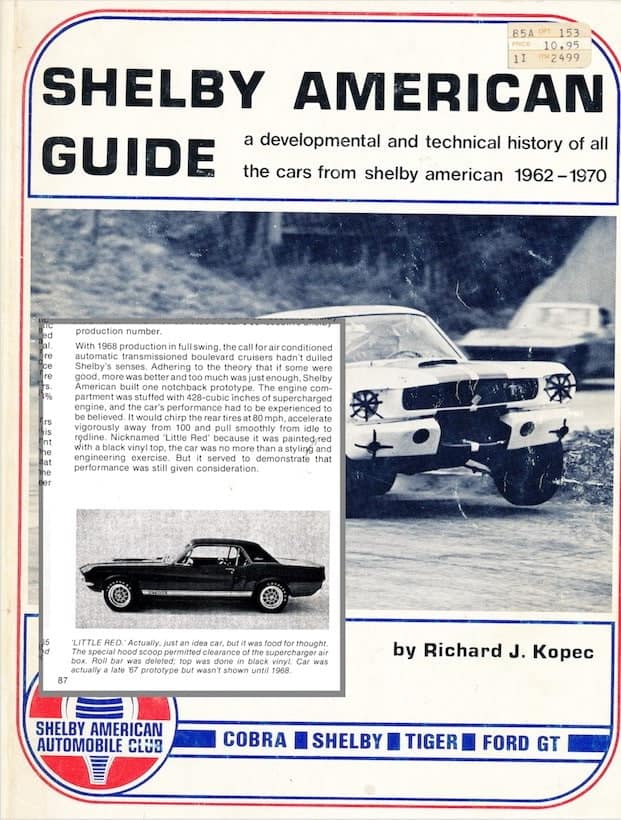 It wouldn't be until 1985 that I begin writing the history of the 1968 GT/California Special. As an owner of a 1968 GT/CS since 1974, I felt it necessary to tell this story and establish a registry. My research included interviews with Shelby engineer Fred Goodell (Carroll Shelby's chief engineer from 1966 to 1970) whom I spoke with many times in the late 1980s and 90's. At Ford, Fred worked on on dream cars like the infamous 1955 Ford Mystere and Lincoln Futura, as well as many experimental Ford engines. At Shelby he was instrumental in the development of the 1967 Shelby "Super Snake," the GT-40 and J-Car programs. From our many phone calls, he told me the story of how Little Red was originally built for him as his personal Shelby.
About the same time, I found Lee S. Grey, who was Ford's Los Angeles District Manager in the late 1960s. Lee was the central figure in the California-only production of the GT/CS (and the High Country Special in Colorado). Lee saw Little Red at a local Los Angeles car show, and since he knew Carroll, asked if he could borrow it for a week to test public reaction as a possible production Mustang exclusively for Southern California. At a Ford dealers meeting during the summer of 1967, Lee showed Little Red to Ford Executive Vice-President Lee Iacocca, who gave the green light to proceed with Grey's idea. Iacocca believed in new ideas, including regional, limited-edition Fords and Mustangs.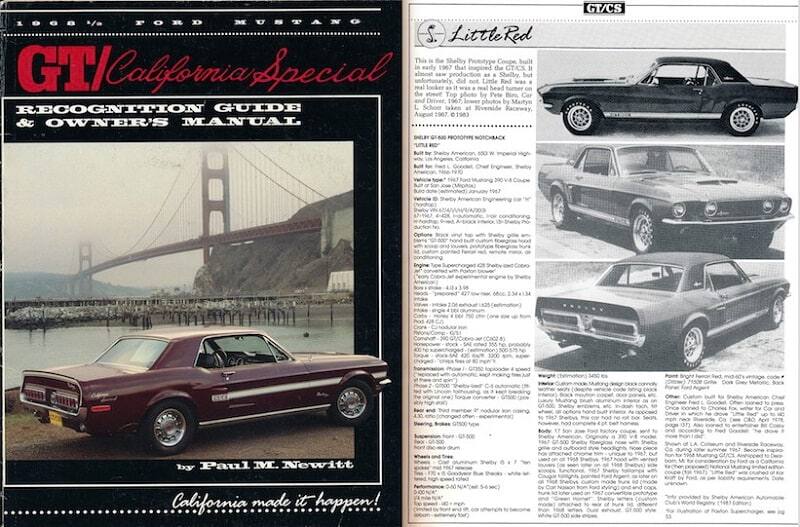 In 1988, I self-published the "GT/California Special Recognition Guide & Owner's Manual," and in 2011, I wrote and published the authoritative hardbound, second edition on the 1968 GT/California Special, with four pages dedicated to Little Red (as seen below):


Here's how Little Red came to be:
On August 18, 1966, the San Jose plant had just begun production of the '67 Mustang. The plant received a special order from Shelby American in Los Angeles for three Mustangs: one fastback, one coupe, and one convertible, all to be painted Candyapple Red, to become production prototypes for development into possible Shelby product lines.

The coupe received a special order 428 Police Interceptor engine with a medium-riser 2x4 intake. Also on the build sheet was a black deluxe interior, air conditioning, tinted glass, and remote mirror. As an in-house Shelby project, it was supervised by Shelby Chief Engineer Fred Goodell, with work beginning immediately on the modifications to the drivetrain, interior and exterior. It quickly became Fred's favorite Shelby.
Little Red would become a one-of-a-kind experimental notchback that was created to answer the question of whether Shelby should include a coupe in its product lineup for 1967 and '68. Shelby liked to combine new engineering with new styling ideas all into one vehicle, and this was where SoCal hot-rodding could meet Ford engineering and production. Shelby had a history of experimentation, combining high performance with great, innovative style, and Little Red was no exception. After all, these were the same people at Shelby's LAX plant that were building GT-40s at the same time to run at Le Mans. It was appropriately nicknamed "Little Red" for its metaphoric big-block heart and bright red color (presumably as a poke at Ferrari).
This custom-built notchback would become the personal vehicle of Shelby's Goodell. On paper is was listed as "GT-EXP" for "GT-Experimental." Little Red's official Shelby VIN was (67411H900131); "H" in the code meaning ""hardtop."
Little Red began its prototype career as a test bed for some "tire shredding" Shelby technology. The 390 V-8 and C-6 automatic were immediately pulled and replaced with a 427 FE big-block powerplant. The challenge was to combine high performance that would meet the new 1968 emissions requirements for the "big car" Ford sedans. By early January 1967, a Paxton-supercharger was added. This was an early experiment to consider the Paxton as an option for the GT-500, although, as Fred had once stated in an interview: ". . . if you punched it, it would just sit there and spin the tires uncontrollably."
Not long after that, Carroll called Fred and wanted to see how Little Red's Paxton-supercharged 428 would work with a "Shelbyized" C-6, then as a test-bed for the 428 4-barrell, and 428 supercharged engines. There was so much power from all that big-block torque that it broke the C-6 tail-housing, resulting to a swap to a cast-iron Lincoln tail-housing. Over time, several short-term engine and transmission combinations were tried on Little Red. As Fred's personal vehicle, he would test these drivetrain combinations while driving to and from work at Shelby.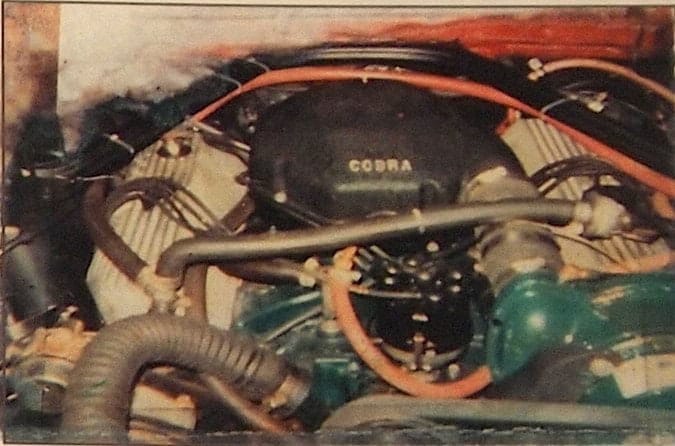 Ford designers and craftsmen Chuck McHose and Pete Stacy had just finished the styling mods with input from Carroll Shelby to create bold, new styling for the '67 Shelby Mustang. For Little Red, the fiberglass shop had just finished a new hand-formed decklid, initially created by Ford designer Carl Nasson for the convertible, that would also fit on the coupe. A hand-formed prototype hood with a larger hood scoop and (prototype) custom louvers was also readied for Little Red (which later saw production for the '67 Shelby).
Once the fiberglass was installed, the stock Candyapple Red paint was sprayed with what Fred called a "a bright Ferrari Red," (which was actually Ford's "Calypso Coral," a very close match to the brighter, stock 1967 Ferrari Red color). This bright red was the most striking feature on Little Red, along with the application of a formal black vinyl top with GT-500 emblems and side trim. A new rear power antenna was installed by Fred himself (to the amazement of fellow Ford engineers who said "it couldn't be done"), and an early type '67 grille was installed with the center-mounted high beam lights.
A complete production '67 Shelby GT-500 suspension was installed, along with 15x7-inch Kelsey-Hayes Magstar wheels with Goodyear white-lettered tires. To handle the power generated by prototype big-blocks, a nodular 9-inch third member was installed with 4:30 gears, secured with Shelby-issue GT-500 heavy duty rear leaf springs.
The stock '67 Mustang deluxe interior was customized with the addition of black Connolly leather seats and black sheep-skin-based mouton carpet. Aircraft-type three-inch GT-350R-type lap belts were also used. A production '67 Shelby three-spoke wood-rimmed steering wheel added just the right finishing touch to the interior.
On the road, Little Red proved out the theory that "too much was just enough" by pulling smoothly from idle to redline, chirping the tires at 80 mph, and then accelerating vigorously from 100 mph! This is best told by Fred's story of driving to work in Little Red one morning, and as he came up to a stoplight, he encountered "the fastest Firebird in Venice." As Fred explains…. "Little Red and the Firebird started out at 20 mph, then all of a sudden the supercharger cut in, and I walked off and left him. We came to the next light and raced again, and the same thing happened. The Firebird driver followed me into the Shelby American parking lot and was extremely mad." Fred told him: "just keep racing Firebirds . . . just don't race any Shelbys."
More than one driver had the privilege to test drive Little Red, and of course, it was Carroll Shelby that handed the keys to Car & Driver writer Charles Fox. It was on Friday, October 27th, 1967, while they were attending the Los Angeles Times Grand Prix at Riverside Raceway. Fox wrote about his adventure in the story "Shelby's Folly," (as Little Red) powered by a supercharged 427. Fox drove 60 miles to Indio along California's Highway 60, approaching speeds of 140 mph "going up the hill." Fox added that the only limitation on speed was "the front end lift!" Upon his return, a fleet of County Sheriff's cars with overheating radiators had chased him back to his hotel, where he was immediately arrested. The arresting cops then had to see what was under the hood, since they'd never seen a car go that fast on Highway 60 – EVER!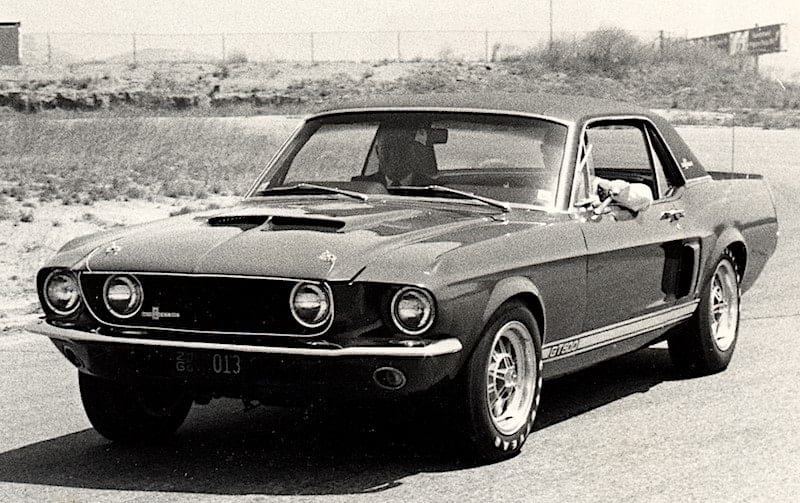 Little Red appeared at the 1967 Los Angeles Auto Show, which is where the press and public could see for the first time what a Shelby coupe might look like. The response was great, and in the November '67 issue of Car and Drive a photo of Little Red was published with the request that asked readers to contact Shelby if they liked it. By July 1967, the '68 Shelby designs had been firmed-up for production, so Little Red had to look like part of the new 1968 Shelby family for the Ford Press Event at Riverside in August of 1967 (where Martyn L. Schorr took these now-famous photos). Noted SoCal automotive painter and customizer Sonny Fee was asked to completely upgrade Little Red to make it look more like its brand-new 1968 siblings.
The modifications included painting the taillight panel argent, adding (hand cut) SHELBY lettering to the rear of the decklid; changing the side striping to "GT-500" (from EXP-500); and changing the inboard-style grille lights to the outboard style. Bright aluminum metal-edge trim was added to resemble the grille openings on the '68 Shelbys. Since the '67 Shelby "Magstar" wheel was no longer available by then, they were switched out with 15x7-inch "Ten Spokes" (with the same Goodyear Speedway white-lettered tires). The only interior change was replacing the Shelby wood-rimmed steering wheel with a stock, deluxe black 1967 Mustang wheel that added a Shelby emblem into the center pad.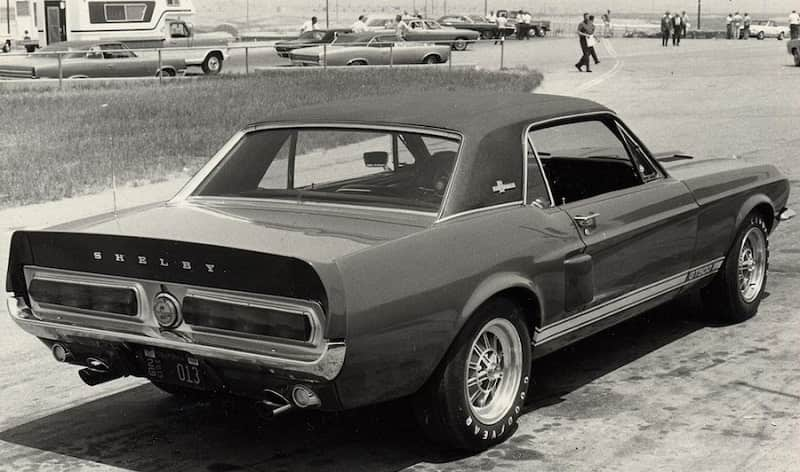 Ford shipping records showed that Little Red wasn't shipped to Dearborn until December 1967 (during the move to Shelby Automotive as part of Ford) for the production of the 1968 Shelby Mustangs. Carroll wanted to hang onto it for a little longer (and, in fact, he requested to have another one built for him). After Little Red arrived in Dearborn, it was delegated to become what one engineer called "a reluctant test mule," riding on steel wheels to test the 1969 Shelby sequential taillight system. When Little Red was at Shelby Automotive in 1969-70, it was a time of great experimentation, with new demands on styling as well as maintaining high performance that would meet new emissions standards. Other ongoing projects at Ford included the 1970-71 Mustang Mach 1, new experimental show cars, and the Ford dealer Performance Show – all that were happening at the same time.
According to Goodell, Little Red was thought to have been sent to the crusher after a stint at Kar Kraft in Brighton, Michigan, sometime in late 1970. But recent events have obviously proved otherwise, and many Shelby fans are relieved to know that it did, indeed, escape the crusher. Now that Little Red has been found, there will be a new chapter to write in the Little Red story. How Little Red surfaced after almost 50 years is a mystery in itself, but its reappearance is not unlike finding a lost love -- rekindling excitement that began back in the late 1960's. Many principals involved with the creation of Little Red are now gone, including Fred Goodell, Lee Grey, Carroll Shelby, and many others. They represented a great period of innovation and risk-taking; they created an artifact of Mustang history that today stands as a testament to that now-legendary period in the late 1960s at Shelby American.
The sad irony of this once proud prototype is to see the photo of Little Red as it sat in the Texas soil for 20 years. The amount of sheer luck in tracking this car down is quite astonishing, and the fact that so much of the car is still structurally sound after all these years outdoors is quite a testament to Ford's product durability!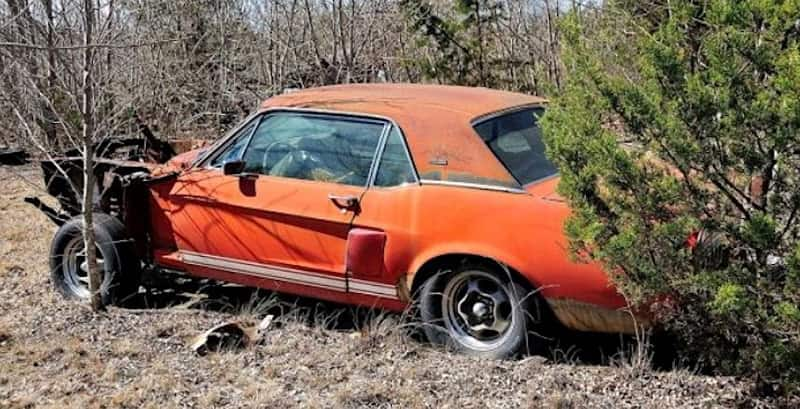 Little Red brought people together in many different ways. As a Shelby Mustang coupe, it caught the eyes of Lee Iacocca, Henry Ford II, Donald Frey, and others in the Ford marketing and styling departments – so much so that it inspired the development of a Shelby Coupe named "Mustang 350," then the GT/SC (Sport Coupe), and would eventually inspire the original limited-edition Mustang GT/California Special! This was the car that bridged Shelby American "imagination" at LAX to Shelby Automotive production, in Ionia, Michigan.
Finding Little Red also rekindles the idea of Carroll Shelby's "can-do" attitude of innovation, in a raw, progressive way that only Shelby could do. It went from being one of Carroll's seat-of-the-pants crazy ideas to a car that Fred Goodell's engineering would make happen. As an engineering prototype, Little Red included many "firsts:" a Paxton Supercharger on a 428 in a Mustang; decklid fiberglass for a coupe; a trunk-mounted power antenna; adding hood louvers for extra cooling (later appearing on all 1968 Shelby hoods); and hardened C-6 Ford-O-Matic "Shelbyized" transmission housings for other Shelbys and Cobra 427s.
So what makes finding Little Red like taking a ride in a Time Machine? Well, it transports all of us from 2018 back to 1967. Sure, superchargers on Mustangs today are commonplace, but it was a great experiment in 1968. For me personally, Little Red influenced my part in the Mustang GT California Special world through 36 years of GT/CS ownership, and through my GT/CS Registry and books as part of the Shelby Mustang legacy. Looking at this rediscovered prototype, it's no stretch to say that "there's a little bit of Little Red in every GT/CS – right up to the 2019 Mustang GT/CS!"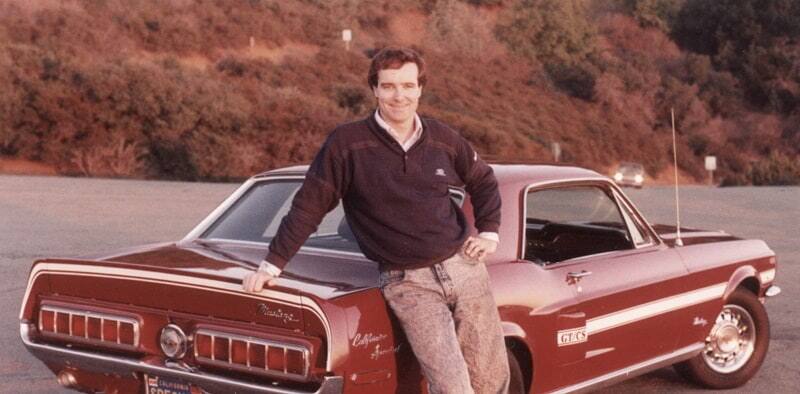 PHOTOS USED WITH PERMISSION TO FORD PERFORMANCE / COURTESY PAUL NEWITT
(Original Little Red photos Courtesy of Martyn L. Schorr, Pete Biro, and Craig Jackson)
------------------------
CONTENT REPRINTED WITH SPECIAL PERMISSION TO FORD PERFORMANCE / FROM "GT/CS Recognition Guide and Owner's Manual" -- Copyright 2011 by Paul M. Newitt.
Editor's Note:
For detailed specifications and more information on Little Red (and the Green Hornet story), see "1968 GT/CS Recognition Guide and Owner's Manual," by Paul M. Newitt. Visit www.FordShowParts.com or go to www.pmndesigns.com for ordering information. Only a very few collector copies are still available. (Also see: "The Ballad of Little Red" by Paul M. Newitt; "The Shelby American," Winter 2010 Issue, pp. 67-72.)