Carlisle, Pa. – Spring has brought the usual rain and mud to south-central Pennsylvania, but on this day along Diane Drive, the main drag through the Carlisle Fairgrounds, the road is dry – so dry, in fact, that our feet kick up a little dust as we walk along the roadside. And we think of the great western prairie as we gaze out over a herd of wild Mustangs parked 12 rows deep.

As they have in years past, Mustangs dominate the 24th annual Carlisle Ford Nationals, accounting for probably more than three-quarters of the 3,000 (or so) Ford Motor Company vehicles on display this first Saturday in June. But the Ford commitment to "Total Performance" predated the Mustang and encompasses so much more, from big-block '60s Galaxies to the latest Ford GT. And all of it is here, once every year at Carlisle. Surely this is a bucket-list event for any fan of the Blue Oval.
And that's maybe even more so in 2018, an auspicious year for Ford-related anniversaries. It's been 50 years since Steve McQueen and his menacingly custom Mustang chased the mobsters to a fiery death in Bullitt; and over at the Ford Performance tent they're celebrating with the 2019 Bullitt Mustang, a leather-lined, electronic-suspension limited-edition featuring the familiar Dark Highland Green paint, a pony-free mesh grille and black-painted aluminum wheels.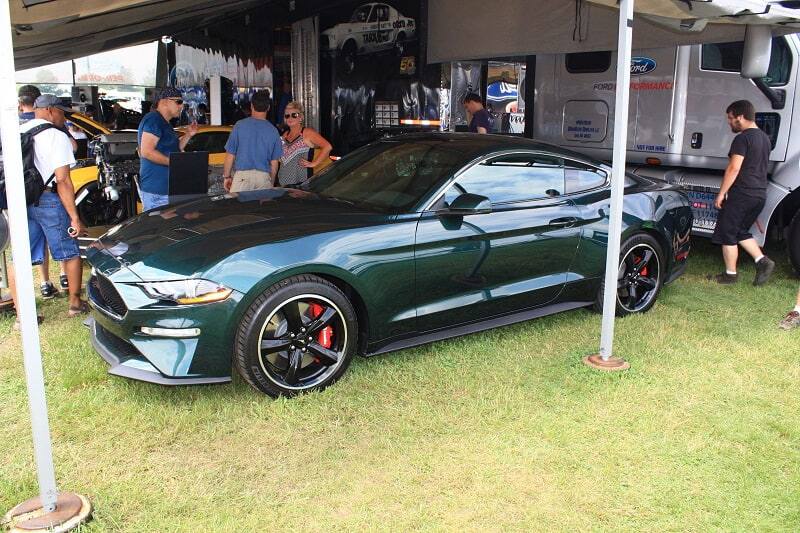 It's been 50 years also since the first Shelby GT500KR, and since the debut of the 428 Cobra Jet V-8 that powered it. A year later the 428CJ found its way into the Mustang Mach 1, the Mercury Cougar Eliminator and the mid-size Ford Torino, and this last nameplate is now celebrating its own semi-centennial. Our favorite example at Carlisle is a black '72 Gran Torino Sport fastback, a clone in all but color of the Clint Eastwood movie car – and another fire-breathing reminder of the totality of Total Performance.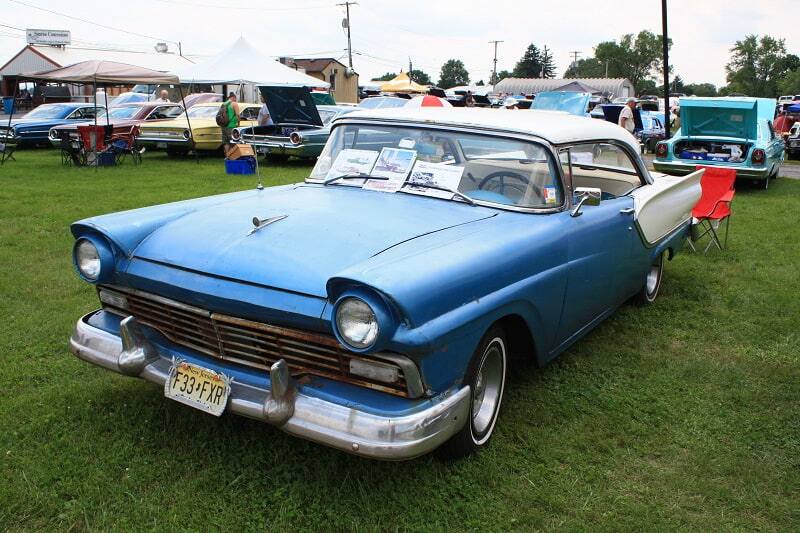 Now trucks are enjoying their turn. "Three-quarters of our business this year is going to be trucks," reported Shelby American President Gary Patterson, who presented the latest Super Snake F-150 at the fairgrounds grandstand at 11 a.m. Saturday morning – assisted by "Shelby Girls" Bexx Russ and Madeline Bright. In addition to its characteristic Shelby stripes, the supercharged, 750-horsepower Super Snake sports a unique engine, hood, grille, rocker panels and wheels, plus a custom interior tastefully trimmed with carbon fiber.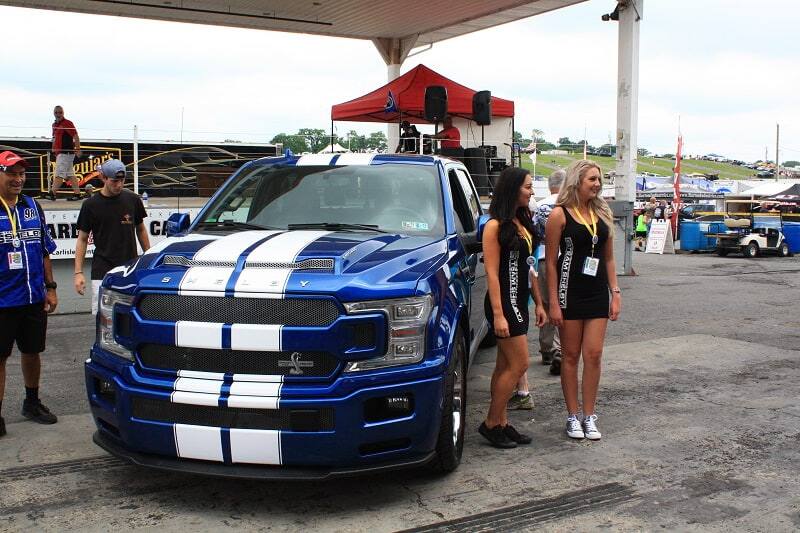 Of course, Shelby American is still very much in the Mustang business. On Friday, Patterson had presented the latest "wide-body" Super Snake Mustang. "He let us walk around it, kick the tires, and get inside," recounted Bill Caron, director of Team Shelby's Northeast Region. "And then he made it disappear in cloud of tire smoke pretty quick."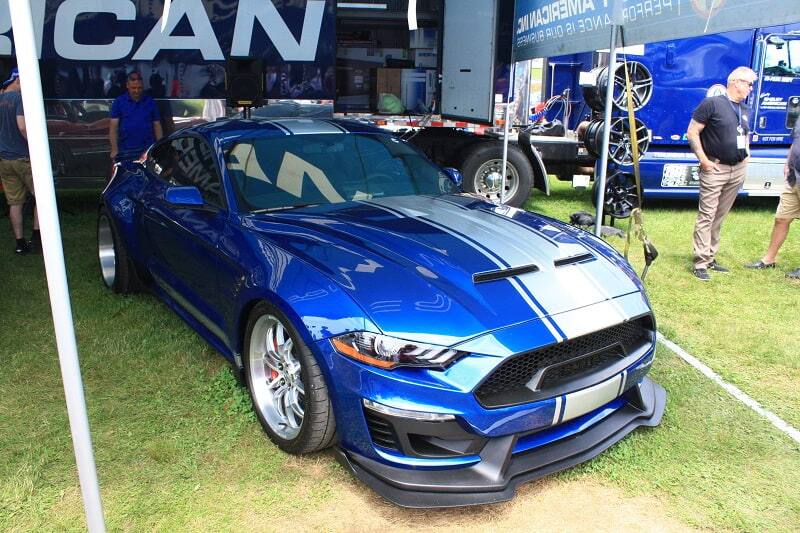 According to Caron, Team Shelby is a subsidiary of Shelby American and, as "the club that Carroll started," one of two enthusiast organizations officially recognized by the manufacturer. (The Shelby American Automobile Club, or SAAC, is the other.) We met up with Team Shelby in their capacious white tent in the Green Show Field, just north of the grandstand. Once inside, it was impossible not to notice the blue Daytona Coupe, a "tribute" owned and enthusiastically raced by "Daytona Don" Wells of Hyde Park, New York. In 1998, Wells purchased CSX-7072, a 1987-model "continuation" roadster and, with input from Pete Brock, the Simeone Foundation, and Carroll himself, had it re-bodied as a coupe. ("Just like the original," Caron beamed.) Its 289cid engine produces about 400 horsepower, which is probably a bit more than the original.

Team Shelby had gathered for their own, annual Grand National event, beginning the previous Wednesday at Obsession Performance in Kearneysville, West Virginia. They rented the shop for the afternoon and dyno'd some 15 cars, including David Small's '07 Super Snake, which set a new shop record of 630 horsepower. On Thursday they drove about a dozen miles south to Summit Point Motorsports Park for a full day of track time on the 2.1-mile road course.

"We had classes from novice to expert," Caron recalled. "We even added a touring class," where two or three drivers, each with an instructor in their own car, followed another instructor's car around the course. The lead car "let them get up to speed on the straights, so they could feel the speed, but then slowed them down for the corners so no one got in over their head. And some of the people who did that in the morning upgraded to the novice class in the afternoon." Gary Patterson was there, too, offering rides in the latest Super Snakes, "showing people what those cars can really do."

At dinner Thursday night, in the grand ballroom of the Hollywood Casino in Charles Town, "Daytona Don" presented a program on his tour of east-coast racing venues, including Lime Rock and Pocono as well as Summit Point and Daytona. Friday brought a 100-mile poker run from West Virginia to Pennsylvania, including a stop at Little Round Top in Gettysburg, and a "grand entrance" parade into the Carlisle Fairgrounds. Team activities climaxed with dinner at the Carlisle Expo Center, and a competitive car show ("Cars Under the Stars") where winners were voted in eight categories, and Jeff Duncan's 2013 GT500 was named Best of Show.

And Team Shelby is just one of more than 50 clubs represented at Carlisle – and National Parts Depot has generously sponsored participant-judged awards for each of them. Not surprisingly, most of the judged classes are devoted to some variety of Mustang. The seminal '64-70 models shine in their prominent placement on Diane Drive, but in sheer numbers, they represent a relatively small percentage of the total breed. The big, Bunkie Knudsen-influenced '71-73's have drawn a small following, and the oft-maligned Mustang II's a significantly larger one. But far more numerous are the Fox-bodies and the SN-95's; and with the S197 class the numbers seem to explode. Add in the S550's, and probably half of the Mustangs here were built after 2004. There are even Red, Blue, and Yellow Mustang Registries, which admit all model years and compete to turn out the most cars. (As you might expect, Red won.)

Just as the Mustangs thin out toward the early years, so do the Fords in general. Probably the oldest vehicle at Carlisle – certainly the oldest we found – was Scott Allison's pristine 1930 Model A pickup. Another prewar treasure was the '47 four-door sedan of Timothy and Wendy Beachley, its vintage V-8 fortified with a high-performance manifold and heads, its interior mostly original, its paintwork an oddly postal red-white-and-blue matte. It was perhaps not the prettiest car on the field, but refreshingly true to the tradition of home-grown hot rodding. Robert Stevens' flame-licked '60 Thunderbird was an undeniable eye-catcher, as was Robert Jackson's Pro Touring-style '55 Fairlane.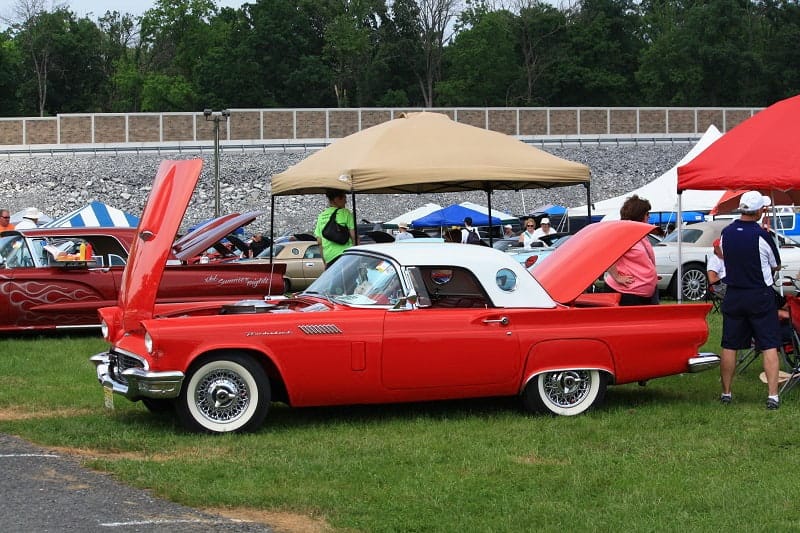 The Lincoln-Mercury Division certainly brought out its fans, and Edsels probably outnumbered any other Ford product from the Fifties. Among a dozen or so Mark VII and Mark VIII Lincolns were two very professionally converted Mark VIII convertibles. (Why didn't Dearborn do that?) We counted at least 25 '67-70 Cougars, a few big cats from '71-73, a couple of front-drive models and three MN12's. Just a few rows away lurked the largest lineup of Fox-body Capris that probably anyone has seen since 1986. And then, parked up on a ridge, we counted more than twice as many Merkur XR4Ti's as there are characters in that vastly unappreciated model's alphanumeric moniker.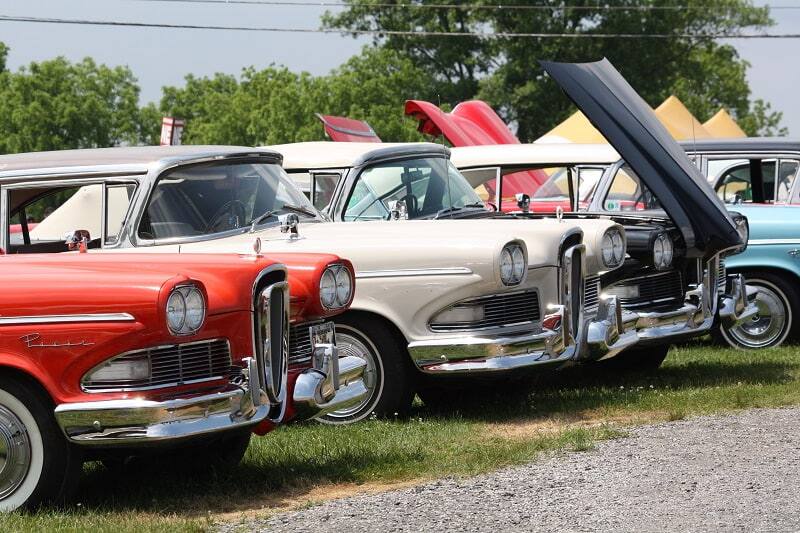 A handful of Comets shared Yellow Field space with the Falcons. Ever seen a six-cylinder '60 Falcon Rat Rod? Michael Pentz brought one. Mavericks roamed their own pasture, still wearing their 70s-funkadelic colors, including Anti-Establish Mint and Thanks Vermillion.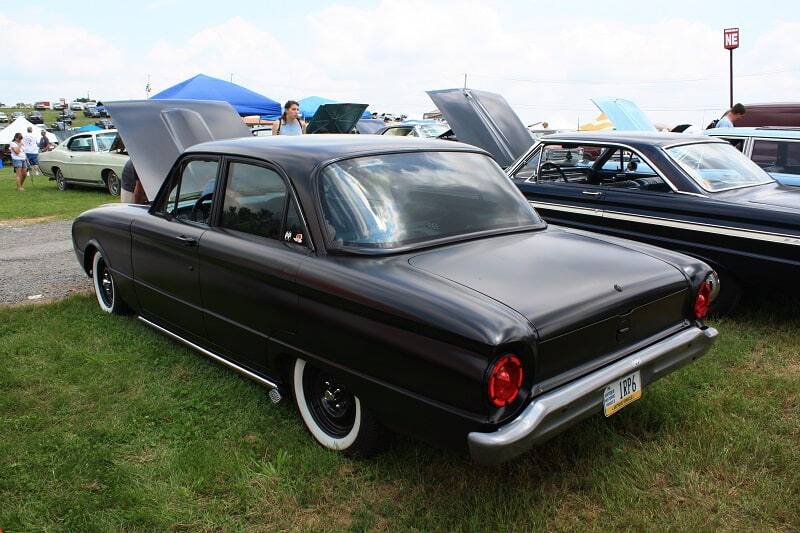 And there was more – so much more. In addition to the Bullitt and California Special Mustangs, Ford exhibited the new Ranger, Edge ST and the spectacular Ford GT – the kind of close-up previews usually glimpsed only at big-city auto shows. The whole affair culminated in a 400-car cruise to nearby downtown Carlisle on Saturday night, followed Sunday by a parade of award winners, and an autocross at the Gateway Classic Mustang Autocross Track.
Wasn't it the appropriately named Belinda Carlisle who sang Blue Heaven is a Place on Earth? Could she possibly have meant Blue Oval Heaven – right here on the dry earth of Carlisle, Pennsylvania? That's why clubs love holding their vehicle anniversaries here, giving the event an ever-changing appeal each year. And that's exactly why the Carlisle Ford Nationals remains a bucket-list event for any Blue Oval fan. We'll see you there next June!
FORD PERFORMANCE PHOTOS / COURTESY JOHN F. KATZ