CLINTON, Ill. – After Mike Haller got a phone call earlier this year informing him that his was the winning entry in the "Ford Performance Rally Call Sweepstakes," he could barely believe it. "You've just won a brand-new 2018 Ford Mustang EcoBoost Premium of your choosing!" he was told via a conference call from the Ford Performance headquarters in Allen Park, Michigan. It took just a few minutes for the Ford Performance Rally Call contest manager to verify Haller's entry information and explain how he could claim his prize. And Haller said that he, in turn, wasted no time heading to the Ford dealer of his choice to custom-order his new Mustang.
Haller, an over-the-road truck driver from Pekin, Illinois, took a 30-minute trip to Anderson Ford in nearby Clinton, Illinois, to select the exact options and color he wanted after being randomly chosen from the tens of thousands of entries to win the Mustang. Haller sat with Anderson Ford of Clinton's Sales Manager, Dean Carlson, back in late January and went through the Mustang Order Guide to make sure this new vehicle would be optioned to his exact specifications.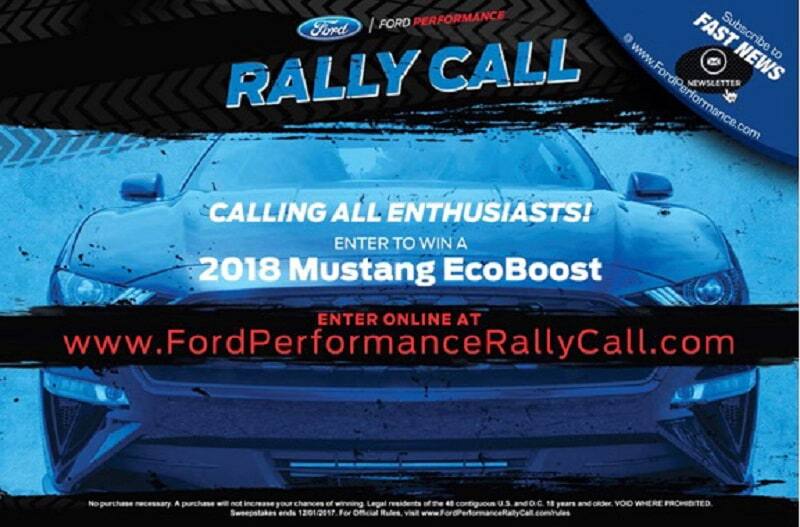 Last summer, Ford Performance had urged enthusiasts from all across the country to "answer the rally call" by indicating which Ford vehicle or club they most associated with while entering to win a new Mustang EcoBoost of their own choosing. While nearly every collectible Ford vehicle and club was represented in the contest menu, the top choice was the Ford Mustang.
Haller spotted the Rally Call contest in a "Fast News from Ford Performance" e-newsletter that is e-mailed to nearly a quarter-million opt-ins every Thursday. (You can opt-in to receive "Fast News" by visiting www.FordPerformance.com and clicking on the "Newsletter" envelope icon near the top-right of the website's home page.) After clicking on the Rally Call promotion in the email newsletter, Haller said it only took a few seconds to fill out the entry and complete his online submission . . . and then he just forgot about it after that because he figured that the odds are likely too great for him to actually win such a contest.
"Really? . . . That's Awesome!" Haller said after being told on the phone that he had won. "I want you guys to know that I'm a big Ford and Mustang guy . . . and I am really going to enjoy this car!"
When asked if he had previously owned a Mustang, Haller replied, "Oh, yes! There are three of them in my family right now: I own a 2007 Ford Shelby GT500, my wife has a 2009 Roush 429 Mustang, and my son drives a 2004 Mustang Mach 1. My dad has driven Ford trucks his whole life – we're all true-blue Ford people!"

With Ford's Annual "5.0 Fever" Sweepstakes already giving away a V-8 powered Mustang GT, last year's Ford Performance Rally Call Mustang giveaway contest had zeroed-in on the EcoBoost model in the Mustang lineup as the prize. The high-tech 2018 Mustang EcoBoost is powered by Ford's 2.3L turbocharged I-4 that spins out a remarkable 310 horsepower and can make up to 350 pounds-feet of torque (on 93 octane premium fuel) – all while delivering an EPA rating of around 30 mpg highway! While the Rally Call contest allowed for a fully optioned EcoBoost Premium Fastback to max out at $42,000, Haller asked if he could instead order a Convertible model if he agreed to pay any overage. When Ford agreed, Haller and Anderson Ford spec'd-out a 2018 EcoBoost Premium Convertible in Race Red exterior paint and 6-way power seats trimmed in Showstopper Red with a $36,100 MSRP.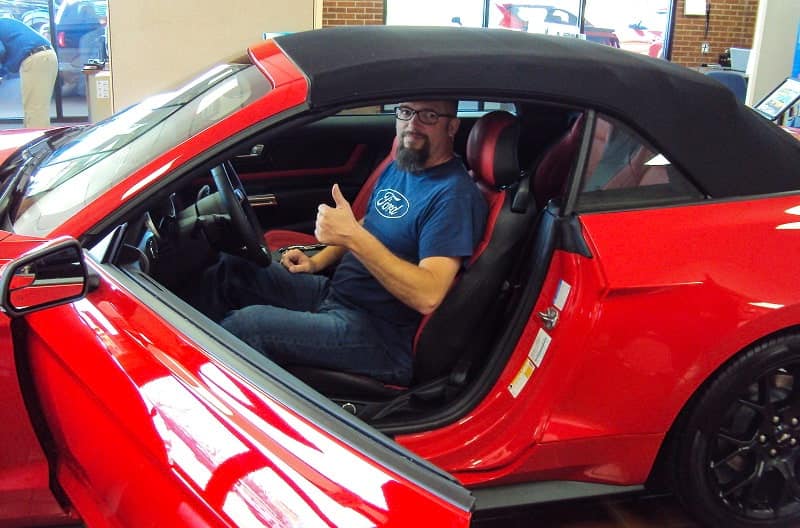 Haller then chose to add Equipment Group 201A, which included the Premier Trim Accent Group for a myriad of upgraded interior touches, plus premium floormats with accent stitching and a Voice-Activated Touch-Screen Navigation System, all for $2,200. He then opted for Ford's all-new 10-speed SelectShift® automatic transmission ($1,595). The 10-speed architecture, featuring Ford-patented technology, is designed for optimum ratio progression and efficiency while offering more accurate, quicker upshift and downshift capability. It also allows added control through the use of steering wheel-mounted shift paddles. Finally, he went for the EcoBoost Performance Package for an additional $2,495, which includes unique chassis tuning, 255/40R-19 summer-only tires, 19-inch X 9-inch low-gloss Ebony Black-painted aluminum wheels, a TORSEN® limited-slip 3.55-ratio differential, improved braking performance and more.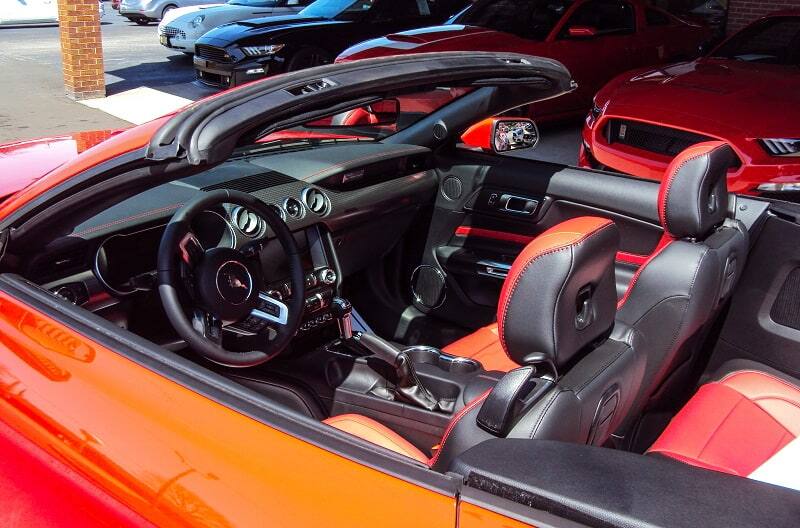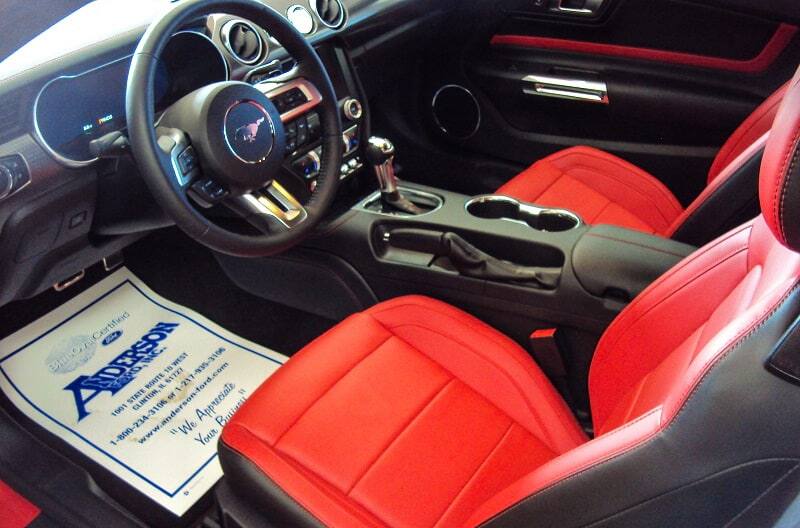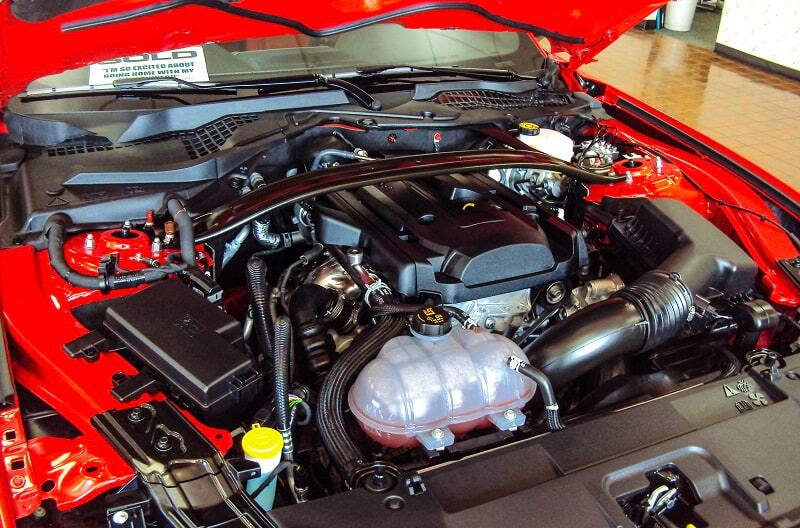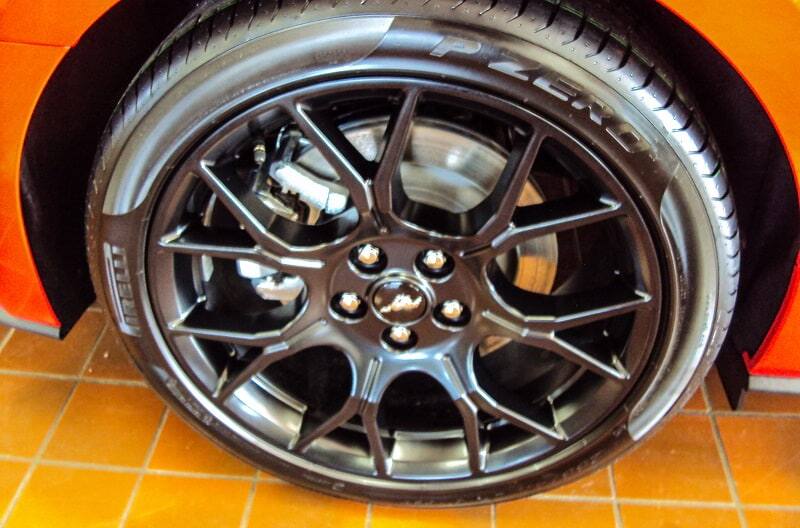 After the standard $900 Destination and Delivery charge, the fully-loaded car's price tag topped out at $43,290 before taxes, title and dealer prep (which is the responsibility of the winner). That's some $1,300 over what was covered by the contest but "well worth the extra," as Haller put it. His only regret? "Too bad that the Performance Package forced a 'Spoiler' Delete' to appear on the order, because I really like that rear decklid spoiler," Haller admitted.
When Carlson submitted the order for this new droptop to be built in the dead of winter, Haller was met with the news from the Mustang factory in Flat Rock, Michigan, that all Mustang Convertible vehicle allocation was exhausted through the month of February. Turned out that the earliest the order could be scheduled for production at the Flat Rock Assembly Plant (FRAP) would be in March of 2018. Haller's convertible was finally built in early March and was eventually shipped to Anderson Ford of Clinton by the end of the month. But then came another wait for the contest paperwork to clear and for scheduling a Ford Performance staffer to come down from Dearborn to Clinton to be present for an official "Key Handoff" ceremony.
Despite having to shuffle the car's delivery date a couple of times due to previously scheduled commitments, a day was finally set that Ford Performance, principals at Anderson Ford, Mike Haller and even the local media in Clinton could all agree upon. It's perhaps most appropriate that Haller was awarded the keys to his new Mustang EcoBoost Convertible on Tuesday, April 17th 2018 – which also happened to be National Mustang Day. That's the day when owners from around the world mark the official birthday of the Mustang back on April 17th 1964.
"We're are excited for Mike Haller and know he will enjoy his new 2018 Mustang EcoBoost Convertible," Jim Owens, Enthusiasts Marketing Manager for Ford Performance, said in a statement. "It's great that our Ford Performance Rally Call contest winner already knows and loves the Mustang – we're sure he'll appreciate what this new 2018 model delivers."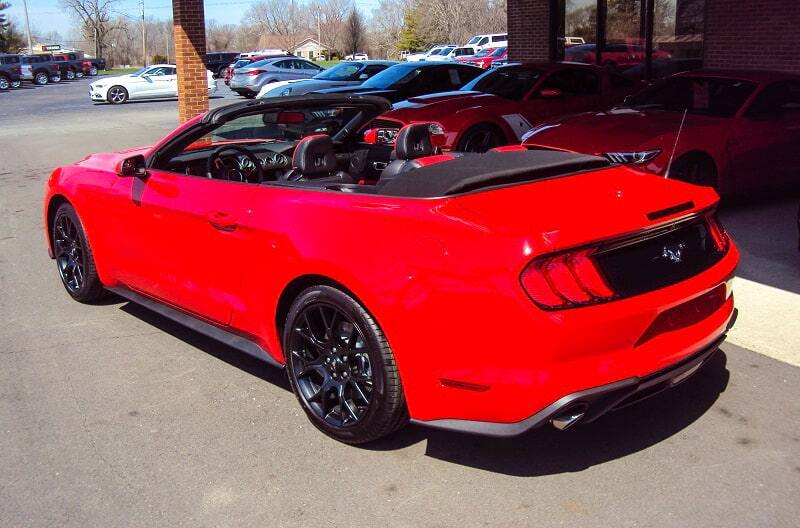 While countless Mustang people were out celebrating on National Mustang Day, Mike Haller arrived at Anderson Ford of Clinton early that morning to find his gleaming Race Red Convertible waiting for him in the showroom. A group of smiling people were also there to witness the keys being turned over to the lucky contest winner. In attendance was Ford Performance Enthusiast Communications Manager John Clor and dealer principal Randy Anderson, as well as reporters and photographers from a couple of area newspapers and even a local radio station. After Carlson handled the all the paperwork, Haller was given the Mustang's key fob and was asked to drive his prize out of the showroom.
Haller put the top down and pulled his new ride out in front of the Anderson Ford dealership, where he posed for photos and handled the media interviews like a pro. After the key-awarding ceremony was over, Haller was given a commemorative Ford Performance Rally Call Sweepstakes poster as a keepsake, and was then invited to head over to the Anderson Ford Dyno Building. There, Randy Anderson showed off his Coyote V-8 powered Cobra replica and his big-block F-1 Ford pickup restomod. A good half-hour of car talk followed.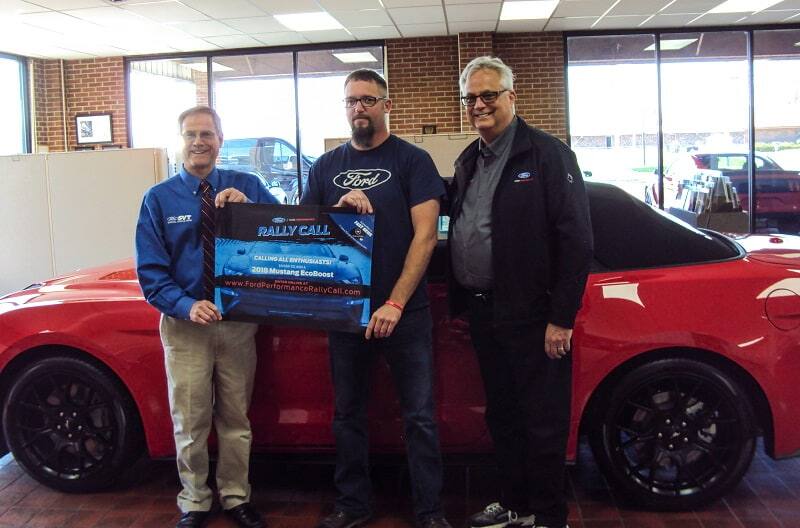 "I wanted to order and take delivery of the Mustang at Anderson Ford because I know the people here understand the performance business," Haller said, "even though I have dealers closer to my home. I've known about Anderson Ford since the SVT days, and I like the fact that they know how to treat enthusiast customers."
Randy Anderson was very happy that the contest winner not only was a Mustang enthusiast, but also that he chose his dealership. "We're honored that Mike wanted to get the car through us," Anderson said. "It was very cool to play a role in this Ford Performance contest after being so involved with performance Fords over the years, and Ford Racing Parts, and Ford SVT. We've already invited Mike – and Ford Performance – to our annual car show later this year!"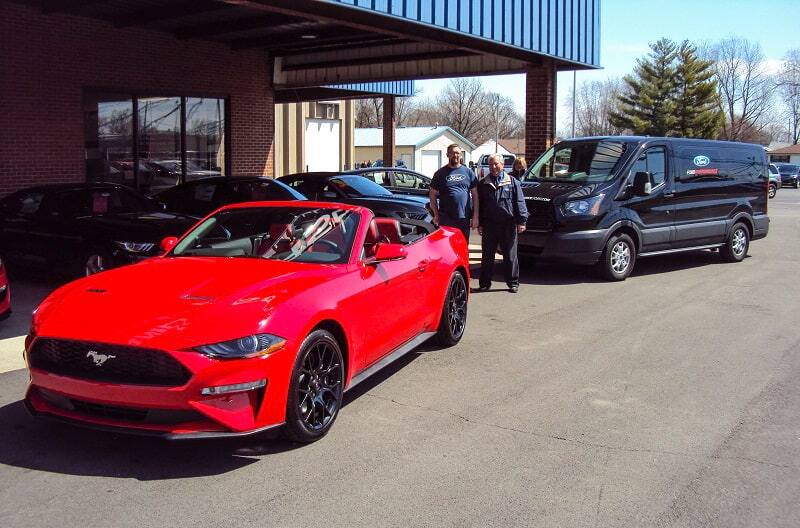 When asked if he was going to continue driving his Shelby GT500 to car shows and cruise-ins or use his new convertible, Haller said, "While I'll still take my GT500 to shows once and a while, I'm definitely going to do a lot of cruising in my new EcoBoost convertible – no question!"
"I'll tell you one thing," Haller continued, "this changes the way I feel about entering contests. I enter them from time to time, but never hear about anyone winning. I guess this proves that you can't just wish you could win a contest for new Mustang – you have to actually enter!

FORD PERFORMANCE PHOTOS / COURTESY JOHN M. CLOR