MYRTLE BEACH, S.C. – I've been struggling to write this story because of fear -- the fear that I bought an old truck that I'm scared to drive. But I'm happy to report I've now conquered my fear, or at least stomped it to the floorboard enough to ignore. It's still not like driving my 1965 Mustang, but she'll get there.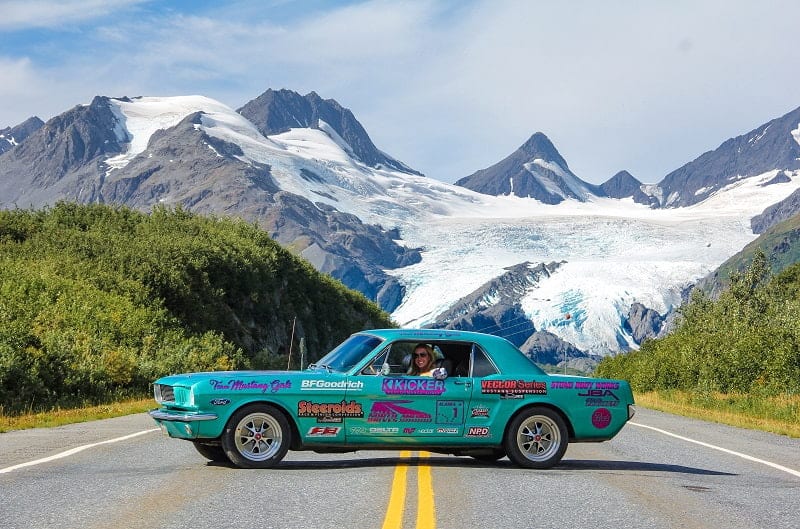 My desire for a truck began after our trip in my Mustang to Alaska. The Denali Highway was a challenge for us; the 100-mile road that was meant for ATV's and off-road vehicles almost broke my car in half during the 12-hour long trek. I actually started looking at ranch wagons but quickly realized that would only accomplish half of my goal of finding just the right vehicle for that kind of drive. On our journey to the last frontier we had passed by so many places that would've been perfect spots to pull over and camp for the night. But between our luggage and tools in the back, the Mustang's front seats would only recline about six inches. So my goal for our 2018 journey to the Top of the World, a.k.a. Tuktoyaktuk (an Artic community in Canada's Northwest Territories), was to find something that could handle the newly finished 85-mile gravel road leading up to the Arctic Ocean. My search for a 1978-79 Ford Bronco began.
I knew right away that was the right Bronco generation for me. The earlier years were too small and expensive (read "collectible") for my wallet, and I love the boxy look and the late '70s Freewheelin' package that Ford offered back in the day. Pushed back from the original release date of 1974 because of the oil crisis, the redesigned 1978-79 Bronco was the biggest and beefiest Bronco Ford made to date, riding on the big Ford F-Series chassis with 402 cubes of V-8 power – and no, I did not type that wrong. Even though they call it the "400," this 6.6-liter actually displaces 402 cubic inches (you can thank me next time you play Ford trivia). This second-generation Bronco was only offered for 2 years before Ford moved it to a shorter, lighter version of the F-150 platform, which makes second-gens rather rare and unique. And it doesn't hurt that the truck will always be older than me. After nine years of driving a '65 Mustang, I know how many people will come up and comment on a classic's age; that can get rough on a girl!
So my hunt for a good 1978-79 Bronco began. Every morning I would get up and search internet ads from EBay to Craigslist and back again. I was looking for one from out west to avoid the "gifts" that come with having salt on the roads and moisture in the air. To be honest, I found a few that were within a hundred miles of home in South Carolina, but because of that I wrote them off. I wanted back the adventure that I had nine years ago, hopping on a plane with only a one-way ticket and a dream about owning a Mustang.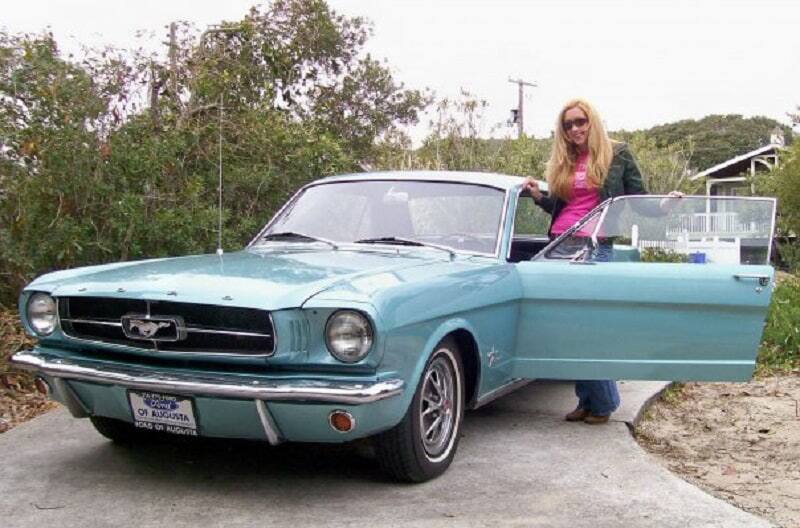 I had not a clue in the world about owning and driving a classic car; the first stop sign I encountered I passed by five feet, despite the brake pedal being pushed hard to the floor, but nothing could stop me -- certainly not quickly anyway.
Well this time around I know ignorance is bliss; this time I knew better – well, at least just enough to constantly expect the worst with every clunk and bump of the truck. But more about that fun later, because this next thing is important.
Buyers, beware of scammers! I cannot say this enough after what almost happened to me. I found my dream Bronco in the state of Washington. I talked to the owner several times about driving it back to South Carolina. He assured me it ran and drove just as good as it looked. Now that I think about it, considering how it actually looked he may not have been lying. I had my flight booked for the next day and my plan was to take an Uber from the airport to the Bronco owner's home and then start my journey East. That night, a friend of mine from Rally North America got some free time and was able to go check it out for me. (Huge shout-out here to Nic Schureman and his father for definitely saving me a wasted plane ride and it's scary to think what else . . . He told me it looked like the pictures had been retouched with an Instagram app and the Bronco wouldn't stay running for more than 30 seconds. Heartbroken but still alive, I canceled my flight and started hunting again.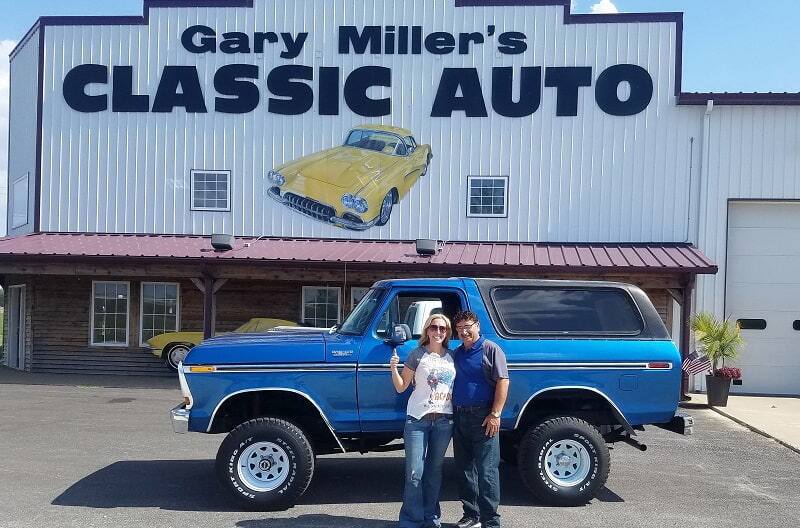 That's when I came across Gary Miller's Classic Auto in El Paso, Illinois. Honestly I don't remember which rabbit hole got me to his web site but somehow I found it – and there it was: a topless, blue beauty begging me to take her home! Gary was great and after my experience with the scammer I was very grateful or dealing with someone like him. My Bronco wasn't the only Ford there at Classic Auto; he definitely has an eye for the classics. National Parts Depot sent ahead of my arrival the weatherstripping needed to put on the hardtop, which had not been on the truck since it was painted years earlier. (Another great sign, that it was actually kept in a garage.) Gary was able to get Albert, his friend from the local Ford dealership, to put on the top before I arrived. At first I tried to convince him that I could do it when I got there, until I found out it's about 300 pounds, and now that I've done it with the help of three guys I understand why he laughed at my suggestion. It sure ain't easy!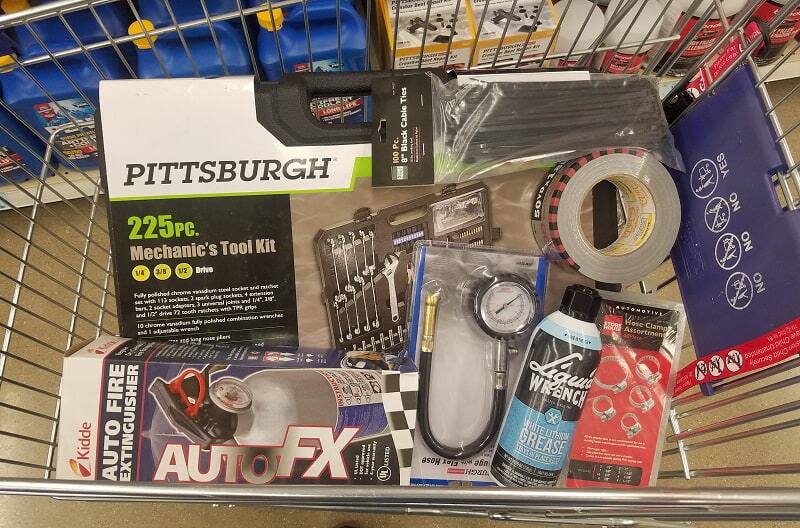 When I first saw my Bronco in person, I was astounded by the size. I didn't realize it had both a suspension lift and a body lift -- and it was huge. I'm 5-foot-7, and rarely feel short or tiny, but standing next to this thing I felt like I was a little kid again. It was massive, and I couldn't climb in fast enough. The night before, I had stopped at Harbor Freight for some trip essentials (duct tape, zip ties, lithium grease, hose clamps and a basic tool set). So I loaded up my supplies and started my 932-mile journey home.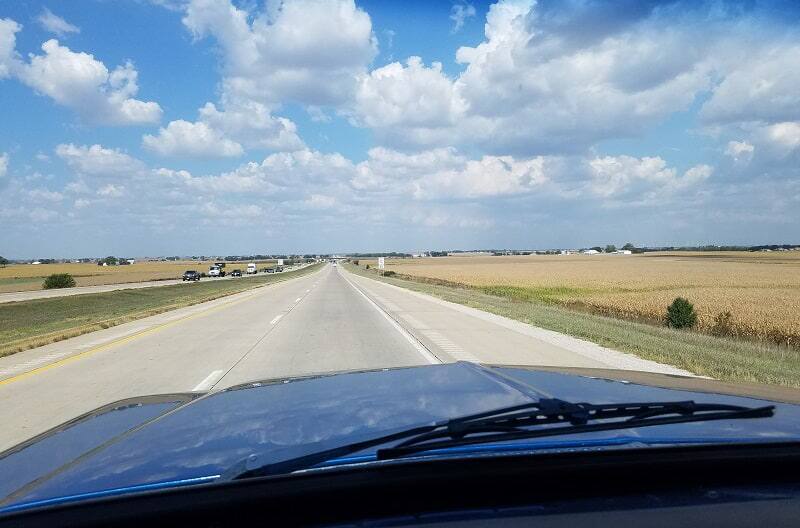 I was able to talk to the previous owner before I left Illinois and asked him about the Bronco's "happy speed" on the highway. He responded with a chuckle, saying that he normally just drove around town at 35 mph. And I quickly learned why: The steering was incredibly loose, even for an old truck. And the "death wobble" was a fun surprise that popped up every once and a while. I had heard about it from a friend with a Jeep but had never experienced it myself. Let me tell you, it's terrifying! All of a sudden everything is shaking, and you feel completely helpless behind the wheel. The only way to make the death wobble stop is to drop the speed down below 35 mph. That's when I mentally made a note to add new bushings to the needed parts list.
As I finally got used to the Bronco's quirks, it began to get dark. I turned on the headlights and kept rolling – but soon realized my visibility was going downhill. I'd like to blame it on the fact that I turned on the lights at dusk and never really saw them full force in complete darkness, but not once did I think about the alternator being a problem. Not until I had checked into a hotel and went to start the Bronco to move it to a parking spot anyway.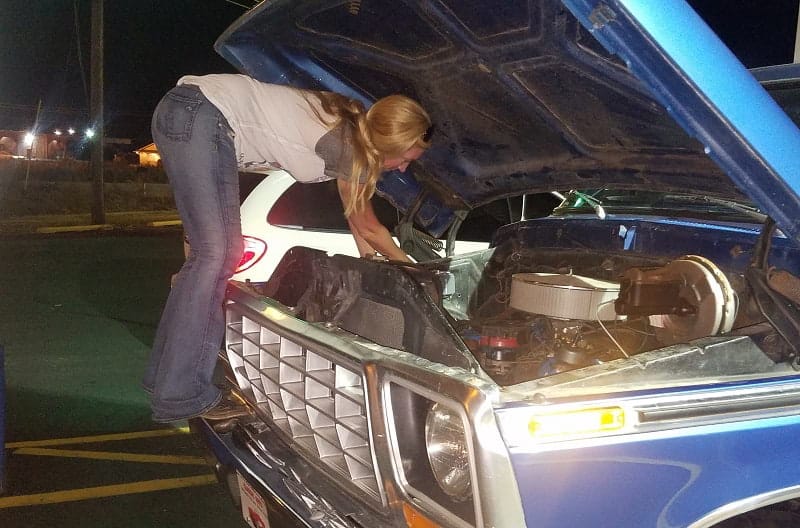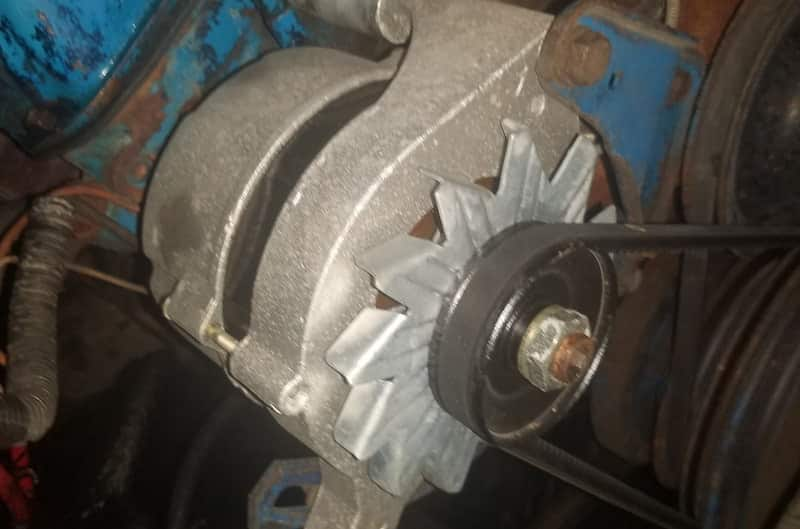 There is was – that fun "click, click, click" we all hate to hear. Immediately I realized that my eyes had not been playing tricks on me: my lights WERE actually getting dim! The Bronco was dead, but I could not have asked for a better place for it to happen. It was now completely dark but I had stopped under the lighted awning of the hotel and there was a parts store right down the road. I quickly found a couple of guys to give me a ride to the store and called AAA for a jump because no one at the hotel had any jumper cables and I knew I would need one once I switched out the alternator. I quickly got my parts but as we pulled back into the hotel we saw the AAA truck had also arrived.

Now here's something for you guys to take note: If you have AAA, which I highly recommend and get as a Christmas present every year from my mother, don't always go straight for calling for the tow truck. I learned that if you just ask for a jump, they send a smart guy in a pickup truck. He had a test light and quickly learned that my assumption of a bad alternator was wrong. A wire had actually come loose on the voltage regulator. He was able to shove it back in and the alternator began charging again. After 30 minutes of leaving the Bronco running to get some juice back in the battery, I parked the beast 254 miles further than I started that morning and hit the bed for a night's sleep.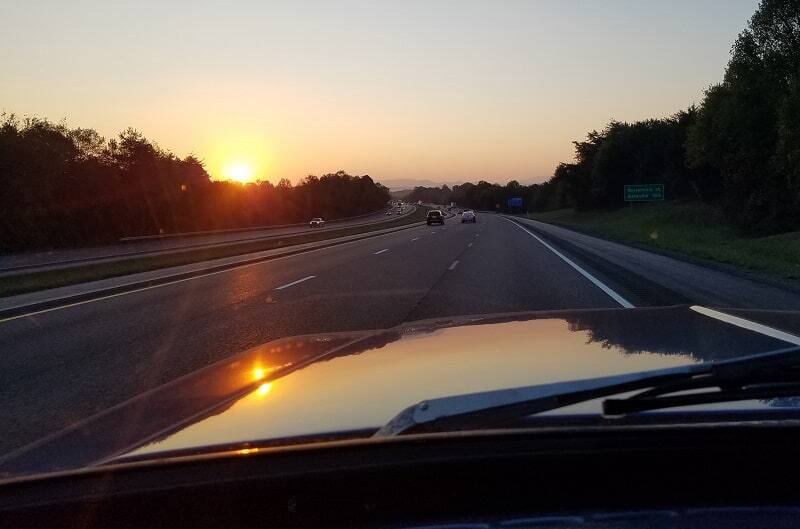 Well at least that was the plan. Around 4 a.m., I felt some sort of bug land on my face in the darkness and I managed to dive off the front of the bed into the bureau before even getting my eyes open. Turns out the bug was not alone, and I could not get on the road fast enough. The combination of early morning darkness, crappy headlights, questionable defrost and dense fog made the first leg of the day a short one. I literally made it across the street to a McDonald's and camped out under the Golden Arches until the sun popped up.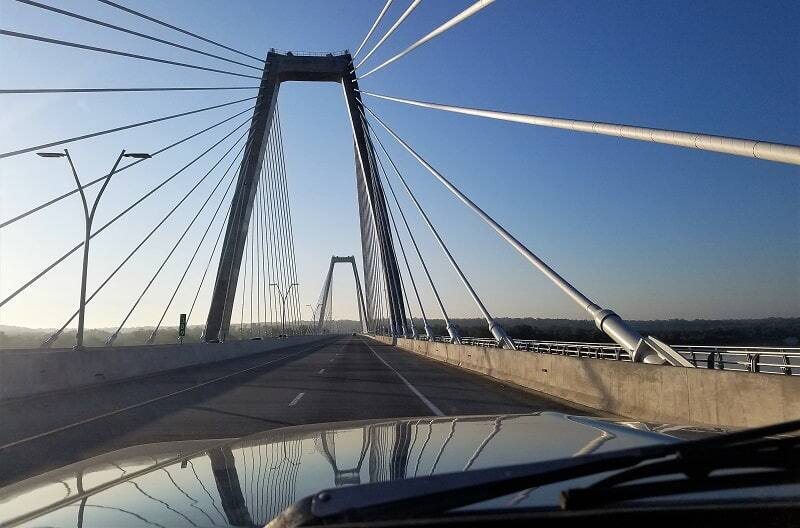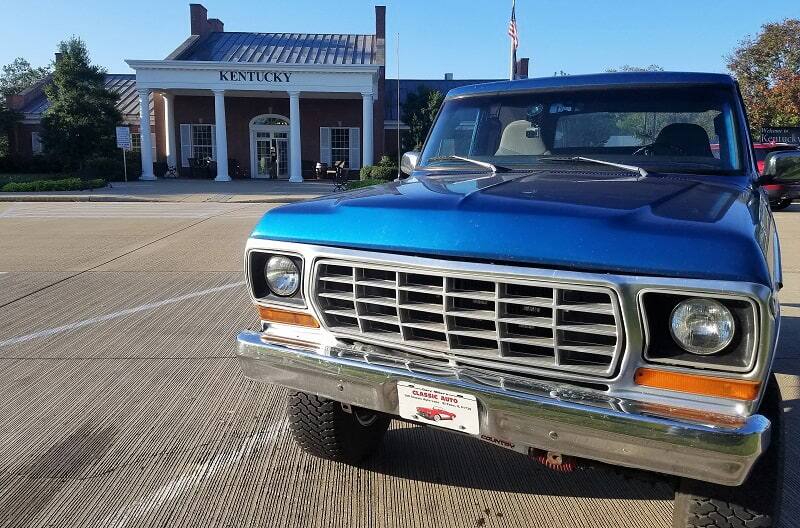 After sunrise I was finally making good time and actually got it up to 65 mph a few times. I was getting used to the wider wheelbase and was able to avoid bumps and grooves. In my mind I was hoping to make it home that night. I made it to all the way to Tennessee before things got bad.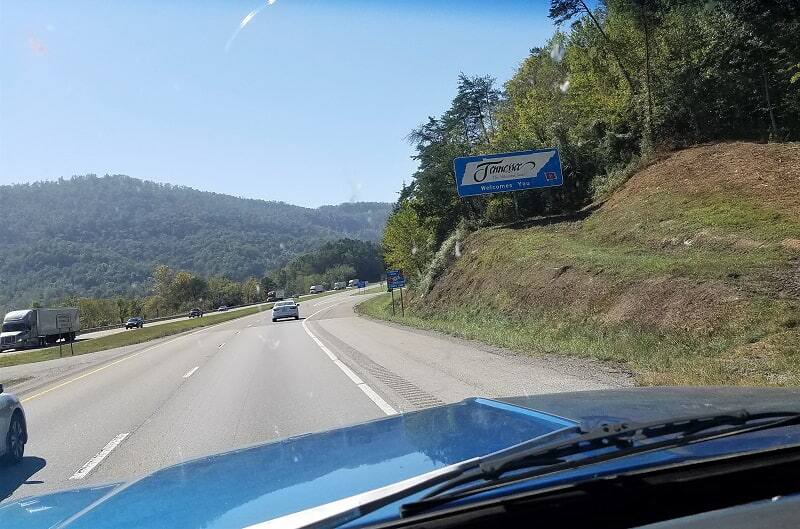 There was a work zone and the road was torn up. I was surrounded by 18-wheelers when the wobble came back and took over. I honestly thought my luck had run out. As I gripped the wheel and caught the eye of a passing truck driver, I would bet money he could see the fear in my eyes. I somehow regained control and got off at the upcoming exit. I immediately pulled into a gas station and hopped out, trying to shake off the scary moments that had just occurred.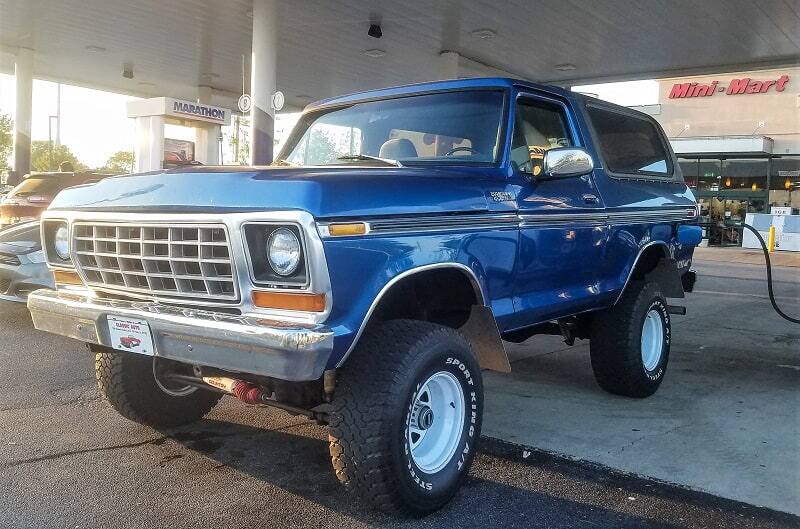 I've done a lot of crazy things in my lifetime and some may think I should have more concern, but I will admit that's only the third time I ever thought my life's journey in this world was over. As I was walking in circles around the Bronco trying to calm myself down and convince myself to get back in the damn thing, two teenage boys came up to me and asked to check out my Bronco. The next words out of their mouths were, "How much do you want for it?" Even with my bad experience just moments earlier I burst out laughing. In that moment it was just what I needed to snap me back into reality. I got to talking with the boys and explained why I had stopped. They both quickly pointed to a shop on the hill and told me that was where I needed to go to take care of the problem.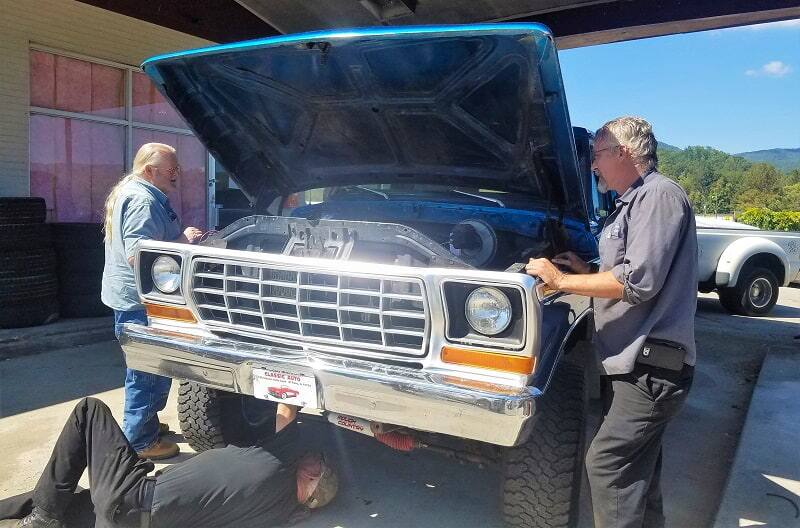 Once again luck was on my side, because as I pulled up to Caryville Tire and Auto Repair I saw that the boys were right about this being a good place to sort out my truck: There were a pair of old Ford pickups right out front, like a welcoming committee for my Bronco. Chris Ward was quick to diagnosis that my Bronco's drag link, which was supposed to be straight, was not. Not at all. In fact, it was shaped more like a crescent moon.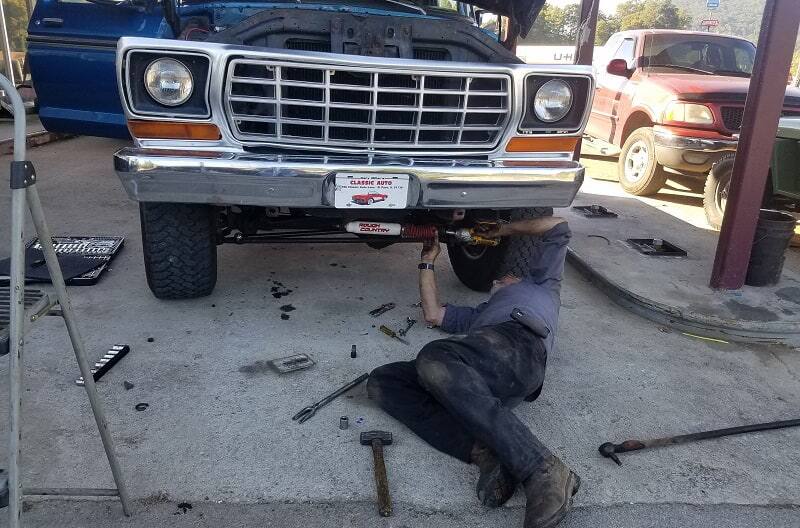 Not as quick was the ETA for the ordered parts we needed to fix it. But after my experience with the wobble, I wasn't leaving until it was fixed. It's one thing when you don't know what's wrong, but if you do know and still keep going, you're just asking for trouble. (Well, that's my theory anyway.)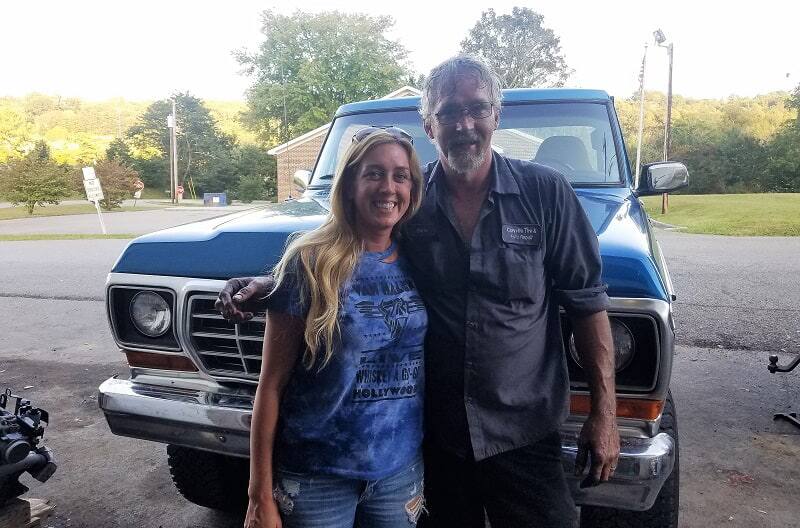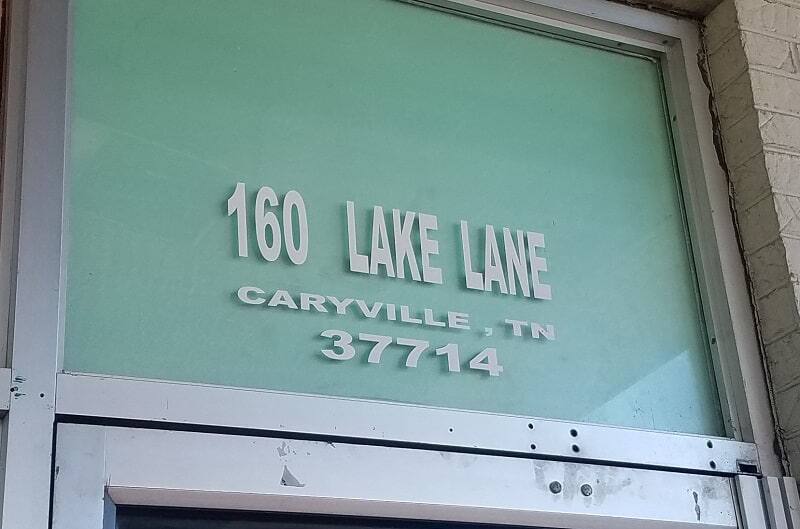 The guys at the shop were awesome and I spent the next couple hours messing around under the Bronco and catching up with work on my laptop until the parts arrived. Some five hours later I was back on the road with a new – and straight – drag link and master cylinder, courtesy of Caryville Tire and Auto Repair. They wouldn't take my money, not even for the parts. Chris told me, "I've never met someone who loved Fords as much as I did until I met you." I cannot thank the guys enough. With their help I managed the last 400 miles back to South Carolina without incident. So I finally got Bronco home. At the time I was ready for the story to end right there. It took me about a week to want to even open the driver's door again.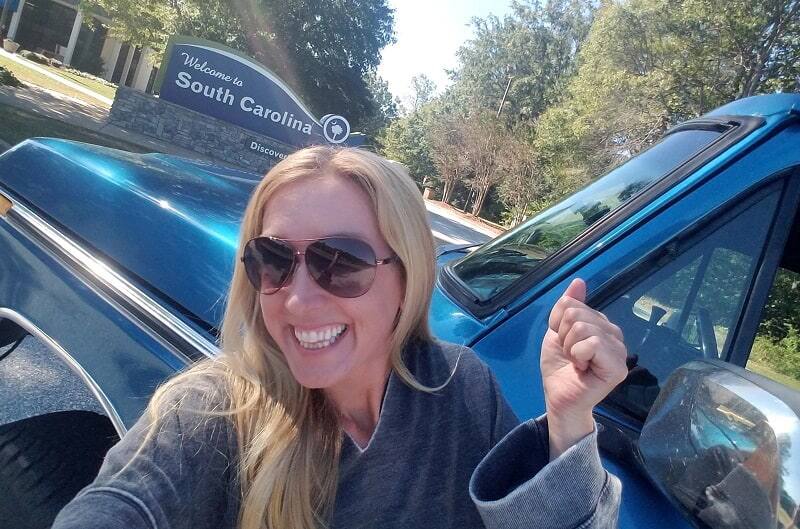 I felt like a baby deer timid of a new place. Each day I would get just a little closer, still afraid that if I went too far I'd find myself behind the steering wheel again. The funny thing is that driving my Mustang again somehow felt different.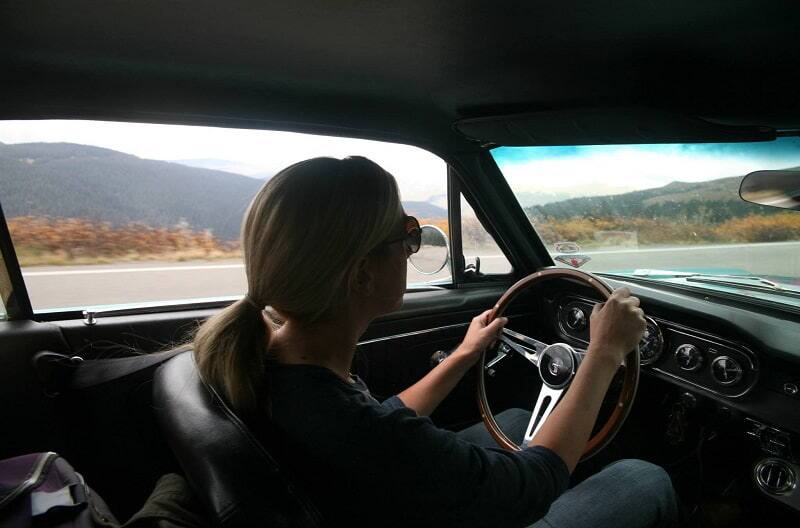 After putting over half-a-million miles on that car, I felt like I was being introduced to a stranger. Gone were all the thoughts of it could be better, I could do this, or change that. My Mustang is freaking amazing as is! It goes straight down the road, turns with my pinky and stops on a dime. I built my car myself, and I think what comes with doing that is the sense that it's never done. After my experience driving the Bronco home I started to remember how scary the 1,200-mile ride home was in my Mustang nine years ago. I had never driven a classic car or one without power steering or brakes. I remember the first night on the road I called my Mom crying from the hotel and told her she was right about driving the car back and that I made a horrible decision. I actually picked a hotel in a bad area and prayed the car wouldn't be there in the morning. Boy am ever I glad now that prayer was ignored!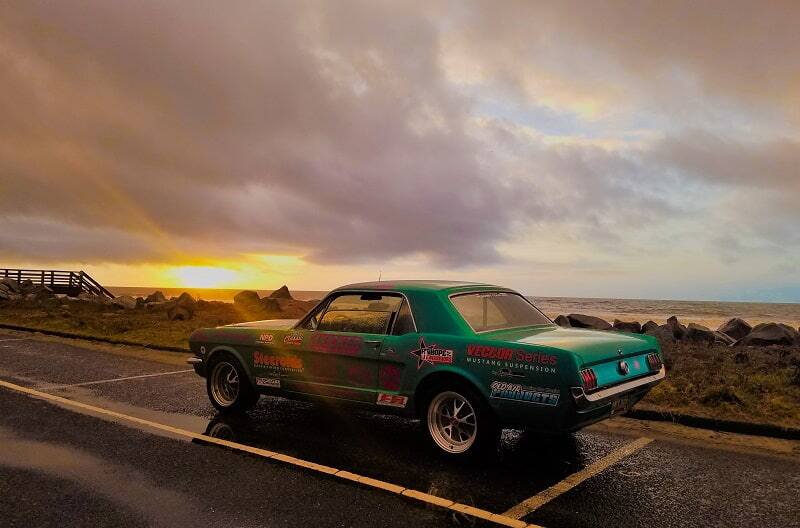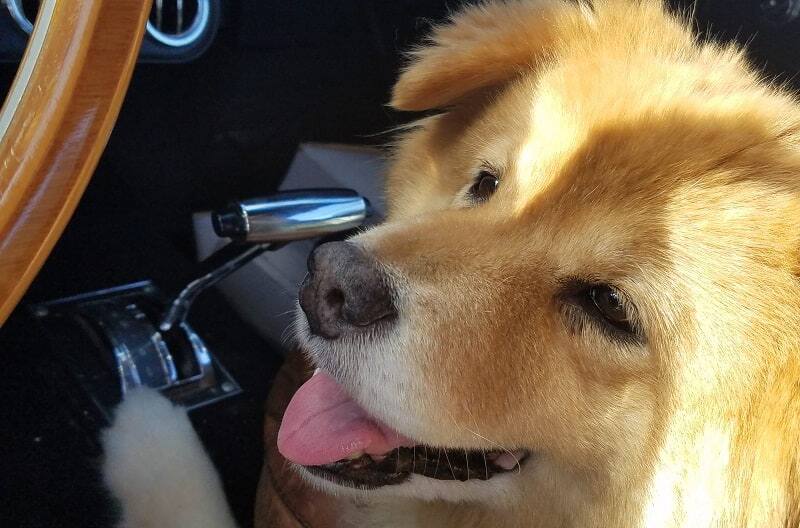 Along with my newfound appreciation for my Mustang I also started to remember how long it took to get her to the faithful machine that she is today. These nine years and a long, curvy road of improving later, she is a true road warrior. Now I just need to remember how I got her there . . . and start learning about things like locking hubs and transfer cases!

FORD PERFORMANCE PHOTOS / COURTESY TEAM MUSTANG GIRLS