DEARBORN - Ernie Francis Jr. didn't need to win the final Trans Am race of the 2017 season. The young driving dynamo had already wrapped up the championship two races back, with eight wins out of 11 starts, at the October 8 event at New Jersey Motorsports Park. Additionally, at just 19 years old, Ernie was also the youngest champion in the history of the Trans Am series.

Still, Ernie drove his Katech-powered, FramlessShowerDoors.com/Breathless Racing Team Mustang to victory at the Circuit of the Americas in Austin, Texas, on November 4; and again on the road course at Daytona on November 11.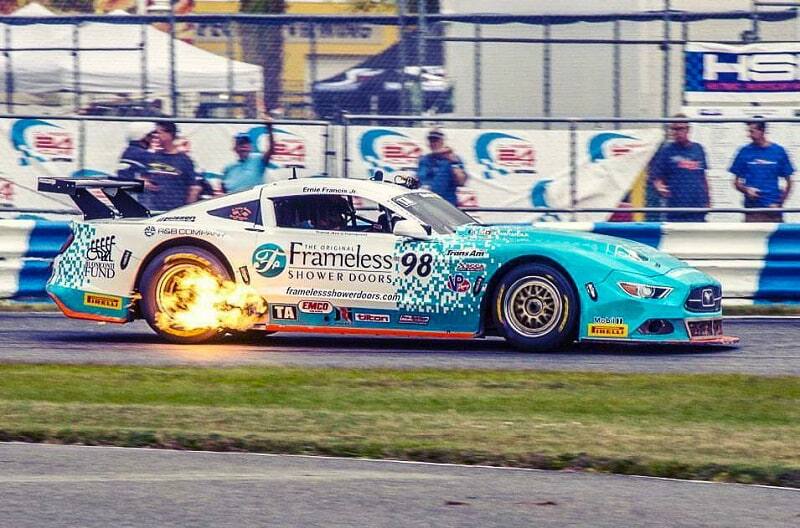 That final round at Daytona could have ended very differently. Despite rain early in the day, Ernie had started from the pole on slicks, and allowed Tomy Drissi's rain-tired Corvette to gain a 40-second lead before the officials called a full-course caution on Lap 8. But by the time the race restarted on Lap 11, the track had dried considerably. When Drissi pitted to change tires, Ernie took the lead and never gave it up.
"We kind of felt the weather was going to clear up toward the middle of the race," Ernie recalled, when we spoke about a week afterward. "It was very wet in the beginning, and the first couple of laps were very slippery. The guys who were on rains, they took off and got out ahead of us. But we could see the track was starting to dry up. About halfway through, it hit the crossing point, and it really went our way. And we were able to put some good laps down."
We asked Ernie how he had approached those last two races, knowing that the Trigon Trophy (figuratively, at least) was already in the trailer: "It took a lot of pressure off those last two races. We didn't have to worry as much about what was happening." His sentences were brisk and confident, exhibiting a polished professionalism well beyond his years. "We just went out and had some fun – and put in a good performance. We went on a streak and won the last four."

In an official publicity photo, Ernie appears at once relaxed and intense, resting easily on the door of his Mustang, looking forward – well past the car or any part of his physical surroundings. Ernie appears as if he is looking into the future. And what a future it's likely to be, given how much he has accomplished already.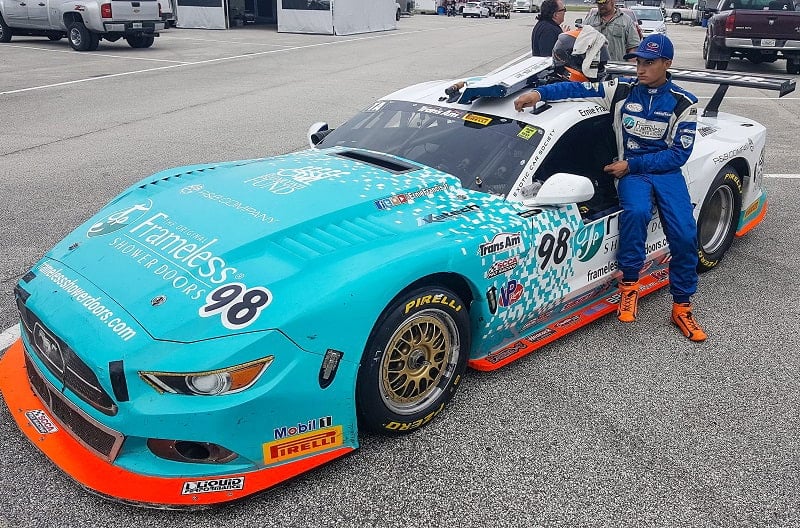 Ernie grew up with racing. His father, Ernie Francis, Sr., competed at the club level in both SCCA and NASA. "He's been racing since before I was born," Ernie Jr. recalled, "and he was the one who got me into the sport. I started racing go-karts when I was four years old." To Ernie, this felt utterly natural, as most of the kids he knew were also karting. "But when I turned 13 and started racing cars, I realized that I am doing something special – and that I could make a career out of this."

Focused, like his father, on road racing, Ernie graduated from karts to the highly popular Spec Miata class. "It was kind of the go-to option, because it was easy to go do." he said. "Then when I turned 15 and I went Pro, that's when my dad stopped racing and let me take over." (Ernie Sr. remains the team owner and engineer.)

As the youngest driver competing in the Pirelli World Challenge, Ernie scored third in Touring Car B and was named Rookie of the Year. "But I wanted to do more, so when I turned 16 [in 2014] I started racing Trans Am. And in my first year I won the TA3-A Championship in a Camaro." Ernie was now the youngest driver ever to claim any TA class championship – and that was while simultaneously driving a Touring Car A Mazda to another third place in the Pirelli World Challenge. And then he did it again in 2015, scoring second in the Pirelli series (this time in the top Touring Car class), and another TA3 Championship.

Still, Ernie wasn't entirely satisfied with his Trans Am Camaro. "I decided that Chevy wasn't really backing us enough. We saw what Ford was doing, and we were really impressed, so we pushed over to the Boss 302R" – which Ernie drove to his third Trans Am championship, while also campaigning a Mustang in the GTS class of the World Challenge. (And as if that weren't enough, he also co-drove Eric Johnson's Audi R8 and Porsche 911 RSR in the Formula Automobile Racing Association.)

"And then we decided we wanted to take it to the top level, to move over to the TA class, the top series in Trans Am, and try to win a championship -- and that's what we did."
Competing at that level required "a whole new car," Ernie noted. "TA4 and TA3 cars are production-chassis cars. TA cars are tube-framed," with composite bodies and "850-horsepower NASCAR Sprint Cup engines. It was a whole different driving style that I had to learn. The car was way faster than what I was used to. I had to get used to the power, and the way that the car reacted to my inputs."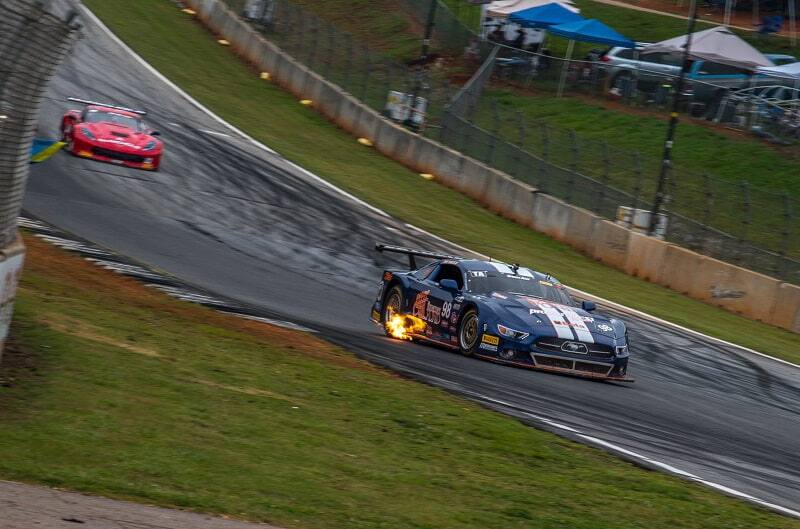 He finished 15th in the first round at Sebring. "But once we had the car all set up the way I wanted it, I was pretty fast right out of the box and we started winning races." In fact, he won the second round at Miami-Homestead, and only missed the podium once after that. "So we were really on-pace almost from the beginning, and improved on that with every race, where we just went faster and faster."
Ernie generously shares credit with his crew: "They did a great job of getting the car set up the way I wanted it. The engineer who built the chassis was with us at every race. Our shock guys, I've been working with them for the past four years, so they knew exactly how I wanted the car to be. And everything just worked together to make it a very good season – a winning season –for us."

Now with four consecutive championships and 33 individual victories, Ernie is also the winningest driver in Trans Am history. "It's been a journey of my entire life," he mused. Yet it's a journey he's hardly begun. "Next year I'll be racing again in the Trans Am series. I'll be racing in the Pirelli World Challenge also, in a Mustang GT4, and in the NASCAR K&N East Coast Series, in the road course races."

Breaking into NASCAR was itself a competition. "I've been accepted into the NASCAR Drive for Diversity program. It was totally unexpected. I'm a road-course driver; I don't have much of a circle-track background, so getting accepted into this program was awesome."
The Drive for Diversity receives thousands of applicants every year but Ernie was selected as one of 12 semi-finalists. "We went to New Smyrna Speedway [in Florida], where they put us in different cars and had us shake them down." Driving performance counted, but so did "how we dealt with the media, with giving interviews. That narrowed it down from 12 drivers to the five that made it . . .

". . . It's been a great year."
We asked Ernie if he'd made his dad proud.

"Oh yeah – for sure!"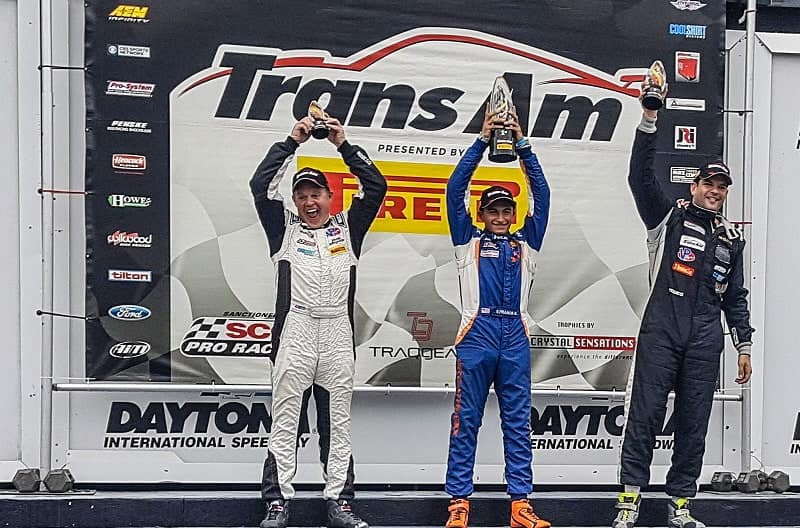 PHOTOS COURTESY JOHN F KATZ / McCULLOUGH PUBLIC RELATIONS, INC.