DAYTON, Ohio – Back in the day, you could buy a factory built and supported race-prepped Shelby GT350 Mustang straight from Ford. And now, 53 years later, you still can. In 1965, that car was called the GT350R, and it served up a lot of additional content that further turned the GT350 into a competitive race car. Shelby American relied on a network of vendor partners for the extra goodies needed to take off the license plates, paint on the number bubbles, and win races and championships – and the "R Model" as it's become known, certainly did that.
Ford Performance offers something similar in concept, if of course now totally modern in execution, it's called the FP350S. It's a Ford Performance-developed track-only Shelby Mustang with the goods needed to go out and attack the field in a variety of SCCA, NASA, Trans Am and other series. There's also a GT4 version, (pictured below) which Ford Performance developed in partnership with race car builder Multimatic, for the GT4 European Series, Pirelli World Challenge GTS/GT4, and IMSA Continental Tire SportsCar Challenge.
Based on a real Ford Mustang Shelby GT350, the Mustang FP350S adds a variation of its 5.2L V8, 12-quart deep-sump oil pan, racing coolers, race-spec Tremec 3160 6-speed manual transmission, 3.73:1 rear gears, and a special racing wiring harness. The body/chassis is fully seam welded, and its body-in-white weight is reduced; to that add Sachs Racing Coilover dampers, caster/camber plates for more alignment variations and a more precise set-up process, specially calibrated Ford Performance adjustable electric power-assisted steering, monster AP Racing brakes, brake cooling ducting, and a race ABS module.
The exterior gets a variety of carbon-fiber items such as front splitter and rear wing, and race-spec tow hooks front and rear. The cabin gets an FIA-compliant full roll cage, a MOTEC data acquisition system and instrumentation, a fire system, a Sparco racing seat and quick-release wheel, and a Sabelt FIA racing harness. In other words, a real racing car.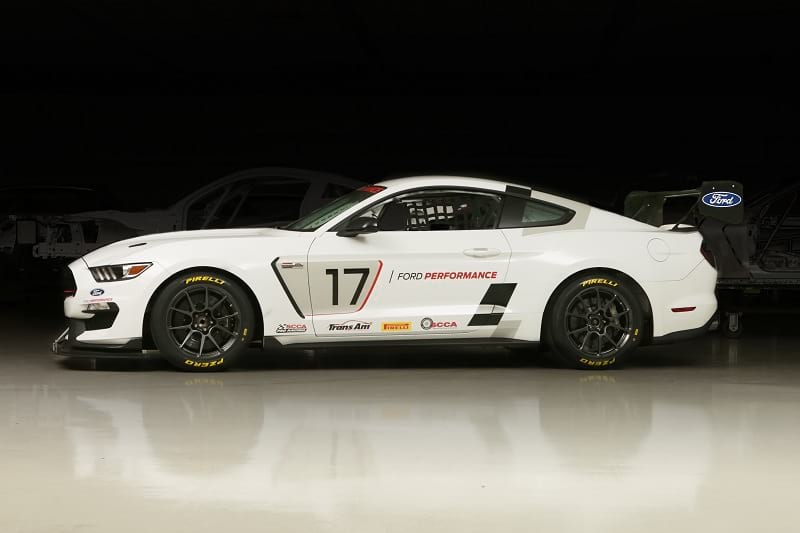 In fact, the FP350S is such a real racing car that it has a Ford Performance Parts part number, not a VIN, which means of course that it isn't street legal nor could you convert it to be. Which is all by design. And in case you're wondering, that part number is M-FP500-FP350S.
You'll notice that many of the race-spec go-fast parts are provided by companies outside of Ford and Ford Performance, which is highly common in the current exotic and race carsphere. Even back in the day, Carroll Shelby relied on a variety of outside suppliers (now more often referred to as vendor partners) for his cars; Holley for carburetors, Cyclone for headers and exhausts, Cragar for the "Shelby/Cragar" wheels, Koni for shocks, and so forth. Lightweight, super strong, forged alloy wheels were needed for the FP350S, so Ford Performance turned to Dayton, Ohio's, Forgeline Motorsports for them.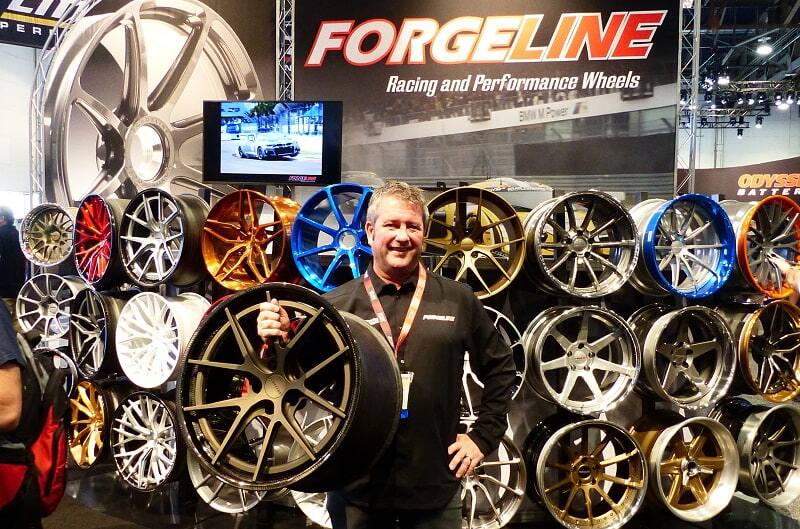 Forgeline has a long history in racing, particularly during the heyday of the IMSA GT and GTP eras. All sorts of great IMSA racers ran Forgeline wheels, including many race and championship-winning Porsches and you-nameits. We asked Forgeline's Steve Schardt, founder and sales manager of Forgeline, what's required of wheels for this level of competition. He summarized it in a few distinct categories:

Lightweight: We all know that weight savings is critical in racing and indeed any performance application. A more favorable weight-to-power ratio mathematically means a faster car, all things being equal. But when it comes to a wheel, this notion is even more important because a heavier wheel means more unsprung mass. More weight hanging off the end of an axle makes the suspension less responsive. Visualize the pendulum effect of holding your arm straight out in front of you, with a feather clasped in your fist. Now move your arm up and down as fast as you can; repeat the process again, replacing the feather with a five-pound free weight. Notice that no matter how much you try, you can't arc your arm up and down as fast with the weight as you can with the feather in your fist. Momentum and inertia act against you. And see how much more effort it wastes trying? So engineering lightness into a wheel helps on many fronts; overall weight, and that all-important unsprung weight. The lighter the wheel, the quicker and more precisely the suspension can react.

Structural strength and toughness: A wheel needs to be stiff and tough. Stiff so that it doesn't flex, and waste the efforts of the suspension and steering system by being imprecise. Toughness comes from the design of the wheel, and also from the metallurgy and production processes of how it's made. If the metallurgy is wrong, wheels can crack due to the constant pounding they take on the race track, or from hitting trackside alligators or curbing. So the metal needs to be just tough enough to be structurally rigid, but not so tough that it doesn't have enough "give" to avoid cracking or bending under punishing conditions.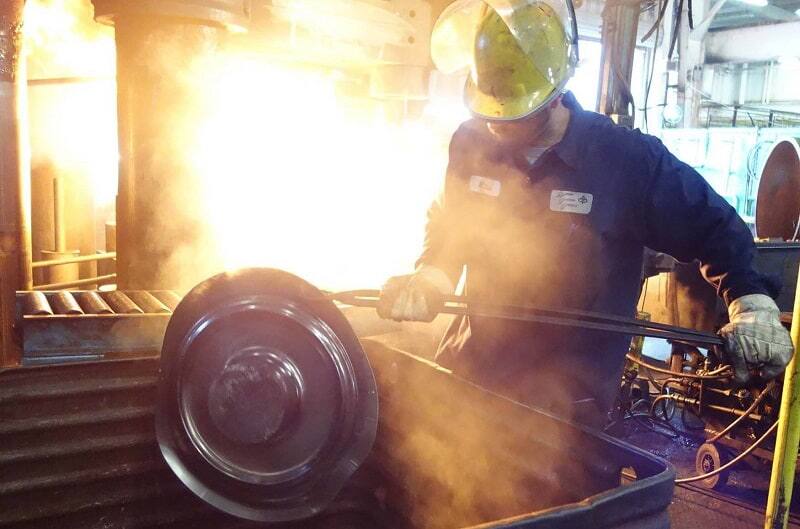 Why forging? Forging allows the metal's natural grain structure to remain intact (not the case in a cast wheel design), which not only enhances its natural strength but helps preserve just enough "give" so the piece doesn't crack or crack apart catastrophically under contact. Forging also allows the use of less material, supporting the weight issue noted above.

So how are Forgeline's forged mono-block (single-piece) wheels used on the Mustang FP350S different from the ones you can buy for your street or weekend track toy? "Other than the sizing for specific needs, tires or brake clearance, not at all," adds Schardt. Which means, the high-tech, racing-spec and track-legal wheels run by the teams can be had for your street Mustang, or by extension, the street-legal wheels you can buy from Forgeline Motorsports are also the ones used on the track by the pro teams. The racing versions run an 18x11 wheel and you'll be looking at 19-inchers to accommodate the larger brakes on a GT350. Otherwise the manufacturing processes, load ratings, metallurgy and such will be identical.

What about colors, finishes and sizes? "You can have pretty much anything you want," Schardt says. "We make sizes and bolt configurations to match nearly any car, and there are a big variety of styles, colors, powder-coat and plated finishes." Plus the company is rolling out carbon-fiber products now, too, called Carbon+Forged, a hybrid wheel that uses a forged aluminum center mounted into a carbon fiber "barrel" or rim. They're handsome and very high tech.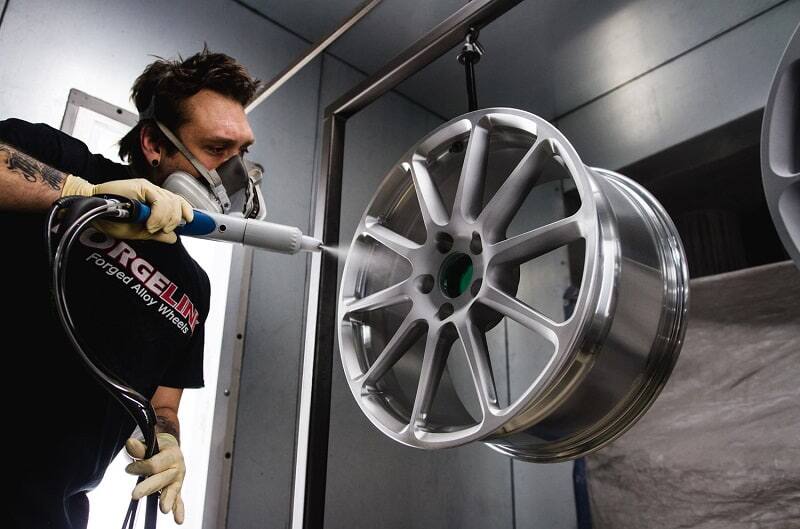 Speed costs money, so what'll it run you to bolt a set of racing-spec and -tech Forgeline monoblocks onto your Mustang? Well, the 19-inch track-spec pieces will run you $1,400 each. With this, keep in mind you can buy the exact pieces the factory built race cars run, and certain types of minor damage to a lip or a rim can actually be repaired on a forged wheel, instead of just tossing the wheel away and buying a new one. The Forgeline-equipped Mustang GT4 cars have so far enjoyed considerable success on track, particularly at the hands of Kohr Motorsports, including a win at Sebring as well as other podium finishes.

INSPIRED COMMUNICATIONS PHOTOS / COURTESY FORGELINE WHEELS
FOR MORE ON FORGELINE WHEELS, CONTACT:
Forgeline Motorsports
3522 S. Kettering Blvd., Suite A
Dayton, OH 45439
www.forgeline.com
Phone: 1-800-886-0093
Local: 1-937-299-0298
Fax: 1-937-643-0070