FORT WAYNE, Ind. – Fort Wayne, Indiana, traces its origin to an actual fort built by General "Mad Anthony" Wayne, to secure the strategic Wabash-Erie portage at the confluence of the St. Mary's, St. Joseph, and Maumee Rivers during a 1794 war against the native Miami Confederacy. Today a city of some 250,000 (second only to Indianapolis in the state of Indiana), Fort Wayne assembles GM pickup trucks and manufactures Goodyear tires.
But of far greater interest to the 97 members of the International Thunderbird Club who gathered there this past August 31 through September 3, 2017, was Fort Wayne's proximity to Auburn: The one-time headquarters and flagship showroom of the eponymous automaker, now the Auburn Cord Duesenberg Automobile Museum, lies 17 miles almost directly north. And it was not by accident that the ITC's 24th yearly convention coincided with Auburn's 61st annual Auburn Cord Duesenberg Festival.
And so on that Thursday morning, more than 40 Thunderbirds and their enthusiastic owners caravanned from the Ramada in Fort Wayne to the Festival in Auburn, to tour the museum and its lushly restored Art Deco showroom, to browse the flea market, and to display their own automotive treasures among the 300-or-so Auburns, Cords, and Duesenbergs gathered for the event.
"The police escorted us out of Fort Wayne almost all the way to Auburn," commented ITC President Gerard "Bart" Bartasavich, "then the Auburn police escorted us into the event. We displayed our cars next to the Cords and Duesenbergs. We gave presentations, they gave presentations. It was excellent."
Friday was set aside for seminars, meetings and/or last-minute preparation for the ITC's own concours, back at the Ramada on Saturday morning. The 45 cars on the show field included eight from the Hoosier Vintage Thunderbird Club (an ITC hosted chapter). The "visiting" Michiana Thunderbird Club brought four cars of their own, although only one was presented for judging. The ITC cars came mostly from Indiana, Ohio and Illinois, although we also spotted tags from Pennsylvania, New York and Missouri. Bart said that three from Texas and one from Alabama didn't make it because of Hurricane Harvey.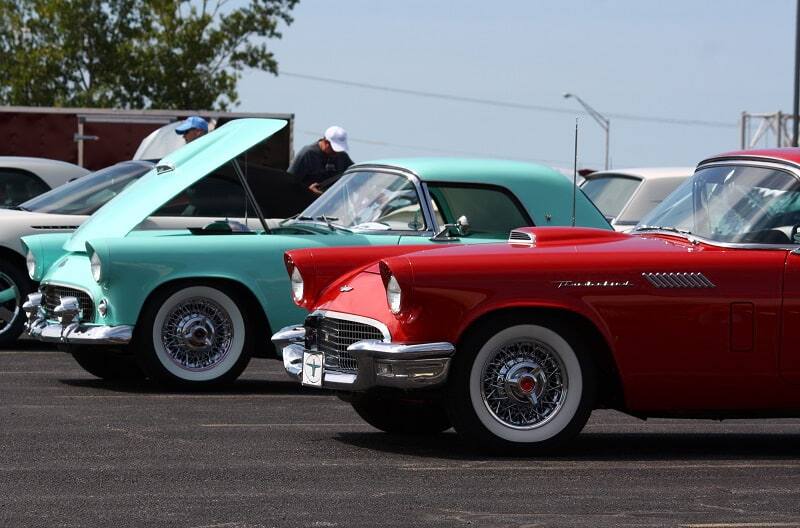 As usual, the two-seaters dominated – the first-generation 1955-57's and the "Retros" of 2002-05. But a reasonable selection of mid-year models turned out as well, including a gloriously Bunkie-beaked '71 fastback, its low and slinky silhouette abruptly interrupted by a Weiand high-rise manifold, twin Holley carbs and two bug-catcher air scoops, all amply chromed and protruding up through the hood.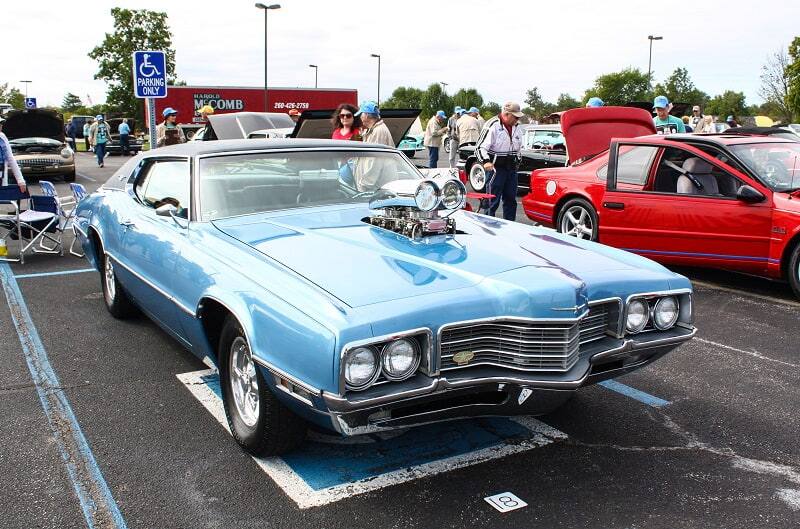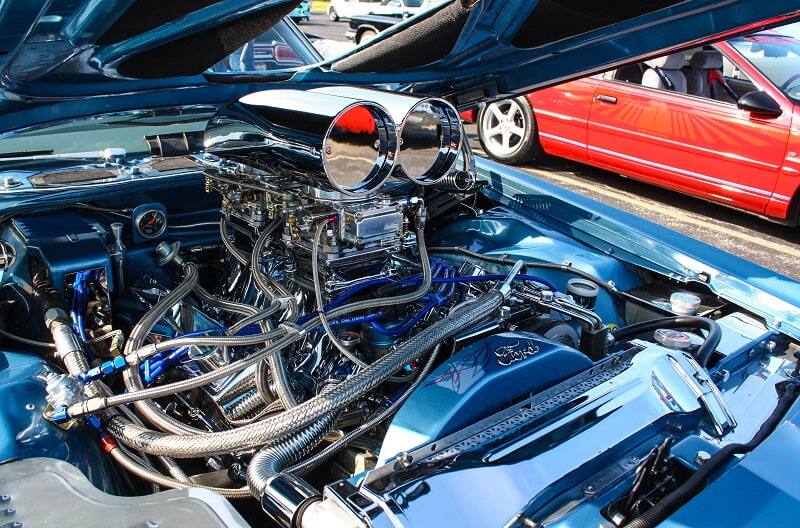 "My dad bought this car brand new," recalled owner Brian Wilcher. "I remember family vacations in it. I started working on it in 1981, when I was 14." He didn't say exactly when he plumbed the nitrous bottle in the trunk. Suggesting a wide range of Thunderbird enthusiasm, Brian and wife Kelly also brought a mostly stock '55, in "Thunderbird Blue," with a white pre-portal hardtop.
Perhaps the most outstanding custom, however, was Barry Penfound's "Tealbird," a lowered, shaved and smoothed '61 Hardtop, bedecked inside and out and multiple shades of blue-green. Even the luggage in the trunk matched the color scheme. Barry had just debuted the Tealbird at the Detroit Autorama in February; and it had won the Boyd Coddington Memorial Award at the Goodguys PPG Nationals in Columbus, Ohio in July.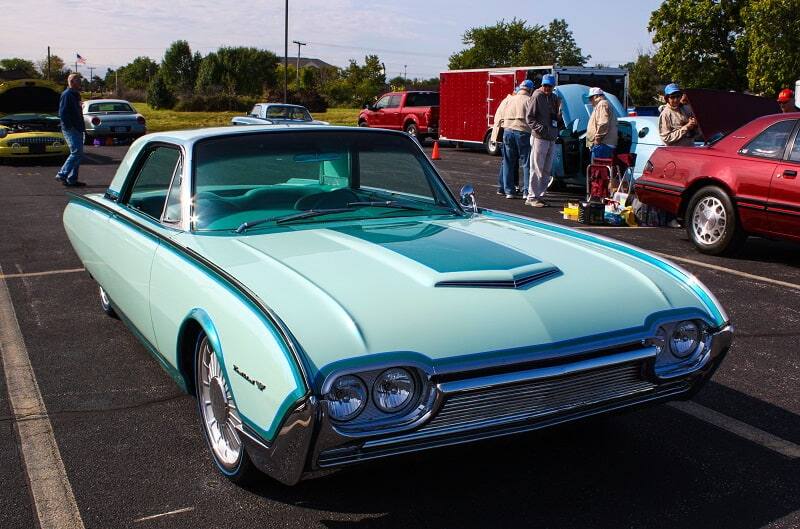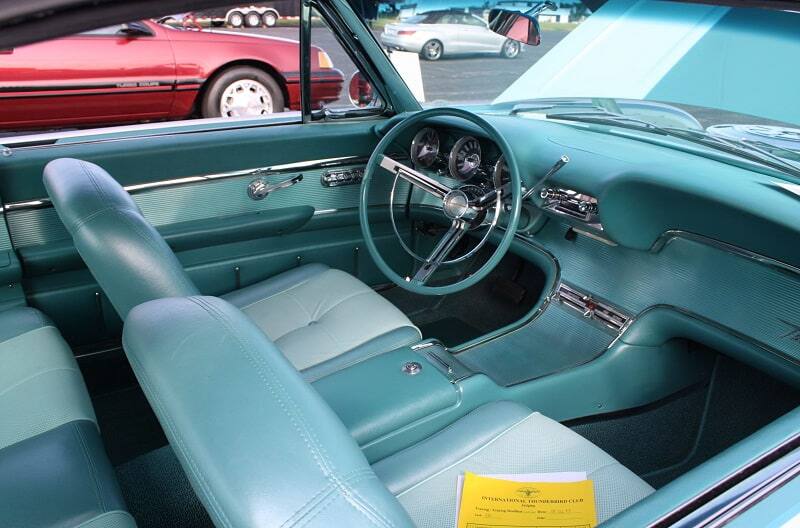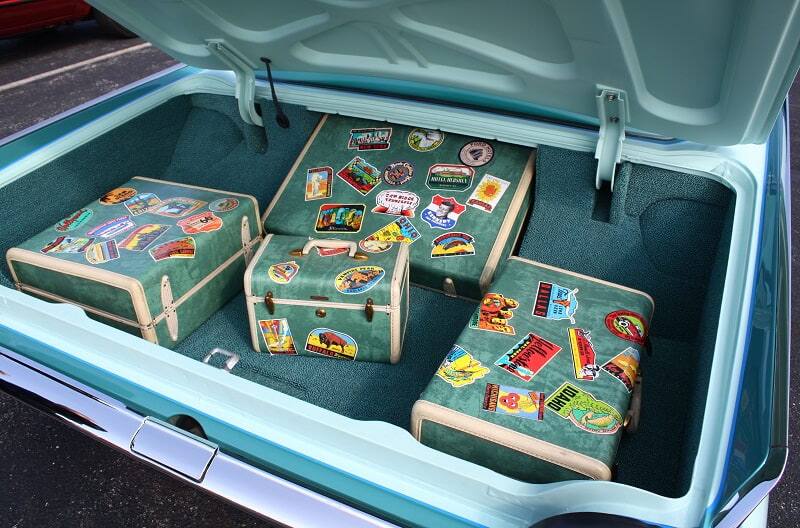 "Teal Power" is also the theme of the Ovarian Cancer Alliance of Greater Cincinnati, who were raffling off a '65 Landau customized with air-ride suspension, interior parts from an '04 Retro, and strikingly purple-blue paintwork.
"We are creating awareness for the OCAGC," said organizer Andy Walter, "and making sure women know the symptoms. One hundred percent of the money will go to research when we raffle it off in two weeks." (For more information go to http://www.TealPower.org.)
And then for something completely different – the '55 repro that Curtis Heslep had cut-and-pasted from a '55 Ford sedan.
"Patricia [Mrs. Heslep] said she wanted a '55 Thunderbird," said Curtis, "and I said, 'I'll build you one'."
A friend who was restoring a '55 Fairlane convertible had gutted a '55 four-door for parts. Curtis bought the body for $300, shortened the wheelbase, lengthened the hood and fenders, and cut down the height of the whole affair by 4-1/2 inches. A scrapped Granada donated its 302, and the seats came from a 70s-ish LTD. The result is convincingly professional, while at the same time so disquietingly odd as to guarantee double-takes.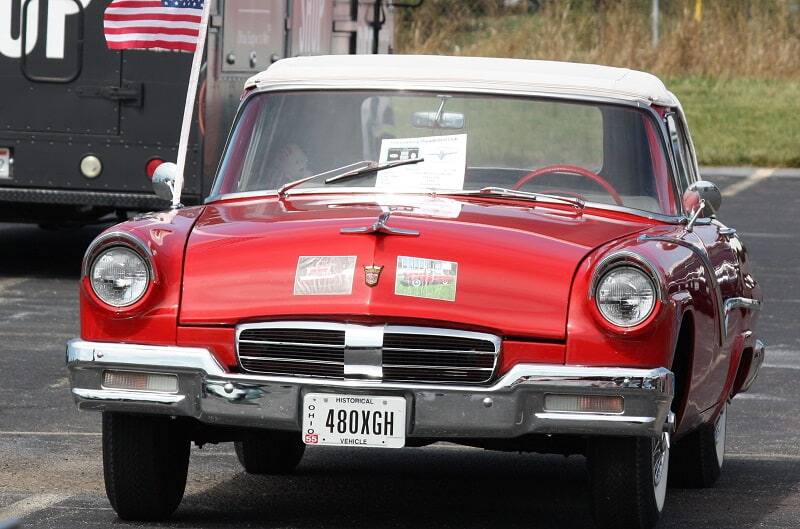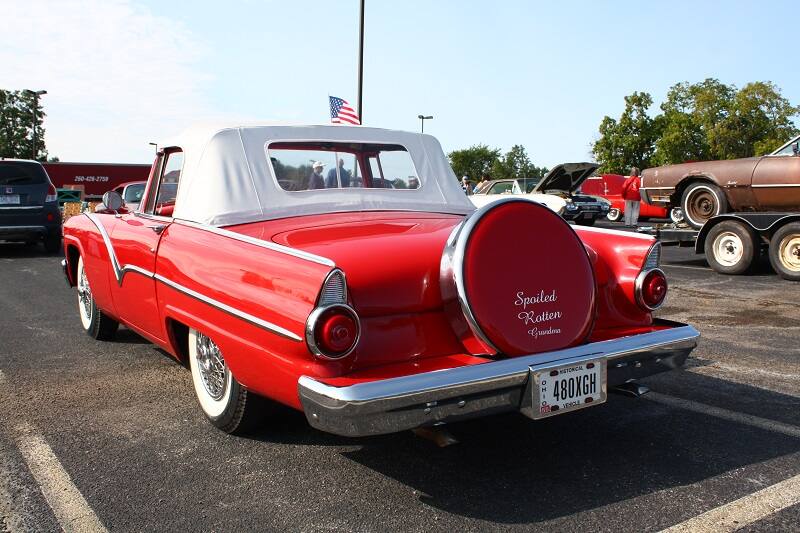 Still another type of head-turner was the rig driven in by Robert Mlinar, consisting of a maroon '63 Sports Roadster towing an approximately 1/5-scale miniature of itself. Cozily ensconced in the mini-Bird were bride-and-groom dolls dressed in appropriately period fashion. As if not to be outdone, Keith and Debbie Landis yellow '63 Sports Roadster with a full-scale, almost-color-matching '02 Retro.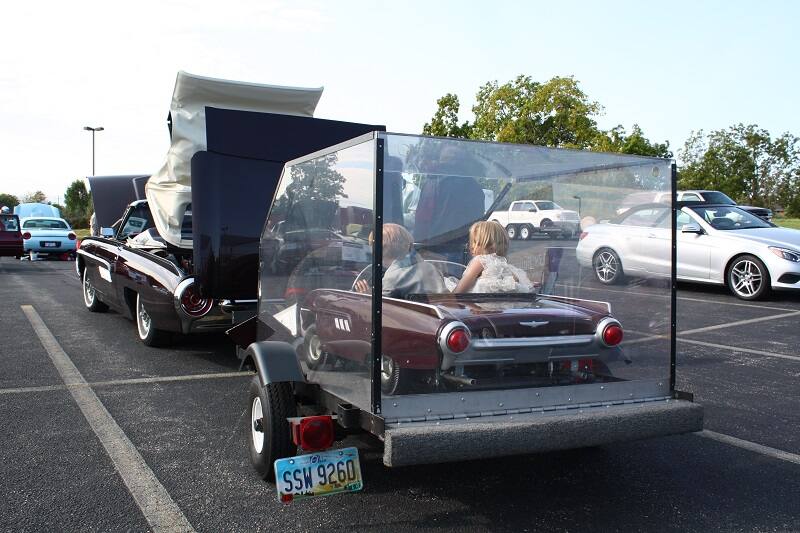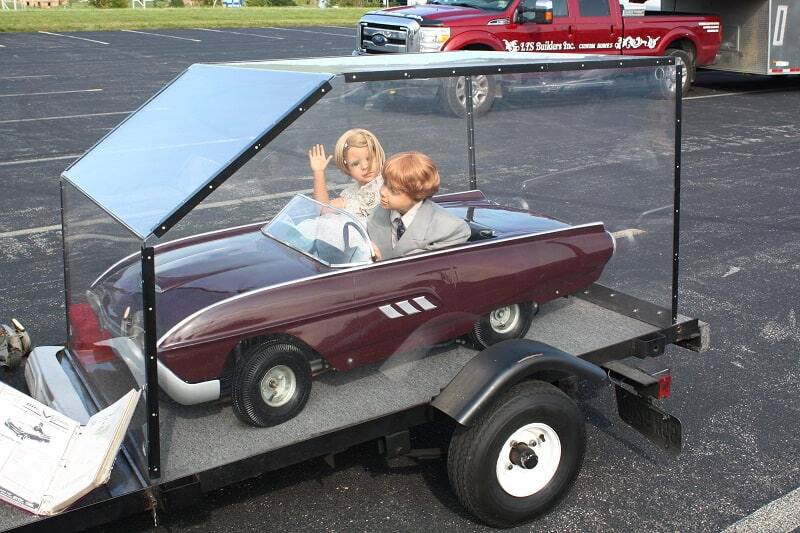 As we've explained before, ITC show cars are judged against a points system, not against each other. Touring Class (i.e. stock condition, street-driven) and Touring Modified cars are judged on a 200-point scale, while concours-grade Formal cars compete against a 350-point standard. Cars that have previously won a Formal First can compete in the Senior Formal Class. Owners may choose to enter the participant-judged Showcase class instead, but (at least in our experience) very few do.
It's a tribute to the strength of the field, and to the dedication of ITC members, that more cars won awards than didn't. In most categories, in fact, first places outnumbered seconds, which outpaced thirds. Still, only one car scored a First in Senior Formal: Marvin & Jan Hill's Raven Black '57 F-Bird, all the more unusual for its manual transmission. (We should note that Marvin is owner and manager of Hill's Restorations in Racine, Ohio.) Bonnie & Wayne Settlemeyer took home a second-place Senior Formal for their '66 Convertible (metallic gold, tan leather seats, and 345-hp Q-code 428). Jerry & Heidi Magayne's similarly loaded 1960 Convertible (Platinum Metallic with black leather) and Darrell & Susan Will's blue '63 Hardtop earned Formal Firsts.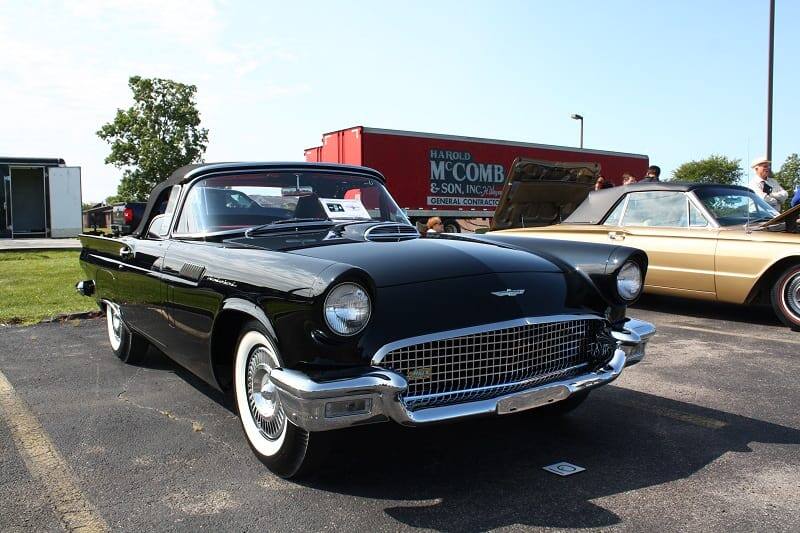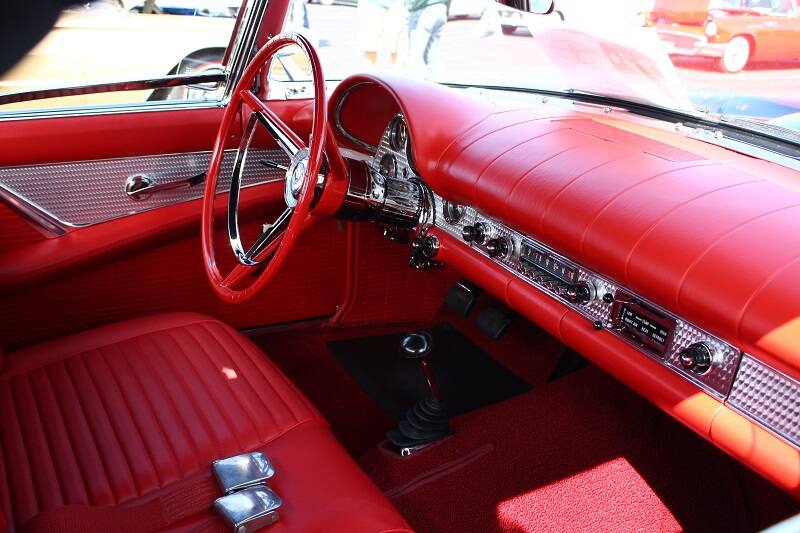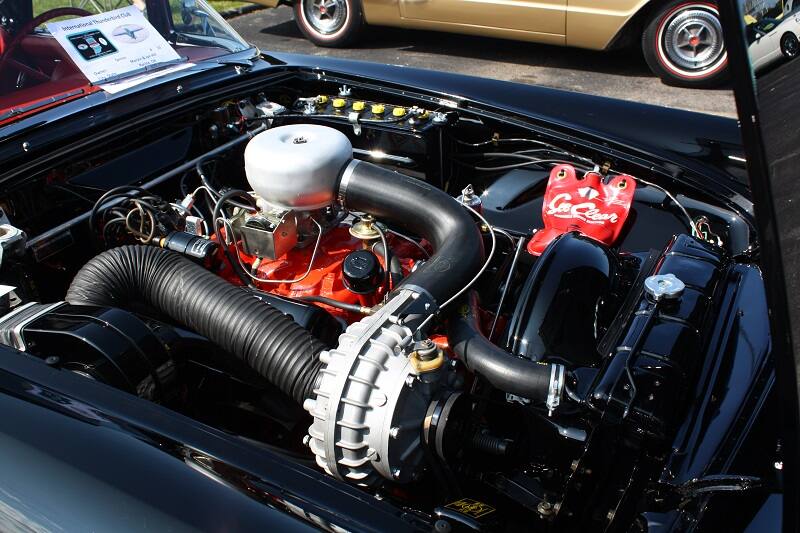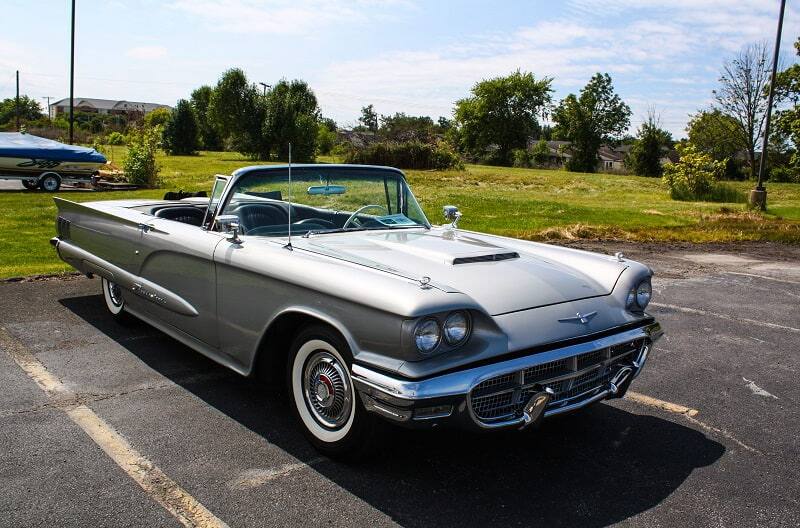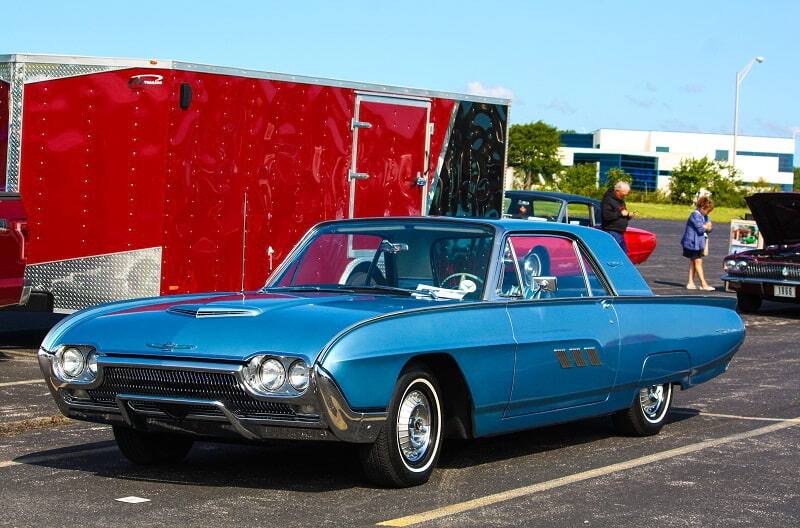 "Touring Modified" embraces a particularly broad range of vehicles. While overt hot rods and customs are welcomed (e.g. the Wilcher and Penfound cars described above), they are the exception; most Touring Modifieds are stock-appearing but updated with modern mechanical components. No fewer than eight cars rated a First in Touring Modified, ranging from Bart & Vera Bartasavich's own red '57, to Jackie & John Reinhart's '88 Turbo Coupe, to a handful of well-maintained Retros.
Jackie's Aero-Bird comes with quite a story: Stolen from its original owner when still fairly new, it was left abandoned in the woods for six months with the windows down and the trunk open. An ambitious enthusiast bought it from the insurance company and began its restoration. Jackie acquired it in 1992.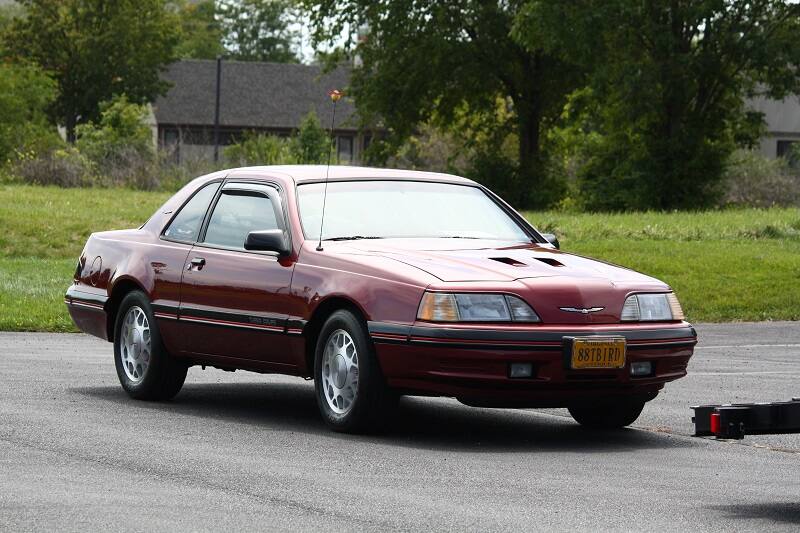 Two cars represented the post-Aero, MN12 generation: Bill & Cindy Zieber's '93 Super Coupe appeared basically stock; while the custom twin-nostril hood of Jack Claeys' ominously lowered '92 Sport concealed lots of polished and powder-coated parts, providing a roughly 10 percent increase and power and torque.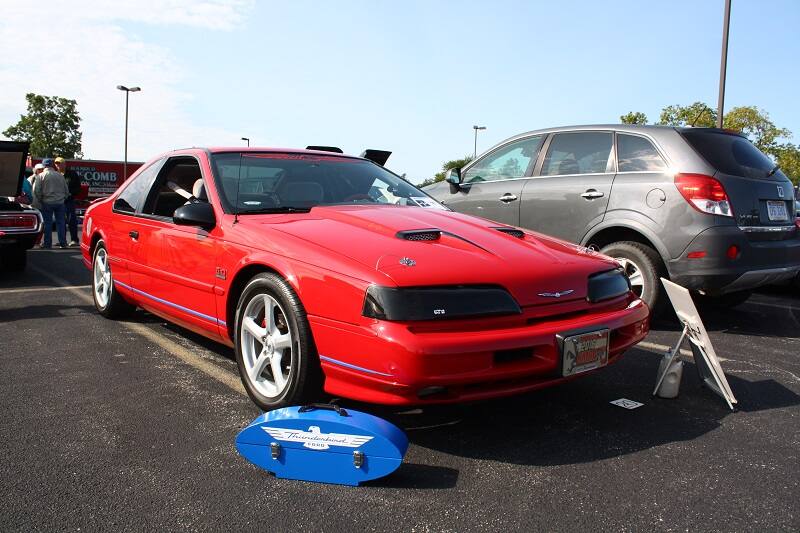 Awards were presented at the Saturday night banquet, where Bart recognized Marvin Hill and fellow Thunderbird luminary Brent Money, owner and operator of Larry's Thunderbird & Mustang Parts in Corona, California. He also announced that the ITC is planning a joint exhibit with the Antique Automobile Museum in Hershey, Pennsylvania, "sometime in 2018." Jackie Reinhart presented trophies for Wednesday night's "Thunderbird Olympics," the ITC's traditional gymkhana. And Your Humble Correspondent delivered a talk on the design and development of the MN12.
The true highlight of the evening, however, was when Bart announced that the Ovarian Cancer Alliance of Greater Cincinnati had sold $2,444 in raffle tickets on Saturday alone. We learned later that of the $20,000 in tickets sold, $5,020 had been raised through the ITC.

The International Thunderbird Club will gather again, as always, at the Ford Nationals in Carlisle, Pennsylvania, June 1-3, 2018. The next ITC convention is slated for August 7-12, 2018, in Buffalo, New York.
FORD PERFORMANCE PHOTOS / JOHN F. KATZ