OCALA, FL – While chasing down a Ford GT through the back roads of Ocala, Florida, two questions kept running through my head: How did I get so lucky, and Can we do this forever?

Welcome to National Parts Depot's Pony Trails Cruise! When I woke up that Friday morning this past January 6, I assumed I was just going to a little cruise before the big show the next day. I mean it was a Friday morning, so how many people would really be there? Representing Team Mustang Girls, Amie Williams and I pulled into NPD headquarters to find the massive parking lot filled and I mean overflowing with Fords. We circled around looking for a spot just to end up back at the entrance. Luckily I found a nice piece of grass with my name on it. (Well, not really – but I've realized that if you do things with a smile it helps the odds of getting away with it.)
Luckily, no one seemed to mind that we parked our Mustang and headed into the NPD building to check out the massive car collection inside before the cruise started. The NPD collection is really incredible and has some of the rarest and low-mileage cars I've ever seen. We got a little creative to help give you a visual tour of all the Fords there, but you will have to watch the video (below) to see that! After I stopped daydreaming of driving a different classic every day, we headed to the driver's meeting led by NPD's owner, Rick Schmidt. The crowd was huge and you could feel the excitement growing as people got to their cars started their engines for the cruise. And we were off!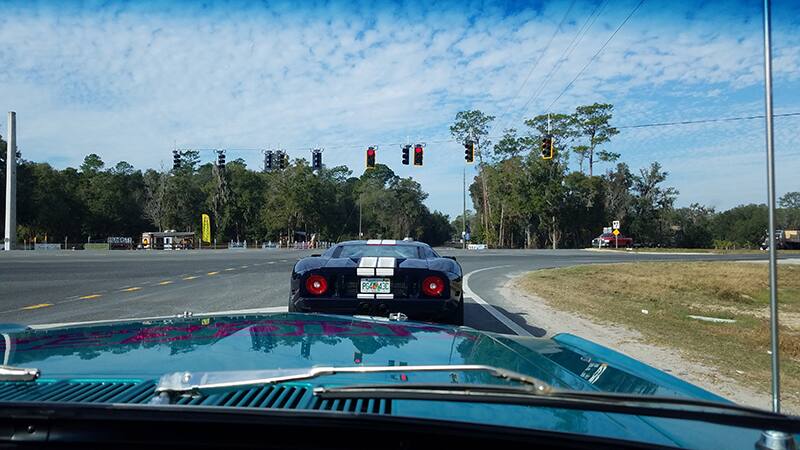 Just moments before we left we had listened to Rick tell us about the route and the rules, which were, basically, don't end up the subject of a YouTube video. He told us how each year people at the end of the cruise would accuse him of simply flying through town while leading the group, when in reality it is traffic, different driver's habits and stoplights that play a major role in splitting up the group. He said it was to be a nice, slow, leisurely cruise. Moments later, I found myself following Rick in his Ford GT.
Now I know everyone has a different interpretation of speed, and as someone who has been compared to driving Miss Daisy, I admit I am a cruiser. But if that was Rick driving slow, then I definitely want a ride in that car to see his interpretation of fast! Let me set the mood for you: It was a perfect sunny day in Florida, we were cruising with the windows down, and Ford power was providing the music. In other words, it was contagious.
Each time we stopped at a light, the launch got a little more exciting. I must say my 347 Ford Racing crate motor got a workout! My whole plan was to start in the front of the pack so that we could find a good spot to stop and get some video footage of the cruise. Halfway to Cedar Key I had developed a pattern; I would see a good spot to stop but just couldn't pull myself away from the game of cat-and-mouse that I was playing with Schmidt's GT in front of me. "Next one," "Next one," "Next one," kept coming out of my mouth. A few times I even turned on my blinker as if to finally stop, but as I heard the rumble in front of me getting away I just had to follow!
It all worked out, because eventually I did find the perfect spot to stop and capture the cruise. Even though I had seen all the cars in the parking lot just an hour before, getting to see them in motion, hear the power, and even feel it a few times, was quite exhilarating. The distinct sound of power from a Ford is not something that can be duplicated. I honestly never really thought about it until I started editing together the video footage. I always just thought it was something Ford people said, and that the engine's main sound depended on the exhaust. After editing-out the non-Fords that did manage to sneak into the lineup and then putting all the clips together, I realized I could actually tell the Fords without even looking at the computer screen. Which then, of course, led me to ask a few fellow Ford enthusiasts why? I found out it all has to do with the Ford firing order. You can bash around on piano keys and technically you are "playing the piano" but it doesn't sound good. Lucky for us, Ford engineers took that into consideration and made us a wonderful tune with a Ford V-8!
We all made it to Cedar Key as the destination for the cruise and I was more than happy to be there. I had never been to this place before and it's just the cutest little town, right on the water. Everyone was happy and friendly and enjoying the makeshift car show that just showed up. As the sun started to set we quickly realized we were the only ones left. Thank you, Cedar Key!
The next day we headed to Silver Springs State Park for NPD's 23rd Annual Ford & Mustang Roundup. The sun decided not to join us and the rain was playing that game of cat-and-mouse that I spoke about earlier. It actually rained all night and into the morning, but the show went on. Once again I was doubtful of the attendance, this time due to the weather and NPD proved me wrong. They had everything set up and ready to roll before the rain even stopped! They even gave Team Mustang Girls a little spot all our own.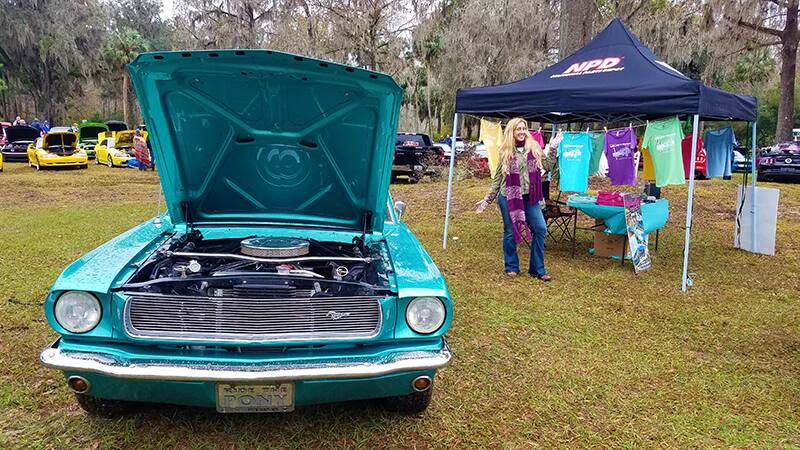 The crowd was huge and proved once again why we like Fords: built tough! A little rain didn't stop anyone from coming. There was a band playing all day long, great food and refreshments, a giant area for kids to play, and Fords for as far as the eye could see. I managed to borrow a golf cart to get a tour of the show and actually found a whole area of cars that I didn't even know about. The state park is a huge area and provides the perfect backdrop for a car show. And I love that NPD doesn't limit the show to just Mustangs. Yes I know it's horrible for "Team Mustang Girls" to be saying something like that – but I like to see all kinds of collectible Fords!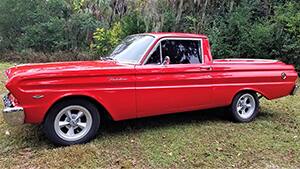 I've been on the lookout for a new project and after I lost out on a '73 Gran Torino Wagon because I was too slow to act upon the online purchase I was excited to get a chance to check out some new possibilities in person. The show did not disappoint in that regard either, as I was able to find a few cool wagons and a nice Ranchero that would definitely look good in my driveway. I can see it now ...Team Ranchero Girls!
After returning to the center stage area, I was happy to run into Marilyn and Charlie, owners of a 1965 Mustang that I met during the 2016 Hot Rod Power Tour. They ran into some trouble on the side of Route 40 in Tennessee and we had stopped to help. After eating a lot of road debris on the side of the highway from passing cars, we figured out it was a bad distributor gear pin. And guess who just happened to have one? Yep! This girl carries a spare everything! It was awesome to see their smiling faces again, friends forever because of our Fords.
All-in-all, the weekend was a blast and I have gained a new appreciation for the passion for Fords exhibited by Rick Schmidt and National Parts Depot. My advice is to put this annual event on your list of must-do's!
FORD PERFORMANCE PHOTOS AND VIDEO / COURTESY TEAM MUSTANG GIRLS