TRAPPER CREEK, AK – Last year, I restored my 1965 Mustang as Mustang Monthly's "Project Road Warrior" and this year I decided to earn the name. Ford Performance supplied us with a 347-cube circle-track crate motor for the project, and Team Mustang Girls set out to prove its street ability. Most would think I had already proven it, racking up over 20,000 miles with the Goodguys Tour, a trip to SEMA, the Hot Rod Power Tour and Rally North America, but I wanted the ultimate test, and I figured what better way than by driving a giant circle of North America?
Since purchasing my car in 2009 it has been my only vehicle, both my daily driver and rally car, and I estimate I have logged over 300,000 miles behind the wheel participating in 15 rallies and countless events all over the country. But this journey was going to be the greatest test – not only for the motor, which normally would be seen only at the track, but for the car that I spent a year restoring, as well as for us: myself and my ride-or-die Amie Williams (a.k.a. Team Mustang Girls). Rally North America was putting together "Drive Alaska 2016" and while everyone else would be flying to the start line in Anchorage, Alaska, I decided that we would be driving to and from, a decision I made at SEMA last year after a few cold beverages . . . and as it turned out that was one of the best decisions I've ever made!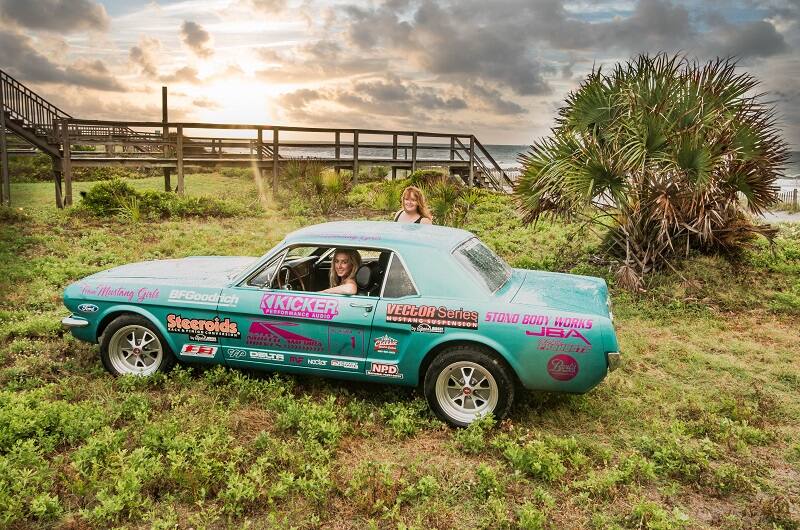 We had been warned about the lack of gas stops and the rough roads along the Alaska Highway so I added a full size spare tire to the trunk, thanks to Scott Drake and BFGoodrich, and upgraded the Mustang to a 22-gallon gas tank from Tanks Inc. And that was pretty much it as far as preparations went, unless you want to count the flare gun I included when packing my tool bag. Many friends were scared for us and our decision to brave the journey by ourselves, so I figured if I couldn't bring a gun across the border, a flare gun would at least do something if anyone tried to mess with us – plus it might just save us in case of a breakdown. And with that, we hit the road headed West on August 11, 2016.
The journey to Montana was very familiar considering we had literally just driven it the month before to the start-line of Rally North America, but lucky for us the scenery didn't disappoint. I will never get sick of all the sunflowers in Montana, paired with the gorgeous weather and the tunes blasting as we were cruising along the open road with the windows down, the way it's meant to be done! We adjusted the route a bit at the last minute to cross over into Canada right by Banff National Park on our way to the Alaska Highway. I never put too much planning into our routes; I'd rather let the road decide our path. But someone along the way told us to hit the Canadian Rocky Mountains and Lake Louise. Our plan was to spend a couple hours exploring . . . eight hours later, I had to force myself to keep going without stopping at every viewpoint possible. The drive through the park was spectacular; the glacier-fed lakes were an incredible turquoise color with majestic mountains serving as the backdrop.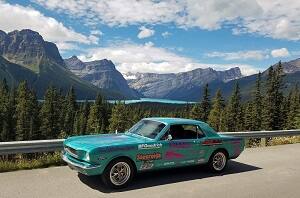 After tearing ourselves away from the beauty that Mother Nature had provided, we continued our journey North. This was right about the time we started seeing signs with graphics that that looked like mountains. I actually remember saying, "Why are they warning us about mountains? We've been driving through them all day!" just moments before we were flying through the air! Turns out those weren't mountains pictured on the signs, they were frost heaves. I grew up in New Hampshire, so I've seen my fair share of frost heaves but these were unreal and literally had our car getting airborne. Luckily, my Speed Direct suspension took the flight, and landing, in stride and we continued rolling with no incident.
The next day we found ourselves trying to remember the theme song to Dawson's Creek as we drove into the city in British Columbia in search of Mile Marker 0 of the Alaska Highway. During a gas stop we started talking to some locals, and seeing the shock in their eyes when we told them where we were headed was hilarious.

"You're not taking that car on that road! – Do you know how bad it's going to get?"

We laughed it off, and I have to admit we had no idea what we were getting ourselves into. But sometimes ignorance is bliss and I just kept telling them one way or another my pony would get us there! We found our mile marker and snapped some photos and that's when the real adventure began. Although the Alaska Highway is now completely paved, contrary to what you may have read on the internet, there is a lot of construction and repair work happening to the roads during the summer. So what does that mean, exactly? It means be prepared for dirt, gravel and – my least favorite – the graded road.
Ever driven on a washboard? Don't forget to pack a sports bra! As we continued our 1,390-mile date with the Alaska Highway, we began to see a lot more signs of wildlife. Right at the top of Summit Pass, the highest point of the Alaska Highway at an elevation of 4,250 feet, we had our first encounter with a lonely caribou walking down the road. We didn't get too close but did stop to watch for a few minutes. We were happy to be in his world and wanted to take in every minute of it.
We stopped that night at the Northern Rockies Lodge in Muncho Lake, British Columbia, with the intention of checking out Liard River Hot Springs the next morning. Unfortunately the weather didn't agree with our plans and we woke up to cold and rain. Yes, I know they're HOT springs, but the idea of getting out to deal with all the cold air was terrifying to us Southern girls, so we decided to skip it and continue on. And then it happened – we saw buffalo!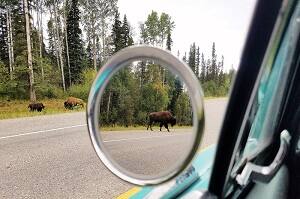 The first two were huddled by the tree line on the side of the road. We tried our best to take some pictures but they just looked like giant brown rocks and our attempts at buffalo calls sounded quite odd, to say the least. As we crested the next hill I started to see a lot of movement on the side of the road. And there it was, a herd of 40 or so buffalo just hanging out along the roadway. As we were watching one roll in the dirt like my dog likes to do right after a bath, the herd started to move. Next thing we knew we had two of the huge beasts passing within 10 feet in front of the car and one checking out the rear of the car. The massive animals were spectacular to see up close, and I am grateful for the rain that got us there at the perfect moment in time. The animal sightings continued as we found several stone sheep, caribou, and even a porcupine! As a huge fan of animals and watcher of every wildlife show on the Discovery Channel, I was in heaven! We were so grateful to be able to have a front-row seat to witness the magnificence of nature.
The next day we entered Canada's Yukon Territory. We had been warned by a couple we met at a gas station days earlier that we'd be facing about 100 miles of unpaved road on our route. We couldn't find anything about it on any of the Alaska online forums and no one we asked seemed to know about it. Not that it would change our route; we just didn't want to end up starting it late in the day with hotels scattered so far from each other. We drove through Nugget City and Teslin as the rain joined our party and we decided to stop in Whitehorse for the night. It's the capital of Yukon Territory and had a Walmart, so it was a great stop to pick up everything I needed for an oil change. I like to do it myself because I'm not a big fan of anyone touching my car and because . . . well, I'm cheap.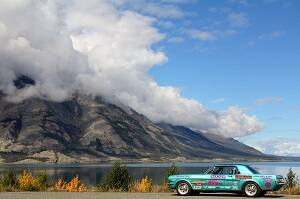 Unfortunately the weather the next morning did not cooperate so I got to figure out how to carry even more stuff in my strategically packed pony. We made it work and hit the road, headed for the Canadian border to re-enter the United States in Alaska. The sun began to peek through the clouds as we passed by Kluane Lake, the largest lake in the Yukon, and it was an incredible sight. The colors in the sky combined with a breathtaking mountain background mixed with the yellow flowers and clear blue lake made your heart skip a beat. It was so vibrant and gorgeous that we actually had to stop and take it in. After stopping at every turnout possible we headed for Destruction Bay – and then we found it . . . the long stretch of dirt road that we had been warned about, which appearing here was kind of fitting, considering the name of the city.
We survived the rolling rumble by taking it very slow, which was made really easy because the gas pedal shook itself loose. After fixing the pedal and checking all my lug nuts we were back on the road. A short hundred miles later we found the sign that we had been waiting for, "Welcome to Alaska!"
As we crossed back into the United States, the U.S. Border Patrol welcomed us home and we couldn't help but smile. Hello miles and goodbye kilometers, as well as loonies and toonies! That night we found a great little cabin in Tok, Alaska, and sat on the porch watching for bears when it hit us: We did it! We made it to Alaska! After all the horror stories and warnings, here we were enjoying a gorgeous sunset with three days to spare before our 1,400-mile adventure with Rally North America.
We survived the rolling rumble by taking it very slow, which was made really easy because the gas pedal shook itself loose. After fixing the pedal and checking all my lug nuts we were back on the road. A short hundred miles later we found the sign that we had been waiting for, "Welcome to Alaska!"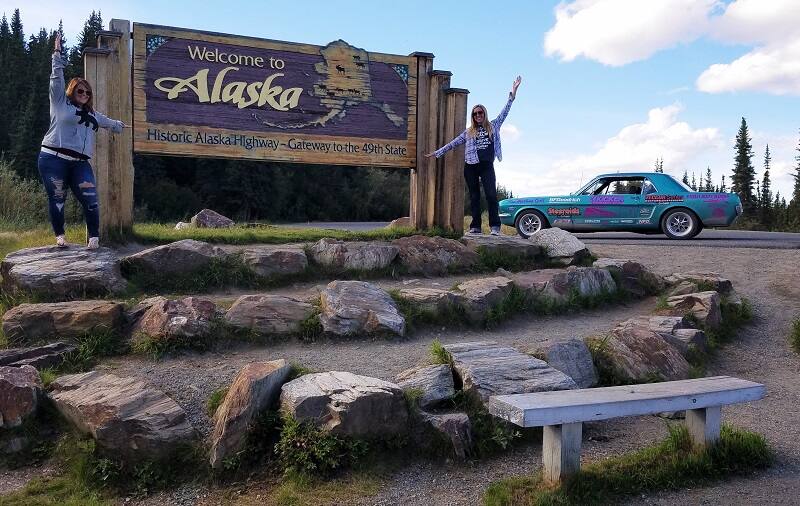 Day 1
After 5,000 miles and two weeks on the road, it was a welcome sight to see our fellow Rally North America crew so far from home in Anchorage, Alaska. "Drive Alaska 2016" was finally here and we were off, heading to Homer for the night. Unlike the normal rallies with scavenger hunt-type clues leading you to checkpoints all day, we were traveling as a group and using two-way radios, a skill that took us a little while to conquer. Twenty minutes into the drive, I happened to check my phone and had a dozen messages saying, "Turn the radio off."
Somehow we had switched to a setting that was activated by noise and the whole group was stuck listening to us chat as well as the rumble of our Mustang's motor. When we still couldn't figure out how to make it stop, we were given a new radio and the Courtney and Amie Radio Show came to an end.
The first stop for the day was Turnagain Gallery and Gifts of Alaska. The family-owned gallery was filled with handcrafted sculptures and furniture that would be a spectacular addition to any room in your house. My favorite was the Octopus carving by Jordan Anderson; the detail and craftsmanship of the piece was incredible. After leaving the gallery we headed to the Alaska Wildlife Conservation Center. The AWCC is dedicated to rehabilitating orphaned and injured animals and providing wildlife awareness and education to the public. After our buffalo encounter on the way up through the Yukon we hadn't seen much activity, and it was really cool to be able to get up-close-and-personal with some bears that wouldn't eat us in Alaska. We finished up our tour of the center and were on the road again headed for our final stop, the Land's End Resort in Homer, Alaska.
As we made the final turn out of the mountains I was reunited with smell of salt air and it made me smile; it's amazing when you come across certain triggers on the road that remind you of home. We checked into the resort and found that the room had a hidden wall bed; it was entertaining to say the least. After testing out the Murphy Bed we stepped out on the balcony just in time to see a seal floating by on his back digesting his freshly caught dinner, and I officially fell in love with Alaska!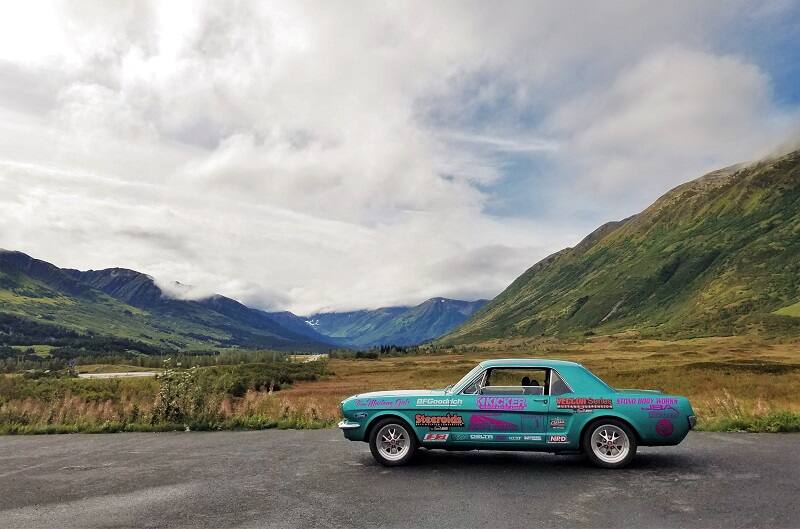 Day 2
The rain followed us during the drive in the previous evening and gave the car a nice bath overnight while we enjoyed ourselves at the Land's End Resort. As we began our roll out of town, the fog started to take over. I live by the water in South Carolina so I'm not unaccustomed to some blurry mornings, but this was the most extreme fog I've ever seen; we literally could not see five feet in front of the car! It was a little unnerving passing warning signs for animals as we were surrounded by the clouds. I kept waiting for a moose to pop into the windshield! Luckily the sun started to burn off the haze and once again we could take in the beautiful scenery that was all around us.
There was a good bit of construction along our route to Girdwood, Alaska, and somehow we ended up on the wrong side of a flagger waiting for a pilot car as most of the group made it through. We decided to do our own thing and stop anywhere that looked entertaining. After playing tourists at Cooper Landing Visitor Center we decided to see how far we could sneak down the boat landing. If you check out our pictures, you'd see that if we were any closer that we would need some floaties! As we continued North up Alaska's Route 1 the scenery just got better. The sun may have been hiding but the clouds and fog against the backdrop of the mountains was breathtaking. We made it to Hotel Alyeska in Girdwood just in time for a great dinner with our rally buddies. Sometimes it's fun to travel alone and meet up later, because then you get to hear everyone's story. It's amazing how you can all travel on the same road but see such different things!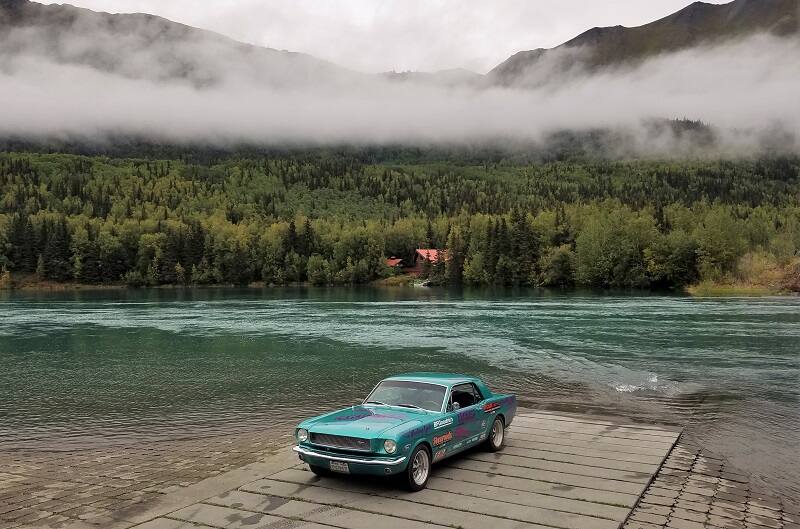 Day 3
After over 100,000 rally and event miles in my 1965 Mustang, I have come to expect something to happen every now and then. I try to prepare for it by bringing tools and spare parts, but Murphy's law usually prevails and there's always something missing. Everyone always asks what do you do when you break down? Well, my Dad taught me well. I remember the first time I broke down after moving away from home. I called my Dad (mind you this was before cellphones were smarter than us – back when they actually were used as just a phone), and his response in my time of need? "Do you see a gas station? Well, walk to it!" As dumb as it may sound, those words have helped me a lot. My twist on it? Giving up is never an option, so fix your shit and keep going! And on that note, welcome to Day 3 of Drive Alaska 2016!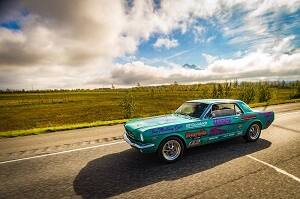 Up to this point the car had been doing great and running like a champ. The roads were rough on the way out but we were traveling alone, and I took my time getting through the bumps. Now that we were with a group, the whole pack mentality kicks in. And while I do have a stout 347 stroker from Ford Performance, paired with an Automatic with Overdrive from FB Performance, a 9-inch Currie Rear End, big brakes from CPP and upgraded suspension from Speed Direct, it's still basically a lowered steel box and it will only take so much of a beating before it turns on me. I was trying to keep up with the group that was all in rental trucks and one little half-SUV thing that Brian Shannon got stuck with, and that was my first mistake.
My theory about driving is to stay in your comfort zone. It took a while to learn that lesson but I like to think that with age comes some wisdom. As much as it's fun to try to keep up with the cool kids, I have chosen my steed in this rally world and it's about 50 years older than most of the other cars. Respect the car, and she will be good to you. If you push yourself beyond your happy place, bad things tend to happen. And that's what did. On the way out of Girdwood I was riding behind the full-size SUV trying to keep up and nailed a bump hard.
Everything seemed OK at first, but as we got out of the construction zone and started up into the mountains I could tell something wasn't right with my brakes. The pedal was soft and going down further than it should. We stopped at an overlook and could see there was a leak from the back of my dual master cylinder. It wasn't huge but enough to drop the fluid level to half in the back reservoir. I filled it back up and we continued on slowly looking for a better place to stop and better evaluate the situation. Luckily, we found the Grand View Cafe and RV Park – don't ask what city it's in; they don't even know! But you can find the beautiful spot at mile-marker 109.7 on the Glen Highway.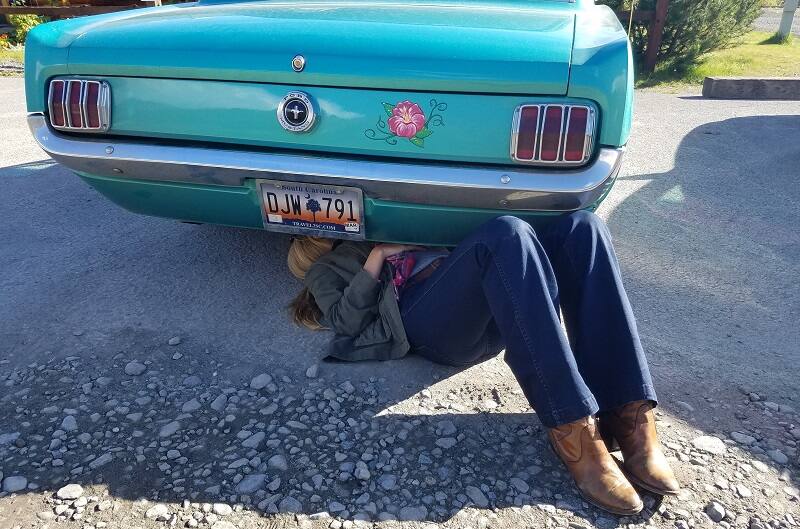 There, I snuck under the car and made the mistake of touching the brake line. That was the final poke it needed and it split off and dumped the rest of the fluid. Note to self: Never touch anything! While I had an extra brake line, I was lacking a flare tool. I debated on using vice grips to clamp the line like we did on the Hot Rod Power Tour, but the bumps on the Alaska roads were a lot less forgiving and I was afraid that solution might just cause a bigger problem. So the next option? Let's see if calling AAA works in Alaska: Guess what? It does! We talked to Glennallen Fuel and Towing, and not only would they come get us, but they were willing to fix the brake line at their shop which, was on the way to our destination for the night in Valdez.
Another team had stopped to make sure we were safe and we all sat down to enjoy the view with a beer and some pizza while waiting for the tow truck. And wait we did . . .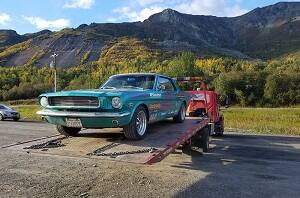 After several hours and many calls to Scott Feicht at Glennallen Fuel, we were assured help was on the way and forced the Barts, our leave-no-man-behind friends, to continue on before they ended up having to drive in the dark. I started to accept the fact that we might not make it to Valdez for the night. The shop in Glennallen was right next to a motel, and I told myself just to be grateful that help was on the way. After almost six hours we were at the shop with the car and Scott had it fixed in no time. On the lift we could see that my back air shock had given up the fight, causing the brake line to rub against it and eventually fail. So there we were, right next to a motel, all fixed up and ready to roll in the morning . . . but I just couldn't get Valdez out of my mind.

Well, if you know me at all I'm pretty much a stubborn you-know-what when it comes to giving up on anything. I should mention that at the beginning of the rally we received "The Longest Distance of All Time Award" from Rally North America. But in my head, even though we had already gone 5000+ miles, we still hadn't earned it. And now the award had turned into bad juju in my head, very similar to the episode of The Brady Bunch in Hawaii with the cursed tiki idol. I never want to be given anything as I want to earn it, and I felt in order to do that we had to make it to every stop each night. Even though Rally North America organizer Tony Intrieri disagreed, I was still not convinced. It was almost midnight, pitch-black outside, and we still had over 100 miles to go on some bumpy, windy roads to Valdez and instead of walking to the motel next door, we packed up the car and hit the road again.
And I'm happy to report we made it to the hotel by 3 a.m.! It was a terrifyingly spectacular way to end the long day, which at the time I thought was our biggest hurdle for the trip. Little did I know what the Denali Highway had in store for us the next day!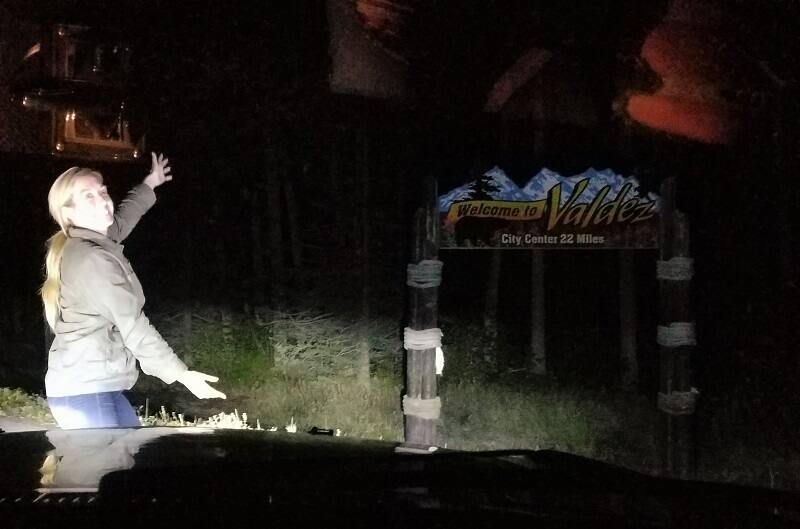 Days 4 & 5
After getting to Valdez, Alaska, at three in the morning we were a little slow to get started but I did manage to run outside and give back our bad voodoo award. Rally organizer Tony Intrieri was reluctant to take it back at first. Actually I had to put it on the ground and leave it, but he accepted my crazy logic and eventually picked it up. I would take it back when we earned it.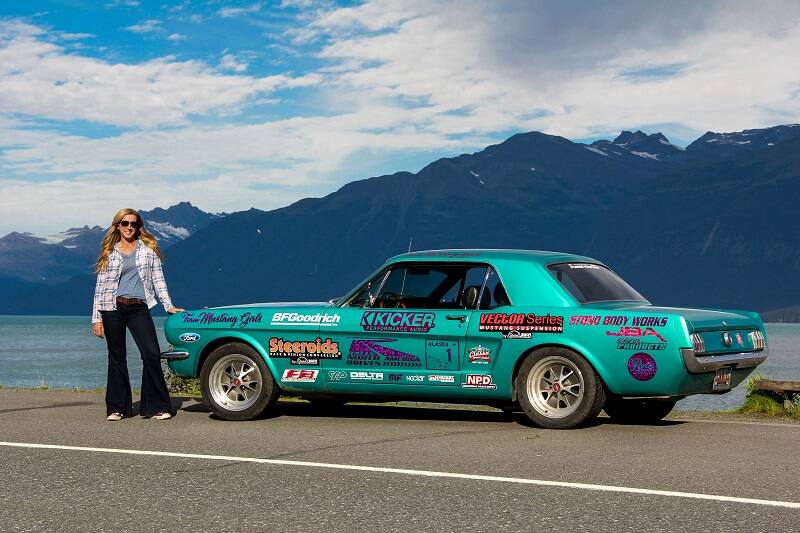 Little did I know we would earn the hell out of it later that day! As we got on the road we finally got to see the gorgeous drive that we missed the night before. Valdez is a port city and once again I felt at home with the smell of the ocean. Our first stop was at the hatchery where we got to witness the seals feasting on the spawning salmon. To see it in real life after watching nature shows on Nat Geo was unbelievable. Well, at least until you got a whiff of the smell; then you believed it!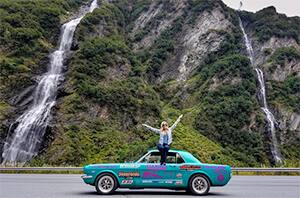 We continued our journey North as we solved a mystery from the night before: We weren't able to see a thing but we could hear lots of water and felt the cold air rush into the car. At the time we weren't positive what it was, but I'm pretty sure we both imagined we were on a cliff about to plummet into some raging rapids below. The Bridal Veil Falls were amazing to drive up to; before turning the corner you can see this amazing waterfall cascading down the rocks, and then – bam, there's another, bigger waterfall right next to it!
After that we continued to drive North and the next thing we knew there was a giant glacier right in front of us. It was almost like we had been blindfolded and taken into this gorgeous place, so everything was a spectacular surprise. Worthington Glacier was well worth the drive. The sun was shining down and it was unreal to be able to drive so close to something that magnificent. After stopping for some of my favorite photos from our journey, we continued on.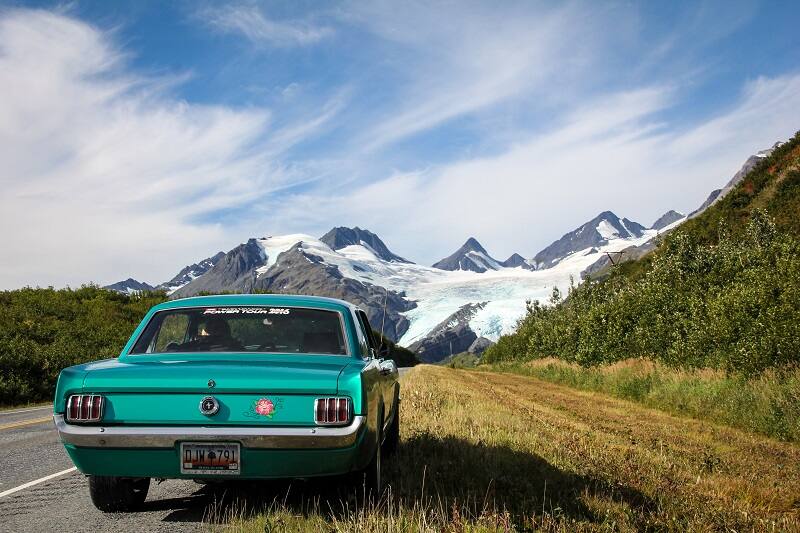 This is where the debate began. Remember me mentioning my failed rear air shock which caused stress on the brake line, eventually causing it to snap? We were able to get the line fixed the night before, but my 1980's-style air shocks are not a high commodity in Alaska and no one had them in stock. You may be wondering why I choose to use air shocks, and the reasoning behind it is the love of my car's stance. When I'm at home and don't have the car loaded down with luggage I love the way my car sits. The only way to make that same look possible when I'm on the road and loaded down is to use air shocks; I simply pump them up with 140 pounds of air to make it possible to drive with that same stance. (Yes, the things we'll do to look cool!) They did have some progressive-rate springs available back in Anchorage but we were just there and it was a Saturday so no deliveries were coming. If I wanted new air shocks, they'd need to be ordered.After that we continued to drive North and the next thing we knew there was a giant glacier right in front of us. It was almost like we had been blindfolded and taken into this gorgeous place, so everything was a spectacular surprise. Worthington Glacier was well worth the drive. The sun was shining down and it was unreal to be able to drive so close to something that magnificent. After stopping for some of my favorite photos from our journey, we continued on.
The group was headed to Denali Park and most were taking the Denali Highway but a few were going up to Fairbanks to see Santa at the North Pole and avoid the 134 miles of dirt-road fun. Of course the route through Anchorage was actually the shortest way to go, but I hate going back the way I came. With so much to see it seemed like dumb choice. We kept hearing about the views the Denali Highway had to offer, so somehow that route became our logical choice to travel.
We ordered the shocks at Glennallen Fuel and made a plan to stop by on our way back home Monday to get them, and then started off towards the dirt road. We messaged our group about our plans to take the stretch of dirt road. Tony had warned me months before that I would have to take another route. I knew they were all way ahead of us because they had seen the Valdez sights the day before. I read a post about shuttles going down that road all the time and figured that if they could do it, we could too if we took it slow. On the way into Alaska we had hit about 50 miles of dirt through Destruction Bay and we survived that, so how much worse could this be?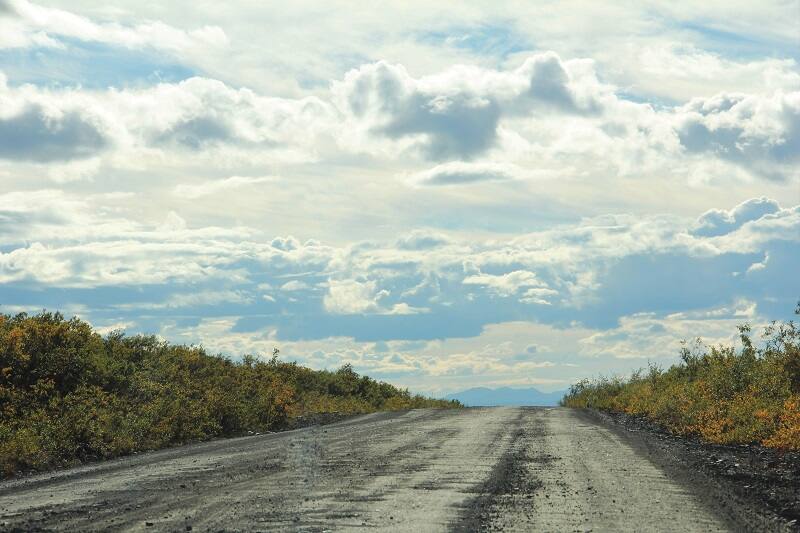 I laugh at that thought now! We didn't hear any objections from the group, so we decided to go for it. Little did I know that the group was still on the road – a road without any service. And the comments I read about the shuttle? That was about the Denali Park tour the next day, not about the highway we naively started across. The first 20 miles weren't so bad. I think they tease you with a little pavement just so you won't turn around. Then it all turns to gravel. And not the little kind, but giant rocks, with potholes scattered all across the road like some crazed guy came out and set a booby trap for tourists. The looks on people's faces as they saw us driving by in a 1965 Mustang were priceless. Some looked horrified, while others gave us a "thumbs up" and just laughed at us as we bumped by very slowly. The first five miles of dirt took us an hour to get through. You may be asking yourself, "Why the hell didn't she turn around?" But that's a question I didn't start replaying in my head until after about eight hours on the highway. At least the views were incredible, and it was hunting season so we got to see real Alaska, real people surviving off the land. And maybe it would get better . . . right?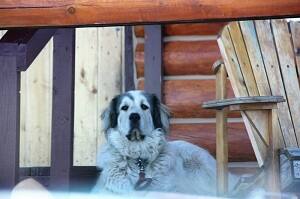 After four hours we made it to Maclaren River Lodge at Mile 42 of the Denali Highway in Paxson, Alaska. We were happy to just get out of the car a bit and grab some sodas and we soon found out we were the talk of the town. People had bets going that we would turn around. That's the wrong thing to tell ME: Hell NO we weren't turning around!
Well . . . we did for a second, actually. We left the lodge not knowing they had gas available and one of the guys was nice enough to chase us down on an ATV. Although I'm guessing he could have just thrown a rock at us because we hadn't made it that far. I still had three-quarters of a tank, and thanks to Tanks Inc.'s 22-gallon tank I installed for the trip, that meant I had a little over 14 gallons left. I thought we could make it but didn't want to be kicking myself on the last 10 miles, so we went back and filled up. We got a few more warnings about conditions on the road ahead. It was supposed to get a lot worse, but at the time I thought they were just trying to scare us.
As we drove away you could almost feel the group at the windows watching us. But we had come this far; there was no turning back! At the lodge the guys told us that 10 miles up the road we would see the most spectacular view we had ever seen. The sun was starting to set and as we reached Mile 50 it had basically gone down, but we kept telling ourselves if we could still see, we're sure it would be an amazing sight! Then it got worse.
The potholes we had seen before were just a warm-up of things to come. Up to this point we would occasionally hit 15 MPH, but were averaging about nine miles an hour. That quickly got knocked down to three. That's about when I started to doubt my decision. You are probably saying to yourself, "What the hell took you so long"? And I honestly can't answer that.

I love a challenge and to me this was my ultimate Alaska challenge, but it was quickly turning into a challenge to not break the car in half! As the sun was setting I had started to worry about the group. I didn't want anyone to worry about us so we found some paper and started handing out SOS messages to anyone passing by that might be headed for a phone. Please call the Barts: "Courtney says we are OK and taking it slow. See you in 8 hours."
We started our journey on the Denali Highway at 4 p.m. and at around 10 we reached the halfway point at Mile Marker 68 at Alpine Creek Lodge. We couldn't make it up the hill without four-wheel-drive so I left Amie with the car and ran up the hill to see if I could call our friends. The bartender thought I was nuts as I explained the story and was nice enough to let us use the phone. I got a hold of Tony and his reaction was the same: "I told you months ago to not take that road! From now on I'm going to tell you to do something instead of not to, and maybe then you won't do it!"
I grabbed as many sodas as I could carry, knowing that caffeine was our only hope and ran back down the hill to find Amie with all the windows up. Wolves are friendly right? The howling was echoing through the mountains as we continued on in the darkness. The unforgiving road had turned on us but we were into it this far and there was no going back. It's like God knew we needed something to keep us going, and so right at midnight we got our first look at the Northern Lights. The green of the sky almost matched the color of my car and gave us a renewed hope, so we kept on trucking.
Right around 2 a.m. is when it finally got real bad. Yes, up until this point we were still laughing at our decision. Or my decision. Amie later told me she was ready to turn back at Maclaren but knew my stubborn side would never listen. The road became mind-numbing. We could only see about 10 feet in front of us and the view just never changed. For hours it had been the same, and a few times we stopped to water the foliage and I had to double-check if the car was in park. Are we still moving? We were stopped but I swear it looked like the road was still moving slowly beneath us.
One time it was so bad that I was actually scared to get out of the car so we just kept going instead. By 3 a.m. the mile markers had become the devil. You could see one in the distance and then it slowly approached and let you know that you still weren't anywhere near the end. The last 20 miles were torture and I had to keep stopping to get out and do jumping jacks to wake up and warm up. I knew if I turned on the heat in the car it would be harder to stay awake, so we bundled up and did the only thing we could do – which was keep going.
At around 3:30 we had another awesome wake-up call: A mother and baby moose passed right in front of the car. The massive creatures even gave us a look of confusion, as if to say, "You came out here in that?" The moose spotting was just what we needed as we made the final push to Mile 130. And then we saw it – pavement! It really did exist! I'm pretty sure we were both near tears as we felt the car stop shaking for the first time in 12 hours. Somehow we had made it, and the car was still in one piece. Thank you, Speed Direct, for building an amazing custom suspension for my 1965 Mustang and BFG for the tires that took the beating from the Denali Highway without any problems.
We managed to make it to the Salmon Bake Cabins in Seaward, Alaska, by 4 a.m. and crawled into our beds. The next day we were supposed to be on a bus tour of Denali Park at 9:30 a.m. – a bus tour on a dirt road! At around 11 a.m. we woke up and stepped outside to be greeted by the sun shining down on the mountains, and we started to replay the night and early morning in our heads. That was when I officially declared it to be the "Official Drink Beer In Alaska Day!"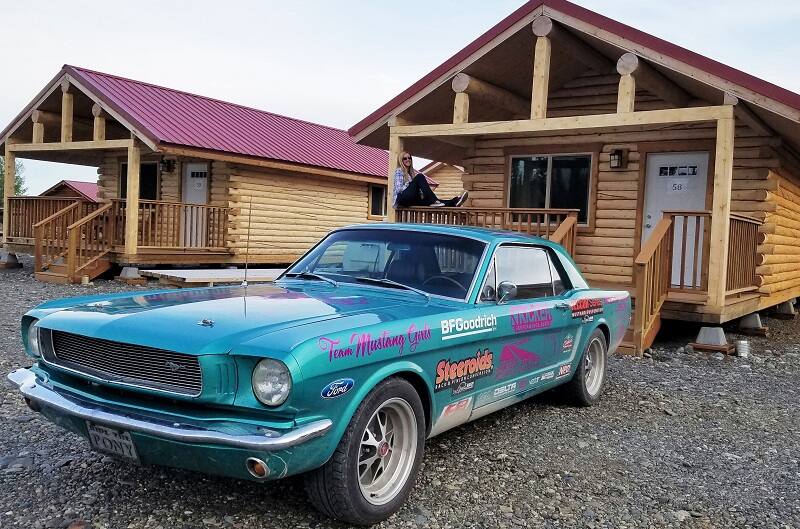 Lucky for us the cabin was right up the hill from a great bar and restaurant and we were easily able to accomplish our goal for the day. As the others came back from the bus tour we all got to share our experiences with the highway the day before. Tony said that even with a full-size truck it was rough going:
"The biggest joke along the 123-mile dirt road was the 50 MPH speed limit," he said. "Perhaps it was a goal that was completely unattainable, sort of the dangling carrot that we would be forever denied from tasting. You would almost become comfortable for maybe a minute on a crossable stretch and get close to 50 MPH when a 100-yard section of completely unavoidable potholes would appear to rattle any fillings in your dental work and every bolt and screw in the vehicle. Our pickup averaged 24 MPH through there during the daylight hours."
After hearing the stories from others who had braved it, I actually stopped kicking myself for dragging us down a dirt road when there were multiple other options. We did it, and not too many people can say that. And how many can say they did it in a 1965 Mustang?
Day 6
On the morning of our sixth day, the final day of Rally North America's Drive Alaska 2016, we woke up in Denali Park greeted by sunshine. It was downright chilly for us Southern girls, but the sun and scenery made up for the cold. It was that bittersweet day of the rally: you're happy that you conquered the adventure, but sad that it's all about to be over. One day I will invent a reset button!
We started our trek back to Anchorage with the group. After all the adventures of Days 3 & 4 it was nice to just follow someone without having to think about much. And then it happened: Smoke started pouring out – no, just kidding! It doesn't all have to be dramatic right?
After a great group dinner we all went back to the hotel. I should mention that the day we arrived in Anchorage I found some wood that someone was throwing away. It was good firewood and I had been carrying it around all week and never found the right spot to have ourselves a campfire. Lucky for us the Microtel in Anchorage was nice enough to let us light up a small bonfire in the back parking lot. We cracked a few beers and enjoyed the perfect end to our amazing journey with Drive Alaska 2016!
The Road Back Home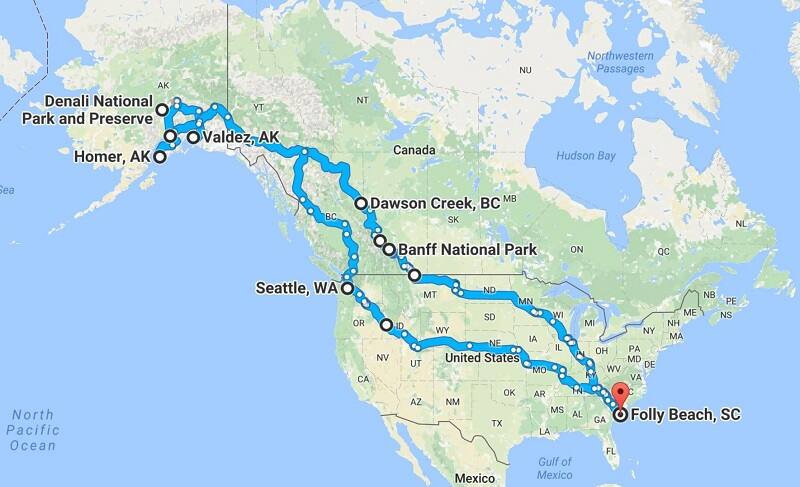 After finishing up Rally North America, the 6,000-mile drive home became the next goal. You may have noticed a theme to the way I do things: It basically comes down to plan nothing – ever! Life on the road with an old car is a lot easier if you don't; that way you're never late, people are always surprised and usually happy to see you when you show up, and most importantly there's no disappointment. I've found that the minute I start making plans is usually right around when something bad happens. I know I'm going to sound like some sort of hippie but I let the road decide our path. Not once on our entire month-long journey was an alarm set. The sun wakes us up and we hit the road early and then drive until the sun starts to set or my eyes start to play tricks on me. We stop at anything that looks interesting and eventually we always seem to make it to our endpoint.
It may sound crazy to take on a trip to Alaska with little planning or research but now, looking back, it was the best "plan" of all. Rally North America did provide us with some structure but it was kind of cool to have new surprises each day. Had we researched each day's route, the road back from Valdez wouldn't have been like Christmas all day long, and we certainly would have avoided the Denali Highway which is now one of my greatest accomplishments with my 1965 Mustang.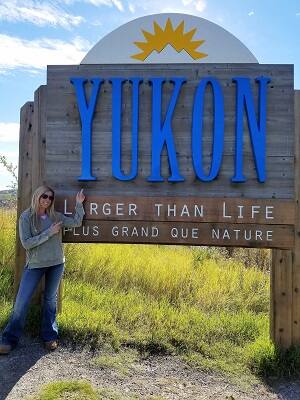 On that note we started our journey home. Our drive to Alaska through Banff National Park and up the Alaska Highway was indeed breathtaking, but taking it all the way back just seemed too easy and boring. I wanted to go straight down through Canada towards Seattle, but if you look into doing that on the internet there are horror stories of the roads not being paved and of people just disappearing. Once again, our friends warned about the route and expressed genuine concern for our safety and even found us another option with the ferry system. But we're cheap, and driving always seems like more fun to me. So we hit the road for the Cassiar Highway in British Columbia. On our way out we stopped by Glennallen Fuel to switch out the shocks that we ordered a few days before. If you ever go to Alaska be sure to take along their phone number. A tow company that will come and get you and fix your stuff and not take advantage of your bad situation when it comes to setting a price is hard to come by anywhere, let alone in Alaska.
As we headed for the Canadian border it was crazy to see how much the scenery had changed in a week's time. The leaves had turned from green and yellow to orange and red, and lined the road like a scene from the Wizard of Oz. It made it hard to leave this area but as quickly as the leaves were changing, so was everything else. The cold was coming fast and tourist season was coming to an end, and that meant things shut down. We learned that the hard way when we pulled into the gas station we had stopped at on our way in. All the pumps were dry and a big "Closed for the Season" sign was in the window. Luckily we had enough in the tank to get us through Destruction Bay.
We made it to Whitehorse for the night and got another fun surprise. Something was in town. I want to say some kind of bull riding competition but I can't really remember. The rain had ushered us into town and hotels were sold out. Over the years I have stayed at some pretty questionable locations to save a buck or just because of a lack of options, but this one beats them all. The sad thing is the room didn't bother me at all – it was all about my car. The parking lot was full and I had to put her on the street just a block down from a rowdy bar. I kept walking out and checking if any spaces had opened up and then made the mistake of Googling reviews on the hotel and found some involving a bike being vandalized just weeks before. I started looking up how far it would be to the next town, which was well over 200 miles in the dark, with the rain as an added bonus.
While checking on the car, the front desk clerk saw my concern and offered to let me park in the garage downstairs. Well, hell yeah! That sounds awesome, a locked parking garage? It was like someone just gave me a winning scratch-off lottery ticket. But as I pulled around the back of the building, my whole vision of a "parking garage" quickly disappeared, as the woman opened up these sketchy looking barn doors and then motioned for me to drive into the black hole next to her. My best way to describe the hole is to imagine the bulkhead to a basement or bomb shelter – just trade in the stairs for a really steep ramp and you have it! I figured anything had to be better than the street, so we started for the darkness when the car protested.
Scrape! The hump at the top of the ramp met the underside of my car and they weren't new friends. I slowly backed up while saying a prayer I didn't loosen my exhaust and then it was back to the street. Honestly, I don't blame my car – that ramp looked scary to me too! After all that, I did my best to tuck my car in between some trucks and decided to just take my chance with fate. If we tried to make it to the next town I could hit a moose and be even more upset. Sometimes you just have to say whatever happens is going to happen. And guess what? Nothing happened! Well, at least not to the car. The things we found in the sheets may have done more damage to our minds than any vandals could to the car!
After our interesting night, I woke up the next morning and actually looked at our drive route for the day. I could do a little planning to avoid another nightmare like Whitehorse! (Check out themilepost.com if you're ever planning a road trip up North. It literally has every stop on the road marked by mile.) We decided to aim for Dease Lake, British Columbia, for the night and made the turn onto the Cassiar Highway. Screw the Internet – it couldn't be as bad as the Denali Highway, right?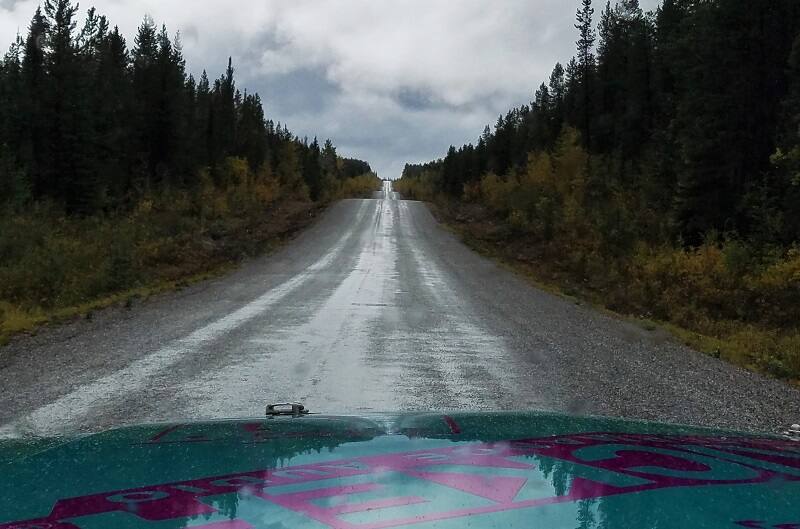 The road was similar to a roller coaster with giant hills that made you think you were about to drive off the top of the world, followed by steep descents that made the gas pedal unnecessary. It actually reminded me of the hilly road way my mom used to take us to the dentist when we were kids. Funny how certain roads stick in your mind years later. Luckily this one didn't involve any pain! It wasn't actually that bad, even with some rain in the morning. The views were once again out of a storybook and we had no problem making it to the Arctic Divide Inn for the night. The pictures of the place on the web did not do it justice because the cute little log cabins were awesome and I parked 10 feet from our door with a view of the car and mountains from our window. After our questionable accommodations the night before, we were literally in heaven!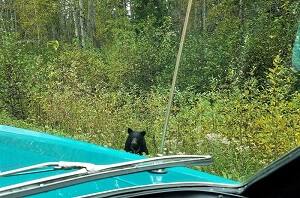 We woke up greeted by the sunshine and continued our journey South. Little did we know it was the day of the bear! Throughout the whole trip we were on the hunt for bears and any animals really. We had stopped at the Wildlife Sanctuary in Portage, Alaska, but we wanted to see bears in their own habitat, just doing their bear thing. And it finally happened. As we turned a corner we saw a black thing in the middle of the road. As we approached it almost looked like a giant dog until we got even closer. The gentle-looking guy just looked at us and slowly finished his stroll across the road before moseying back into the woods. Amie and I were both giddy with excitement and couldn't believe we had finally seen a bear so close. We turned another corner to find two more bears on either side of the road almost like they were holding an invisible finish line for us to drive through. As we slowly approached they just continued eating their berries as if to say, "Don't mind us!"
One big guy had to be less than five feet from the car, I'm pretty sure he liked our Kicker jams! Over the next five miles we saw three more bears. While we at least had the protection of being in the car, I did actually get out for a close look, twice! It was crazy to see the number of bikers on our route. We saw two stop to take pictures within 15 feet of some big bears. It made me wonder, what exactly was their plan? We made it to Robber's Roost Motel in New Hazelton, BC, for the night. It was another cute little hotel in the middle of nowhere that made me realize I had been going about picking hotels the wrong way. Everyone warned us to stay in bigger cities to be safe but I think the opposite is true. The little places you find along the road are all family run and everyone knows everyone. More importantly, people still take pride in what they do and if bad kid "Johnny" was going to mess with a tourist's car he would think twice because he knows it would take less than five minutes for his parents to find out!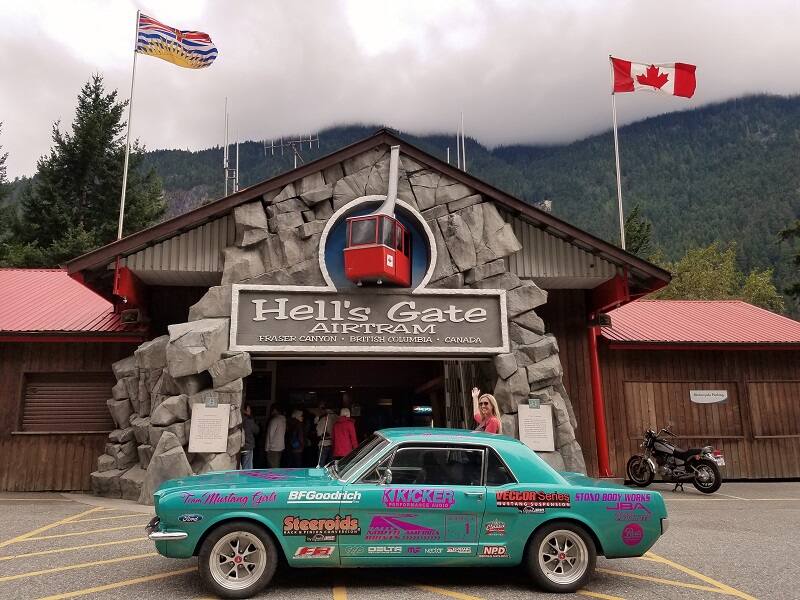 The next day we found ourselves approaching Hell's Gate along the TransCanada Highway; I never knew the entrance would be so pretty. It was another one of those fun surprises that happened because of our lack of research. The winding road reminded me of the Tail of the Dragon back home, and all the bikers on the road seemed to agree. The steep cliffs and rushing rapids below made for some white-knuckle driving but it also made you want to go back and do it again like a ride at the amusement park. We made it through unscathed and headed for the U.S. border. And they let us back in!
After that is was "Crazy Daisy" time. When Ford Performance sent us the 347 Circle Track stroker motor, my friend Dave from Stono Body Works joked that they sent a racing motor to Driving Miss Daisy . . . until he went on the Hot Rod Power Tour with me last June. I do take it easy until I accomplish my event goals, but when we hit the road for home, that all changes. (I never even noticed it was my pattern until he had pointed it out.) I also learned that different types of music affect the speed I drive. Anyway, that pretty much describes our ride home – pedal down, windows down and music turned up!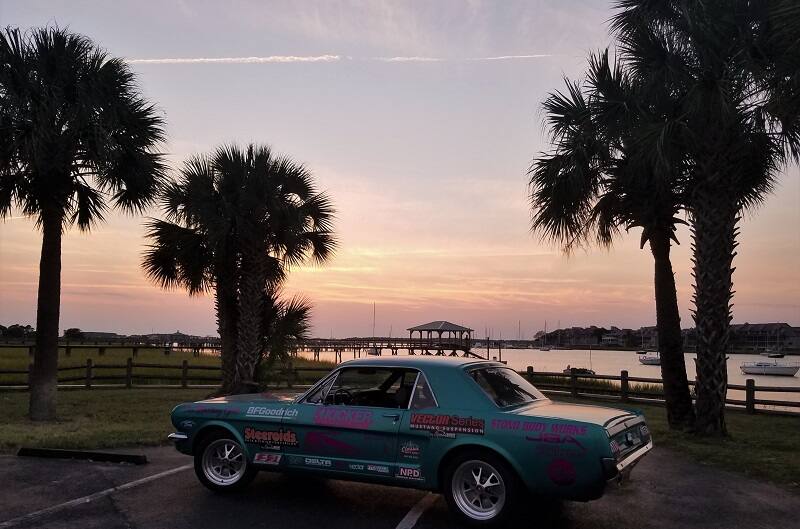 Now the million-dollar question: Is that car stock? Oh, hell no! I want to give a big thank you to all the sponsors and people that helped me build a 1965 Mustang that could make it on such an incredible journey up to, through and back from Alaska. I did two oil changes on the road and kept all the 347's fluids happy, and only had to adjust the 650 four-barrel's idle mixture once for the elevation and then back again. Even with just 85 octane for several days in a row, the engine performed great and we managed to average 16 MPG. After 30 days and 13,377 miles, the only problem was a brake line leak? Not bad, if I do say so myself!

FORD PERFORMANCE PHOTOS COURTESY TEAM MUSTANG GIRLS / COURTNEY BARBER