PORTLAND, OR – After wrapping up the Hot Rod Power Tour earlier this summer, Team Mustang Girls got back on the road again for our fourth year with Rally North America. The main idea behind each of these events is to drive for a cause, get automotive enthusiasts together, raise money for a chosen charity and take the road less-traveled. To date, Rally North America events have raised more than $500,000 in direct donations to chosen charities. This year, 100 percent of the donations raised by each team directly benefited Camp Sunshine, a year-round retreat specifically designed for children fighting life-threatening illnesses and their families. (Please consider helping Camp Sunshine by donating to this amazing cause!)
The 2016 Rally route began in Billings, Montana, and led us through scenic back roads all the way to Portland, Oregon, as we completed daily challenges along the route. Amie Williams and I began our 2,300-mile journey to the starting line from our home in South Carolina. We made great time cruising across the country, thanks to my new AODE transmission from FB Performance. We even had a little extra time on the way to explore the Badlands of South Dakota, and it was a spectacular sight to see!
Once we arrived in Billings, the weather changed our plans to have some fun at the Yellowstone Drag Strip. We had been prepping ourselves all day on some lonely back roads in Montana by playing Street Outlaws a bit, so we still managed to get our need for speed covered thanks to our 347 Circle Track motor from Ford Performance.
Later that evening we attended the charity auction that pushed donations to the grand total of $118,546 for Camp Sunshine. At the auction we also had the pleasure of meeting Bria Koch, daughter of Brad and Bonnie Koch. Bria was diagnosed with a rare disorder known as Diamond Blackfan Anemia and has been to Camp Sunshine on several occasions. The confident 10-year-old was an inspiration to everyone in the room. She was our flag girl at the start line in Billings, and we soon realized that we shared a passion for pink. When she saw our Mustang wearing so much pink, we officially had our newest member of Team Mustang Girls!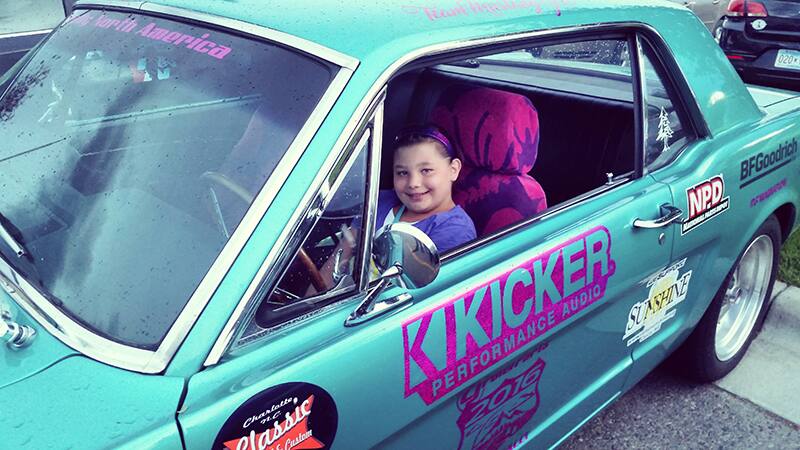 After her official green-flag duties were done, Bria hopped in the car and rode with us for the first leg of the day. I can't say enough about what an impression this confident and strong young woman made on the entire group. It really brought it all into perspective for us. Yes, it's fun to rally and drive across the country, but being able to help people and see the results of all the fundraising efforts was truly a blessing.
Although Bria was ready to roll for the whole rally, we had to return her to her parents and then we were off to Yellowstone National Park. Normally we are given clues and checkpoints to find over a few hundred miles each day, but the organizers changed it up for the day because they wanted everyone to be able to take in the majestic scenery of the day's route instead of just rushing through the leg. And what a beautiful day it was! After taking in the sights, we headed to The Lodge at Big Sky, Montana. The views just kept getting better and better, and we found ourselves snapping pictures every other minute of the way.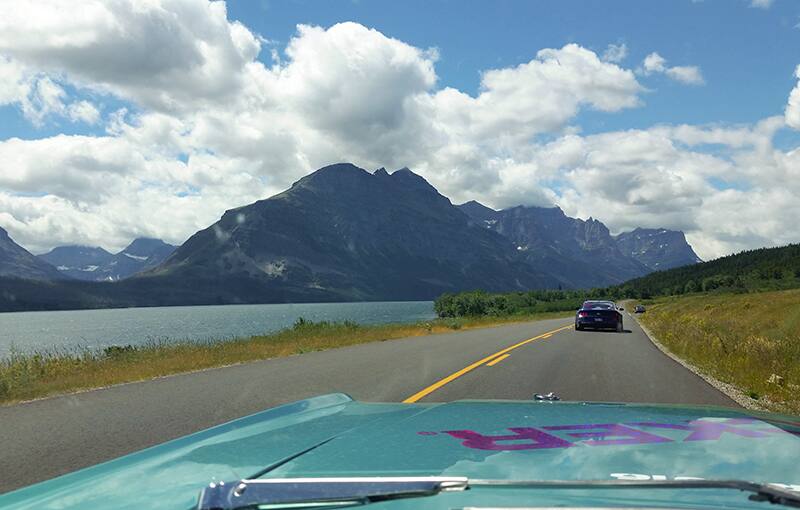 Day 2 of Rally North America started off in Big Sky, Montana. We had the pleasure of staying of The Lodge at Big Sky the night before, and I'd definitely recommend this place. Not only can you walk to everything from the hotel, but they also have sturdy luggage carts for riding down the entrance hill! After obviously having a little too much fun the night before, we got off to a late start and so we decided to take it easy for the day and hang out with Team America and their 2008 Shelby GT500 Mustang as we cruised to Great Falls, Montana. When we stopped for a picture in front of a road sign, the next thing I knew the car was smoking.
As I popped the hood the overflow tube started spraying around like a loose fire hose. After waiting for things to cool down a bit the search for the problem began. The fan wasn't kicking on. After checking all the fuses and getting the test light out we were able to figure out that the ground to the fan switch relay had wiggled loose. We tightened it up and were back on the road in no time with the help of Team America.
The gorgeous scenery continued as our day rolled along. While the other teams on the rally hit up the check points, we decided to just head in the direction of the next hotel and stop at anything that looked fun – including the Mustang Motel in Townsend, Montana, and the Big Bull Bar and Grill in Winston. After stopping there for lunch we finished up the day in Great Falls, Montana, logging another eventful day on the rally.


The third day of Rally North America started in downtown Great Falls. We got our checkpoint card and we were soon off and running, headed toward Kellogg, Idaho. The first stop was at the entrance of Glacier National Park. Next thing we knew we were headed up Logan's Pass with a top elevation of 6,646 feet above sea level along the Continental Divide, which is at the summit of Going-to-the-Sun Road. The views here were absolutely breathtaking, and I'm happy to say Project Road Warrior rocked it! I had been a little worried about how the elevation would affect my carburetor. I heard a little pinging from underhood as we reached the top, but nothing major that required any adjustments to the air-to-fuel ratio.
As we made our way down the pass, the views continued to amaze, with waterfalls cascading down all around us. We tried taking video along the way because the pictures just couldn't do the drive justice. Every time we would put the camera down, it was just a few seconds more until we hit the "record" button again. If you ever have a chance to take this drive, I highly suggest taking advantage of it. Just another reason why I love Rally North America!
After we returned to sea-level we continued our journey and ran into one of my favorite Mustangs on the rally driven by Team Limer. Their 2006 GT seemed to be glowing in my rear- view mirror as we traveled through the hills in the dazzling sunshine on our way to the hotel in Kellogg, Idaho. Soon, another day was done, complete with some spectacular memories of places that I will definitely visit again!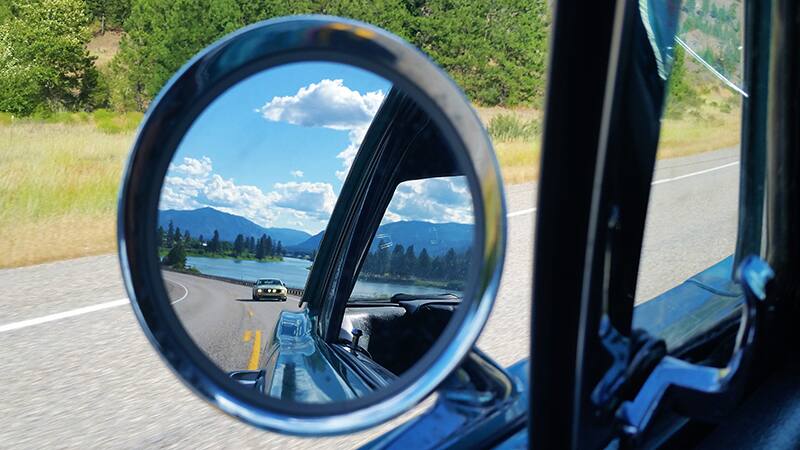 Day 4 of Rally North America started in Kellogg, Idaho, and now the rally was on for us! We decided to go for it at least one day, and today was that day. Rally North America is similar to a scavenger hunt, with clues along the way of things you need to find and photograph, such as statues and natural landmarks. Two days before, in Yellowstone National Park, my overdrive went out – but I figured I'd driven that way for the past six years before without it, so no big deal.
You may notice a lack of photos for Day 4 because we were running and navigating all day. The lack of cell service on the route made it even more challenging but we managed to have the next checkpoint loaded on another device before reaching our destination so we always knew which way to leave the staging parking lot. We were actually doing really well until . . . we discovered that we really weren't. Remember that overdrive problem I mentioned? Well, I should also note that I haven't had a working speedometer or odometer since Project Road Warrior hit the road last year. (You know how it is, there is always something more important to fix.)
As my daily driver and my only car – as well as my rally car – I have gotten pretty good at knowing how long I have before she's empty. Well at least I thought I was. Without overdrive and driving hard all day, the gas tank just couldn't keep up. And then it happened: About 10 miles from the hotel and a good seven miles from a gas station . . . we slowed to a chug, chug, chug. Luckily, our friends Bill Tumas and Nate Sprague were awesome enough to come save us with a gas can – and a promise of beer in their future. The day ended in Pasco, Washington, where we managed to arrange a symphony of Mustangs before the sunset for the day.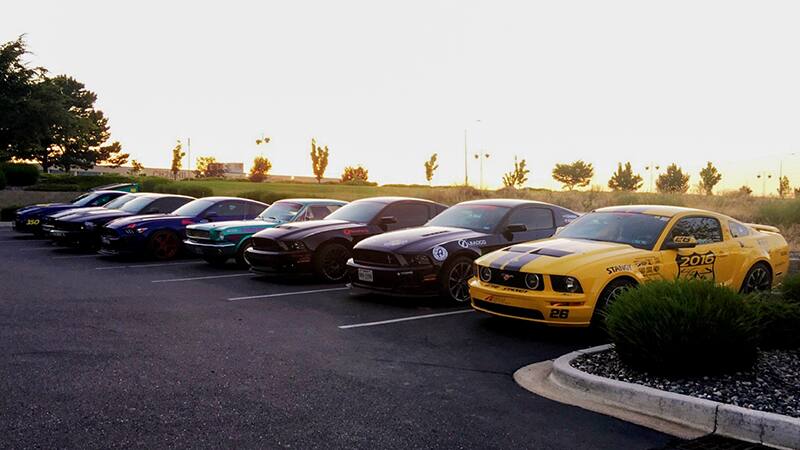 On the final day of the rally we woke up in Pasco, Washington, and headed to the Historic District of Kennewick to stage at the final start line. This gracious town had shut down its very center and the mayor even joined in for some drifting fun before we departed. And just like that, we were off and headed to Portland, Oregon, for our finale of fun at Portland International Raceway.
By the time we arrived at the raceway, I was full of the jitters. While I don't bat an eye at driving thousands of miles across the country, racing has never really been my thing. I imagine myself going out Thelma and Louise style, not on a track doing high-speed circles. I don't know if I would feel different about it in another car, but my first-generation Mustang is my one-and-only. Not only that, it serves as my trusty rally car, which is actually part of my livelihood. If something happens to it, my only option is to ride a bike . . . and I'm talking about the kind you pedal. And the more than 2,900 miles from Portland back home to Charleston would be one hell of a ride! At the racetrack, we were given the option of parade laps or (if we had a helmet) hot laps. Amie and I hopped in the car and lined up for our turn for parade laps – and we loved it! Later we enjoyed the view from the stands as all the newer Mustangs roared by during the hot-lap session.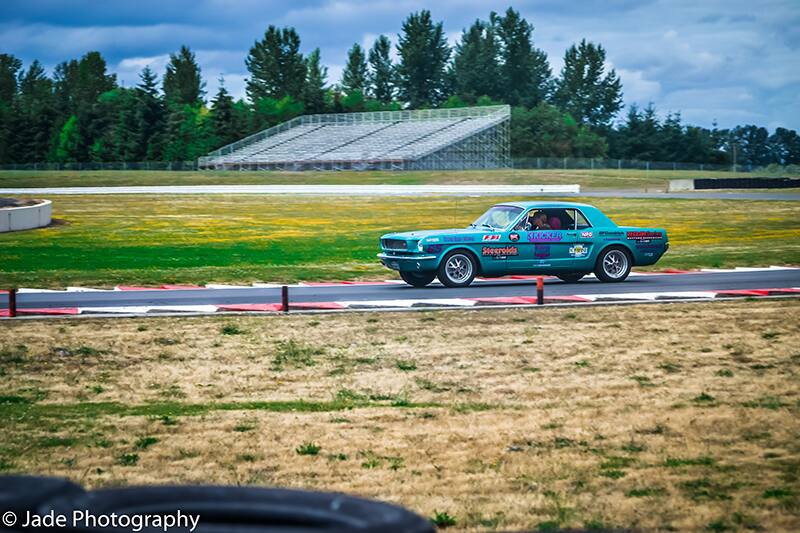 After the lap around the track we headed back to the hotel for the part I always dread – the end of the rally. The week had simply flown by, and I was not ready to see it all end. The route this year left some beautiful memories in my mind with the hope of visiting again. Organizers Tony Intrieri and Scott Spielman outdid themselves in the planning this year, and because Rally North America managed to raise over $118,000 for Camp Sunshine this year, that's enough to cover an entire session of camp for more than 40 families.
Before starting off on our journey home back to the East Coast, we stopped at an old rally buddy's place in Portland to fix the non-functioning overdrive. (Who wants to drive 3,000 miles without it? -- Not me!) The jack stands came out and the trans pan was off in no time. The solenoid took less than five minutes to replace and we were soon back in business and once again able to cruise at 80 mph without breaking 2,500 rpm.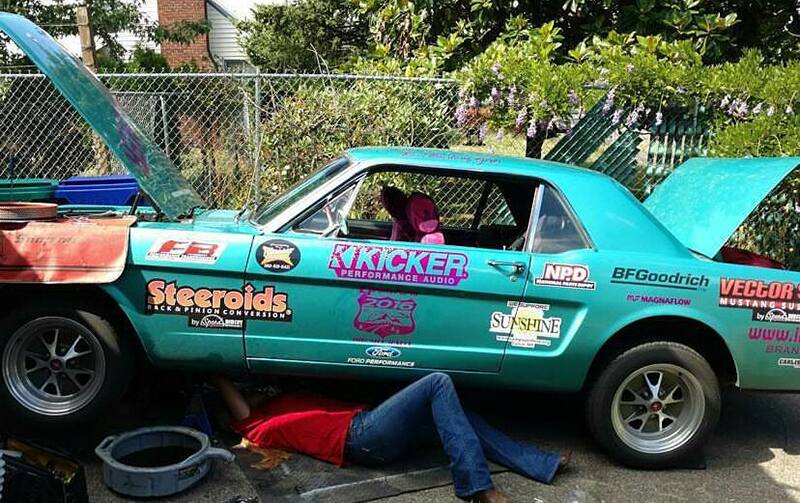 You haven't heard the last of Team Mustang Girls and we're now heading off to Anchorage for Drive Alaska 2016, another great rally put on by Rally North America. Yes, we are driving from South Carolina to Alaska … and back. Stay tuned for more incredible scenery and tales from our 15,000-mile Alaska adventure in my Mustang!
FORD PERFORMANCE PHOTOS COURTESY AMIE WILLIAMS / TEAM MUSTANG GIRLS