Editor's Note: As the Mustang II Cobra II celebrates its 40th Anniversary during the "Mustang Memories" show in Dearborn on Aug. 21, 2016, now seems the perfect time to provide Ford Mustang fans the inside story of how the Cobra II overcame the odds and caused a stir in the marketplace. Few historians know that keeping the Mustang passion alive during the mid-70's had been a key goal for Edsel Ford II, who had pushed Ford Division to gear some Mustang II product offerings more toward driving enthusiasts, despite overwhelming market pressures for fuel-efficiency instead of performance. After the Mustang II launched in 1974 without a V8 engine option for the first time in the car's history, the push was on to pump up at least the Mach 1 model with a V8 / automatic option by 1975. But Edsel Ford II wanted more and felt that the company's own new-for-1976 "Stallion" appearance package, sporting a blackout body treatment and fender decals shared with the Pinto and Maverick lines, was not the answer. So he turned to a company run by a former GM exec who had been part of the group at Pontiac responsible for the GTO (and later the Pontiac Can Am) for some help. Jim Wangers and his Motortown Corporation responded with the Cobra II package, and Edsel found a way for Ford dealers to order some. Thanks in part to a recurring role in the hottest hit show on TV, the car was a smash hit. Motortown produced some 25,259 Cobra II's, forcing Ford to take the model in house for 1977-78. While a Cobra II could be had with and I4 or a V6 to be socially acceptable at the time, it was the 302 V-8, ordered along with the new wide-ratio four-speed manual, plus the Rallye Package (with Traction-Lok differential, enhanced cooling, and Competition Suspension option that included heavy duty springs, Gabriel adjustable shocks, rear stabilizer bar and 70-series Raised White Letter radial tires) that helped fulfill the promises made by the Shelbyesque look of the Cobra II. To get Wangers' view of how the Cobra II came to be, we sent noted auto journalist and author Matt Stone to interview the former Motortown chief at his home in California. Below is Stone's exclusive report:
Jim Wangers is considered one of the most innovative and influential specialty automotive marketers of the original and post-muscle car eras. During that time (1963) he was Pontiac's chief marketing manager, working for the GM division's contract advertising and public relations agency. Wangers confirms that he, John DeLorean, Bill Collins and Russ Gee were responsible for the original Pontiac GTO's creation. Even Ford fans must acknowledge that this original big-engined Pontiac Tempest-based machine marked the birth of the 1960s American mid-sized Muscle Car era. There had long been heavy, full-sized cars with big horsepower engines, but the formula that these bright and creative gents crystalized was to mate the big engine with the smaller, lighter mid-size platform, getting "free speed" by drastically improving the car's weight-to-power ratio. They gave their new muscle Pontiac a more performance-oriented suspension tune, some nice badges, a catchy name, a four-speed trans and sporty quad-tipped dual exhausts, and the GTO legend – and with that the entire 1960s-era Muscle Car phenomenon – was truly born.
The package worked, and it sold big, forcing the rest of the Big Three to respond with muscle offerings of their own. The punchy Poncho was a marketer's dream, and not only did Wangers help create it, he knew how to market it. There was creative advertising of all kinds, lots of racing-related activity, smart Pontiac dealerships that developed even higher performance versions of the GTO, a promotional deal with a national shoe company, and so forth. Wangers was in heaven, partially because he helped create it.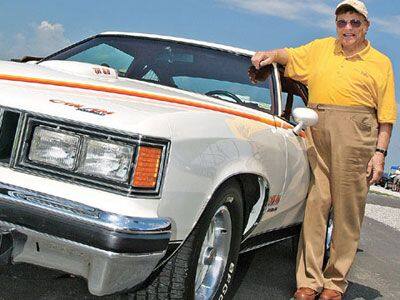 Of course we all know what happened a decade later; fuel and insurance prices increased dramatically, and safety and automotive emissions became the government-mandated talk of the day instead of performance. By 1973 cars got large, heavy, and in many cases had to be fitted with ugly crash-standard bumpers. Big-block engines (and most of the convertibles) went away, and by 1974 we had smog equipment-choked engines restricted to unleaded gas, wheezing out less and less horsepower through their catalyst-cleansed single exhausts. The original '60s muscle car era, as we knew it, was over.
So for 1974, Ford wiped the slate clean and gave us the all-new Mustang II. Many were four-cylinder powered, and the hottest ride in the '74 Mustang lineup was a 2.8-liter V-6 powered model still called the Mach I. Even though performance wise the Mach 1 was a shadow of its 1969-71 heydays, it was a solid performer against its direct-facing market competition. The cars were relatively light, could still be had with a manual transmission, got reasonable fuel mileage, handled quite well with rack-and-pinion steering -- and sold like crazy.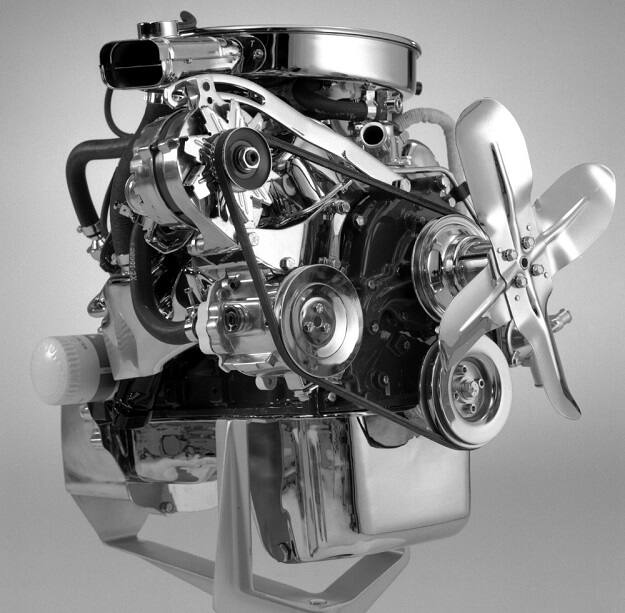 With nearly 386,000 produced in its first model year, the Mustang II proved it was the right Mustang at the right time, or at least the best Ford could do within government regulations at that point. And in spite of all of the challenges facing the automotive industry (and a waning enthusiast market) during that era, it worked. Many Mustang enthusiasts lamented the loss of their Bosses, Shelbys and Cobra-Jets, but a massive chunk of the car-buying public bought into a svelter, lighter, more efficient, somewhat more globally inspired Mustang with snazzy exterior looks and optional luxury inside, albeit with a bit less power on board.
So how did that '74 Mach I V6 Mustang II flagship model morph into the birth of the V8-engined Mustang II Cobra II? Today, as he pushes hard on his 90th birthday, the still sharp and engaging Jim Wangers tells the story that, "after I retired from Pontiac and Chevrolet, I got involved with a Michigan-based outfit called Motortown," Wangers said. "Of course at the time the government had come down with a pretty serious set of mandates for emissions regulations, so most of the carmakers' engineering departments had to spend their time and resources developing engines, and anti-pollution equipment to meet these regs. And they also had to be working a few models in advance, as the regulations got more stringent just about every year. So 'image' and 'performance' cars just weren't high on anyone's agenda of priorities at that moment."
"The 'special needs' of the marketing departments weren't being met very well by the in-house resources, so there was room for ideas and programs coming from the OEM supplier aftermarket," he continued. Limited-production "special models," or "regional specials" were being built for a particular area of the country or dealer group that wanted something unique for their more localized customer base. So Motortown, in a sense, was in a position somewhat like companies such as Roush Performance, Saleen, and Shelby American would be thought of today. The main difference between Motortown and some of today's more substantive specialty carbuilders is that Motortown, as Jim puts it, "couldn't open the hood" because they were not allowed to modify the cars in a way that would increase their performance or compromise the work of all the pollution gear – in other word, no mucking with the government regulations was allowed.
The Shelby Mustangs, plus other higher-profile Mustangs like the original California Special of 1968, demonstrated that the Mustang had been, and could still be, ripe for a performance image makeover. And Motortown could develop special appearance components and package programs that would make the car at least look sportier and more individual. That included stripes, decals, wings, scoops, wheels, badging, some exhaust system work and such. Now that may not sound like much today, but it was all they could do at the time.
It was opportune time for Motortown because nobody else around Detroit was really doing this, and because of the new EPA mandates the carmakers didn't have the freed-up resources to do it themselves. Motortown developed "special" programs, produced and installed the components, and even helped OEMs market the special cars. It proved that people still wanted "special" cars, and the company flourished.
Motortown's modus op was to survey OEM product offerings and then develop model product proposals that they presented to the carmakers. Jim underscored that it was "always us going to them with ideas." To that end, Motortown had begun working up a proposal for a special Mustang II based on the 1974 Mach I V6, not knowing that Ford was planning to bring the 302 back as a Regular Production Option (RPO) to the 1975 Mustang II model lineup. Once the Motortown team learned that there was again a V8 Mustang, they felt they should really turn their idea for an "image Mustang" into something special and desirable for enthusiasts.

Although Ford was planning to launch a Stallion appearance package for the 1976 Mustang II along the lines of a blackout trim option also offered on Pinto and Maverick, Edsel Ford II wasn't sold on the Stallion's wow factor. Motortown believed that a look more like the original Shelby Mustang, with a combination of white bodywork and blue stripes (or vice versa), would be much more appealing, so Motortown put together a proposal for Edsel II to take to Ford Division around a Mustang II fastback painted white with blue overbody Le Mans style stripes and bodyside lettering.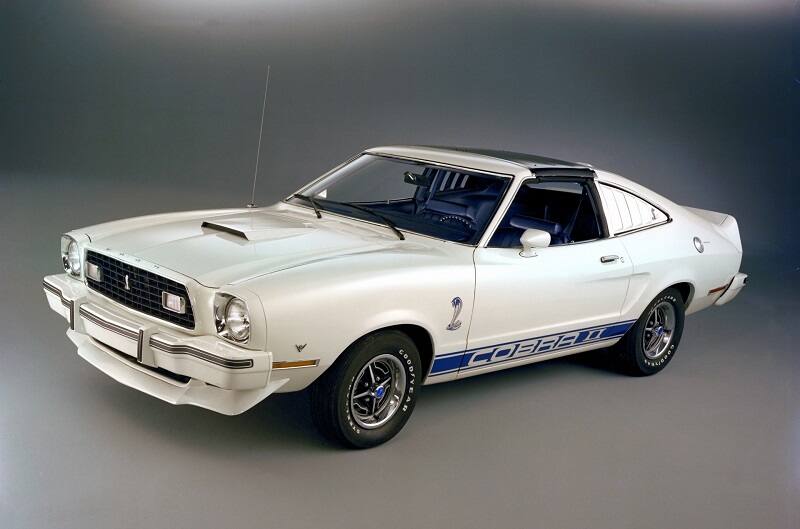 So where did the name "Cobra II" come from? The fertile mind of Jim Wangers, of course.
"Ford had been using the Cobra name on a variety of cars and engines after the original Shelby Cobra ceased production," he said, "such as the Mustang Cobra Jet engine, the Torino Cobra model, and such, and I thought it was still a good fit for our proposal."
But what about the opinion of the original Cobra snake charmer, one Carroll Hall Shelby?
"It turned out to not be a problem," Wangers told us. "Carroll was out of the Cobra and Mustang business by this time, and he was a complete gentleman about it. He said it was fine with him for us to use the name "Cobra II" on our Mustang II. In my opinion that, and the V-8, is what really made our package work. That door also cracked opened a bit wider as Ford reportedly had paid Shelby a fee to use the term "Cobra" in the names of the Cobra Jet engines and Cobra model Torinos, but not this time. No matter, as Cobra II it would be."
The other aspect of Motortown's Cobra II proposal that really made the car work, in Wangers opinion, was the production line swap to a somewhat louder muffler. Of course the car could only run a single exhaust (and a catalytic converter in California), but changing the rear muffler and making the car sound a bit "rumblier" didn't affect its emissions performance. Wangers recalls that Motortown may have built a sample car using an aftermarket muffler to evaluate the sound, but ultimately Ford adopted the idea and made the change on the regular assembly line. I asked him if the muffler change made any more performance, and he said it did not.
"I don't know, it could have accidentally made 1-2 more horsepower, but we didn't advertise it as a performance enhancement, because we could not," he said, "and I don't think we even ran one on the dyno to see. We left any performance tuning to the customer, who could easily change the intake and carburetor [remember those?], ignition, cylinder heads, rear differential ratios, and such – we couldn't and didn't touch any of that stuff. But at least our slight change sure sounded good."
Wangers underscored that this subtle change in exhaust note, when added to the look of a Shelby Mustang, did a lot for the Cobra II's marketing appeal. Motortown developed the stripes and all the parts used to make a Mustang II into a Cobra II, and installed them on a mini production-line facility they had set up in Dearborn near Ford World HQ (with another job shop also established in California, not far from Ford's San Jose factory).
Motortown had a written contract to do the conversion work for 1976 and 77, but when sales far surpassed the company's estimate of perhaps 5,000 orders, Ford elected to take the work in-house for '77, leaving Motortown a little high and dry after the initial run of Cobra II's. Wangers recalled that "we consulted our attorney to gauge our recourse against Ford, and he advised that we could likely collect some damages, but we all felt that suing Ford to keep the work for 1977 would ensure we never worked for the company again, and maybe never be able to work again for any Detroit carmaker," which they of course wanted the opportunity to do. So he said they helped Ford with the transition to doing the conversion at the Ford factories, and sucked a little air for 1977. It turned out to be a wise call, as Motortown submitted more product proposals to other OEMs and ended up developing more limited-production image vehicles for GM and Chrysler.
But we had to ask, how then did that smiling Angel Jill Munroe, played by the beautiful blonde, toothsome sex kitten Farrah Fawcett, end up driving a blue-on-white Cobra II on the hit ABC TV series Charlie's Angels? Was it yet another stroke of Wangers marketing brilliance?
"Not this time" laments Wangers. "I wish I could take credit for it, but it was the production studio's pick and they did the deal primarily with Ford's advertising and marketing teams. The TV show's producers surveyed the lineup of interesting, American sporty cars out there at the time, and decided that the racy looking Cobra II fit Farrah's character the best. So we built her a car for the show, and away Jill drove."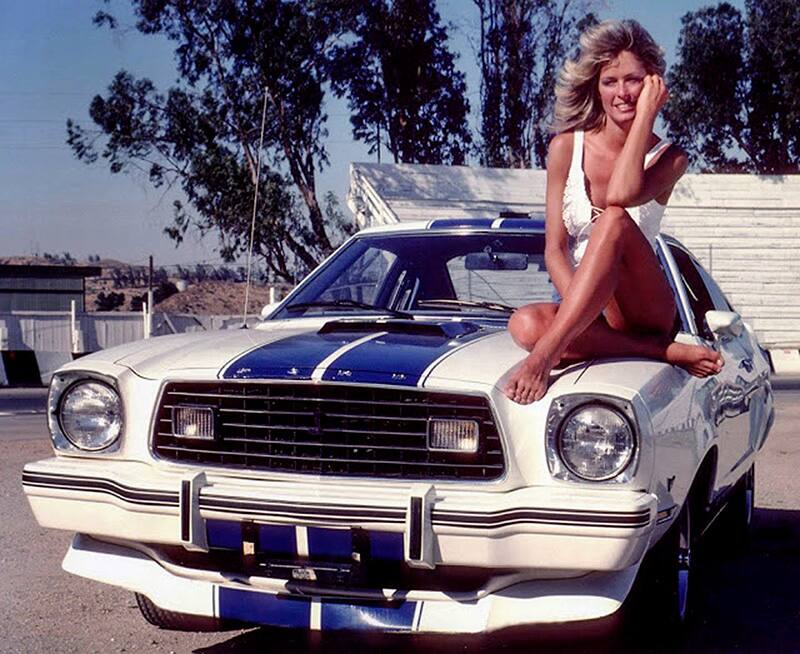 Wangers commented that the late Ms. Fawcett was "a joy to work with: Very friendly, professional . . . and gorgeous to the extreme. She posed for photos, ad layouts and commercial shoots and did everything we and the Ford advertising teams asked of her. No problems, no attitude or any hassle, ever." So, much like the association of James Bond with an Aston Martin DB5 in Goldfinger and Thunderball, this product placement pairing did a lot for both car and character.
Wangers said he has few regrets about the Motortown experience, and the development and production of the Mustang II Cobra II for Ford Motor Company. He only wished it lasted longer, and feels the notion went downhill a bit after 1976 when Ford took over the production of the car. It was then when all kinds of "not as complimentary" color combinations became available, and when they changed the Cobra II stripes entirely in 1978 to multi-hued wide overbody stripes and foot-tall "COBRA" letters across the sides.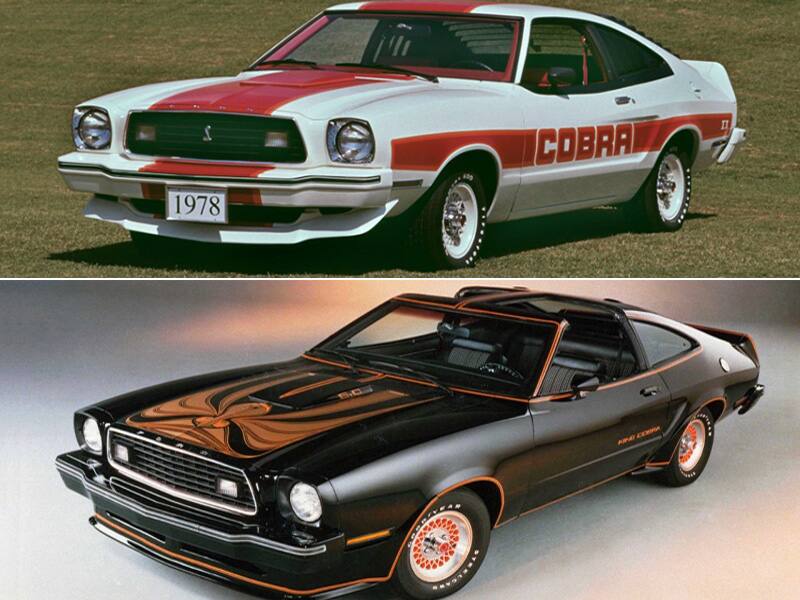 The Cobra II even spawned Ford's 1978, V8-only "King Cobra" appearance option, whose massive front-facing hood snake and wheel spats while wearing a gold-on-black livery seemed to him just a little too close to the look offered on the Pontiac Trans Am that was featured in the 1977 film, Smokey And The Bandit. Spoken like a true GM man.
"But doing the Cobra II sure was a lot of fun," he recalls today, speaking fondly of the Motortown experience and his dealings with Ford. Perhaps more important, he's pleased with the impact that his snazzy proposal had on the success of the Mustang II. And that's something any Cobra II fan can certainly appreciate!