CHARLOTTE, MI – If you follow the Ford Mustang collector world, then you may have heard about the 1965 Mustang first owned by famed Detroit rock-and-roll artist Bob Seger. We initially spotted this blue-with-white-stripes fastback a couple of years ago at the annual "Mustang Memories" show on the Ford Motor Company campus in Dearborn, hosted by the Mustang Club of SouthEastern Michigan (MOCSEM). Longtime muscle car collectors Dave and Kaye Persell of Charlotte, Michigan, now own this piece of Detroit history, and have even enjoyed some "Hollywood Nights" with it after the car was featured on the "AmeriCarna" cable TV series.

But there was a reason that Seger sold his beloved low-mileage 1965 Ford Mustang Fastback to the Persells back in 2006 that had left some people – and Seger himself – shaken up a bit.
First off, there is no questioning that the Persells' 1965 Mustang originally belonged to Seger, the front man of the famed "Silver Bullet Band." The documentation paperwork that came with the car indicates this without dispute. In fact, not only did Seger own the car, he's the original owner, and Dave Persell discovered that it was also the first new car that Seger had purchased.
"Seger bought the car in San Jose, California," Dave said. "He was on the way to a concert in San Francisco. From what we've been told, it was the first car he ever bought new."
Also without question is the fact that before Persell had even laid eyes on the pristine fastback, Seger drove it . . . but not very much at all. After the 40-plus years of being in the Michigan resident rocker's possession, Robert Clark Seger (as his name appears on the car's State of Michigan title) had rolled up a mere 5,500 miles on his Mustang!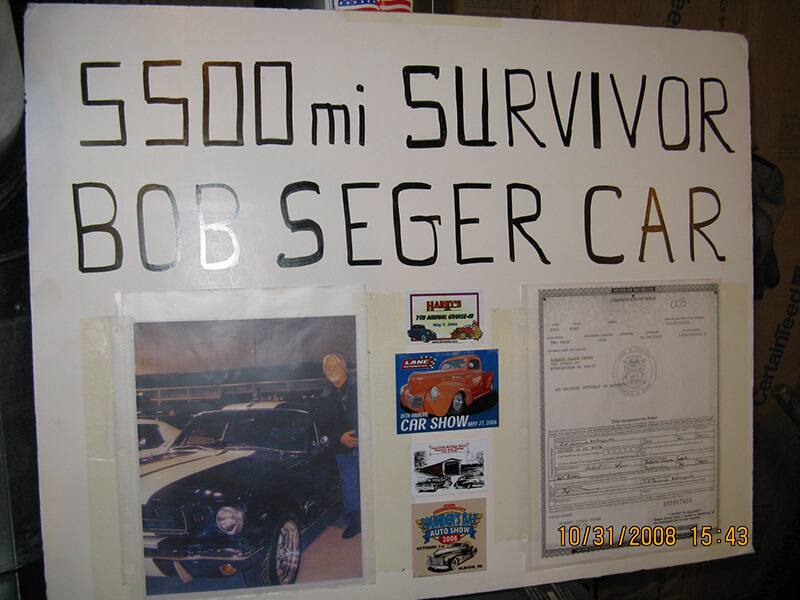 One might attribute that to the schedule of rock star "Travelin' Man" who has spent a lifetime on the road playing "Old Time Rock And Roll." But this was 1965, and Seger was still just building his music career from the ground up. He eventually formed a group known as "The Bob Seger System" and signed with Capitol Records in 1968 while releasing his debut album, "Ramblin' Gamblin' Man" that spring.
Turns out this Mustang had a "bad vibe" that had forced Seger to park it for years, and finally sell it decades later. So what was it that made him "Turn The Page" on this classic Pony Car? It exhibited a very noticeable vibration while driving – one that Seger and his mechanics could never sort out.
Fast forward to David Persell's purchase of the car, and the old "vibration while driving" problem was something that Persell himself immediately experienced. David said that through the body and chassis of the car, you could feel a terrible vibration that would come and go.
When we asked Persell to "Define terrible?" he explained, "It's the sort of vibration that feels like it'll shake your fillings out of your teeth." He knew there was something deeply wrong with this Mustang, but with all the normal things you'd likely suspect being ruled out during Seger's ownership, the symptoms we're very puzzling.
While Seger and those who had tried to fix the Mustang's vibration eventually wrote the car off as having a terminal problem, Persell took it as a challenge. Besides, there was a lot of good in that super low-mileage 2-barrel 289 3-speed manual Caspian Blue pony regardless of who had owned it since new. So the detective work began. A bone-rattling shaking sensation shouldn't be that hard to narrow down, isolate and fix . . . right?
But this problem was not about to take some "Night Moves" down "Main Street" without a serious mechanical exorcism. So Persell began ruling out some of the most obvious possible factors one by one. After checking the tires, brakes, hubs and driveshaft, it left only the engine and transmission as possible culprits.
Over the next two years, Persell drove the Mustang and kept looking for answers. He began to wonder, did Seger somehow buy a car that had a scrupulous past? Not at all. Seger was the first and only owner of this car fresh from the San Jose Mustang assembly plant. So Persell could rule out this being a rebuilt salvage unit or one where some hot-rodding had gone wrong.
Because Persell's quest to smooth out this mystery felt as if he was going "Against The Wind," he decided his approach would have to be methodical. If there was a diagnostic test to be conducted, it was performed. But after each try, the vibration was "Still The Same."
Finally, Persell removed the engine and transmission to tear them both down and see if he could pinpoint some sort of an imbalance that would cause any sort of shaking. But alas, all appeared normal.
In the process of putting the drivetrain back together, Persell had decided to order a new flywheel. The day the new flywheel arrived, he noticed something odd: the replacement flywheel was physically larger than the one he had removed from the car. How much larger?
"Just enough that I knew something wasn't right," he told us.
After checking – and re-checking – the part ordering information, it was confirmed that the new and markedly different flywheel was indeed the correct flywheel for this application. Encouraged, Persell installed the new flywheel, buttoned the drivetrain back together and re-installed it in the car.
And the vibration was gone!
As the engine and driveline had never been previously removed, that left only one explanation: The wrong flywheel was somehow installed at the factory during assembly. This factory mis-build had stumped dealer mechanics and auto repair professionals for a great many years. But all David Persell knew is that his once-undriveable Bob Seger Mustang was now a pleasure take for a ride.
Ford Performance had spotted Dave and Kaye at MOCSEM's Mustang Memoires" show while they were allowing Bob Seger fans to sit in the '65, hold up the Michigan Title bearing Seger's name and smile for photos with the car.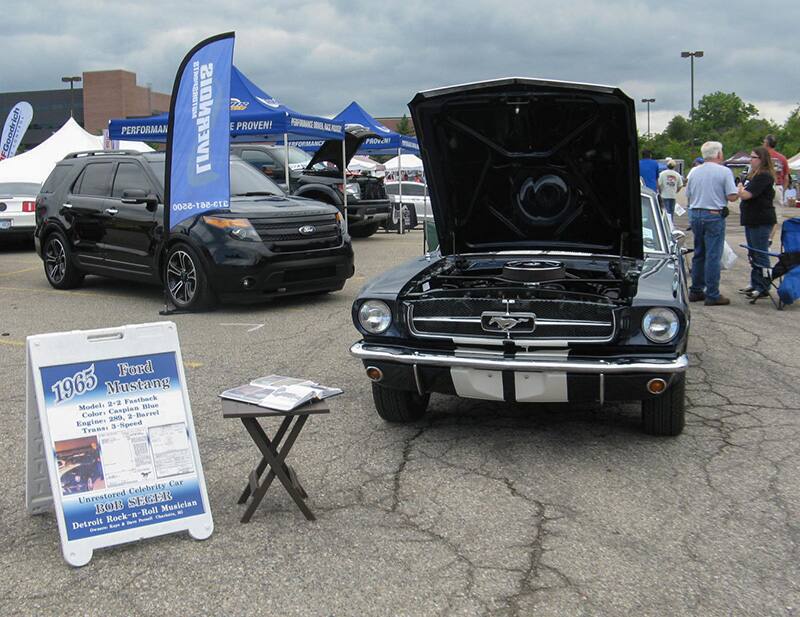 "When a fan or a young boy or girl sits in our car with their parents taking pictures of them, it makes car enthusiasts of us all," Dave Persell said. "We just love to take this car to shows and share its amazing history with Mustang and Ford fans everywhere."
That's why when producers of the Velocity Network show "AmeriCarna" had come to Ford Performance asking about cool "people stories" for a segment they were planning as a way to mark the 50th anniversary of the Mustang, we suggested the Persells and their Bob Seger car. (Actually, we gave them a dozen great "Mustang people" stories and contact info, with the show choosing just the Persells and two others for their Mustang episode: Gail Wise and her "First Retail Sale" Mustang, and John Grafelman and his "Shinoda Boss Prototype" Mustang.) The 30-minute program is hosted by three-time NASCAR racing champion Ray Evernham, who had spent half a day at the Persell's home with a camera crew filming the segment.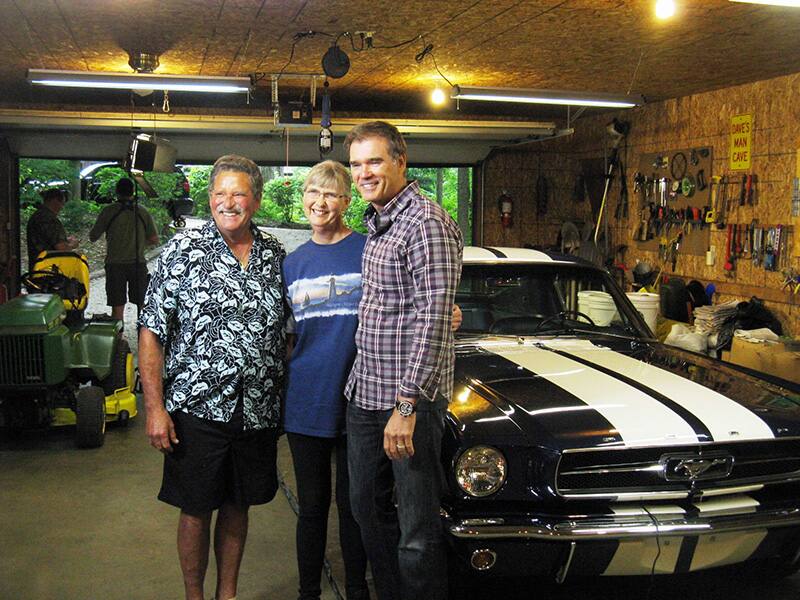 The Persells like to point out that while they have other muscle cars – including a 1969 Corvette, a 1971 Dodge Challenger with a Hemi, and a 2008 Dodge Challenger that's been supercharged – they also own a 2008 Ford Shelby Mustang GT500 that, like the Seger car, is dark blue with white stripes.
The Persells now have about 7,300 miles on Bob Seger's 1965 Mustang Fastback, and have no plans to part with it.
"The car is very cool, still low miles, all original, celebrity owned by a Michigan guy, and on and on," Dave notes. "Just having a person like Ray Evernham to our house up in Charlotte was quite a thrill. This was the first Ford that Kaye and I ever owned. The story of it having the 'wrong' flywheel just adds a cool twist to it all. The Shelby we bought as a 'sister car' turned out to be special, too – it's the first of 869 Vista Blue Shelby's built in 2008, and just the second GT500 built overall that year."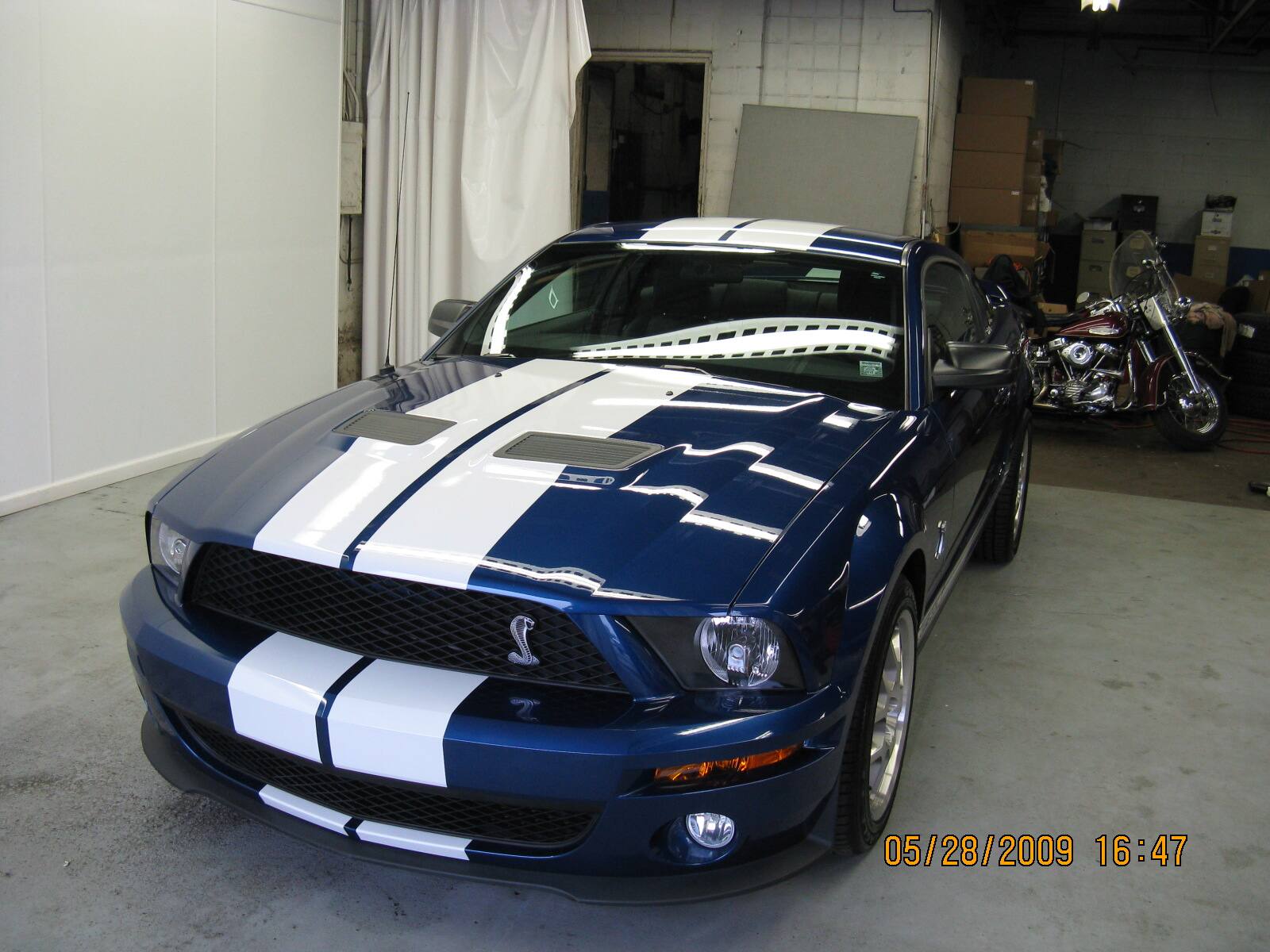 While they love their '08 Mustang too, the '65 will always be their "star."
"What's cool is that you don't have to be a big shot to own one of these classic Mustangs," Persell said. "These are still affordable, and people can relate to them. And as Ford says, every Mustang has a story."
Of course, not everyone owns a "celebrity" Mustang, but as Kaye noted, "Even Ray (Evernham) told us, 'The best thing about that car is the story behind it'."
As far as Bob Seger goes – he still owns a Mustang. In an interview with MotorTrend, Seger revealed he has in his personal fleet a 1971 Mustang Mach 1, powered by a 429 SCJ Super Cobra Jet.
"I love listening to the big block," he told MT. "That's what I love about it. It's very comfortable. It's a hardtop, Grabber Green. It's totally unrestored; it's the way it was when it came out of the factory – and it looks really good."
While he never mentioned his first Mustang in that interview – the blue '65 Fastback with the bad vibration that he sold to the Persells – we're sure he still remembers it well. After all, "Rock And Roll Never Forgets."
FORD PERFORMANCE PHOTOS / COURTESEY DAVID AND KAYE PERSELL