KANSAS CITY, KS – Guess who officially became a "Long Hauler" on the annual Hot Rod Power Tour? Team Mustang Girls! The Hot Rod Power Tour began back in 1995 when Hot Rod magazine staff members decided to take some of their project cars on a cross-country drive from Los Angeles on the Left Coast all the way to Norwalk, Ohio, in the Midwest. Thousands of people had participated along the way, with seven (not including staff members) making the entire journey and being inducted into the original "Long Hauler Gang." Since its inception, this event has continued to gain in popularity, and is now considered one of the most anticipated automotive events of the year.

The Hot Rod Power tour runs typically six to eight days, beginning in late May or early June. In recent years, the tour has evolved to become what is essentially a continuous trek around the United States, in that it begins in or near the location that it ended in the previous year. Each stop is combined with events or activities that are as different and varied as the participants themselves.
Honestly I can't say that I knew very much about the annual Power Tour before last year. I know that sounds impossible for a car chick who loves to drive across the country, but somehow it had gone under my radar. Last year I was still building my car as this tour made its way cross-country, but once I looked into it, I knew I would make it happen in 2016. And it was amazing!
Being new to the tour, I had very little idea what to expect. Personally, I don't like to do too much research on the places I travel to – and I know some people think that's just nuts – but I think it leaves more room to find fun surprises along the way. Poor research is also the reason I had foolishly packed jeans, sweatshirts and a jacket on what may have been the hottest journey of my life!
We arrived at registration in Baton Rouge, Louisiana, and were greeted by very friendly organizers. I have to give props to the Hot Rod staff. All week long everything went so smoothly, in no small part due to their well-organized efforts. Once we were registered for the 2016 Tour, we headed back to the hotel in anticipation of the first show the following day, June 11, at the Lamar Dixon Expo Center in nearby Gonzales, LA. Once back at the hotel, hot rods and classics were beginning to fill the parking lot. My excitement had been growing for weeks for this, and all along the drive from home in South Carolina I was yelling "Hot Rod Power Tour!" out the window at anyone who even looked like they could be on their way to the Tour.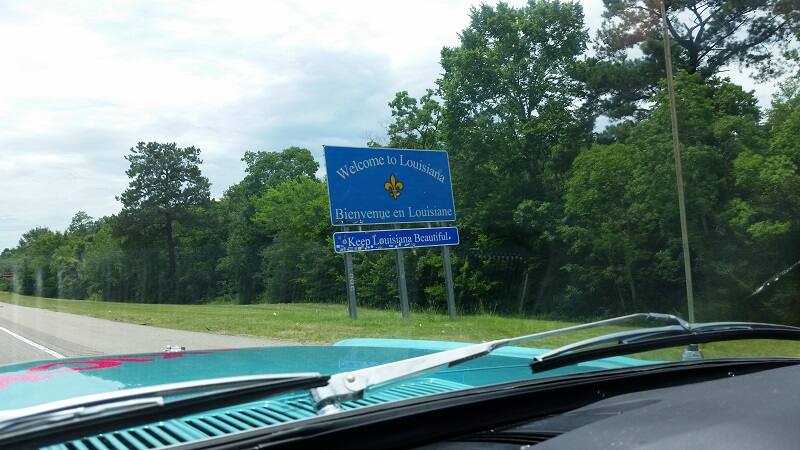 The next morning we were off to the show. The energy of the upcoming drive was pulsing through the show like a bloodline. "Are you going through to the next stop?" people would ask. "Are you a Long Hauler?"

I began to get more and more excited for "wheels up" set for the next morning. We checked out the vendors and the autocross before heading back to hotel for a second impromptu car show. There's no escaping mini "car gatherings" when you are traveling with hundreds of people – and experiencing it is really fun! Walking out of your room and seeing a parking lot full of gorgeous cars just made you want to mingle. Everyone had their own unique story to tell of "how" and "why" they were on the HRPT this year. I felt like a little kid on the night before Christmas had to force myself to go to sleep!
Sunday morning we awoke to the beautiful sound of engines being fired up. It was go time! We weren't in the group of crazies that left at 6 a.m., but I was happy to see at least half of the lot was still full when we packed up the car around 8 o'clock. (While I'll give the early risers credit, 6 a.m. is just not a happy time for me! Those two extra hours of sleep makes a world of difference!)
As we started out we soon realized that the planned route was not the shortest way possible. Instead of just driving to the next destination, the HRPT takes you through real America – you know, on all those back roads with the cool stuff to look at! And apparently, real America knew we were coming! People were set up – some lucky enough to be in their own front yards – all along the route, watching the parade of cars go by for hours. Every make and model could be seen here, and in all variations – from the fully restored works of art that drove like a new car to the amazingly awesome rust buckets that were just happy to be in motion.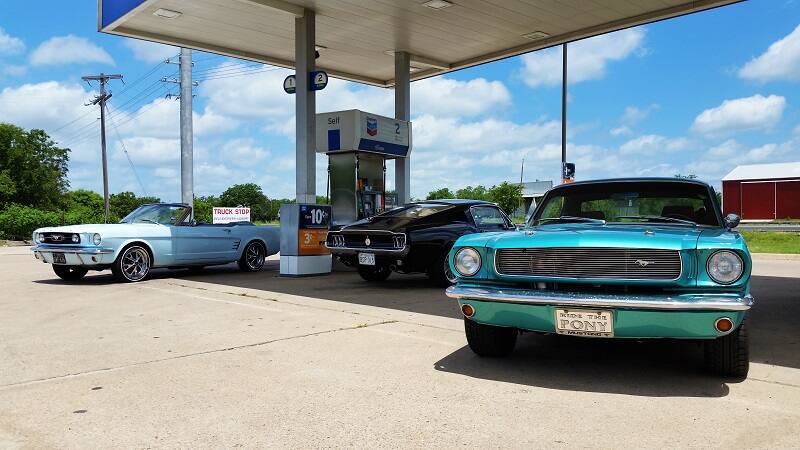 Along the way, every gas station and convenience store looked like a pop-up car show was taking place, and it was tough to resist the urge to stop at each one. We made it the next show stop, at the Royal Purple Raceway in Baytown, Texas, just in time to catch some drag racing before days' end.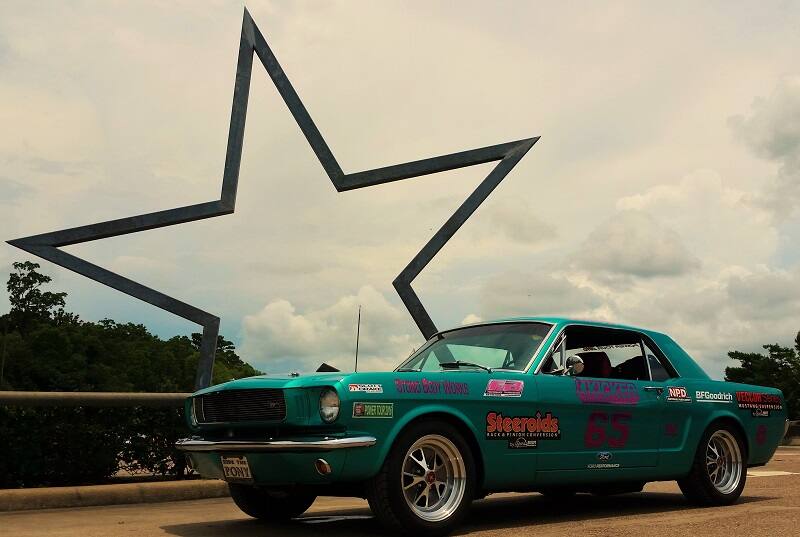 For the next week that was our Tour schedule, we got into a rhythm: Wake up, drive with some of the most amazing cars I've ever seen on the road, stop and relax and have fun at the show, and then head out to the parking lot to party with all of your new best friends! What a great time!
As we continued our way through Texas (on June 13 at the Circuit of the Americas in Austin, TX, and then to Traders Village in Grand Prairie, TX on June 14) and into Oklahoma (at Remington Park in Oklahoma City June 15), and finally ending up in Kansas, I was shocked at just how much I was seeing out there on the road that I had never seen before. Understand that I've crossed the country with different rallies over a dozen times, but taking these back roads for almost 200 miles or so each day brought us to some spectacular little towns that I've probably driven within 20 miles of several times, but never saw or experienced. It makes me want to drive like that all the time … just think about all the things that YOU are missing just in your own home state!
As the week – and the 2016 Tour – came to an end (first stopping at the Kansas Pavilions in Valley Center, KS, June 16 before winding up at the Kansas Speedway in Kansas City on June 17), I kept just wanting to hit the "restart" button. I couldn't believe it was over so fast!
So, would I recommend the participating in the Hot Rod Power Tour to anyone who is still debating on going next year? I'd say 100 percent YES! You will not be disappointed. The event is well-planned and professionally managed, the route is simply spectacular, the people are just amazing, and I promise it will be the greatest traffic jam you'll ever have the pleasure to be a part of! I am already counting down the days until I reunite with my new friends in 2017!
FORD PERFORMANCE PHOTOS COURTESY COURTNEY BARBER / TEAM MUSTANG GIRLS