Editor's Note: When Roush had hosted a Mustang Club of SouthEastern Michigan (MOCSEM) monthly meeting last October, Jamie Allison, then Director of Ford Racing, was a co-speaker along with Jack Roush Jr. As a gift to the club, Ford had donated a free pass to the Ford Performance Driving School at the former Miller Motorsports Park in Utah. After MOCSEM held a random drawing, Jim Baldwin's name was chosen to attend the school – and he graciously filed this report (along with photos) on his experience there:
TOOELE, Utah – I worked for Ford for 34 years, and spent 30 of them with Ford Communications. I am retired from teaching college psychology and from Ford, and currently work with Shelby American helping them with auto shows, and enjoy my membership in MOCSEM. Late last year, I was told by a good friend and fellow MOCSEM member to read the latest edition of the club newsletter, The Accelerator, as he said he saw my name mentioned. I did, and I was very surprised – my name had been chosen as one of the winners for the One-Day of high-performance driving instruction at the Ford Performance Racing School in Utah!
I was apprehensive at first, and even after I hooked up with MOCSEM president Mike Rey and got the Ford Racing certificate from him, I was still having my doubts: Should a 66-year-old fella try this?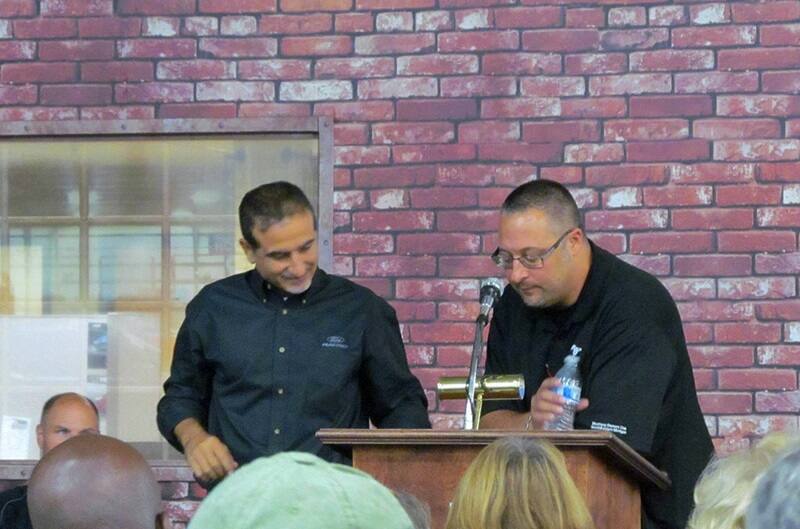 Everyone I talked to said to go for it, and the support was strong. My brother, Ken, encouraged me to go, and to register instead for the Two-Day school program, saying that I might not get the chance to repeat this. My wife, Darlene, encouraged me to try this and even said she would travel west with me.
I was getting excited but I wondered – could I compete with the other drivers at the school? Well, the time had come and I decided to add a second day to the free offer from Ford to get even more out of the experience.
Was I crazy?
We flew to Las Vegas and stayed there for the night. We picked up a rental car the next day and drove to Tooele, Utah – a place where my Dad was stationed in the service back in the late 50's. I met up with my brother back at the Salt Lake City airport and off we went to the sponsor hotel (it was close-by the school and had a pretty good rate for a nice hotel). We even drove straight to the track that first evening and we were given access to the pit area where we drove around and sized-up the situation. I was very anxious at this point.
Well, needless to say I was up really early the next morning . . . and so brother Ken – leaving Darlene to relax and swim at the hotel. We got to the school and were given brief introductions. Classroom time was interesting and a real learning experience. We started off with a light breakfast (but who could eat?), then got our helmets and driving suits and boarded a van to take us over to the garage area.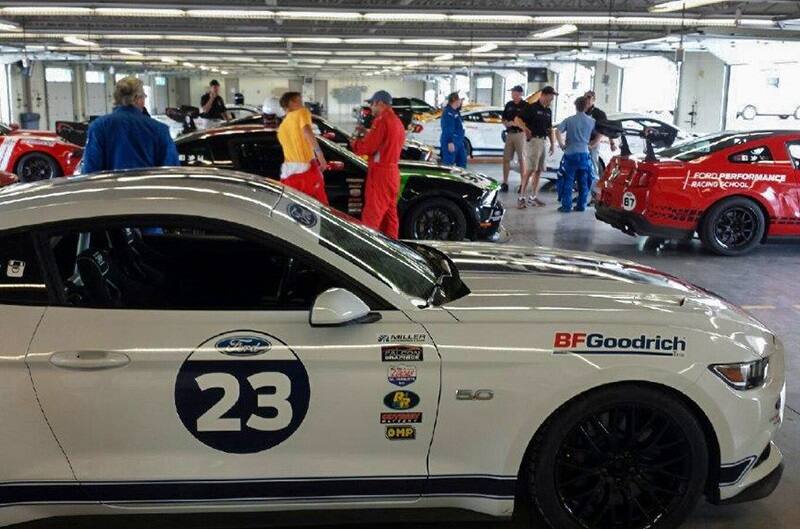 Then came another classroom session at the garage and a ride out on the track to look at it first-hand and get out on the corners to get a feel for all the angles and elevation changes out there. I was excited now . . . but why did they have turns that were banked in the wrong direction?
When we got back we got into our cars, I found out that our car radios were able to pick up more than just radio stations – the track tower could talk to each of us! Yes, over the roar of the exhaust and the tires we could hear them . . . if only I could remember my car number. Oh yes, it was on the dashboard in front of me! I had to turn off ZZ Top for now and listen to their instructions.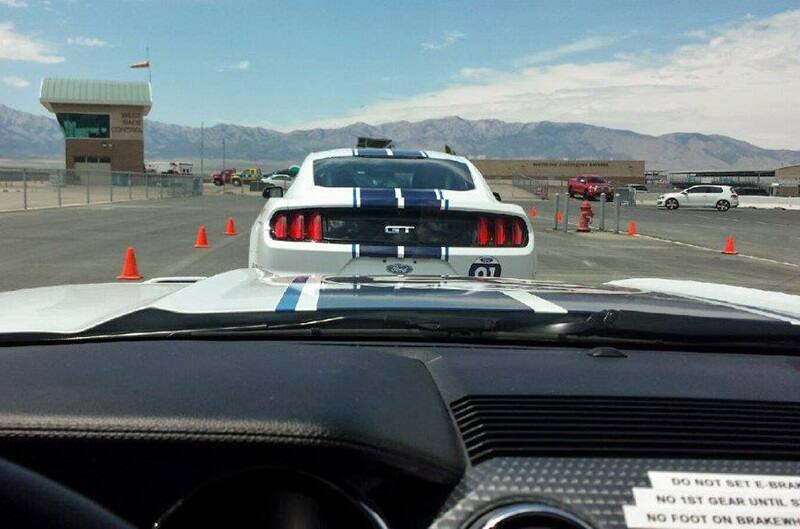 I learned what all the flags meant as well. Not intentionally, but mostly because they kept waving colored flags at me when I was on the track. I learned how to wave a car past me, and learned to keep my line regardless of who was behind me. This was a blast!
We spent an hour out on the track and then 40 minutes or so back in the classroom, back and forth for the rest of the day. This was fun!
I learned that I had to tailgate to be competitive. That was hard to do after all these years of learning to allow plenty of room between you and the car ahead of you on the road. My race-prepped Mustang handled flawlessly. I realized as I looked the car over that they really tore this car apart to prepare it for racing. The roll bar was everywhere yet not intrusive at all. It was almost hidden but I knew it was there.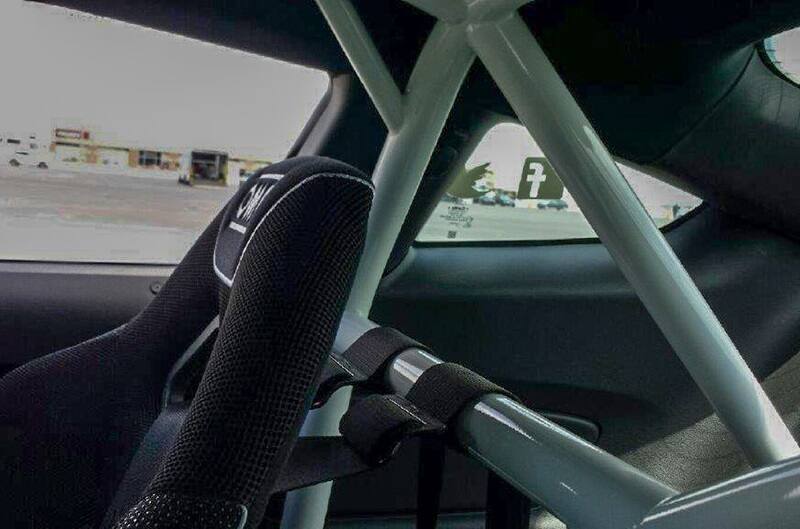 My car had the extra front bucket seat so I often asked an instructor to ride along with me to give me driving tips. My first tip was for them to drive the course so that I could learn what to do. I must admit that I learned much more than I expected from the instructor. Instead of going into Turn One at 60 mph, I went into the turn at 90 mph and then hit the brakes, and heel-and-toe shifted to the apex of the corner and accelerated from there out of the turn. This was racing. What a difference!
I must say "Thank You" to all the instructors at the driving school for their patience and advice. Their help made this both a safe and a very enjoyable experience. Two days of racing and classroom instruction seemed to fly by as fast as the cars themselves. I think I will have to go back.
The thing I really appreciated was that with no ill-regard for my endless questions they always took the time to try and help me out. I also co-drove a special skid car with an instructor where he could alter the effects that my brakes and steering would have. I learned to steer with less traction and how to brake and accelerate in turns.
It got exciting when I practiced "Heel/Toe" shifting and improved trying to make it smooth. At the end of my first day I realized I was exhausted. I mean, mentally this is tough! It's not like just watching out for potholes while driving on the street – this is watching the other cars and your own at high speed and trying to enter and exit the turns correctly. It involves hitting higher and higher speeds, especially after I learned to corner correctly.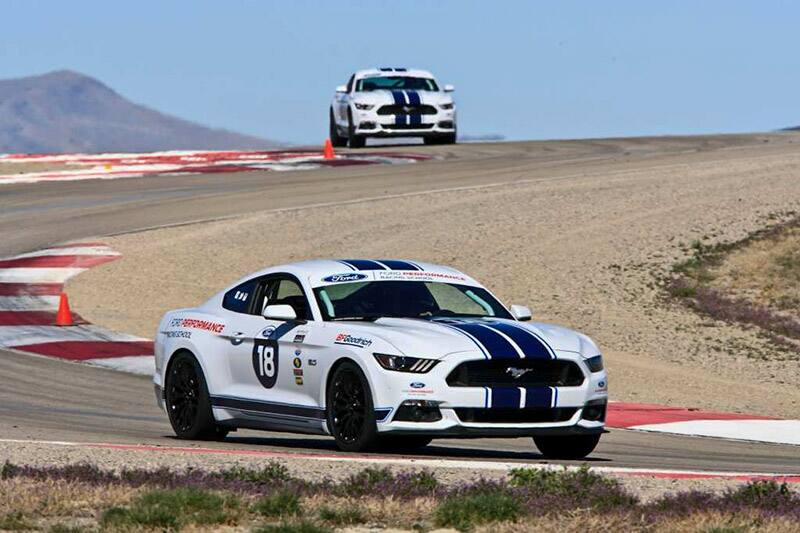 Needless to say, I slept well that first night.
And for the second day that I had opted for, we switched to a new section of the huge five-mile track. Oh, my – that meant I had to re-learn all the turns and the braking and . . . oh, my! But it was exciting!
Once again, the instructors were out there every step of the way and helped me tremendously. I was slow to adapt to a new course but again we drove around it and looked at each corner first. We talked about "the racing line" and I shared my concerns. The instructors here are truly the best – never letting even a single question go unanswered.
I did turn on the radio station in the car again while getting ready to go out onto track, but I always switched it back after we were staged to be sure I knew when they were talking to me.
I truly enjoyed the experience – even when one car was right behind me and turned their headlights on – none of the other drivers did that! Finally on a straightaway, I waved the car past. It tuned out it was a young lady but not a school attendee – she was an instructor! So I tried to follow her around the track . . . but that idea lasted only for the first turn, because after she blasted through it, I accelerated out and she was nowhere to be seen!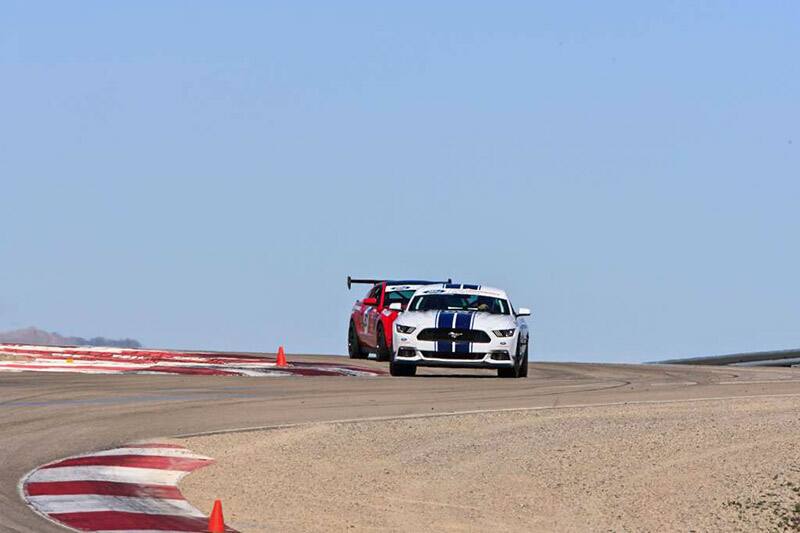 Another thing I learned about performance driving was to look ahead into each turn – much further ahead than I had ever done while driving on the road, and now I still do that while driving on the street. Thank you, Cyndi, and all the other instructors for doing such a great job!
After a second great day on the Utah track I was really exhausted. We went back to the classroom after the final laps and we all shared – as we had done each time before – the many things that we learned out there on the course. I don't think I was the oldest driver to grace the track there, but I am sure one of the luckiest to have had such a wonderful experience. I'd LOVE to attend this class again!
Finally, I'd like to give a big "Thank You" to MOCSEM, for having such a great relationship with Ford and Ford Performance that they gave the club this opportunity for a member to attend the Ford Performance Racing School tuition-free at a world-class facility. MOCSEM is truly a great club, and Ford Performance is a great group of folks for supporting us!
FORD PERFORMANCE PHOTOS / COURTESY JIM BALDWIN of MOCSEM