TUCSON, AZ – It can be easily said the Southern Arizona Mustang Club (SAMC) is the longest surviving Mustang club in the continental United States, if not the world. The SAMC is a very committed core group of Mustang enthusiasts who have been committed to Ford since 1963 with continuous support and sponsorship by Holmes-Tuttle Ford in Tucson, Arizona. When the SAMC was founded in 1963, it was known as the Ford Falcon Owners Club. Their dealer representative was Bill Laird, who remains very much alive to this day and is living in Southern California.

In 1965, the Ford Falcon Owners Club in Tucson very quickly kicked up its hooves and became the Southern Arizona Mustang Club. Many club members traded in their Falcons for new Mustangs. For more than 50 years, the Southern Arizona Mustang Club has been an institution, a keeper of the flame, for faithful Mustang followers. They do it with a great sense of humor and a strong element of belonging. Dave and Gloria Carroll, who have been SAMC members since 1965, maintain a huge archive of SAMC photo albums, documentation, and memorabilia from the National Council of Mustang Clubs not to mention SAMC. We're going to share some of that with you here.

Originally, the SAMC's focus was classic Mustangs. Today, SAMC is open to all Mustang model years with a wide variety of fun club events held through the year. The club's largest event, held annually, is "The Great Pumpkin," which dates back to 1968 after the Peanuts TV special in the fall of 1967. The Great Pumpkin began as a road rally in Tucson, part of a multi-day event beginning Friday and continuing through Sunday. Friday, of course, was a getting-to-know-you gathering and registration. Saturday played host to two rallies — a time-speed-distance event, then, a gimmick rally. Wrapping up Saturday would be a banquet and masquerade party. Because the Carrolls are well-known for great imagination and a sense of humor, you never knew what you were going to see at each Great Pumpkin. This has been true since the late 1960s.

The sun rose Sundays to a concours and people's choice car show.
"After a weekend of The Great Pumpkin," Dave Carroll comments, "you had to go back to work to rest up."
When asked what made the Southern Arizona Mustang Club so terrific, Dave added it is "the people who make the club hum. People with a mutual passion for Mustangs of all generations sharing road time and memories never to be forgotten — extended family without a doubt."
Dave also stressed the great importance of having Ford dealer support for the club through the years. Holmes-Tuttle has been there since Day One. Another Tucson area dealer, Jim Click Ford, has also stepped up in the years since with sponsorship and close support.
For the world's longest standing Mustang club, there is surely no end in sight for the kind of fun these folks have. And thanks to the strong support from Ford Motor Company and local Ford dealers, it isn't about to slow any time soon.
PHOTOS / COURTESY SOUTHERN ARIZONA MUSTANG CLUB (SAMC)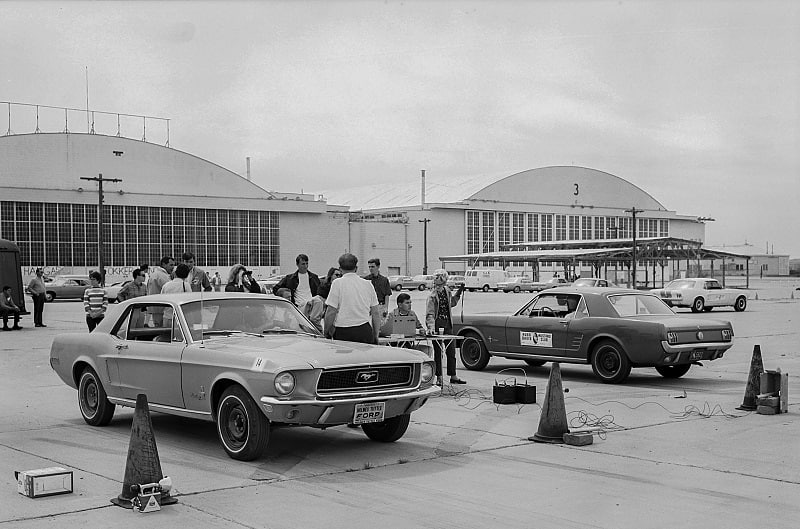 Unless you lived the experience a half-century ago, there hasn't yet been a Mustang moment to equal the original Mustang Mania of the mid-1960s. This is a SAMC autocross/gymkhana in 1968 where driving skills were put to the test. Mustang events in those days were mostly about driving and very little about showing. These events were held on a regional basis with the Ford-sponsored National Council of Mustang Clubs.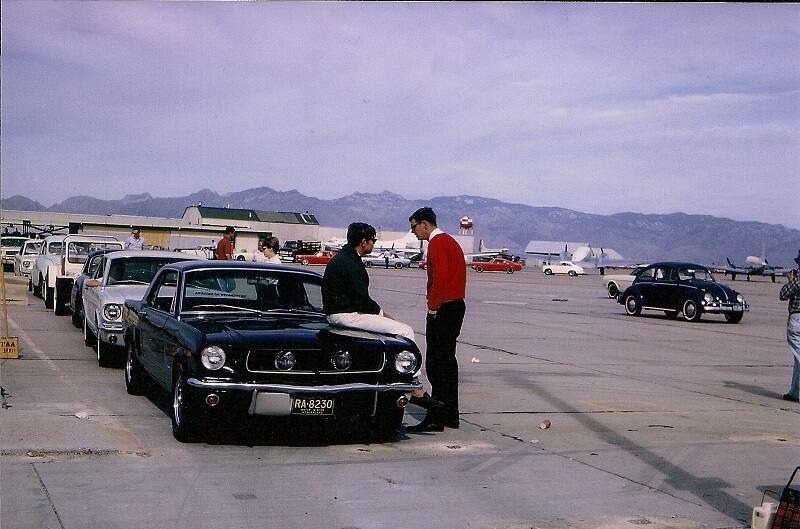 This is an autocross event held in 1966 by the Southern Arizona Mustang Club. That's Dave Carroll in the red sweater. He and his wife, Gloria, remain members and keepers of the flame. These events were open to anything that rolled.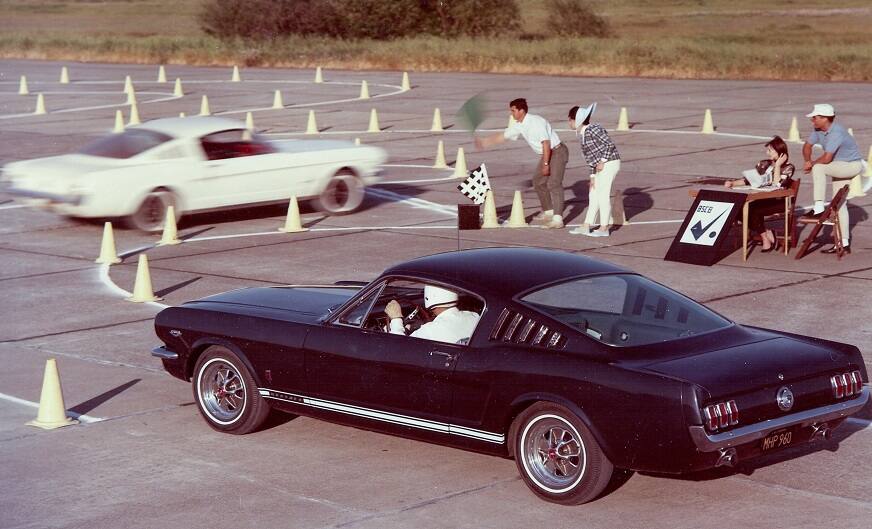 The National Council of Mustang Clubs held competitive events like this one around the country from the early 1960s until it ran out of steam in the early 1970s. Autocrosses and gymkhanas were opportunities to hone driving skills and have fun. Note the '66 GT fastback styling prototype with taillights that never made production. This is actually a '65 GT fastback in Caspian Blue with the 289 High Performance V-8.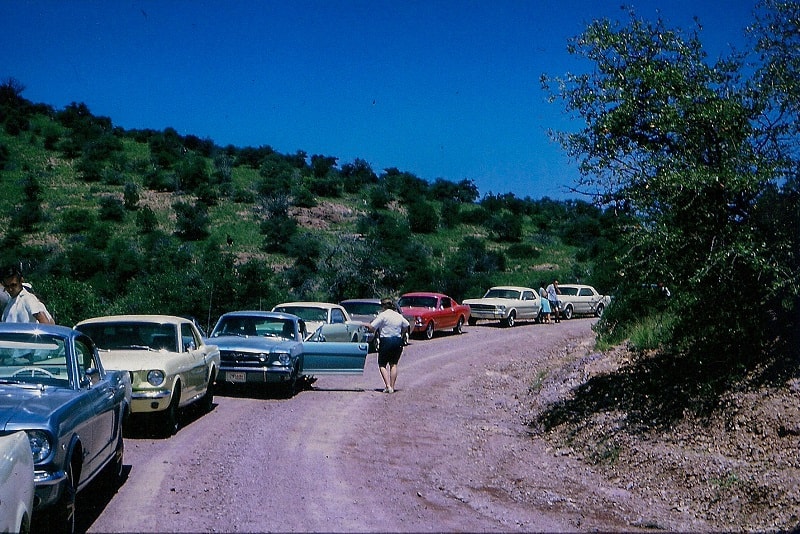 SAMC Rally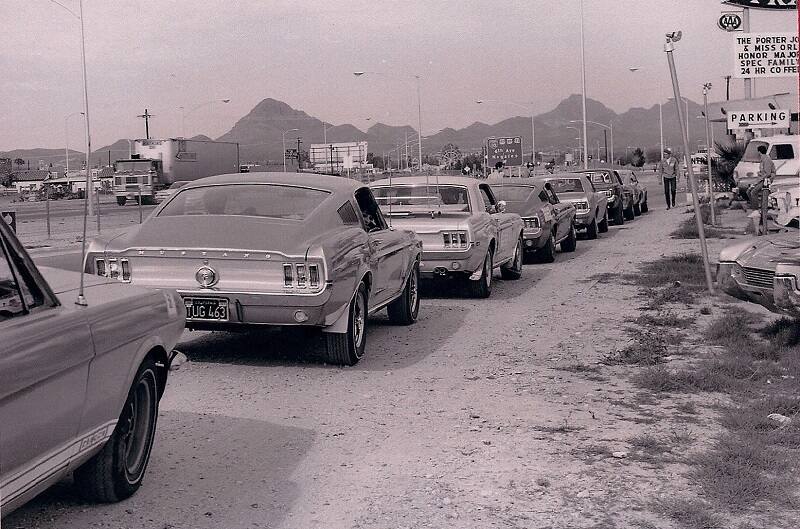 Here's a road rallye held by the Southern Arizona Mustang Club in 1968. Road rallyes were an opportunity to get out and enjoy the open road while testing memory skills at the same time. Mustang owners and enthusiasts came from all over the country to participate in these events welding great friendships together that have lasted a lifetime.
Dave Carroll in his new '67 Mustang fastback. You gotta love the styled steel wheels in back and steels in front for gymkhana.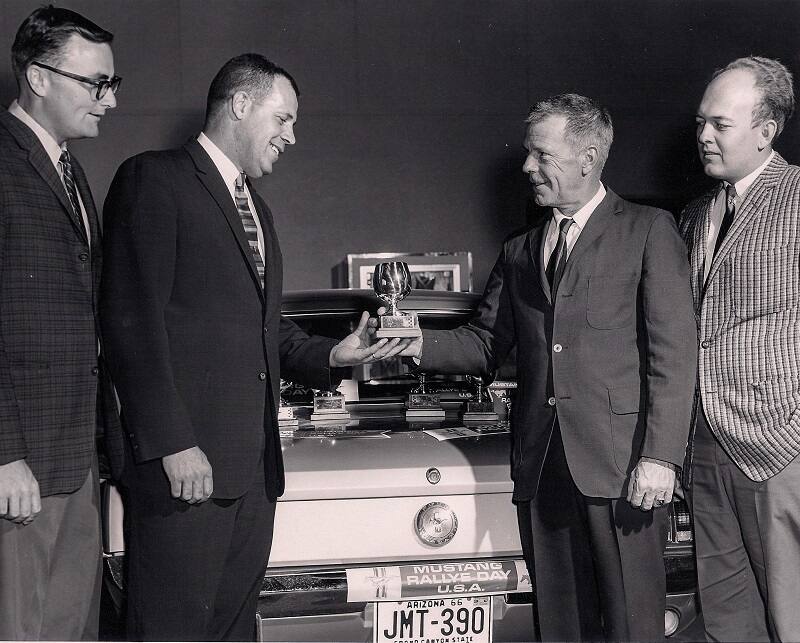 Ford presented each National Council of Mustang Clubs group with a goblet trophy for Rallye Day U.S.A. each year. From left is Dave Carroll, Bill Laird, Bill Forrester, and Leon Engle.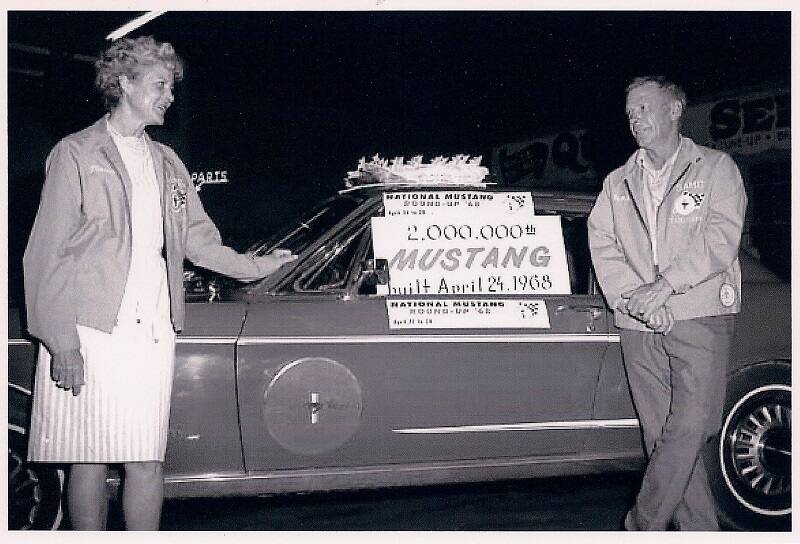 Ever wonder what happened to the 2 Millionth Mustang? Margarette Forrester (left) and her husband, Bill, won the 2 Millionth Mustang, a Candyapple Red '68 hardtop built at Dearborn Assembly, at the National Mustang Round-Up in San Francisco in 1968. The Forresters of the Southern Arizona Mustang Club took this car home to Tucson, Arizona, and have since passed on. The whereabouts of this Mustang today are unknown.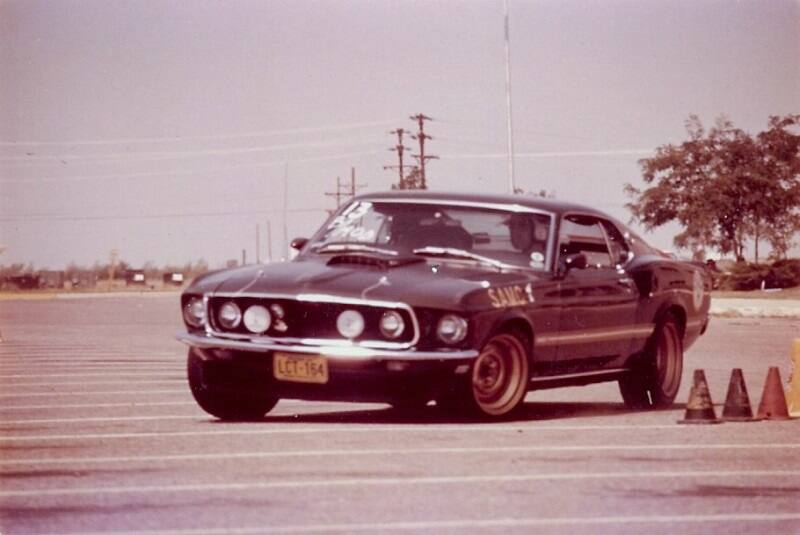 SAMC Mustang Member on Autocross course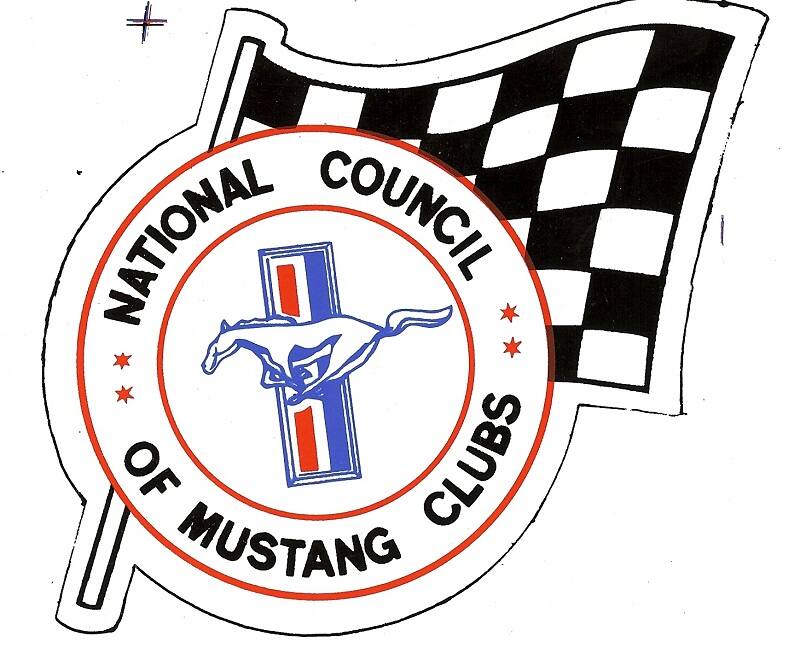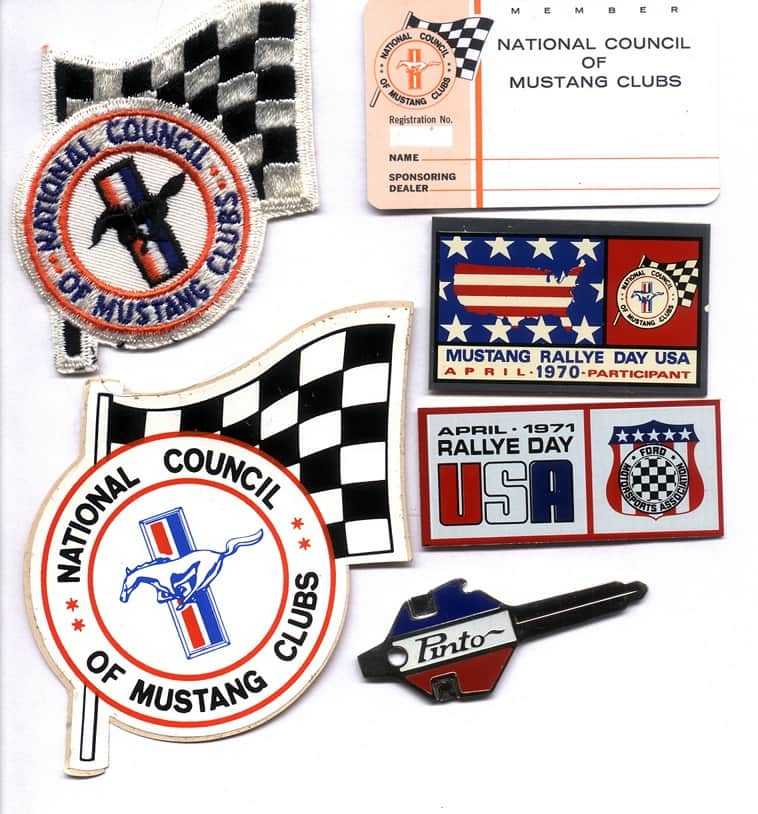 The National Council of Mustang Clubs (NCMC) was founded in 1963 as the Ford Falcon Owners Club, which was supported by Ford and Ford dealers from coast to coast. At its peak in 1967, there were more than 200,000 members and thousands of Ford dealers involved. The NCMC inspired owner loyalty and kept buyers coming back.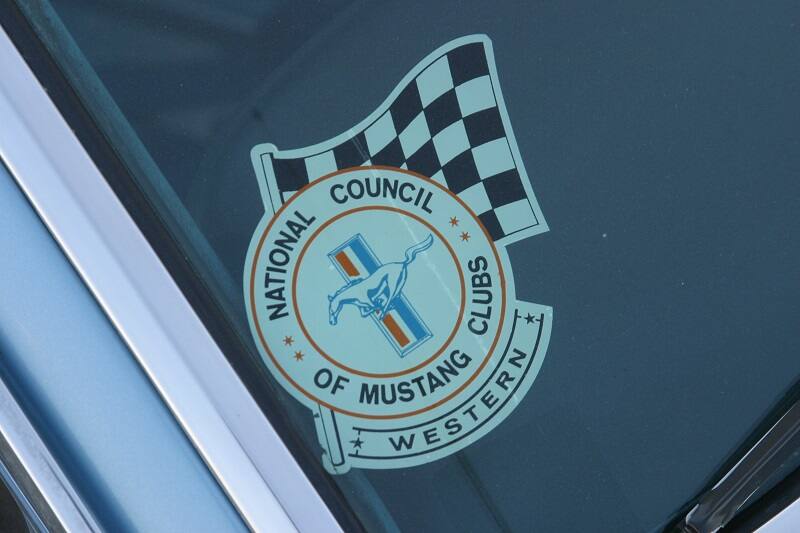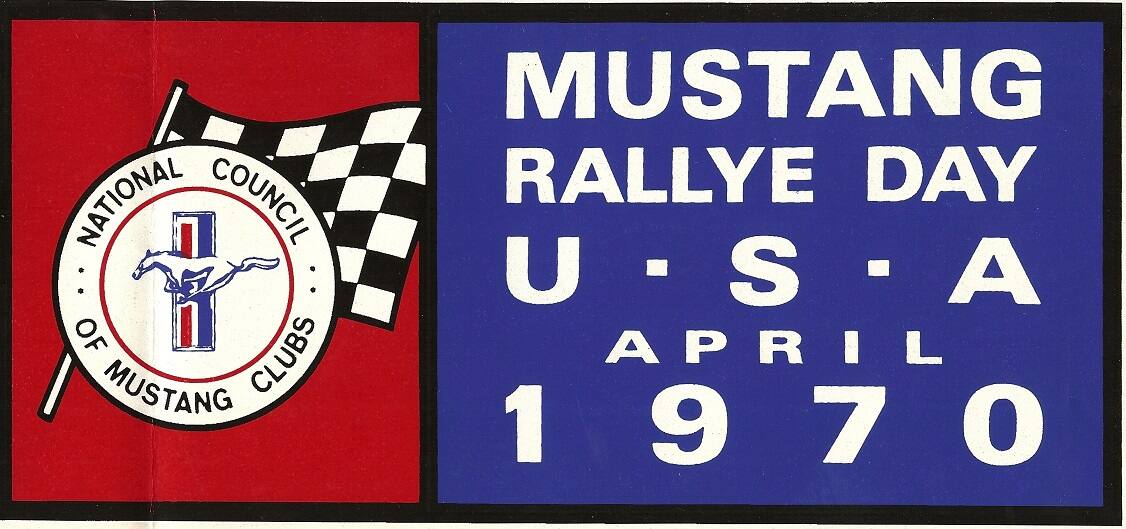 Mustang Rallye Day was held each year around April 17th. In 1970, it was the last Rallye Day as automakers became more focused on safety, emissions, and fuel economy. Baby boomers were growing up and on to attend college and start families with no time for Mustang activities. The National Council of Mustang Clubs quietly faded away as the calendar rolled into the 1970s and Ford got out of racing.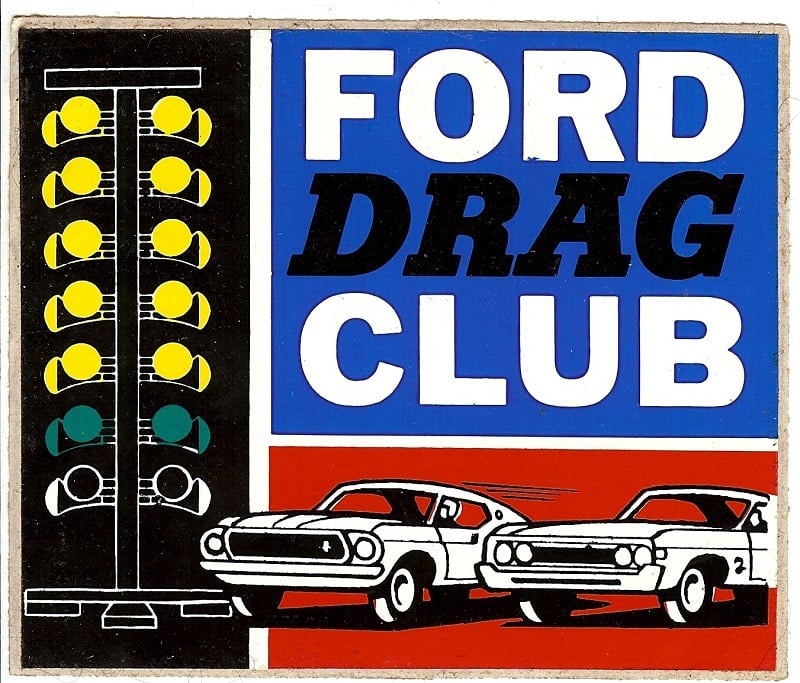 The Ford Drag Club ultimately replaced the National Council of Mustang Clubs in the early 1970s. As the 1970s progressed, the Ford Drag Club became history.