LAKELAND, FL – When my friends at Ford Performance asked me if I'd like to cover the Florida Winter AutoFest presented by Carlisle Events, the answer was easy: "Yes!" Not only was it an honor just to be asked to do anything for Ford, but add in the fact that I'd be going to the Sunshine State in the winter, and to me it was no-brainer. So there I had it, my first "official" assignment as a FordPerformance.com Correspondent!
Team Mustang Girls showed up in Lakeland, Florida, on Saturday, February 27th, not exactly sure how we'd be covering all the activities at the Sun 'N Fun Complex. That's because the complex on the Lakeland Linder Airport property was not only the site for the Winter AutoFest, but also for a separate show just for Mustangs, the 19th Annual 'Mustangs and Mustangs . . . Legends Havin' Fun" event put on by the Imperial Mustangs of Polk County car club. The first question is where would we be parking my car, a 1965 Mustang.
Unfortunately registration for the Mustang show was already closed and they said they couldn't let anyone else in (it was pre-registration only, I was told). But luckily we spotted Carlisle organizer Jim Vinarski, who happened to see an Amsoil decal on my car – and that gave him an idea. Next thing we know, we are parked in the Amsoil booth, right in the center of the AutoFest car show! (Coincidentally, it was also right next to all the food and beer; it's like Jim knew me!) In any case, we were very grateful for the warm welcome from Carlisle Events and Amsoil.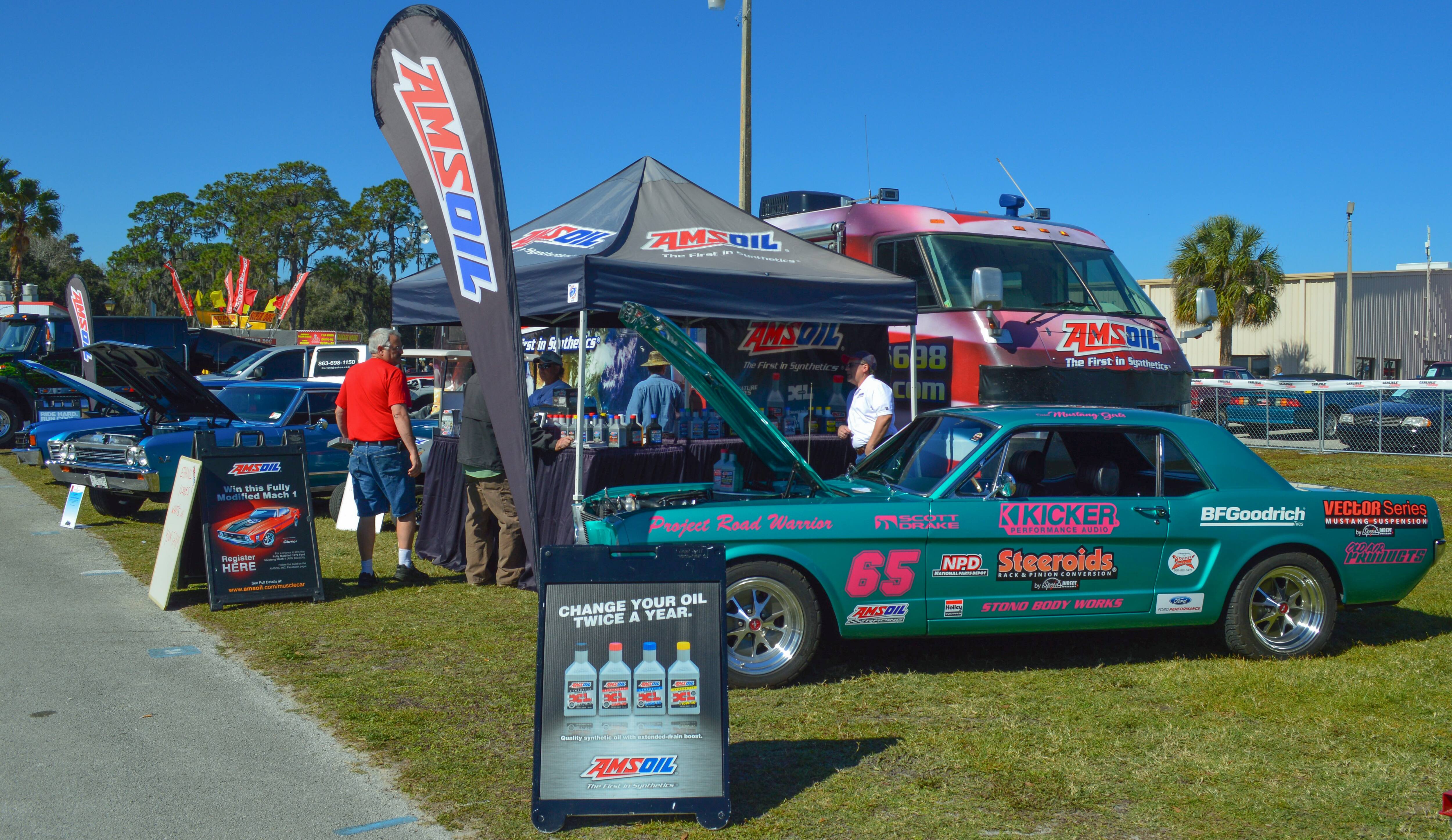 In my blur of excitement after saying "Yes" to Ford Performance, I realized after arriving that I hadn't really researched what AutoFest was all about. I knew it was a car show open to everyone, but that was about it. One we got there, I was shocked to see how big this event really is. You likely have heard of the annual Carlisle Ford Nationals? Well, Carlisle Events was founded 42 years ago by two friends who shared an interest in the automotive hobby – Chip Miller and Bill Miller. Based in Carlisle, Pennsylvania, most of the company's events are held at the Carlisle Fairgrounds. Back in 2012, Carlisle Events purchased the Fall and Winter Zephyrhills AutoFest events that were held in Zephyrhills, Florida. As those shows grew, it became clear that a larger facility was needed. The Winter AutoFest in February of 2015 was the last time the event was held in Zephyrhills before it was moved this year to the Sun 'N Fun Complex in Lakeland. And the extra room helped, as we saw cars everywhere filling up the entire field of the complex!
Not only was there an overflowing car show, but Carlisle had a car corral, swap meet and a collector car auction as well. After taking a quick golf cart tour of the grounds, my hunt for cool Fords (which was my assignment) began. I was determined to find every single one at the show – and I'm pretty sure I did, all while also coming across some entertaining situations along the way!
Have you every laid down inside a closed casket? Well after Saturday I can officially say I have! It was never on my bucket list – well, I guess it's probably on the end of everyone's – but I'm never one to turn down a dare, so it happened. We were walking around the show and just as I was falling in love with a gorgeous pair of F-100 trucks owned by a couple of brothers, a wild-looking guy with an umbrella caught my attention: It was newly cloned horror TV host Dr. Paul Bearer II of CW44 TV in St. Petersburg, Florida. (Locals tell me he bears an uncanny resemblance to his predecessor, the legendary WTOG Channel 44 "Creature Feature" TV show host/ghost Dr. Paul Bearer, played by Dick Bennick from 1971-1995.) Just moments after meeting him, I found myself laying inside a closed coffin and hearing him joke that he would back later. Considering the Travelodge bed I had to go back to that night, I wasn't upset at all; it was really comfy in there! After finally letting me out, we continued on with the show.
Just a few steps later we ran into longtime auto writer/editor and Mustang author, Donald Farr. When Donald said he was so happy to have an event just 10 minutes from his house, it made me a little jealous after my 450-mile drive to get here the day before. But I did discover the awesomeness of audible books on the way down; I've never had a drive go by so quick. I would have tried it with Donald's Mustang: 50 Years book, but one of my favorite parts of that book is the amazing collection of pictures, so I'm not so sure about that.
The next shiny object that caught my attention was what I thought was a Mustang, but as I got closer, I realized . . . I had no idea what it actually was! That was very the moment I had the pleasure of seeing my first Merkur. I discovered that the Merkur was a short-lived automobile brand sold by the Lincoln-Mercury division of Ford Motor Company from 1985 to 1989. Using captive imports produced by the German division of Ford of Europe, Merkur was targeted at buyers of European luxury brands. After only five years of sales, the Merkur division was discontinued by Ford, making it one of the shortest-lived cars brands ever produced. Not only was it a fairly rare car to see, but this one was a driver, complete with stickers indicating all of the car's travel accomplishments proudly displayed on its body.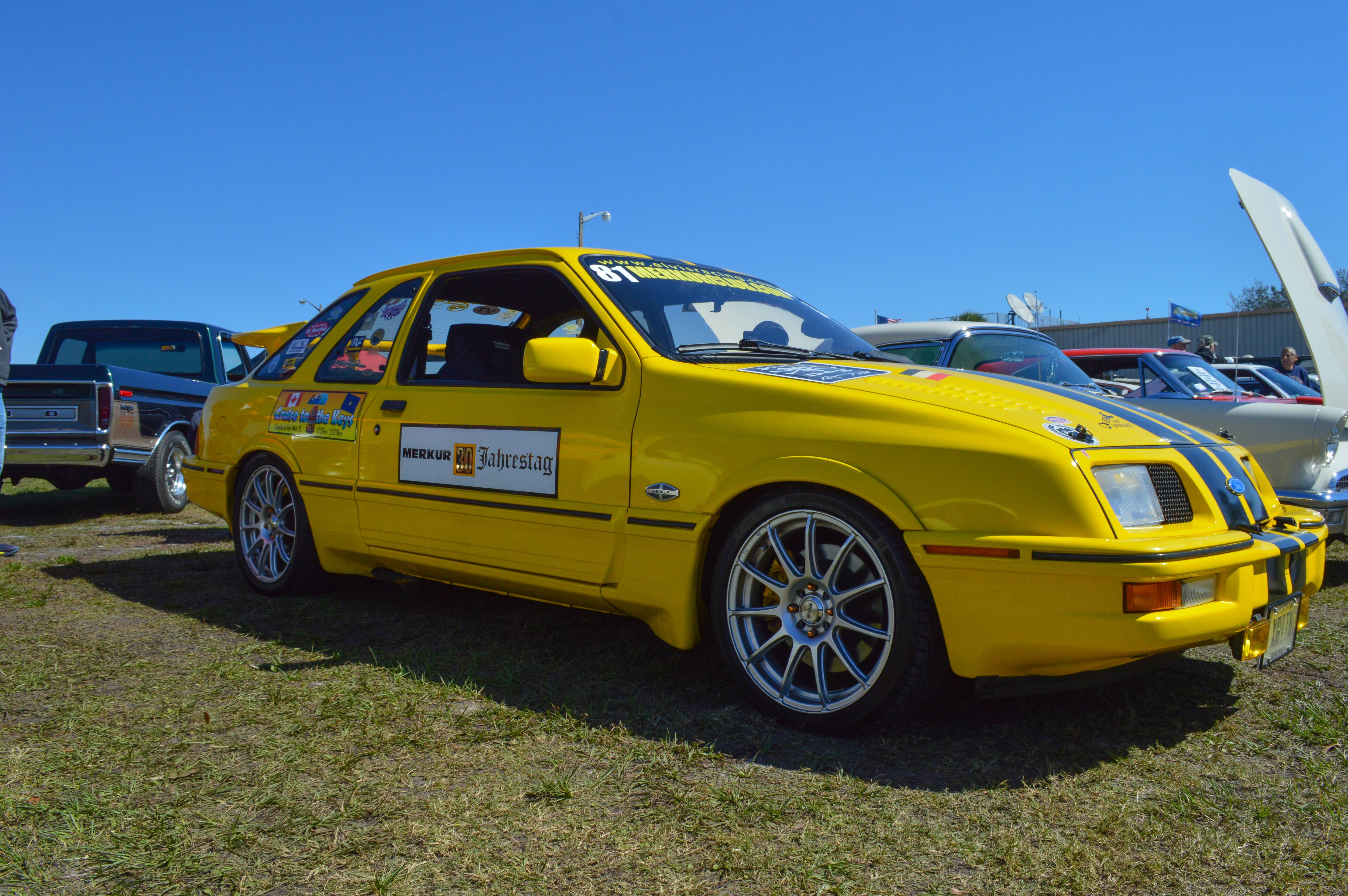 After getting a quick history lesson on the Merkur, we decided we needed to see some Mustangs, so we headed over to the "Mustangs and Mustangs" (as in Ford Mustang cars and P-51 Mustang WWII fighter planes) part of the show. After being dropped off by the golf cart shuttles that were running all day, we entered the show field. Wow, were there ever a lot of Mustangs on display here! It was a gorgeous 70-degrees day and the sun was shining down on all the Mustangs as if they were in the spotlight. It was great to see Mustangs of every year and color being represented at a show. Some of my favorites were a 1976 Mustang II Cobra II, just like the one from the legendary Farrah Fawcett TV show, plus "RATA2E." I'm not really sure why "RATA2E" was in the Mustang area, but it was an awesome rat-rod built from a 1932 Ford powered by a 1970 big-block 460 with a C6 transmission.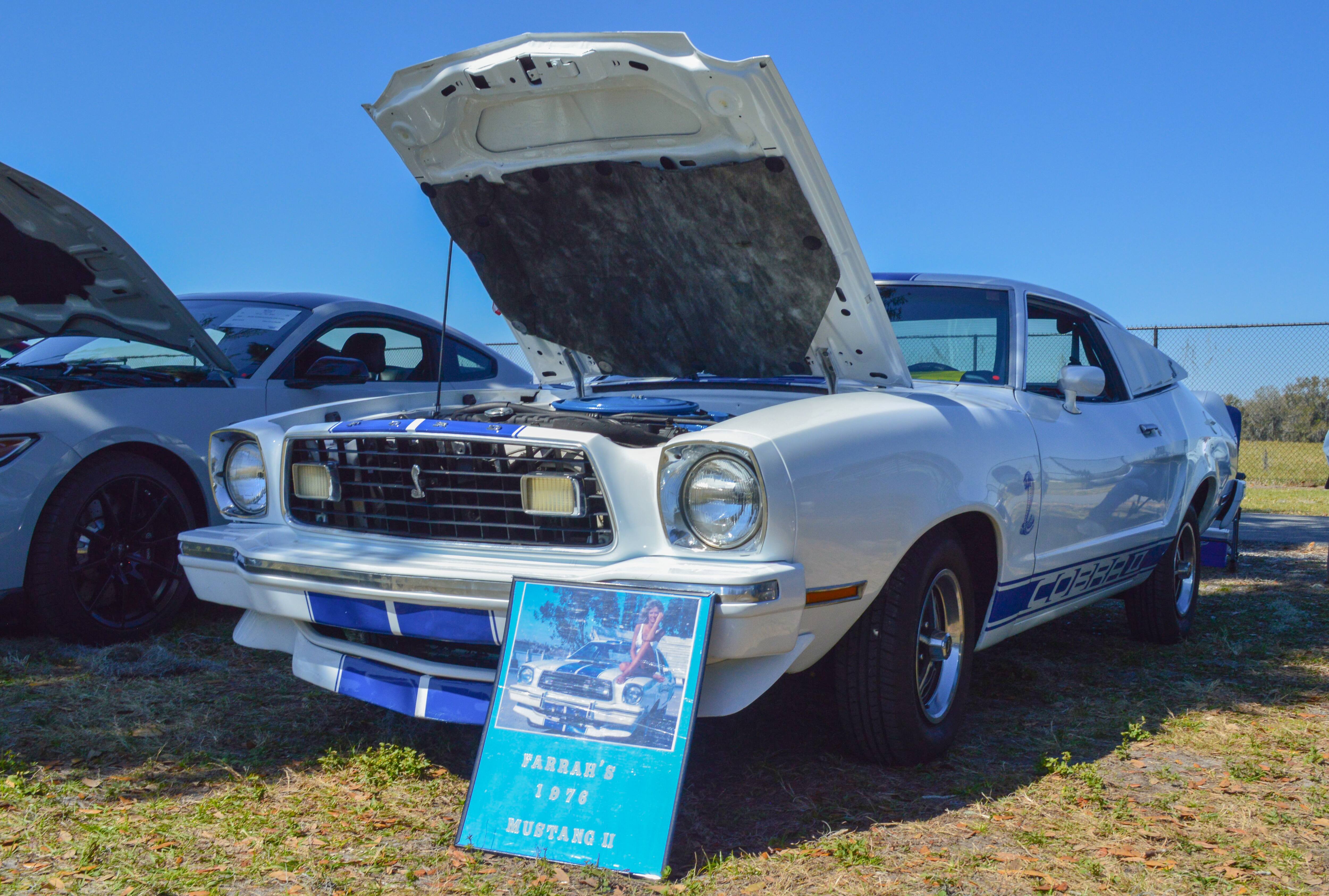 I took some notes for my future rat-rod build, and we continued through the sea of Mustangs. By the time we'd finished our walk through rows and rows of Mustangs, we almost had a case of Mustang overload! I know as the Founder of "Team Mustang Girls" that is really a horrible thing to say! I have to admit though, when we walked through the main open car show area where the Mustangs were scattered all about, it did seem more like a special surprise when you found one. Having them all lumped together makes for an amazing group shot and as much as I love them all, for someone like me with the attention span of a squirrel, a little variety can sometimes make you appreciate Mustangs even more.
After hitching a ride back on the shuttle we decided to check out the auction inside. All I can say is – wow! Can anyone actually understand what that auctioneer guy is saying? As the prices rose I was terrified of lifting my camera too high for fear he would think I was signaling a bid. I've only seen auctions on TV, so being at one live was a very cool to experience. The excitement in the room was contagious, and truly fun to watch. Tired and hungry after a long day in the sun, we soon called it a night and decided to come back on Sunday.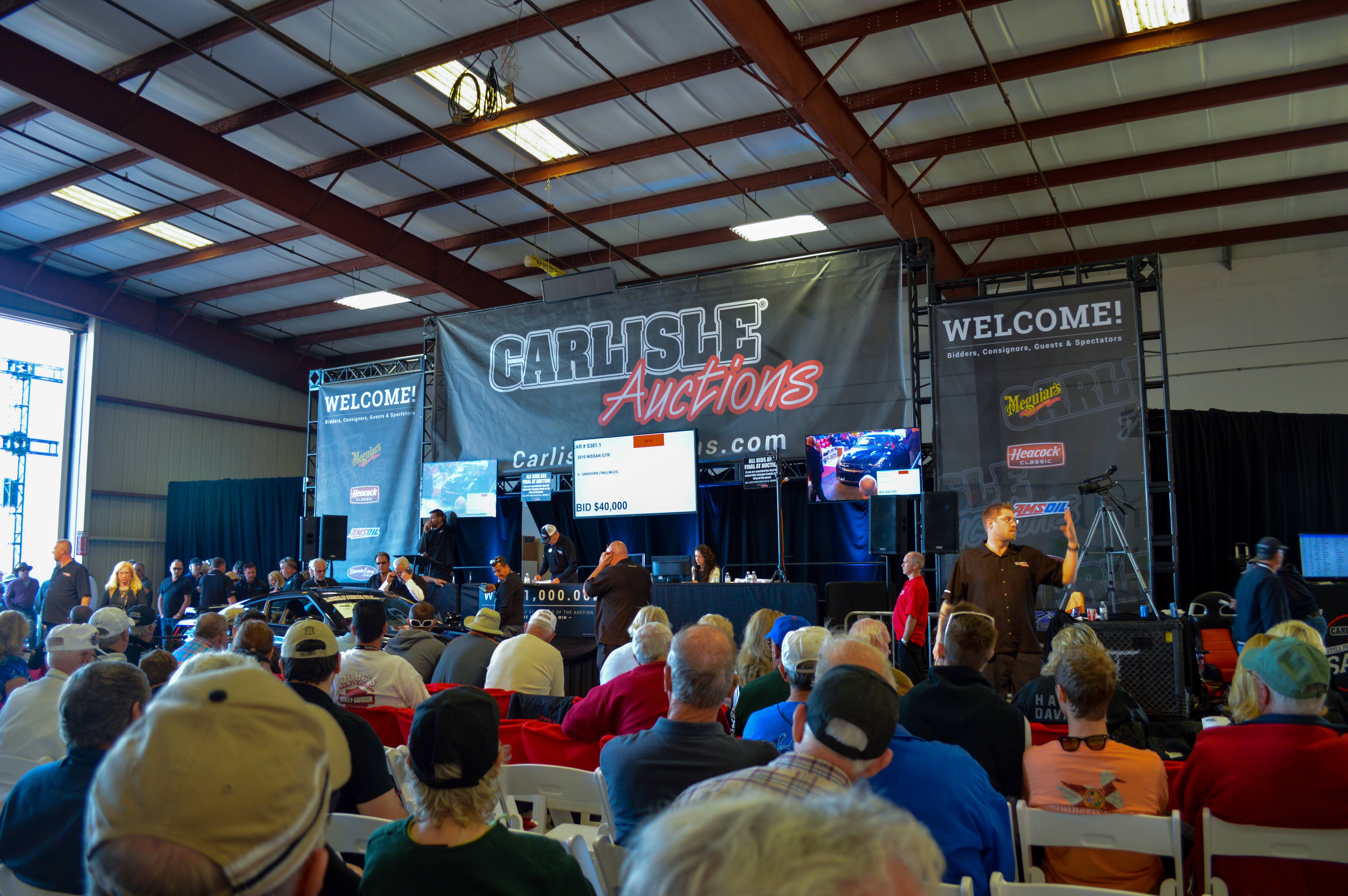 The next day we arrived at the show early and got to drive right back to our prime parking spot – thanks again, Amsoil! That morning there was a special salute and tribute for all the veterans in attendance. Each hero lined up to share a little of their story. It made everything else around you stand still as you listened to the loud speaker. It was an honor to be in such great company! The tribute continued with the playing of the National Anthem and a fly-over by some vintage aircraft. It was one of those moments that makes you stop and appreciate the great country in which live. Thank you to all the Veterans who helped to make that beautiful experience possible.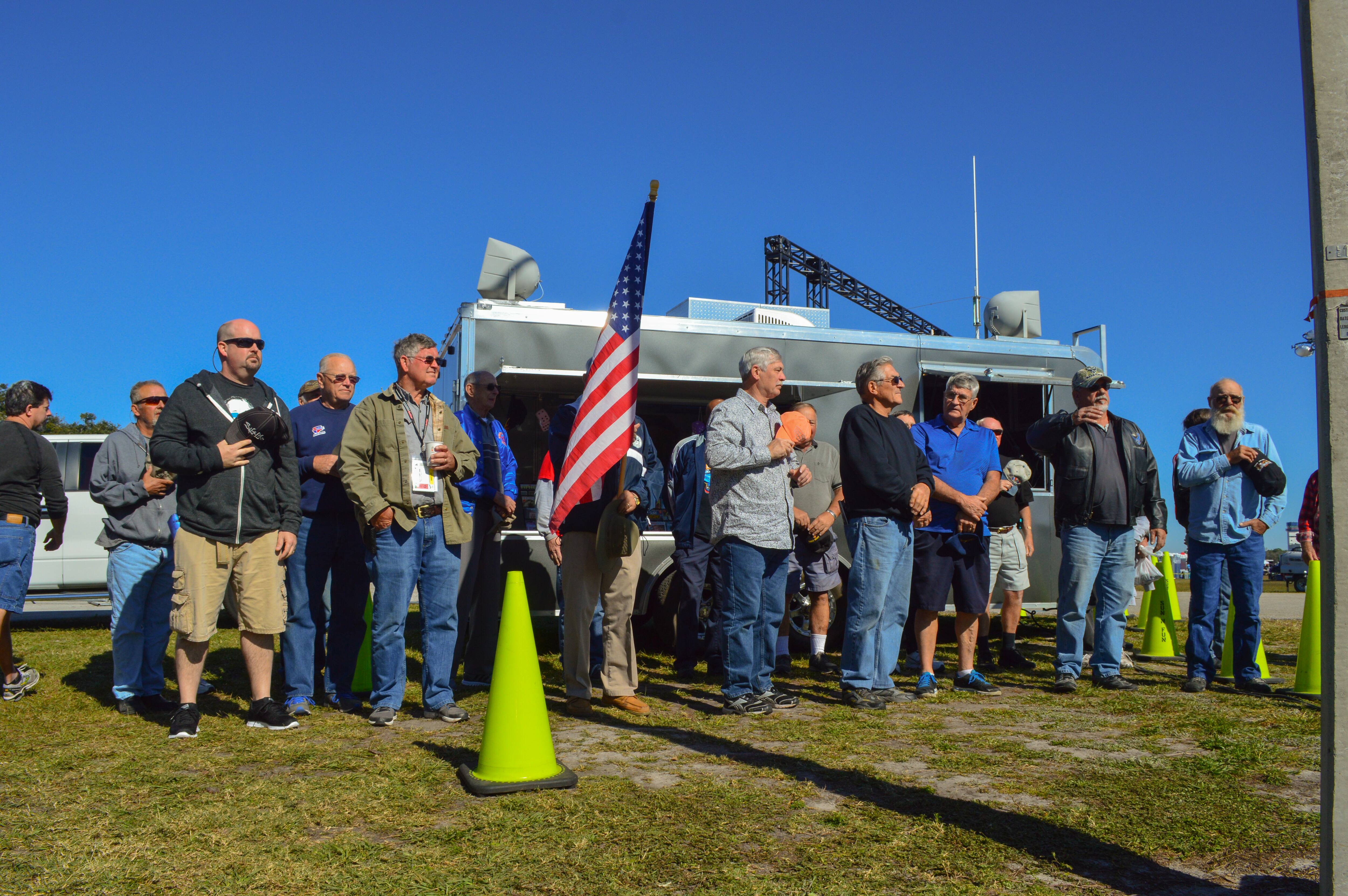 All in all, we had an amazing time at the Mustang show and the Winter AutoFest by Carlisle Events. The show was huge and had something for everyone, so it's one event I plan on adding to my calendar next year. A big Thank You goes out to Carlisle Events for allowing us to join in their fun in the sun, as well as to Ford Performance for allowing us to share this story with you!
FORD PERFORMANCE PHOTOS COURTESY TEAM MUSTANG GIRLS / COURTNEY BARBER